Printer-friendly version
Make these DIY Easter napkin rings that look like fluffy, adorable sheep with some felt, fabric, ribbon, and a cardboard tube.  These homemade Easter napkin rings are inexpensive and easy to make, and really add a special touch to your Easter table setting.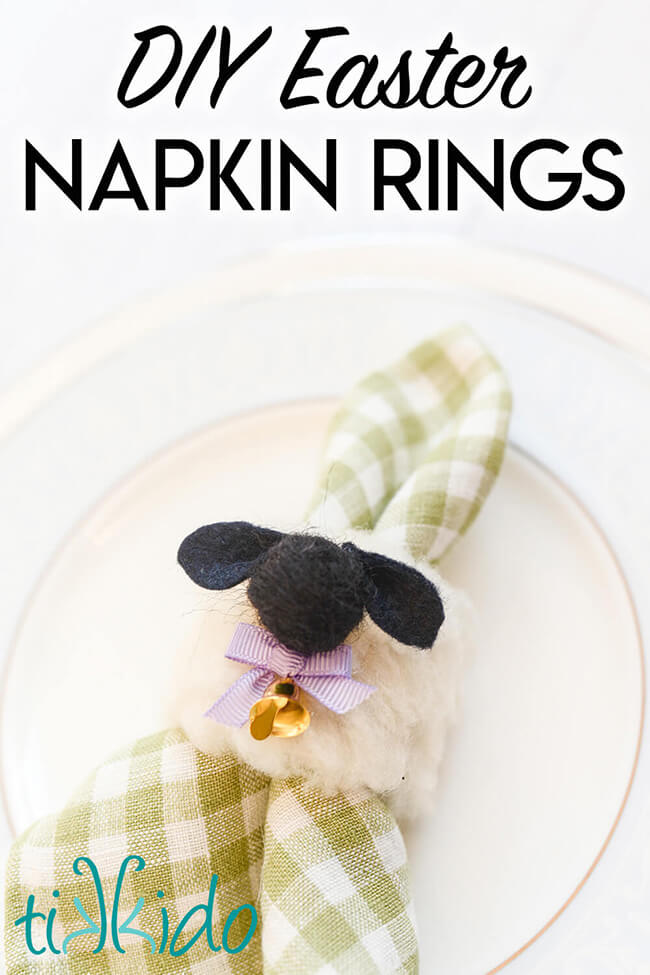 I am a sucker for adorable napkin rings, but they can be so expensive to buy in stores!  That's why I've taken to making them for many occasions.  And mine often end up being made with higher quality materials than the ones I find in home decor stores.  I end up with an item I love and get to have fun making them--that's a win-win situation for me.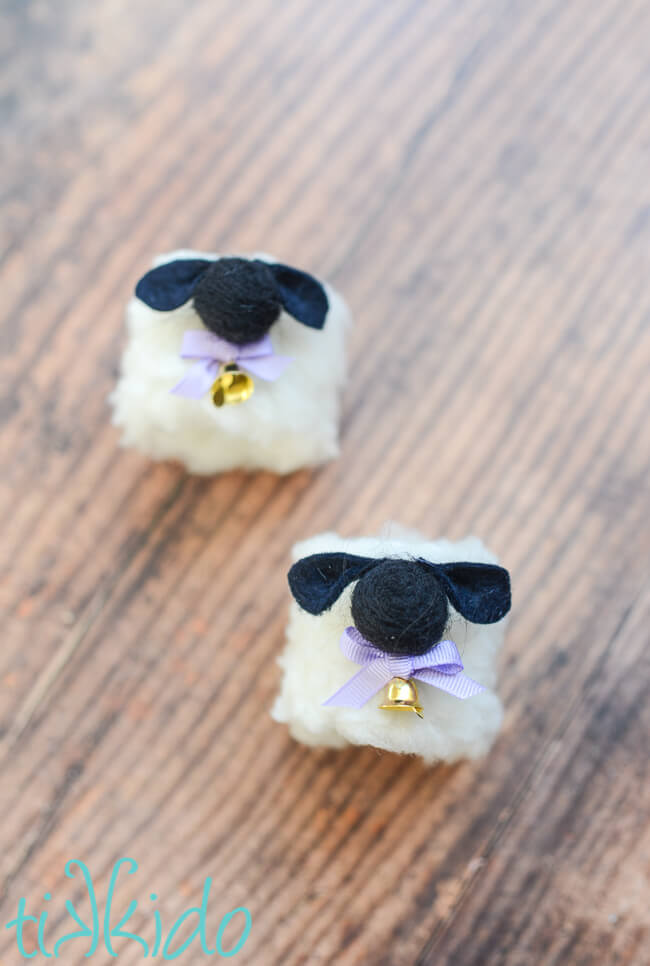 I came up with the idea for these Easter sheep napkin rings when I made pom pom sheep as a gift topper for a baby shower gift recently.  The simple design of the black-faced sheep on a wooly pom pom was so darling that I wanted to figure out other ways to use it.  With Easter right around the corner, some DIY napkin rings seemed like the perfect project.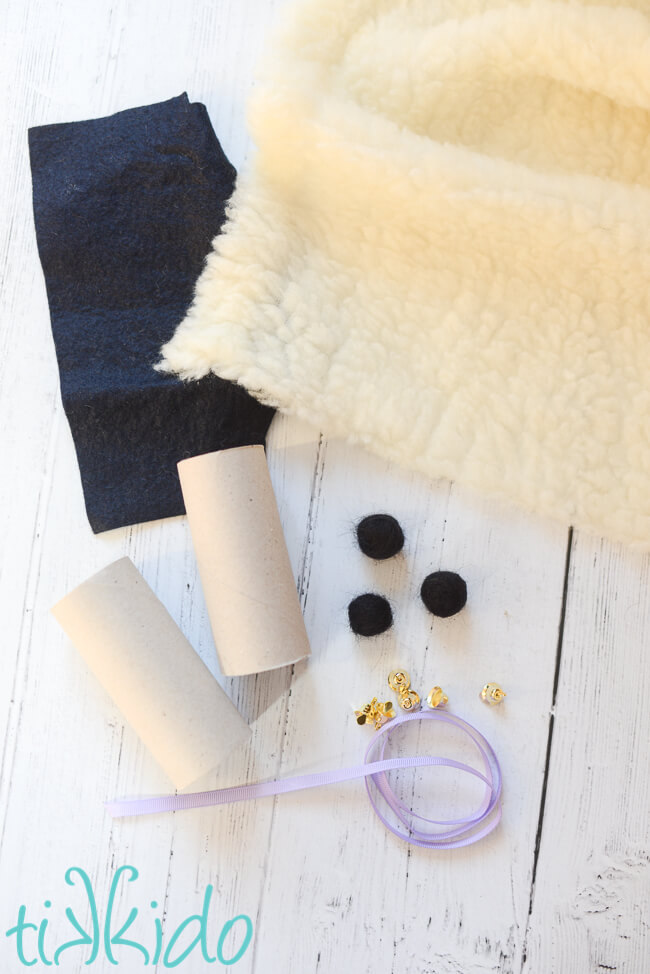 Materials for Easter Sheep Napkin Rings: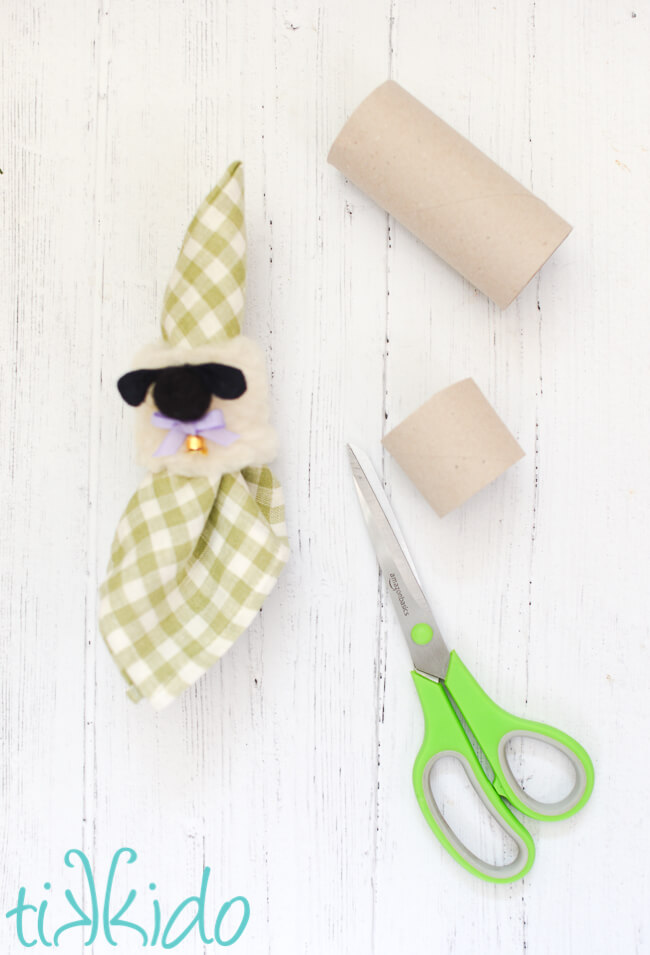 How to Make Easter Napkin Rings that Look like Sheep
The basic napkin ring shape is easy to make with a cardboard toilet paper tube.  Use a pair of scissors to cut the tube into two inch long segments.  The cardboard does squish when you're cutting it with scissors, but it pops right back into a nice round shape when you're done cutting.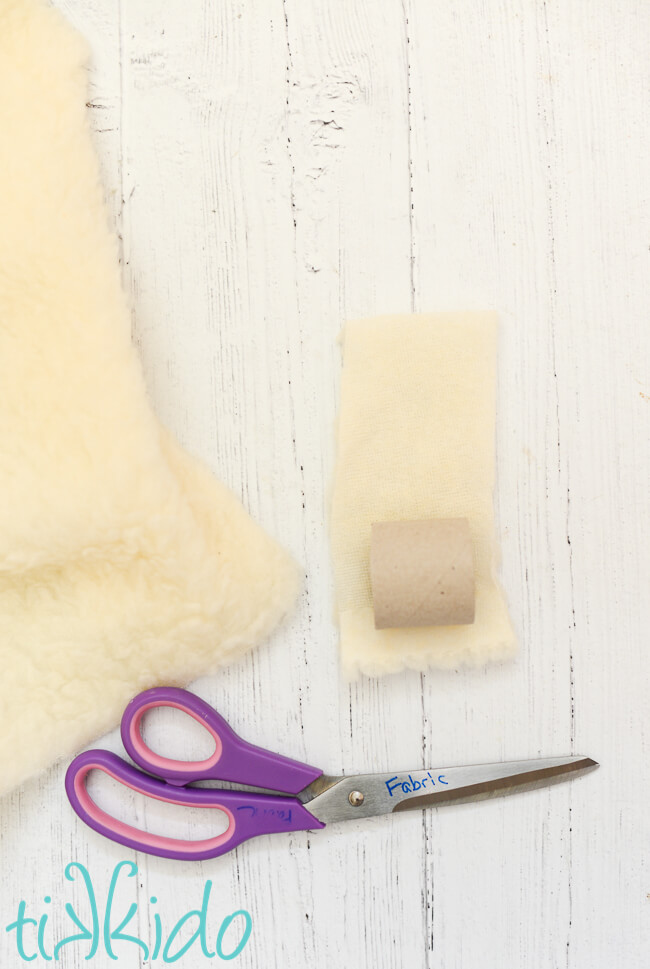 Cut a piece of faux shearling fabric (fabric made to look like sheep's wool) to cover the segment of cardboard tube.  Make sure that the fabric is wider than the cardboard, so that we can glue the ends neatly inside, and hide any raw edges.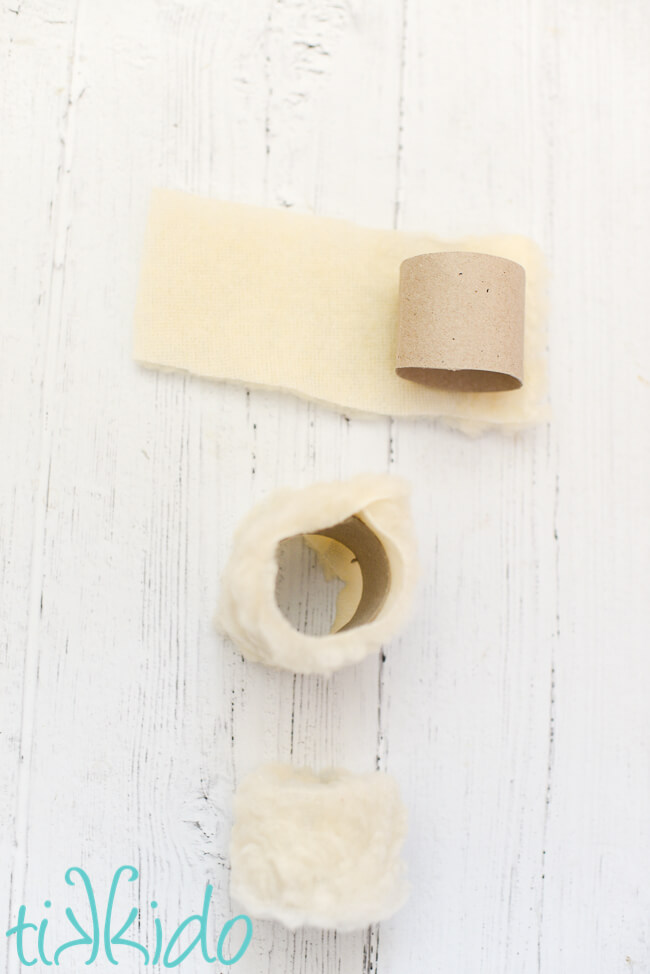 Use a low temperature glue gun (you WILL glue your fingers doing this, so make sure to use a low temperature version!) to glue the faux shearling fabric to the outside of the cardboard tube.  Fold and glue the raw edges to the inside of the cardboard tube.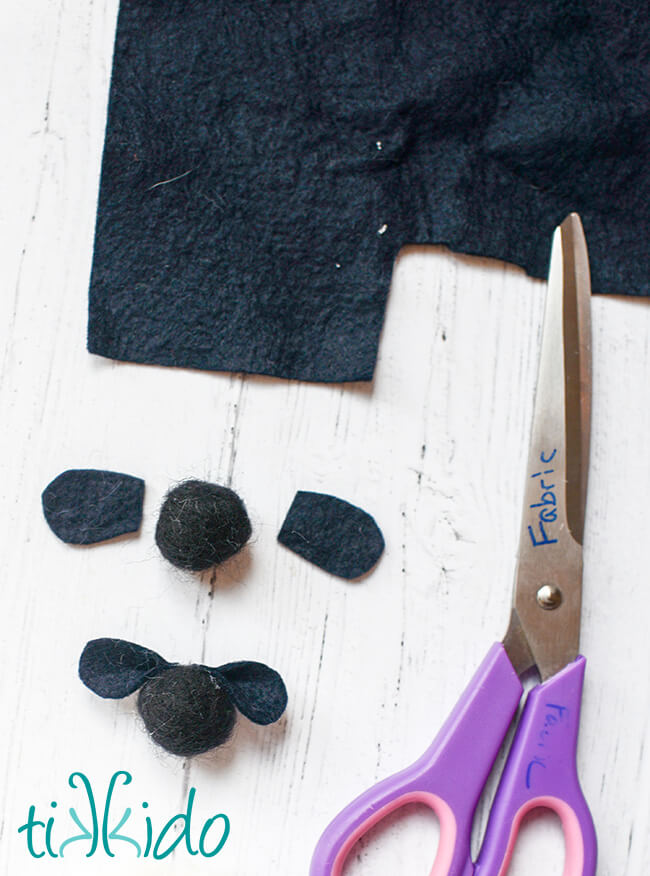 The sheep's head is made the exact same way I made them for the pom pom sheep.  I made my own black wool felted balls, because I already had the materials on hand to do that, but you can purchase them pre-made, or you could use craft pom poms.
If you want to make your own felted wool balls, I have two different tutorials, showing two different techniques for making them:
Cut the sheep's ears out of black felt, glue the flat end of each ear piece together to make a teardrop shape and add some dimension, and glue the ears to the top of the felt ball to make the sheep's head.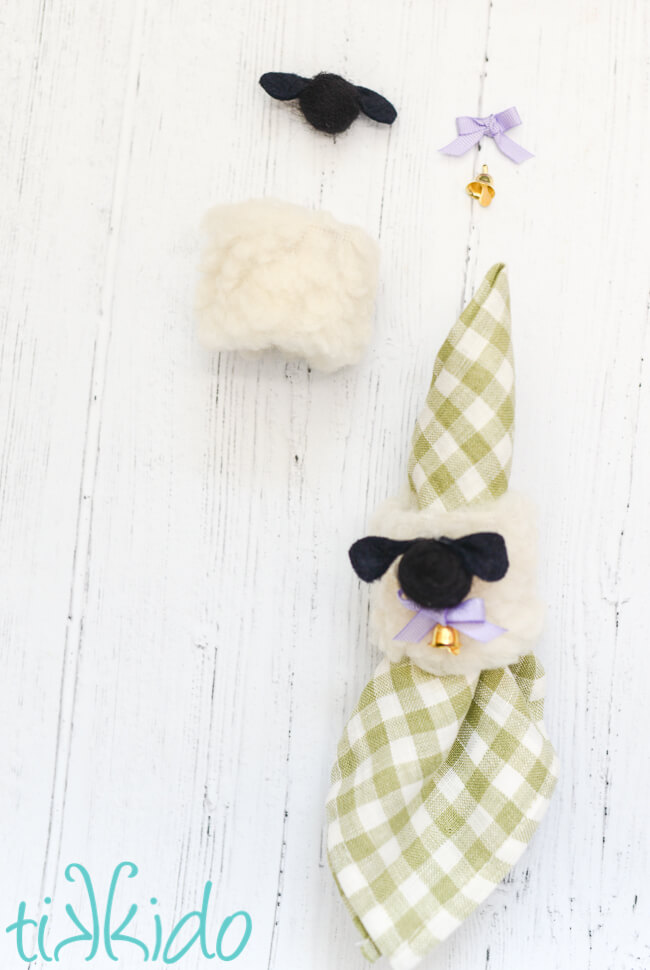 Assembly is easy!  Just glue the head to the fabric-covered napkin ring, closer to the top of the napkin ring than the middle.
Tie the grosgrain ribbon in a tiny bow.  My video shows me using a fork to make a nice, tiny bow, but I go through that step pretty quickly.  Here's a great video tutorial that takes you through the process of tying tiny bows, step by step, and very clearly.
Glue the miniature bell below the head, then glue the tiny ribbon bow at the top of the bell, between the bell and sheep's head.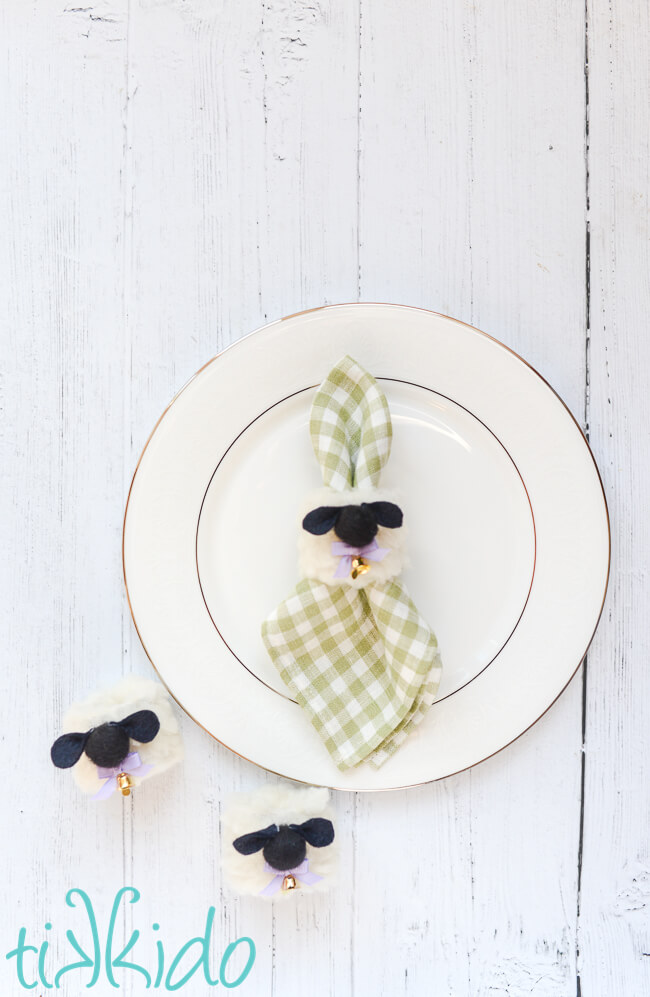 Add your favorite napkin and you're done!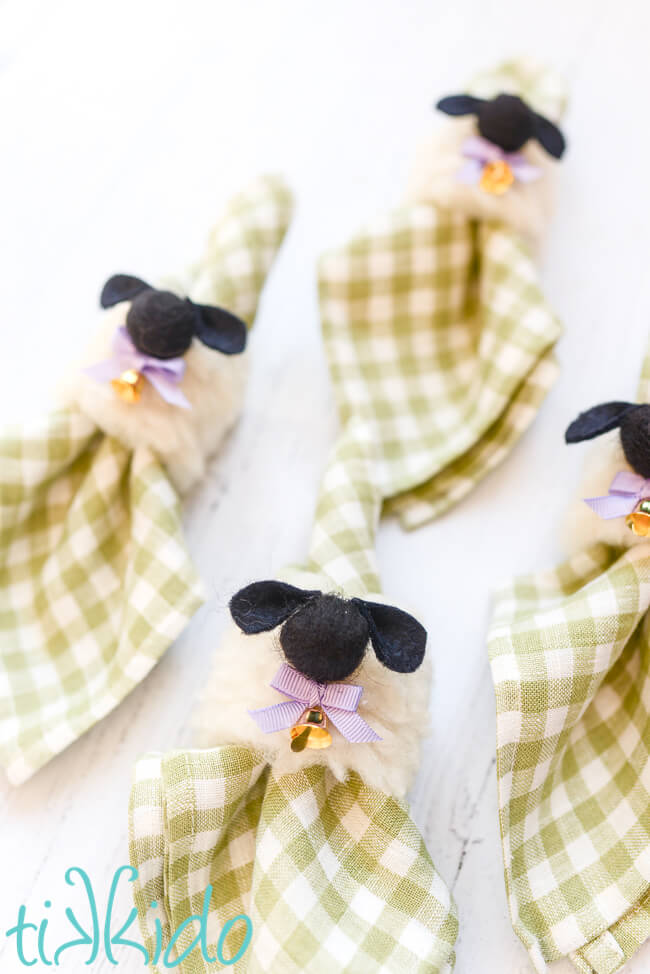 I've made napkin rings for Christmas, Halloween, and Thanksgiving before, and various birthday parties, but never Easter.  I love this new addition to my napkin ring collection!
Other Napkin Ring Tutorials You Might Like: