Printer-friendly version
This easy pound cake recipe features the most amazing, crunchy top crust, white the inside of the cake is moist, dense, and rich.  It's an old fashioned pound cake recipe that I got from my grandmother, and it has been a family favorite for decades.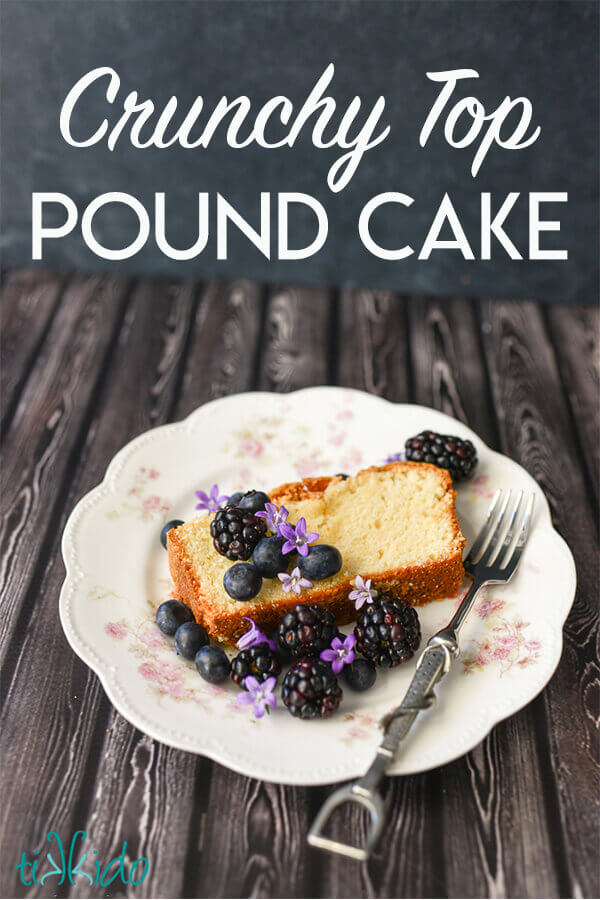 My grandma Berta's classic pound cake recipe is a family favorite all year long, but it seems especially right in the spring and summer, for some reason.  Maybe that's just because we often make it for dessert at our family's Easter dinner.  Or maybe because the pound cake is so good with fresh fruit (fresh berries are my favorite).  Whatever the reason, about this time of year (hey, here in Phoenix, February is as close to spring as we're going to get) that I start thinking about pulling amazing pound cake recipe card out of the box.
The cake itself is fabulous--moist, dense, exactly what you'd want in a pound cake.  But the defining charictaristic of this recipe is the crunchy, cookie-like crust that forms on the top of the loaf of pound cake.  When my mother was in pastry school, she learned that the way the crust cooked probably meant that there was something "wrong" with the recipe, in a technical sense.  The whole family threatened mutiny if she dared try to fix our beloved crunchy-topped pound cake recipe, though.  It might not have gotten the highest marks from the pastry chef instructor, but it's outrageously delicious and we adore it, just the way it is.  I really do think this is the best pound cake recipe ever!
Ingredients for Old Fashioned Pound Cake with Crunchy Top:
3 cups sugar
1 cup vegetable shortening
4 eggs
1 cup buttermilk
3 cups all purpose flour
1/4 teaspoon salt
1/4 teaspoon baking soda
1 Tablespoon vanilla extract
Cream the sugar and vegetable shortening (Crisco) together.  A traditional pound cake recipe calls for butter, but trust me on the vegetable shortening.  I often use butter flavored Crisco to get that buttery flavor, but it's great with classic Crisco, too.  This is the best old-fashioned pound cake recipe around, and I don't mess with grandma's recipe!
Add the eggs, one at a time, beating after each addition.
Mix all the dry ingredients together (flour, salt, baking soda).  Add the wet ingredients (vanilla and buttermilk).  Alternate adding the wet and dry ingredients (about 1/3 of the quantity at a time), mixing after each addition.  
Divide batter between two bread loaf pans.
Can this Pound Cake Recipe be Made in a Bundt Cake Pan?
Yes, but it's better made in a loaf pan, to maximize the crumbly topping.  And also to make sure the crunchy bit is actually on top of the cake!  If baked in a bundt pan, the crunchy bits will end up on the bottom of the cake.  
Bake at 350 degrees Fahrenheit for 1 hour and 15 minutes.  Reduce the heat to 300 and bake for another 15 or so minutes, until a toothpick stuck in the center of the cake comes out clean.
Let cool on a wire rack, then remove the delicious pound cake from the pan.
See that crunchy, golden crust?  That crunchy topping that forms is the best part of this decadent cake.   If you leave a loaf of pound cake wrapped in plastic wrap on the counter, I guarantee, within 24 hours, the top will have been nibbled away, bite by sneaky bite.  We all have a tough time resisting it.
But the tender crumb, moist cake, and fabulous flavor of the rest of the cake are not to be ignored--there is a reason this is the only pound cake we make.  The crusty top is just a bonus that puts this recipe over the top, and makes this one of the best cakes I've ever tasted. 
Ideas for Serving Pound Cake
I like it best just plain, or perhaps with some fresh fruit.  So simple, and so good.  Beautiful, I think, too.  Add some edible flowers to make it look really elegant without much effort.   You don't have to make something complicated to make something special.
Whipped cream is a delicious addition to cake, especially with fresh berries!
A scoop of vanilla ice cream makes this a truly decadent dessert, especially if you add a homemade hot fudge sauce or salted caramel sauce (the sauce in my salted caramel buttercream recipe is AMAZING as a sauce on its own).
The pound cake is marvelous for making petit fours (and then you legitimately get to eat the crunchy bits trimmed off!).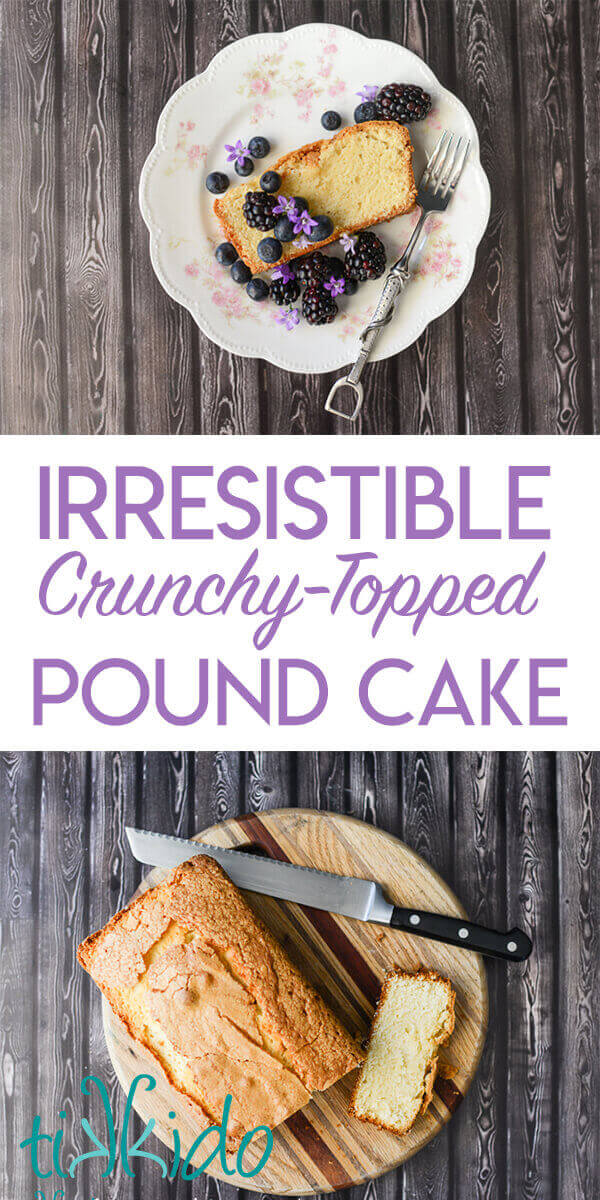 Pound cake may look humble, but these simple ingredients come together to make a truly exceptional, decadent and delicious cake.  This isn't just a good pound cake--it's a GREAT one, and if you've never had a truly great pound cake, you are in for a treat.
Variations on this Recipe:
You want to adjust the flavor of this easy pound cake recipe?  No problem!
Almond Pound Cake: Try using almond extract instead of Vanilla.  Reduce almond extract to one teaspoon in the recipe, as almond extract is quite strong.  Top with sliced almonds.
Lemon Pound Cake: Use 1 teaspoon of lemon extract and one teaspoon of vanilla in place of the Tablespoon of vanilla in the original recipe.  Add the zest of one lemon, and use the juice of that lemon and a little powdered sugar to make a simple lemon glaze.
Blueberry Pound Cake:  Add freeze dried blueberries to the batter.  Freeze dried blueberries add fabulous blueberry flavor, but don't make the cake soggy in parts, and look strange and blotchy.  You can use fresh blueberries if you'd like, and it will taste delicious, but freeze dried fruits are like a secret weapon in baking, and I recommend them highly.
Can you Freeze Pound Cake?
Yes, absolutely!  This pound cake recipe freezes very well.  And since this recipe makes two loaves of cake, it's incredibly convenient to enjoy one freshly baked, and save one for later.  To freeze pound cake, I simply wrap tightly in cling film and place in the freezer.  I typically use a Sharpie to write the date on the cling wrap.  
Printable Pound Cake Recipe:
Click on the image below to print a one page version of this pound cake recipe, or download the PDF to your device.
Other Cake Recipes You Might Like: