Printer-friendly version
I've had fun getting back into doing cross stitch this year (I haven't done any since I was a teenager!), and that new (again) hobby has inspired me to adapt the simple cross stitch technique in different ways this Christmas season, too.
I decided that it would be fun to make some cross stitched paper gift tags for my Christmas presents this year.  This isn't difficult, but I'm not going to pretend it's fast!  I wouldn't do this for every gift (even I wouldn't make time for that!), but for a special friend who loves needle-work?  Absolutely.  It's those thoughtful little touches that I love so much.
I decided to use classic Scandinavian sweater motifs for my tags.  They're simple, graphic, and perfect for Christmas.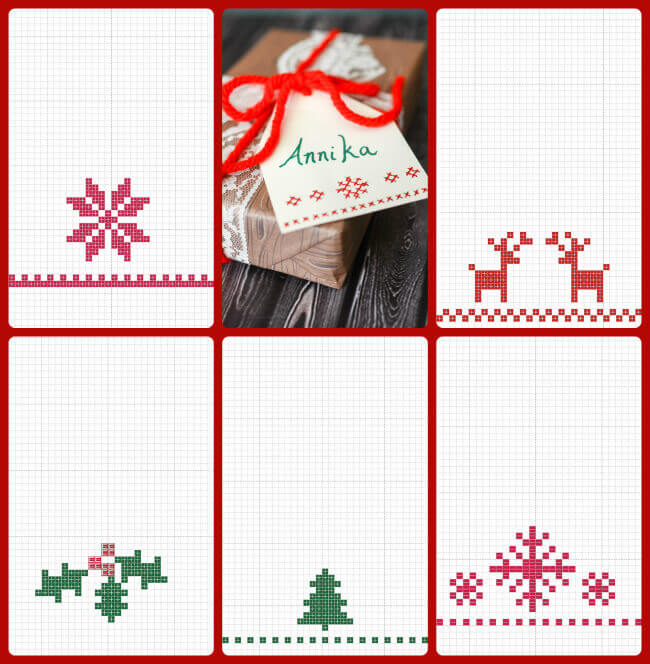 I love the little reindeer best.  I created five different printable patterns for making these cross stitch gift tags, and I'm offering them here as a free printable download!
Cross Stitch Christmas Tags Printable Patterns 1
Cross Stitch Christmas Tags Printable Patterns 2
Materials for Making Cross Stitch Gift Tags:
cardstock
printable patterns
embroidery needles (pretty much any needle will do)
Print out the guide pattern on regular paper.  Place the regular paper on top of the cardstock.  Use your needle (or a pin) to poke through both sheets of paper everywhere you'll want to stitch the design (each of the 4 corners of every cross stitch X).  I did this on my couch, so that the needle could plunge all the way through and into the upholstery without damaging anything.  A cork board would work well, too.  Once I'd created all of my guide holes, I discarded the printable pattern, and started my stitching with embroidery floss.  Once my stitching was done, I cut the cardstock into a tag shape, punched a hole, and I was done!
Happy stitching!
Other Gift Tag Tutorials You Might Like: