Printer-friendly version
These rhubarb cheesecake bars are delicious, of course.   (Rhubarb!  Cheesecake!  C'mon, you know it's delectable!)   But I love how easy they are to make.  No special pans, no water baths, just a 9x13 pan and great ingredients and you have the most delicious cheesecake bars you've ever tasted.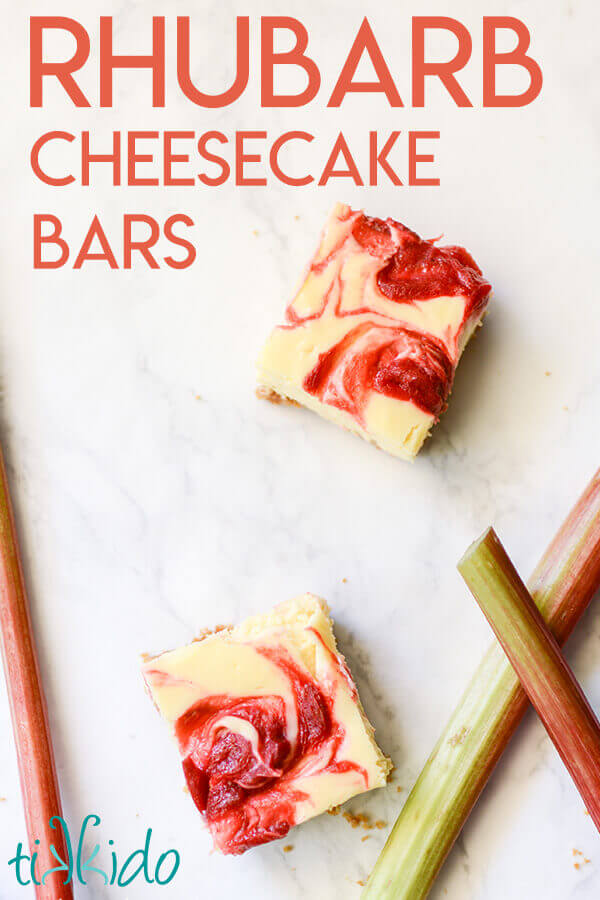 You could eliminate the rhubarb and just have plain cheesecake bars, too, of course.  And that would be delicious as well.  But the tart rhubarb is an amazing addition to the creamy, sweet cheesecake bars.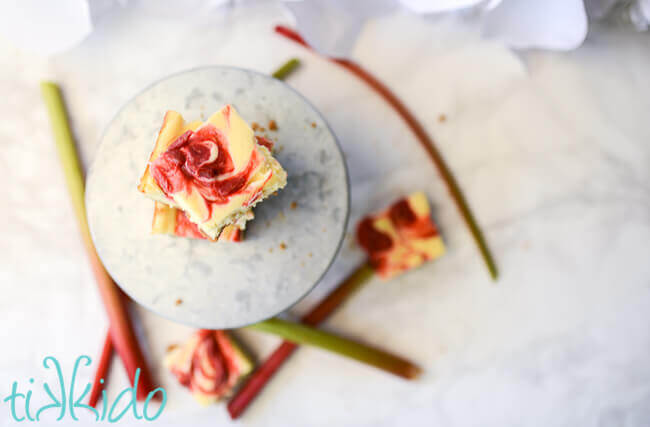 I'm not a big fan of flavored cheesecakes, actually.  I don't tend to choose caramel or peanut butter or chocolate cheesecakes, for example.  But if you add some bright, fresh fruit like raspberries or strawberries or rhubarb, I can't resist.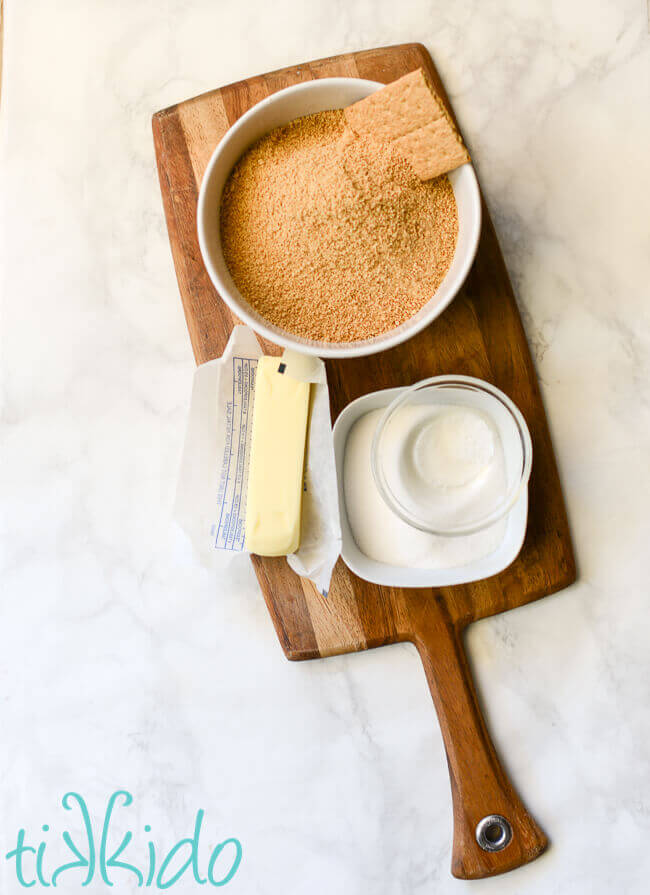 Graham Cracker Crust for a 9x13 Pan:
one stick (8 Tablespoons) butter, melted
1/2 cup sugar
1/2 teaspoon salt
3 cups graham cracker crumbs.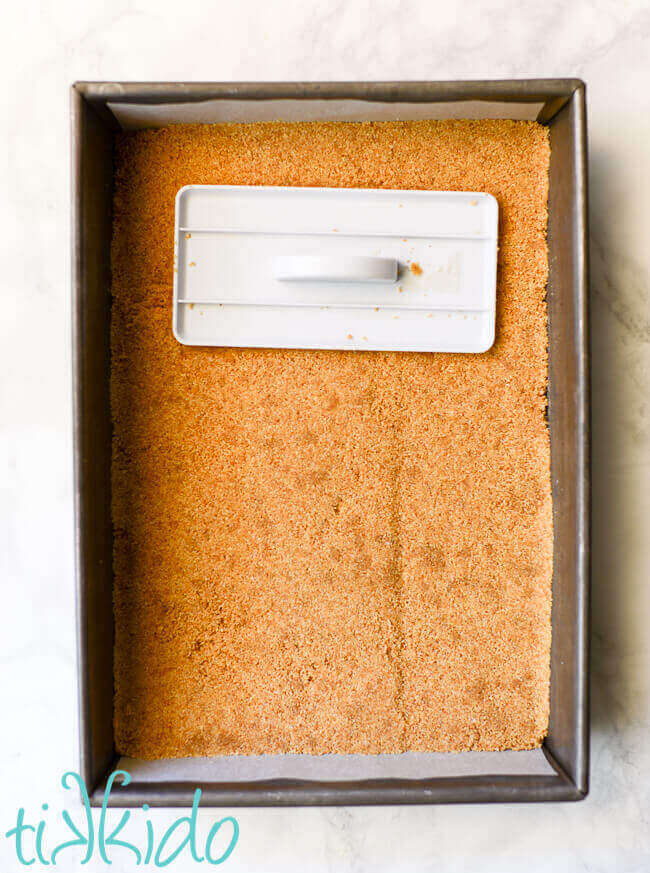 Before you do anything else, line your pan with parchment paper!  It doesn't need to go up all four sides of the pan.  I cut my parchment paper to the width of my pan, but several inches longer, so I can create a parchment paper sling.  Basically, after the cheesecake bars are baked and cooled, I can grab on to the parchment paper handles on either end of the pan and lift the whole thing out on to a cutting board.
Mix all graham cracker crust ingredients together.  Press firmly into the 9x13 pan.  Bake for 10 minutes at 325 degrees while you're preparing the filling.

Graham Cracker Crust Tip:
To get the best, most evenly distributed and well-packed graham cracker crust, I like to use a fondant smoother tool (typically used for cake decorating) to press the graham cracker crust into place.  You can use your hands or the bottom of a measuring cup instead, but the fondant smoother tool lets you get in those corners of the pan gorgeously and makes it easy to apply even, smooth pressure.  I'm not saying you need to run out and get one to make this recipe, but if you happen to have one already, it's amazing for this job!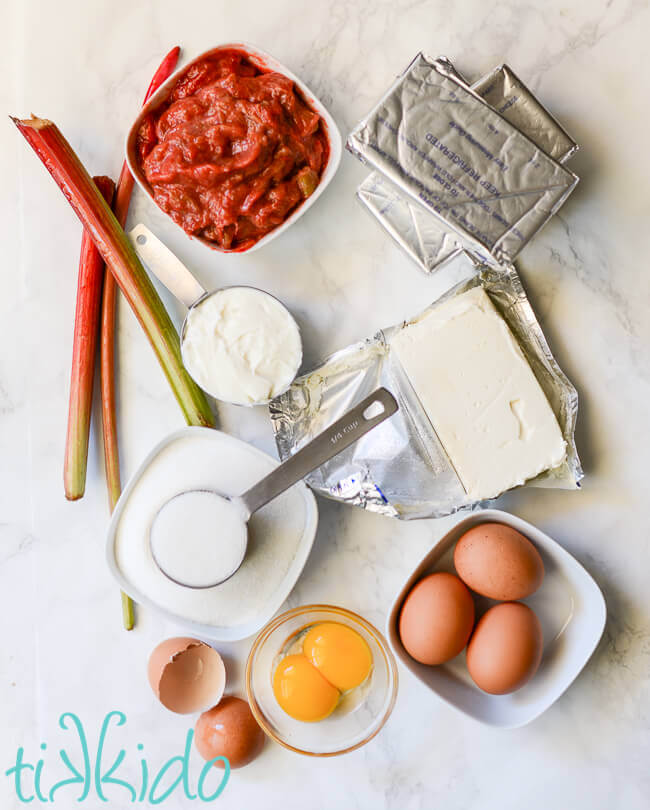 Rhubarb Cheesecake Bars Filling:
3 8 ounce packages of cream cheese (24 ounces total)
1/2 cup sour cream
three eggs
two egg yolks
1 1/4 cups sugar
approximately 1 to 1 1/2 cups rhubarb compote (recipe here)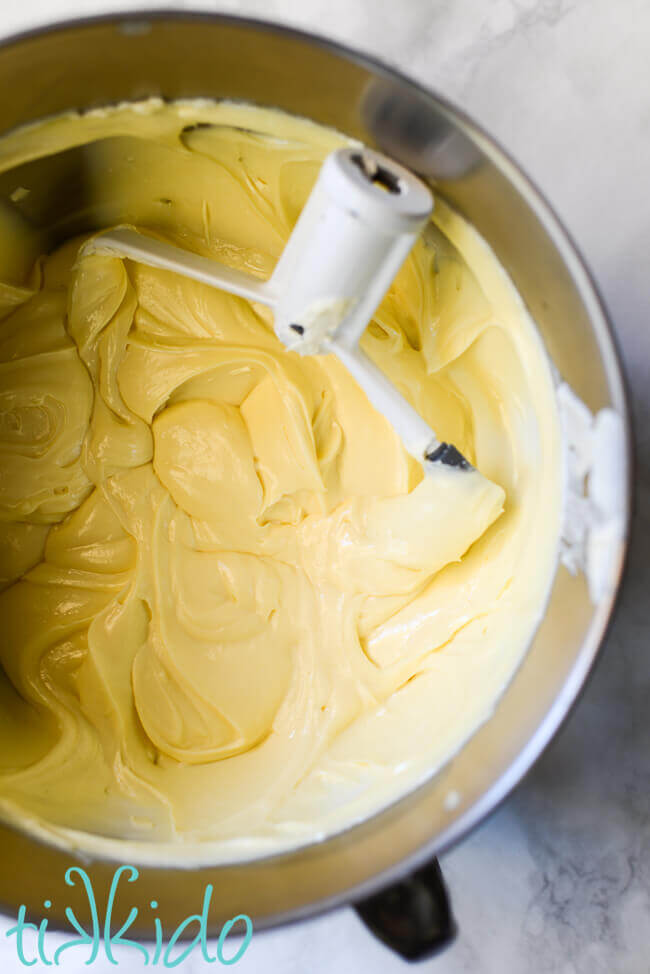 Beat together all of the filling ingredients EXCEPT for the rhubarb compote.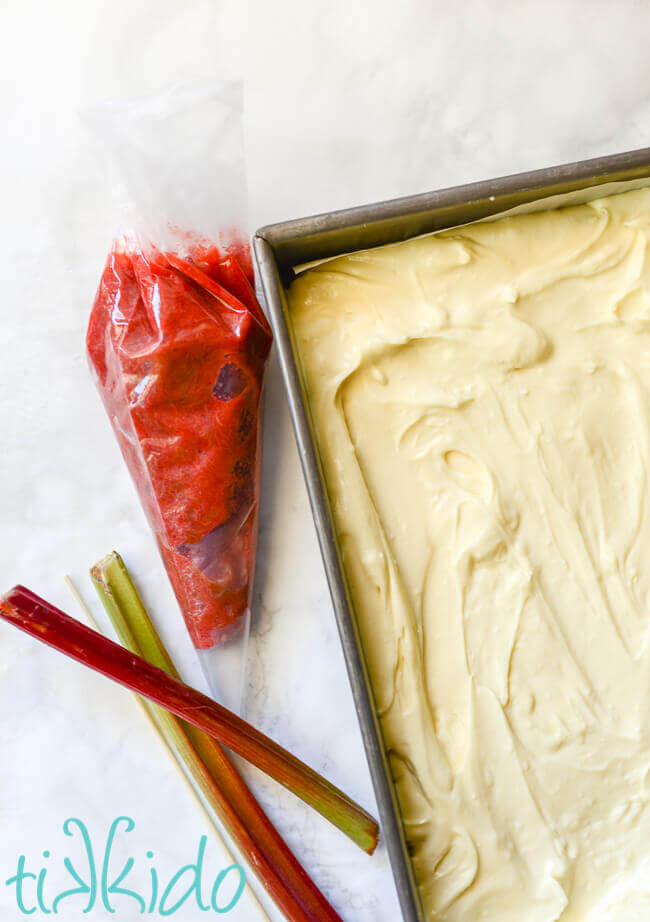 Spread the cheesecake filling over the par-baked graham cracker crust.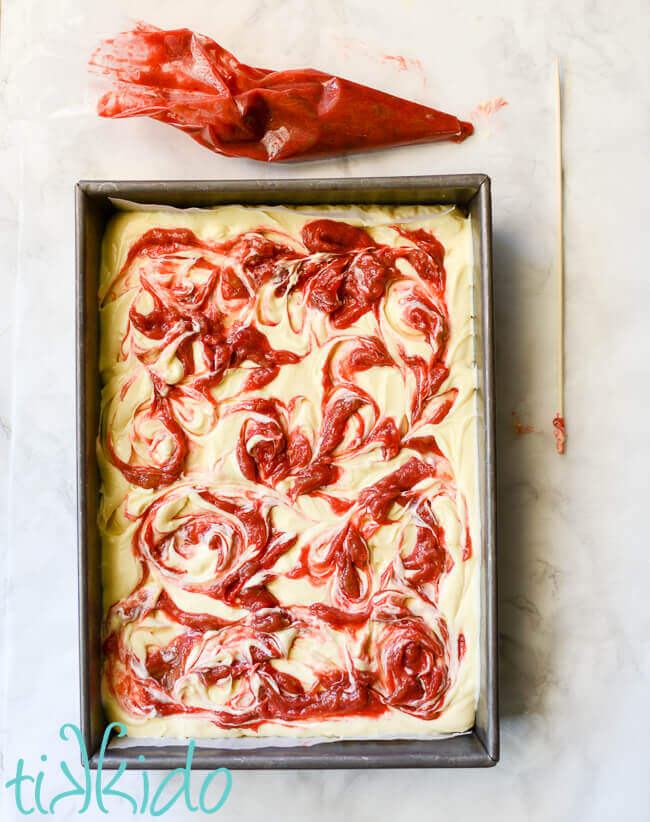 Spoon or pipe the rhubarb compote over the surface of the cheesecake filling.  Use a wooden skewer, knife, or toothpick to swirl the rhubarb into the top layer of the cheesecake filling.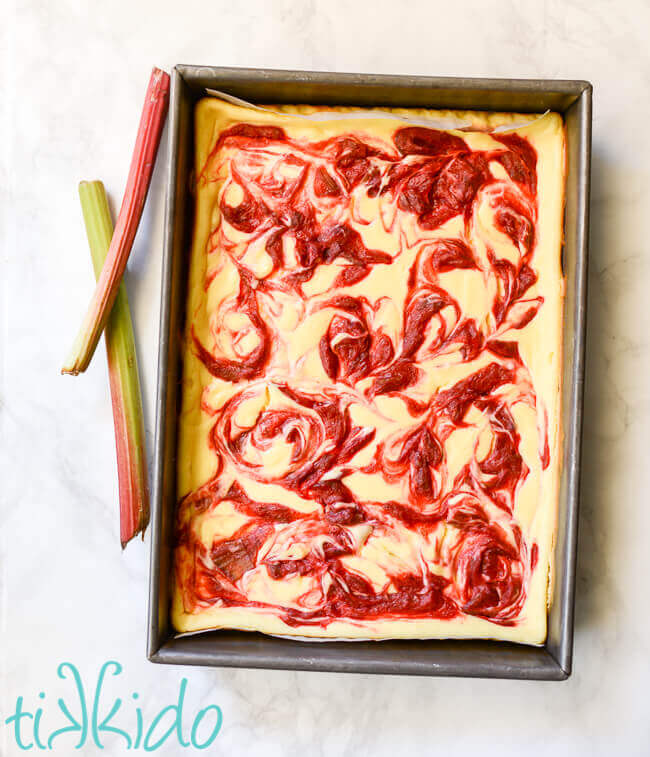 Bake at 325 degrees Fahrenheit for 40-45 minutes.  The center will still be a little jiggly when you take the pan out of the oven, but it will set up as it cools.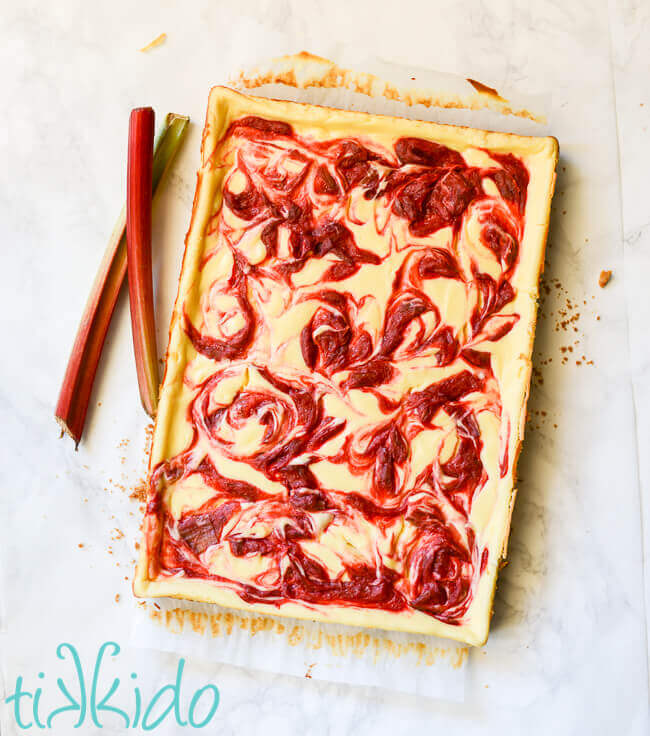 Let the cheesecake bars cool completely before using the parchment paper sling to remove them from the pan.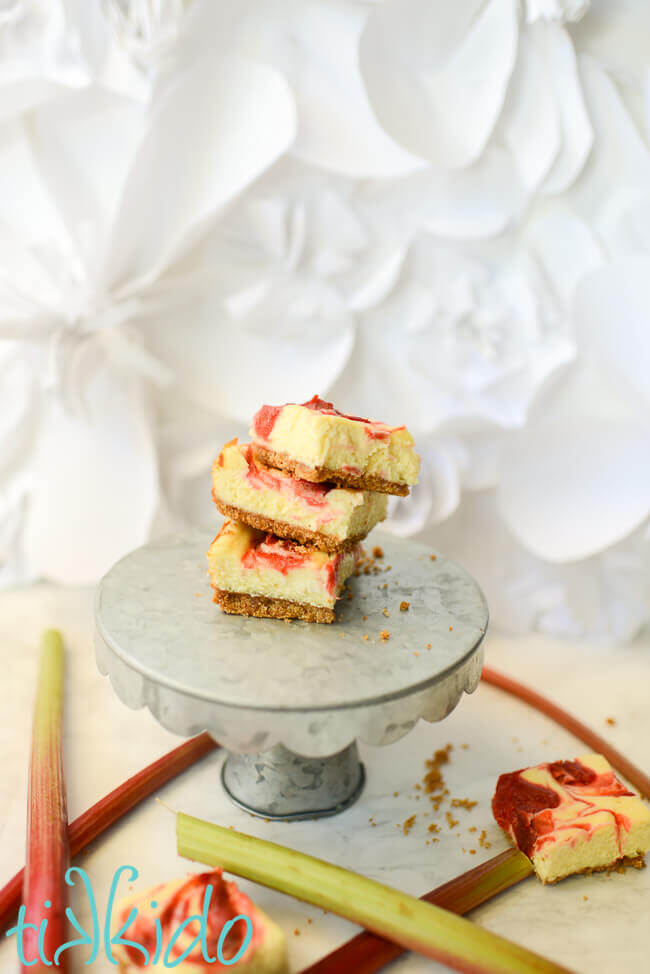 Cut into luscious, delicious, perfectly portioned cheesecake bars.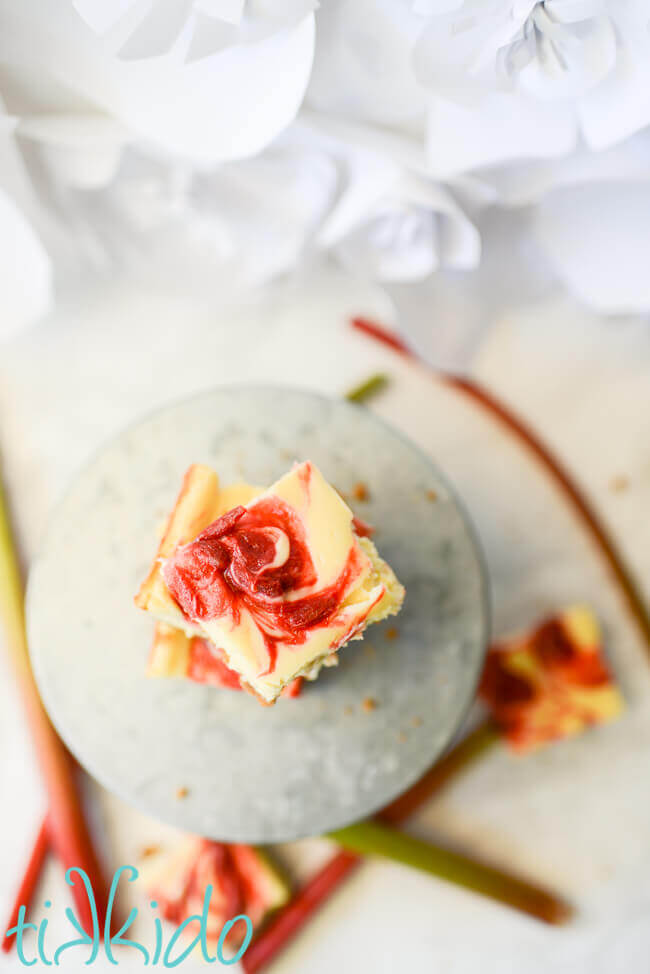 I'm going to work on a cranberry version for Christmastime next!  Doesn't that sound delicious?