Printer-friendly version
Last week I saw a fabulous sunflower wreath tutorial on the Grillo Designs blog.  It was made with wide burlap ribbon, and I absolutely loved it, and was inspired to adapt the idea to make a ribbon sunflower gift topper.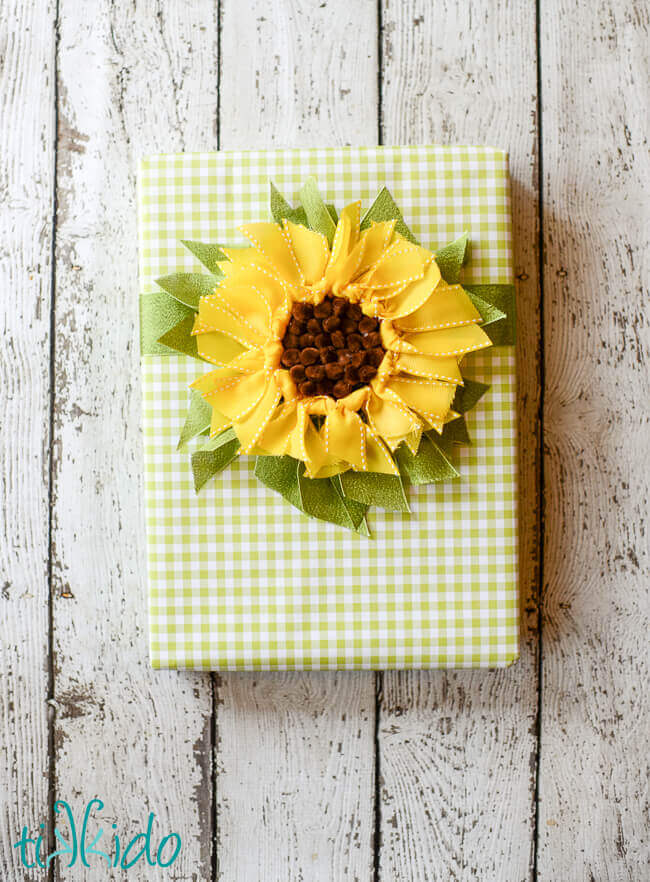 You know how I love pretty pretty presents!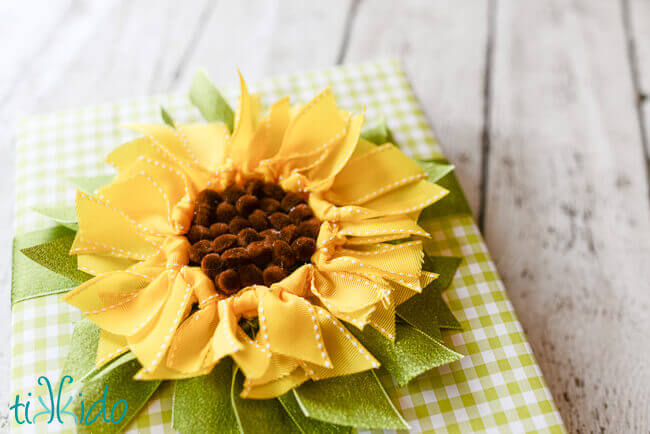 Maybe I should have waited to post this closer to summertime, but once I got the idea, I just couldn't resist.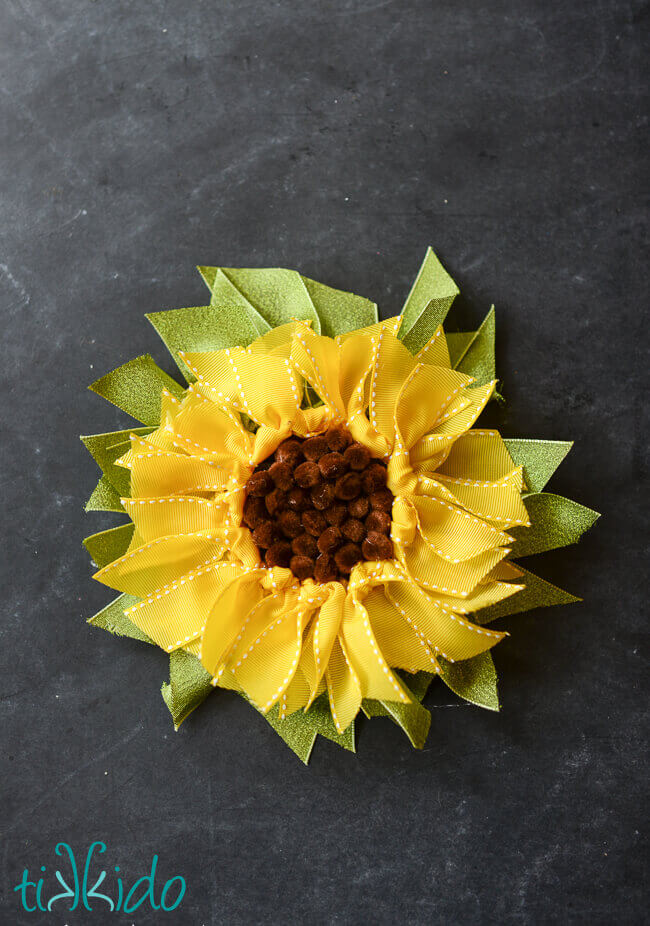 Couldn't we all use a little bit of sunshine right now, anyway?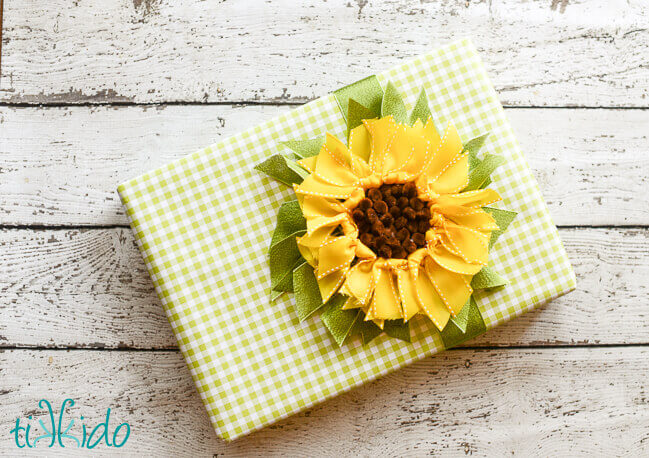 Ribbon Sunflower Gift Topper Tutorial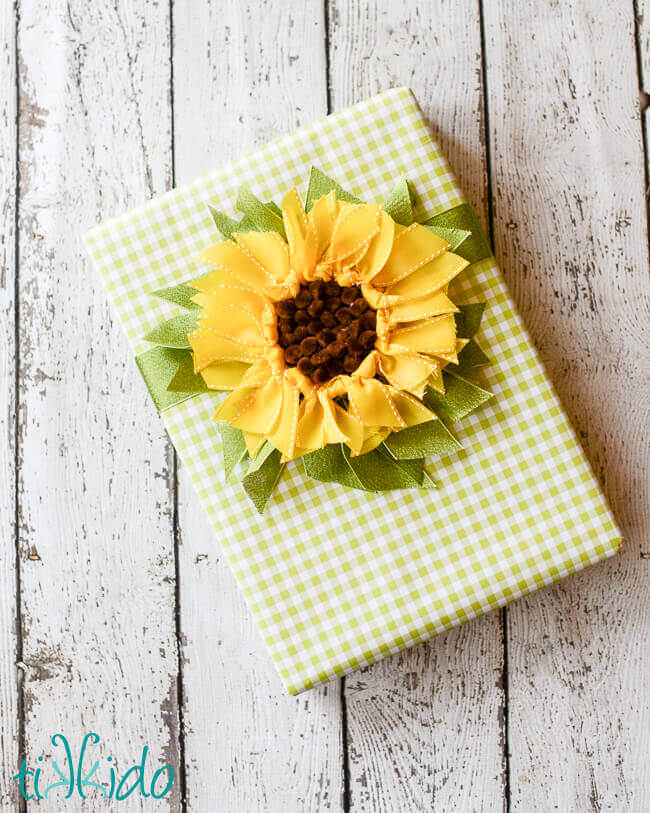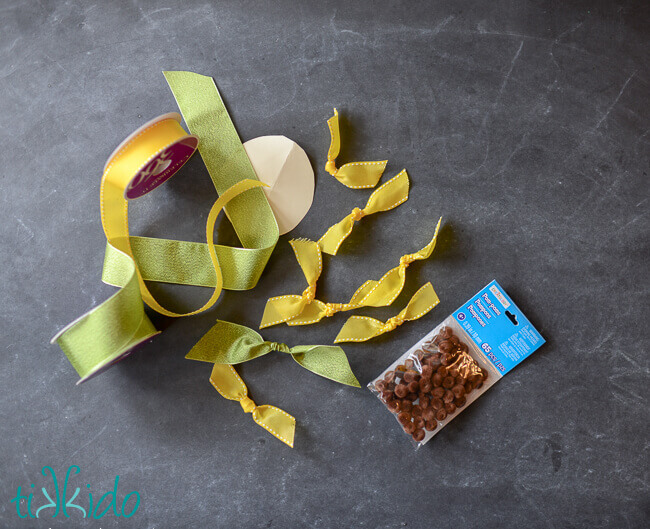 Materials for Ribbon Sunflower Gift Bow:
green ribbon
yellow ribbon
cardstock
brown pom poms
low temperature hot glue gun
cling wrap (optional)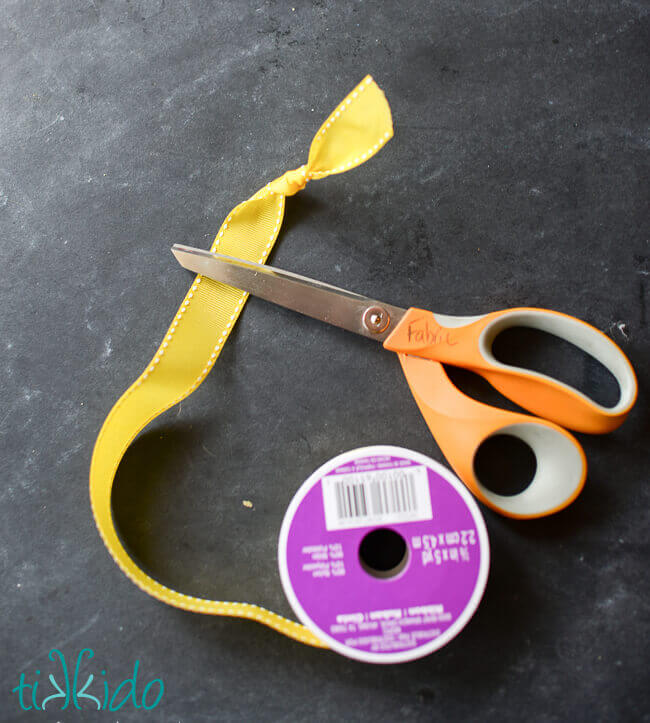 The sunflower's leaves and petals were made simple out of short lengths of ribbon tied in a kit in the center.  In order not to waste lots of ribbon and frustrate myself trying to tie very short lengths of ribbon, I found it easier to tie the knot while the ribbon was still on the spool, then cut my tied piece off.
Make a bunch of both green and yellow ribbon pieces (the exact number will depend on just how large a sunflower you're going to make).  Make the green pieces slightly longer than the yellow pieces.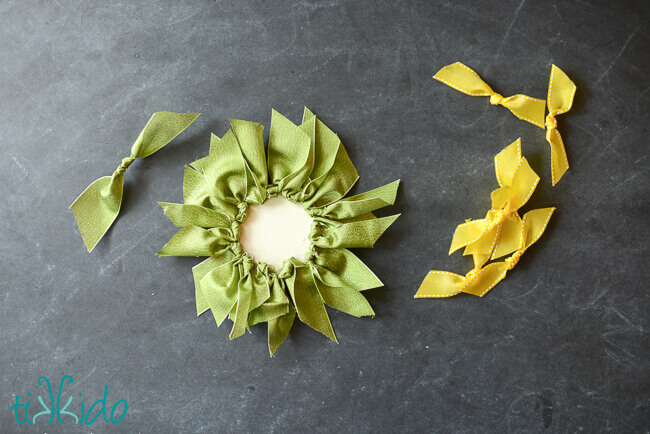 Cut a circle of cardstock to use as the base of sunflower.  Use a low temperature hot glue gun to attach a ring of tied green ribbon pieces to the perimeter of the cardstock circle.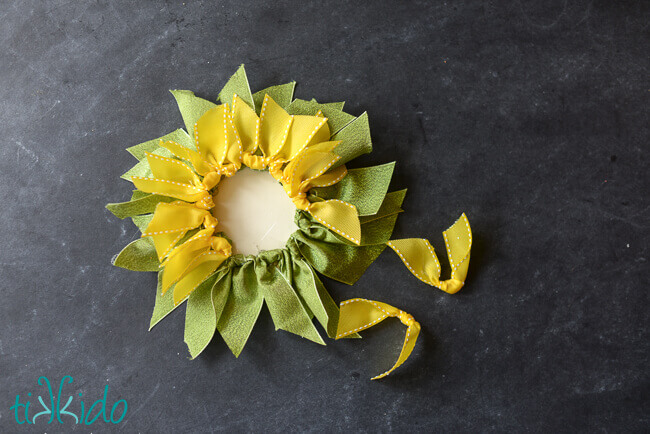 Glue a ring of the yellow ribbon pieces on top of the ring of green ribbon pieces.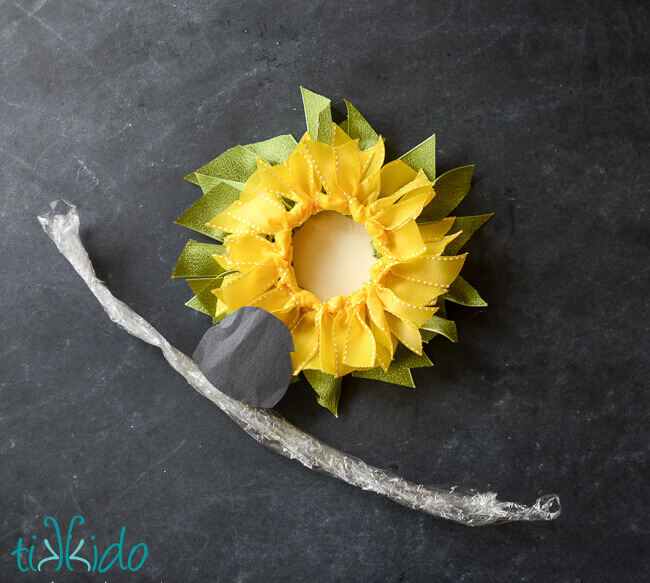 The centers of sunflowers are rather domed in the center, not recessed, so I used some cling wrap to elevate the center of my flower.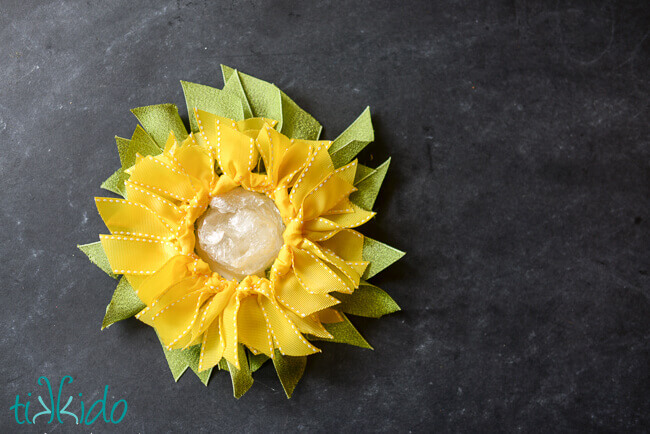 You could use cotton balls or paper towels or whatever you happen to have on hand.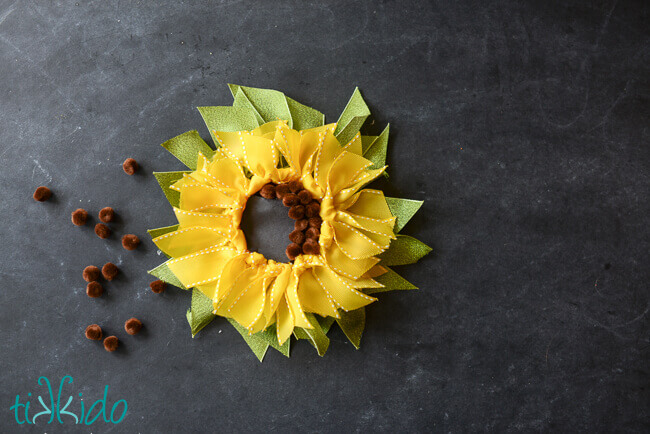 Cover the cling wrap (or whatever you used to elevate the center) with some dark cardstock, and glue the brown pom poms on top.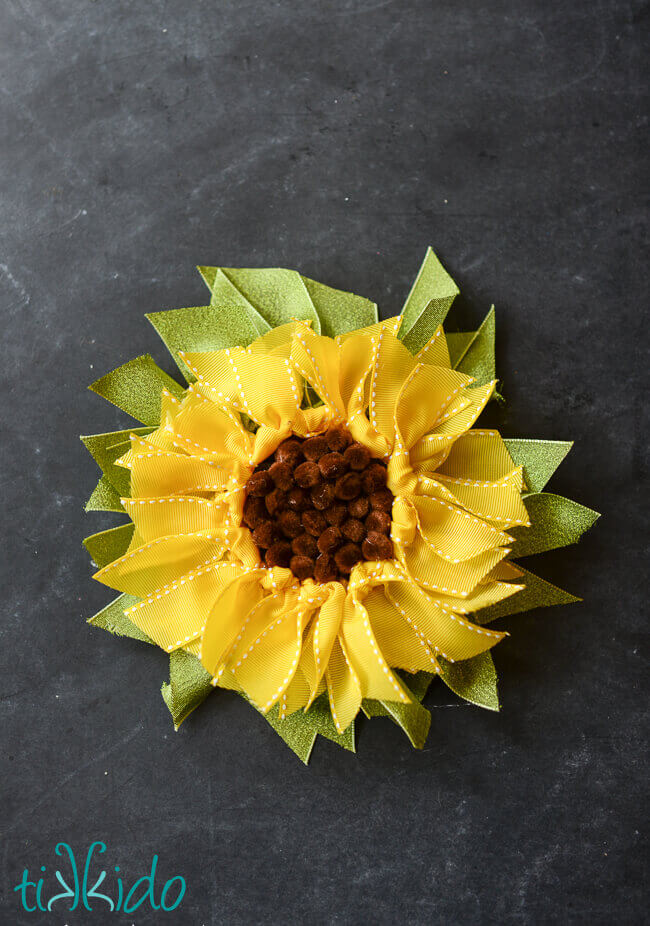 On a slightly smaller scale, this could make a really cute hair bow or headband, now that I think about it.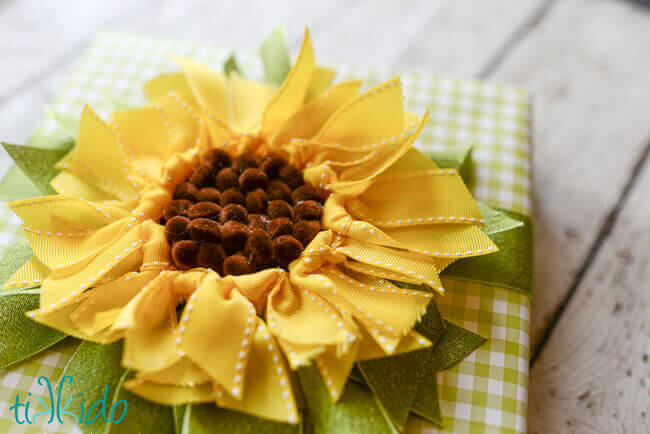 But I still like it best in lieu of a bow and topping a gift.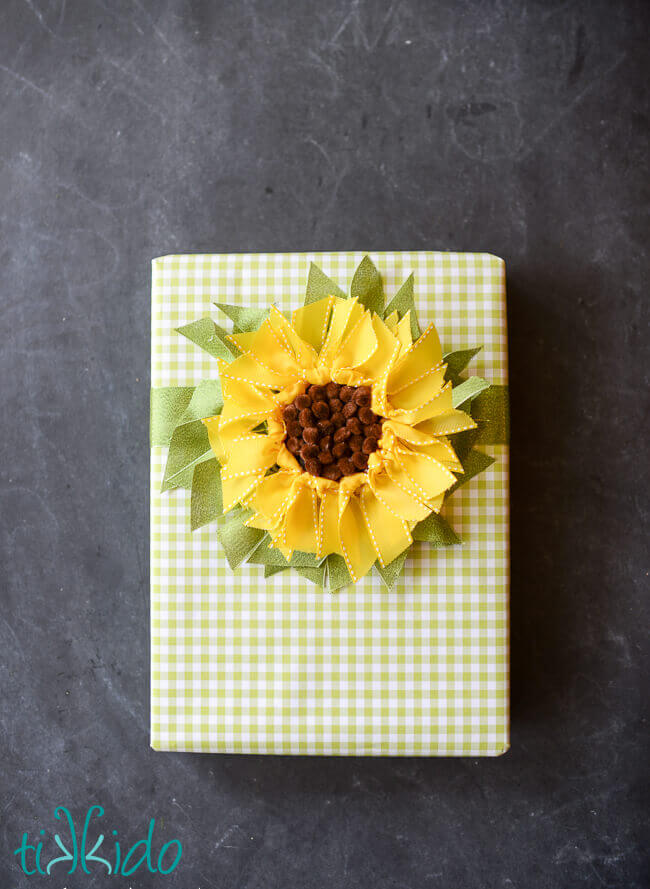 Are you a sucker for creative gift wrapping, too?  Check out my Packaging board on Pinterest, where I gather all sorts of great gift wrapping ideas and inspiration.