Printer-friendly version
Snickerdoodle blondies are easy-to-make bar cookies with the fabulous cinnamon sugar flavor of snickerdoodle cookies, and a soft texture that can't be beat.  This is the bar cookie of my dreams.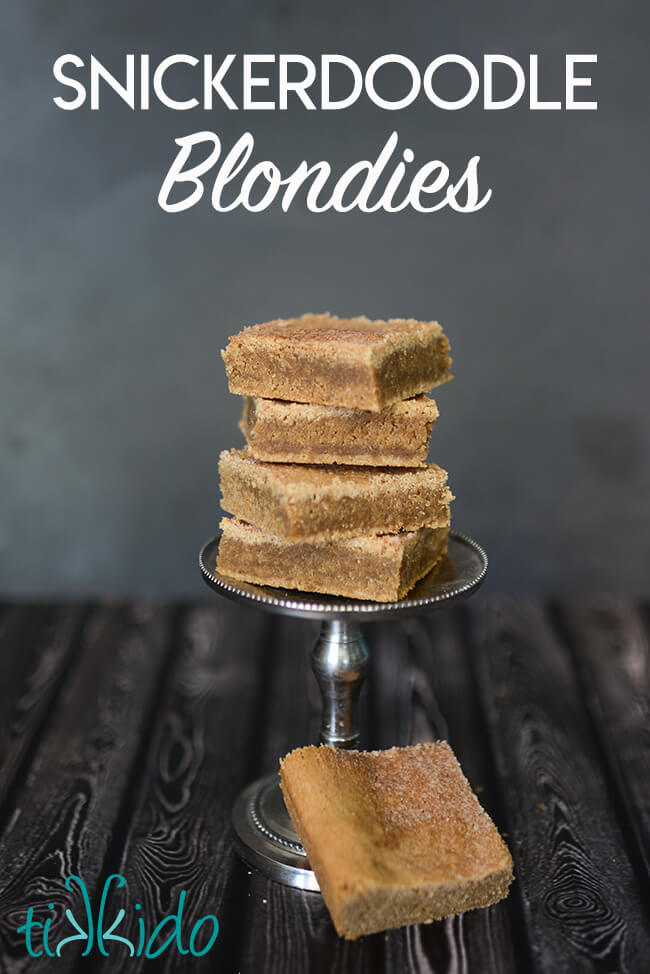 I absolutely love bar cookies--not only because they're so incredibly easy and quick to make, but also because of the texture.  I love soft cookies, and these snickerdoodle bar cookies are absolutely perfect: soft without being too cakey, moist, and a little dense and fudgy without being too overwhelmingly heavy.  I once made these for my daughter's girl scout troop, and one little girl took her first bite, looked up at me wide eyes and exclaimed, "you have magical powers over food!"  They really are that good.  So when we decided that the theme for this month's Taste Creations Blog Hop should be cookies, I figured it was finally time to share this family favorite with all of my readers.
What are Blondies?
"Blondies" is a word for a non-chocolate version of a brownie.  It's a bar cookie with a moist, slightly dense and a little bit fudgy texture.  Blondies can also be called "bar cookies."  In the UK, it would be called a "tray bake," though that term also encompasses more items than just bar cookies (e.g. brownies and flapjacks).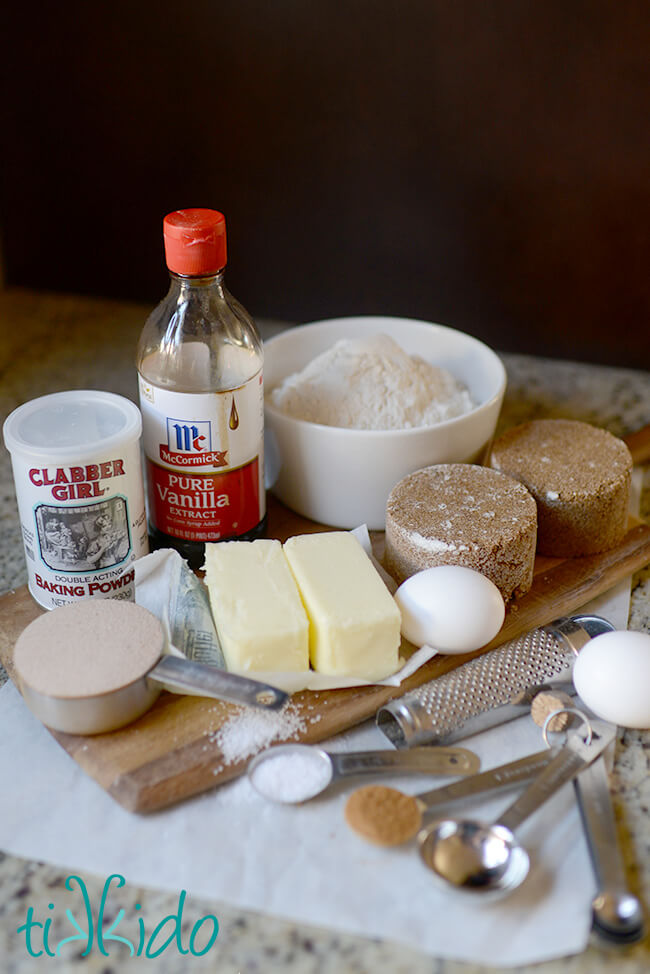 The ingredients for making Snickerdoodle Blondies are all pretty much pantry staples.  I do like to use freshly grated nutmeg, but it's delicious made with ground spices, too.
Snickerdoodle Blondies Ingredients:
1 cup (2 sticks, or 226 grams) of butter, softened
2 cups of light brown sugar
2 eggs
1 teaspoon salt
1 teaspoons cinnamon
1/4 teaspoon ground nutmeg
1 Tablespoon vanilla extract
2 teaspoons baking powder
2 2/3 cups all purpose flour
About a half a cup of cinnamon sugar (to sprinkle on top)
What is Cinnamon Sugar?
It came as a surprise to me (American), but a question I often get from my UK readers is, "What is cinnamon sugar?"  Cinnamon sugar is simply a mix of ground cinnamon and granulated white sugar.  I always keep a container in my pantry for making cinnamon rolls, this recipe, snickerdoodle cookies, or cinnamon toast.  To make your own simply stir together cinnamon and sugar.  Start with a 1:4 ratio (one part cinnamon to 4 parts sugar), a classic ratio used by pastry chefs.  But taste it, experiment, make it your own.  You might like more cinnamon.  Or less.  It's easy to adjust the ingredients to make it exactly the way you like it.  Honestly, I don't even measure when I'm making cinnamon sugar.  I just add cinnamon and stir until it looks like the right color for me.  Cinnamon sugar is very forgiving.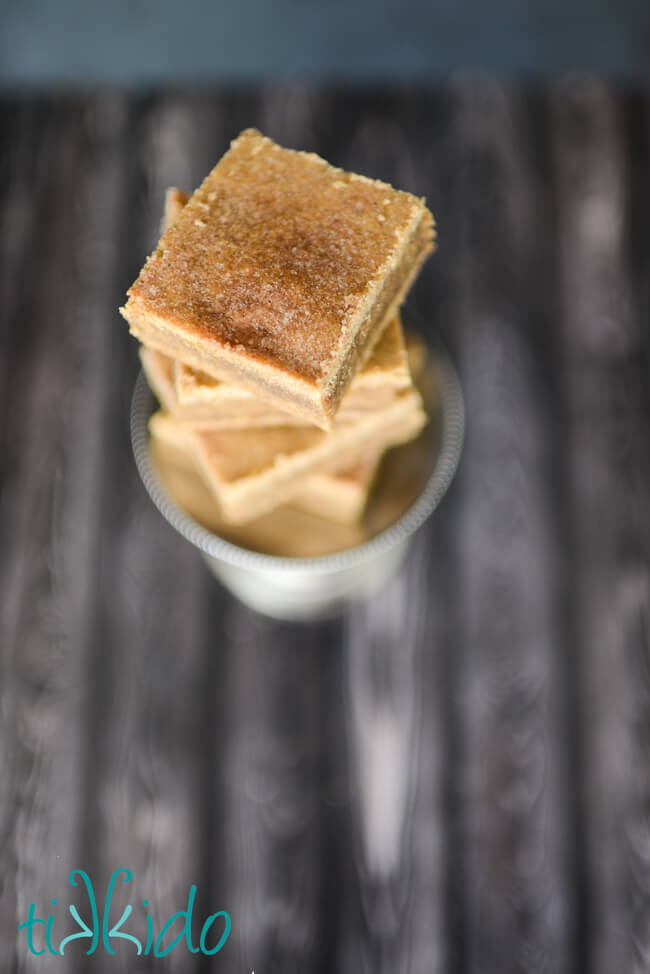 How to Make Snickerdoodle Bar Cookies:
Preheat oven to 350 degrees Fahrenheit.
Cream butter and brown sugar.  Add eggs, and mix until fluffy.
Add salt, cinnamon, nutmeg, vanilla, and baking powder, and mix well.
Add flour and mix just until the flour is evenly incorporated.
Spread the cookie dough in a 9x13 baking pan (no need to line or prepare the pan in any special way) and generously cover the top of the dough with cinnamon sugar.
Bake at 350 for 25 minutes.
Let cool before cutting and serving.
Printable, One Page Snickerdoodle Blondies Recipe
Want a one page, printable PDF version of this recipe?  Click the image below to print the recipe or save the PDF to your device.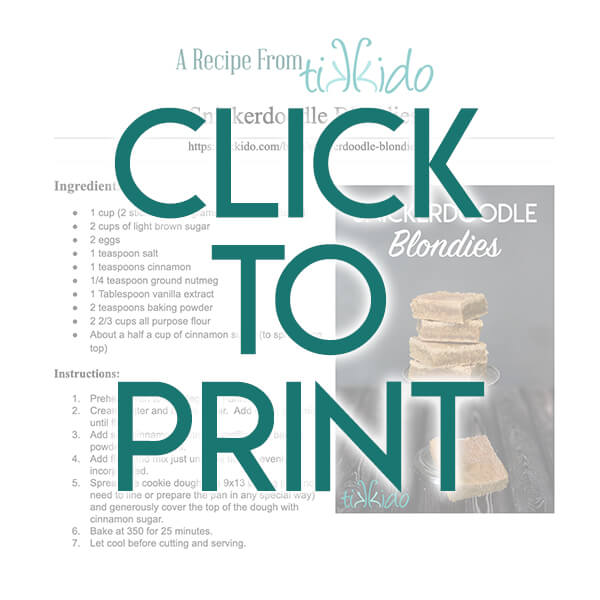 Other Cookie Recipes from the Taste Creations Blog Hop: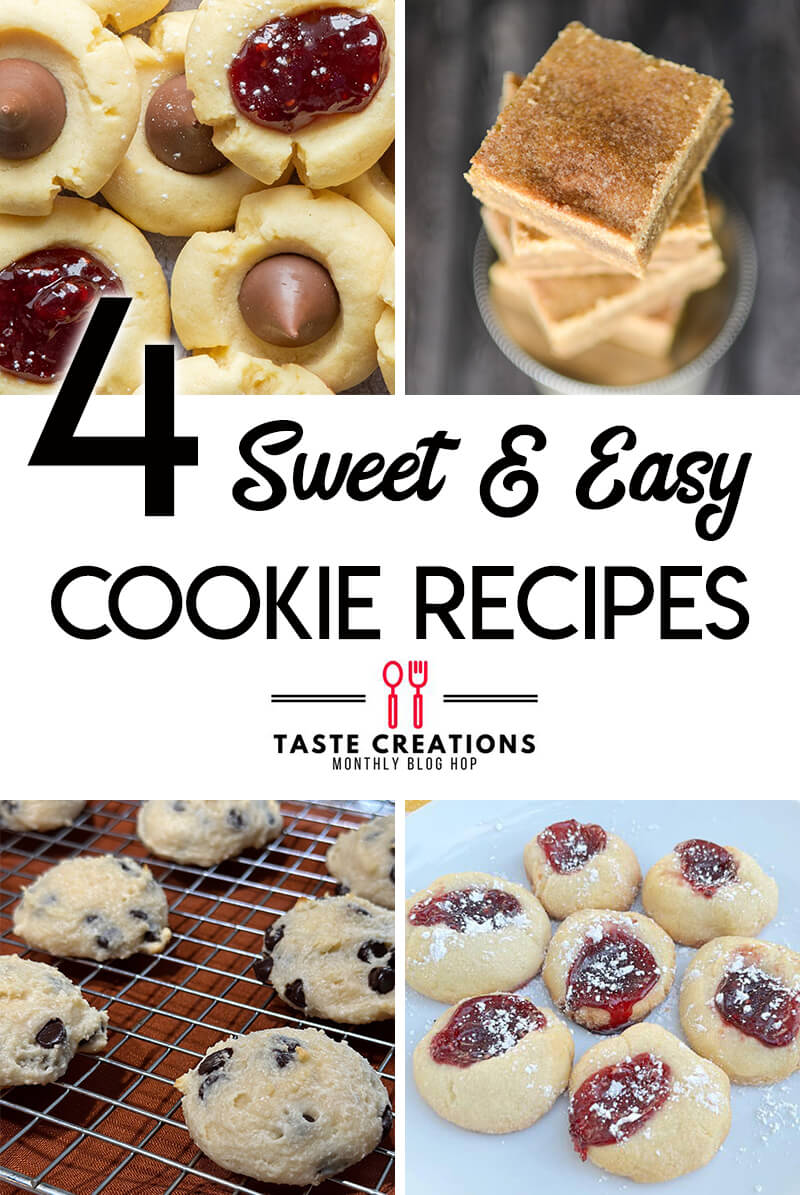 Be sure to check out the other easy, incredible cookie recipes from my fellow bloggers in the Taste Creations Blog hop this month!
Breads and Sweets: Thumbprint Butter Cookies
Our Good Life: Cottage Cheese Chocolate Chip Cookies
Mom Home Guide: Raspberry Thumbprint Shortbread Cookies
Other Spiced Cookie Recipes You Might Like: