Printer-friendly version
Apple bread is a fast and easy quick bread to make in the fall with fresh apples.  This apple quick bread recipe is nicely spiced with warm flavors like cinnamon and allspice, and features a rich browned butter crumb topping.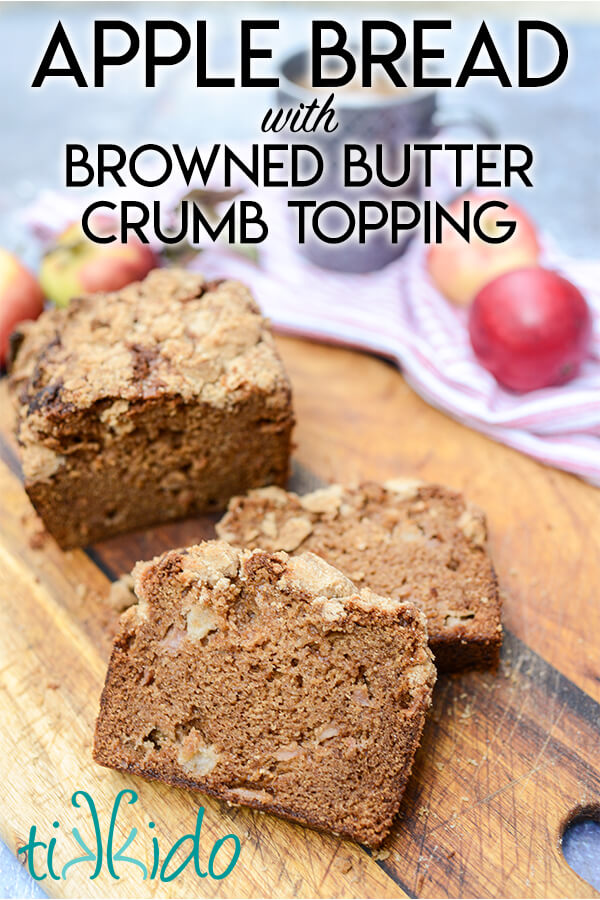 It's the first monday of the month, and that means it's time for the Taste Creations Blog Hop!  This month our theme is Tea Breads.  Those sweet, cake-like quick breads that are so delicious and easy to make, and are absolutely perfect with a cup of tea or coffee any time of day.  Breakfast?  Absolutely!  Snack?  Of course!  Dessert?  Naturally!  I love quick breads for their ease and fabulous flavor.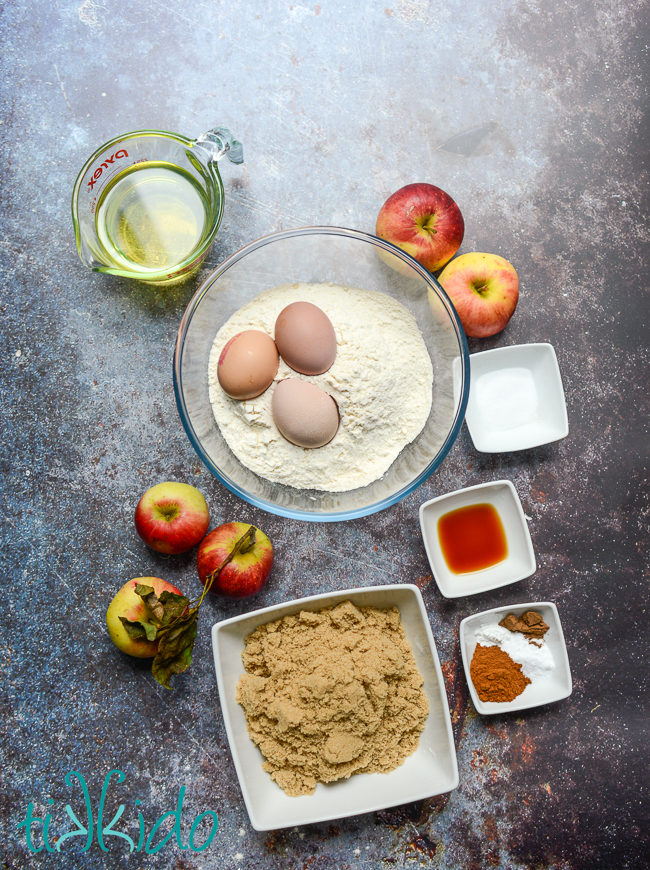 Ingredients for Apple Quick Bread:
3 eggs
2 cups brown sugar
1 cup vegetable oil
2 teaspoons vanilla extract
2 1/2 cups apples, peeled and diced
3 cups all purpose flour
1/2 teaspoon baking powder
2 teaspoons baking soda
2 teaspoons cinnamon
1/2 teaspoon allspice
1 teaspoon salt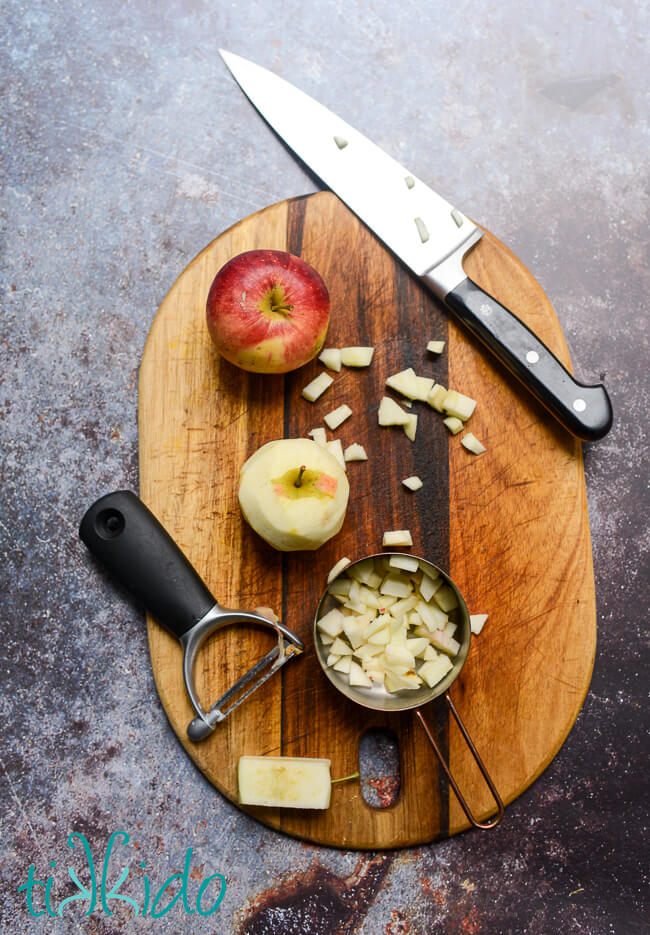 How to Make Easy Apple Bread:
Start by making the streusel crumb topping, if you want it on your apple bread.  You can find my basic crumb topping recipe and all the details here, but I'll cover the basics in this post as well.  You want the crumb topping to be cold, straight from the freezer when you add it to your bread batter, otherwise it won't keep its craggy, crumbly texture.  I often keep a batch of crumb topping ready to go in the freezer, but if I'm making it especially for this bread, I make it first and let it sit in the freezer while I make the apple bread batter.
What Kind of Apples are Best for Apple Quick Bread?
While you can use any kind of apple to make apple bread, I love using tart cooking apples, like Granny Smith or Bramley apples.  I love the brightness of the flavor those varieties add.  If you use a sweeter apple, the bread is still absolutely delicious, but the apple flavor will be more subtle.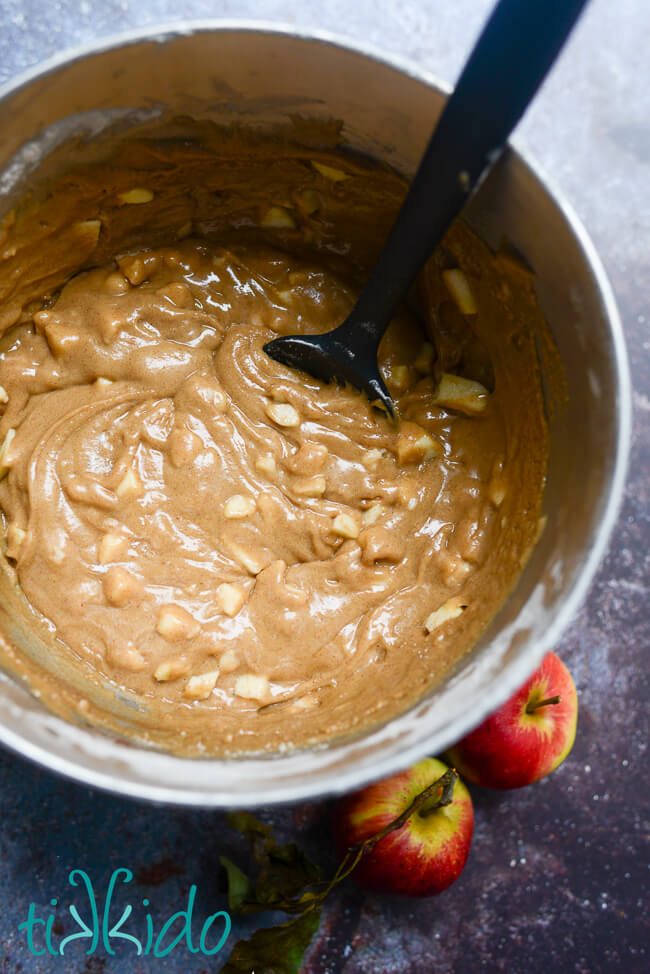 If you've just made your streusel topping, there's no need to wash out the bowl before using it to make the apple bread batter.  I like to use my Kitchenaid mixer for everything, but you could certainly use a hand mixer, or even just a wooden spoon to make this apple tea bread.
Beat the oil, eggs, and brown sugar together well.  Add the vanilla, salt, spices, baking soda, and baking powder and mix well.  Add the flour and mix just until well combined to create a thick batter.  Add the apple chunks and mix to distribute the fruit evenly through the batter.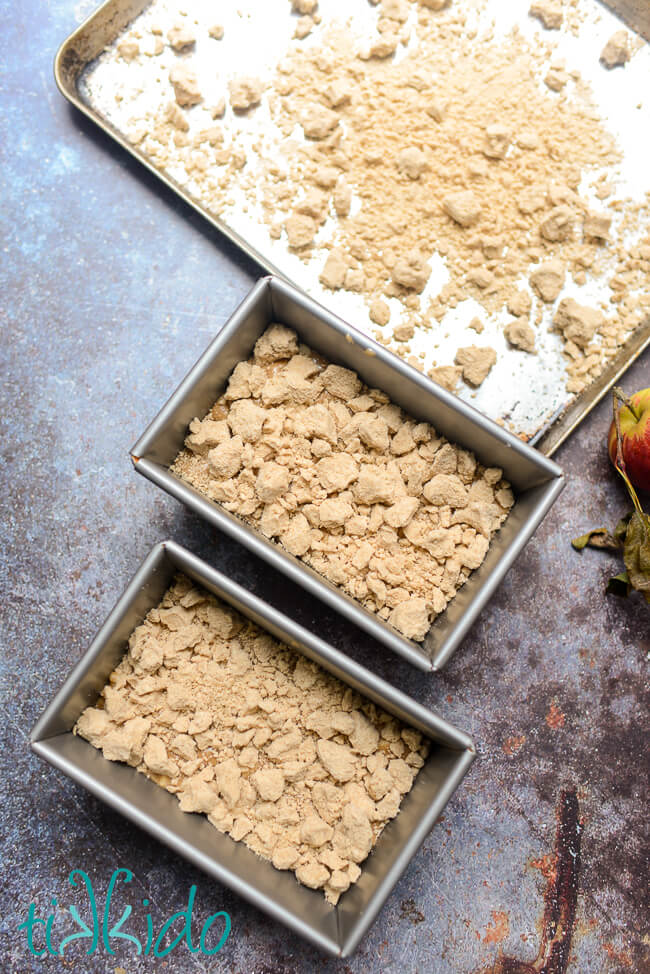 Distribute the batter between two bread pans.  My bread pans have a nonstick coating, so I don't do anything special to prepare the pans before baking.  The bread always comes out nicely.  But if your pans aren't nonstick, definitely grease the pans well and consider lining the bottom of the pan with parchment paper to ensure that the bread releases from the pan when cool.
Add crumb topping, if desired, straight from the freezer, and just before you pop the bread in the oven.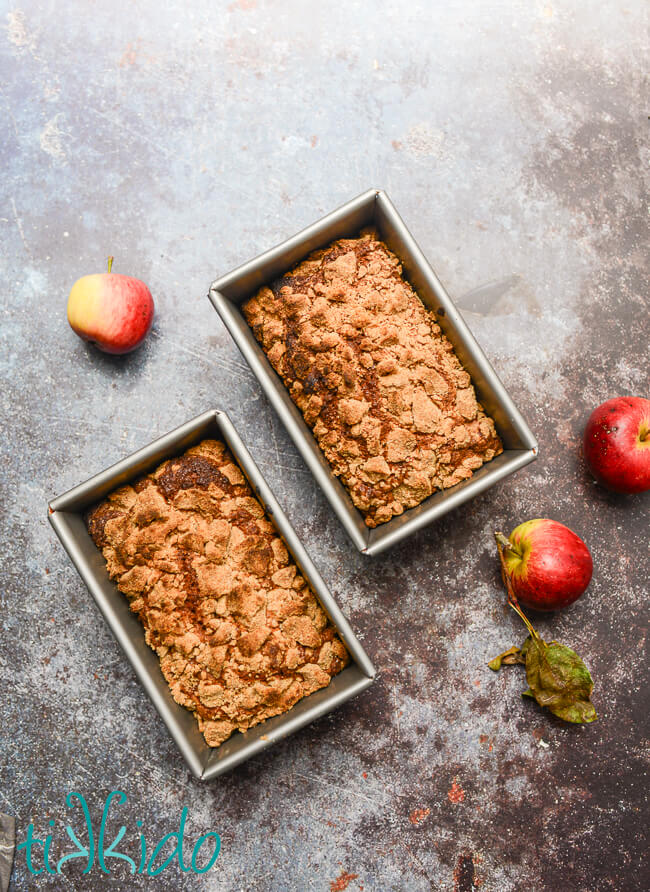 Bake at 350 degrees Fahrenheit for 55-60 minutes, until a test skewer stuck in the center of the cake comes out clean.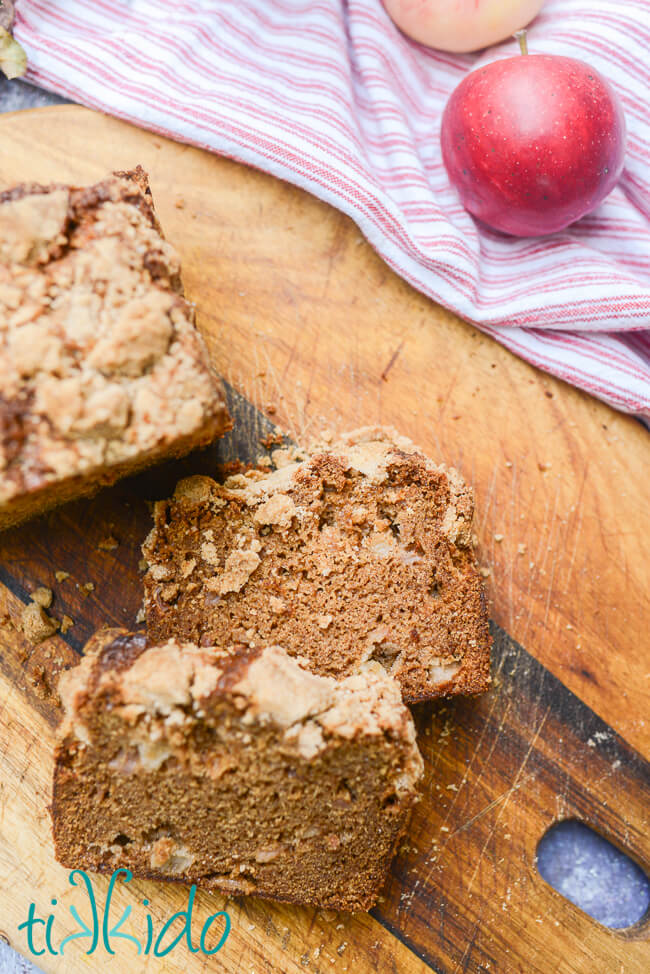 Let the apple bread cool before removing it from the pan and slicing.  
Printable Apple Tea Bread Recipe:
Want a one page, printable, PDF version of this apple quick bread recipe?  Click on the image below to print directly or download the PDF to your device.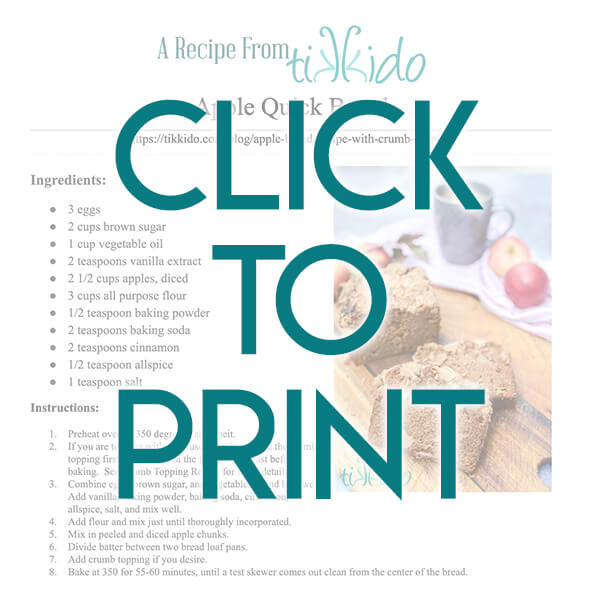 Other Tea Bread Recipes from the Taste Creations Blog Hop: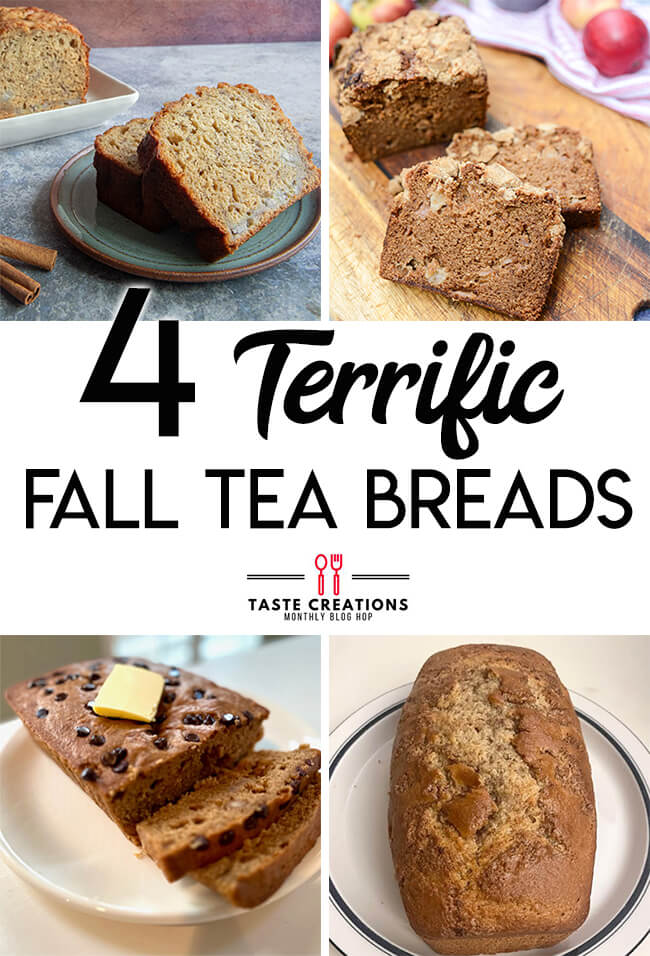 Be sure to check out the other amazing tea bread recipes from my fellow bloggers in the Taste Creations Blog Hop!
Our Good Life: Pumpkin Nut Bread with Chocolate Chips
Breads and Sweets:  Brown Sugar Banana Bread
Mom Home Guide: Quick Cinnamon Bread
Other Quick Bread Recipes You Might Like: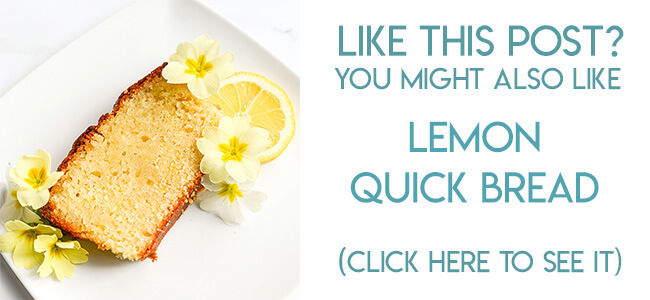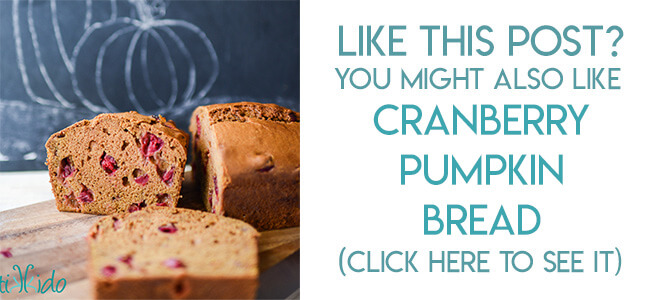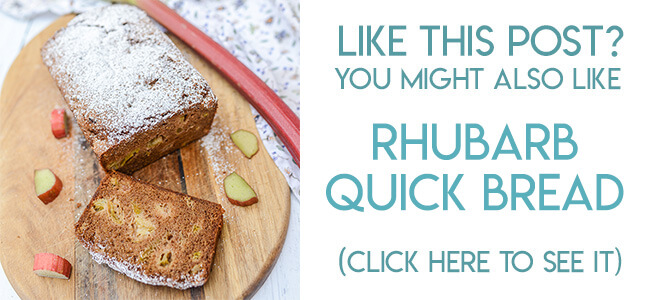 Other Apple Recipes You Might Like: