Printer-friendly version
Pumpkin spice sugar cookies are a delicious variation on classic cut out sugar cookies.  These pumpkin spice cut out sugar cookies are great for decorating, of course, but are also incredibly delicious to eat plain, too.  The pumpkin pie spices give these cookies fabulous fall flavor.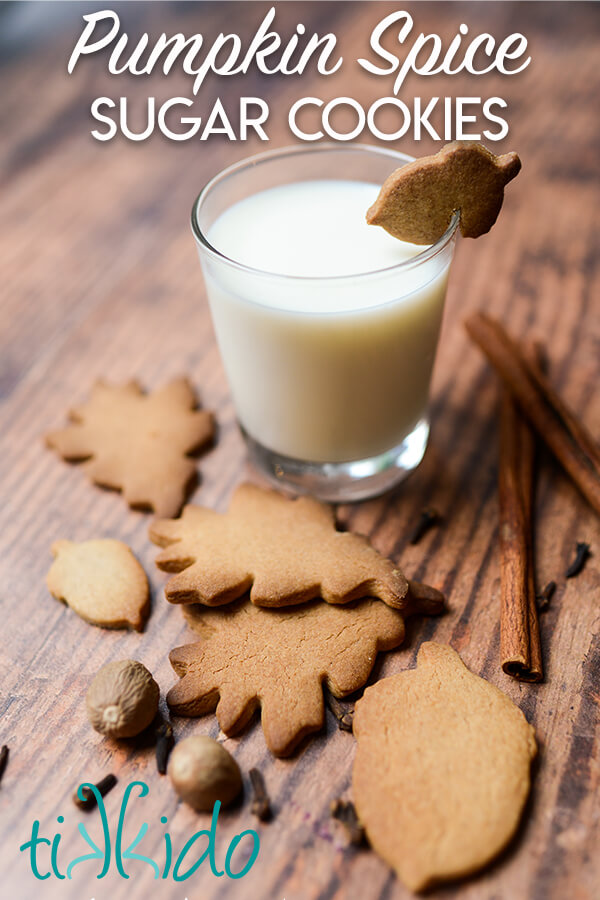 I made these pumpkin spice cookies for this month's Taste Creations Blog Hop.  My blogger friends and I are all sharing incredible fall cookie recipes today, so be sure to check out the other delicious recipes at the end of this post.  
October is National Cookie Month, so of course we jumped at the chance to make our monthly blog hop theme cookies.  Any excuse to make a new cookie recipe is a good one.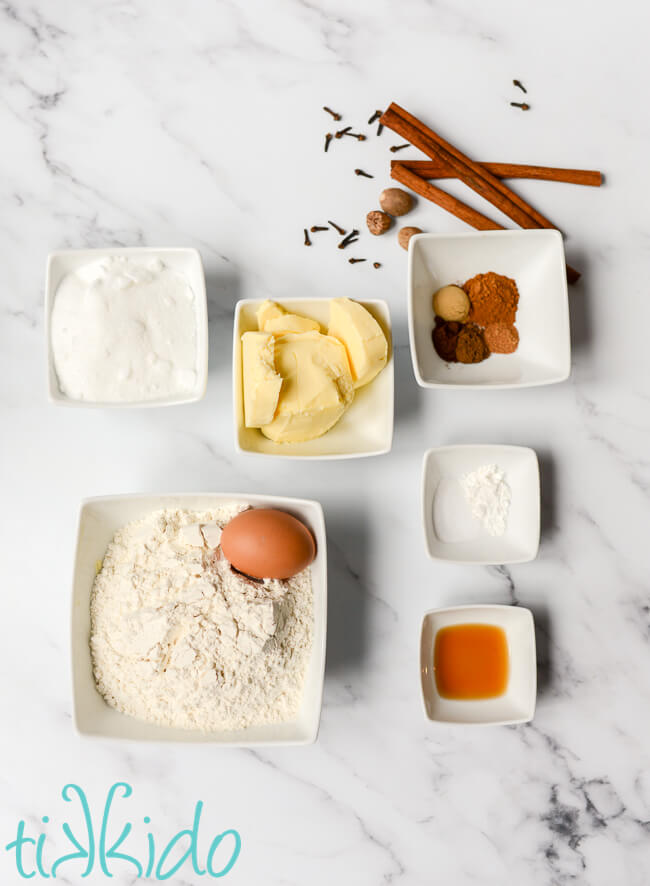 Pumpkin Spice Sugar Cookie Recipe:
3 cups flour
1/2 teaspoon baking powder
1 cup (2 sticks, or 226 grams) butter, softened
1 cups sugar
1 egg
1 teaspoon vanilla
1/2 teaspoon salt
1 teaspoon ginger
1 teaspoon cinnamon
1/2 teaspoon ground cloves
1/2 teaspoon ground allspice
1/4 teaspoon ground nutmeg
How to Make Pumpkin Spice Sugar Cookies:
Cream butter and sugar.  Add egg and beat until fluffy.  Add the pumpkin pie spices, vanilla, baking powder, and salt, and mix to combine.
Add the flour, and mix just until all of the ingredients are well incorporated and form a firm cookie dough.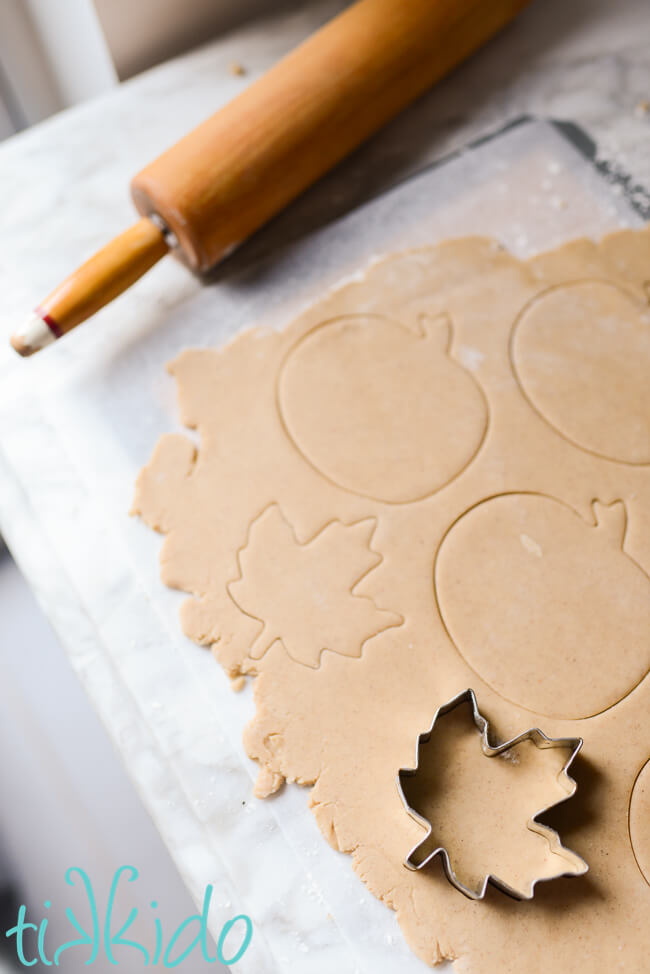 Roll out the pumpkin spice sugar cookie dough on parchment paper, and use cookie cutters to cut out shapes.
Tips for Making Cut Out Cookies:
To keep the parchment paper from sliding around while you roll out the dough, put a silicone mat (like a Silpat) beneath the parchment paper.
Don't try to move the cut out sugar cookie shapes (especially if they're big).  Instead, lift the dough from around the cut out shapes and leave the unbaked cookies where they are.  This is actually why we roll the dough on parchment paper instead of the countertop.  You don't actually need the parchment paper for its non-stick properties (although that's a nice bonus)--it's all about not having to move those unbaked cookies so they won't get deformed.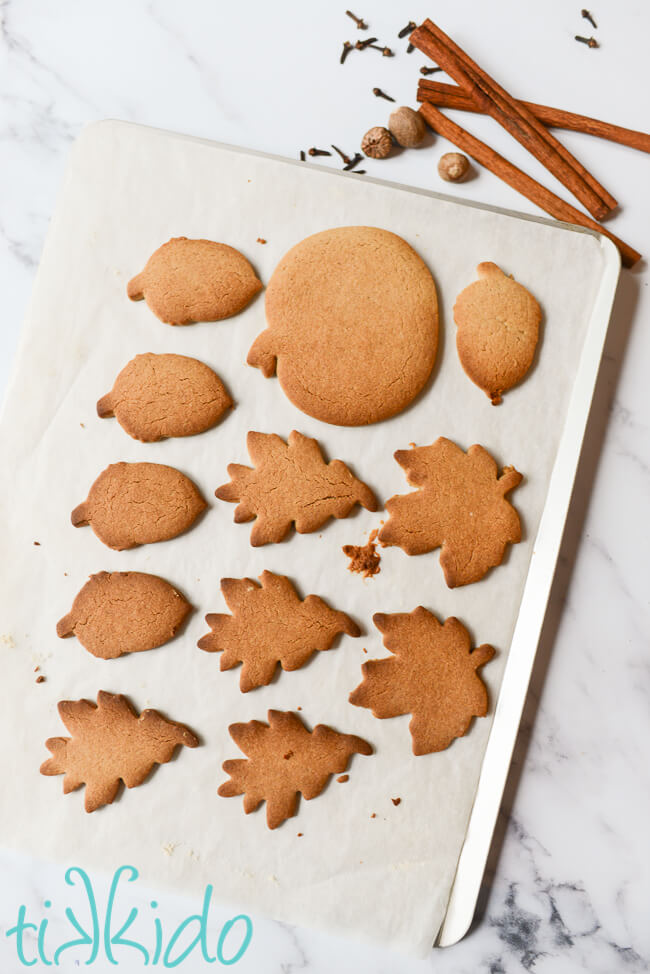 Bake for 8-12 minutes at 350 degrees Fahrenheit.  Smaller cookies will need less baking time, larger cookies need the upper end of the baking time range.
These pumpkin spice cookies smelled absolutely heavenly while I was baking them!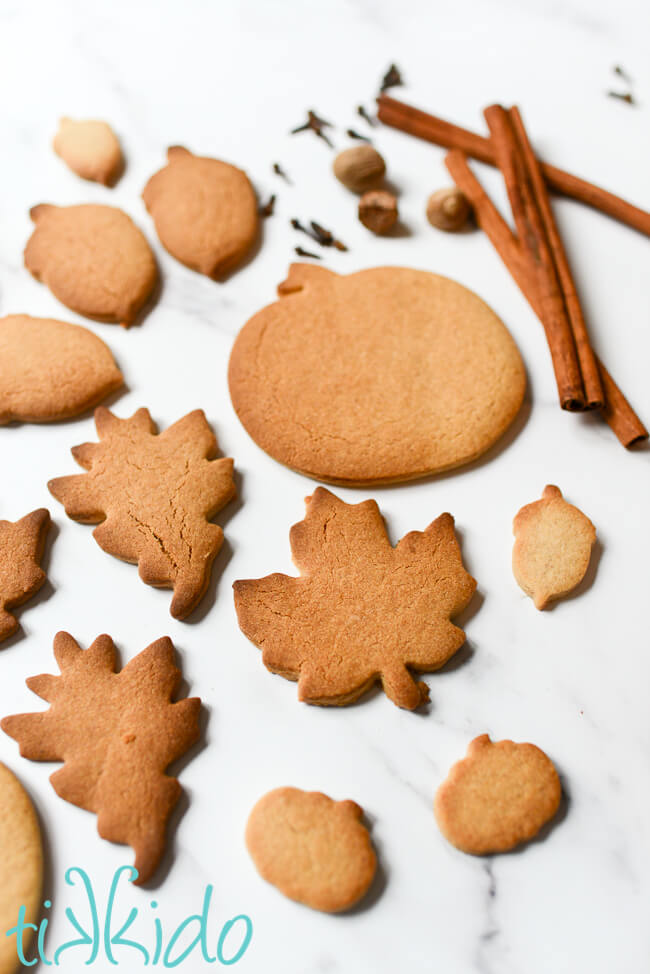 I can't wait to decorate some of these!  I might make some browned butter frosting and turn some into sandwich cookies, too.  That sounds absolutely delicious!
Printable, One Page Version of the Pumpkin Spice Sugar Cookie Recipe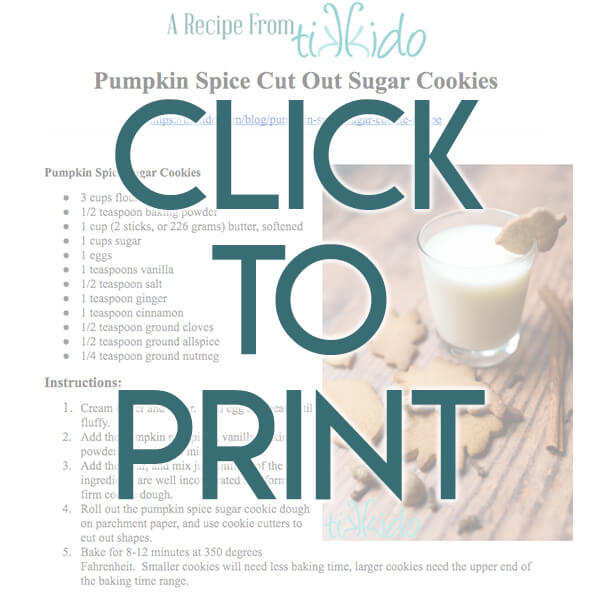 Be sure to check out the other irresistible fall cookie recipes from my blogger friends!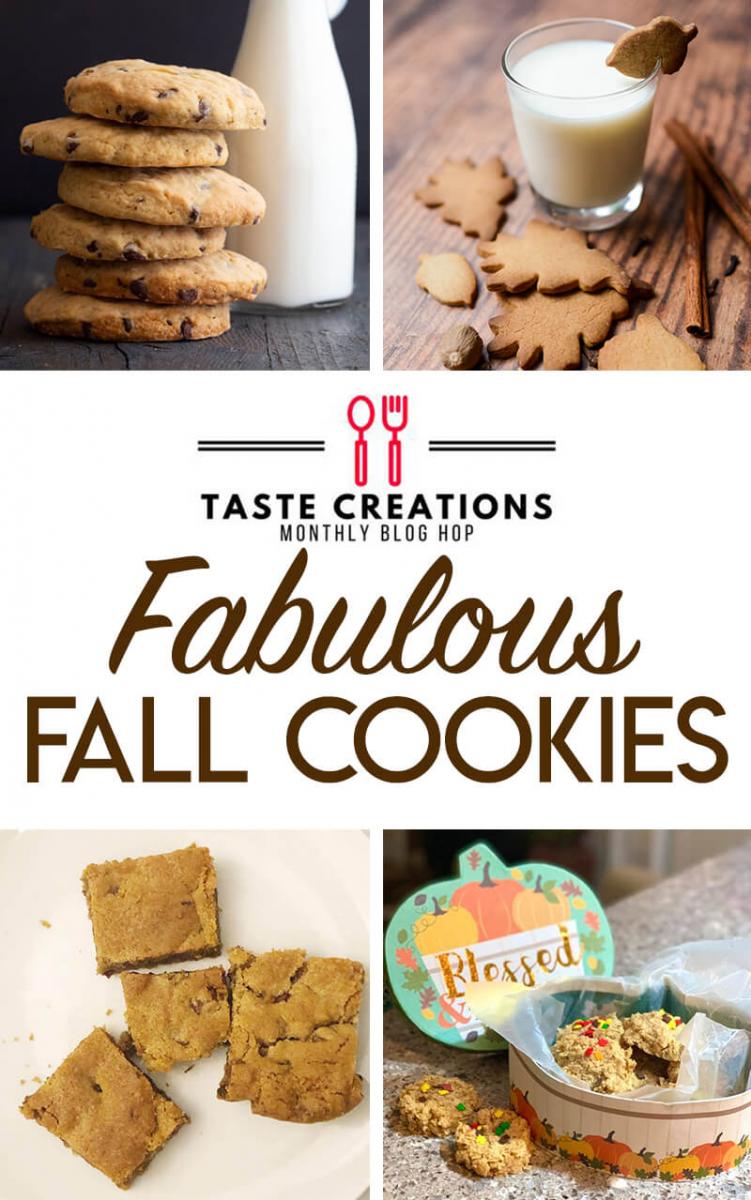 Fabulous Fall Cookies from the Taste Creations Blog Hop:
An Italian in my Kitchen: Chocolate Chip Pumpkin Cookies
Our Good Life:  Maple Peanut Butter No Bake Cookies
Mom Home Guide:  Sea Salt Chocolate Chip Bar Cookies
Other Cookie Recipes You Might Like: