Printer-friendly version
Want to know how to make dairy free chocolate popsicles?  These vegan fudgesicles are a creamy, delicious frozen treat perfect for hot summer days.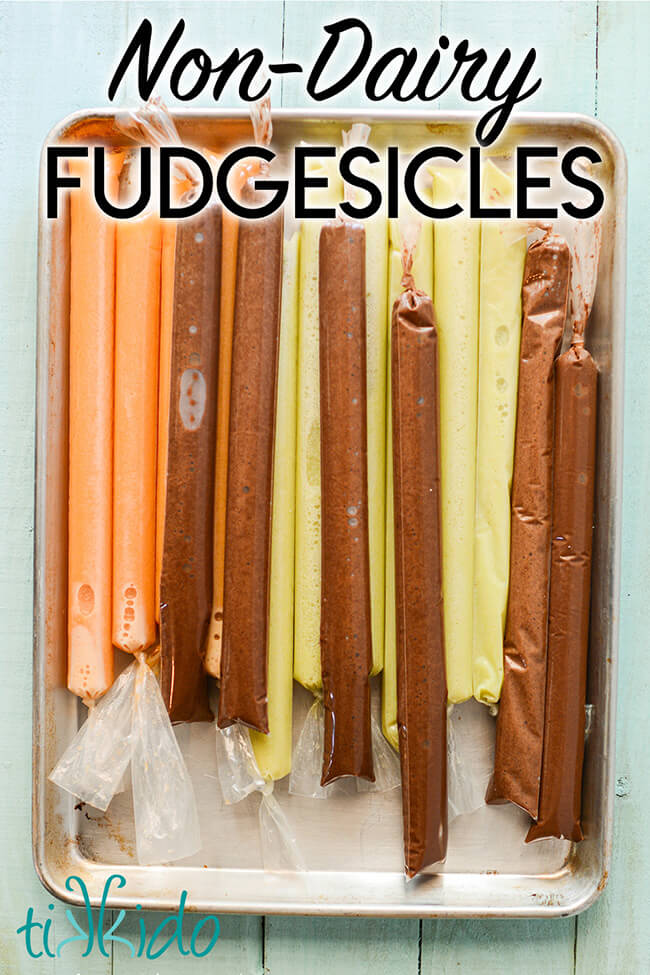 Hot (REALLY hot in Phoenix) summer days are upon us, the girls are out on summer vacation, and we're always looking for ways to keep cool and busy.  This summer, I remembered back to my own childhood summers, when my mom would make homemade fudgesicle ice pops for me and my brother.  Nothing tasted sweeter or better on a hot summer day than those homemade popsicles.
The first step was tracking down the narrow plastic bags for making freezer pops.  It turns out they're called Ice Candy Bags, and they're still made!  Exactly like the ones my mom used when she made these sweet treats for us when I was little!  What a fun, nostalgic find.  
Vegan Fudgesicle Recipe Using Almond Milk (Ingredient List):
3 cups Almond Milk
1/2 cup unsweetened cocoa powder
1/2 cup sugar
2 teaspoons corn starch
1/2 teaspoon salt
2 teaspoon vanilla extract
How to Make Dairy Free Fudgesicles
Place all ingredients in a large saucepan and whisk together, cooking it over medium heat, just until the sugar dissolves and the mixture thickens slightly.  It only takes about two minutes.  
Transfer the chocolate mixture back into a liquid measuring cup (so it's easier to pour), and pour it into the ice pop bags.  A funnel, while not strictly necessary, was VERY helpful in this step.
I also figured out that it's better to fill only about half of the bag, squeeze out the air, and tie the knot toward the top, otherwise, it makes a HUGE popsicle.  Way more than my kids should, can, or even want to eat at a time.  You could also make the ice pops shorter, but part of the fun is being handed this towering popsicle on a hot summer day.  Place the pops flat on a sheet pan or cookie tray, and freeze for several hours, until frozen solid.
Different Popsicle Molds You Could Use:
Nothing beats a classic popsicle shape!  I have this silicone popsicle mold set and it's excellent. It even comes with wooden popsicle sticks and a collapsible funnel.   The lid has guides to help you insert popsicle sticks in the perfect place, and it doesn't leak.  
My daughters love making homemade chocolate popsicles (any kind of popsicle, really!)  with this kind of silicone mold.  They make otter-pop style popsicles, but the containers are re-usable and easy to clean.
If you have a fondness for those twin popsicles--the kind you broke apart into two thin popsicles and shared with a friend--you can get a popsicle mold to make those, too!
You can also use small cups (plastic cups or dixie cups) if you don't have a popsicle mold.  It's an inexpensive and fun way to make a cool treat without having to buy any equipment.
If your kids are like mine, it'll be hard to wait for these cool treats...
but well worth the patience!  Nothing finer in the world than a tasty, healthy treat that keeps the kids busy and happy on a hot day!
Other Vegan Options for Homemade Fudge Pops:
Almond milk can be low in fat, so ice crystals can from in the recipe as written.  If you're not worried about keeping calories down, try adding some coconut cream to the mixture to end up with a more smooth, decadent vegan fudgesicle.
Use coconut milk or oat milk instead of the almond milk.
Make a Mexican chocolate fudgesicle by adding cinnamon to the recipe.
Add a half a cup of peanut butter to the recipe above for a peanut butter chocolate fudge pop.  The added fat from the peanut butter will make the fudgesicle more creamy and less prone to forming ice crystals, too.
Add peppermint extract to make mint chocolate popsicles!  If you have some Girl Scout Thin Mints lurking in the freezer (they're always vegan), I'd be tempted to crush some of those up and add them to the popsicles for a chocolate mint cookies and cream kind of effect.
Printable, One Page Version of the Dairy Free Fudgesicle Recipe:
Want a one page, printable version of this vegan chocolate popsicle recipe?  Just click the image below to print directly or save to your device.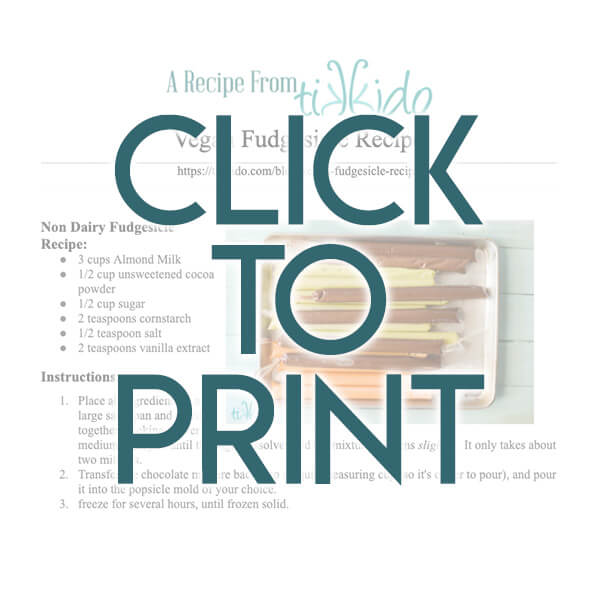 Other Popsicle Recipes You Might Like: