Printer-friendly version
Transform a plain white gift bag into an elegant, hand-painted gift bag with just a few simple supplies that can be found at any craft store.  These painted bamboo gift bags are reminiscent of Japanese sumi-e ink painting, but are painted with black watercolor paint.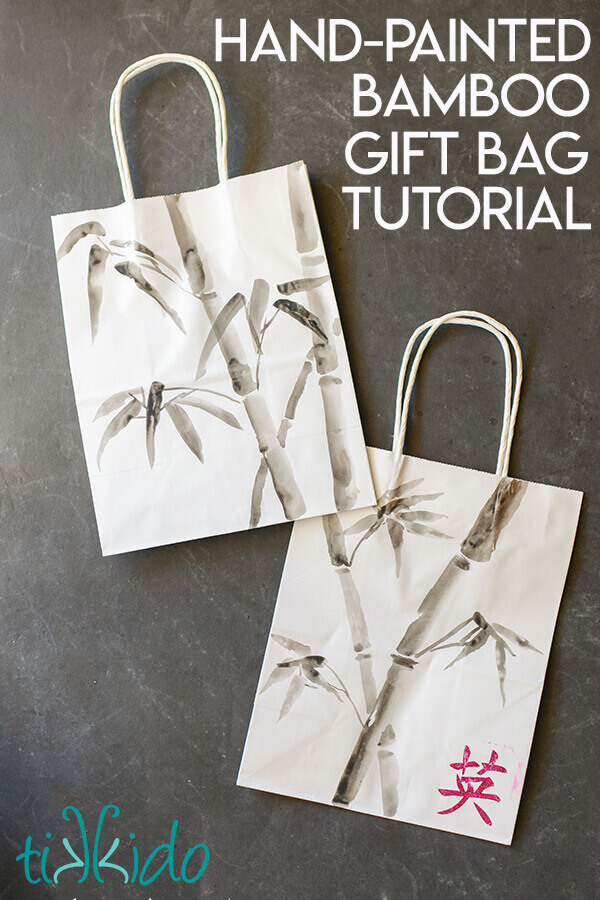 I actually took a Japanese ink painting class when I was a kid, but I no longer have my proper sumi-e ink ink cake and brush.  But I was able to create the same look with some black watercolor paint and a round, pointed watercolor paint brush.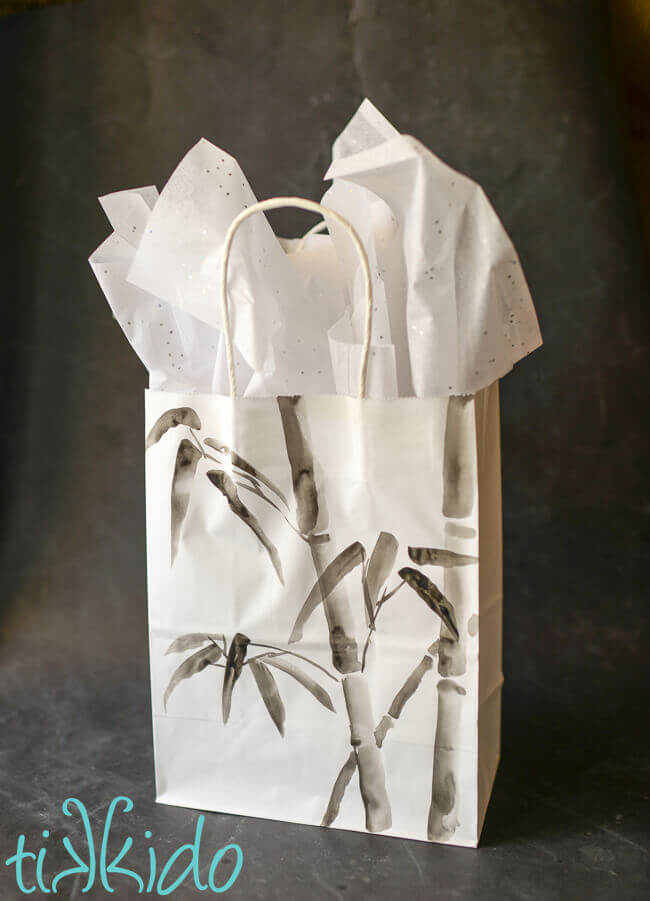 I made these gift bags for my daughter's Princess Mononoke birthday party a couple years ago, and never got around to posting the tutorial!  ( Princess Mononoke is an amazing movie my daughter loves by the famous Japanese filmmaker Hayao Miyazaki.) These bamboo-painted gift bags were perfect for the party theme, easy and fast to make, inexpensive, and held all of the guests' goodies at the party.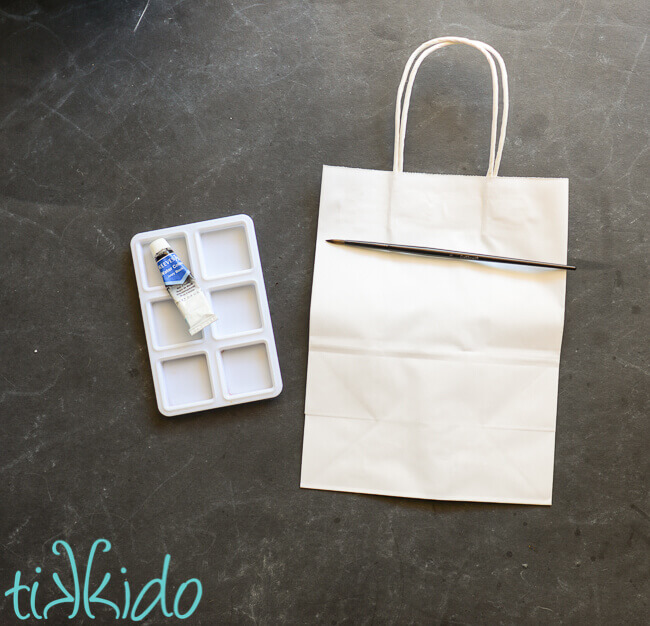 Japanese Ink Painted Bamboo Gift Bag Materials: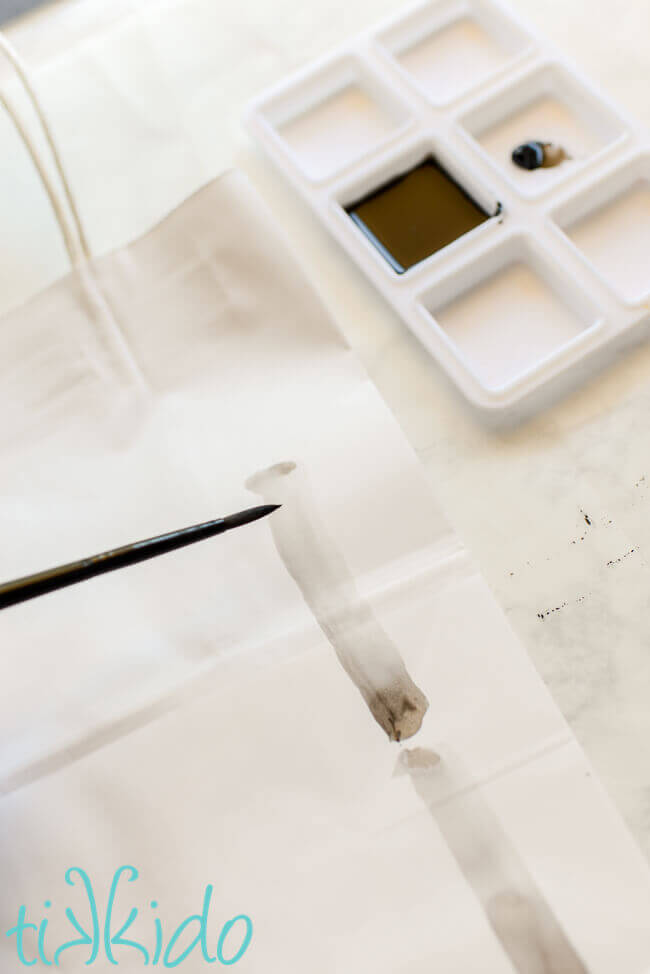 Mix just a bit of the black watercolor paint into some water to create a very pale ink.  Dip the paintbrush in the very-watered-down paint, then touch the very tip of the paintbrush to the undiluted paint to get a stronger concentration of color at the tip of the brush.  Press the brush flat against the paper gift bag, holding the brush nearly horizontal, and drag the brush up to make a wide brushstroke.  At the top of the brushstroke, pull the brush to one side a tiny bit to create the characteristic ridges in bamboo.  
Lift your brush, leave a small bit of space, and paint another line above the first line to create the next bamboo segment.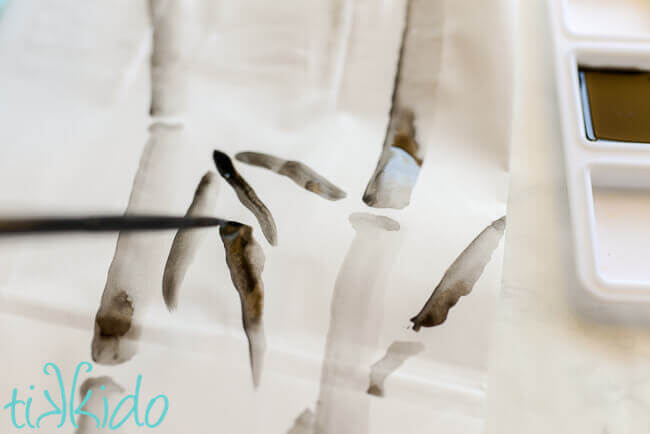 Draw bamboo leaves by using the same brush.  Press more strongly against the paper to start the wider end of the bamboo leaf, then apply less pressure, so that the brush stroke narrows to a point at the tip of the leaf.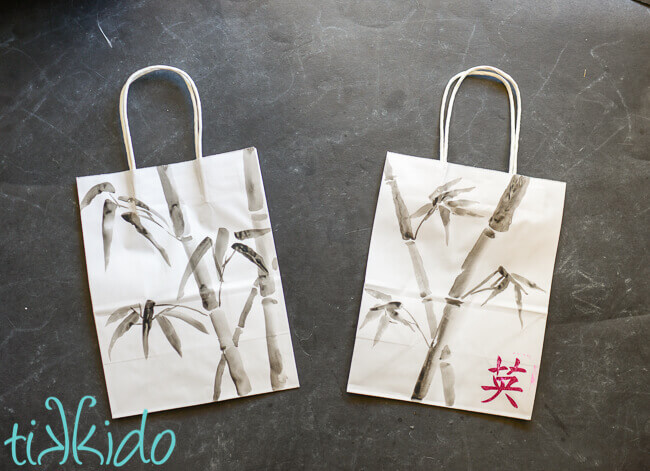 Use the very point of the paintbrush and a light touch to paint in the thin stems branching off the main bamboo stalk and attaching to the leaves.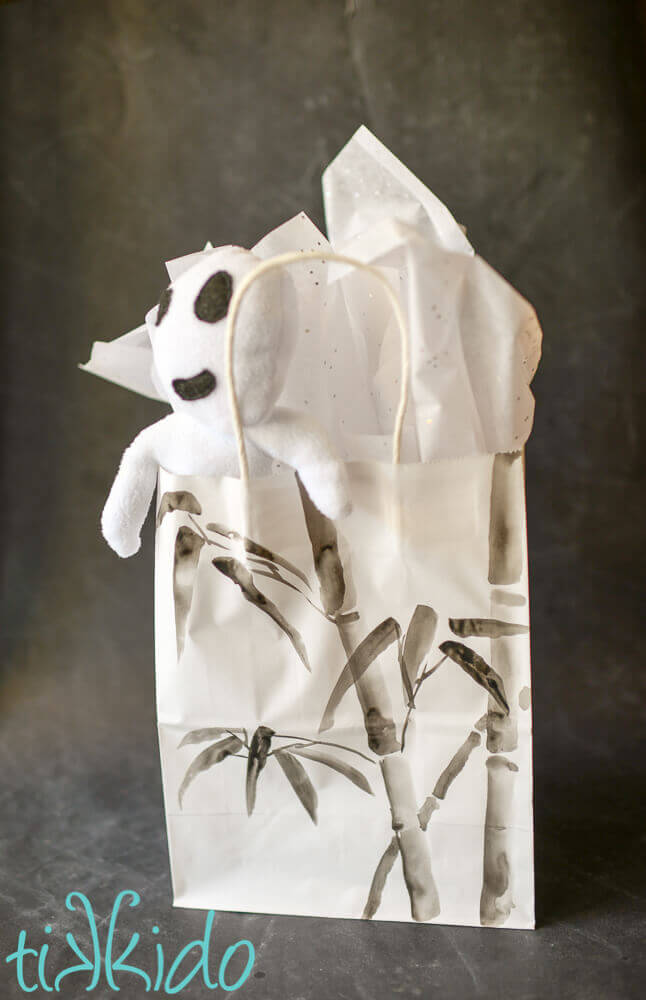 The painted bamboo gift bags were a hit at the birthday party, but they've been perfect to keep on hand for gift-giving all year round, too.  It's a great gift bag design for men, women, children, and any number of types of events.