Printer-friendly version
Learn how to make Cornish Shrub liqueur with this traditional Cornish shrub recipe.  Shrub is used to make the Rum and Shrub cocktail, a delicious drink well known in Cornwall, in the United Kingdom.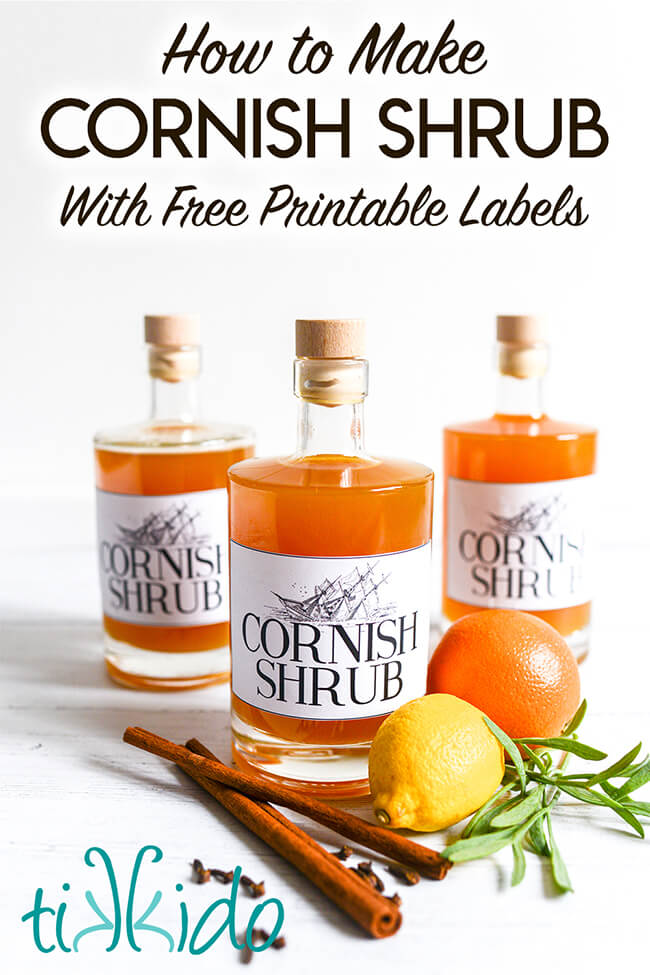 If you want to get straight to the recipe, and don't need the history or technique, head to the bottom of the post for a printable, one page version of the Cornish shrub recipe.  But the history part of this recipe is really fun!
What is Cornish Shrub Cordial?
Cornish shrub has a fascinating history.  Cornwall in the late 1600s was famous for smugglers and pirates, who did a brisk business in smuggling rum to avoid paying increasing import taxes.  The Cornish coast can be dangerous, especially when using smaller, wilder coves and bits of coastline, and landing at night, or in storms, to avoid the excisemen.  Shipwrecks were pretty common, and sometimes smugglers sunk barrels of rum in the ocean water so they could come and retrieve them at a safer time.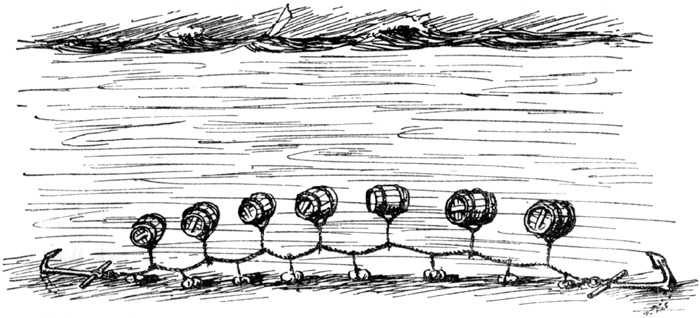 Check out this neat illustration of such a smuggling technique from King's Cutters and Smugglers 1700-1855, by E. Keble Chatterton, available for free online courtesy of Project Gutenberg.  It's full of fascinating information about smuggling in that era.  I love it when I get to learn cool things AND make stuff at the same time!
Sinking the barrels to hide them, or just tossing them overboard to evade capture, meant that sometimes some salt water made it into the casks of rum.  Nobody wanted to throw out the tainted rum, so the Cornish developed Shrub, a sweet, spiced, complex liqueur that could be mixed with the rum to mask the taste of the saltwater.   Shrub was probably based on an earlier tradition of medicinal cordials, including ones with citrus (vitamin C) that sailors would take to prevent scurvy.  
A Note on the Cornish Song in the Video Tutorial, Smuggler's Song
I wanted proper Cornish music to go along with the video tutorial I made to go with this post, so I reached out to my friend Jowdy, who is well connected and respected in the traditional Cornish music and dance community.  She connected me with Richard Tretheway, who gave me permission to use his recording of Smuggler's Song with the band Crowd.  It's the perfect, thematic song to go along with my shrub video.  Thank you, Richard and Crowd!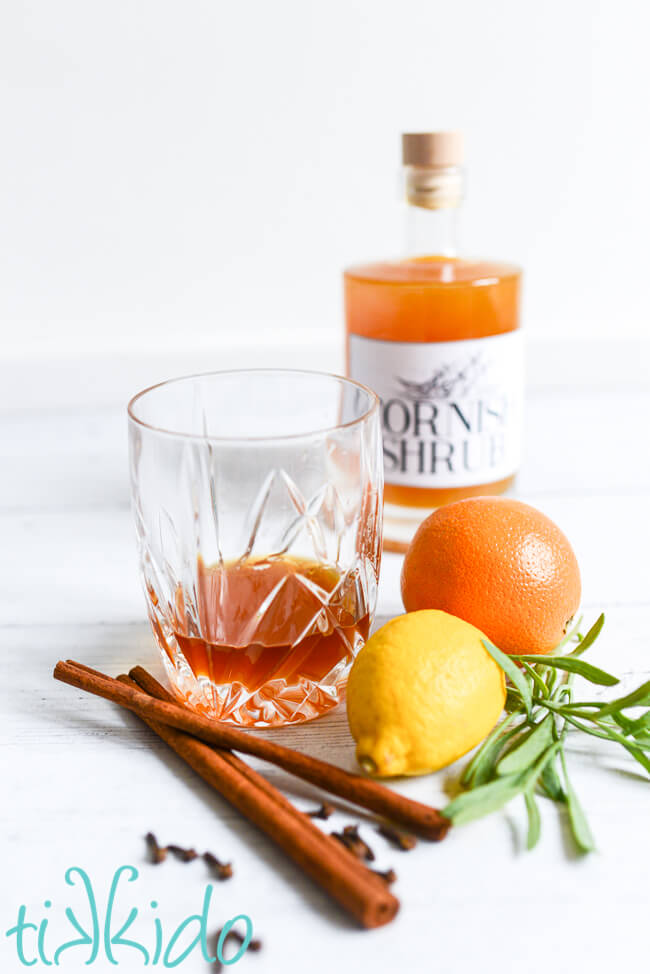 And so the Rum and Shrub was invented!  I first learned about rum and shrub cocktails on a trip to Cornwall 10 years ago to attend the wonderful Lowender Peran pan-celtic dance and music festival.  Our new Cornish friends insisted that I try a Rum and Shrub--a proper Cornish drink--and it quickly became a favorite.   We bought several bottles of Shrub to take home to the United States.
Phillips of Bristol was the only brand of Shrub I've ever found to purchase, and sadly, they've now stopped making it, so I decided to do some research and try making my own homemade Shrub alcoholic cordial.  
I found this excellent article on shrubs, which has references to quite a few traditional alcoholic shrub recipes, including one from Ben Franklin!  There are common threads--citrus, spices, sugar--so that's where I started in my experiment.
The first thing I had to do was decide what liquor to use as my base.  I poured a small portion of straight shrub (my dwindling, last bottle of it), plain dark rum, and brandy (rum and brandy being the most common bases in the historical recipes) and three of us taste tested all three liquids to see if we could determine what the commercial shrub we know and love used.  It was hard to tell--shrub has a LOT of extra flavor going on--but all of us independently thought that brandy was the closer choice.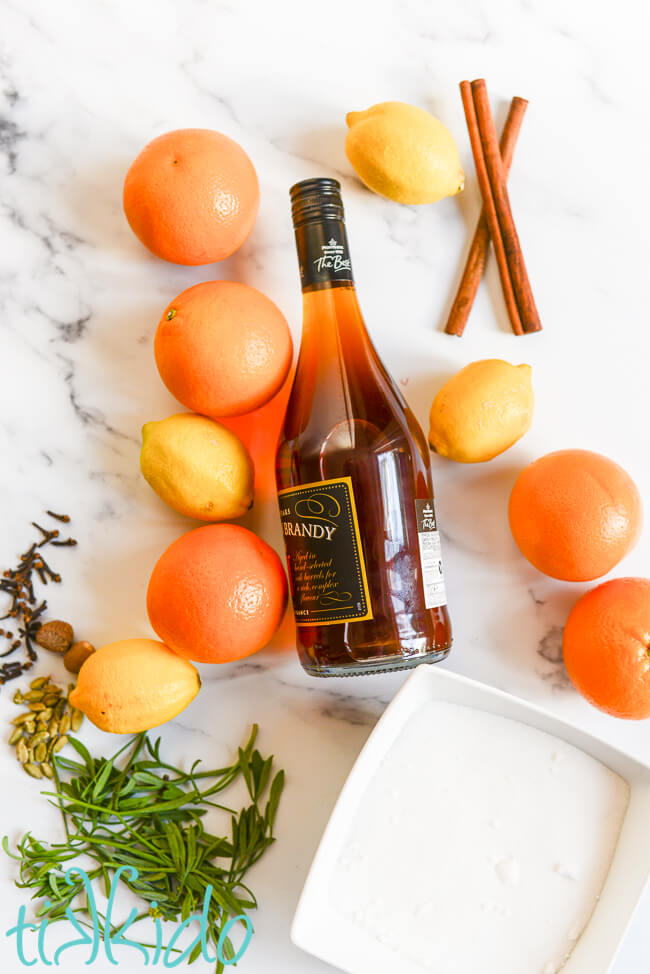 Cornish Shrub Recipe
1 bottle of brandy (the most standard 70cl size)
3 cups sugar
zest of 5 oranges and 3 lemons
2 cups freshly squeezed orange juice
1 cup freshly squeezed lemon juice
two cinnamon sticks
6 cloves
1/4 teaspoon freshly grated nutmeg
The seeds from 5 cardamom pods
1/4 cup of rock samphire (optional, see notes below)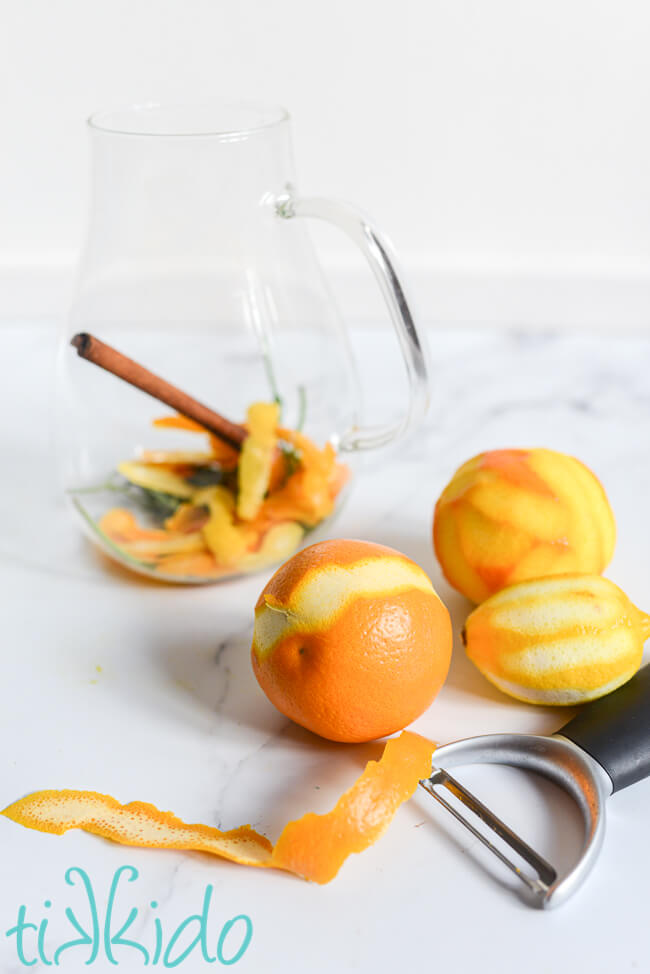 How to Make Cornish Shrub
Peel the zest off of your oranges and lemons.  Place the zest, the spices, and the rock samphire (if you're using it) in a large container that can be closed.  Large glass canning jars would work well.  I used a glass pitcher that has a nice, tight lid.
What is Rock Samphire?
My Cornish friends clued me in to rock samphire, what at least a couple people said was a key ingredient in shrub.  It's an edible green that grows on the rocky cliffsides of Cornwall, where the salt spray can reach, and has a slightly salty and herbal flavor.  It's also known as Sea Fennel.  Rock samphire is high in vitamin C, just like citrus, so it makes sense that it was used in the medicinal cordials from which Shrub evolved.  I was able to order some locally, but if you're not in England, it's probably going to be very hard to find.  It's often described as having a similar taste to parsley, and after nibbling some, I can definitely see that.  If you can't find rock samphire, substitute some flat-leaf parsley and a pinch of salt and you'll come very close to the same taste.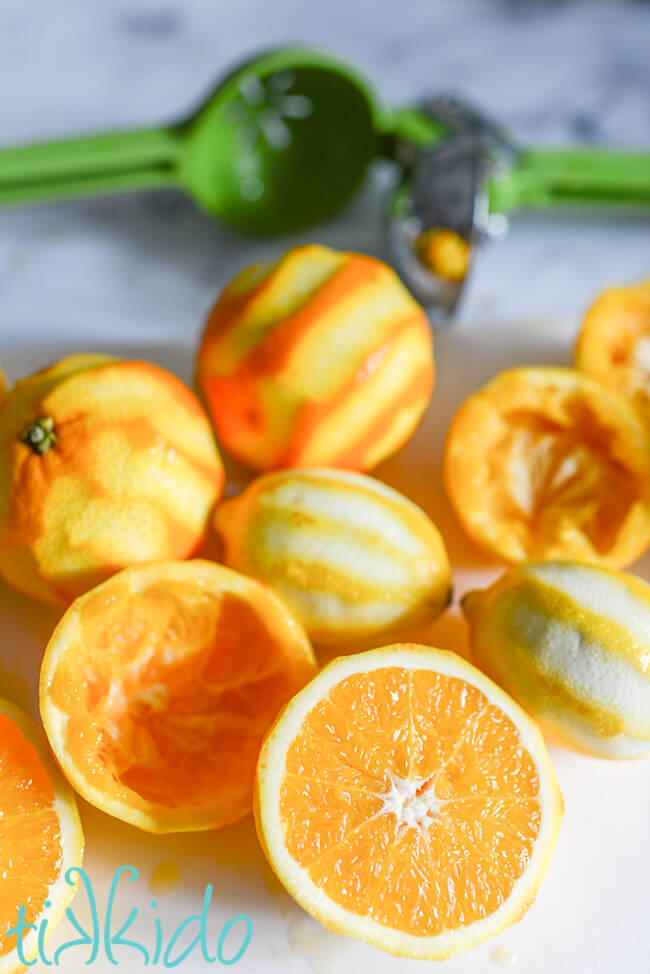 Juice oranges and lemons, so you have two cups of fresh orange juice, and one cup of fresh lemon juice.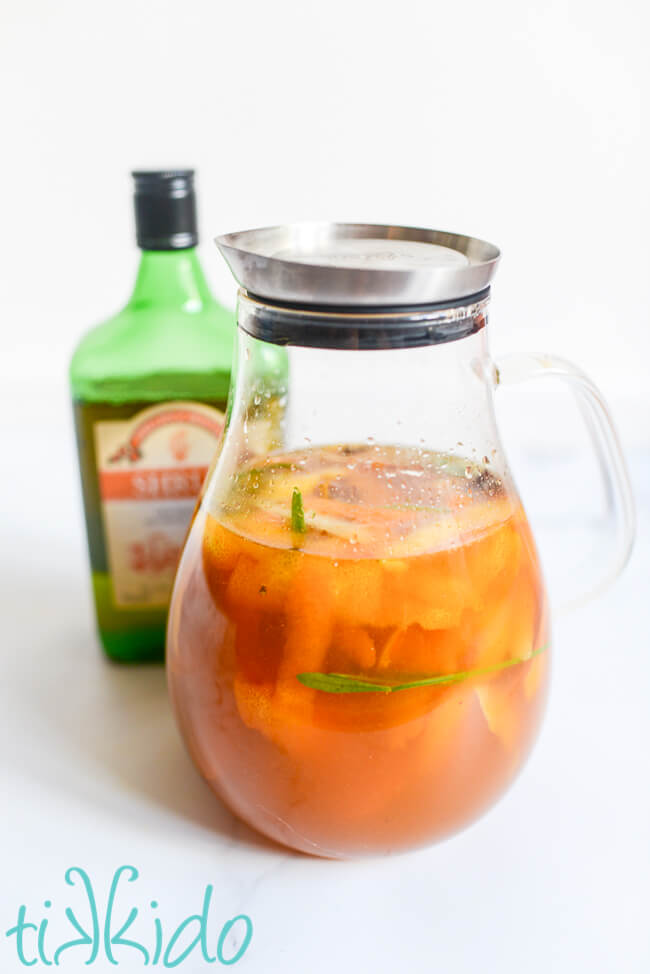 Pour the entire bottle of brandy in the glass vessel, add the sugar, and mix to dissolve the sugar.  Close the container (airtight is best) and let sit in a cool, dark place for a week.  Stir occasionally.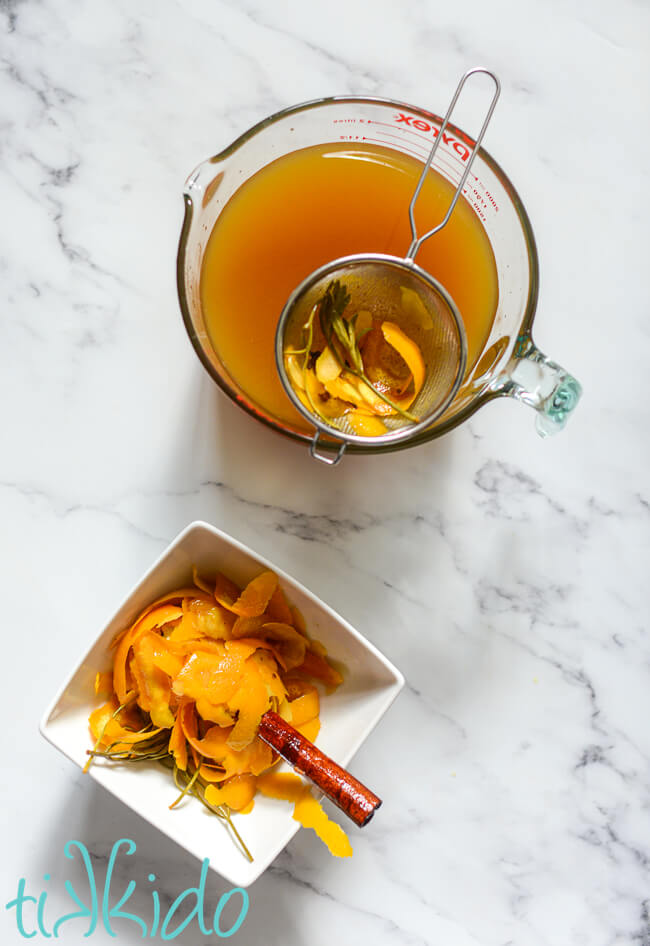 After the flavors have melded for a week, strain out the solid items.  The leftover liquid is your shrub!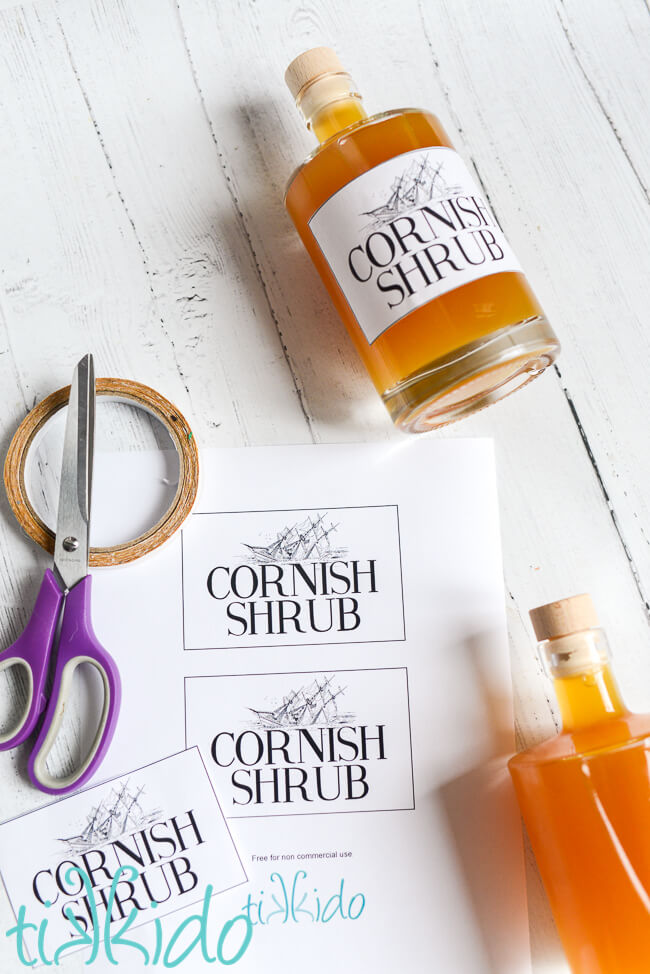 Printable Cornish Shrub Labels
I'd bought empty glass bottles for this project, but I wanted to make a pretty label for my bottles, too--complete with a shipwreck illustration, to evoke the history of the drink.  Click on the image below to print or download the PDF of the Cornish Shrub bottle labels.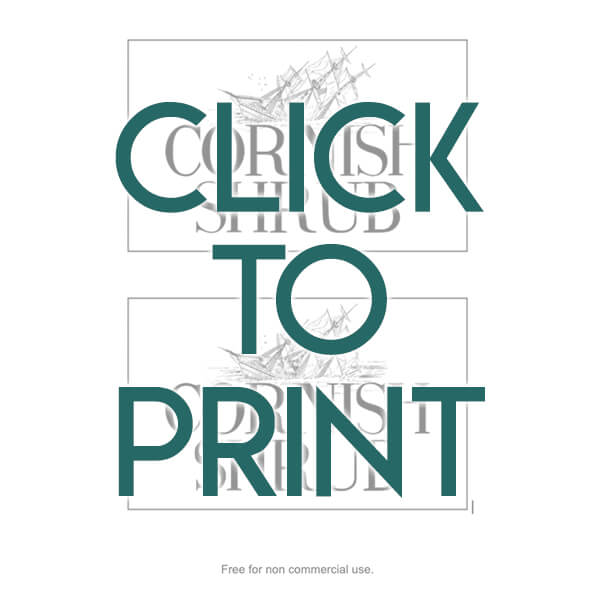 You can print on sticker paper, or just do what I did, and use double-stick tape to attach the plain paper labels to the bottles.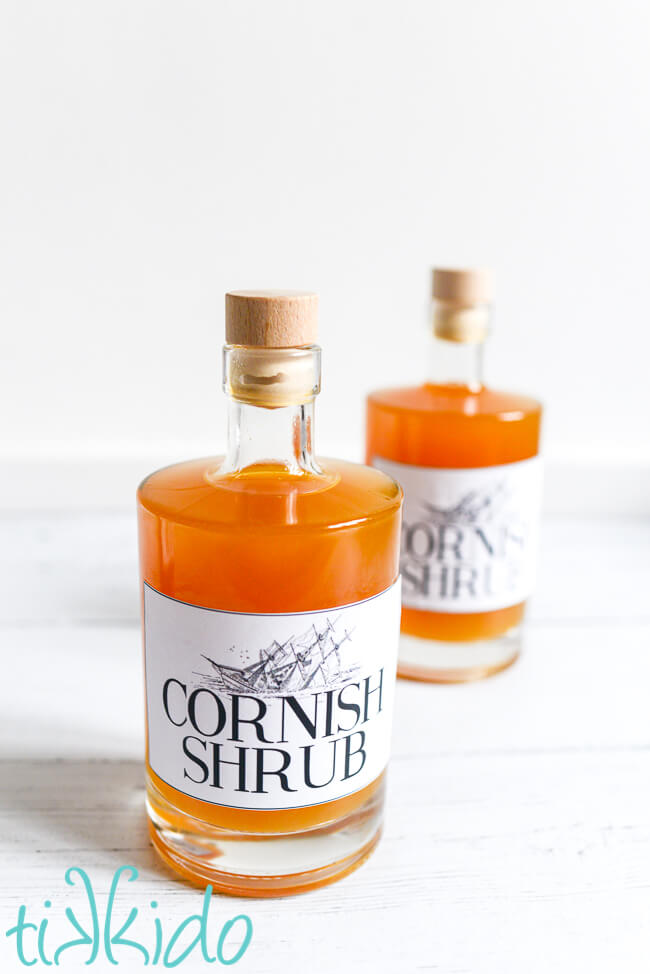 Looks pretty proper and official, doesn't it?  I'm pretty proud of myself!
And the flavor?  Not exactly the same as the stuff we used to be able to buy (and definitely more alcoholic--I'm going to experiment with watering it down), but it's awfully close.  And very, very tasty.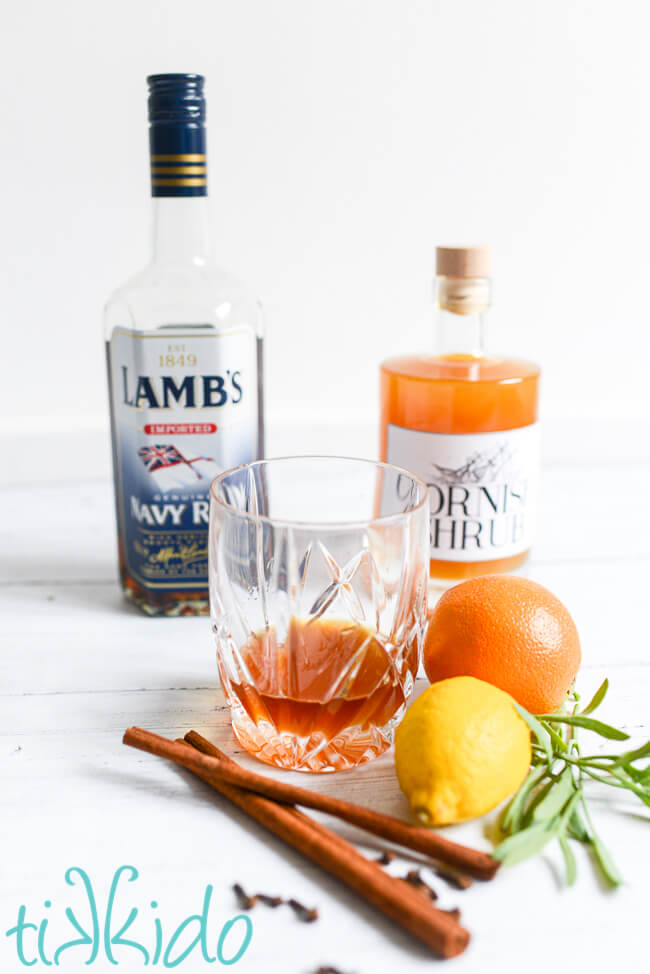 Rum and Shrub Recipe (With this Powerful, Homemade Shrub)
1 part rum
1 part shrub
1 part water
Using the Phillips of Bristol brand shrub, we always just did equal parts rum and shrub to make this classic drink.  But with my homemade shrub, adding an equal portion of water makes the drink just right.  It's still a powerful drink, and it's meant for slow, small sips, like whiskey.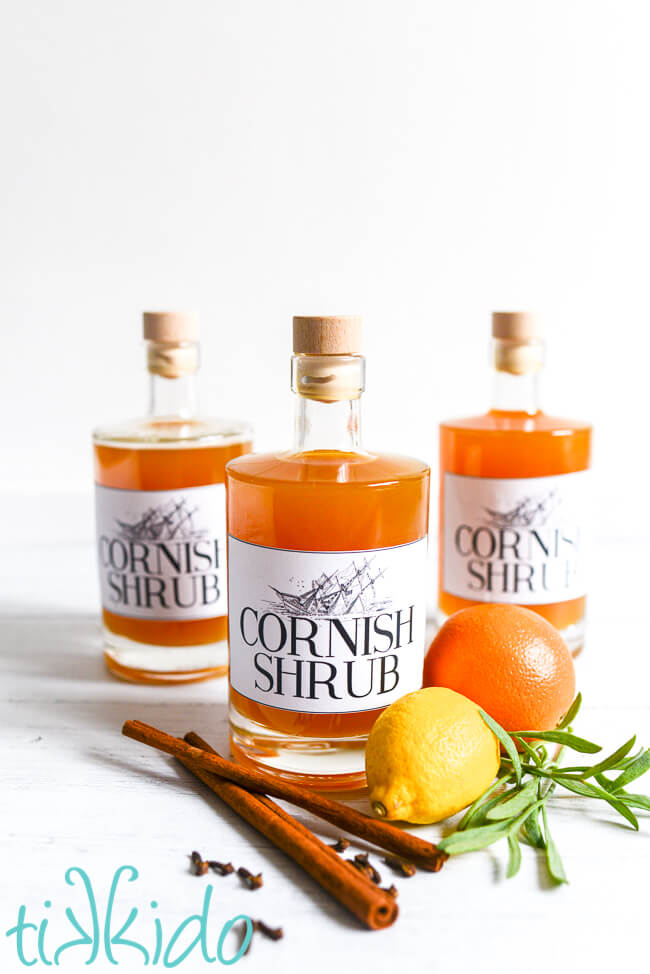 Learning how to make shrub has definitely lessened the sting of losing the only commercially available product I could find.  I hope you like it as much as we do!
P.S. If you're looking for the other kind of shrub, the non-alcoholic kind made with fruit and vinegar, I have a recipe for that, too!
Printable, One Page Cornish Shrub Recipe
As promised, I have a one-page, printable PDF version of the Shrub cordial recipe for you!  Just click the image below to download or print the recipe directly.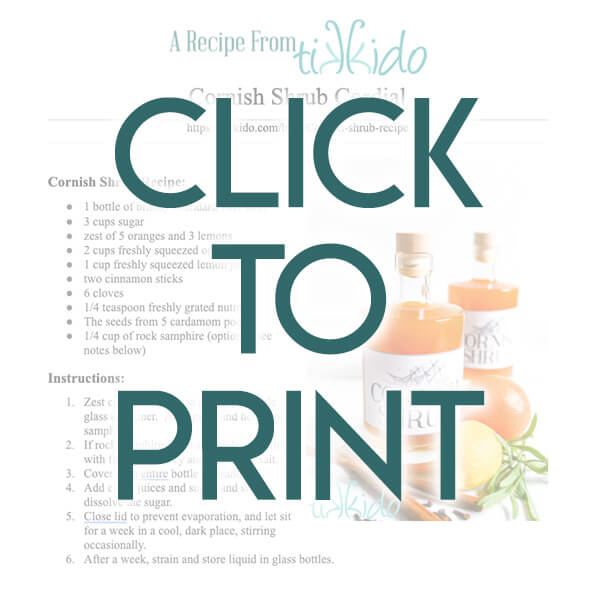 Other Liqueur Recipes You Might Like: