Printer-friendly version
This Italian limoncello recipe uses lemon peels, sugar syrup, and grain alcohol to make a lemon liqueur with an intense lemon flavor and absolutely gorgeous, sunny yellow color.
Have you ever had limoncello?  Stunningly cold straight from the freezer, sweet, and full of bright (but not sour) lemon flavor?  It tastes like the essence of summer.  
I made these small bottles of my own homemade limoncello to give as gifts at a blogging conference I attended.  These adorable, small bottles of delicious homemade limoncello would make an amazing wedding or party favor (for the of-age crowd only, of course!).
Limoncello Recipe Ingredients:
one 750ml bottle of 190 proof alcohol ( brand name Everclear )
approximately 10 organic lemons
4 cups water
4 cups sugar
Making incredible limoncello just requires the right ingredients and a little patience.   The lemon flavor in limoncello comes from the zest of lemons, not the lemon juice.  
What Lemons to Use for the Best Limoncello
Any lemon will do, but it's best to use organic lemons, beause only the outside zest of the lemon is used in this limoncello recipe.
Femminello , Monachello, Lunario, Interdonato, Procida, and Sorrento lemons are commonly grown in Italy.  
Meyer lemons are actually a hybrid!  A cross between Eureka and Lisbon lemons and a mandarin orange.  Though not traditional, they do make a delicious limoncello.
Bottom line--use whatever good lemons you can find.  
Any citrus fruits can be used to make amazing variations on homemade limoncello.  Oranges, limes, or a mixture are all absolutely delicious.
Start by peeling the zest of the lemons.  Be careful to get as little pith as possible (the bitter, white part, inner layer of the thick skins), just the outer layer of the skin.  This is why I specify organic lemons:  we're using just the outside zest, and I wouldn't want any nasty pesticides in my beautiful limoncello.  I'm lucky enough to have lemon trees in the backyard that produce hundreds of lemons each year with very little effort or attention on my part.  I know my lemons are organic because I know I haven't sprayed them with anything offensive!  But if I were purchasing lemons to make limoncello, I'd definitely seek out organic.
Use a vegetable peeler or small sharp knife to cut the lemon peel into long strips, rather than using a zester.  It's much easier to strain out larger pieces of the limoncello liqueur than tiny shreds of lemon zest.
Save the juice of the leftover lemons for making homemade lemonade concentrate or freshly squeezed lemonade.  It's not used in this recipe, but you don't want the juice of the lemons going to waste!
Fill lidded, non-reactive containers (like these glass canning jars) with the lemon peel, then cover the peel with and alcohol base (I prefer to use Everclear, because it makes a big difference in the final product), close the container, and put it in a cool, dark place to sit for a couple weeks.
A lot of limoncello recipes use vodka instead of everclear, and that works reasonably well, if you just can't find everclear.  But take a look at the picture above.  The container on the right had been stewing for two weeks in 80 proof vodka.  The container on the left had been sitting for just a couple of days in Everclear.  The limoncello made with Everclear is dramatically more colorful and flavorful; the high proof Everclear does a much better job of pulling the flavor and color out of the lemon peel.  
After about two weeks (could be less, could be more--it's up to you, really!), strain the liquid from the lemon peel.
Look at that gorgeous color!  That's what you get from using Everclear. Combine the sugar and water in a medium saucepan over low heat until the sugar dissolves, and a simple syrup is formed.  Mix the simple syrup with the highly alcoholic and lemony Everclear.
Pour into decorative bottles (like these shot-sized, miniature bottles!), store in the freezer (don't worry, these suckers are not going to freeze with such a high alcohol content), and enjoy on a hot summer day.  It's delicious alone, or mixed in a cocktail.  I used limoncello in a drink I invented for Dia de los Muertos, called the Marigold Muerte.  It also makes a truly excellent, very potent, extremely adult, watermelon lemon slushie.  
Those little 50ml sized bottles are absolutely perfect for a single serving of the limoncello!  Plus they're just damn cute.  We've already established my fondness for miniature things.  All the details of the packaging of these favor-sized limoncello bottles can be found here.
Other Lemon Recipes You Might Like: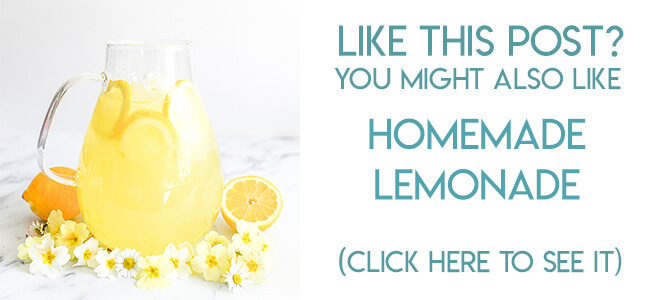 Other Liqueur Recipes You Might Like: