Printer-friendly version
Blackberry gin is easy to make, and is a great way to preserve some of those delicious, late summer blackberries.  The deep purple/red color of the gin makes gorgeous blackberry gin cocktails, like a Blackberry Gin Fiz, Blackberry Gin Bramble, or Blackberry Gin and Tonic.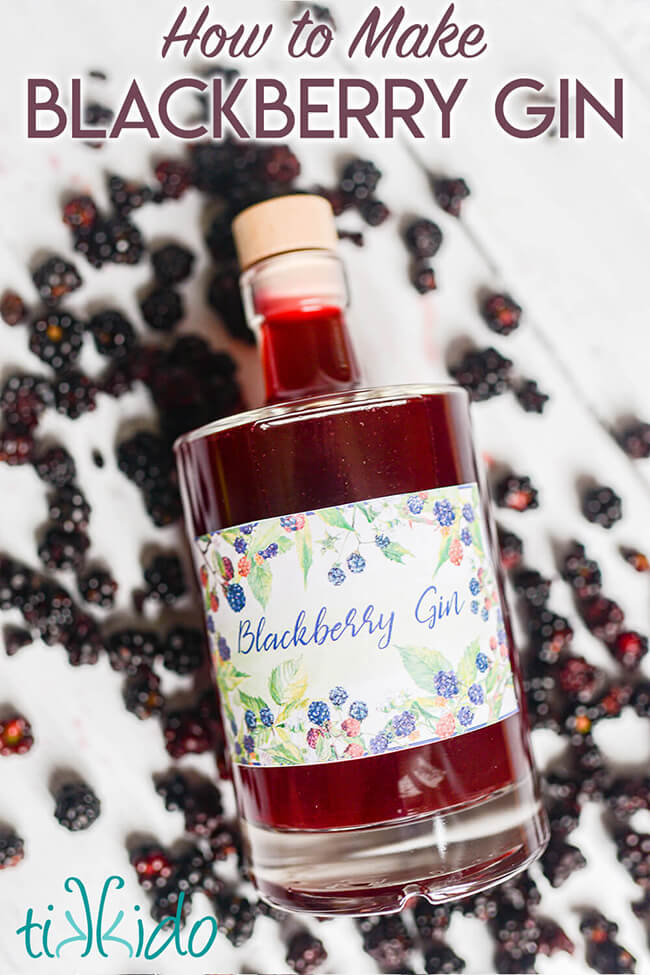 I've even made a free printable Blackberry Gin label for you to add to your bottles, so that you'll be able to stylishly store your blackberry liqueur, or give it as a gift at Christmastime.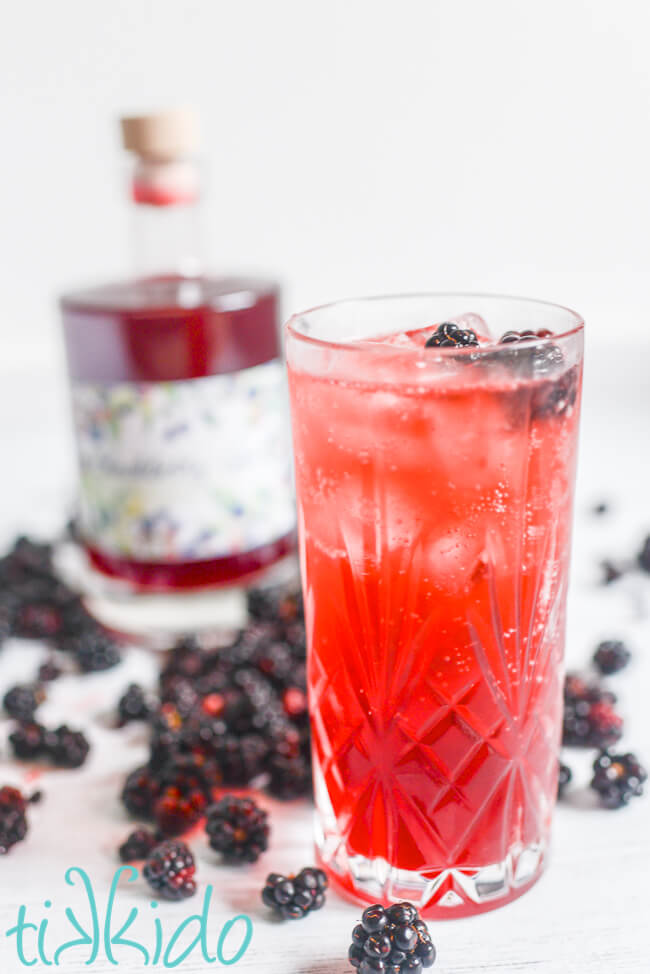 Just look at that gorgeous color!  It's like summer in a glass, all year long.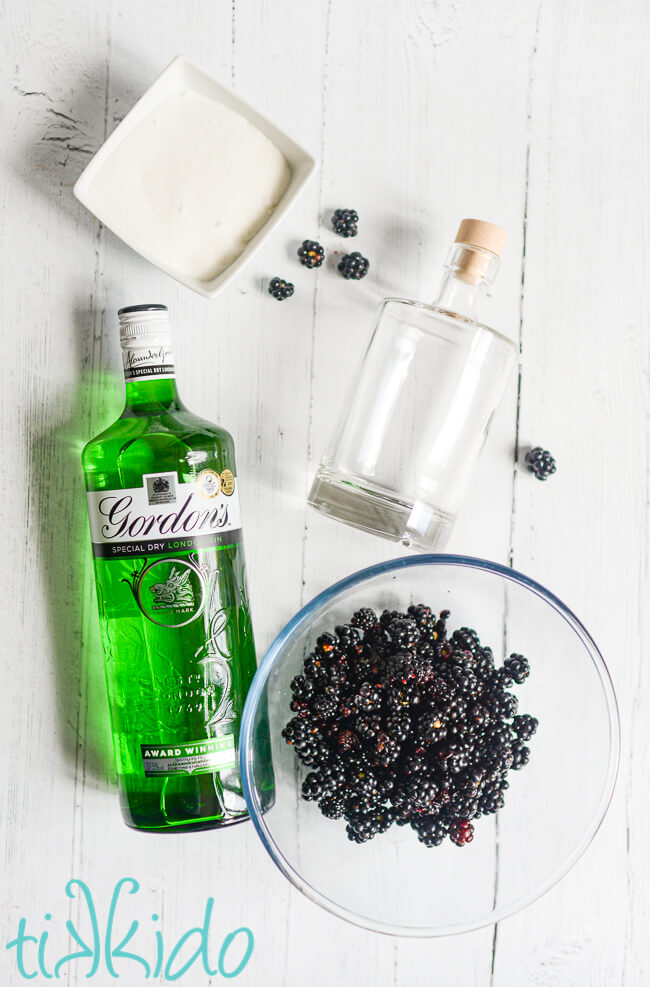 Blackberry Gin Recipe
1 70cl bottle of dry gin
3 cups (350 grams) fresh or frozen blackberries
1 1/4 cups (175 grams) sugar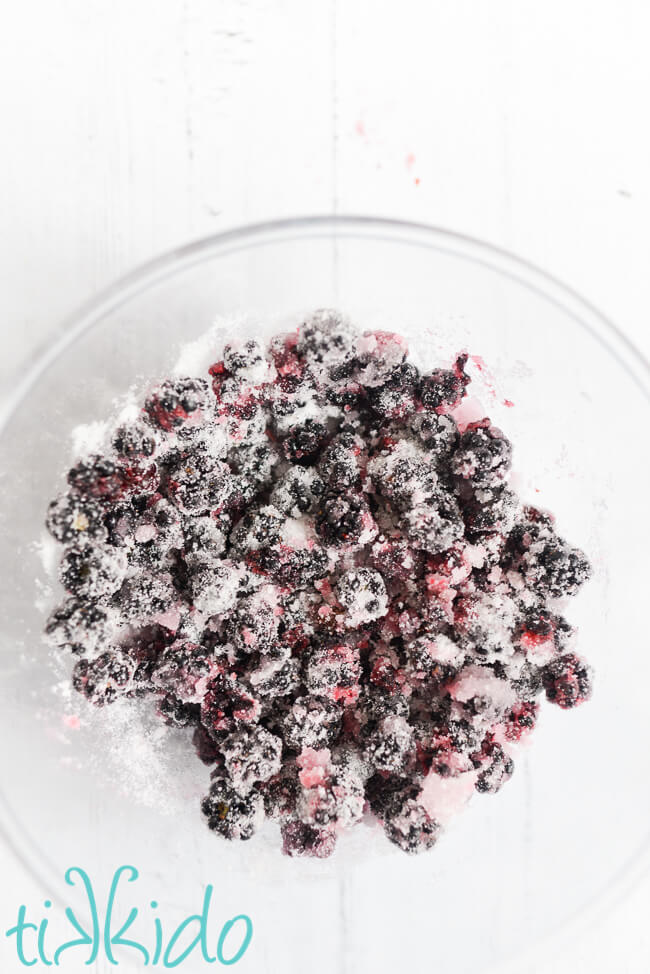 Combine the blackberries and sugar in a bowl.  If the blackberries are frozen, let them thaw (don't discard the juice!).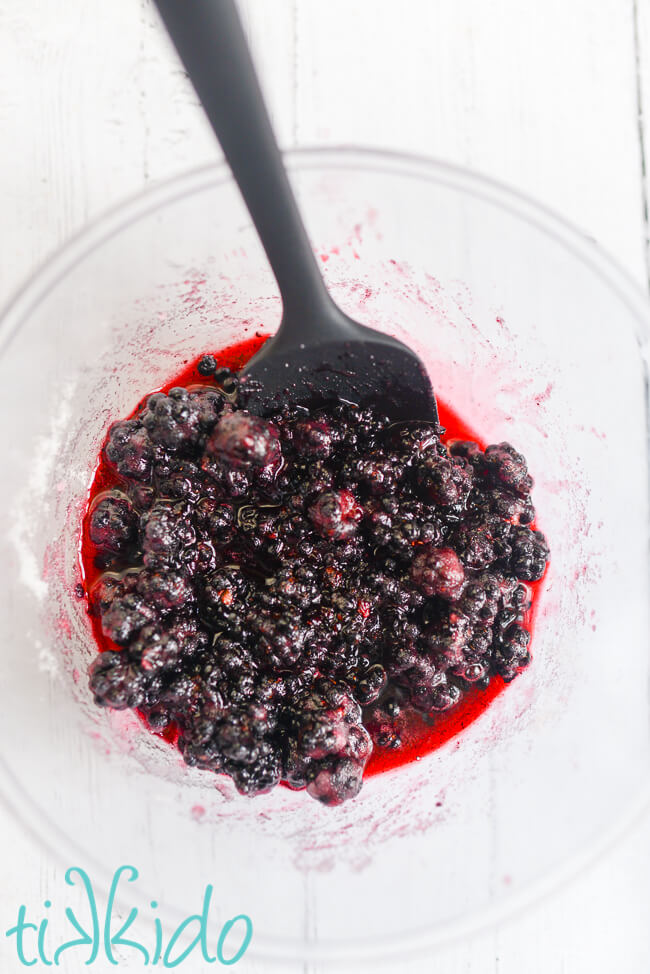 Let the berries macerate for about 10 minutes so the juice begins to pull out of the fruit.  Smash the fruit a bit to help the blackberry juice release.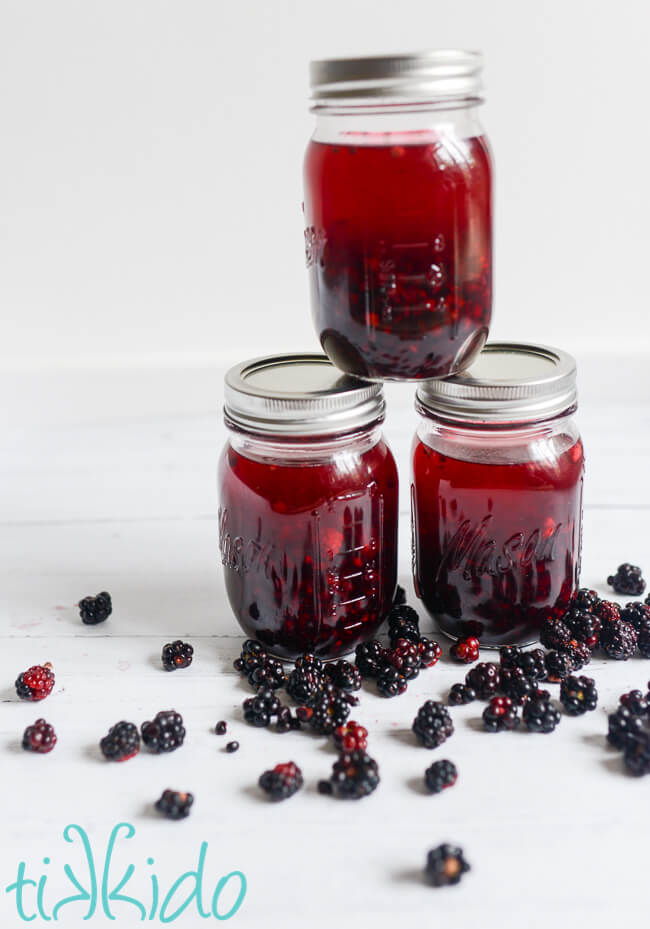 Place sugar and blackberry mixture in a sealable glass container (I used three mason jars, because I didn't have anything big enough to hold it all in one container).  Cover with gin and let sit for at least a week in a cool, dark place, stirring occasionally.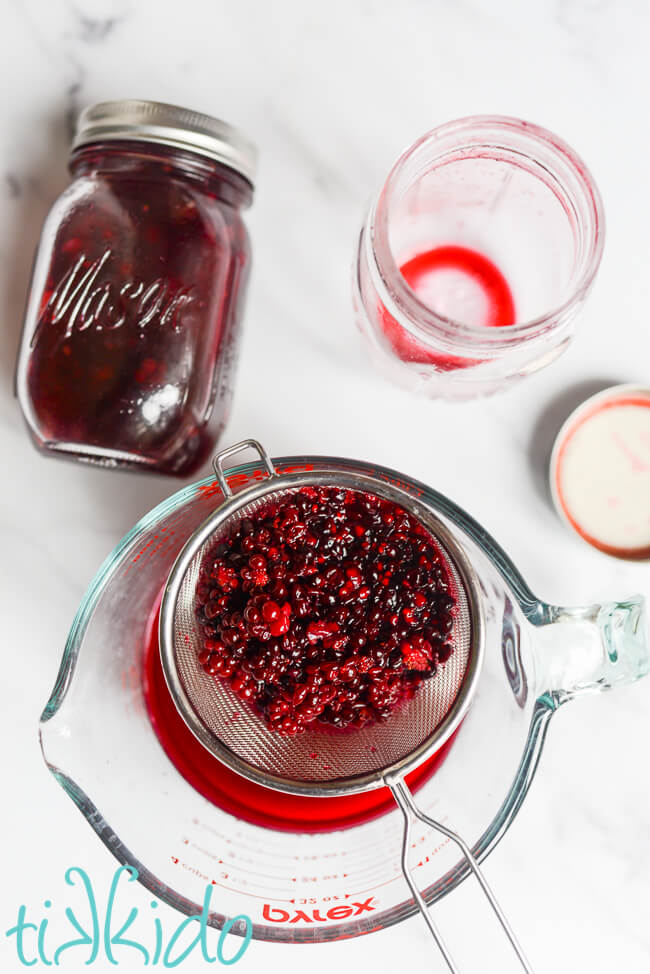 After at least a week has passed, strain the liquid from the fruit.  (The leftover boozy blackberries are quite nice in a trifle, if you don't want them to go to waste!)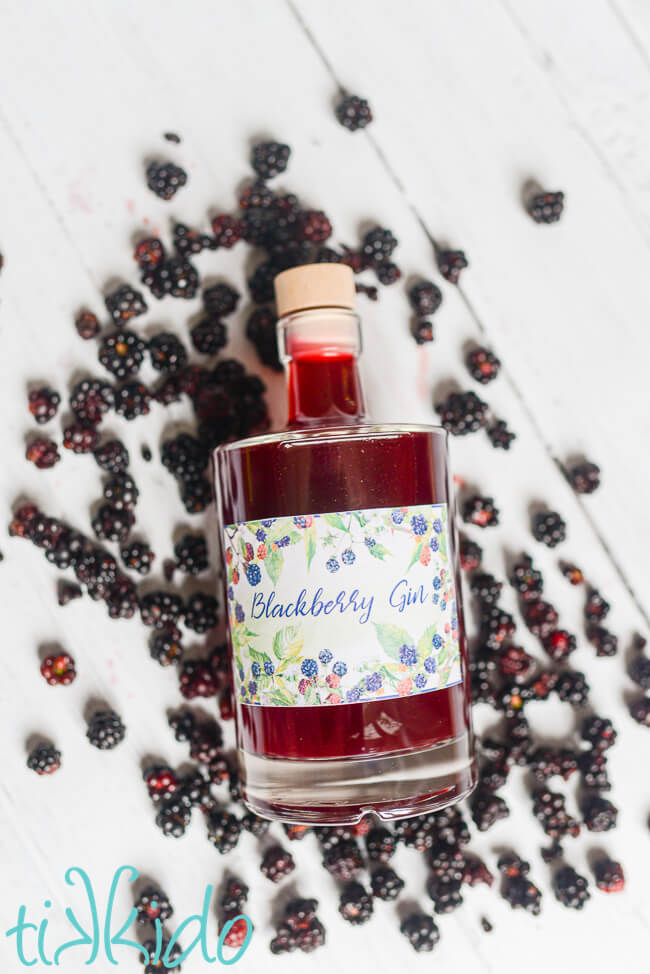 Pour into glass bottles with an airtight stopper, and if you wish, add a label to your bottle of blackberry gin.
Free Printable Blackberry Gin Label
Click on the image below to print or download a free label for your homemade blackberry gin.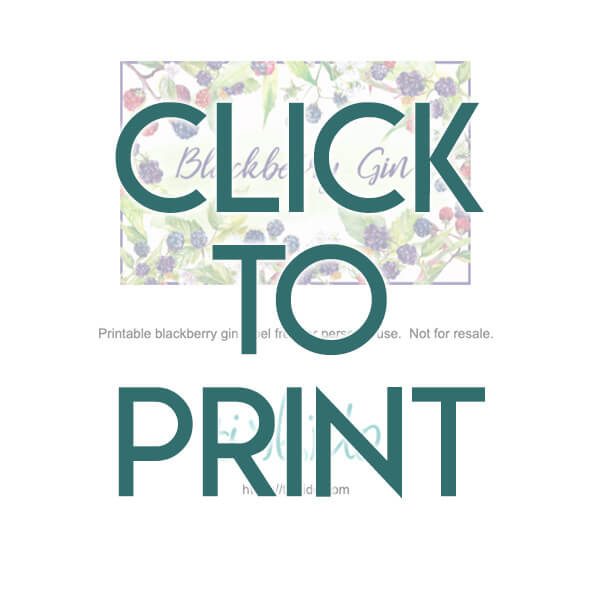 Blackberry Gin Cocktails
Blackberry gin makes the most delicious, beautiful cocktails!  Try one of these blackberry cocktail recipes the next time you're in the mood for a tipple.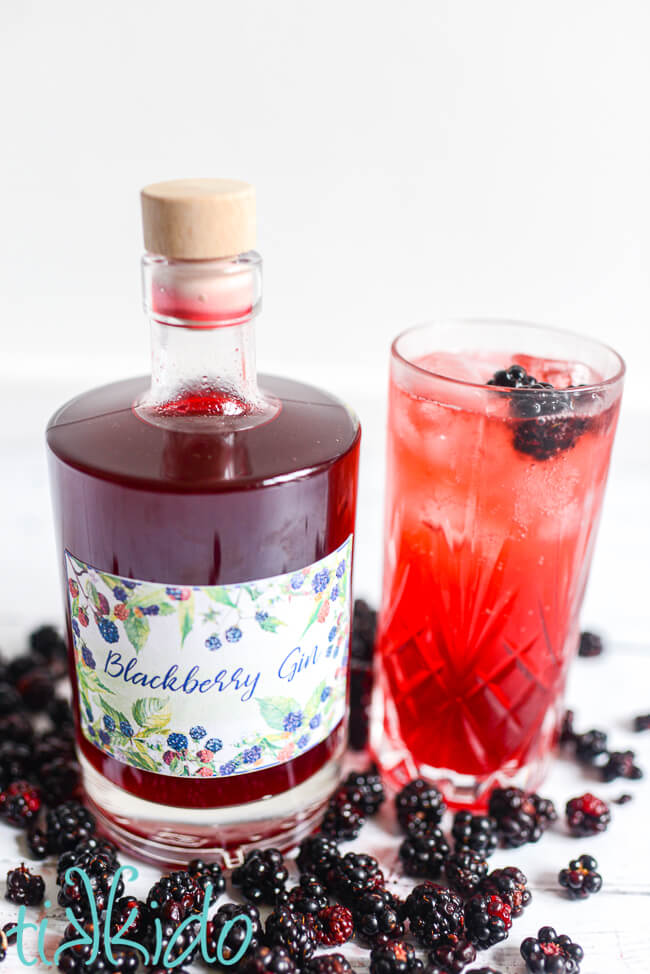 Blackberry Gin Fizz Recipe
1.5 ounces (1 shot, or 42ml) blackberry gin
1 Tablespoon lemon juice (about 15ml)
1 small egg white
sparkling water
Combine the blackberry gin, lemon juice, and egg white in a shaker, and shake until the mixture is nice and frothy.  Add ice and shake again, until the mixture is very cold.  Pour into a highball glass filled with ice, and add sparkling water to fill the glass.
Blackberry Gin and Tonic Recipe
The industry standard ratio for gin and tonic is 1 part gin to 4 parts tonic, but feel free to adjust the ratios to your taste.  This Blackberry Gin and Tonic recipe is written with the classic ratios in mind.
1.5 ounces (1 shot, or 42ml) blackberry gin
6 ounces tonic water
Slice of lime and fresh blackberries to garnish
Pour the blackberry gin over ice, then top with tonic water.  Stir gently to combine.  Garnish with a lime slice and fresh blackberries.
Blackberry Bramble
Blackberry Brambles are typically made with regular gin and crème de mure (a blackberry liqueur), but this version, made with homemade blackberry gin, has even more amazing blackberry flavor.
2 ounces blackberry gin
1 ounce (30ml) lemon juice
1 Tablespoon (15ml) crème de mure
6 blackberries, for muddling
Muddle the fresh blackberries in the bottom of a lowball glass.  Add ice.  Pour blackberry gin and lemon juice over the ice, and stir gently.  Pour the crème de mure over the top, but do not stir before serving.
Blackberry Gin Smash
A smash is a classic cocktail that--as you might guess--smashes alcohol, mint, sugar, and fruit together.  This blackberry gin smash is a refreshing, fresh summer drink.
2 ounces blackberry gin
1 wedge of lime
6-8 fresh blackberries
10 fresh mint leaves
sparkling water or lemon-lime soda
Squeeze the lime wedge in the bottom of a highball glass, and toss the juiced lime into the glass as well.  Add fresh mint leaves and blackberries, and muddle together to release the natural oils and flavors.  Add ice to the glass.  Add the blackberry gin, and top with sparkling water or lemon-lime soda.
Printable Blackberry Gin Recipe
Want a printable, one page version of the blackberry gin recipe?  Click the image below to print or save the PDF to your device.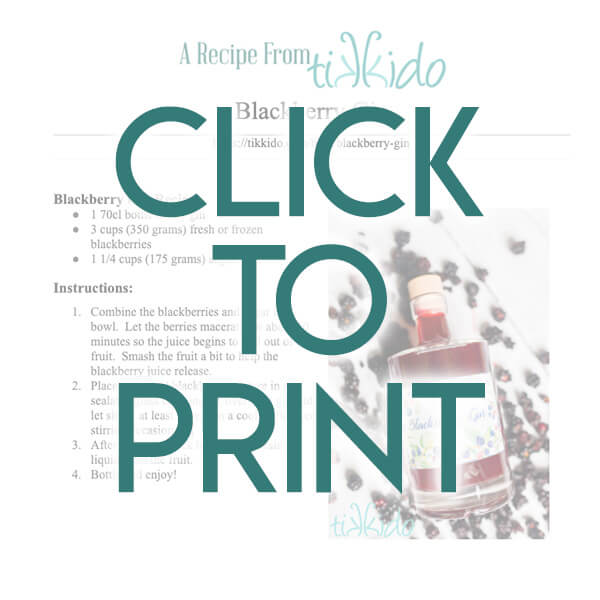 Other Liqueur Recipes You Might Like: