Printer-friendly version
When my friend Helene asked me to help her plan a birthday tea party, of course I jumped at the chance.   Tea parties are always fun, and I love celebrating with my friends!  Plus, Helene is a French professor, so it was a great opportunity to combine a classic English tea party with fabulous French pastries.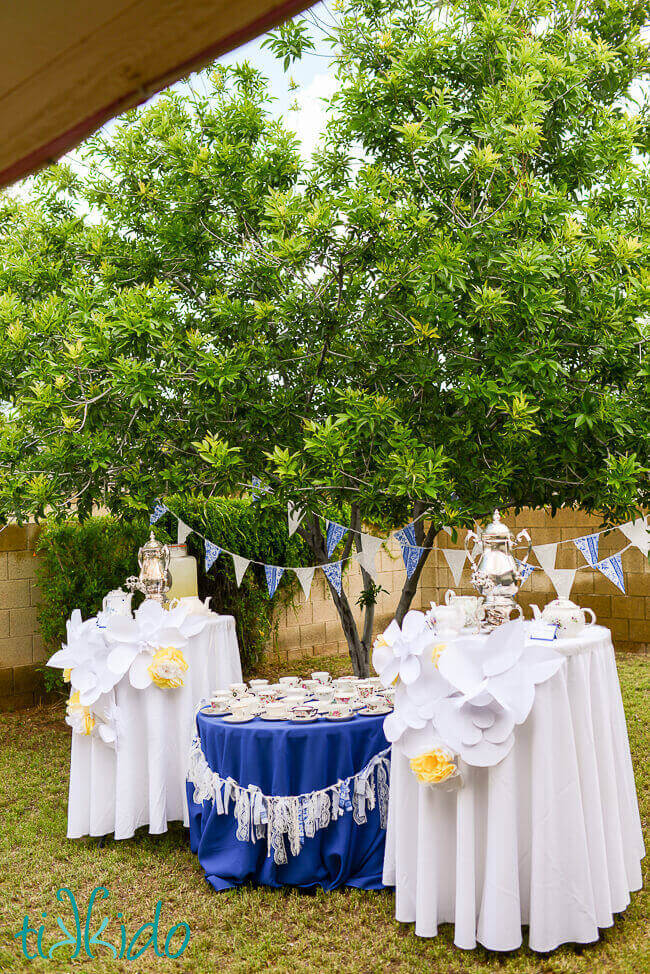 Helene chose a crisp blue and white color palette, which I thought was absolutely perfect, since it evoked classic blue and white china patterns.  And then I accented with pops of yellow, which reminded me of the French countryside.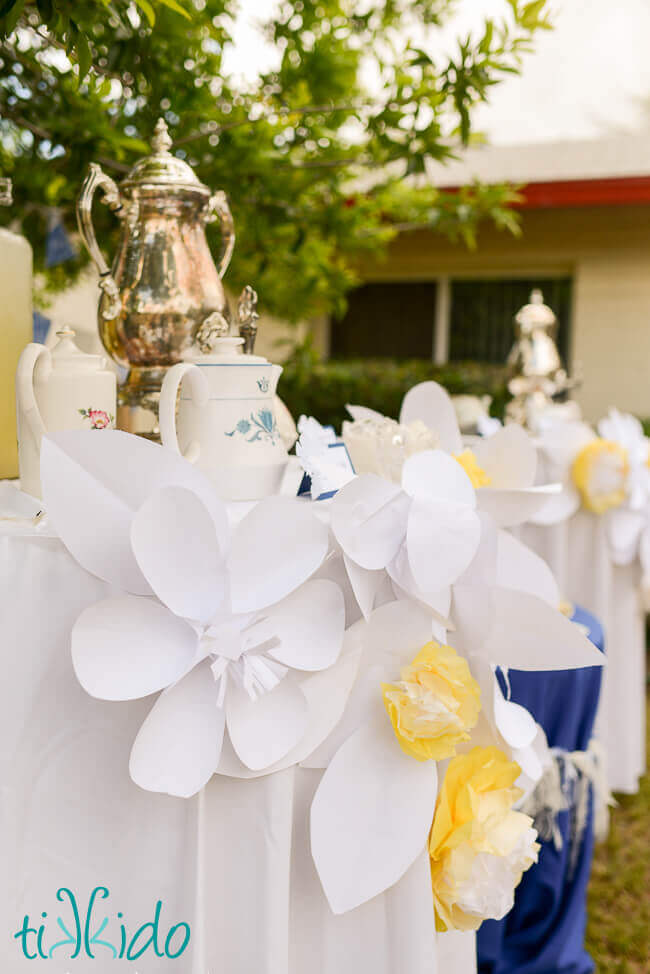 I already had some plain white tablecloths, but I knew I wanted to do something with them.   I'd made table overlays for the dining tables, but the tall tables were only used for serving the tea, so I didn't necessarily need something quite so functional; I could emphasize a bit more on form, instead.  I've always been a sucker for paper crafts, so I decided to make some of my favorite easy paper flowers, and simply taped them to the front of the tea tables.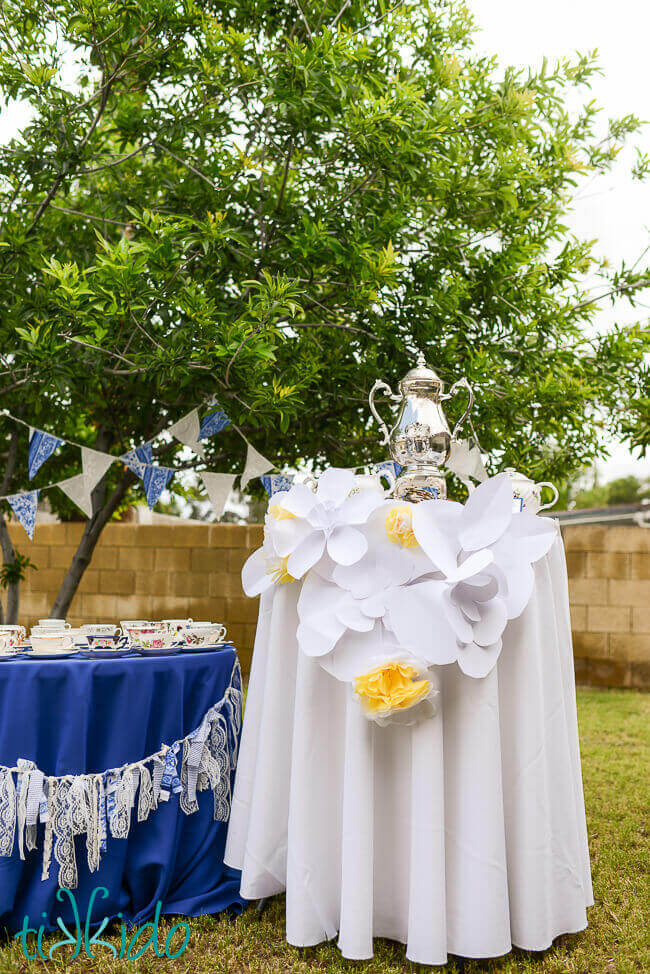 It was dramatic, it was fun, it was feminine but not too froofy, and it was incredibly inexpensive.  Man, I love being crafty.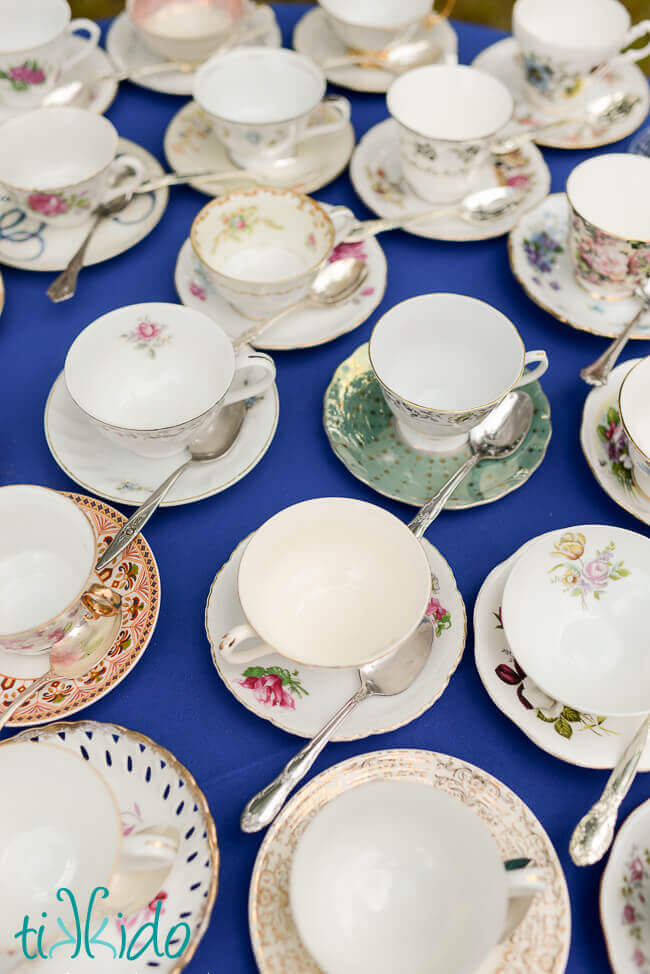 We rented fabulous vintage china from Tea Crockery.  Because tea parties are immeasurably better with real tea cups and saucers and silver spoons.  Especially the tiny, utterly adorable mixing spoons.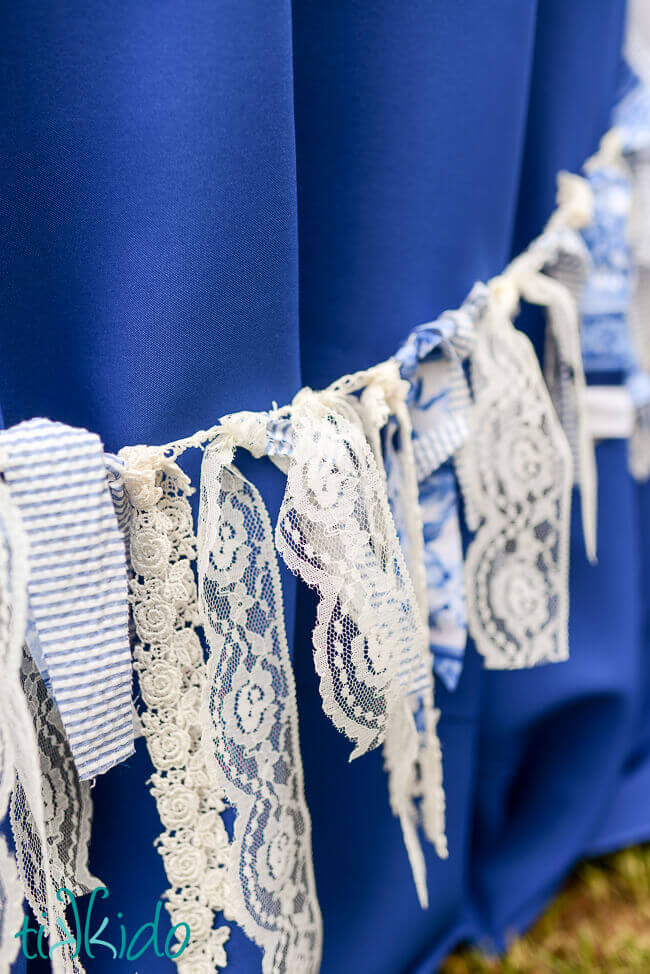 I made the easiest garland ever with scraps of leftover fabric and lace from making the table overlays.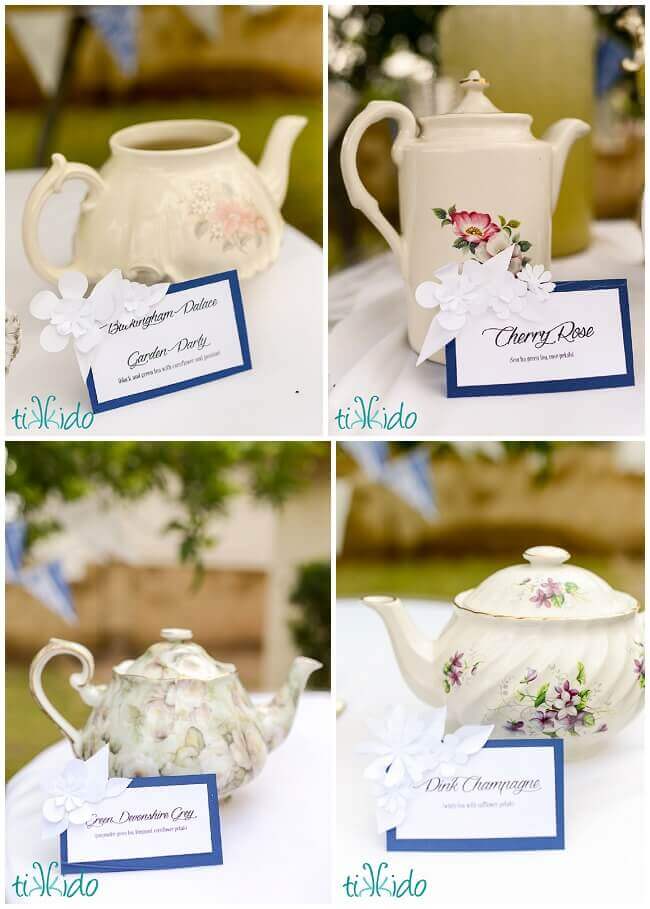 I found the most magnificent local company (I love working with local artisans!) that creates and imports amazing loose tea blends.  The company is called Tea Royalty, and the teas are all absolutely exquisite.   Plus, Chris, the owner, taught me all about making tea for a crowd, and she has really (really) cool hair that looked like ombre flames.  
We served six varieties of Tea Royalty teas at the party: a selection of green, black, white, and herbals teas.  It was a fabulously fun variety of teas for the guests to enjoy, plus I got to sneak in a little bit of education.  (My desire to explore and then educate is not limited to kids' parties!)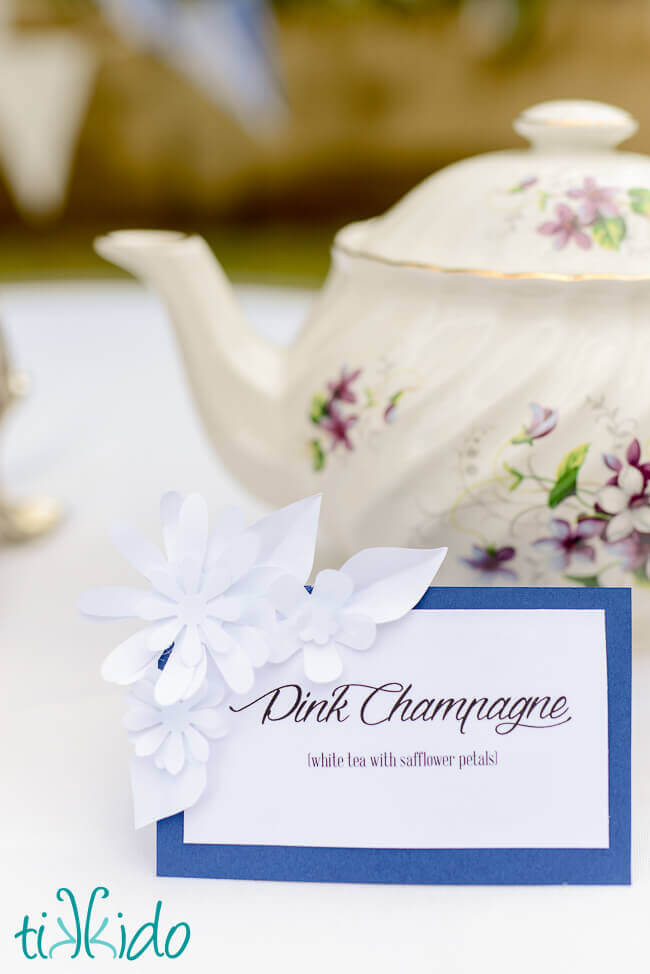 This Pink Champagne white tea is my absolute favorite right now.  It's SO delicious.  Light, delicate, floral, bright, invigorating, without being high in caffeine.   It's absolutely amazing as iced tea, too.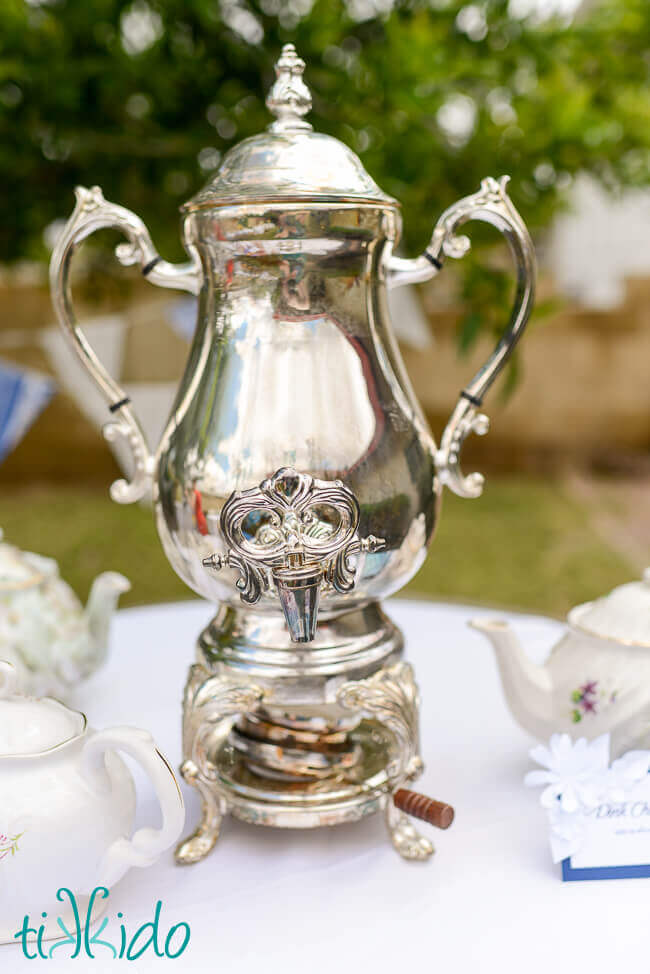 I brewed strong teas, and then had samovars with hot water in the center of each tea table, so people could adjust the strength of their teas to their liking.  I also just like saying the word "samovar."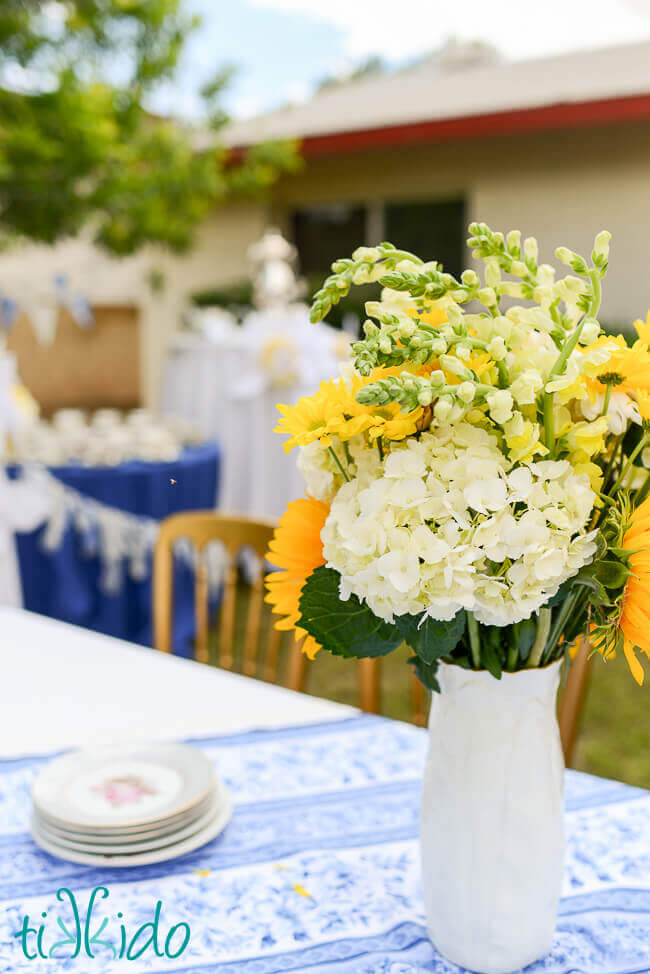 Trader Joe's always has a lovely collection of fresh flowers available.  I picked up some yellow and white flowers the day before the party, and Helene's daughter Madeline made beautiful arrangements for the tables.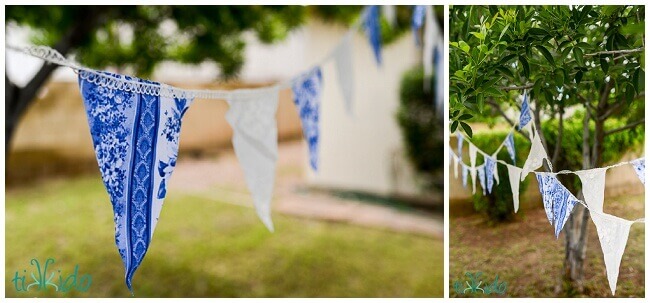 I had some fabric left over after making the table overlays (full disclosure: I suckered my friend Liz into making them for me), and used some of the scraps to make this easy no sew bunting.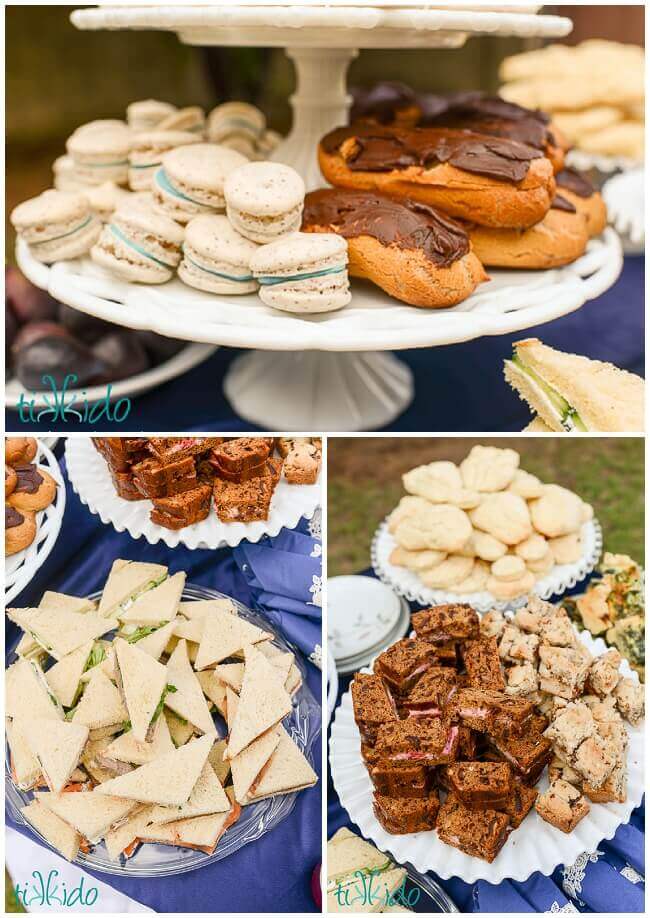 Food was a fun mix of traditional English tea fare and French pastry.  
Tea sandwiches served included:  cucumber and herbed cream cheese; smoked salmon; roast beef and horseradish; fig, mascarpone, and prosciutto; and date nut bread and strawberry cream cheese.  I also made quiche for savory fare.
Pastries included:  scones (with homemade strawberry jam and homemade lemon curd), eclairs, apricot crumb bars, mini pavlovas, and macarons.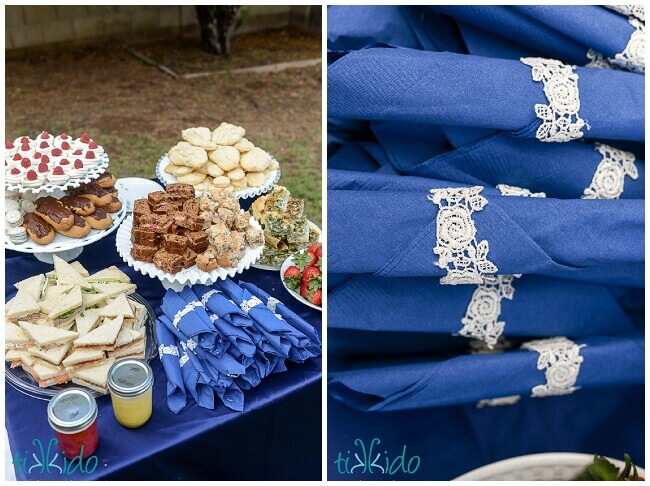 Paper napkins and plastic silverware were dressed up with custom napkin rings made in mere seconds with a bit of lace and a dot of hot glue.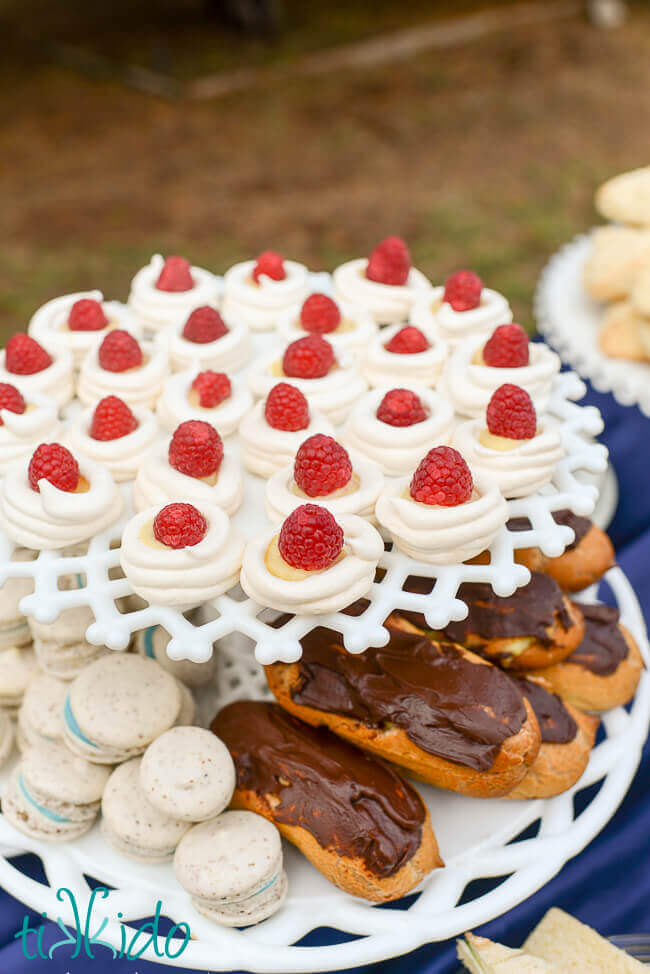 It was my first time making eclairs, and I overcooked them a bit (even though I followed the recipe precicely!), but wow, they were still really really good.  I'm calling it now:  eclairs are the next macarons.  Or is it just that they're next to the macarons?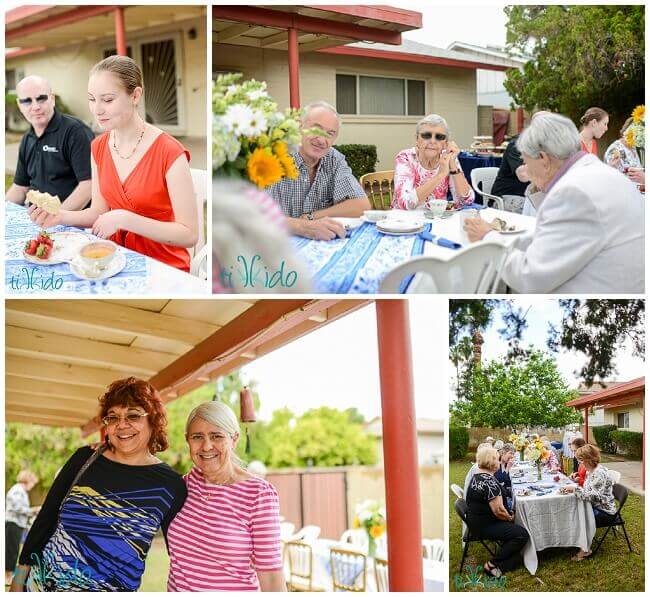 In any case, the party was enjoyed by all--and especially the birthday girl.  Happy birthday, Helene!