Printer-friendly version
Celebrating a birthday but cake isn't convenient?  Learn how to make these birthday cupcake sugar cookies.  It's easier than you might think!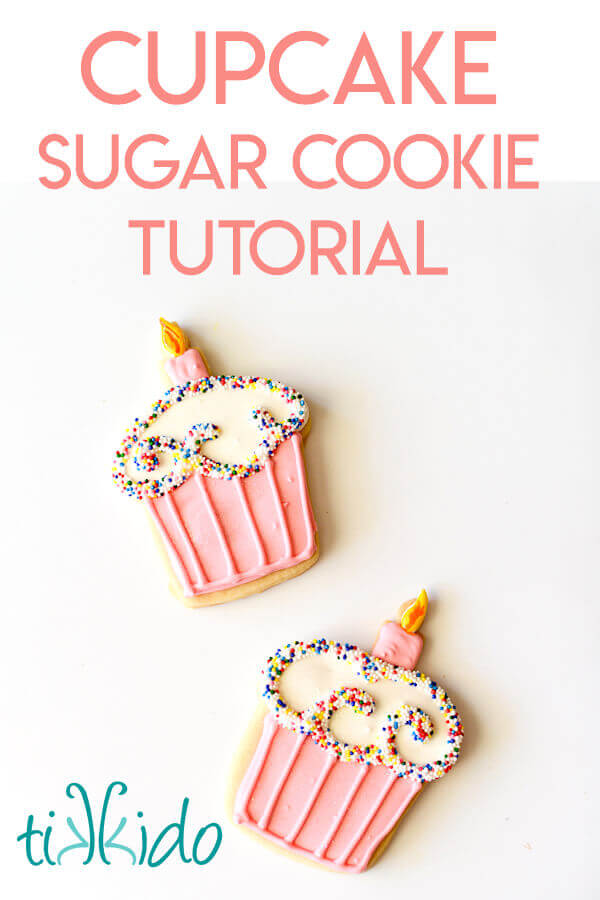 I love my friends.  And one of the ways I like to show my love is by making something.  Often edible.  
Like these.  Some cookie designers make impeccable cookies with just one layer of flooding.  I am not one of those people.  My cookies look pretty seriously sad until the very end, when I add extra layers of texture and detail.  But let me tell you, just those little finishing touches make a huge difference, and cover a lot of sins.  ;-)
Start by baking up a batch of No Fail Sugar Cookies.  I love that recipe.  It's absolutely delicious, and a dream to work with.
I used this cookie cutter to make the shape of these cupcake cookies with a birthday candle.
 To prevent the cookies from spreading, I like to freeze the cut out cookie dough before baking.  Once the cookies are completely cool, whip up a batch of royal icing.  
Color in the different sections of the cupcake by outlining and flooding the different sections with royal icing.  Not sure what I mean by that?  The best tutorial and explanation I've ever seen is by Sugarbelle.  She's a million times better at cookies than I am, and will never steer you wrong.
See what I mean in the above picture about the cookies not looking very good?  Meh, they're ok.  But nothing special.  A little sloppy.  There are some bumps and drips and weird peaks that wouldn't go down.  But I'm not worried.  When in doubt, embellish!  (A good rule of thumb for so many areas of life).
Let the base coat of the cookie dry completely (several hours at least).  Then take your white icing once again, and pipe on some swirls and curls around the top "icing" section of the cupcake cookie.  Sprinkle with your choice of sprinkles immediately, while the icing is still completely wet.  This is why we need the base coat to be completely dry, so the extra sprinkles will roll right off.  
Take the pink icing once again, and draw on some raised lines for the cupcake wrapper.  Add a little disco dust sparkle if you're feeling extra fancy.  Paint the candle flame with a little food coloring thinned out with a bit of vodka.  And you're done!  
I love that these cookies only require two colors of icing.  Leftover icing from this project is actually what inspired yesterday's post on homemade heart-shaped candy button valentines.  And I still had some icing left over after that.  I'll show you what I did with the rest in a day or two.  Not a drop wasted!  My grandma would be so proud of me.
Other Sugar Cookie Decorating Tutorials: