Printer-friendly version
Blood orange cupcakes with blood orange frosting are the perfect naturally pink treat for Valentine's day.  Blood oranges are in season right now, and that ruby color creates the most beautiful, delicate, natural pink color in baked goods like these blood orange cupcakes.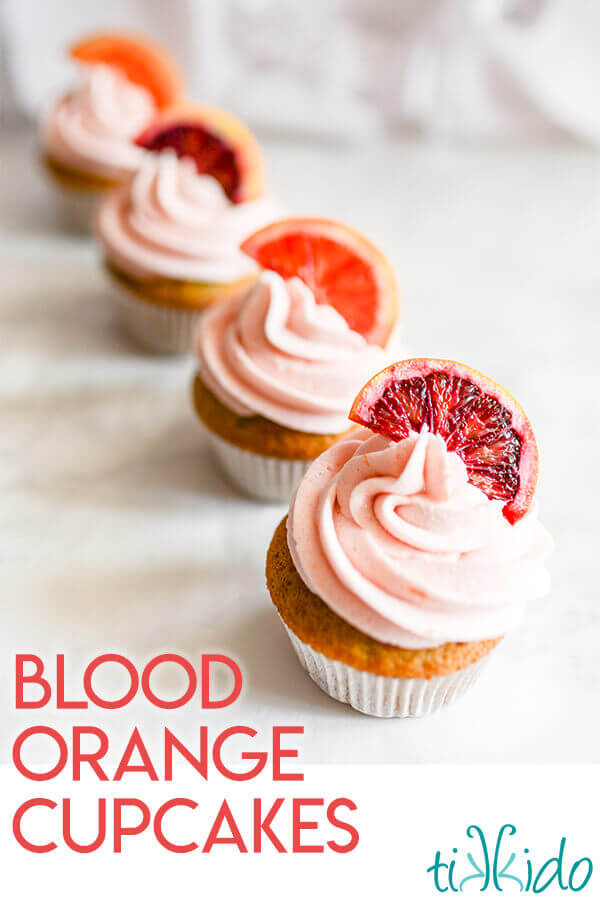 Blood orange cupcakes are my contribution to the Taste Creations Blog Hop this month.  Inspired by Valentine's day, rather than having one ingredient as our theme, we've worked together to create a romantic and delicious five course dinner.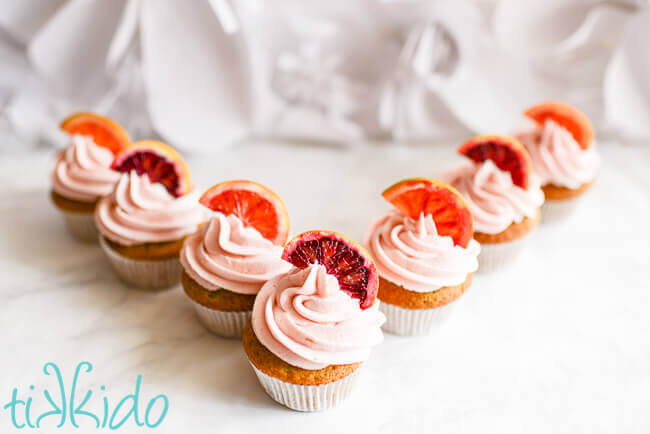 The blood orange cupcakes are, obviously, the dessert in this five course dinner.  Scroll down to the bottom of the post for the links to the other amazing recipes in our virtual dinner party.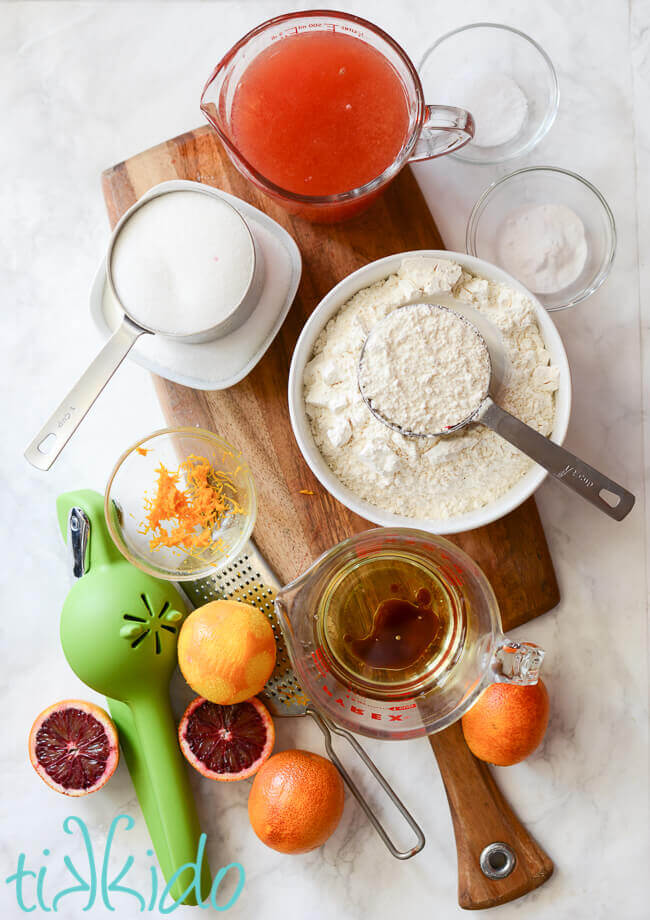 Blood Orange Cupcakes Ingredients:
2 cups sugar
3 1/2 cups flour
1 teaspoon salt
2 teaspoons baking soda
zest of one orange
1 cup water
1 cup blood orange juice
3/4 cup oil
1 teaspoon vanilla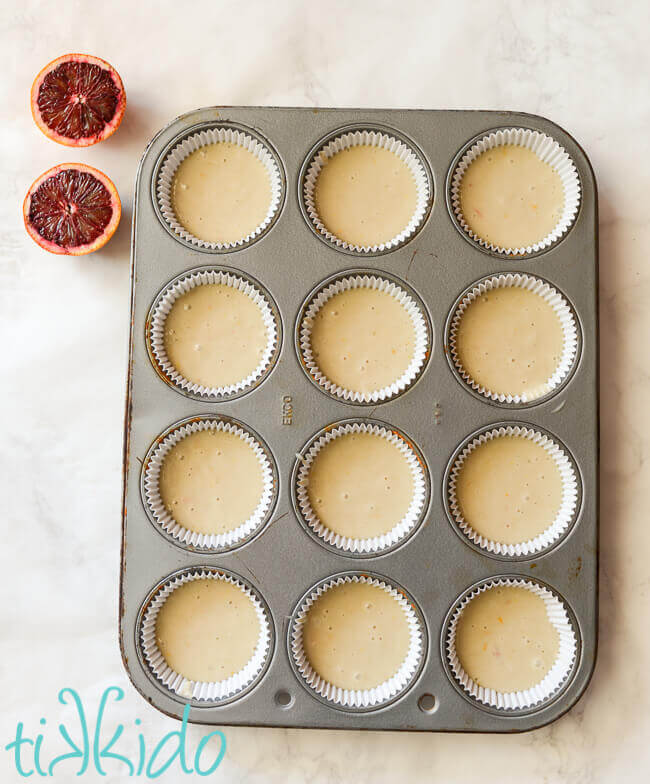 This is a variation on my favorite crazy cake recipe (typically chocolate cake).  In the blood orange cake version of the recipe, there's no need to add vinegar, since plenty of acid is in the orange juice.
As far as instructions go, this cake is incredibly easy.  Dump the ingredients together and mix them.  You don't even need a mixer for this cake recipe.  A bowl and spoon will suffice.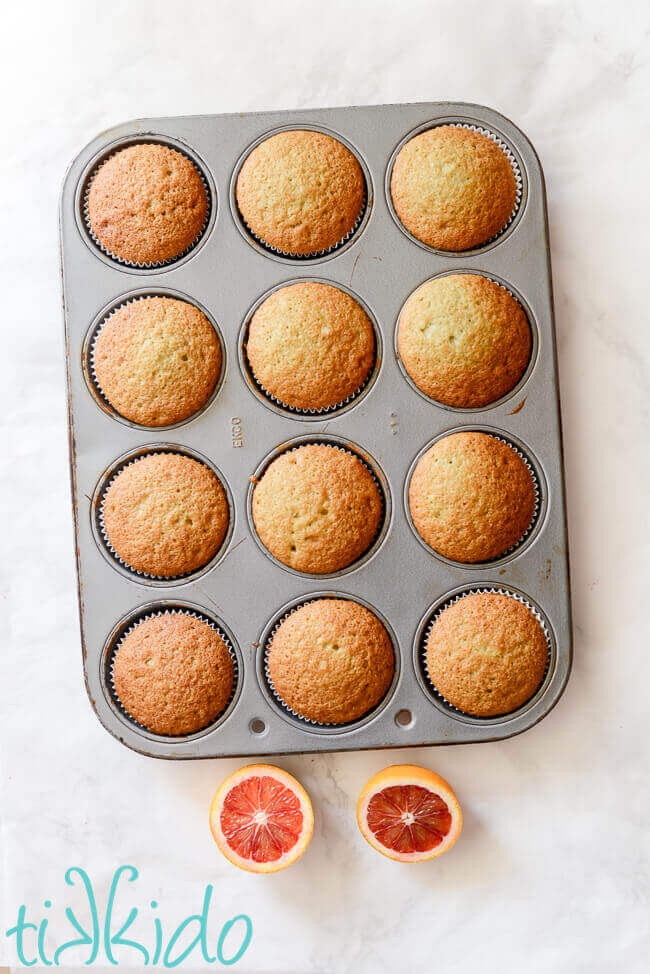 Bake cupcakes at 350 degrees Fahrenheit for approximately 22 minutes.  Test with a toothpick or skewer to check if the cupcakes are done.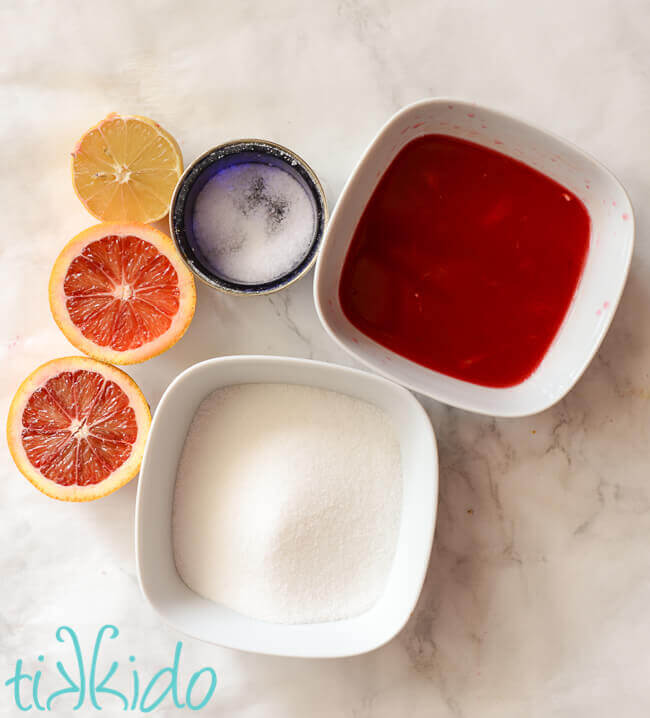 This next step is optional, but really punches up the blood orange flavor of the cupcakes.  If I were making this recipe into a layer cake, I'd use a blood orange simple syrup soak on each layer.  With cupcakes, the technique is a little different, but I can still make a delicious blood orange simple syrup to infuse even more flavor in the cupcakes. (Ignore the salt cellar in the photo above of the ingredients.  I have no idea why I included that in the picture, because I didn't use it in the syrup.)
Blood Orange Simple Syrup:
3 Tablespoons Blood Orange Juice
1 Tablespoon lemon juice
4 Tablespoons sugar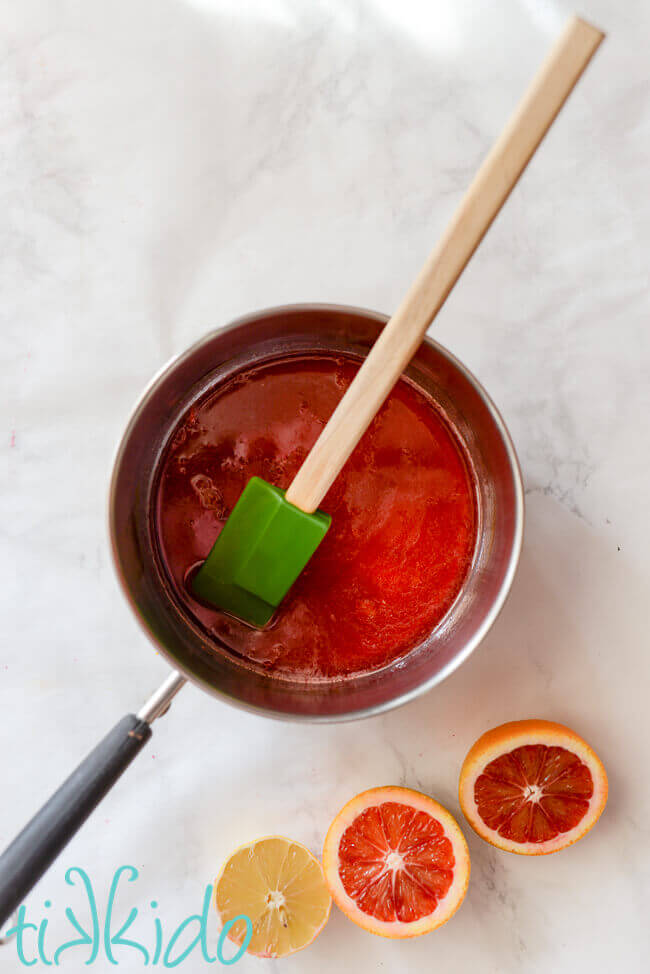 Combine ingredients in a small saucepan, and heat until the sugar dissolves.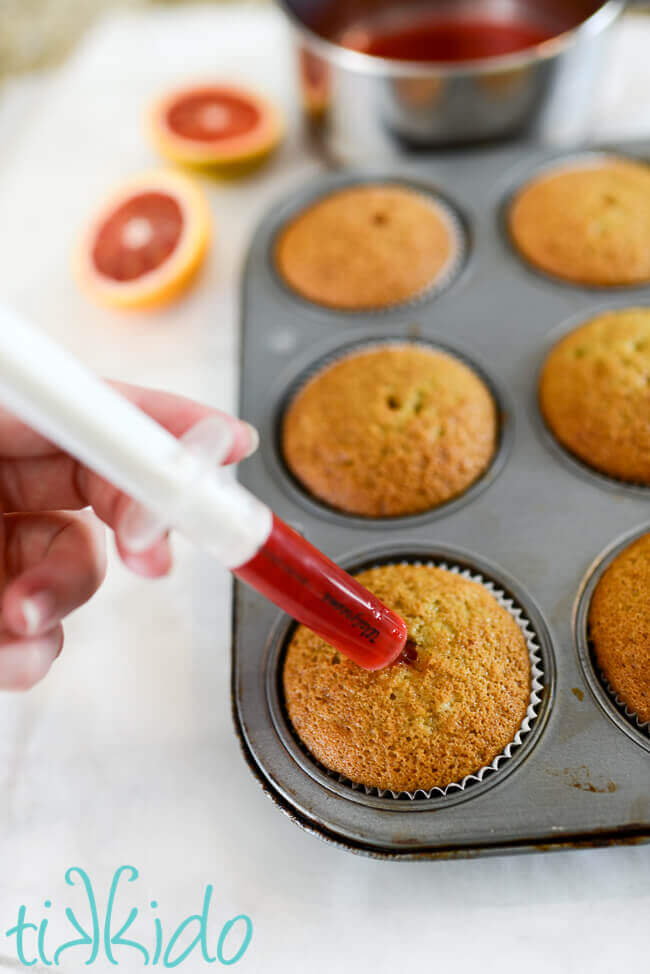 Use a plastic syringe to inject some of the blood orange simple syrup into the middle of the cupcake.  I used one of the free plastic syringes they give you at the pharmacy for giving your kids liquid medicine.  we always end up with extras for some reason, but they come in handy for this baking task.  But you can buy them on Amazon as well.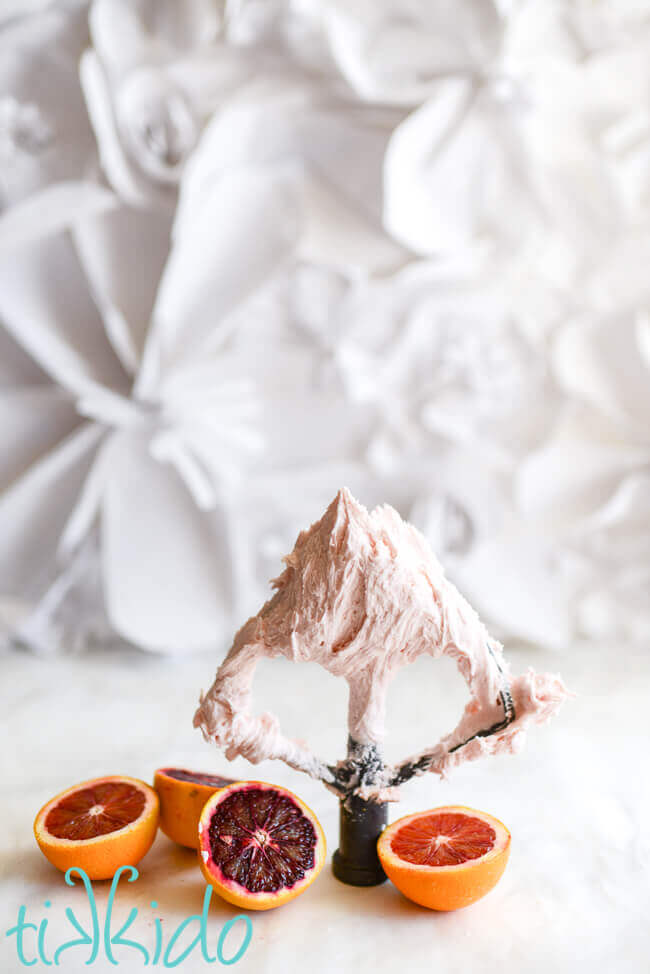 Frost with your favorite icing.  I made blood orange buttercream frosting for mine.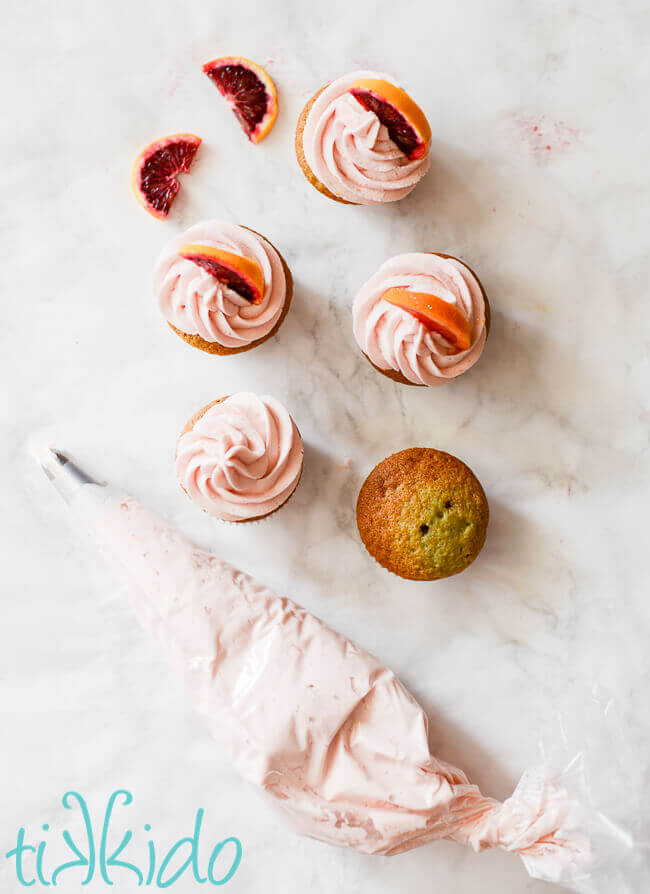 Just look at that gorgeous, all-natural, delicate pink color.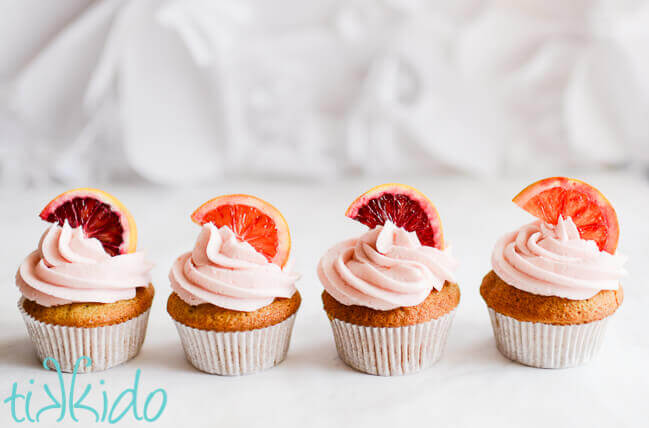 I love the natural variation in color in the blood oranges, too.  A thin slice of the citrus made the perfect delicious, elegant cupcake topper.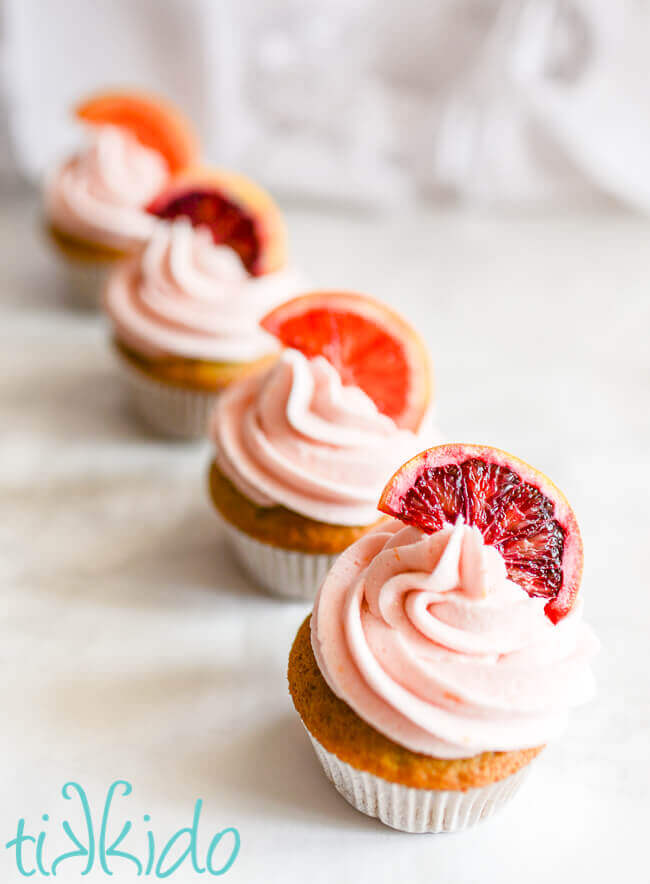 Free Printable, One Page PDF Version of the Blood Orange Cupcakes Recipe:
Be sure to check out the other fabulously delicious courses in our romantic Valentine's day feast from my friends in the Taste Creations Blog Hop.
Mom Home Guide: Appetizer, Caprese salad with Mozzarella Hearts
Our Good Life:  Side dish, Green Beans Almondine
An Italian in my Kitchen:  Entree, Easy Italian Baked Shrimp
Tikkido: Dessert, Blood Orange Cupcakes (That's this post!  You're already here!)