Printer-friendly version
Classic red sangria is the perfect drink to make for summer.  You make this sangria recipe by the pitcher (great for entertaining!) and it's light, not too sweet, and full of abundant summer fruits.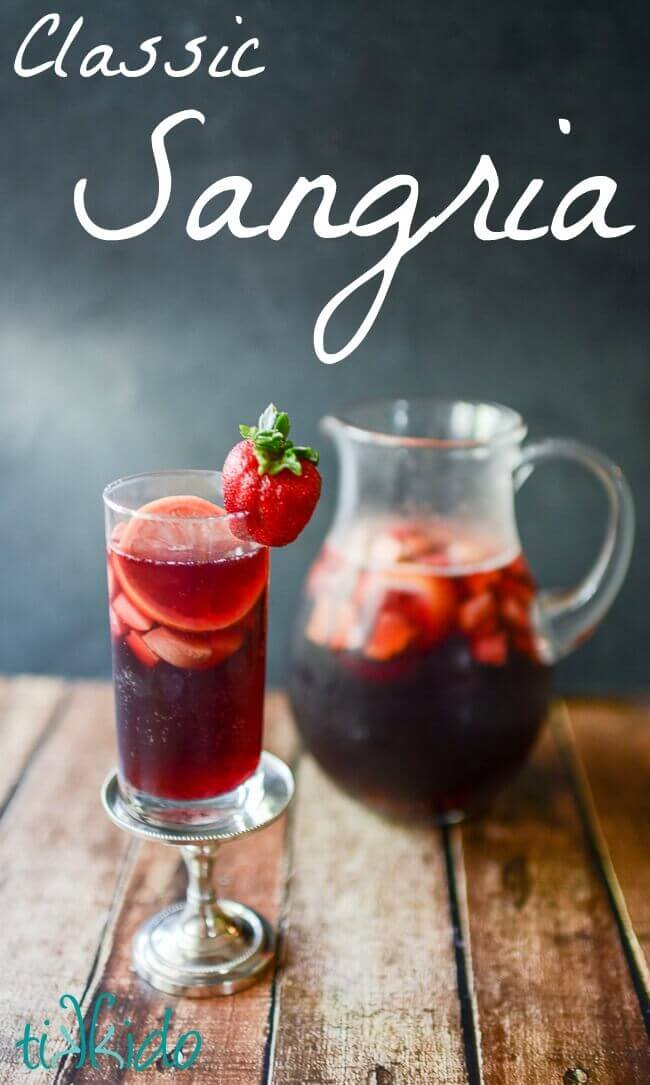 What is Red Sangria?
Sangria made with red wine is either called just "sangria," or sometimes "red sangria."  The etymology of the word "sangria" most likely coms from the spanish word for blood, sangre.
Sangria is a punch made with wine, fruit, brandy, fruit liqueur, and sparkling water.  There are many, many variations on this classic recipe around.  This is the classic red sangria recipe I like best.
What type of Wine is Best for Red Sangria?
Spanish rioja wine is most traditional, but you can use any type of red wine you like.    
Light, fruity red wines like Beaujolais and Pinot Noir  are very easy drinking and would made a very refreshing red sangria. A light, sparkling wine like red lambrusco wine would also be absolutely delicious in red sangria.
Medium body red wines, if you like a little more intensity, include Sangiovese, Zinfandel/Primitivo, and non-American merlots.
Full body red wines actually work very well in red sangria, because the more intense flavor stands up well to the other ingredients in sangria.  Some full-bodied red wines include shiraz, American merlot, and zinfandel.
I found this wonderful chart of the major types of red wine.  It's a wonderful reference if you're looking to choose something a little different for sangria than what you'd normally drink.
Bottom line?  Choose something you like the taste of!
Red Sangria Recipe:
1 bottle red wine (I used shiraz)
assorted fruits, chopped (I used apple, lemon, lime, orange, kumquat, grapes, mango, cherries, and strawberries)
1 cup brandy
1 cup peach liqueur
1 cup orange liqueur (triple sec)
1 liter bottle sparkling water (I used berry flavored sparkling water)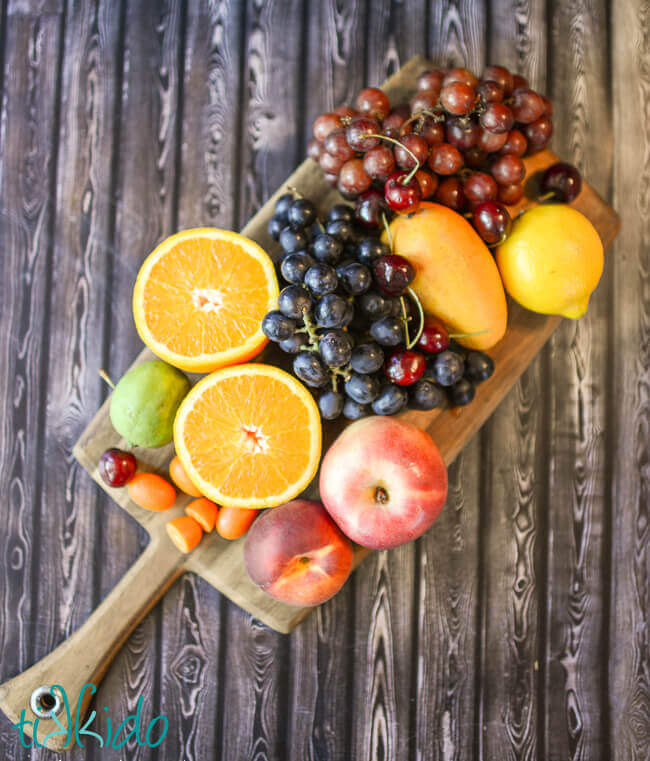 Alcohol Infused Fruit for Red Sangria Recipe
Cut your fruit into bite-sized chunks.  One of the best parts of Sangria is eating the boozy fruit after you've finished drinking your beverage!  Make it easy on your guests by cutting the fruit into small pieces.
While sangria can be thrown together quickly, it's best if you have time to let the chopped fruit pieces sit and infuse in the brandy for at least a couple hours before you want to serve the punch.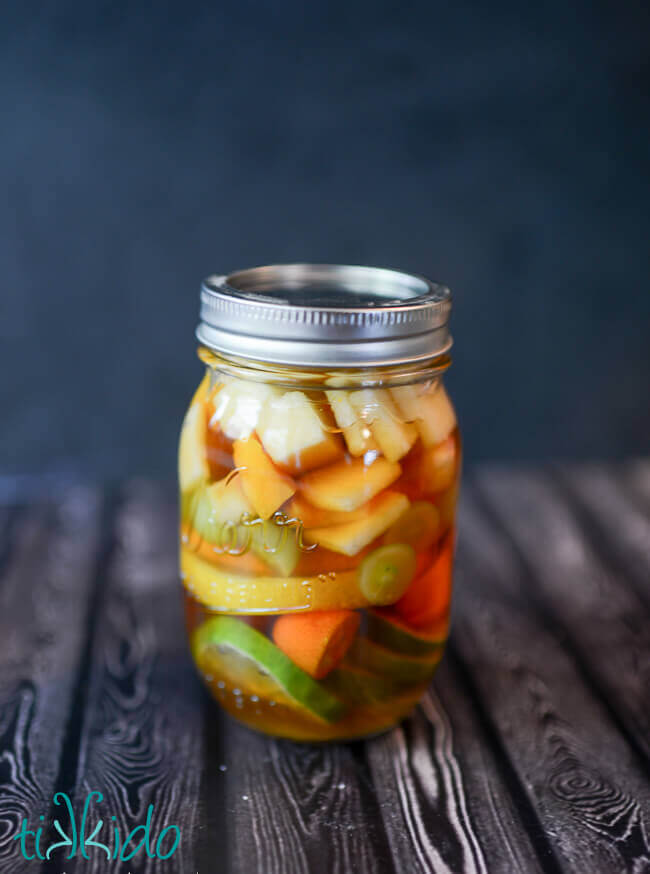 I like to let mine sit overnight, to really pull the fruit flavors out into the alcohol, and let the alcohol soak in and make boozy bits of fruit.  Letting the fruit and brandy sit in a mason jar is an easy way to keep the ingredients contained, spill-proof, and ready to go as soon as you're ready to mix your pitcher of sangria.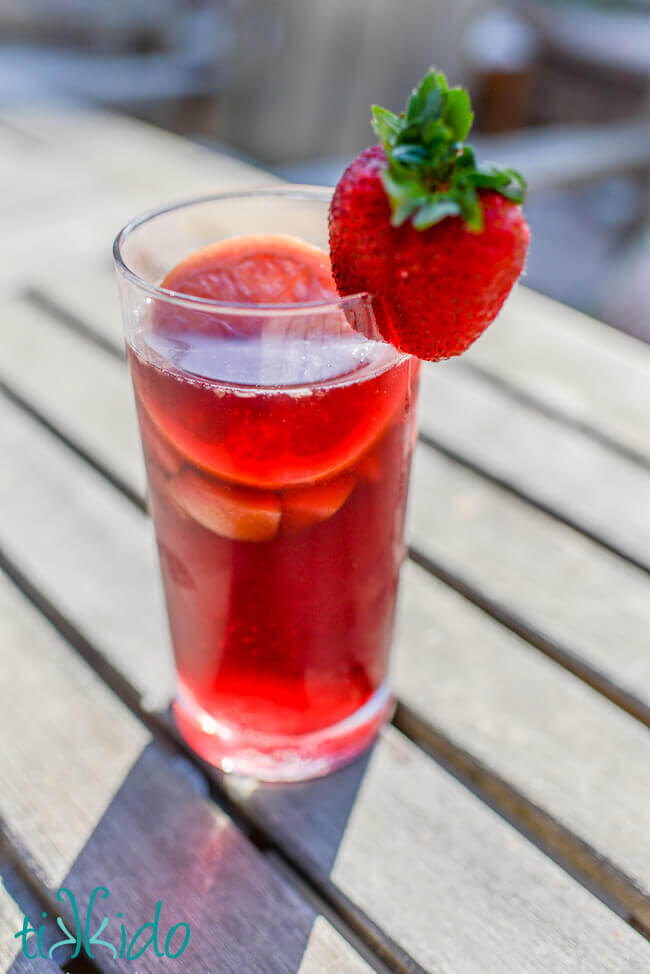 How to Make Red Sangria
When it's time to serve, combine the wine, fruit, brandy, peach liqueur and triple sec together in a pitcher (I like using my favorite classic glass pitcher).  Mix in the sparkling water just before serving.  
Red Sangria Recipe Variations
I used berry flavored, unsweetened sparkling water, because I don't care for overly sweet drinks.  Lemon-lime soda is a popular alternative to use if you like sweeter beverages.  
If you love a really fruity sangria recipe, try adding some homemade fruit syrups to your pitcher of punch.
Choose your favorite fruits.  Use what's in season, or just what you really love.  Don't feel compelled only to use the fruits I've listed!
That's the beauty of making Sangria--it's incredibly flexible and easy to change to fit your particular tastes!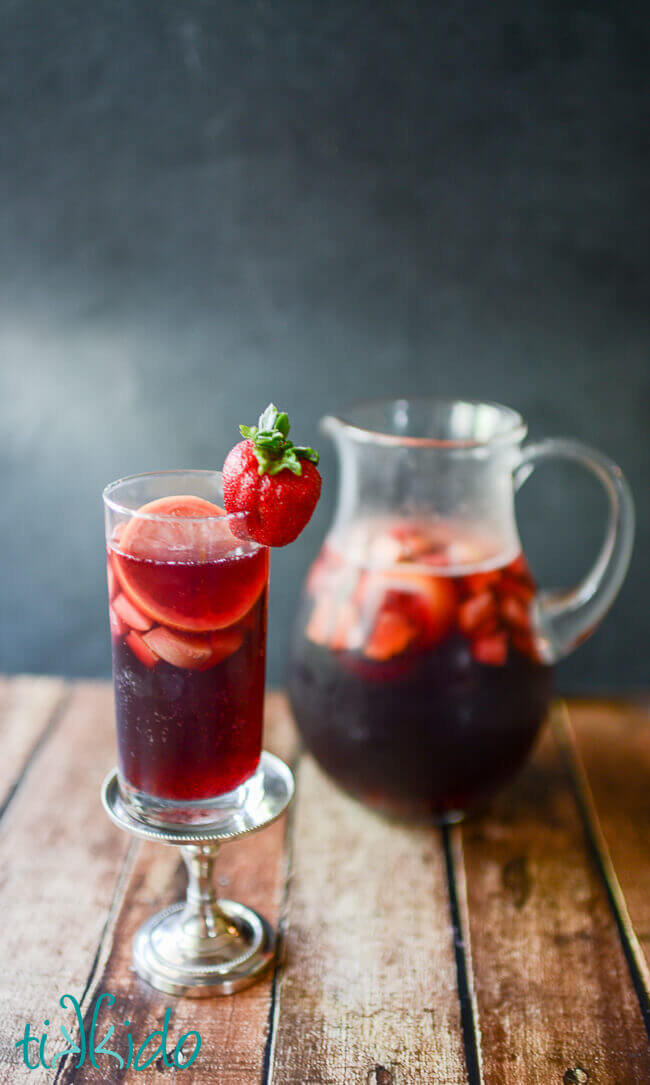 I think I have the "red" portion of a Red, White, and Blue 4th of July cookout covered!
Other Cocktail Recipes You Might Like