Printer-friendly version
These conversation heart sugar cookies are the perfect, easy to make, mini sugar cookies to make for Valentine's day.  These bite-sized conversation heart cookies have all the adorable good looks of those classic Valentine's day candies, but taste so much better!
It's time once again for the Taste Creations Blog Hop, and this month, our theme is Valentine's Day Sweets.  I decided to make miniature sugar cookie versions of conversation hearts, that absolutely classic Valentine's day candy.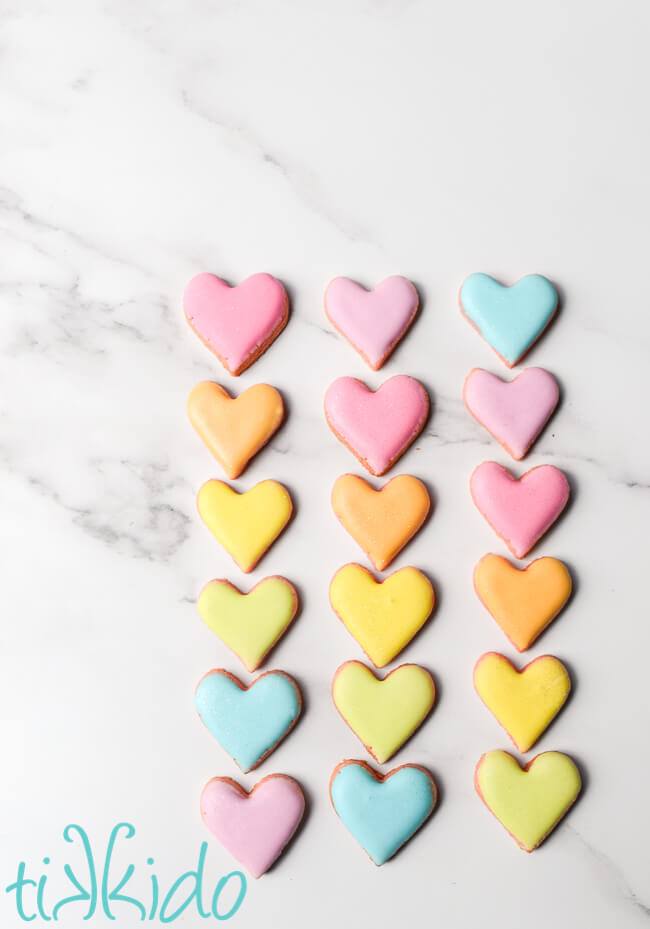 I've always loved the pastel rainbow look of Conversation Hearts candies, but I have never liked eating them--not even when I was a very young kid.  But these bite-sized sugar cookies are absolutely delicious, and adorable, and give me all the nostalgic good vibes I was craving.
How to Make Conversation Hearts Sugar Cookies: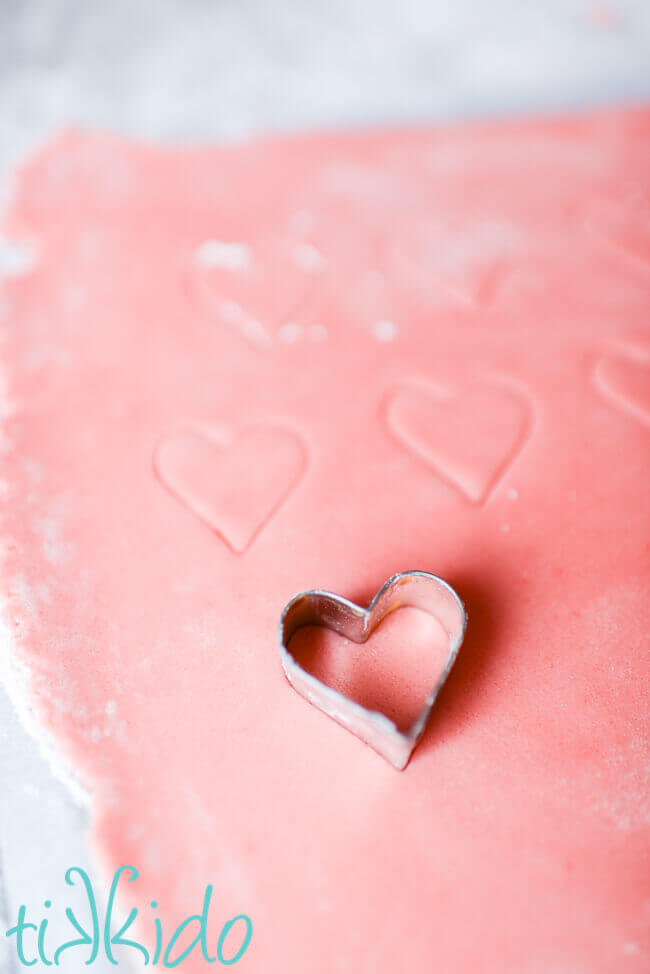 The first step in making conversation heart cookies is to make the actual cookies.  Use any cut out sugar cookie recipe you prefer (this is my favorite sugar cookie recipe), but you can use whatever your favorite recipe is (or even pre-made cookie dough!).  I made my Valentine's day cookies with my cotton candy sugar cookie recipe (coming soon!).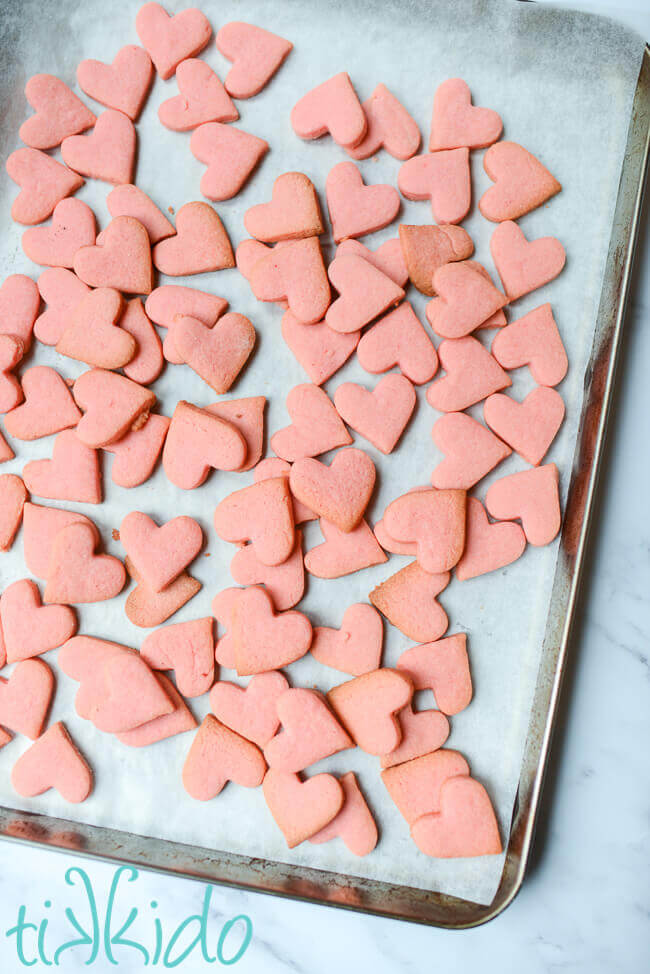 Use a mini heart shaped cookie cutter to cut out the cookie shapes, bake them, and let cool completely.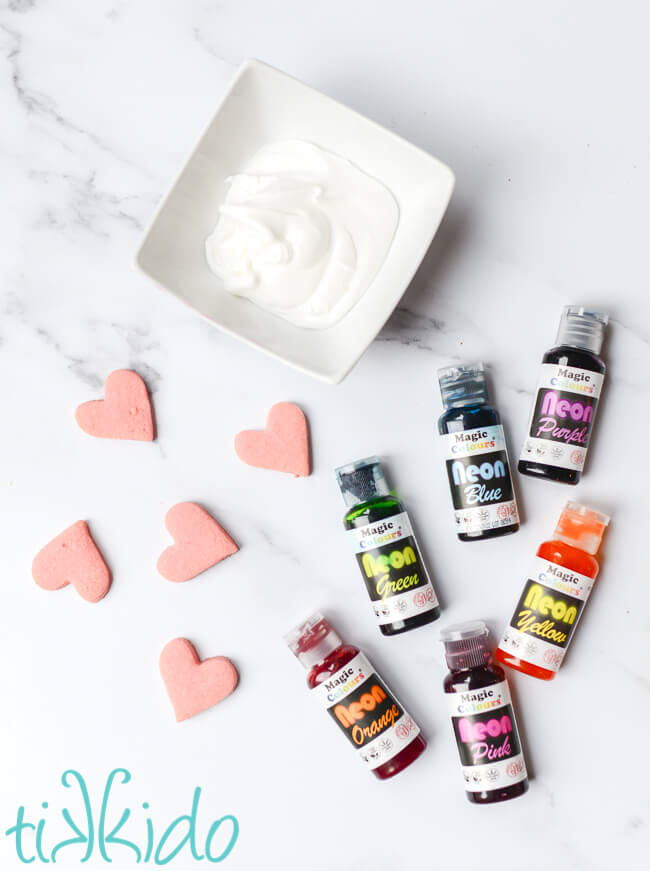 Make a batch of royal icing to decorate the conversation heart sugar cookies.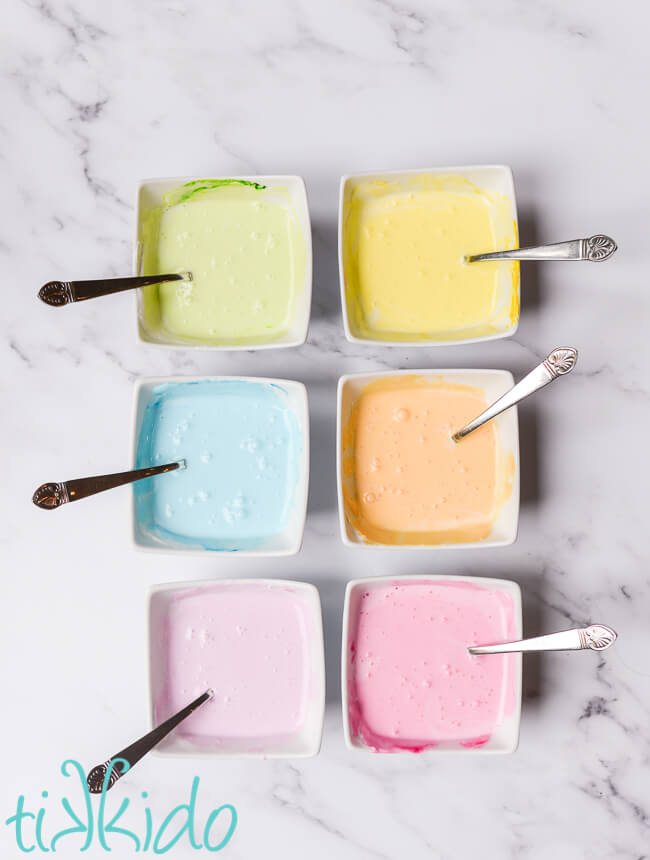 Color six bowls of royal icing in the pastel rainbow colors of classic Conversation Hearts candies: pink, orange, yellow, green, blue, and purple.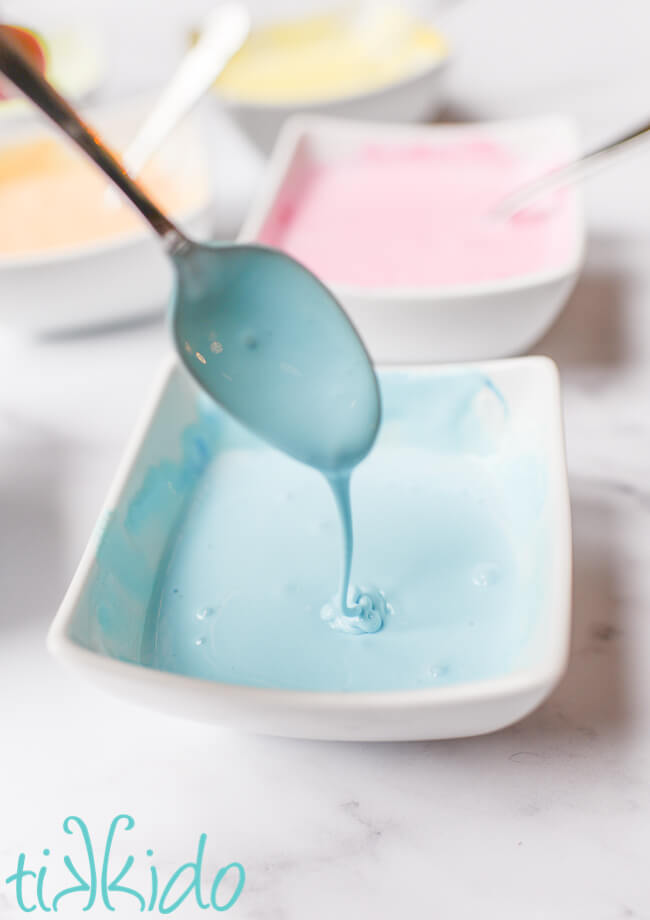 Thin out the royal icing using water.  You want the icing to be quite runny--a bit runnier than regular flooding consistancy icing for decorating sugar cookies.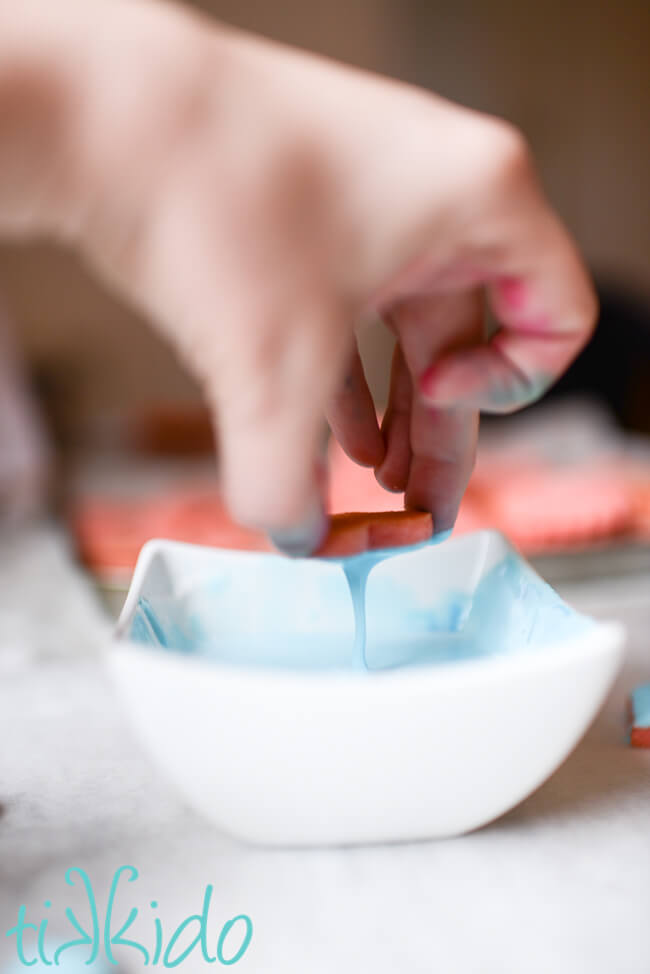 Hold the cookie by the edge, and dip the surface of the cookie in the thinned royal icing.  Shake and drip most of the icing off of the cookie.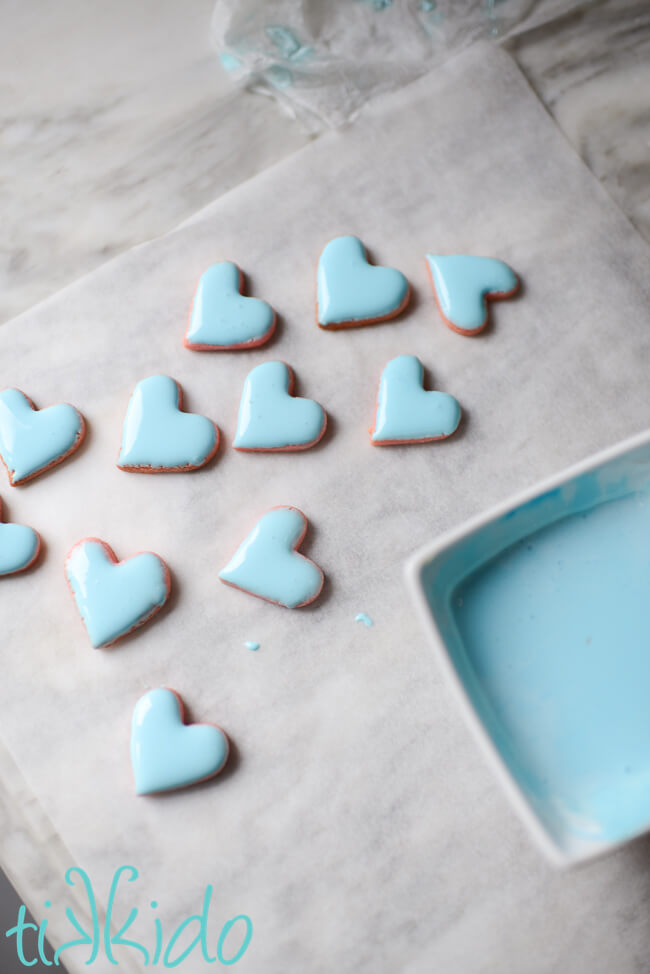 Flip the cookie over, and the thin icing will settle into a perfect coating on the cookie surface.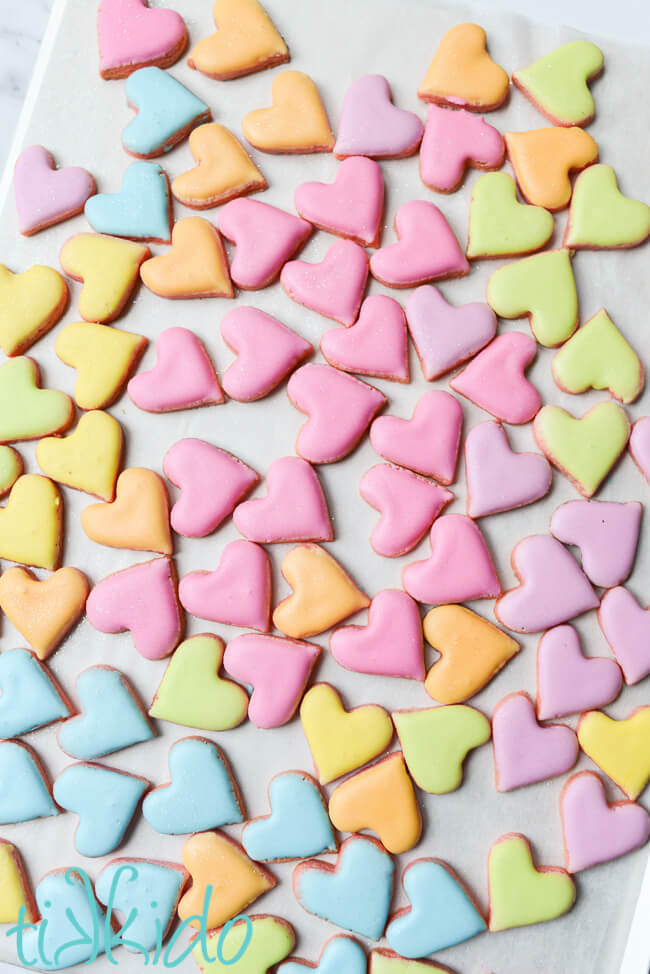 I always managed to get my fingers a little messy every time I coated a cookie, so I kept a wet kitchen towel on hand to clean up between dipping each cookie.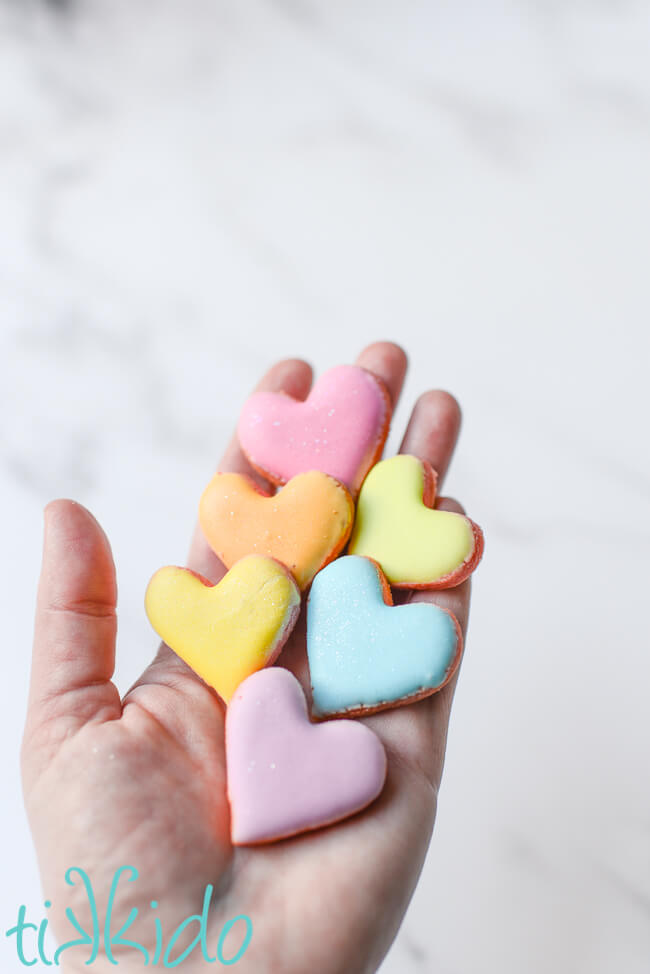 I love mini cookies!  Just a sweet bite or two is all I usually want.  Plus, miniature things are cute.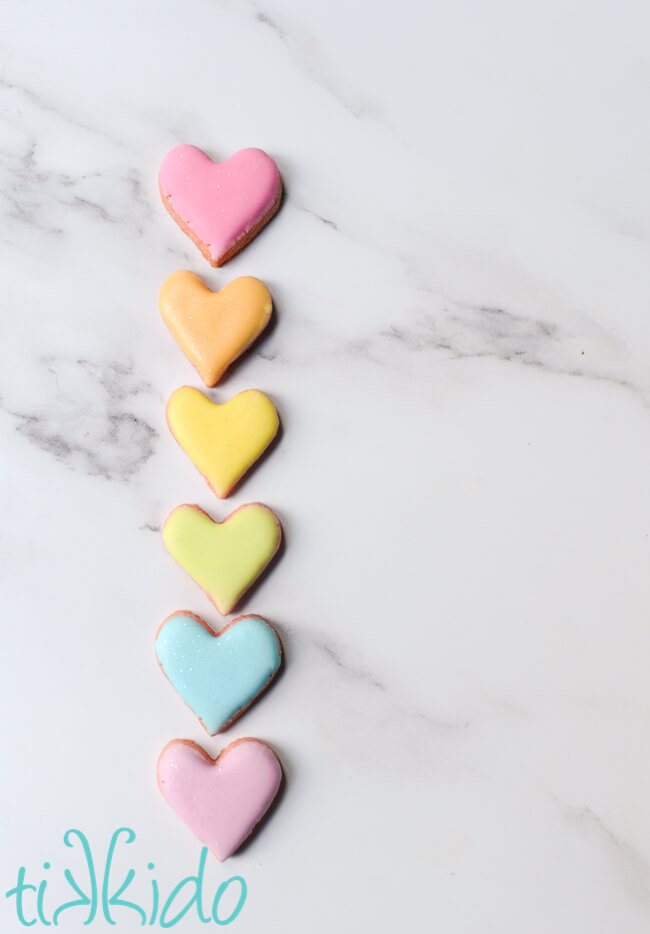 You could write messages on your cookies with food coloring markers if you really wanted them to look just like conversation hearts, but I loved the simplicity of the plain cookies.  It was always the colors and shapes I loved best about the candies, anyway.  
Other Valentine's Day Sweet Treats from the Taste Creations Blog Hop:
Our Good Life: Cherry Sugar Cookies
An Italian in my Kitchen: Chocolate Valentine Cookies
Mom Home Guide: Rice Krispie Treat Valentine's Day Hearts
Other Sugar Cookie Tutorials You Might Like: