Printer-friendly version
This cotton candy popcorn is a delicious variation on classic candied popcorn and is actually made with real cotton candy sugar, so it has that truly authentic flavor.  I developed this recipe to use as cotton candy party favors for my daughter's birthday party.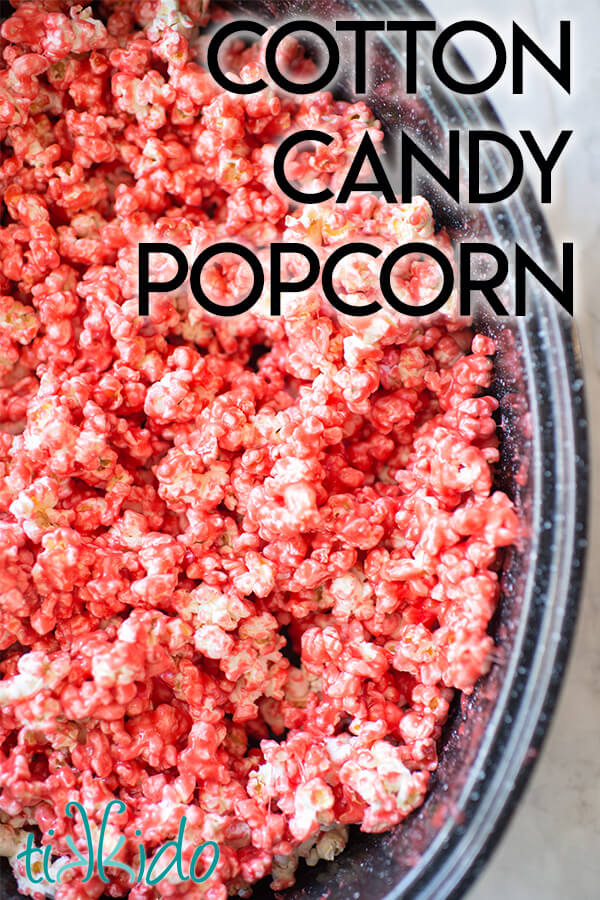 My daughter requested a cotton candy birthday party for her last birthday--SO MUCH FUN!   I had a great time developing all sorts of cotton candy themed crafts and recipes.  This cotton candy popcorn is one that my daughters have asked me to make several times since the party.  It's definitely a big hit.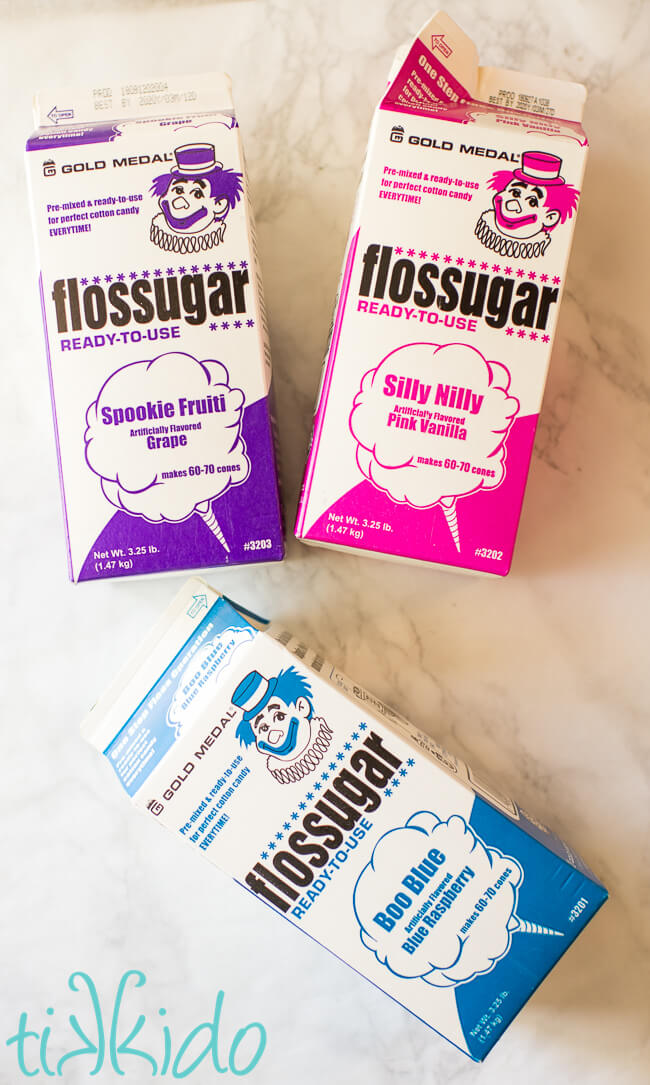 This recipe uses actual cotton candy sugar as one of the main ingredients.  That's why this cotton candy popcorn tastes like the real deal!  I bought mine at Smart & Final (a local warehouse/restaurant supply store that's open to the public), but you can also easily order tons of flavors of cotton candy sugar online.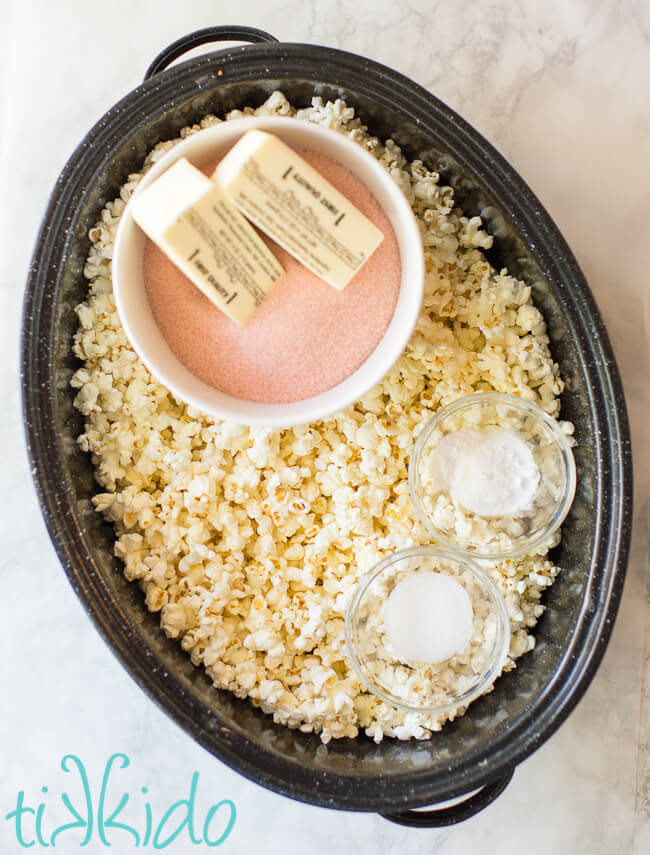 Cotton Candy Popcorn Ingredients
4-5 quarts of popped popcorn (NO unpopped kernels!)
2 cups cotton candy sugar
1 cup butter
1/2 cup light Karo syrup
1 teaspoon salt
1 teaspoon baking soda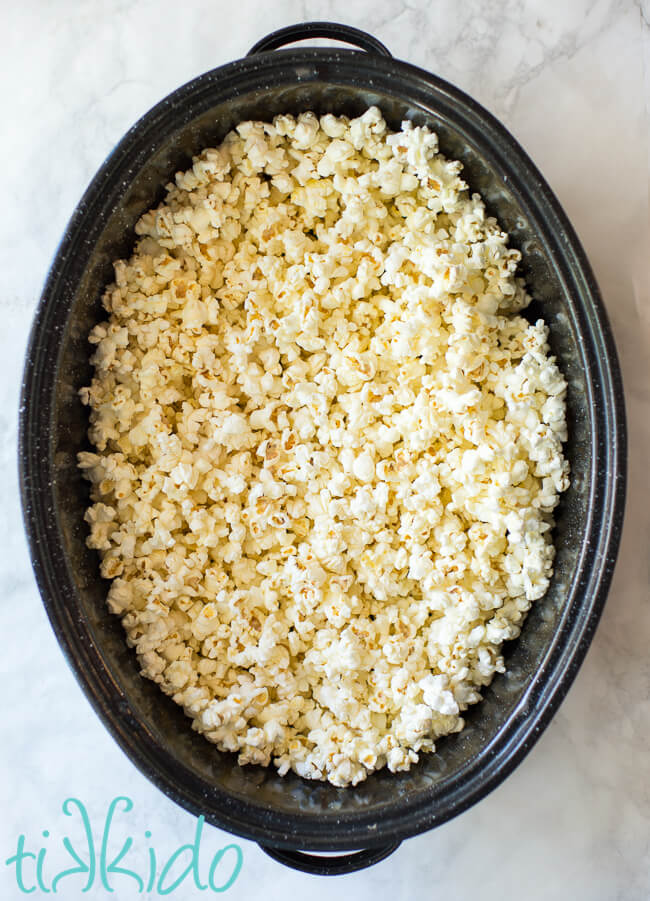 As with any recipe for candied popcorn, it is absolutely critical that you carefully remove any unpopped popcorn kernels and do not let any into the cotton candy popcorn mix!  You could break a tooth chomping down on an unpopped kernel hidden in the pink popcorn.
I like to make my popcorn using this microwave popcorn popper.  1/3 of a cup of popcorn and 3 minutes later (no oil!), and I have a bowl of perfectly popped popcorn.  The Nordicware microwave popcorn bowl is far easier to store than an air-popper, and doesn't overheat if you have to make multiple batches (like you do for this recipe).  
Whatever method you use to pop your popcorn, transfer 4-5 quarts of the popped kernels into a large roasting pan.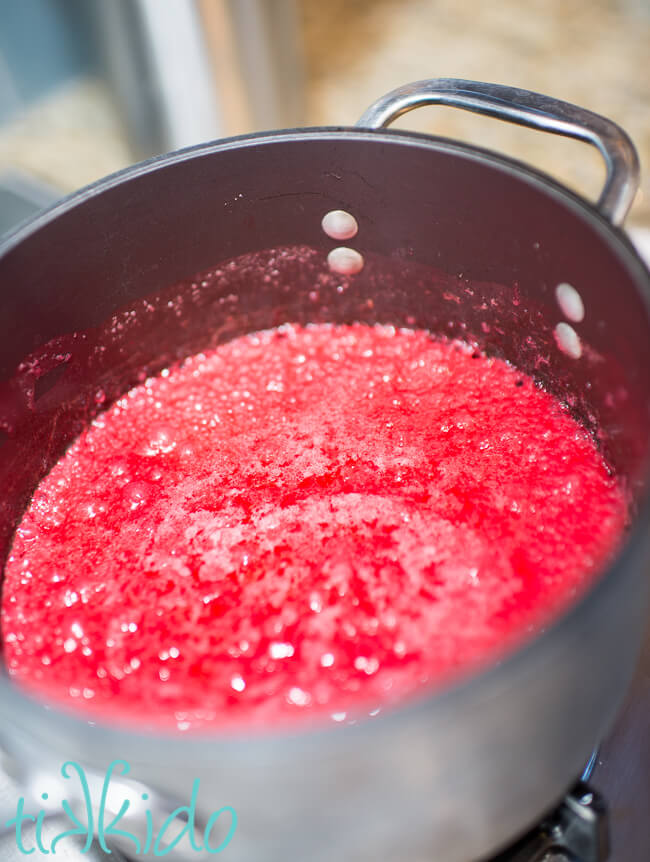 Place butter, Karo syrup, cotton candy sugar, and salt in a large saucepan.  Cook, stirring occasionally, until bubbly at the edges.  Cook on medium heat for another five minutes.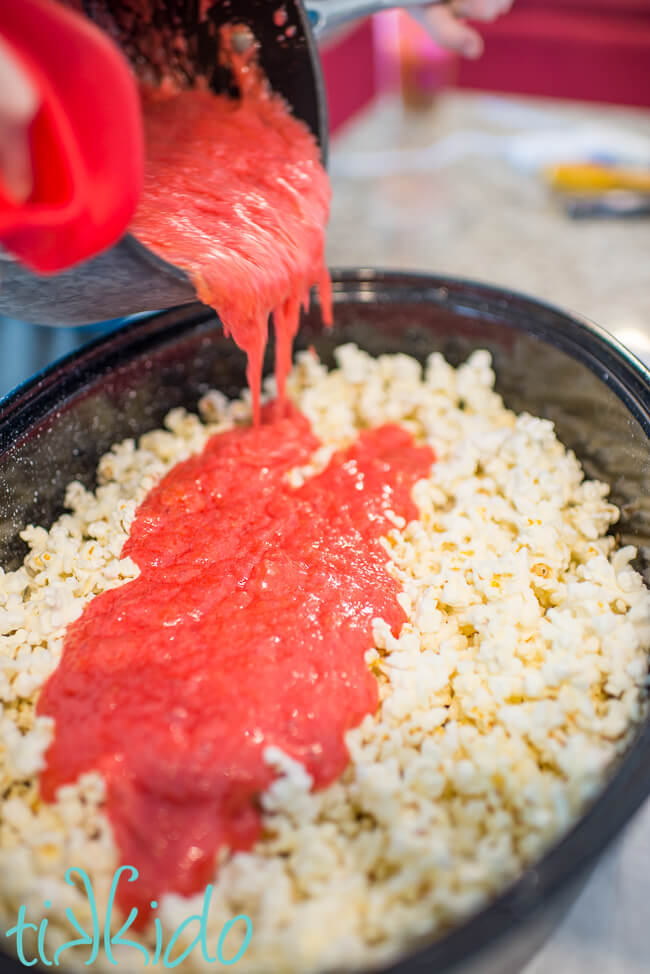 Remove saucepan from heat, and quickly stir in the baking soda.  The mixture will foam up (which is why we used a larger saucepan), so don't be alarmed.
Quickly pour the mixture over the popcorn in the roasting pan.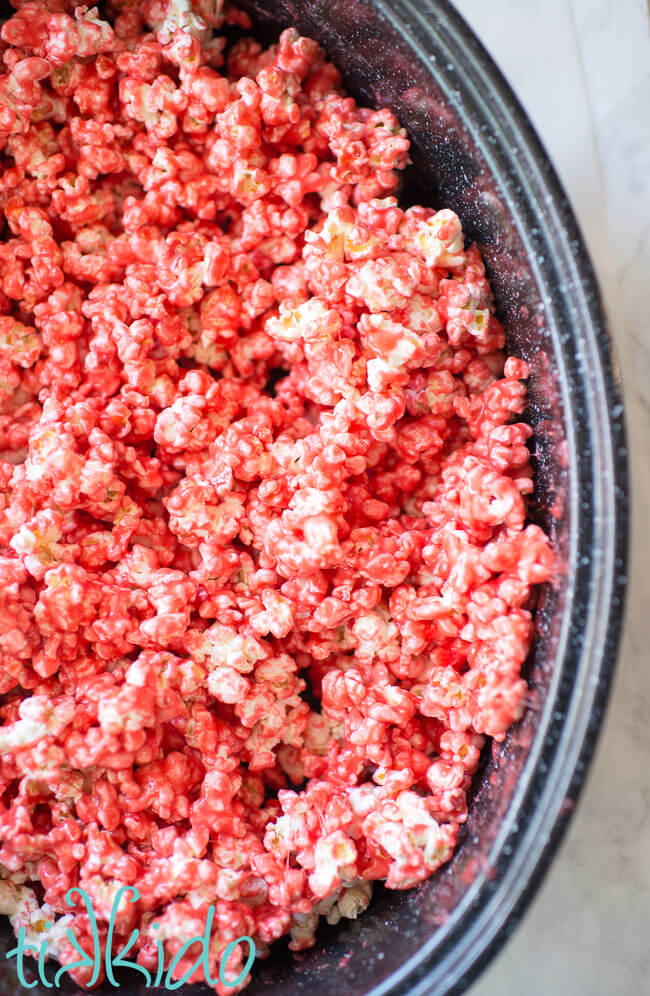 Toss the popcorn to coat evenly with the hot cotton candy sugar mixture.
Bake at 200 degrees Fahrenheit for 1 hour, stirring the popcorn every 15 minutes.
How to Adjust the Color of Cotton Candy Popcorn
The color of the cotton candy sugar intensifies and deepens when it gets wet (just like powdered paint does when you mix it with water, for example).  If you want your finished cotton candy popcorn to have a more pastel color, use one cup of regular sugar and one cup of cotton candy sugar in the recipe.  You'll still get nice cotton candy flavor, but a lighter, more pastel color to the finished candied popcorn.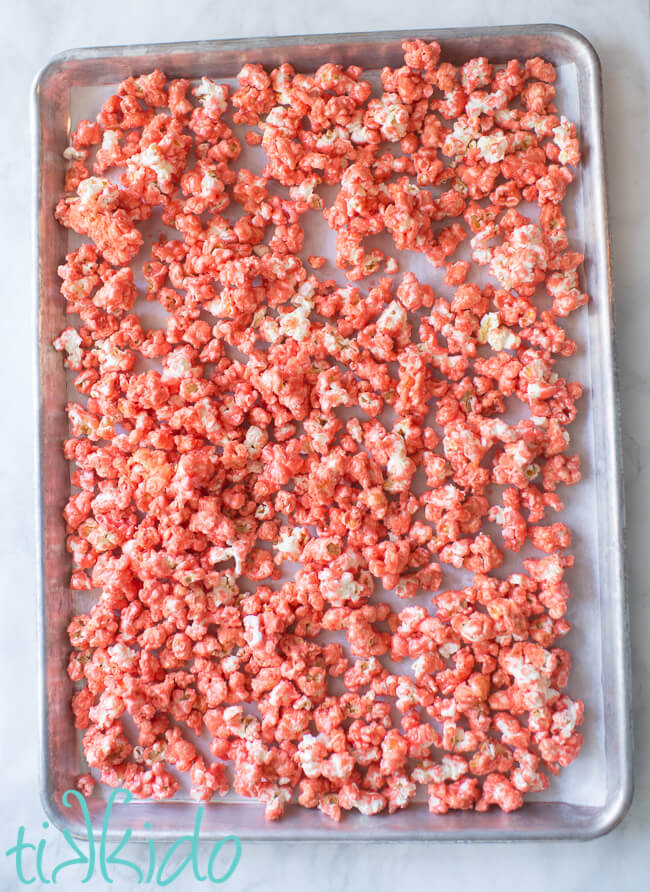 How to Cool Candied Popcorn
When the cotton candy popcorn is done baking, you'll need to let it cool down before eating or packaging it up.  It is absolutely critical that you let the popcorn cool in a single layer. If you let it cool down in the large roasting pan, it will solidify into one giant popcorn ball, and you will have to chisel it out of the pan.  
To prevent that from happening, spread the warm candied popcorn on baking sheets lined with parchment paper to cool.  It's ok if the popcorn pieces touch each other, as long as it's in a single layer.  A single layer of stuck-together popcorn breaks apart easily.  A giant block of it, not so much.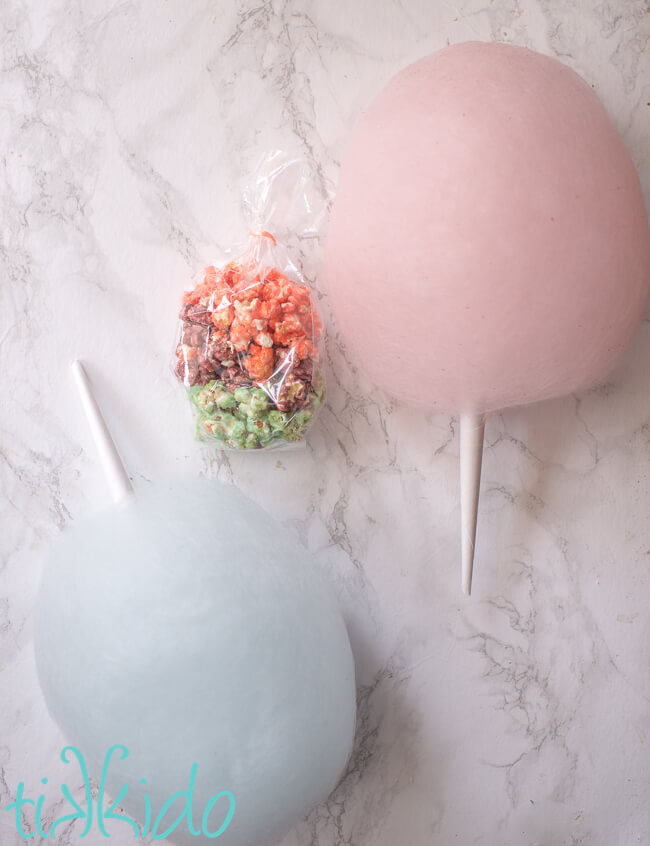 Once the cotton candy popcorn is cool, you can break it apart into small clumps and enjoy.  I bagged all three flavors up together and put the baggies of cotton candy popcorn in the favor bags at my daughter's birthday party.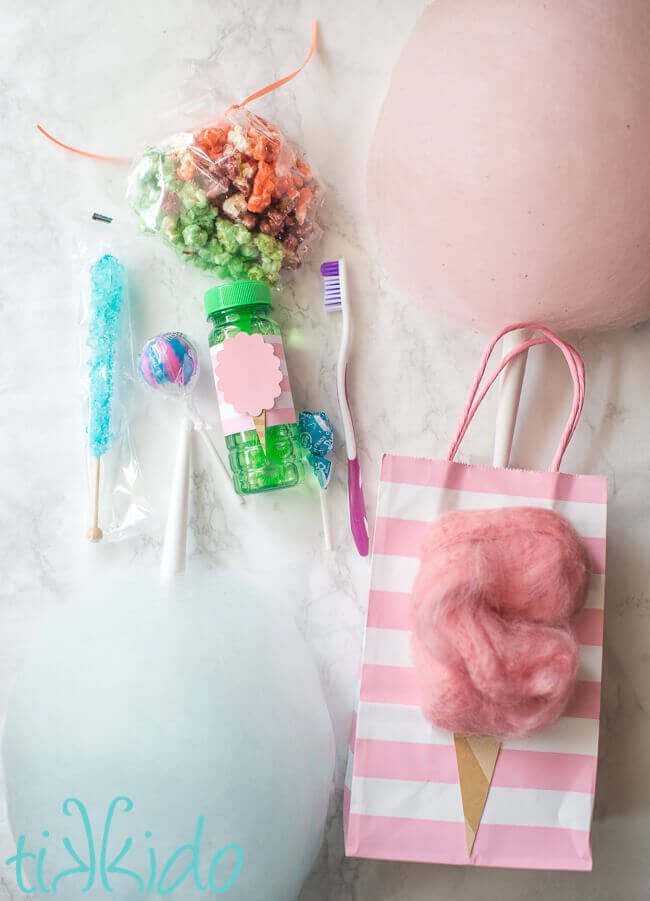 I have a tutorial for making these cotton candy favor bags, if you're planning a cotton candy party, too.
Printable, One Page Cotton Candy Popcorn Recipe: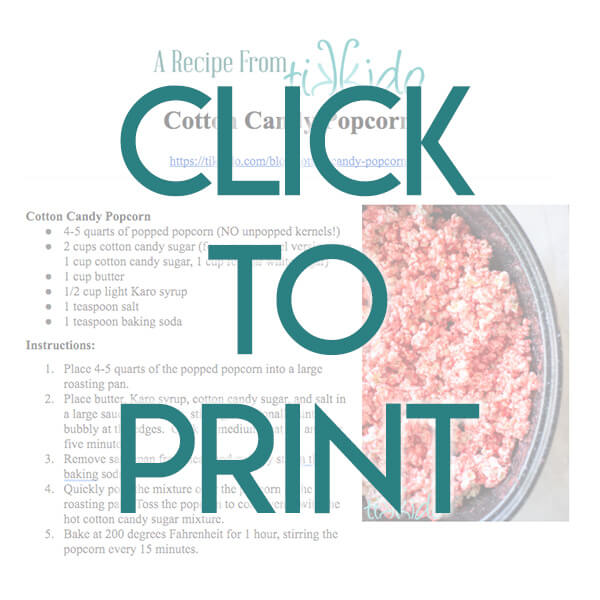 Other Popcorn Recipes You Might Like: