Printer-friendly version
It's time once again for the Taste Creations blog hop!  Our theme this month?  Chocolate Easter eggs.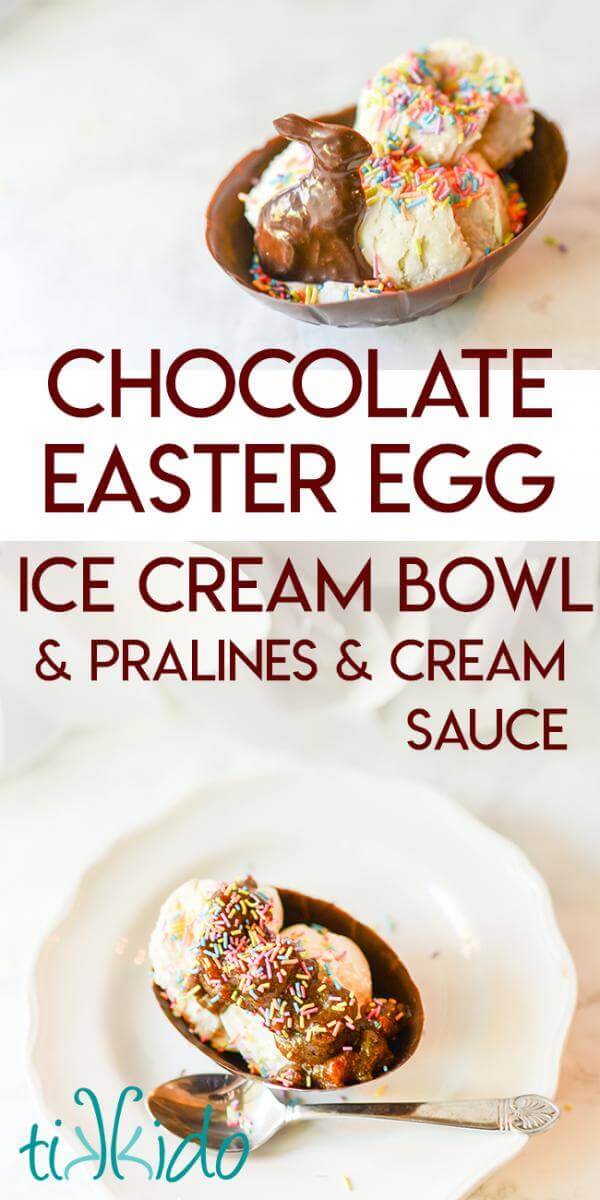 For my interpretation of the theme, I decided to turn half of a hollow chocolate egg into a delicious, edible chocolate bowl for an ice cream sundae.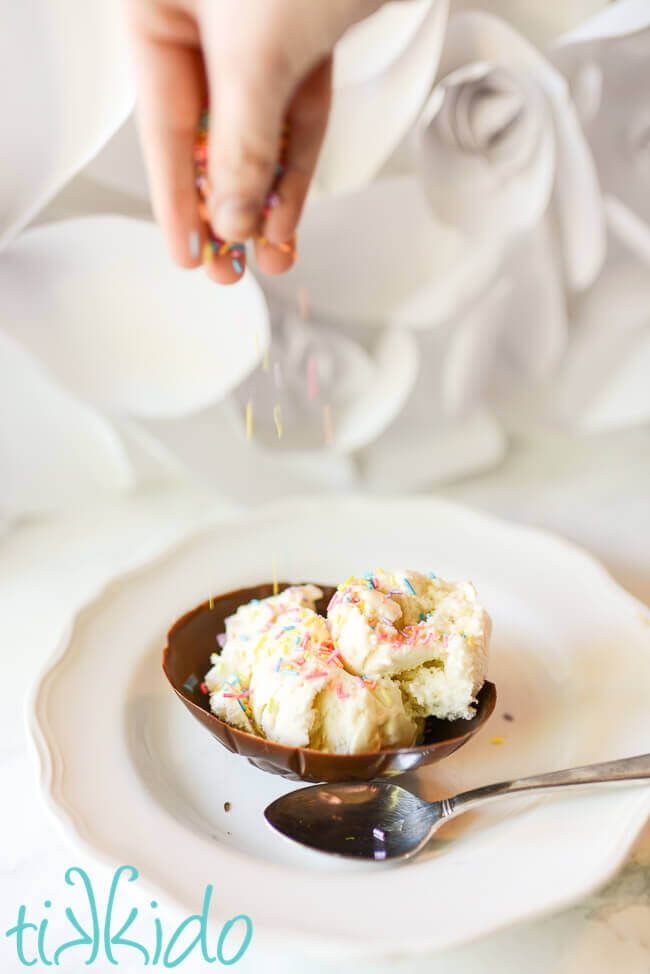 I've always loved those chocolate bowls you see on Pinterest--you know, the ones made by dipping a small balloon in chocolate.  I've always been a little wary of trying that, though, because some balloons taste absolutely awful.  I have no idea which balloons taste terrible and which ones don't, so I've never bothered attempting the balloon chocolate bowls.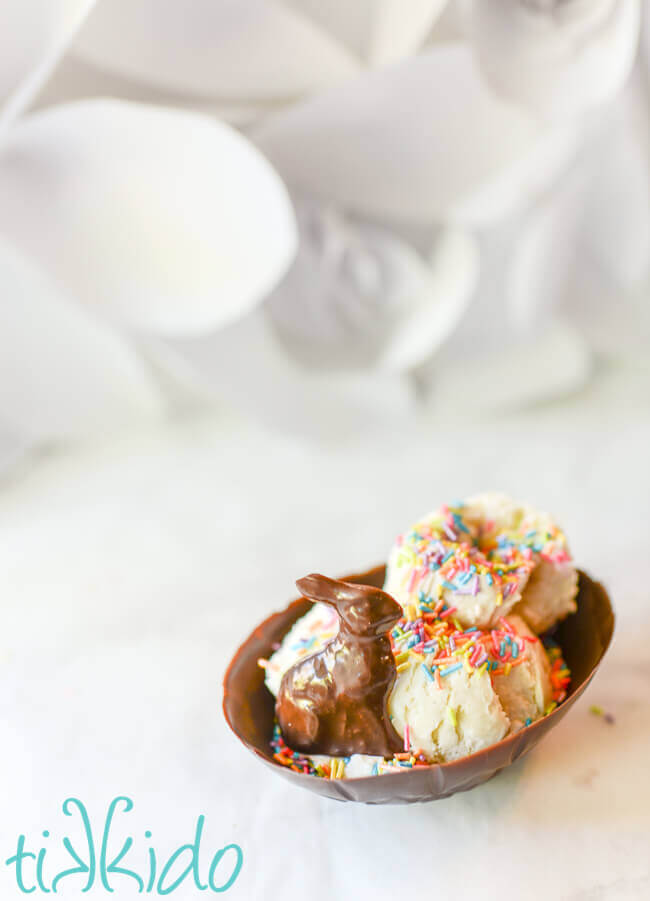 But an egg-shaped chocolate mold?  I knew that would work perfectly!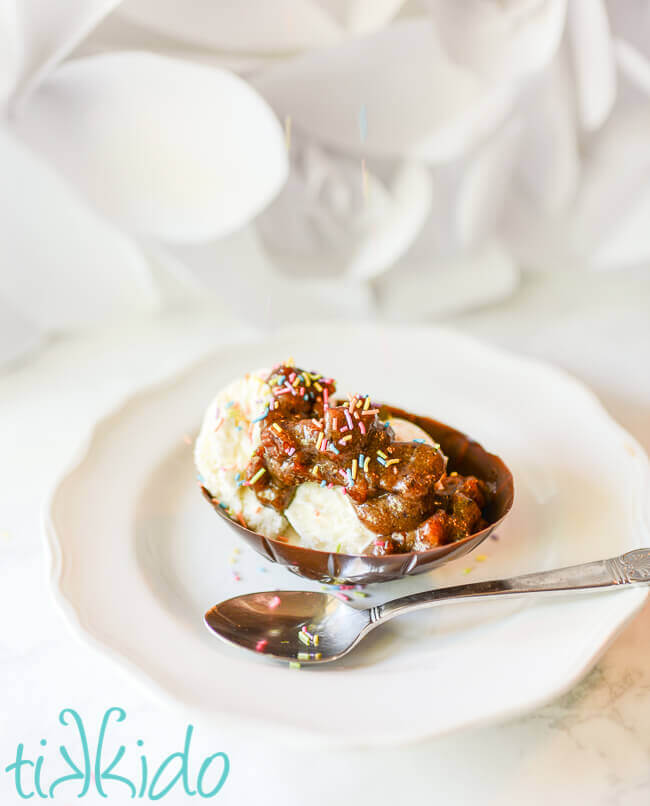 I have amazing recipes for hot fudge sauce, marshmallow sauce, magic shell, and strawberry ice cream sauce already, so I decided to try something new: praline sauce ice cream topping.  Pralines and cream ice cream is my favorite flavor ever, but it's getting harder and harder to find, much to my dismay.  This topping is a delicious substitue.  Not very photogenic, though . Brown, lumpy food is really hard to make look appetizing in photos, but I've done my best.  ;-)
Chocolate Easter Egg Edible Ice Cream Bowl Tutorial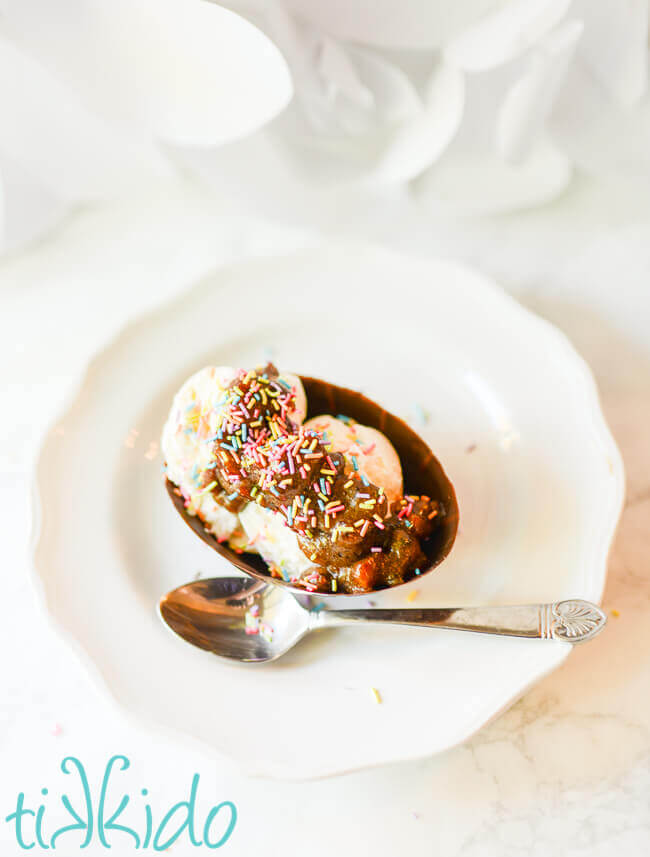 These Easter egg chocolate ice cream bowls are incredibly easy to make.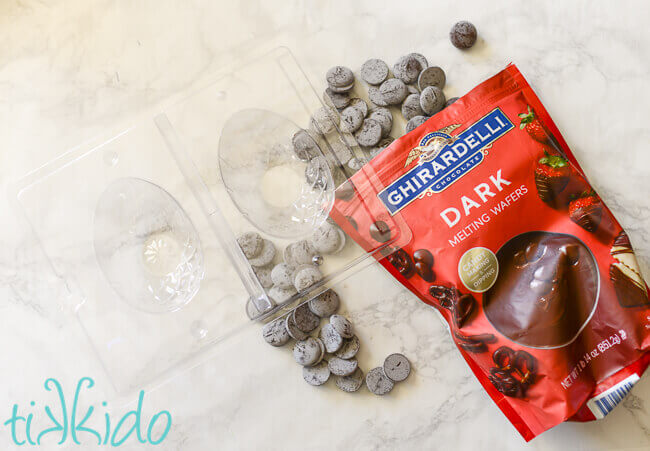 Materials for Chocolate Egg Ice Cream Bowls: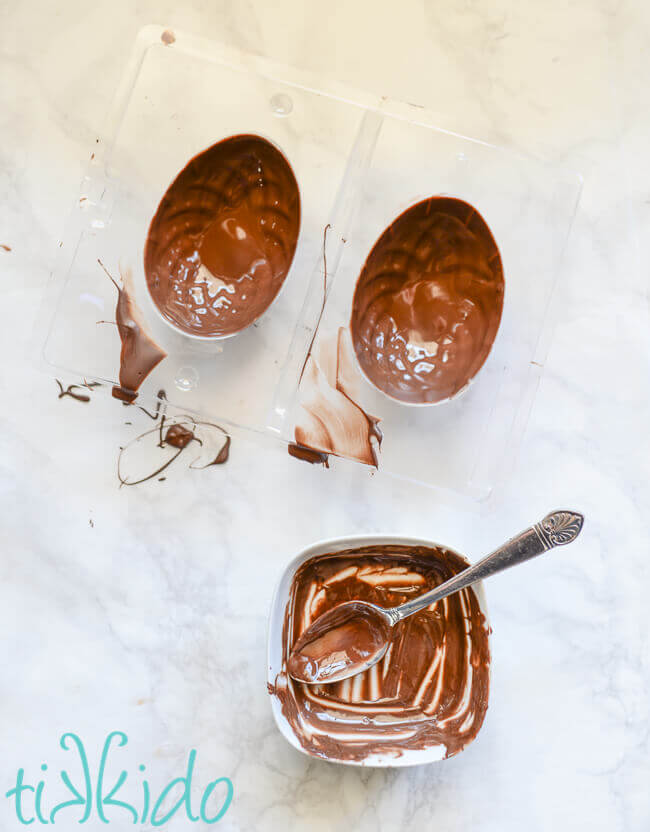 Melt the chocolate disks in a microwave, and coat the inside of the chocolate mold with the melted chocolate.  Let cool.  You can put the mold in the fridge for a few minutes to hurry the process along.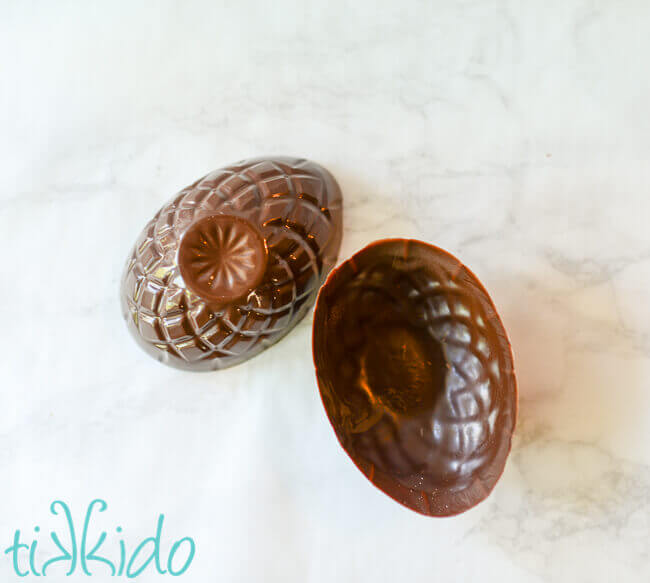 Carefully pop out the chocolate egg halfs once completely cooled and hardened.    If you were going to make a chocolate Easter egg, you'd join the two halves together at this point.  But to make an egg-shaped chocolate ice cream bowl, you're done!  
Pecan Praline Ice Cream Topping Recipe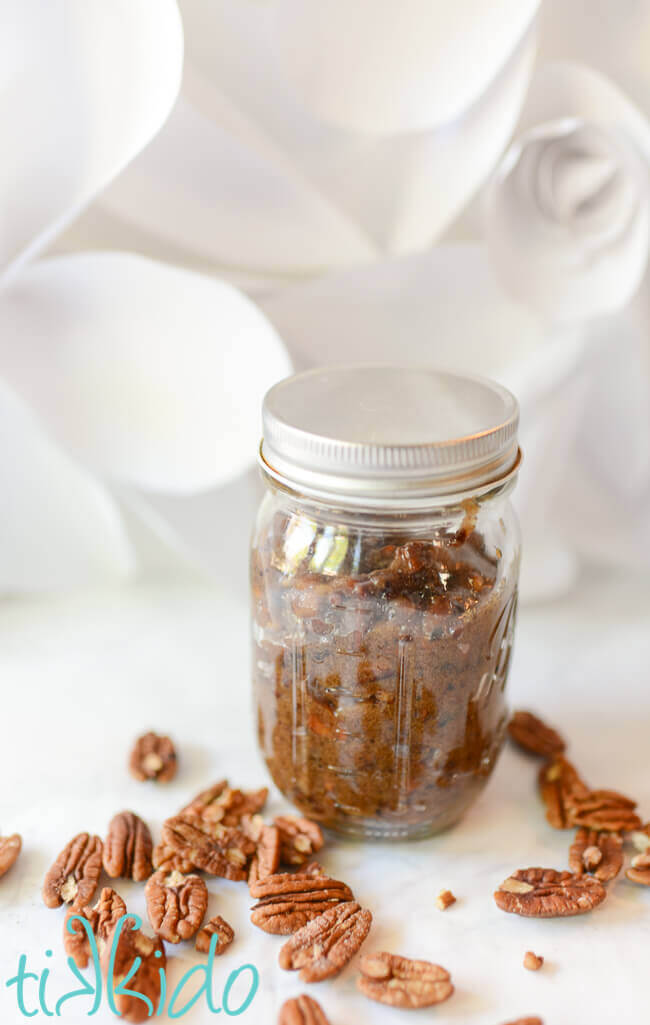 The recipe I used to make this ice cream topping came from Land O Lakes.  Every single recipe I've tried from Land O Lakes has been exceptional, so I figured this recipe was the one to try.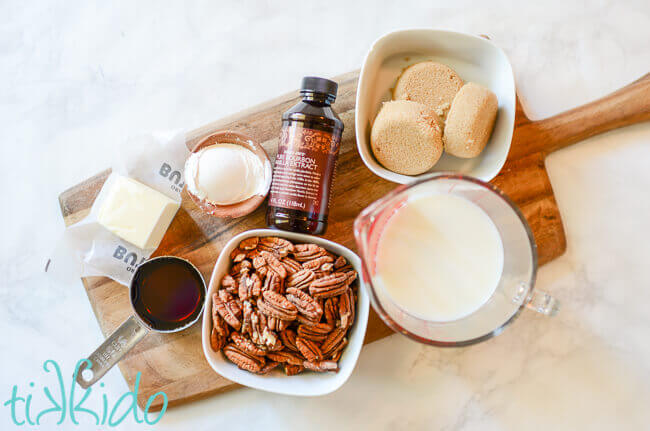 Pecan Praline Ice Cream Sauce Ingredients:
1 cup pecans, chopped
1/4 cup dark corn syrup
1 cup milk
1/4 cup butter
3/4 cup brown sugar
1 tablespoon cornstarch
1 teaspoon vanilla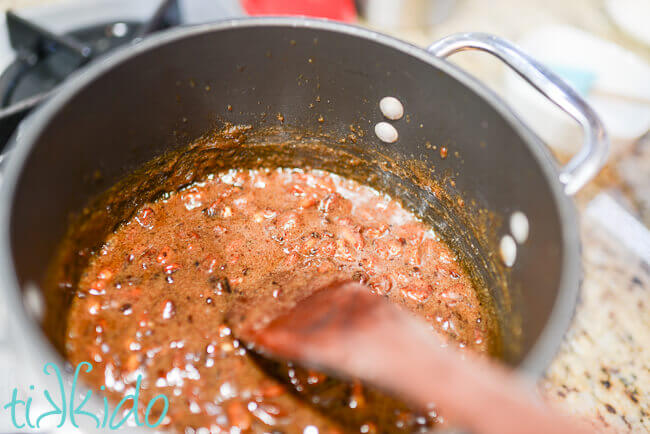 Melt the butter in a saucepan, and add the chopped pecans.  Cook for three or four minutes to toast the pecans.  The butter also browns during this step, which is always a delicious thing.
Add the milk, brown sugar, cornstarch, and corn syrup, stir, and cook for another 5-8 minutes, until the mixture thickens.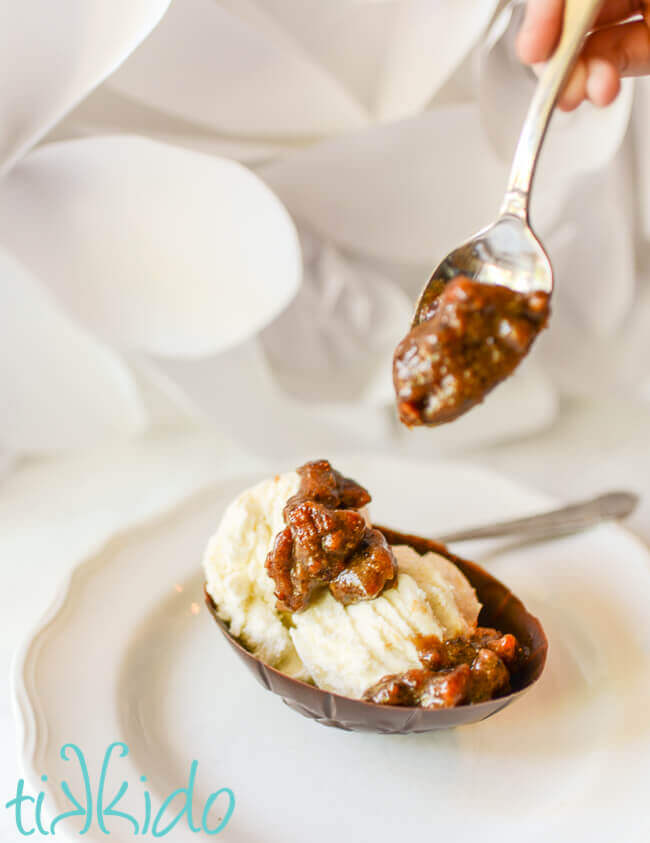 The flavor of the sauce was exceptional, but I think next time I'll omit the cornstarch.  I'm just not a fan of the texture that kind of thickening agent gives.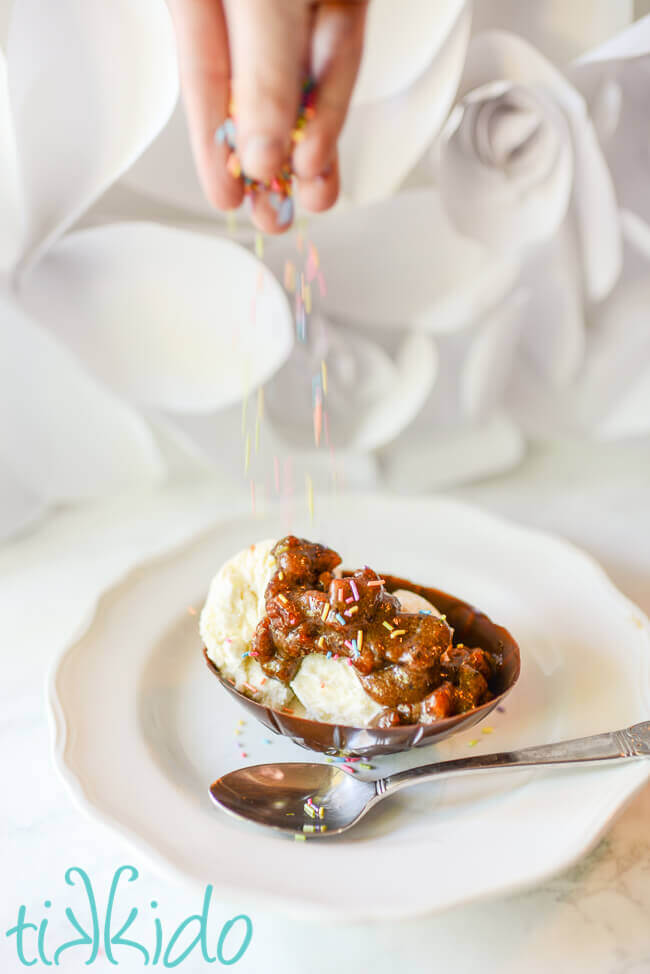 Be sure to check out the other delectible chocolate Easter egg recipes from my fellow Taste Creations Blog Hop bloggers:
Our Good Life: Chocolate Covered Oreo Easter Eggs
An Italian in my Kitchen: Homemade Double Chocolate Easter Eggs
Mom Home Guide: Easter Egg Chocolate Bark