Printer-friendly version
Homemade marshmallow sauce is a delicious topping for ice cream sundaes. Marshmallow sauce is easy and inexpensive to make, and it tastes so much better than store the store bought variety.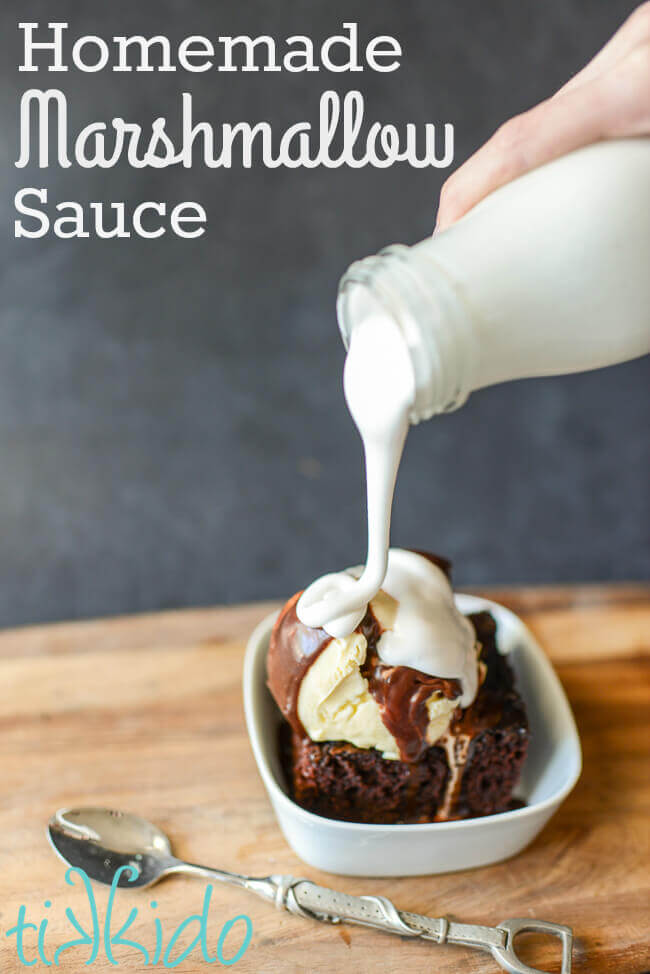 I'm on an ice-cream-kick, if you couldn't tell. Have you ever made homemade marshmallow creme?  
It's way less messy than making actual homemade marshmallows (I promise), and it's SO GOOD.  Especially when you pair it with homemade hot fudge sauce.  Heaven!  I had this combination of devil's food cake, vanilla ice cream, hot fudge, and marshmallow sauce (known as a Vassar Devil) for the first time my freshman year at Vassar.  It's memorably delicious!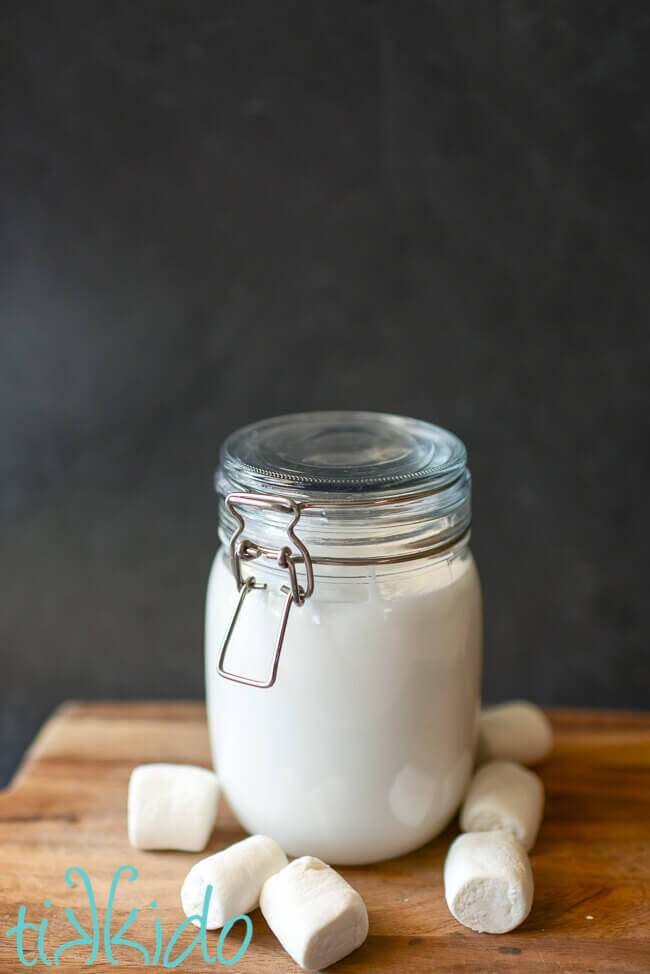 If a marshmallow sundae is your favorite treat, you're going to love this marshmallow fluff recipe.
Homemade Marshmallow Sauce for Ice Cream: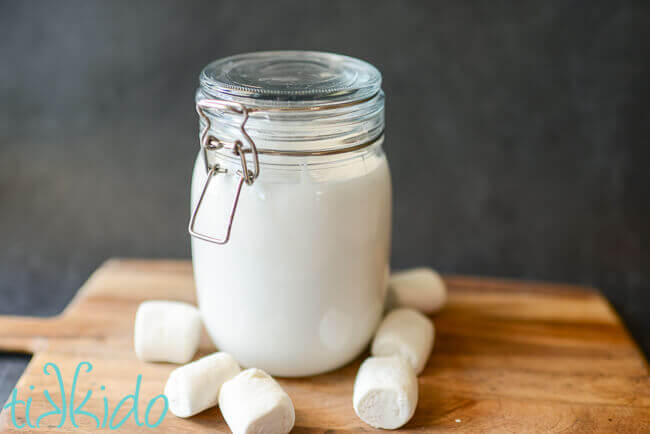 Homemade marshmallow sauce isn't quite as thick as the store-bought variety, which I think is actually better, because you can actually pour it on your ice cream sundae. I got this recipe from my pastry-chef mother, and it's absolutely amazing. Once you see how easy it is to make this amazing sweet marshmallow creme, and how incredibly delicious it is, you may never buy another jar of marshmallow creme from the grocery store again.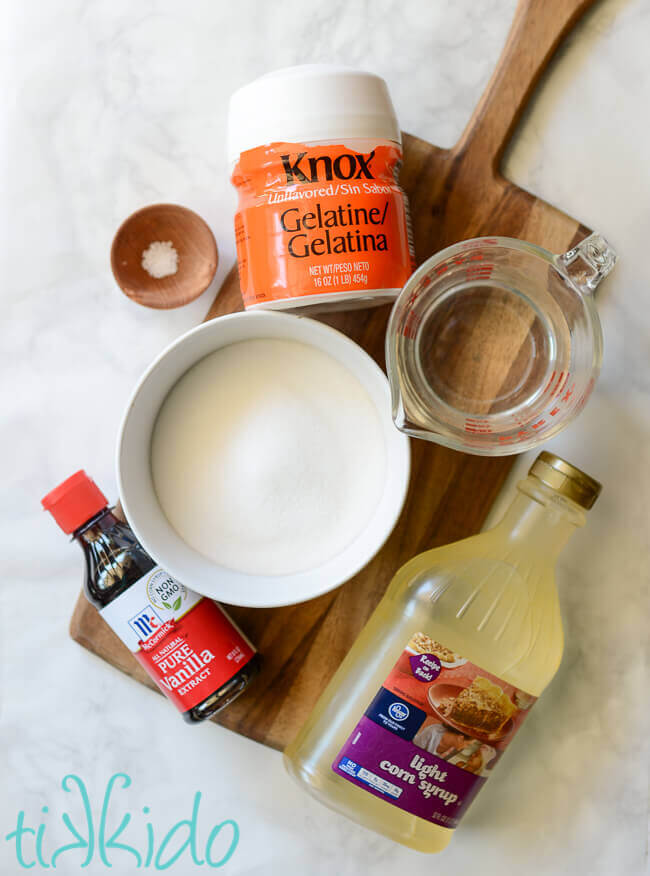 Homemade Marshmallow Sauce Ingredients:
1 cup water, divided in half
1 teaspoon unflavored gelatin
1 1/2 cups sugar
1 cup light corn syrup
pinch salt
1 teaspoon vanilla extract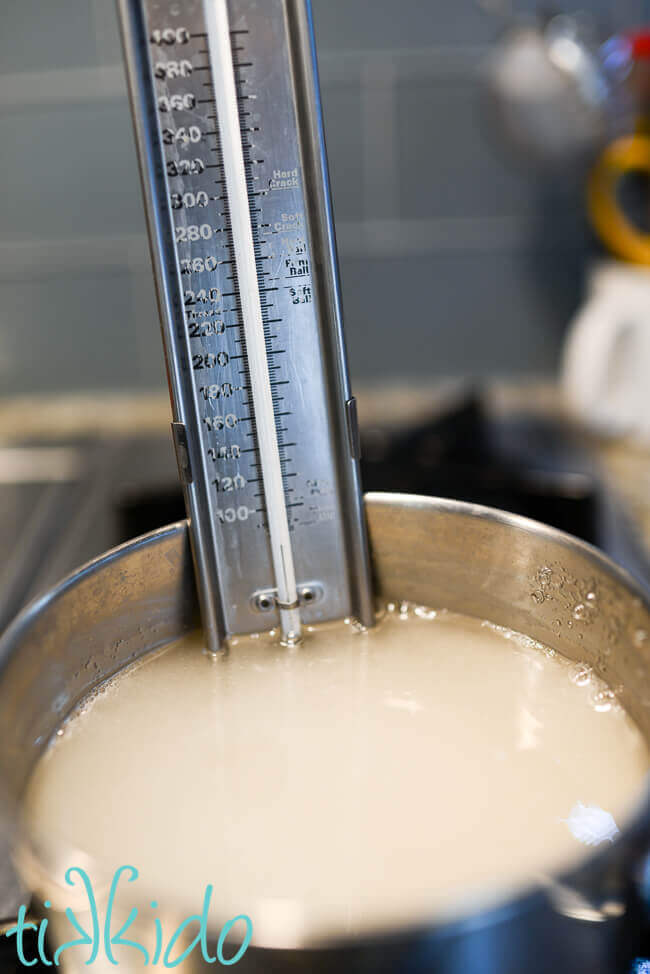 1) Put half of the water in a large mixing bowl.  If you're using a stand mixer like a Kitchenaid mixer, put it directly in the bowl of a stand mixer.  Rain the teaspoon of unflavored gelatin evenly over the surface of the water (see the video for a visual of what I mean) and set aside.
2) Combine sugar, the remaining water, corn syrup, and salt in a small saucepan and cook over medium-high heat.  Don't stir it, just give it the occasional swirl, if necessary.  Cook until the temperature reads 240 degrees Fahrenheit (softball stage) on a candy thermometer.
3) Pour the hot syrup into the bowl with the gelatin mixture.  Whip on a low speed for two minutes (use the whisk attachment), then add vanilla, and whip on high speed for several minutes, until the mixture is thick, white, and fluffy.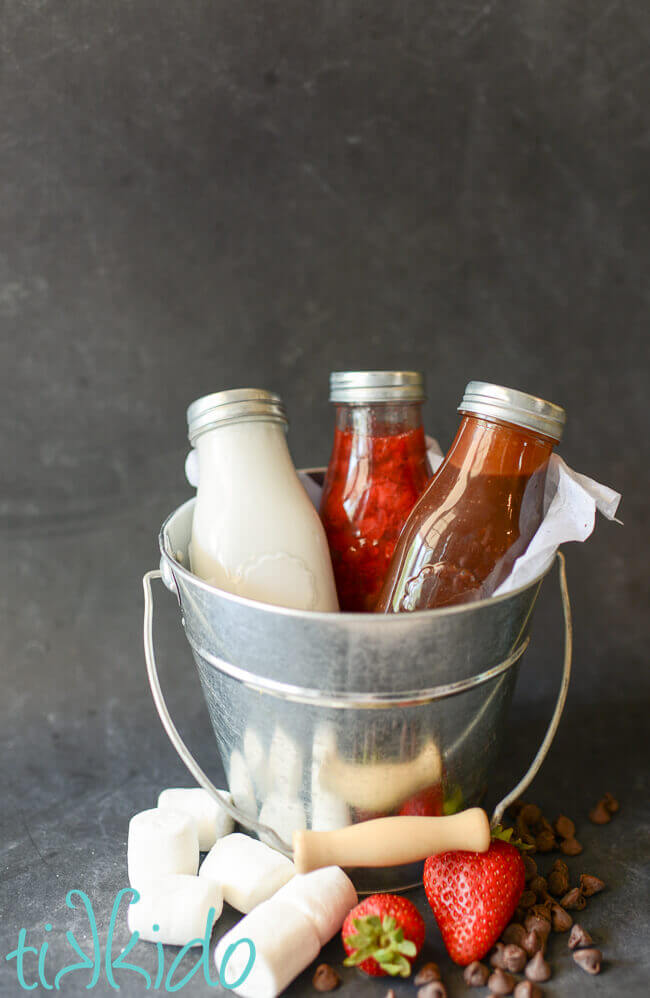 Wouldn't a trio of ice cream toppings make a magnificent hostess gift?  I thought the toppings looked especially cute in small glass milk bottles.  I bought mine in the dollar section at Target, but I don't know if they're still there.  You can definitely find them on Amazon (like these ones).
You can find the hot fudge recipe here, and the strawberry sauce recipe here.  I also have an amazing peanut butter caramel sauce recipe--combine that with the marshmallow sauce over chocolate ice cream for a truly amazing ice cream sundae!
Ideas for Using Homemade Marshmallow Sauce
Swirl the marshmallow sauce and chocolate sauce and serve with graham crackers to make an easy, amazing s'mores dip.
Spread the marshmallow creme on peanut butter sandwiches to make incredible fluffernutter sandwiches!
Use as a marshmallow fruit dip.  It's amazing with fresh fruit!
Use the marshmallow cream on your sweet potatoes--your holiday tables will never be the same!
Printable, One Page Marshmallow Sauce Recipe
Want a one page, printable PDF version of this marshmallow topping recipe? Click the image below to print directly or download to your device.
Other Marshmallow Recipes You Might Like: