Printer-friendly version
Spring is right around the corner, full of fresh blooms and warm breezes.  If you're thinking about the perfect spring dessert to serve for Easter this year, try this honey chamomile cake with fresh lemon buttercream icing.  This delicious cake is infused with the delicate floral notes of chamomile tea and honey, which sounds complicated, but it's actually an incredibly easy, one bowl cake recipe.  You don't even need to use a mixer!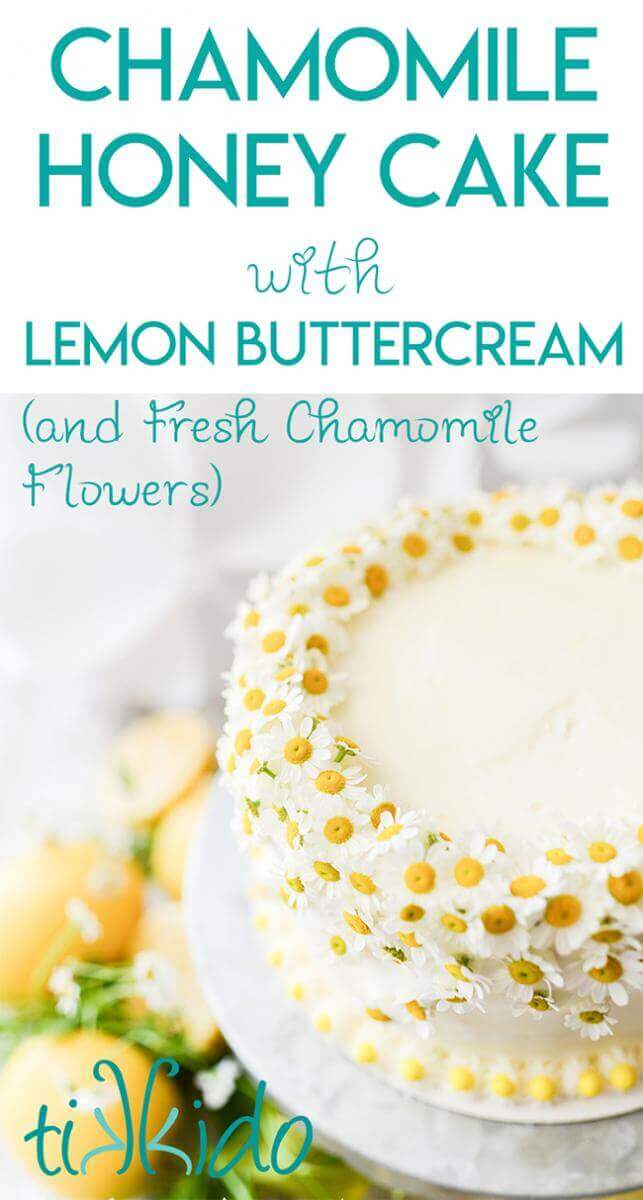 It just looks like springtime, doesn't it?  Sure, Chamomile is more of an early summer flower, and lemons are in season in the winter, but I'm talking about how this looks and feels, and it looks and feels like springtime in cake form.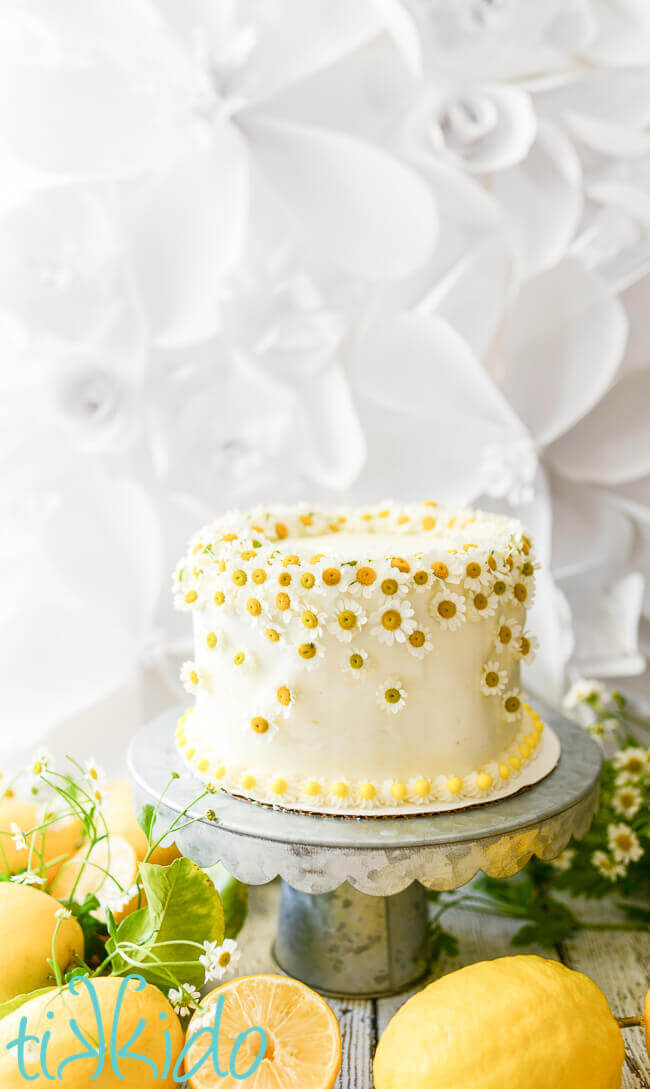 I think it's all that sunny yellow.  In any case, the flavor combination of chamomile, honey, and lemon is absolutely classic.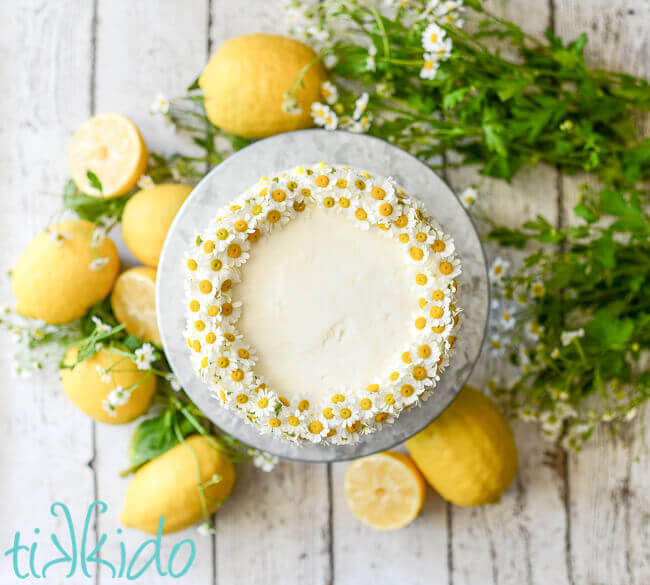 I love using edible flowers in food!  Especially when they're so pretty and can be used for the decoration as well as the flavoring.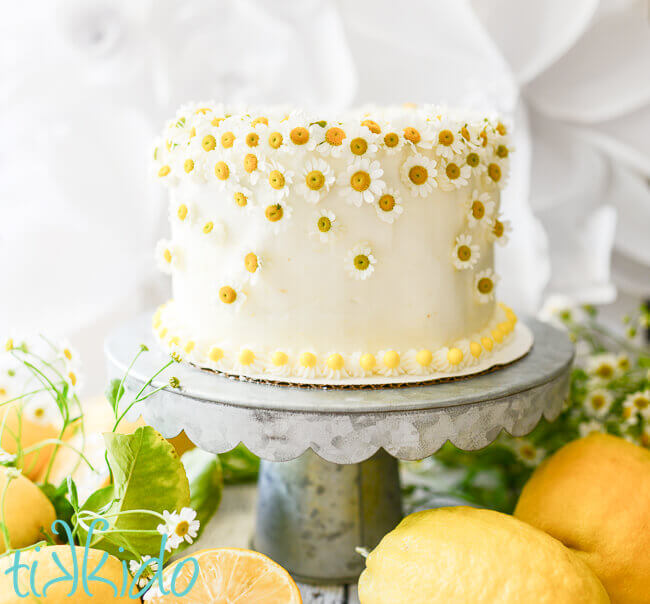 The flowers stay fresh for hours and hours, too.  I made the cake in the morning, and they still looked beautiful in the evening. I don't know how much longer it would have lasted, because we ate it.  ;-)  But it's nice to know that you can decorate the cake in the morning and serve it, beautifully, at any time that same day at least.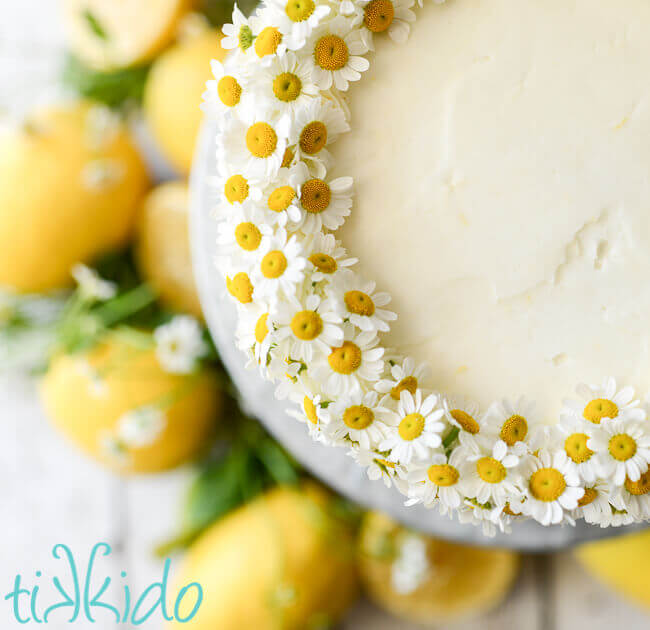 Recipe for From Scratch Honey Chamomile Tea Cake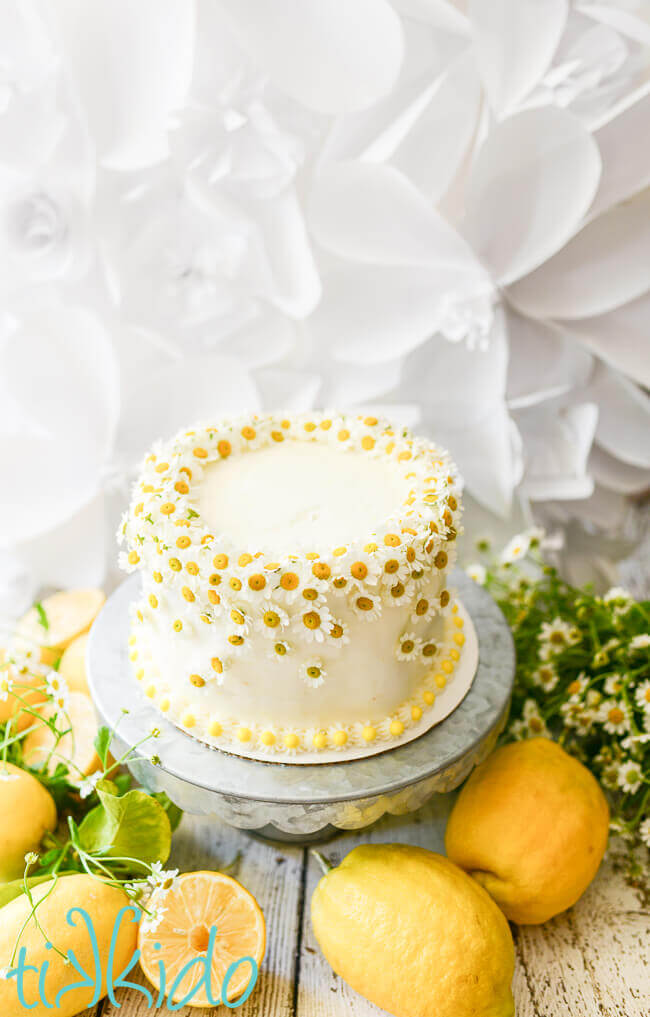 This fresh spring cake, flavored with honey and chamomile and iced in lemon buttercream, would make a gorgeous Easter dessert.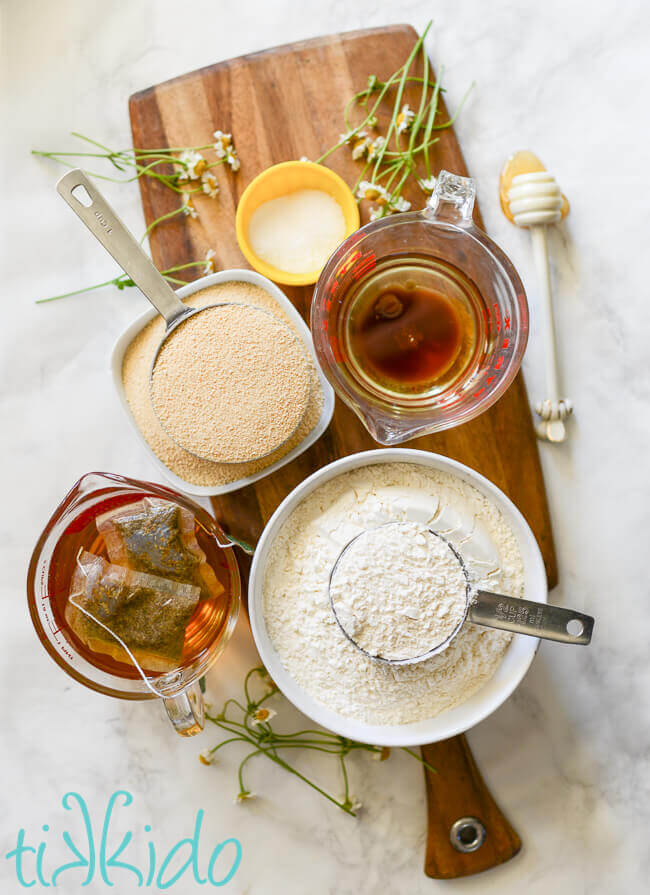 Ingredients for Honey Chamomile Cake Recipe:
3 cups flour
1 teaspoon salt
2 teaspoons baking soda
2 cups strong chamomile tea
3/4 cup oil
2 teaspoons vinegar
1 teaspoon vanilla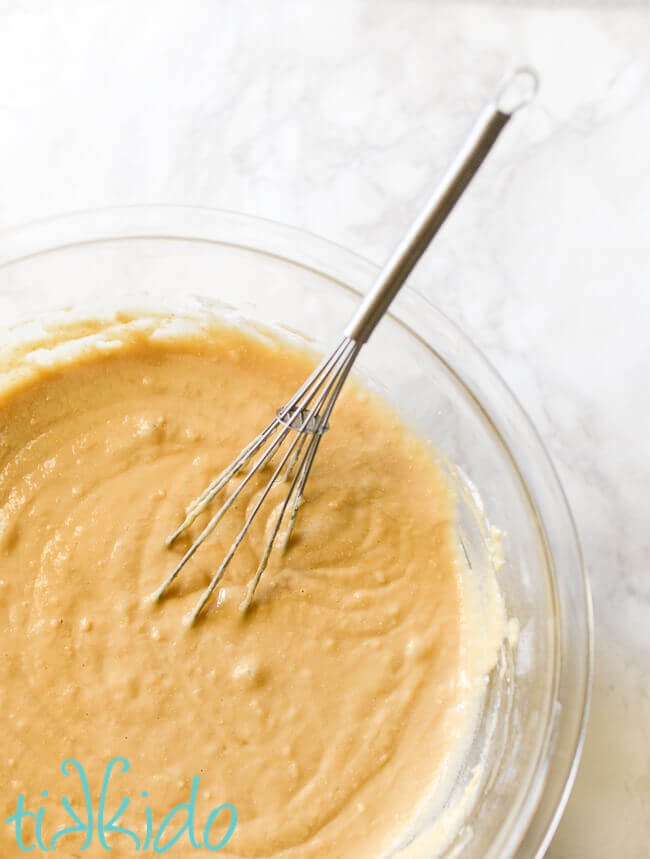 This cake is amazingly easy to make.  You just dump the ingredients in a bowl and mix it together.  No fancy techniques, just mix and bake. It's a variation on my favorite chocolate cake of all time, Crazy Cake.
Bake at 350 degrees for approximately 35 minutes for 6" pans like I used.  Adjust your time based on the size of the pans you use.  Cupcakes would be 18-20 minutes, for example, but a big 14" round cake would take over an hour to bake.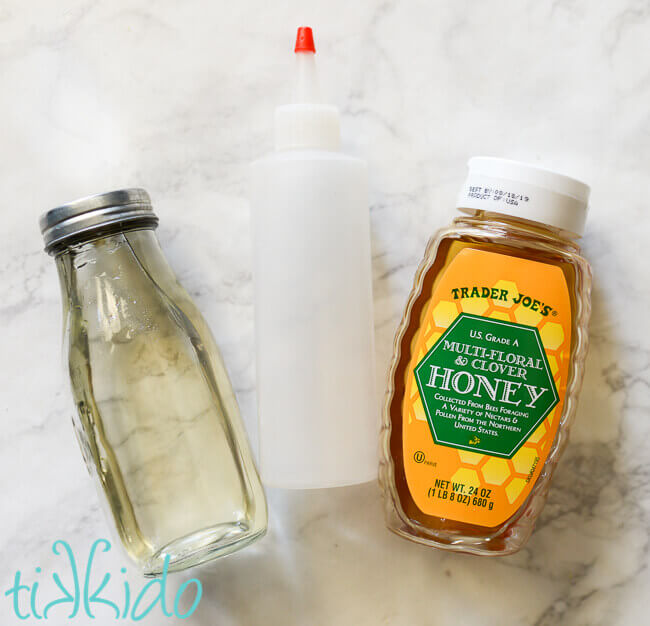 While the cakes are cooling, make a soak for the cake.  This is entirely optional, but it helps to keep the cake deliciously moist and adds extra honey flavor.  
My soak was made of approximately 2/3 parts simple syrup, and 1/3 part honey.  Mix together to create a honey-soak liquid.
I use a plastic, food-grade squeeze bottle to apply my soak to each layer.  You could also brush it on, but the squeeze bottle is much faster and easier.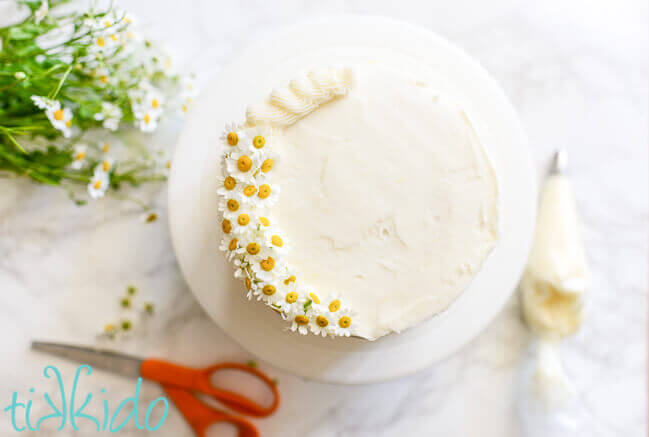 Ice the cake (I used my favorite real lemon buttercream icing recipe).  To decorate, simply pipe a thick band of icing around the edge of the cake, cut chamomile blossoms off their stems, and stick it into the icing.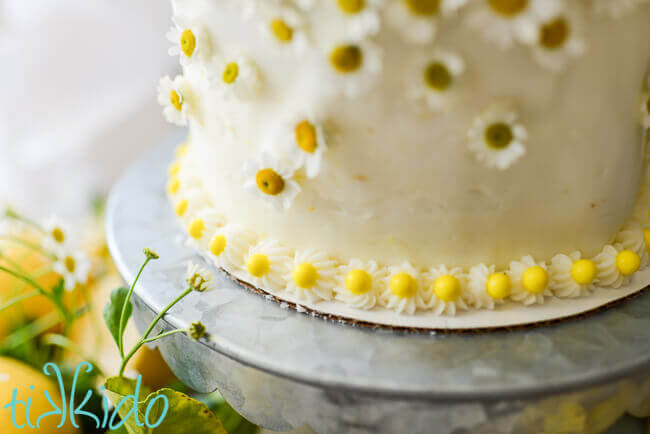 I also made an icing border out of buttercream icing applied with a star tip and given a large yellow sugar pearl center.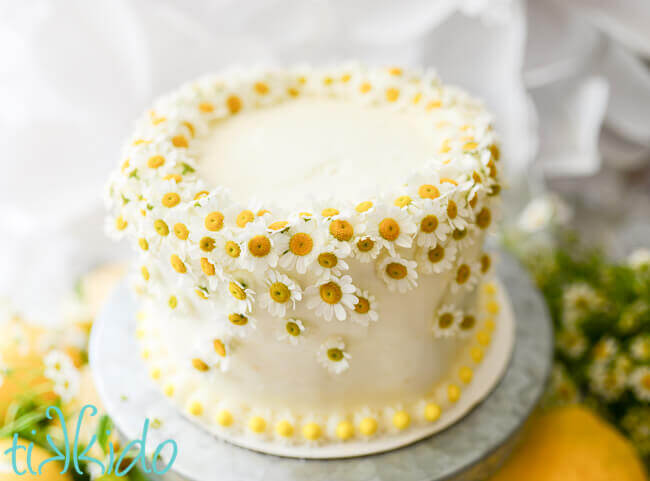 Wouldn't this be the perfect star of any tea party or Easter celebration?
Printable PDF Honey Chamomile Cake Recipe
Looking for the free, printable, one page version of this recipe?  Here you go: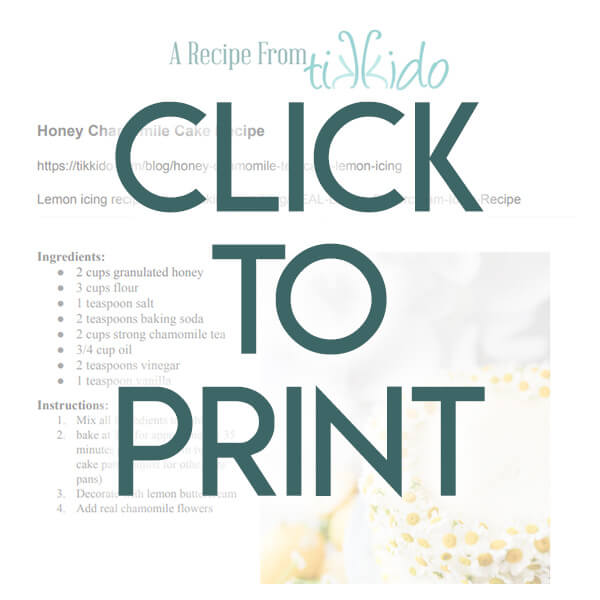 Other Cake Recipes You Might Like: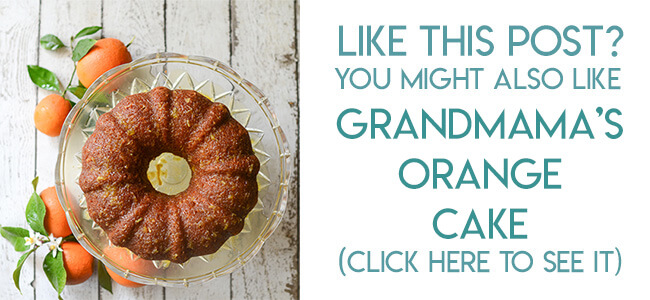 Other Lemon Recipes You Might Like: