Printer-friendly version
Looking for a festive, easy, delicious homemade treat to give to friends an neighbors this holiday season?  These gingerbread-spiced candied nuts are just the thing!
I've always loved candied nuts, but this year, I decided to give the recipe a twist with gingerbread spices.  Gingerbread candied nuts!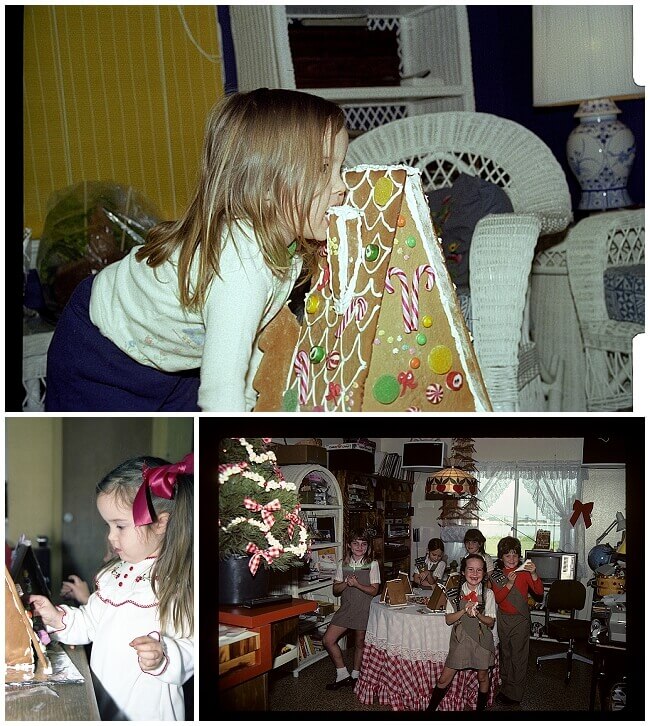 Gingerbread and I go way back.  Waaaaay back.  These are pictures of me decorating (and eating) gingerbread houses when I was a kid!  My mom used to make gingerbread houses for all the kids in my class, my brother's class, our teachers, our neighbors and friends, the office party, our scout troups...  It added up to over 100 gingerbread houses every year.  My mom still bakes up gingerbread each Christmas season, but now I'm the one baking up 100+ gingerbread houses for my daughters' friends and classmates.  Yes, it's a lot of work, but I LOVE IT.  Some of my most cherished memories are of making gingerbread houses with my mother, and now I'm making those same kinds of memories with my children.  There's nothing better than the amazingly evocative scent of freshly baked gingerbread to bring all those happy memories to mind.
Plus, gingerbread is delicious.  Win win.
This year, in an attempt to gingerbread ALL THE THINGS, I adapted a favorite recipe for candied and spiced nuts to create Gingerbread-Spiced Candied Pecans.  All I needed to do was add some of my favorite iconic gingerbread spices (ground cinnamon, nutmeg, and ginger) to my tried-and-true recipe.
Warning:  these are outrageously delicious, and you will want to eat them all!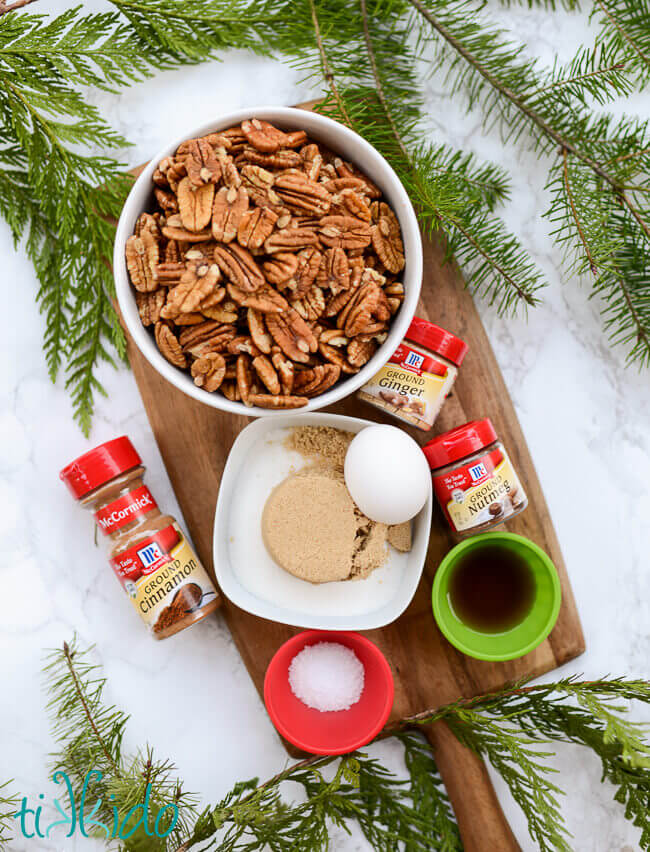 Gingerbread Spiced Candied Pecans Recipe:
one pound pecans or other nuts
one egg white
2/3 cup sugar
1/3 cup brown sugar
1 teaspoon McCormick Vanilla plus two teaspoons water
1 teaspoon salt
1 teaspoon McCormick Ground Cinnamon
1 teaspoon McCormick Ground Ginger
1/2 teaspoon McCormick Ground Nutmeg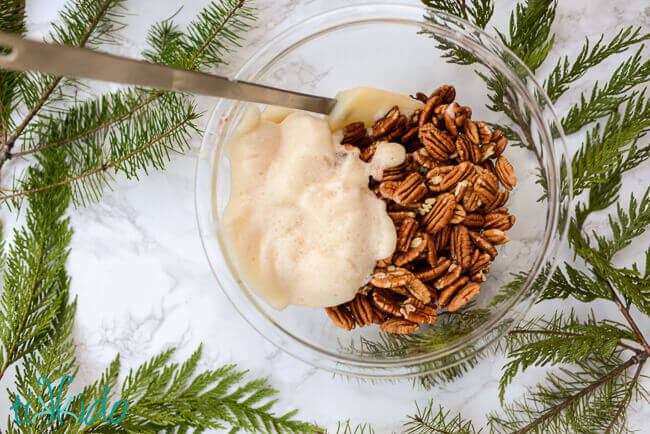 How to Make Gingerbread Candied Nuts
Beat the egg white and vanilla and water mixture together in an impeccably clean mixer for several minutes, until the egg whites are whipped to a soft peak.  Mix the nuts with the egg white mixture and toss to coat.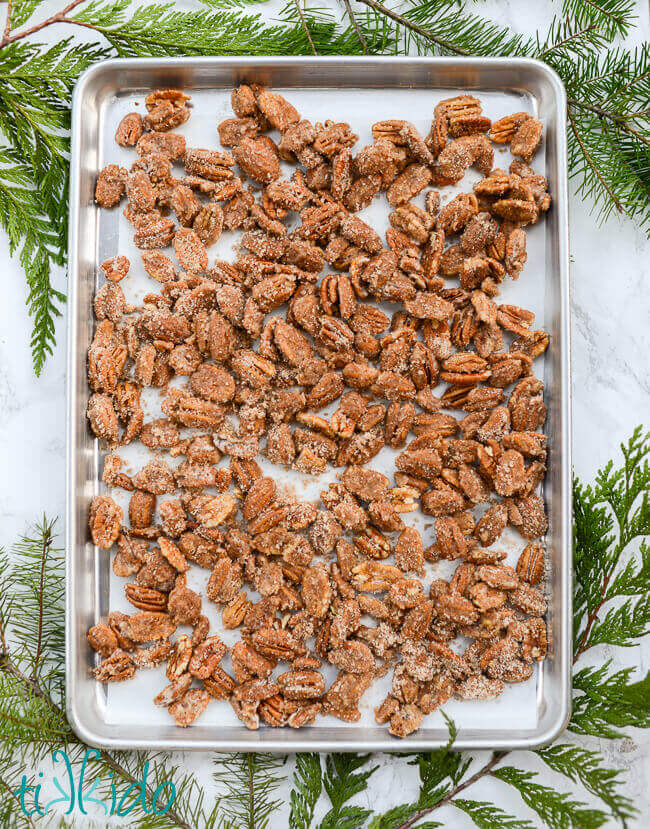 Mix the remaining ingredients together, pour into the bowl with the egg-white-covered nuts, and toss to coat evenly.  Spread in a single layer on a parchment-lined baking sheet.
Bake at 300 degrees Fahrenheit for 30 minutes, stirring the nuts once at the 15 minute mark.  
Let cool completely, and then wrap up in your favorite little container for gifting.  I couldn't resist these itty bitty buckets!  I didn't have any food-safe bags that fit the bucket nicely, so I just used cling wrap to make my own package.
I tried a few different containers, but the ones I liked best were the bags designed to hold chocolate covered pretzels.  They hold the perfect portion for gifting, and were easy to dress up with a bow or gift tag (see how I used my gingerbread themed DIY gift tags?  How perfect!).
Printable Gingerbread Spiced Candied Pecans Recipe
Want a free, printable, one page version of this recipe?  Click on the image below to print the PDF version of this recipe, or download it directly to your device.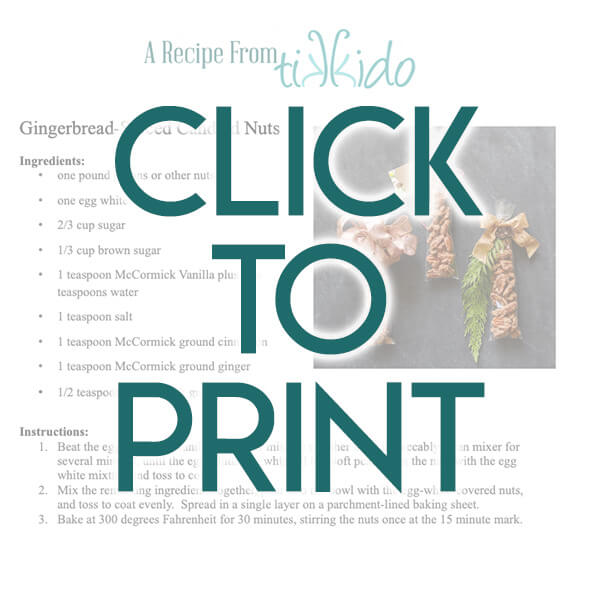 This is a sponsored post written by me on behalf of McCormick®.
Other Classic Christmas Treat Recipes You Might Like: