Printer-friendly version
This salt dough recipe for ornaments is extra perfect for Christmas because it's a gingerbread salt dough!  Make your salt dough ornaments look and smell like gingerbread cookies.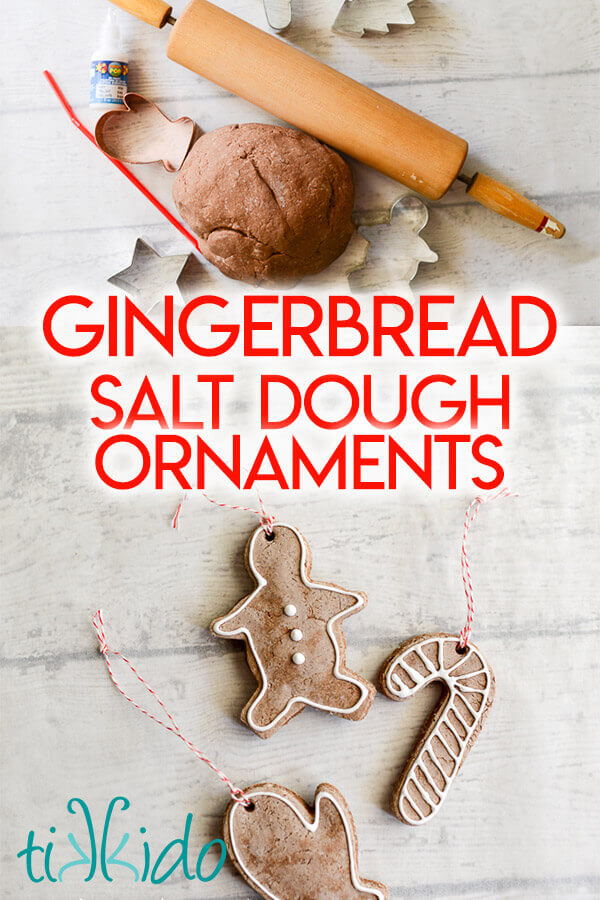 My mom used to make salt dough ornaments with us when we were kids.   She was my Girl Scout leader, and my brother's Cub Scout leader, and I remember making salt dough ornaments with both groups of kids.  I still have some of those ornaments (teddy bears) in fact.  I've always loved those cinnamon ornaments, but those use a LOT of cinnamon, and somehow using applesauce in the recipe has never seemed like a particularly good idea, long term, so I decided to experiment with my mom's salt dough recipe and see if I could create a gingerbread scented variation to make some ornaments for my kitchen garland.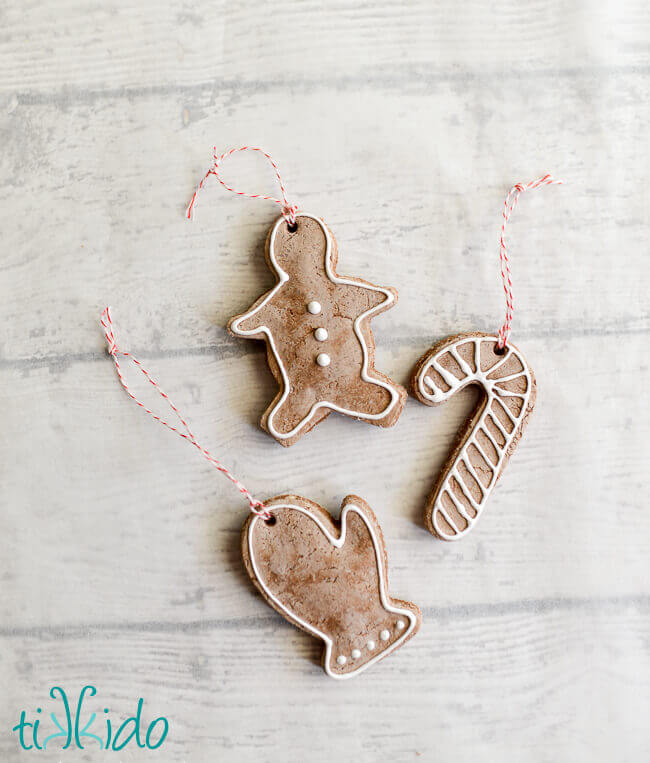 The salt kind of bloomed on the surface, giving the ornaments a floury look, but I like it.  And they do smell fabulous!  I call this a win.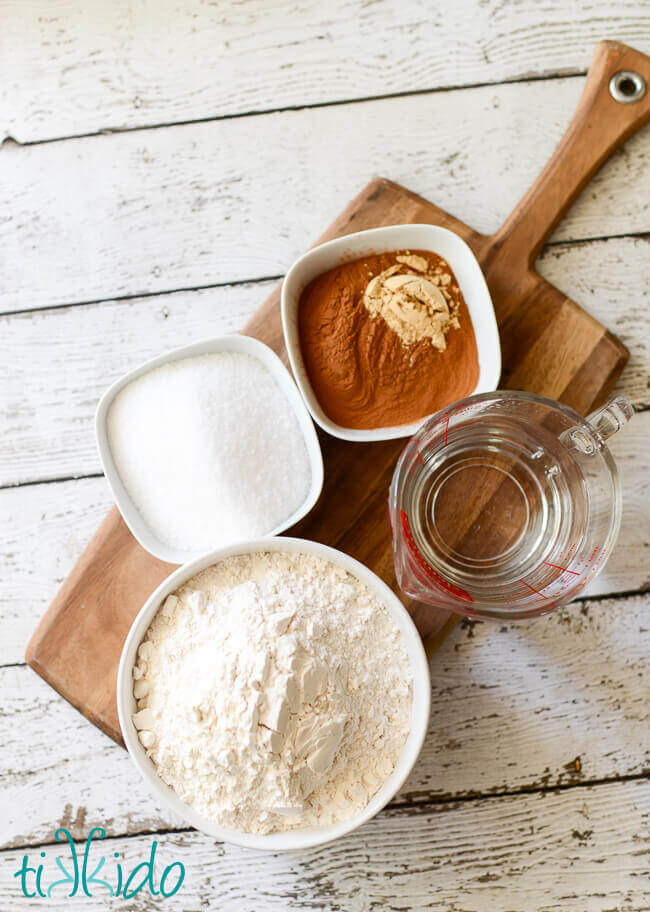 Gingerbread Salt Dough Ornaments Recipe:
3 1/2 cups flour
1 cup salt
1/2 cup cinnamon
1 Tablespoon ginger
1 1/2 cups warm water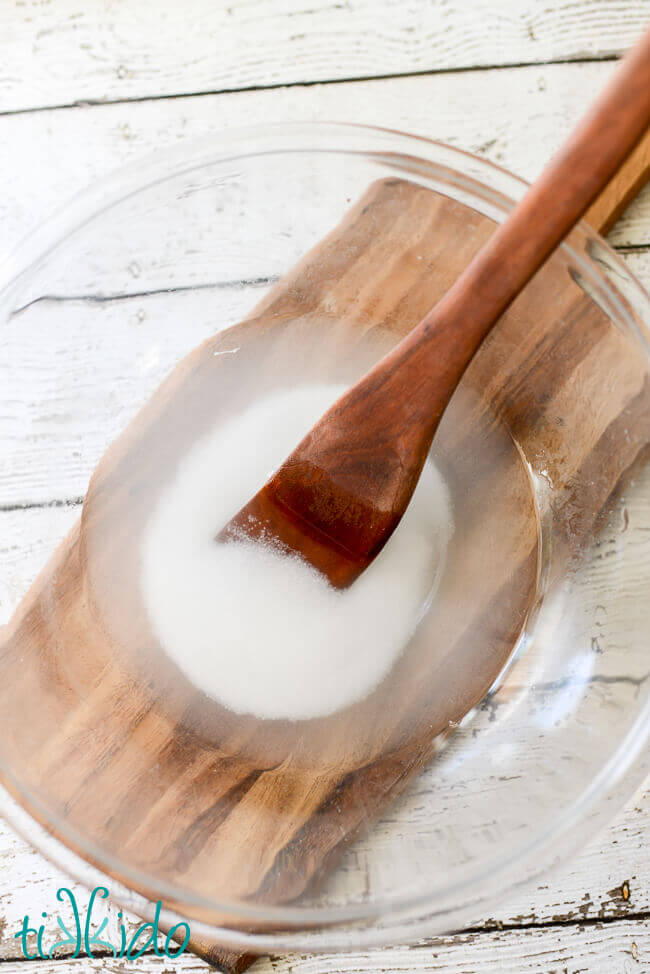 How to Make Gingerbread Salt Dough:
I only had kosher salt on hand, so I started by dissolving the salt in the warm water.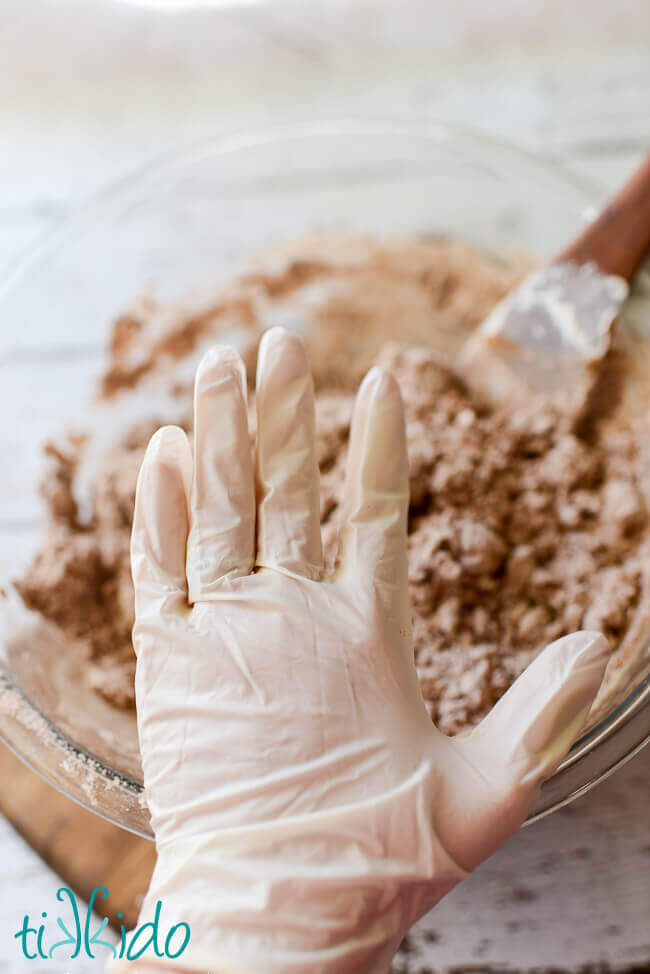 Once the salt had (mostly) dissolved, I mixed the spices and flour into the salt water solution.  I started with a wooden spoon, but you really do need to knead the dough to get it to come together nicely.  This brings me to a tip my mother taught me, and I've never seen in any other recipe for making salt dough: use protective gloves (I like vinyl gloves that are a little more form fitting than the typical big food service gloves).   Salt is harder on your skin than you might think, and when my mom was making multiple batches of the salt dough for various groups of kids, she learned the hard way that too much contact with the salt dough (especially in the dry winter), made her hands crack painfully.  I have always heeded her caution and worn gloves when I mix up salt dough to make ornaments.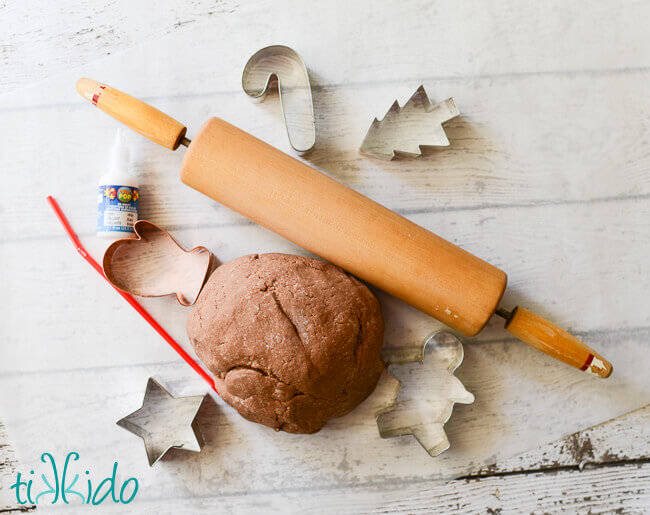 Equipment for Making Gingerbread Salt Dough Ornaments:
rolling pin
gingerbread salt dough
plastic straw
cookie cutters
puff paint
string for hanging the ornaments (I used baker's twine)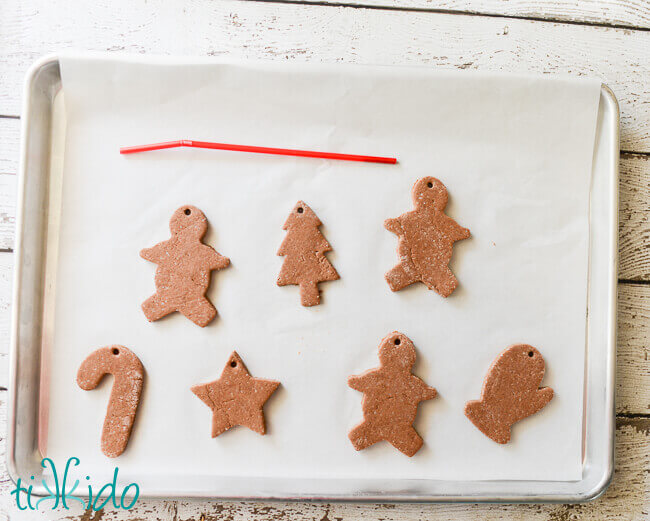 Roll out the dough and cut shapes out of the dough.  I used classic Christmas cookie shapes, just like when I'm making gingerbread cookies.
Use the straw to cut out a small hole in the top of each ornament for the string.
Bake at 300 degrees for approximately one hour.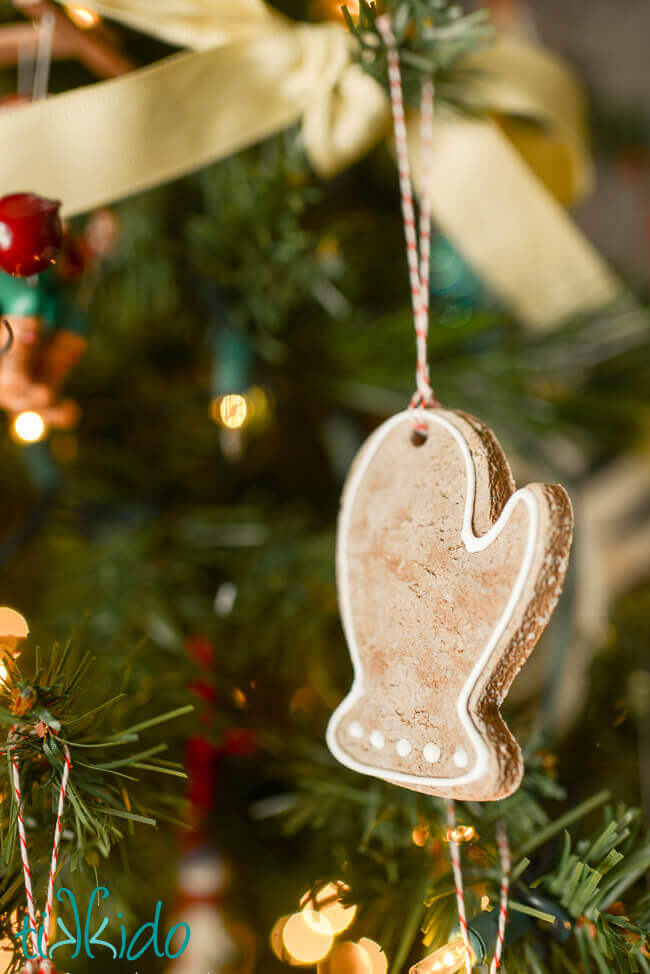 When the ornaments have been baked and cooled, you can decorate the ornaments with puff paints, just like you would decorate a real cookie with royal icing.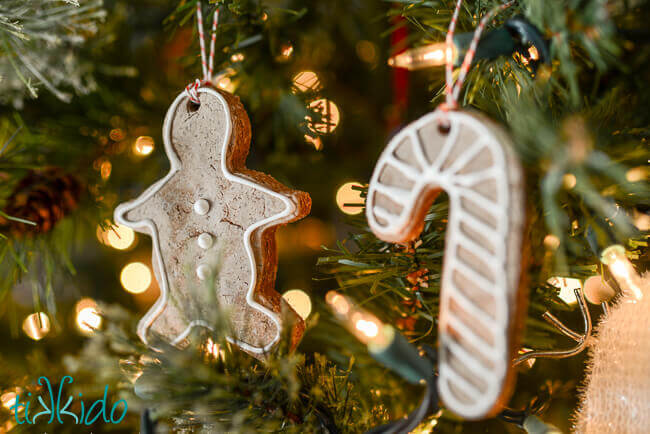 These darlings are now hanging on the garland in my kitchen (where I display all of my food-related ornaments), and have me totally pumped for getting started baking actual gingerbread in a few days!  I declare gingerbread season open!
Printable Gingerbread Salt Dough Recipe
Want a one page, printable version of this gingerbread salt dough recipe and gingerbread salt dough ornament tutorial?  Click the image below to print directly or download to your device.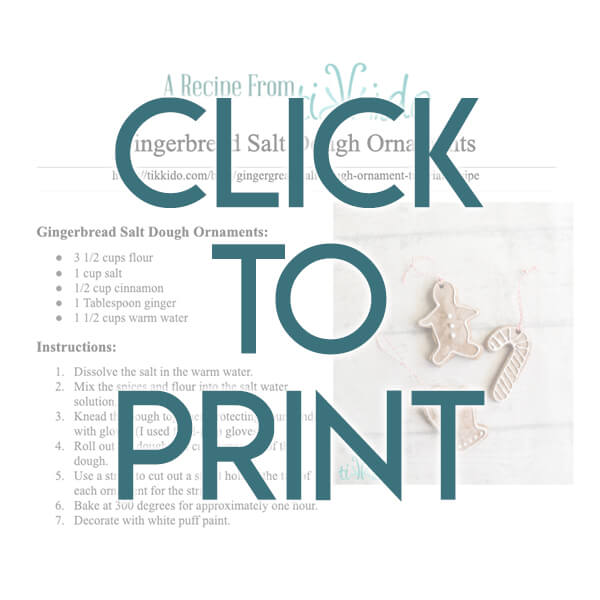 Are you thinking about making a REAL gingerbread house this year?  You can do it!!  And I have all the information (including five printable gingerbread house templates) in my new e-book, Gingerbread for Beginners.
Other Gingerbread Christmas Ornaments You Might Like:
Other Christmas Ornament Tutorials You Might Like: