Printer-friendly version
Pies with graham cracker crusts are easy to make, and absolutely delicious.  If you prefer a graham cracker crust to a traditional pie crust, you might not realize how many amazing types of pies you can make, and this roundup is for you!  Fruit pies, custard pies, baked pies, non-baked pies, frozen pies--you'll love all of these pie recipes with graham cracker crust. No rolling pin needed for a single one of these pie recipes!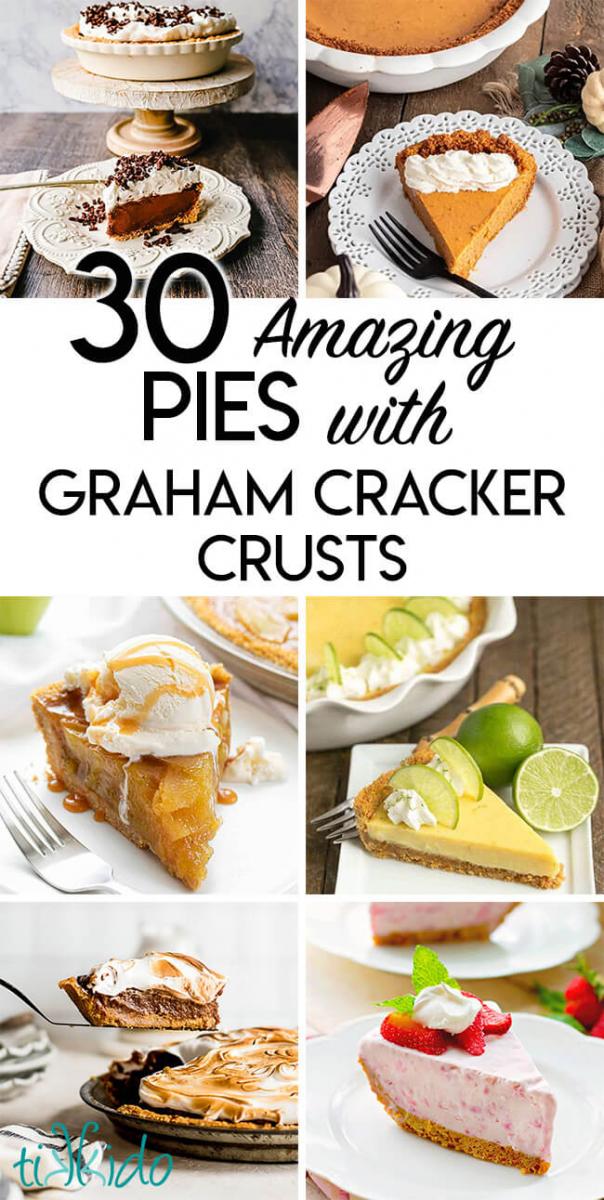 You can make homemade graham cracker crust or buy store-bought graham cracker crust for these recipes--but it is the easiest homemade pie crust to make!  Here's a great, easy graham cracker crust recipe.
To make it easier for you to find exactly the kind of pie recipe you're after, I've broken this post down into sections.  Just click on the links below to jump straight to each category.
Classic graham cracker crust typically gets baked, unfilled, for 10-15 minutes, then cooled before use.  Of course, if you're buying a pre-made crust from the grocery store, the crust is already prepared for you.  This section of pie recipes contains pies that are cooked in the oven after the filling is added to the graham cracker crust.
1. Pumpkin Pie with Graham Cracker Crust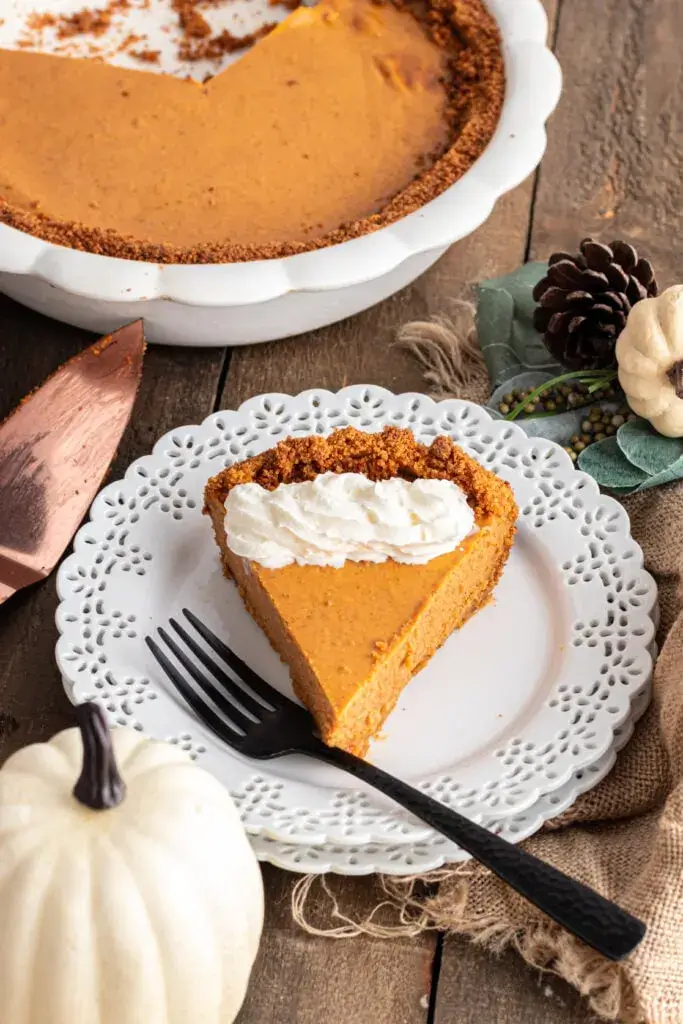 I have a friend who loves pumpkin pie--but hates traditional pie crusts.  I'd never even considered making pumpkin pie with a graham cracker pie crust until I had it at her house.  The warm flavor of the pumpkin pie spice and the custard filling and the buttery graham cracker crust was amazing!  That pumpkin pie recipe inspired this whole post, and I'm never going back.  This is an easy pumpkin pie to make, whether you make your own crust or buy it from the store.
2. Pecan Pie with Graham Cracker Crust
Pecan pie is another traditional Thanksgiving recipe that's usually made with a pastry crust--but it doesn't have to be!  The graham cracker crumbs are combined with brown sugar instead of regular sugar in this recipe for pecan pie with a graham cracker crust.  The brown sugar in the crust really compliments the rich, caramel-like flavor of the pecan pie filling.
3. Apple Pie with Graham Cracker Crust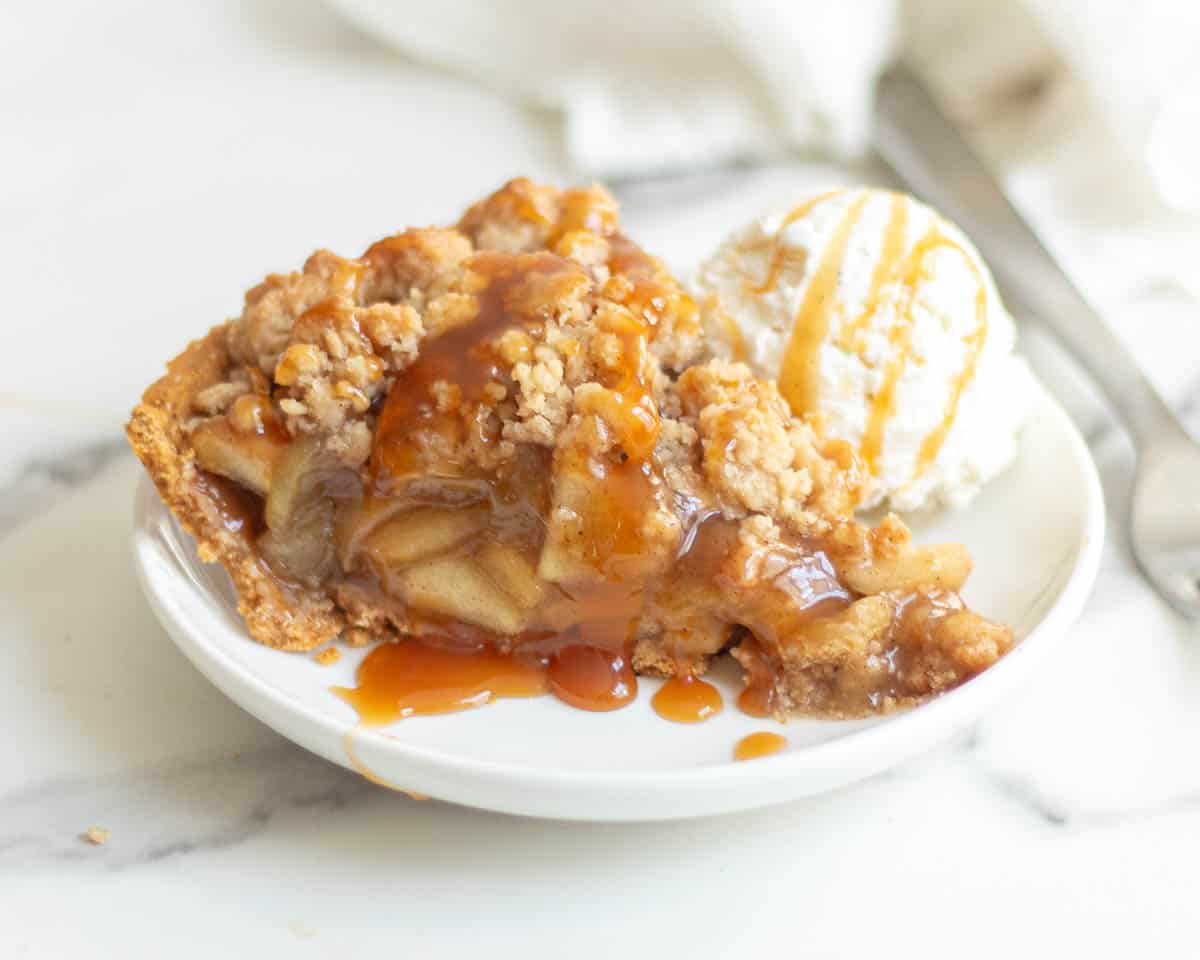 Yes, you can even make fruit pies like apple pie with a graham cracker crust!  This apple pie recipe also features an amazing buttery crumb topping on top of the pie.  What could be easier--or more delicious? Cut me a slice and don't forget a scoop of vanilla ice cream, please!
4. Classic Key Lime Pie Recipe
Key lime pie is probably the most iconic pie that's usually made with a graham cracker crust.  And it's a classic for a reason--that creamy, tangy lime custard filling pairs so well with the buttery, sweet graham cracker crust!  Sweetened condensed milk, key lime juice, and egg yolks combine to make this easy, flavorful, tart custard pie filling.  Garnish with whipped cream, lime slices, and a little lime zest for an authentic taste of the Florida Keys.
5. Lemon Pie with Graham Cracker Crust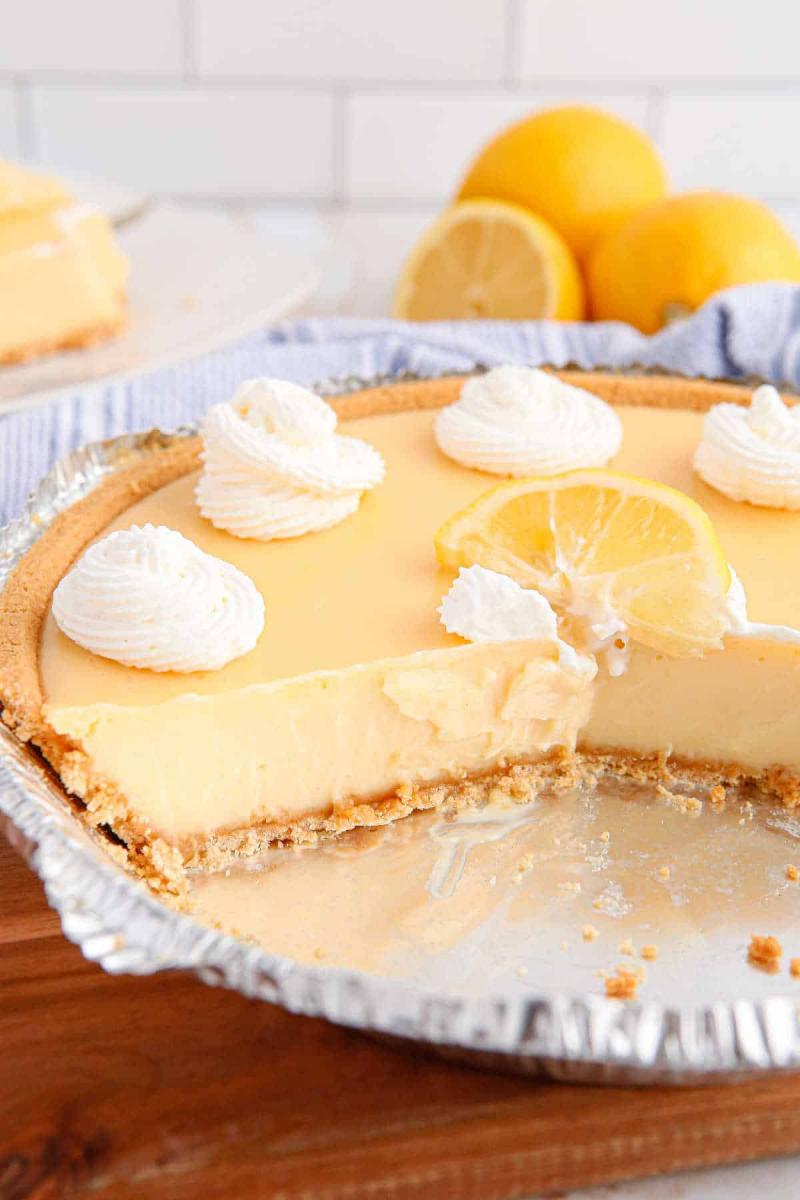 This classic lemon pie recipe is basically the same as key lime pie, but instead of key limes, lemons are used.  It's bright and fresh and delicious and cool and perfect on a summer day, but I'd be equally delighted to eat this pie any time of year.  
6. Margarita Pie with Salted Graham Cracker Crust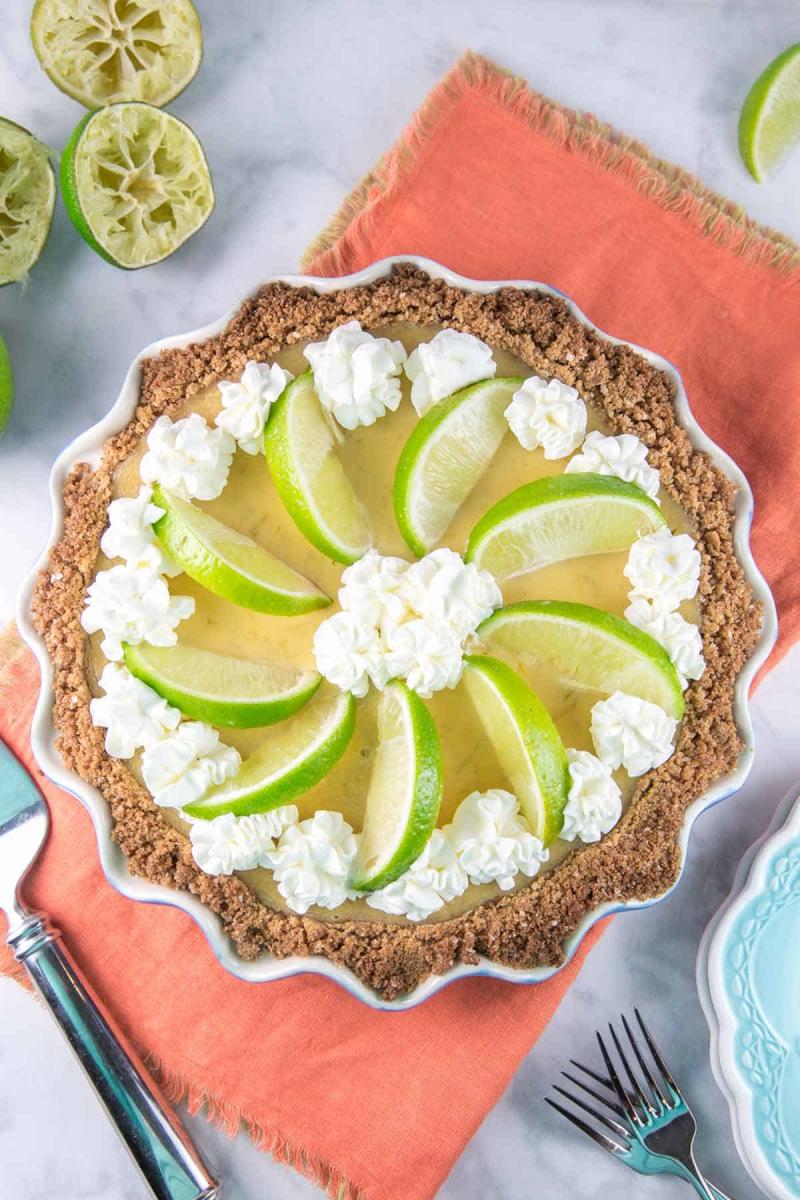 This Margarita pie features a creamy tequila lime filling, and a salted graham cracker crust.  Oh my oh my, pass me a slice!  What a fun twist on the two pies above.
7. Whole Lemon Pie in Graham Cracker Crust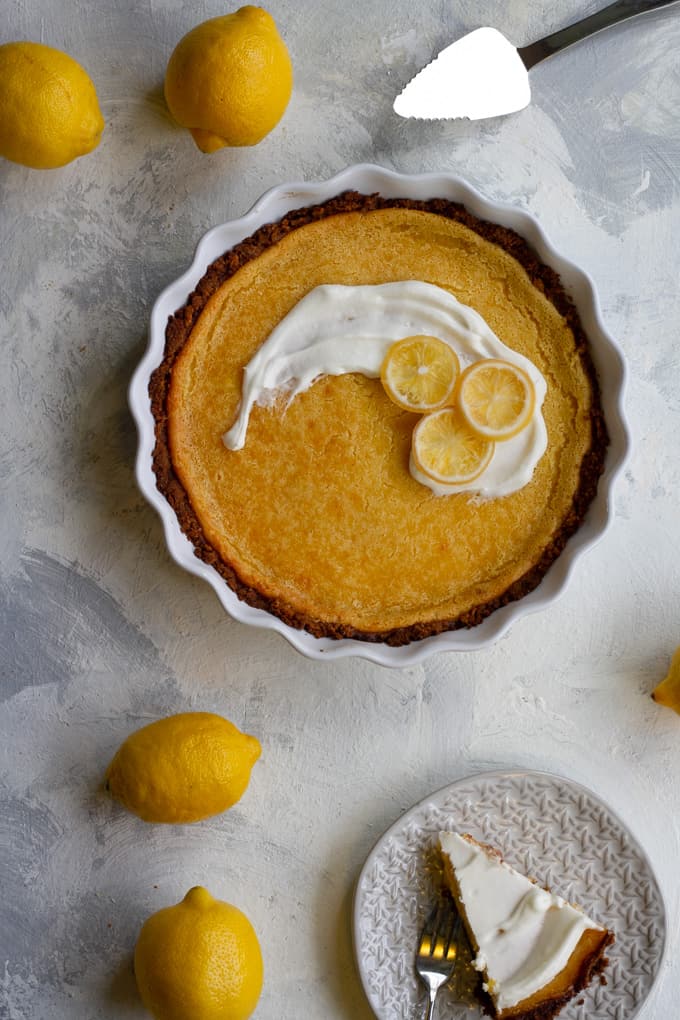 Have you ever had a whole lemon pie?  Yes, the whole lemon, skin and all, really does get blended up and baked in the pie!  It's absolutely delicious, and an easy graham cracker crust pie to make.
No-bake pies are so easy to make, and so delicious!  I particularly like making no bake pie in the summertime, when I don't want to turn on the oven, and want to serve a chilled dessert.  These graham cracker crust pie recipes are cool and creamy and sure to please.
8. Easy Chocolate Pudding Pie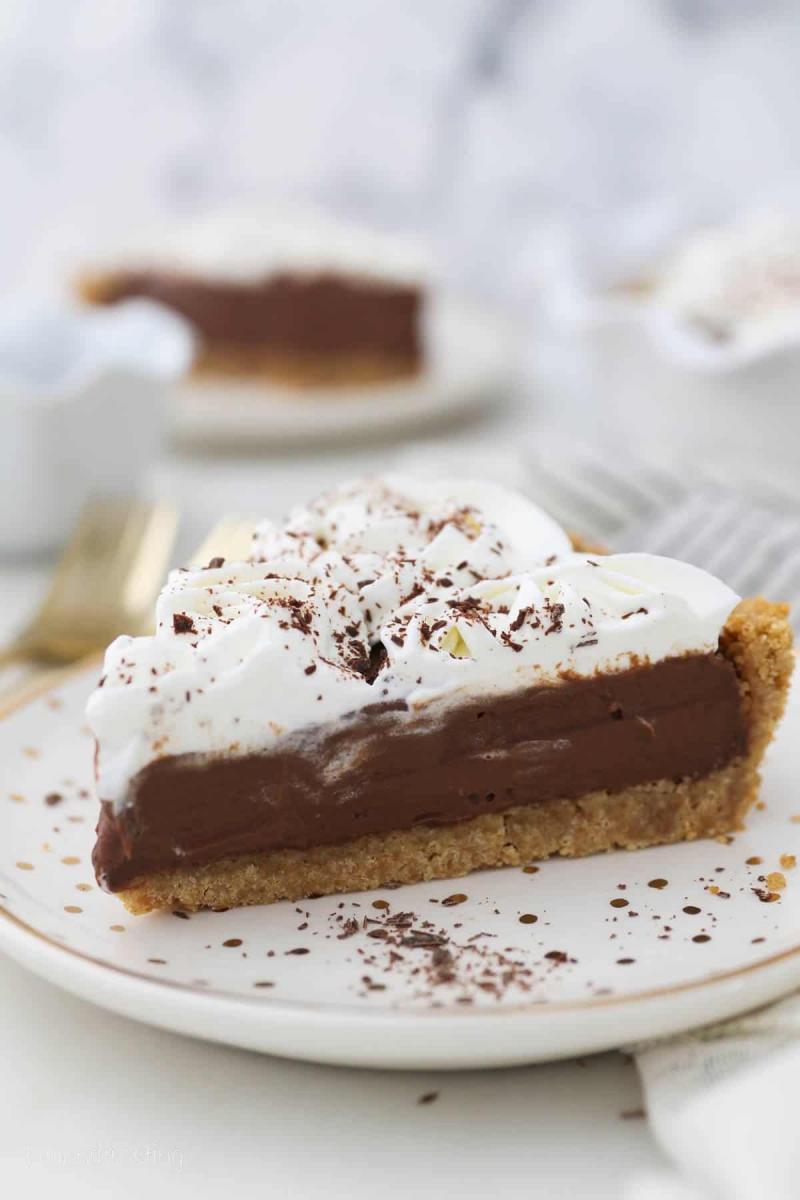 This chocolate pudding pie is made with homemade pudding, and it's absolutely irresistible.  It's a classic, vintage, no bake recipe that's perfect for any occasion.
9. French Silk Pie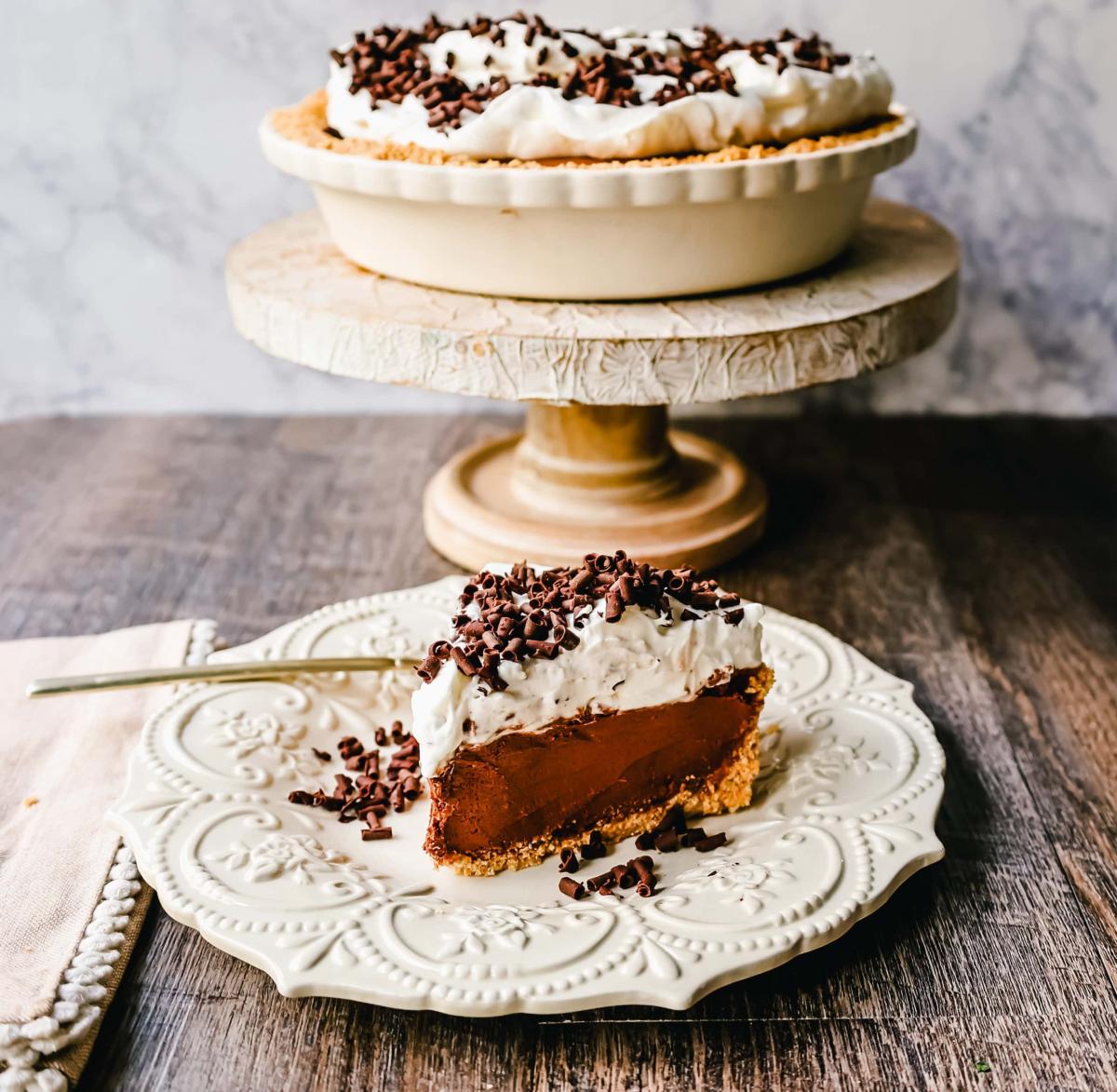 If you love chocolate and you want a truly decadent, rich pie, a classic French Silk pie is what you want.  It can be made with a pastry pie crust, too, but I think a toasty graham cracker crust is the perfect base for this luxurious dessert.
10. Banana Fudge Pie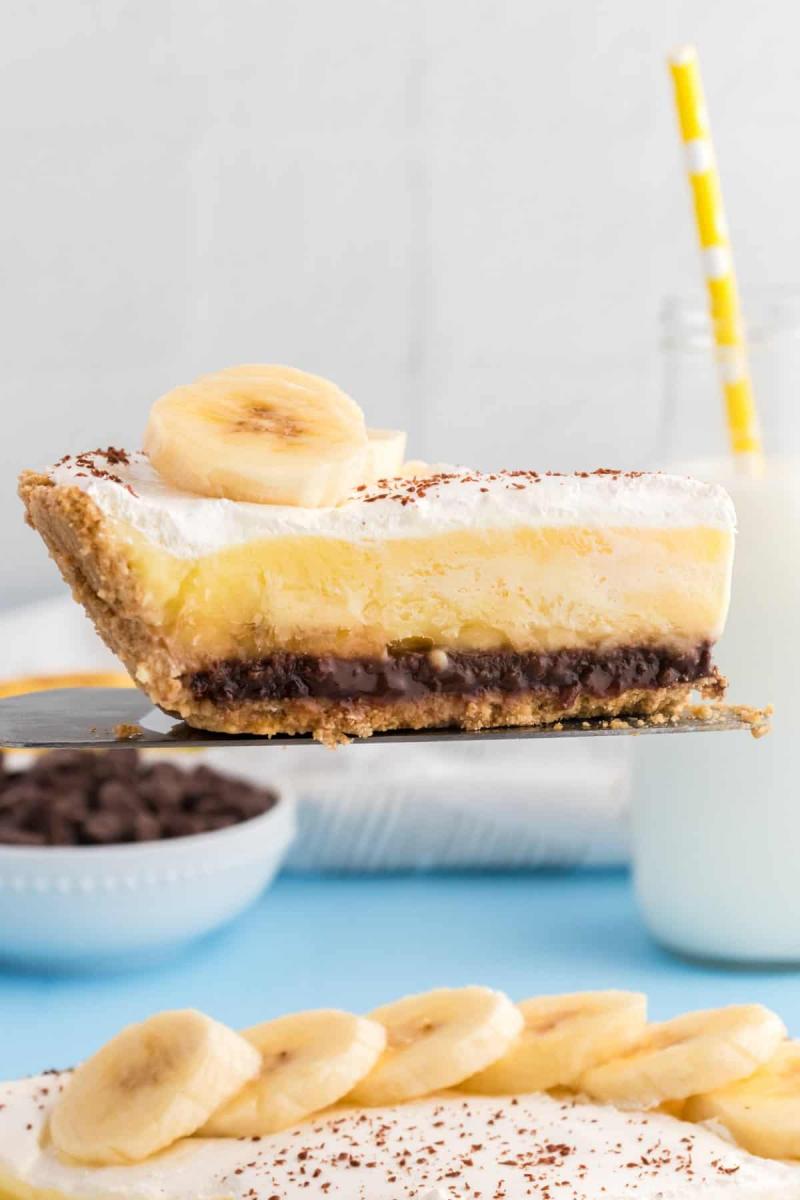 A crunchy graham cracker crust is layered with chocolate ganache, banana pudding, and whipped cream to make this amazing banana fudge pie.
11. Fluffernutter Pie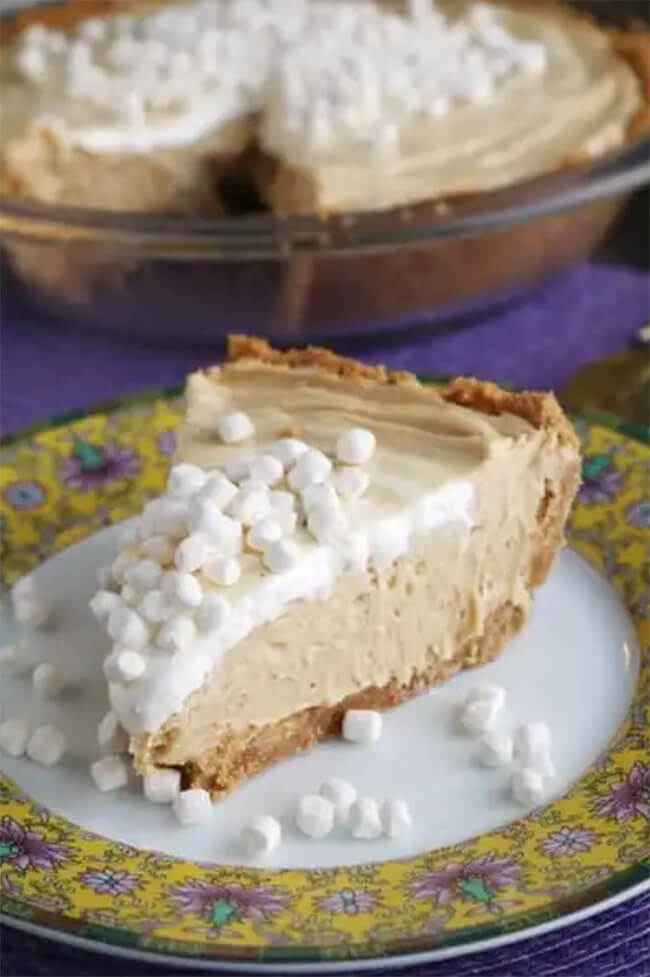 Fluffernutter pie combines peanut butter, cream cheese, heavy whipping cream, and marshmallow fluff to make this light-yet-decadent no bake dessert.  
12. Butterscotch Pie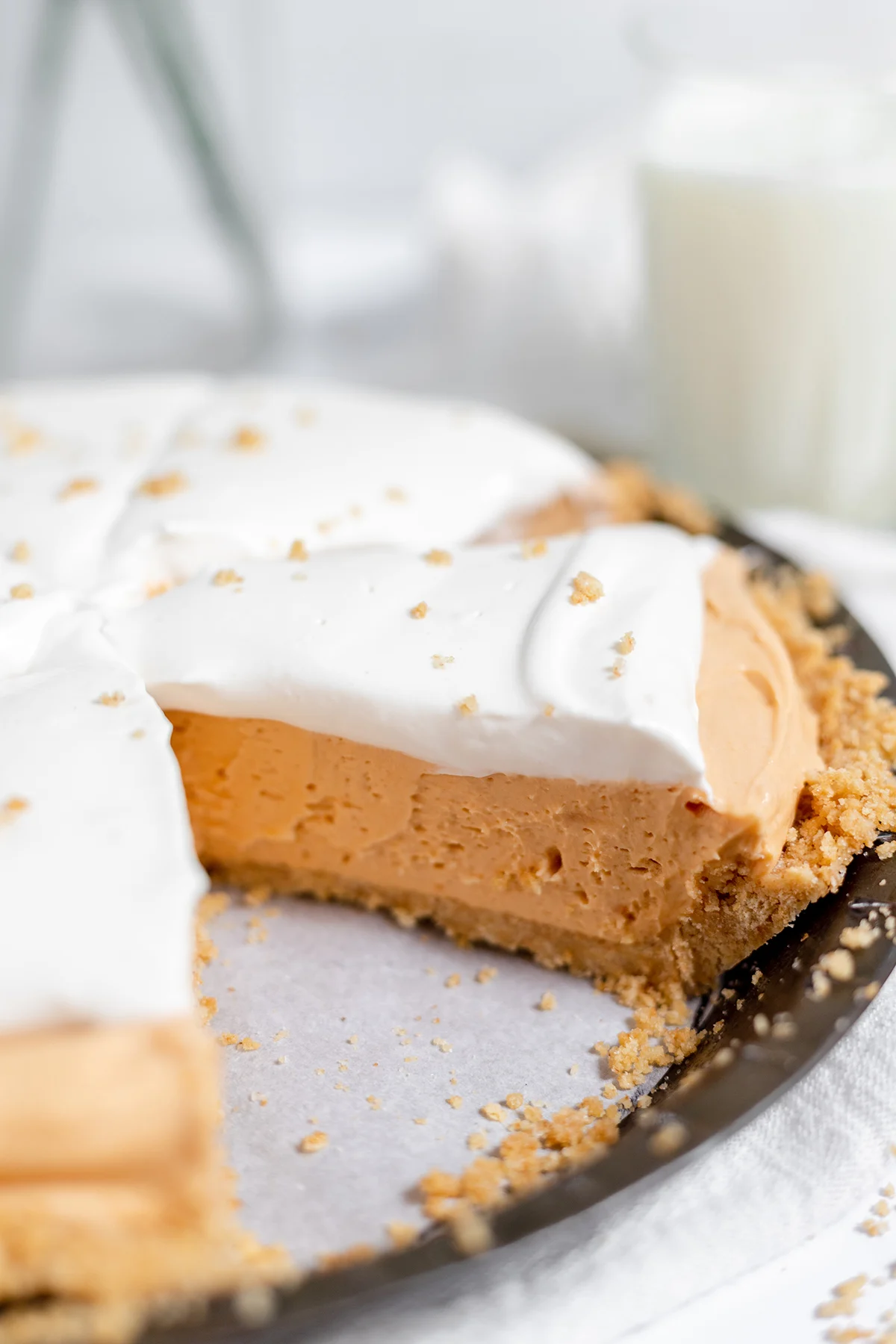 Old-fashioned butterscotch pie only takes 15 minutes to whip together.  What are you waiting for?  Pull out your favorite pie plate and make this great recipe today.
13. No Bake Raspberry Pie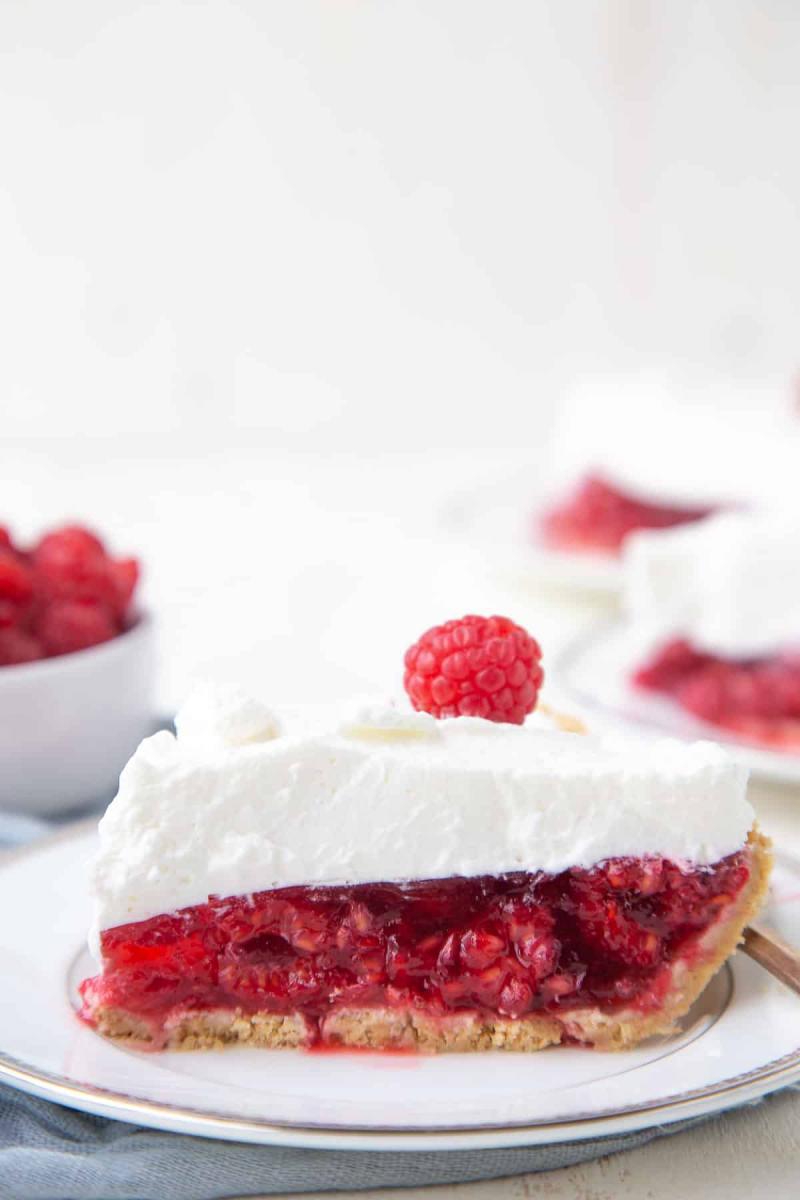 No bake raspberry pie really lets the fabulous flavor of fresh berries shine.  Add the perfect graham cracker crust and you have an amazing summer pie.
14. No-bake Fresh Peach Pie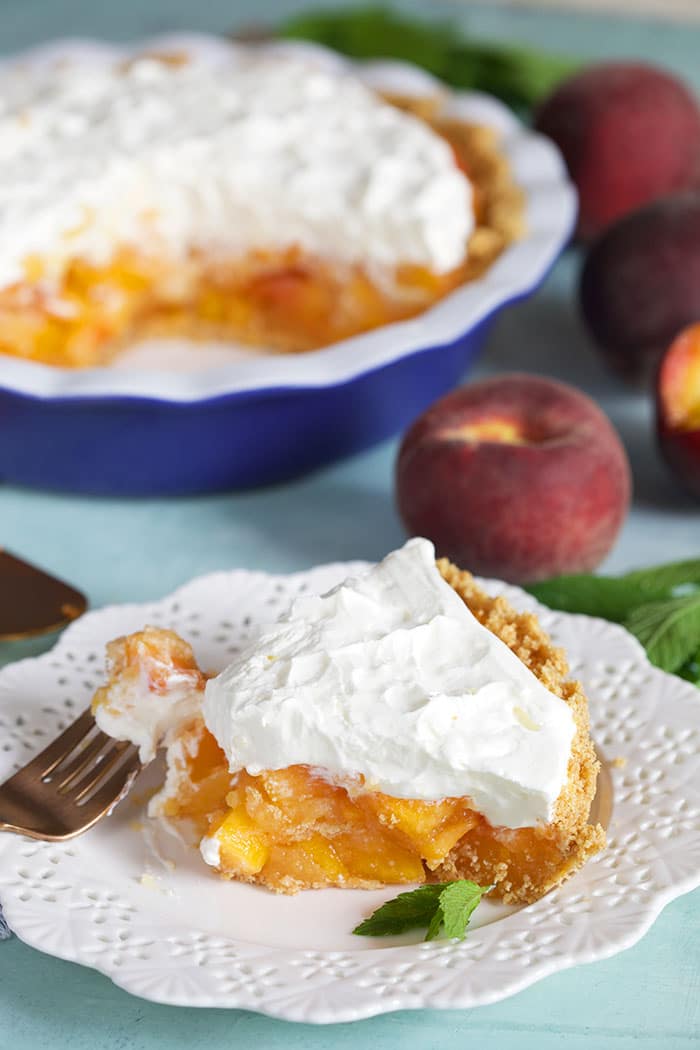 This no bake peach pie with a no bake graham cracker crust shows off the amazing flavor of fresh peaches.  This recipe can be made with fruit pectin (Sure-Jell) as a thickener rather than gelatin, making this recipe suitable for vegetarians.
15. Banoffee Pie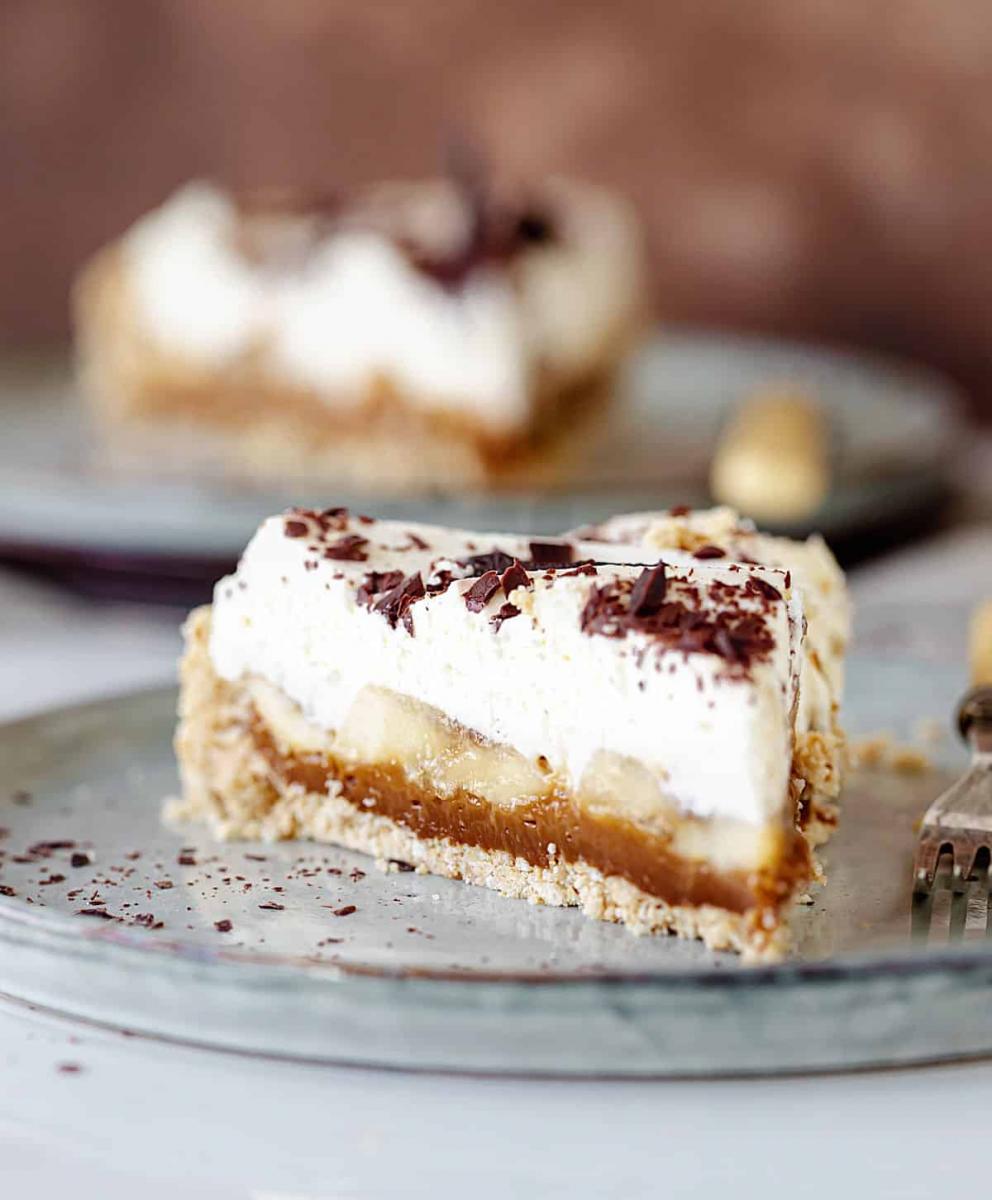 Have you ever had Banoffee pie?  A cookie crumb crust, layered with dulce de leche (an amazing caramel-like spread made from sweetened-condensed milk), sliced bananas, and layered with a creamy whipped topping.  It's an amazing no bake dessert!
16. No-Bake Apple Pie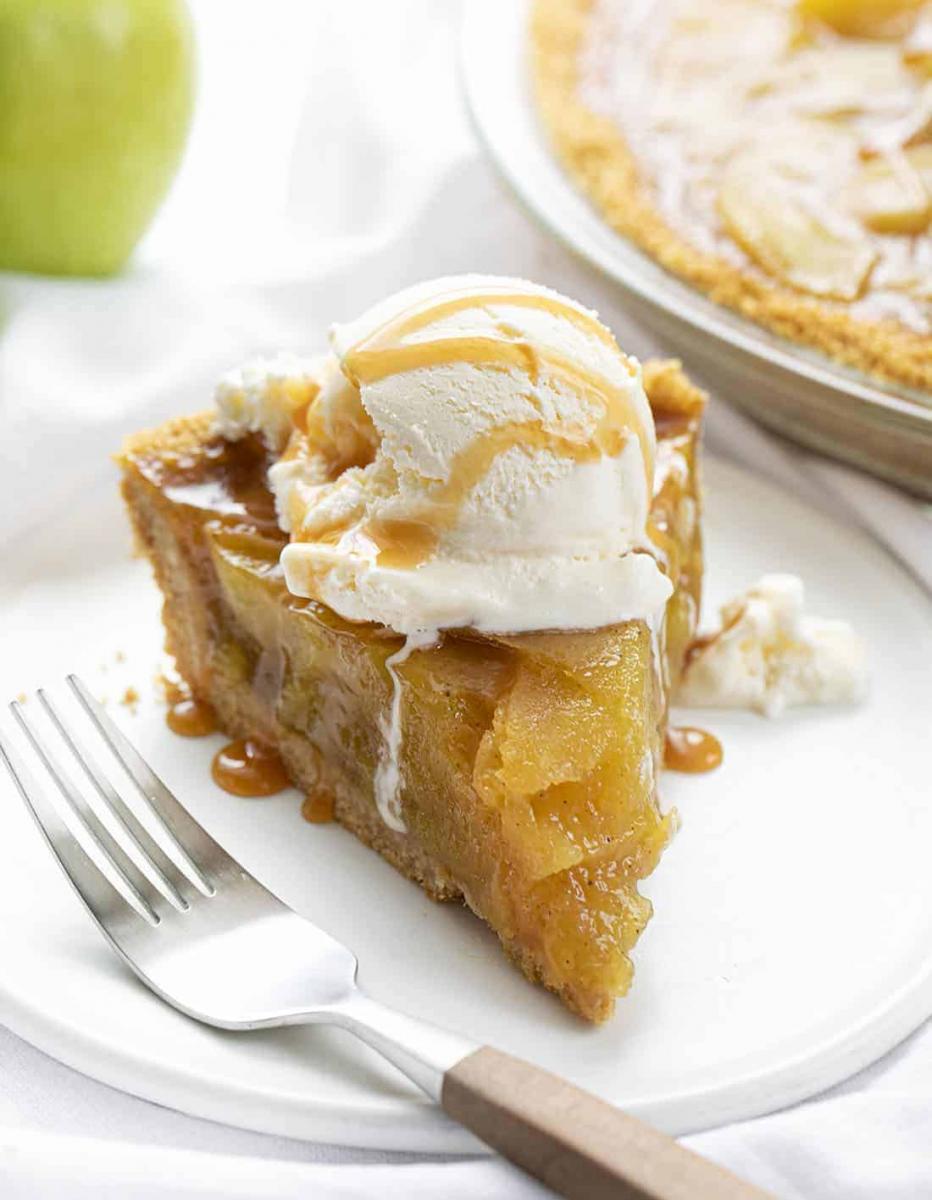 Did you know that you can make a no-bake apple pie?  I know, neither did I!  A graham cracker crust is the perfect crust for this easy, delicious pie.
17. Jello Pie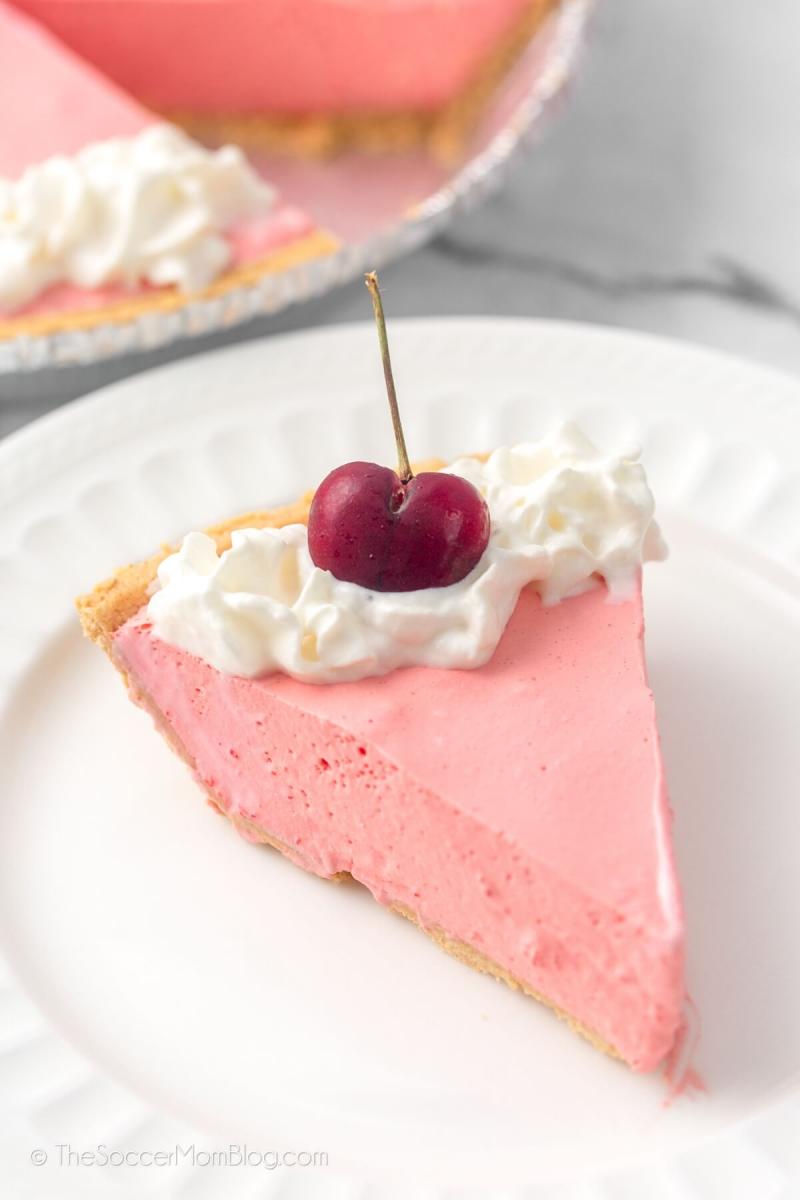 Jello pie is a fun vintage recipe that can be made in so many flavors.  Just three simple ingredients (including store-bought crust) are used to make this summertime classic.
18. No Bake Eggnog Pie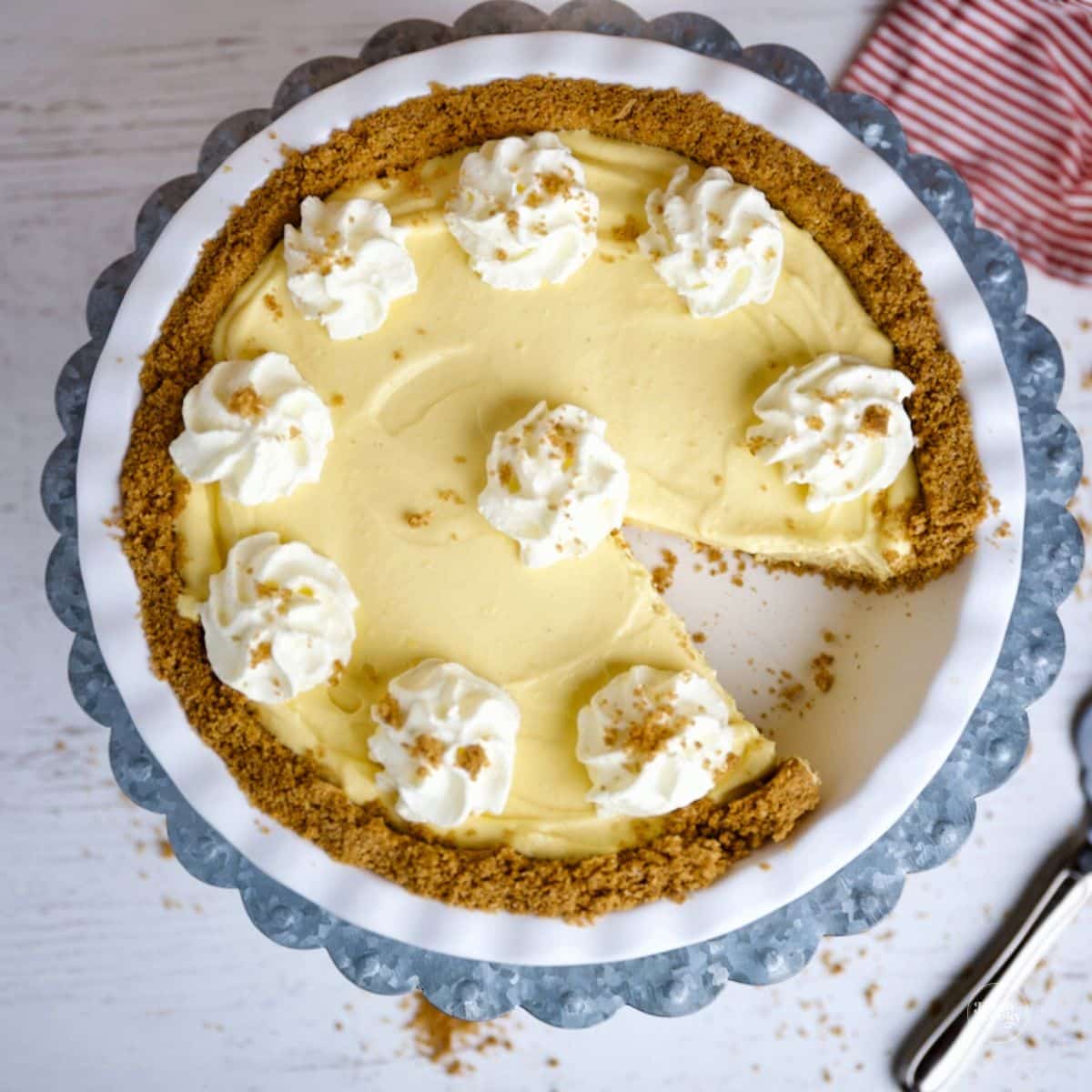 Here's a no bake dessert that's perfect for Christmas dinner:  eggnog pie!  I make a similar (but baked) eggnog pie with a graham cracker style crust made from gingerbread.  I can't wait to try my gingerbread cookie crust with this no bake filling this year.
19. S'Mores Pie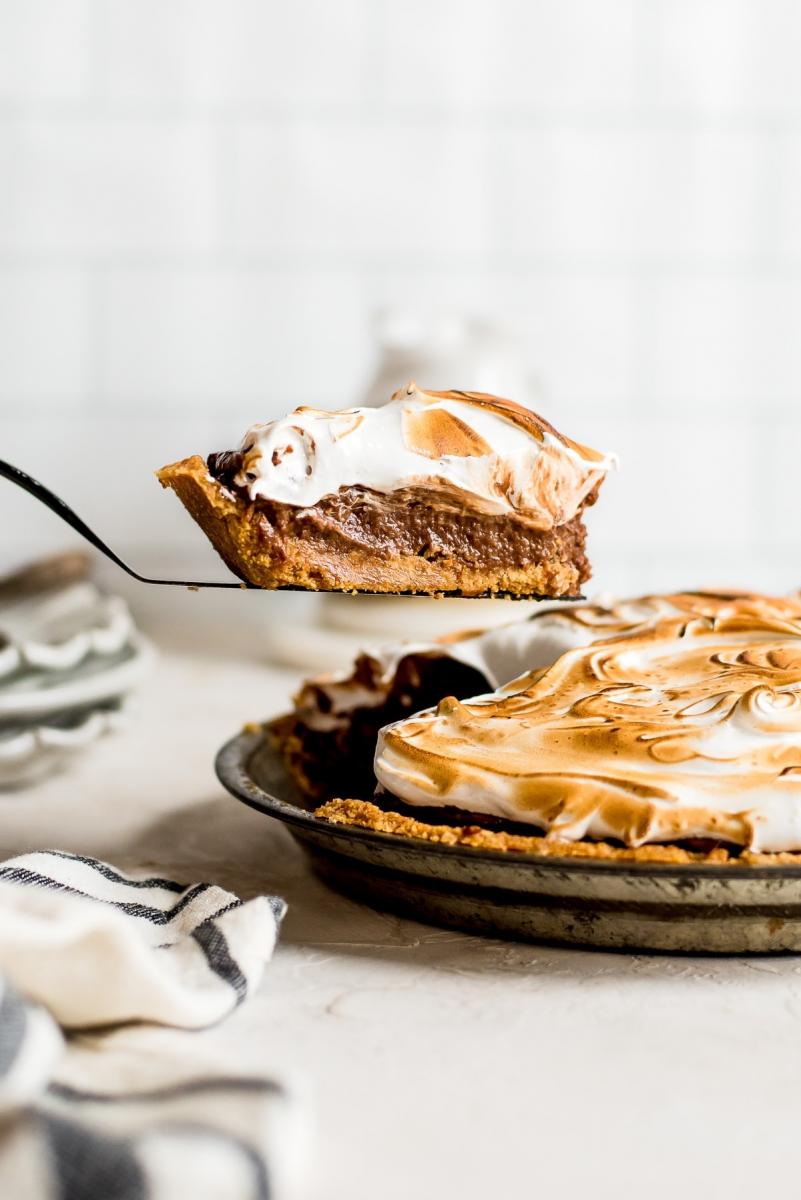 A graham cracker crust (of course!), gooey chocolate layer, and a fluffy meringe (perfectly toasted) top layer make this S'Mores pie absolutely irresistable.
20. Lemon Lush Pie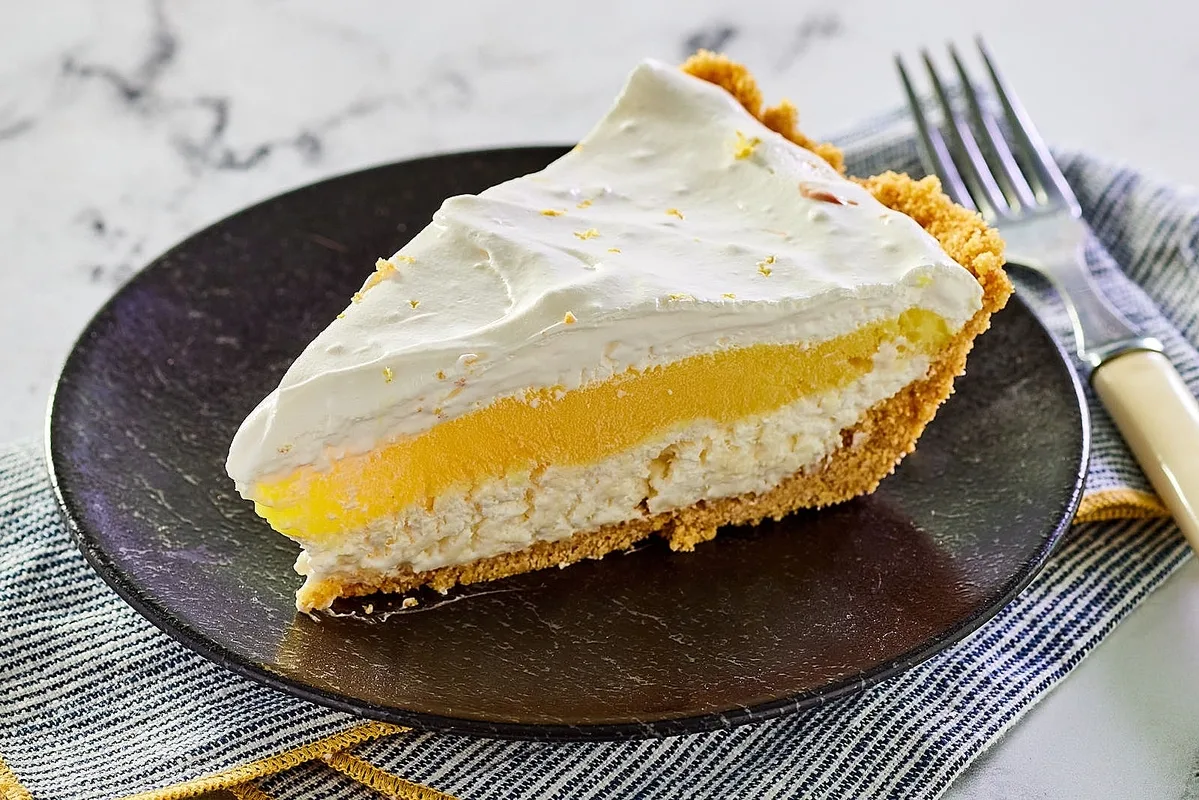 Lemon Lush pie is a classic no bake dessert featuring a tangy cream cheese layer (almost like a cheesecake, but much easier), a bright lemon layer, and a creamy and cool whipped cream layer, all on a graham cracker crust.  It's as beautiful as it is delicious!
These graham cracker crust pies aren't just cool, they're frozen!  Is it a pie?  Or homemade ice cream?  Yes!  A fabulous blending of two delicious types of desserts.
21. Frozen Peanut Butter Pie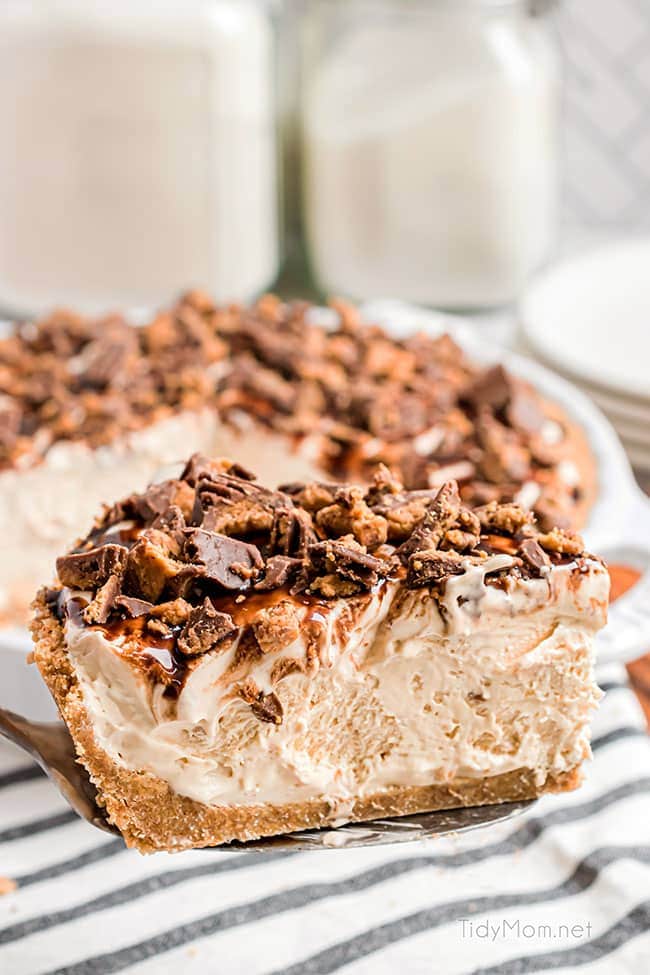 This no bake peanut butter pie is topped with pieces of peanut butter cups and chocolate sauce.  It's a slice of creamy, frozen heaven!
22. Pina Colada Pie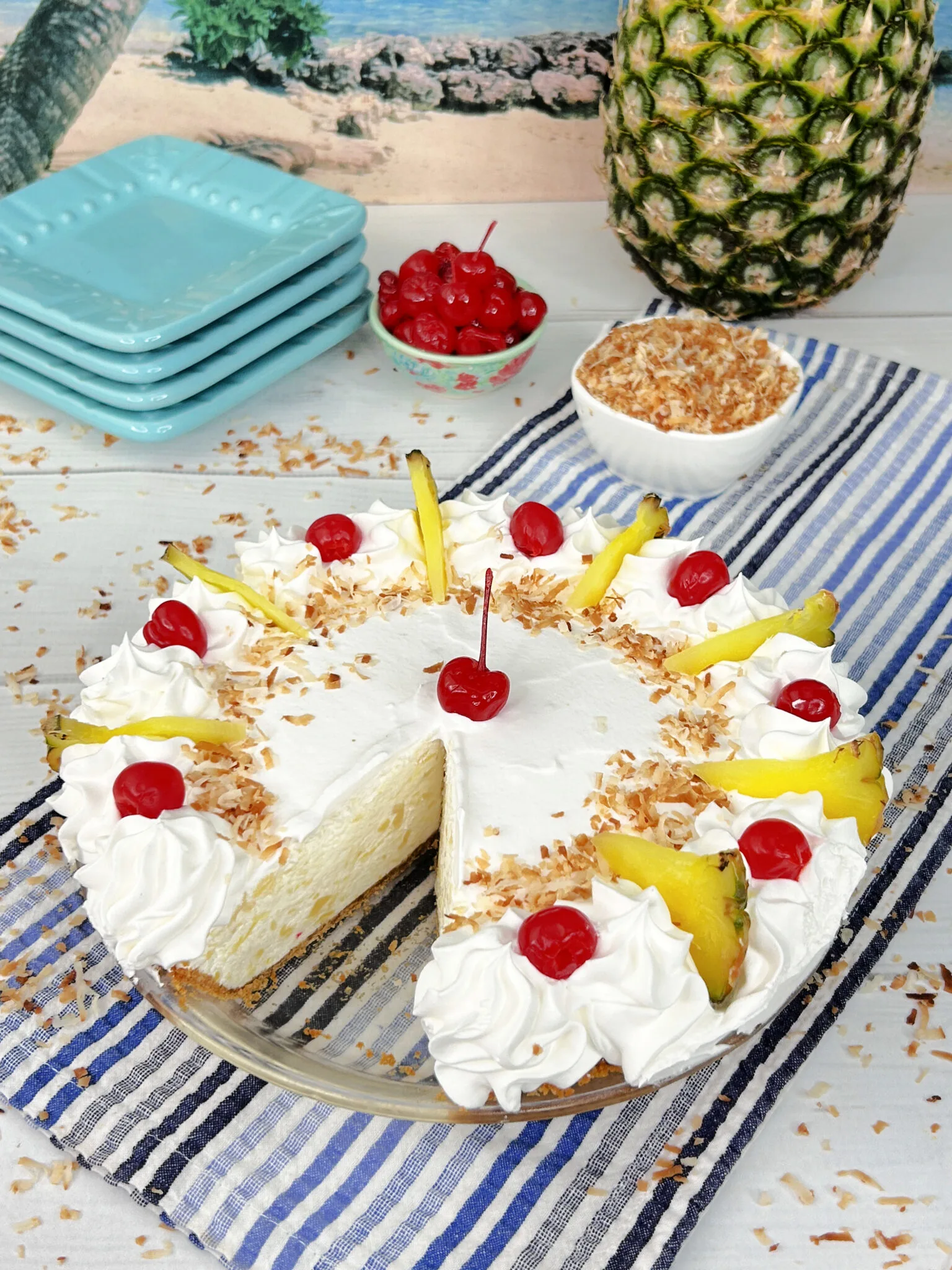 A cool and creamy coconut and pineapple mixture makes this frozen pina colada pie perfect for summer!  Use a piping bag to make the whipped cream edging and garnish with slices of pineapple and toasted coconut when you're ready to serve.
23. Elderberry Honeycomb Cream Pie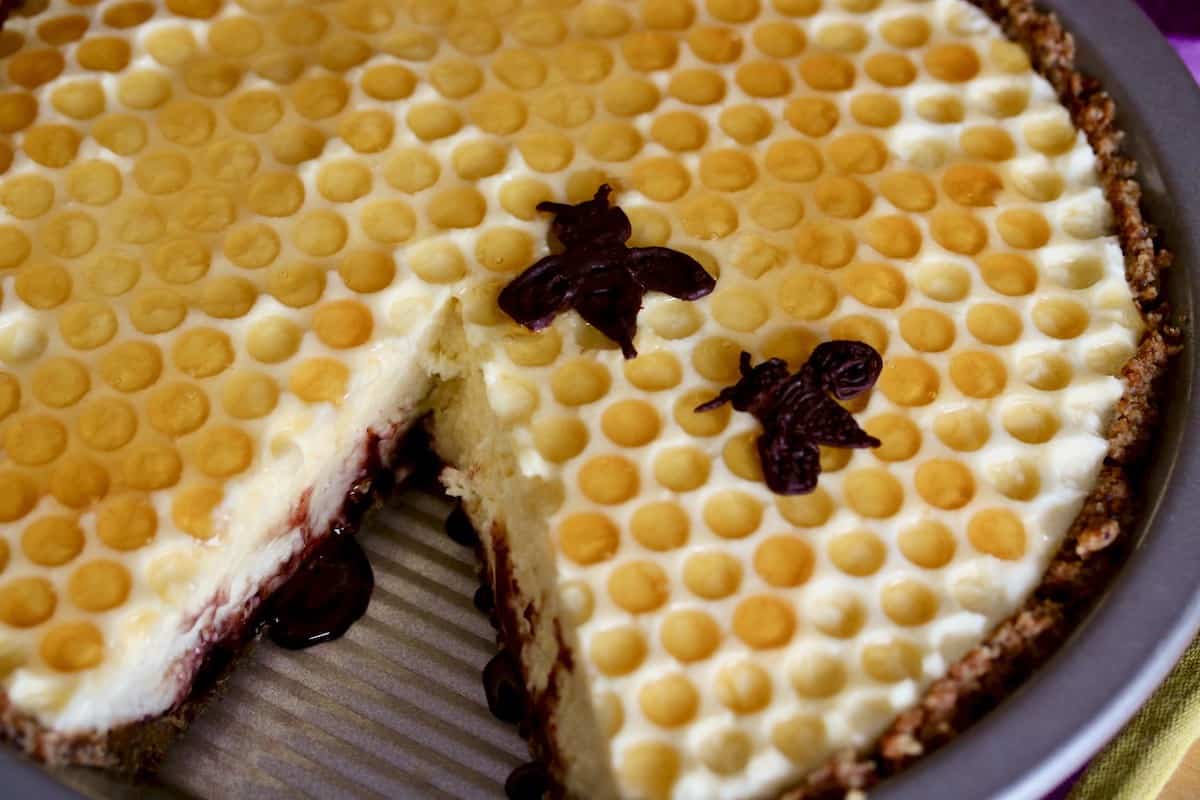 I struggled with where to put this pie, because you thaw it before serving, but you do have to freeze it to get that clever honeycomb appearance (you won't believe it until you read it!).  No matter how you classify it, this elderberry honeycomb cream pie is absolutely delicious!
24. Pumpkin Ice Cream Pie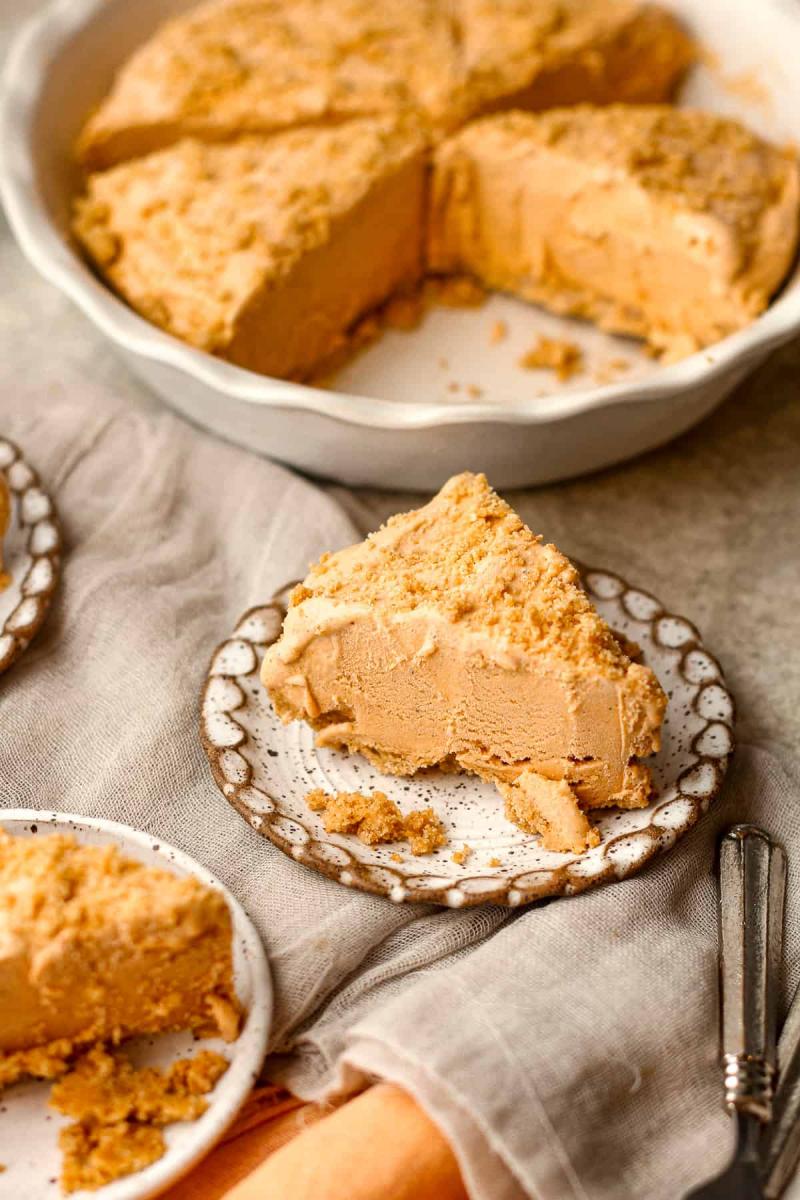 Who says frozen pies are just for summertime?  This pumpkin ice cream pie is absolutely scrumptious and perfect for a Thanksgiving or Christmas dinner.
25. Frozen Strawberry Pie
The fresh flavor of strawberries bursts through every bite of this frozen strawberry cream pie.  And the pairing with a graham cracker crust?  Perfection!
26. Honey Frozen Yogurt Pie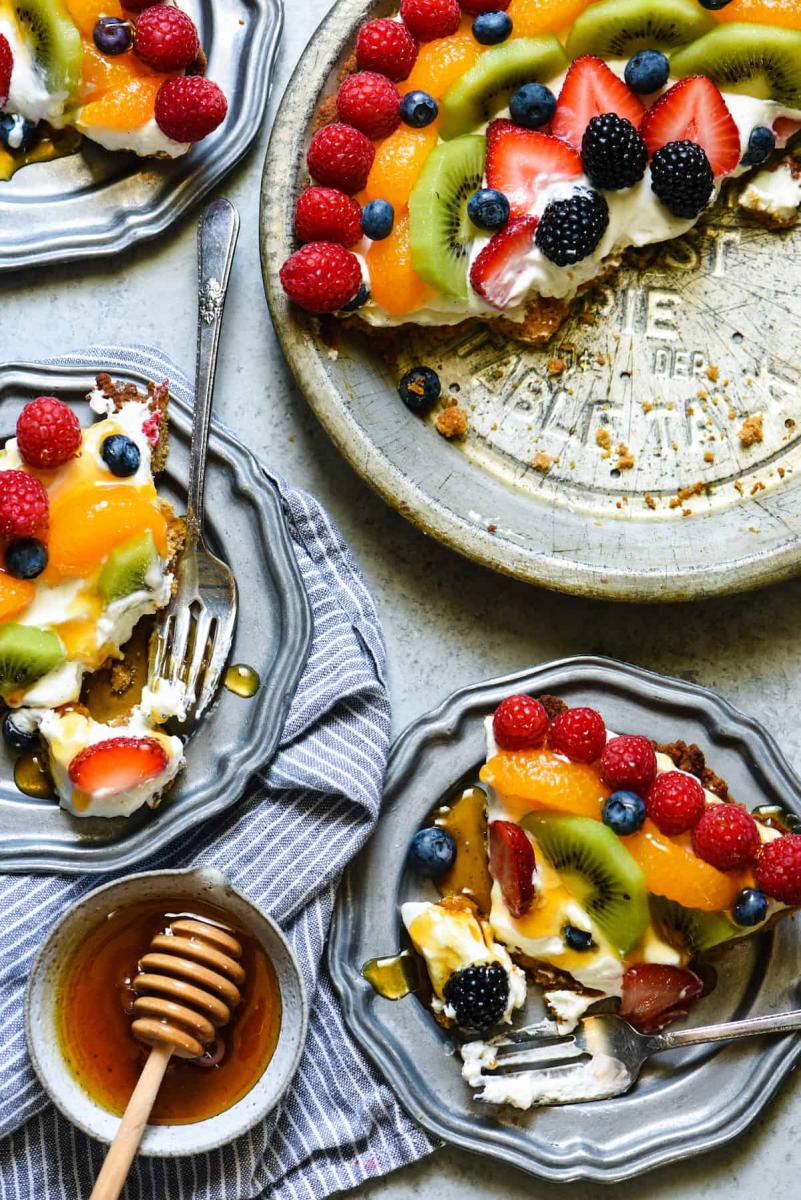 We've had quite a few ice cream pies already, but we can't forget about frozen yogurt!  This honey frozen yogurt pie is garnished with a rainbow of fresh fruit and is as beautiful as it is delicious.
27. Frozen Cherry-Lime Kool Aid Pie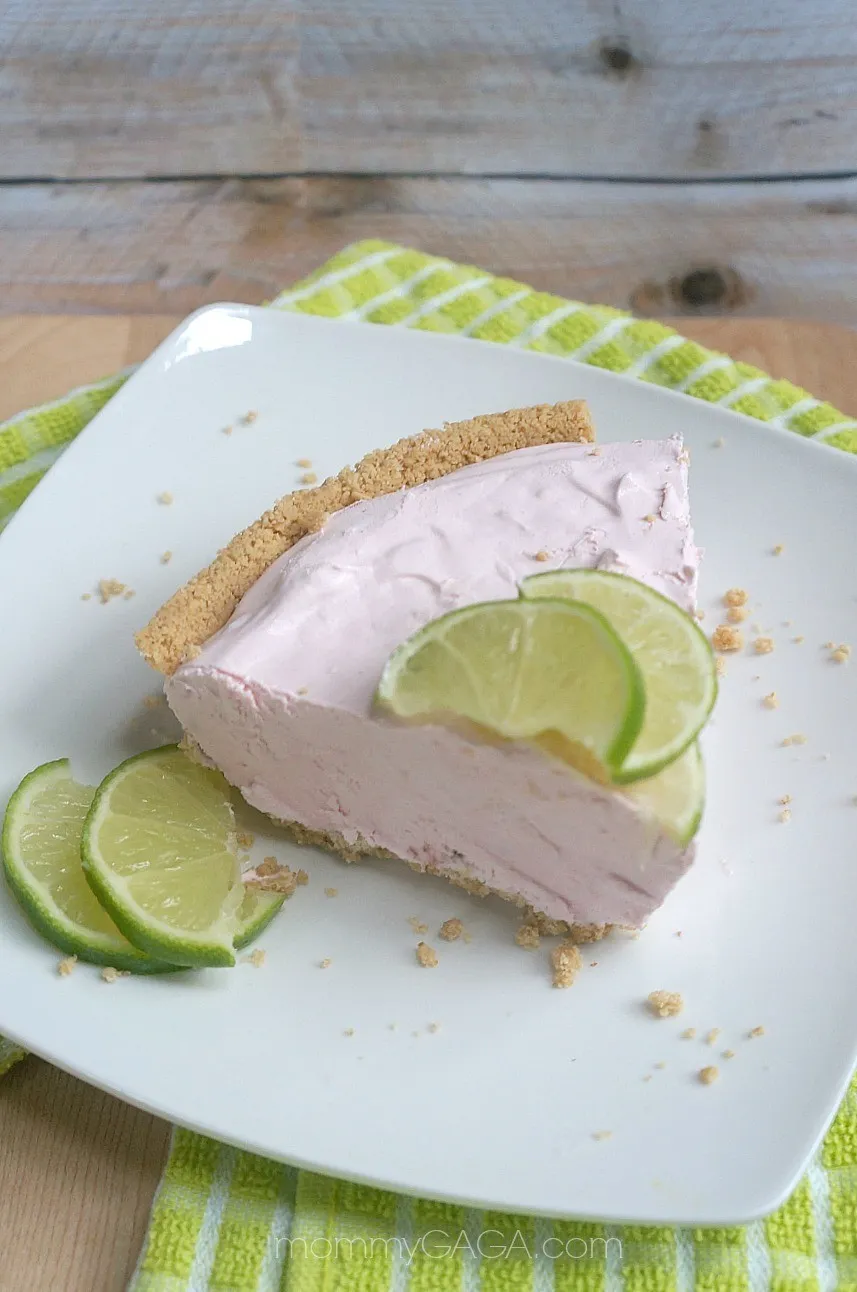 Frozen Cherry Lime Kool Aid Pie is another fun vintage dessert.  Cool and creamy and full of fruity flavor, this is the pie of your childhood summer memories.
28. Wild Blackberry Ice Cream Pie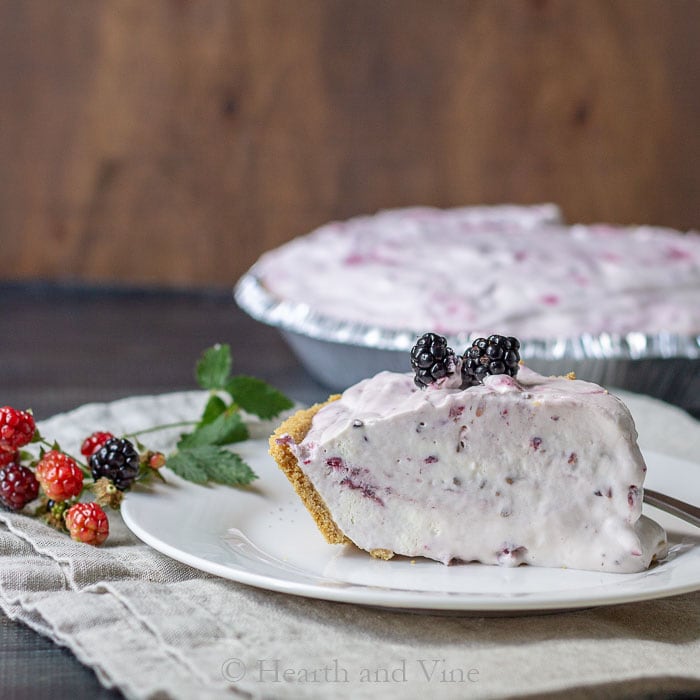 If you're lucky enough to live where you can pick wild blackberries, you absolutely must make this wild blackberry ice cream pie!  What a perfect summer dessert.
29. No Bake Frozen Strawberry Cookies and Cream Pie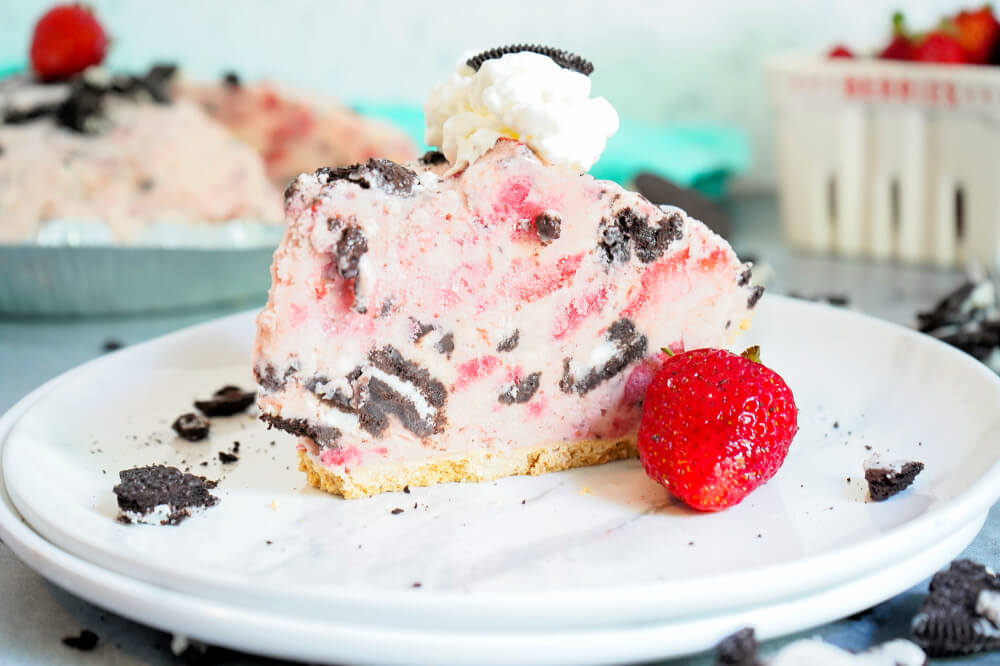 Cookies and cream is always delicious--but add fresh strawberries and you get this amazing Mile High Strawberry Cookies and Cream pie.  Chocolate and strawberries go so well together!  I always love a graham cracker crust, but this pie would also be absolutely delicious with a chocolate graham cracker crust or an Oreo crust.
30. Frozen Lemonade Pie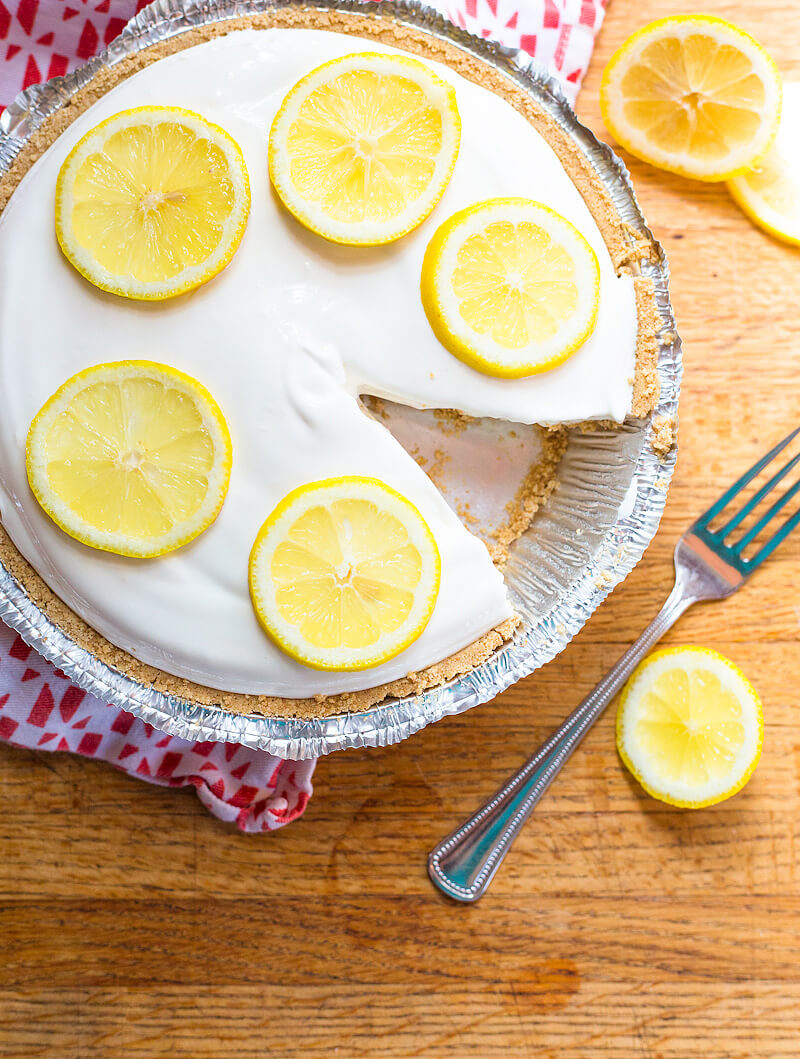 This frozen lemonade pie only has four ingredients!  So easy to make, and so tangy and creamy and cool and delicious.  
Variations on Graham Cracker Crusts
If you can't find graham crackers (which are a distinctly American product), or if you want to play with the flavors, you can crush any number of things into fine crumbs to make into a delicious pie crust.
Saltine Cracker Pie Crust (pair with a lemon custard filling to make the AMAZING Atlantic Beach Pie)
Digestive biscuit pie crust (this is the classic substitute for graham crackers in the UK)
What's your favorite pie to make with a graham cracker crust?
Other Pie Recipes You Might Like: