Printer-friendly version
Apple butter is a delicious, spiced apple spread.  It's used like a jam, and is amazing slathered on toast, biscuits, or scones.  Traditional apple butter made on a stovetop takes hours and hours, and requires a lot of standing and stirring.  But making apple butter in an Instant Pot or other pressure cooker is much faster, and incredibly easy.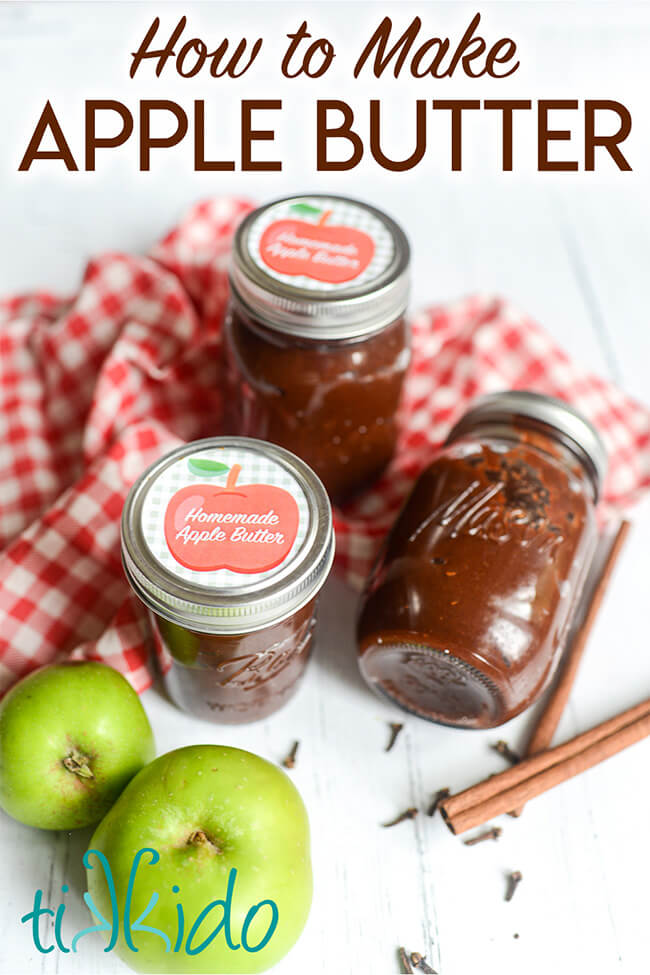 Apple butter is one of my favorite things to make with fresh apples in the fall.  It's similar to homemade applesauce (here's my instant pot applesauce recipe), but it's sweeter, full of fall spices, and reduced to make a flavorful spread.   It's a traditional American condiment, and I've had fun introducing my friends in England to delicious homemade apple butter this year.  And with this easy instant pot apple butter recipe, it's so easy, and made in a fraction of the time!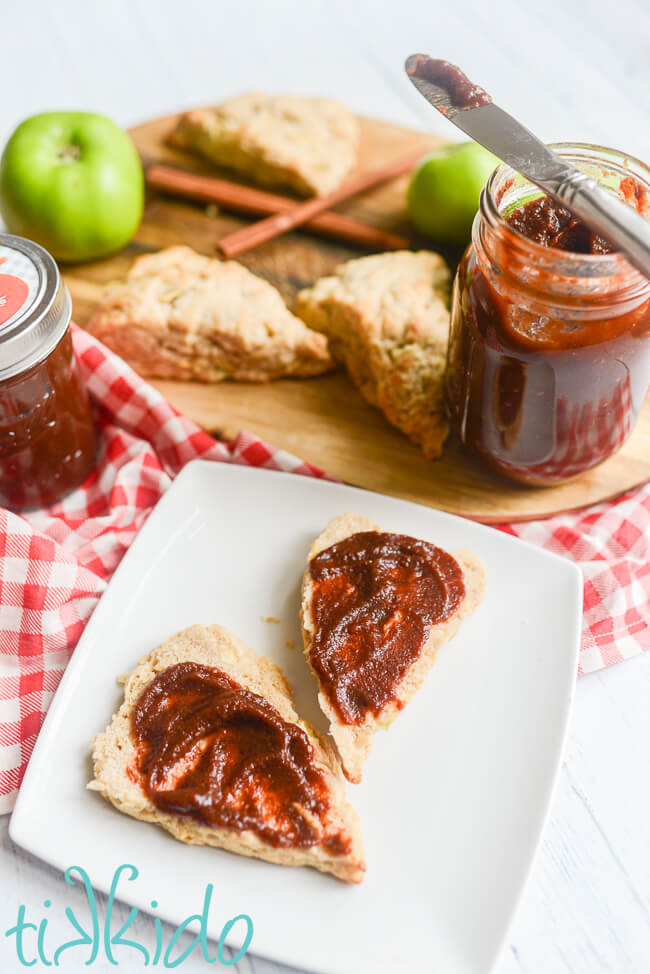 There's no actual  butter in apple butter.  It's more like a spiced, sweetened, thickened homemade apple sauce.
If you want really over-the-top apple flavor, try spreading smooth apple butter on top of warm apple scones.  Absolutely amazing!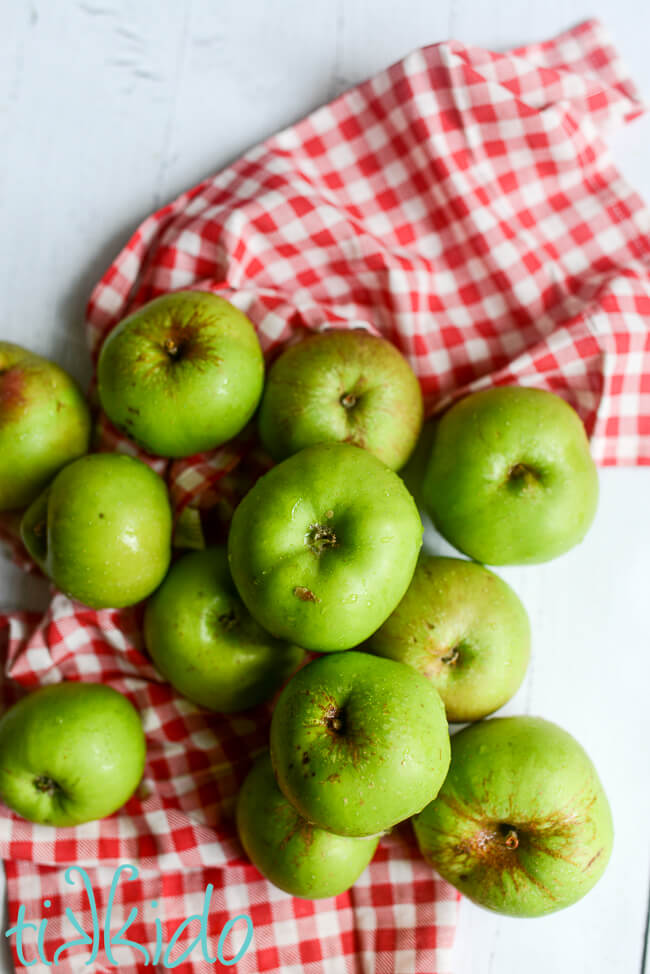 What Apples Should I Use to Make Apple Butter?
The short answer is to use whatever your favorite apples are!  Seriously, you can use really any apple varieties.  Different types of apples will give you slightly different flavor profiles.  If you use sweet apples, like honey crisp apples, the finished delicious spread will be a sweet apple butter.  If you use tart apples, like granny smith apples, or the bramley cooking apples pictured above (from my friend's tree--I love free apple picking), you'll make an apple butter with a brighter, zingier flavor.  The kind of apples you use is entirely up to you.  I prefer a tart type of apple for what I consider the best flavor, but I really like tart fruits in general.  
Instant Pot Apple Butter Recipe
6 pounds of apples, cored, but not peeled
1/2 to 1 cup water
1 1/2 cups brown sugar
1 tablespoon cinnamon
1/2 teaspoon cloves
1/2 teaspoon allspice
1/2 teaspoon nutmeg
You can substitute 1 1/2 tablespoons of pumpkin pie spice mix for the individual spices in this recipe.  You can also play around with how much sugar you add.  Feel free to experiment and adjust this recipe to your particular tastes.
If you want a free, printable, one page version of this recipe, scroll down to the bottom of the post to find a PDF version of this instant pot recipe.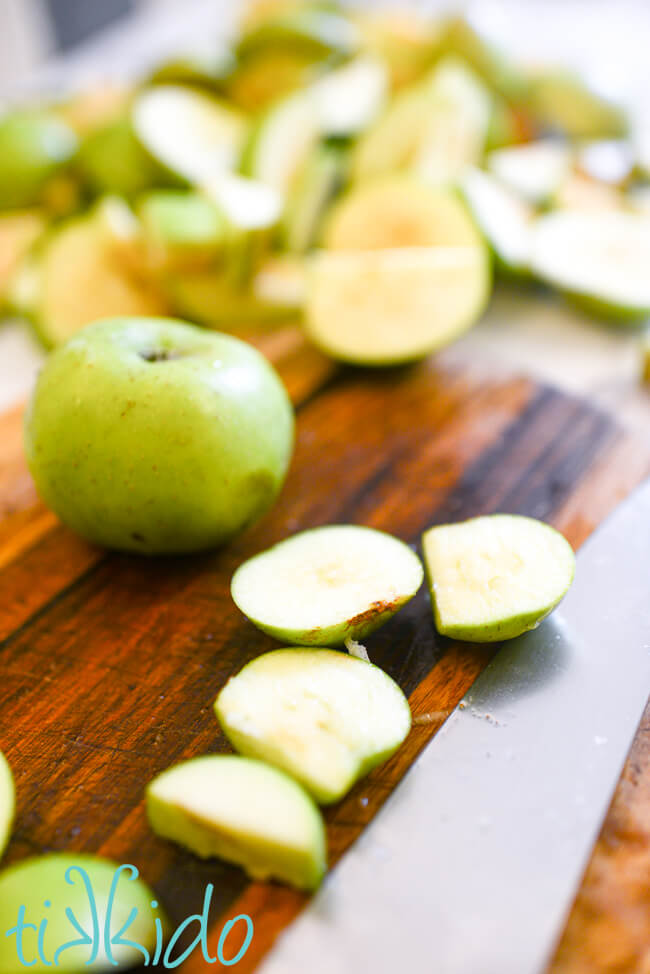 Wash and core your apples.  You can leave the apple peels on for this recipe.  I use this pastry chef method for easily and safely coring and cutting apples.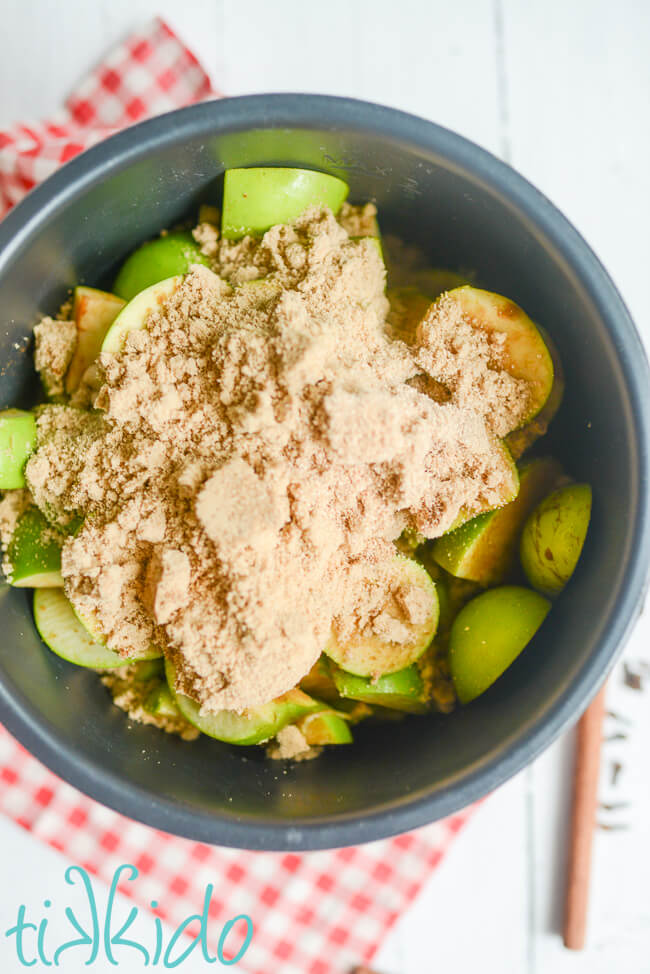 Put six pounds of apple chunks into the liner for your electric pressure cooker.  Add 1/2 cup to 1 cup of water.  You can use apple juice or apple cider vinegar for some or all of the liquid if you prefer.  I found that my apple butter had delightfully intense flavor when I used water as my liquid, so I never bother using juice or cider.
Different pressure cookers require different ammounts of liquid to come to pressure, and some apples are jucier than others.  In my Instant Pot, 1/2 a cup of liquid worked perfectly.  In my Crockpot brand pressure cooker, I got an error message, had to add an extra half cup of water, stir the bottom of the pot, and start again.
Add the brown sugar and spices.  Many apple butter recipes call for a mix of brown sugar and white sugar, but I always use all brown sugar to make my apple butter.  You can also substitute maple syrup for the brown sugar.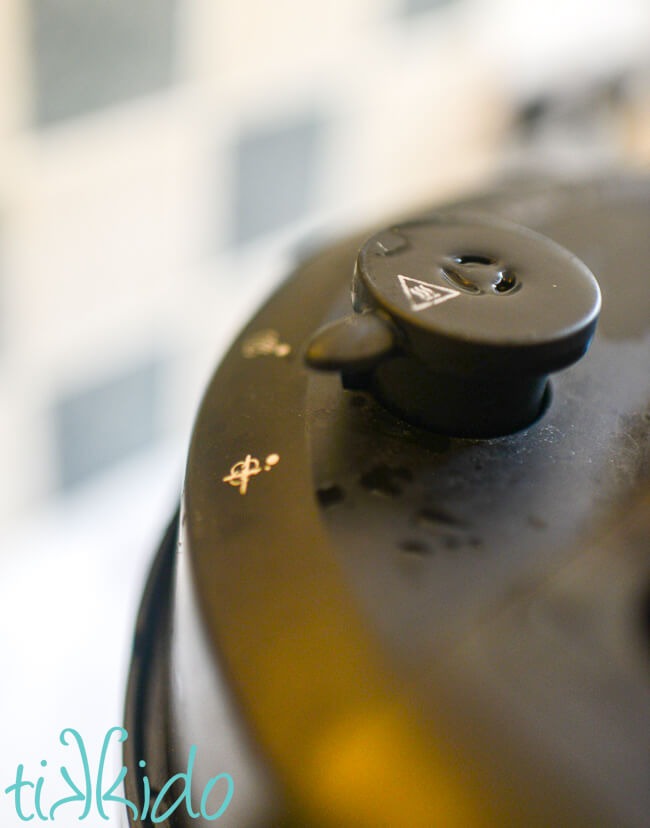 Close the lid and set your pressure cooker to the non-venting setting.  Cook on manual, high pressure, for 90 minutes.  Do a natural release for 10 minutes, then open the vent to let the remaining pressure out.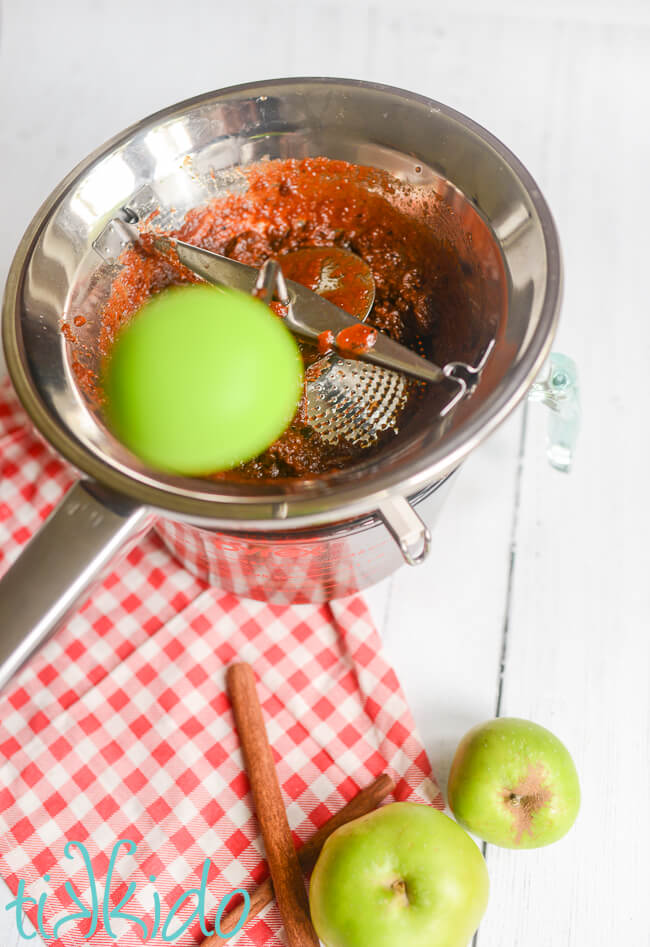 Remove the apple peels and turn the cooked apple mixture into a smooth sauce using a food mill.  I used the disk with the smallest holes to make the smoothest apple butter possible.  
You could also use an immersion blender.  The apple peels will get pureed instead of removed in that case, but as long as you blend it really well, it works beautifully.  Do not use a regular blender (at least while your apple mixture is still hot)!  If you try to blend hot food in a regular blender, the heated air can create a buildup of pressure in the blender jar, and it can cause the lid to pop off and your food to explode all over the kitchen.  I learned that one the hard way years ago.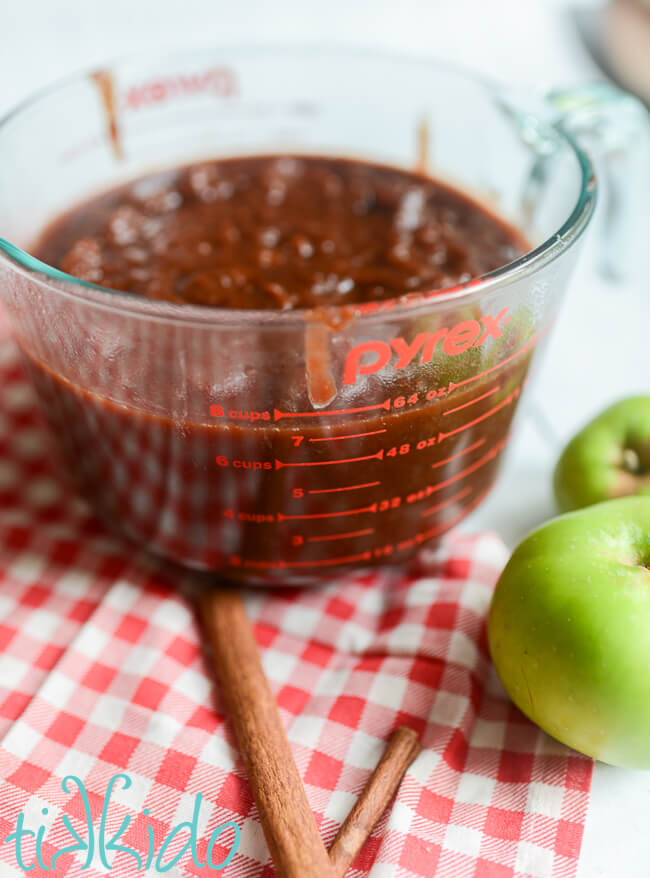 This recipe made about 8 cups of what is essentially spiced applesauce at this stage.  Delicious, but not yet apple butter.  Put the pureed mixture of apples and spices back into the instant pot.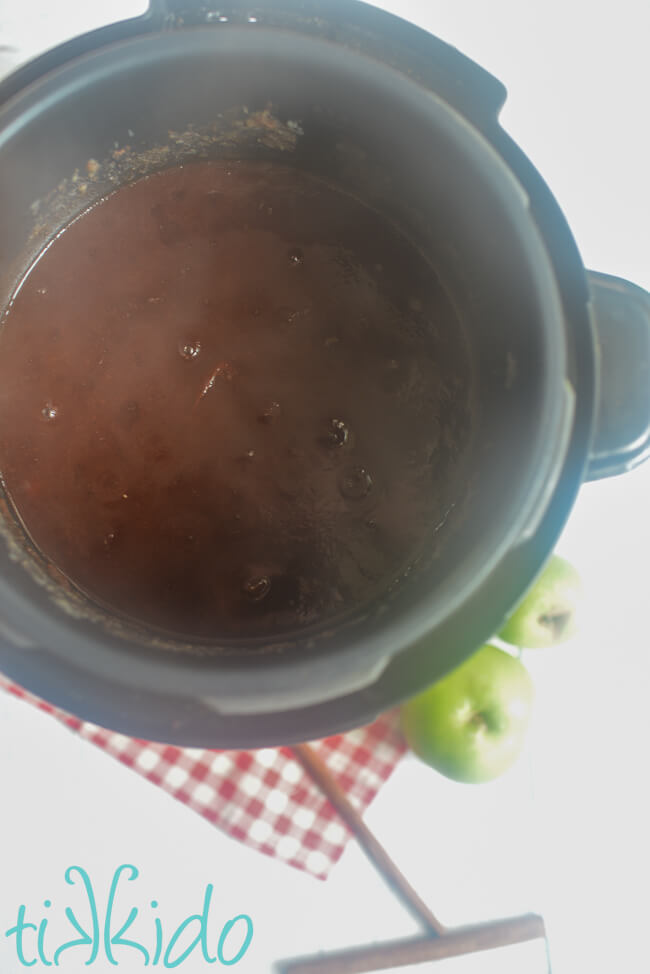 Put the lid back on, but kind of askew, so moisture can easily escape.  Cook using the slow cooker function on your pressure cooker.  Let it cook and reduce, stirring occasionally, for about three more hours.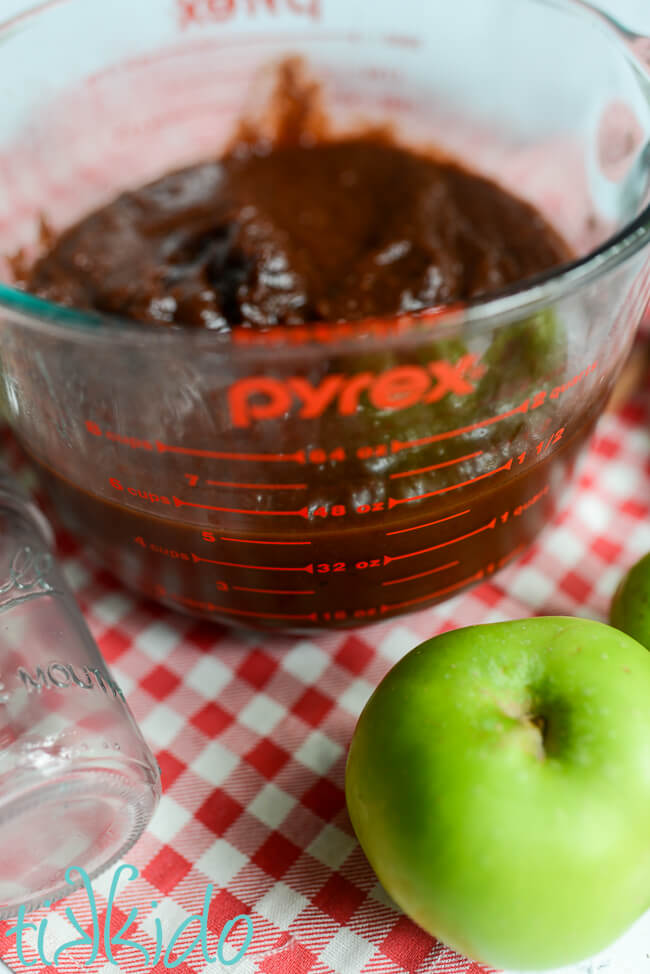 the volume will reduce by about half in three hours, and you will have made rich, flavorful, dark and delicious apple butter.  If you want even thicker apple butter, feel free to keep cooking until you reach your desired consistency.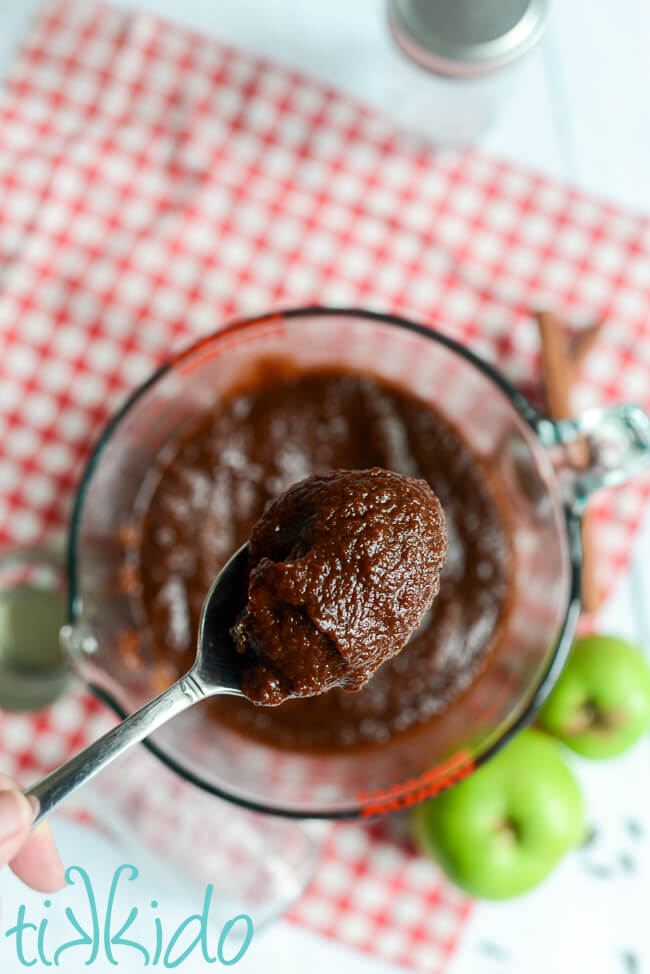 Some people stir in vanilla extract at this stage, and you can't go wrong with a bit of vanilla, but I've never found I needed it.  I think the best apple butter is simple, just a handful of ingredients, and full of intense apple flavor.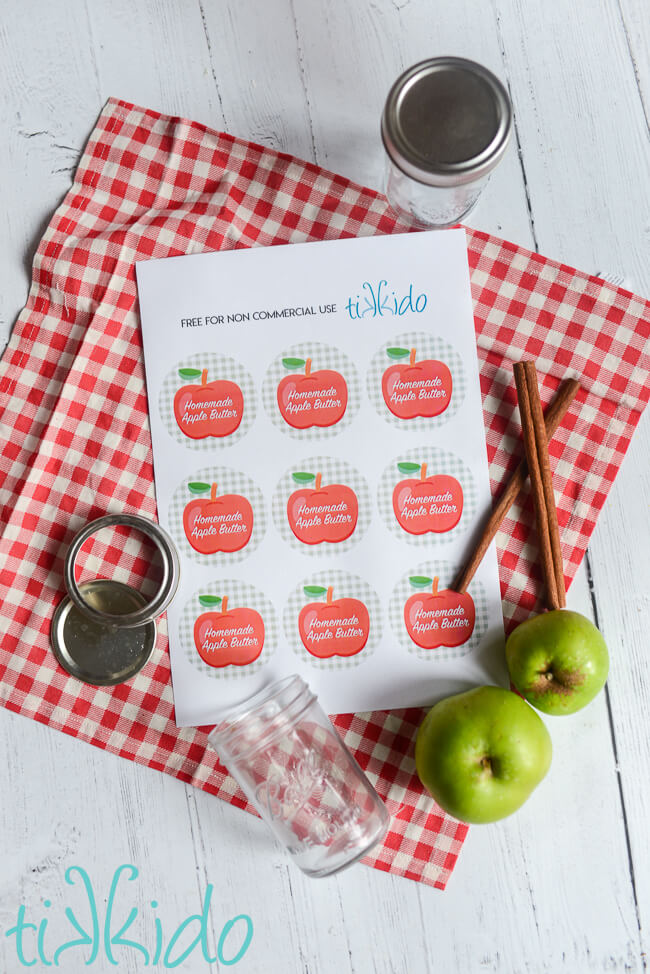 I wanted to give away jars of apple butter to my friends, so I created a printable label to go on top of the jar.  You can print your own for gift-giving this holiday season by clicking the image below.
Printable Homemade Apple Butter Canning Lid Labels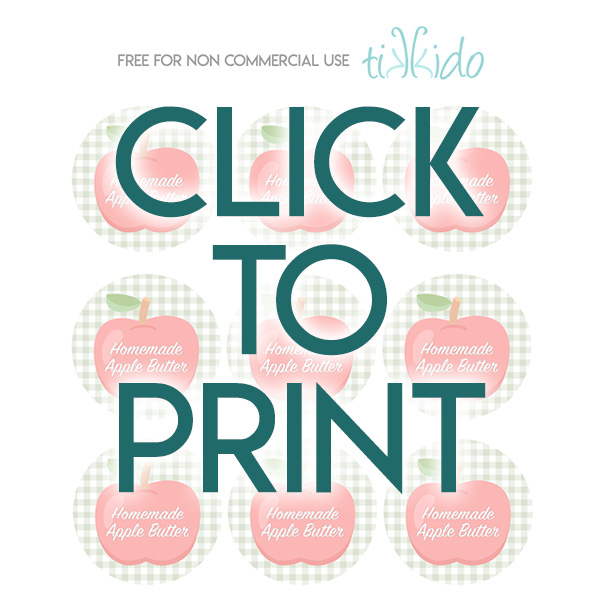 Making apple butter is a great way to use up bushels of apples if you've been to the apple orchard or have an apple tree (or a generous friend with an abundant apple tree).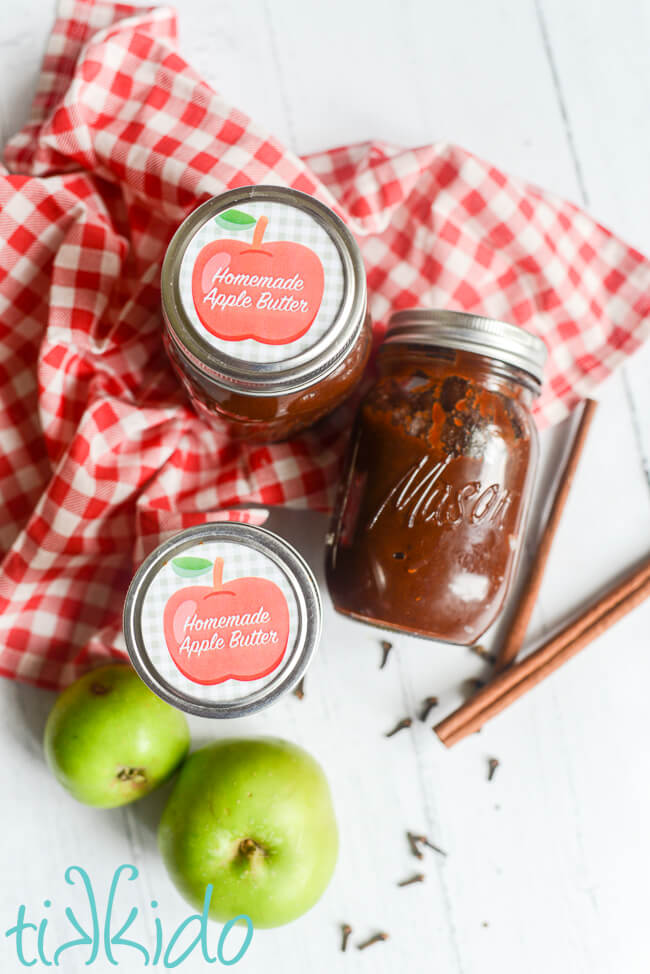 How to Store Apple Butter
I'm not a canner, so if you want to can your apple butter (which can totally be done), I'm going to send you over to the canning experts at Ball for instructions.
I keep one jar in the fridge, and the rest of my apple butter bounty in the freezer.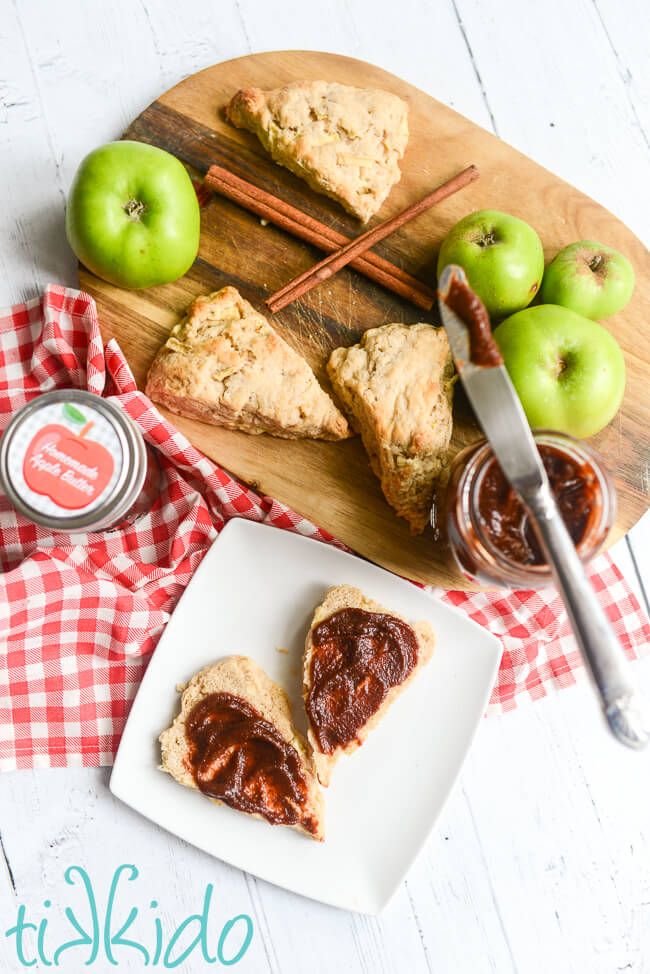 My apple butter lasts several weeks in the fridge, but it usually gets used up long before that!
Printable Instant Pot Apple Butter Recipe
Want a one page, printable PDF version of this pressure cooker apple butter recipe?  Click on the image below to print directly or save the recipe to your device.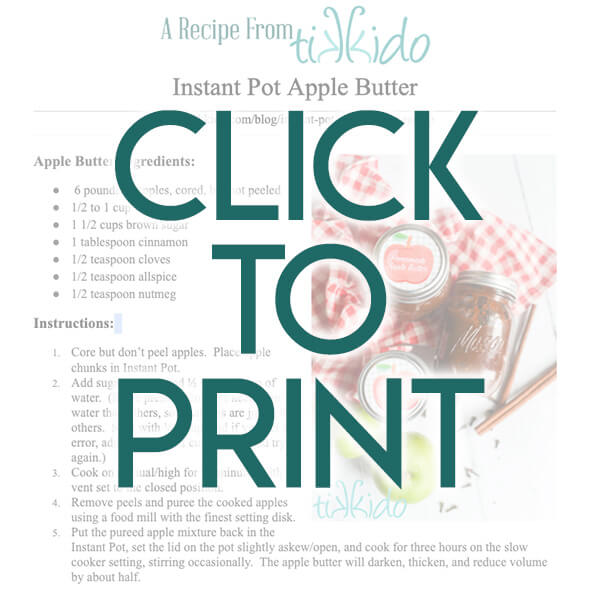 Other Apple Recipes You Might Like