Printer-friendly version
Homemade apple scones make the perfect fall breakfast or snack.  These buttery, tender scones are spiced with cinnamon and are packed with flavorful chunks of fresh apples.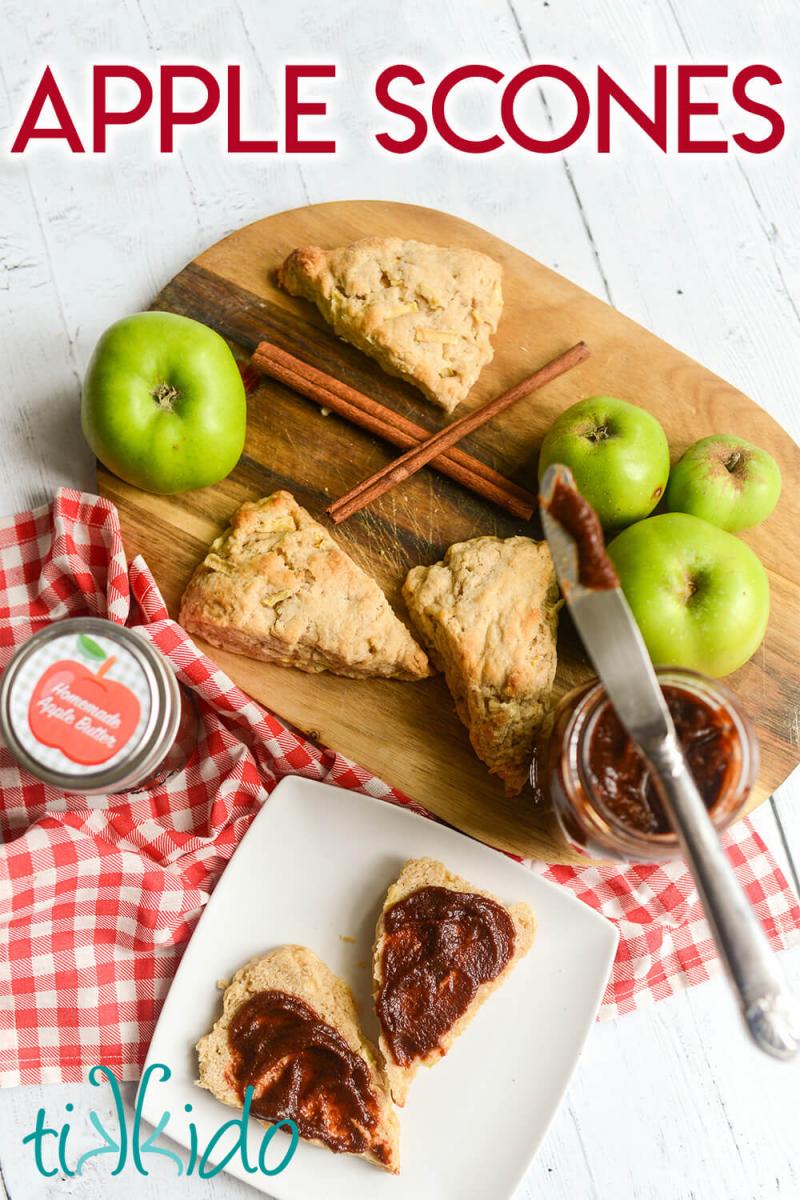 I have an amazing plain scone recipe that I always get rave reviews for, and I love to adapt with new flavors.  This apple scone recipe is one of those variations.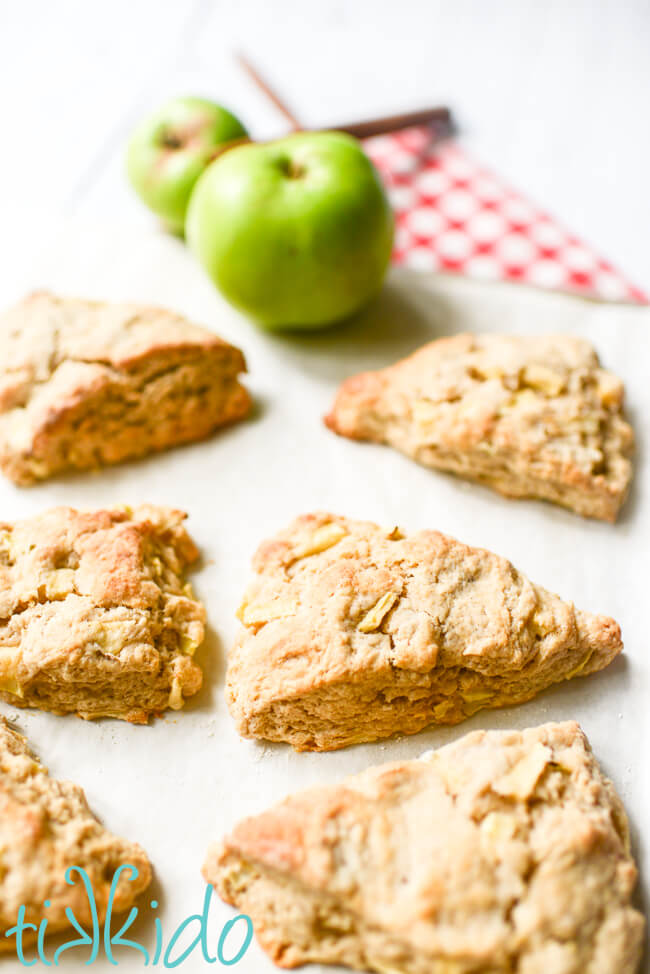 My daughter starts school today, so the timing to make these delicious scones was perfectly timed for this month's Taste Creations Blog Hop--our theme this month is after school snacks!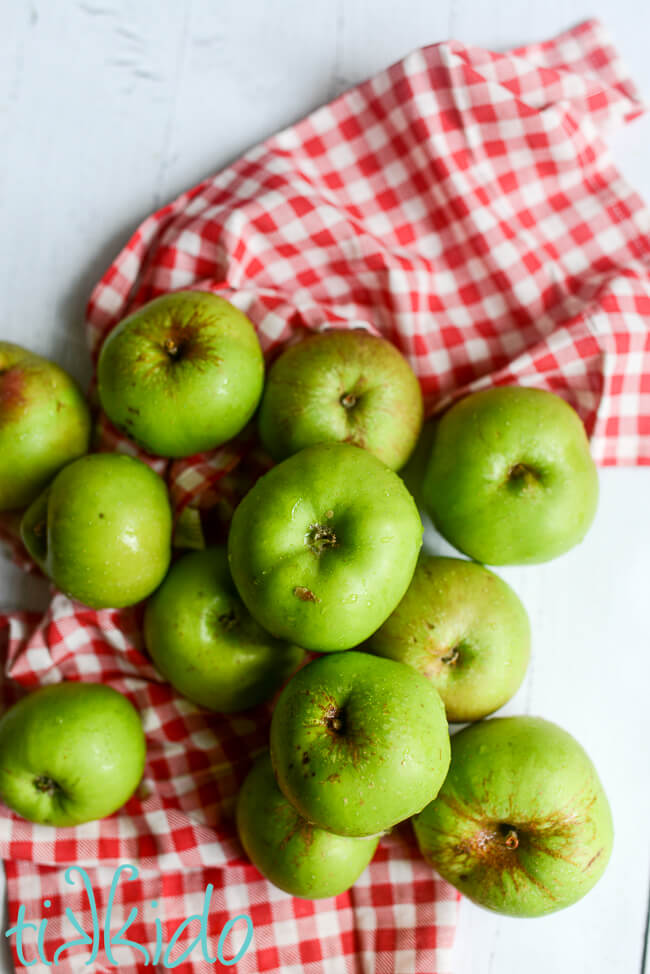 I was gifted some delicious bramley apples from a friend's garden, and immediately knew I wanted to make apple scones and homemade apple butter with my bounty.  Bramley apples are usually considered cooking apples, because they are a very tart apple.  They're even more tart than granny smith apples, but similar in flavor.  These juicy apples add intense apple flavor to any baked goods.  You can use any variety of apple for these buttery scones, but I recommend a tart, firm variety for the best results.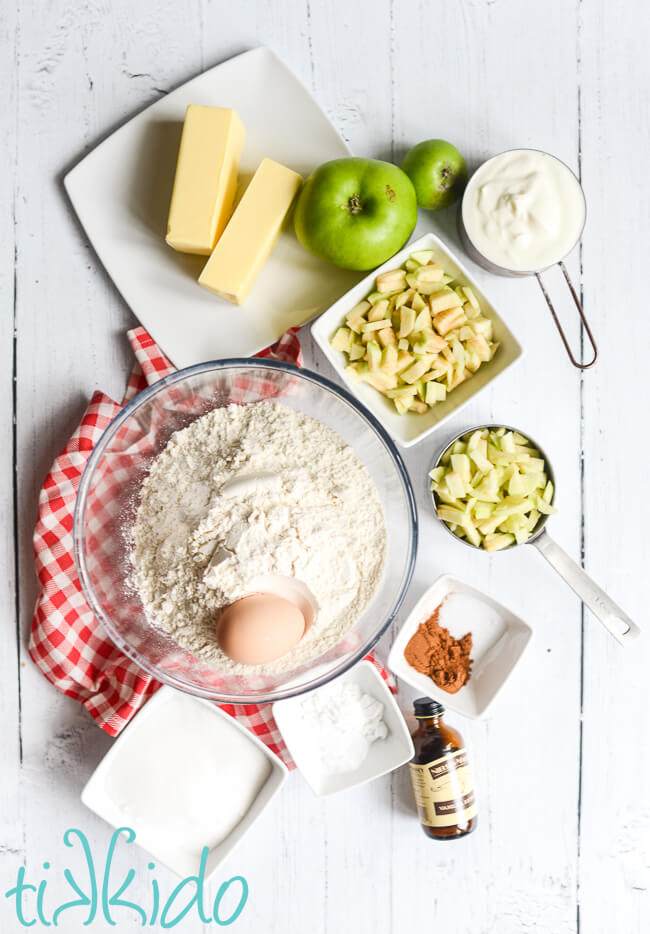 Apple Scones Ingredients:
4 cups all purpose flour
3/4 cup sugar
2 teaspoons baking powder
1 teaspoon baking soda
1/4 teaspoon cream of tartar
1 teaspoon salt
1 1/2 teaspoons cinnamon
1 cup (2 sticks) butter, cold
1 egg, beaten
1 cup plain yogurt or sour cream 
1 teaspoon vanilla
2 cups finely chopped apple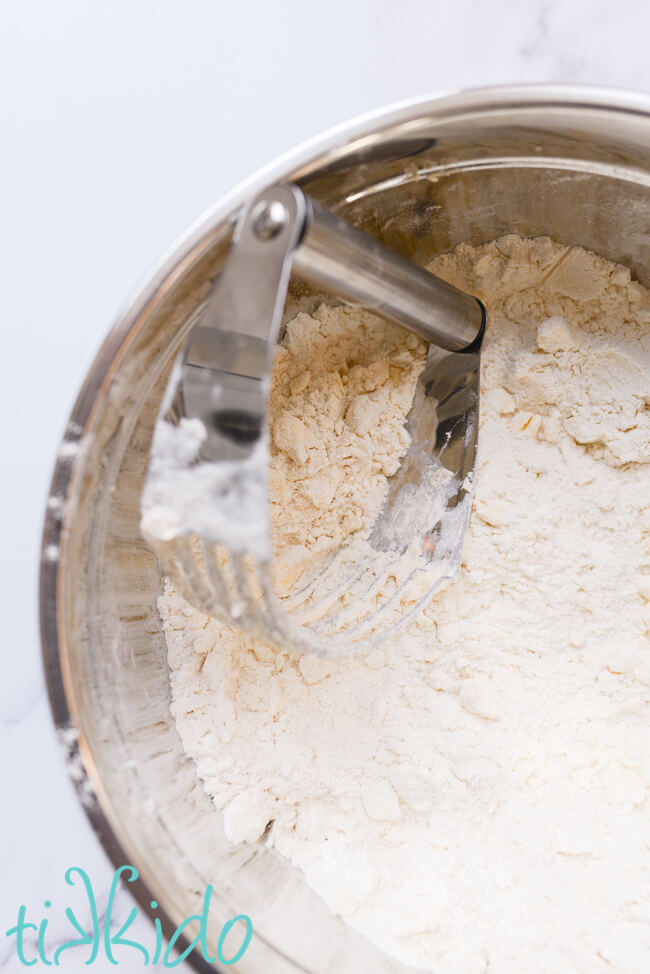 Preheat your oven to 350 degrees Fahrenheit.
Combine dry ingredients in a large mixing bowl.  Use a pastry cutter (or two knives, if you don't have a pastry blender, but it really does make the job easier!) to cut the COLD butter into the dry ingredient mixture, until the butter chunks are about pea sized.  It will look like coarse crumbs.  Don't worry, it will make a fabulous buttery scone dough, even with the largish bits of cold cubed butter. 
You can also use frozen butter and a box grater to make perfectly sized small chunks of butter, and mix the frozen, grated butter in with the dry ingredients.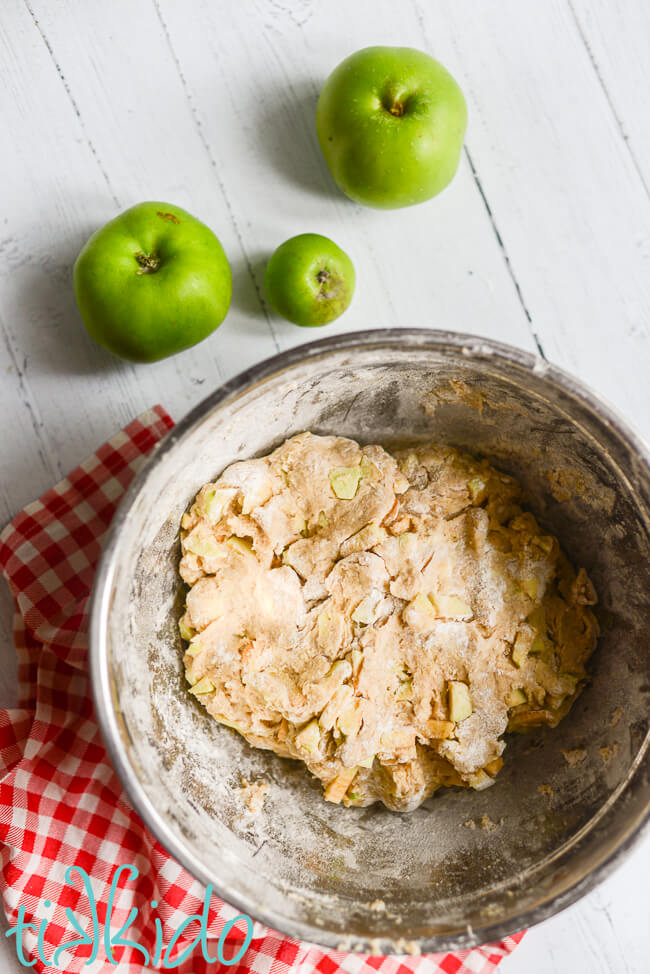 Peel and chop the apples into tiny pieces.  (I use the pastry chef method of cutting apples--it's faster, easier, and safer than the traditional method!)
Add wet ingredients to the flour mixture, and mix to combine.  It takes a while for the ingredients to come together in a firm dough, and it will look like you need to add more liquid, but resist that temptation!  It will come together, I promise!  I usually need to work the dough with my hands at the end to make it all come together.  If you add more liquid at this stage, the scones will still be delicious, but will not hold their shape well.
In the video tutorial, I forgot to film adding the apple chunks to the dough, sorry!  I add them toward the end, when the dough still looks floury but is starting to come together.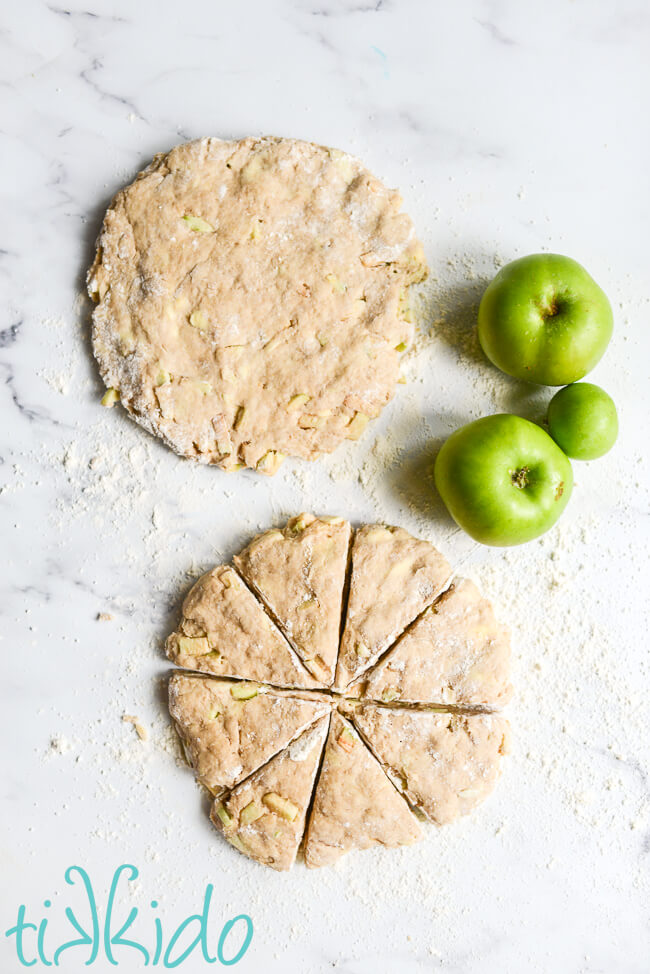 Divide the dough in half, and pat it into two disks about an 8 inches in diameter on a lightly floured surface.  Use a sharp knife or a bench scraper to divide the circles of dough into eight wedges.
If you prefer round scones, you can also pat out all of the dough and use a biscuit cutter to cut the dough into round shapes.  I always make triangular scones myself--it's faster and easier, and doesn't over-work the dough (which can make the scones tougher).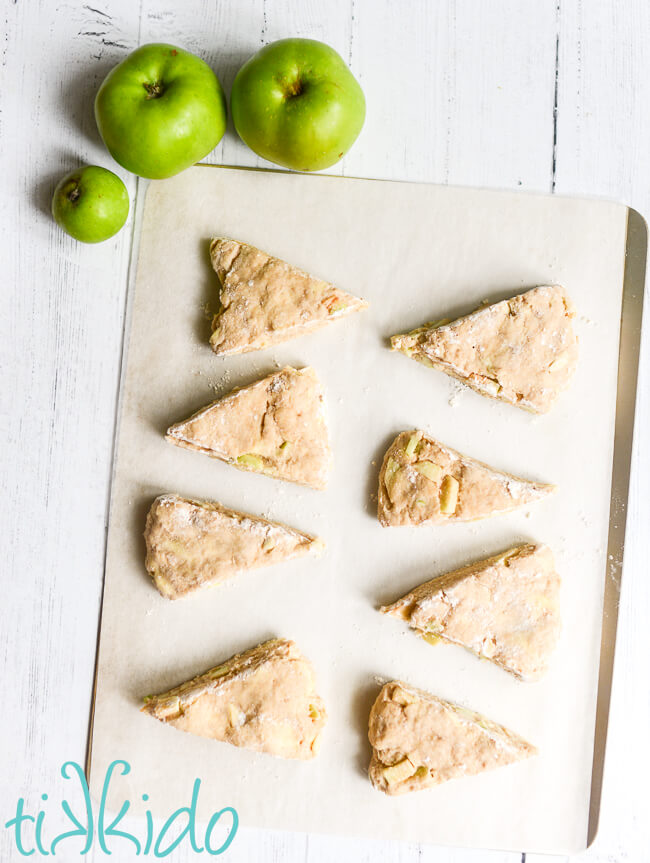 Place the unbaked scones on a prepared baking sheet lined with parchment paper.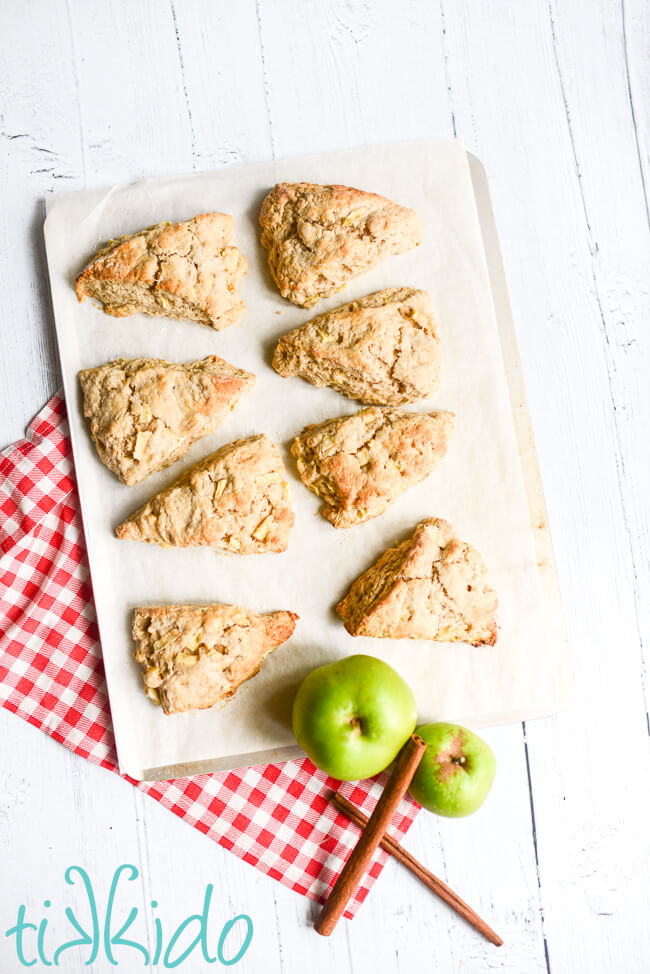 Bake at 350 degrees for about 15 minutes, until the scones just begin to turn a light golden brown color.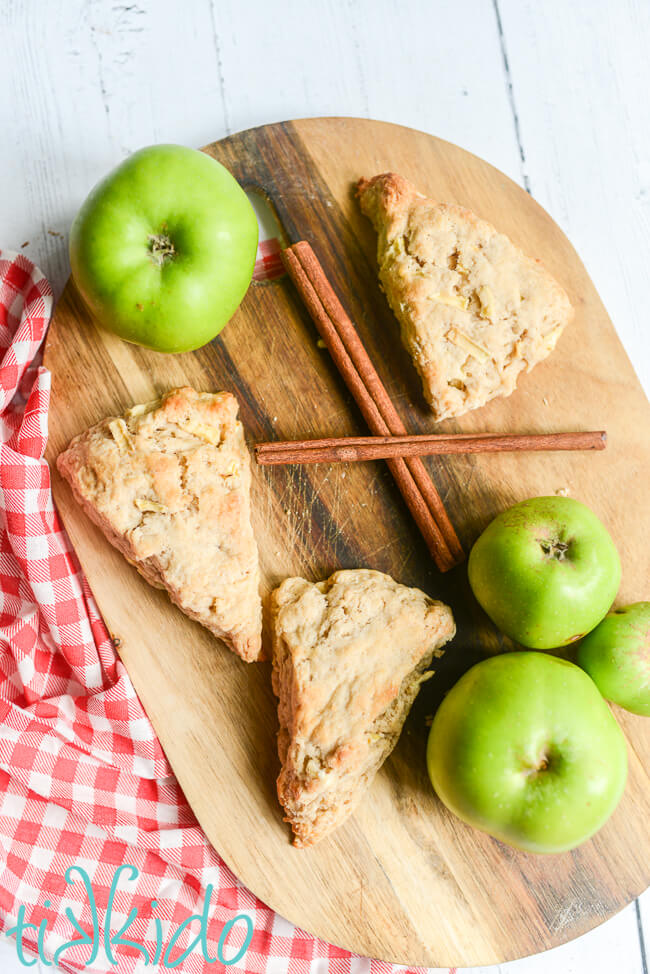 Is there anything better than the smell of apples baking on a crisp, fall day?  Maybe eating the warm scones just after they're baked!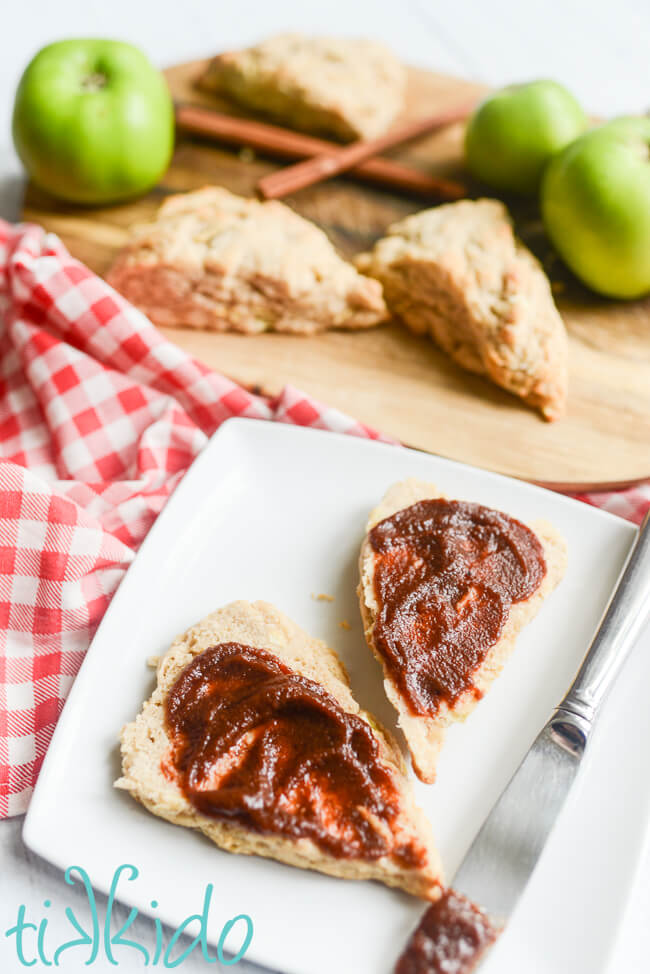 And topped with homemade apple butter?  That's my ideal afternoon snack.
Variations on Apple Scones:
I love these apple scones just as they are, and I tend to like more plain scones and then have fun with spreads and toppings, but if you like your scone to be sweeter and even more flavorful on its own, here are some delicious ideas for adapting this recipe.
Lightly brush the top of the unbaked scones with an egg wash and sprinkle with cinnamon sugar or coarse sugar then bake as directed in the recipe above.  It'll add a lovely, sweet crunch to the homemade scones.
Make a glaze with apple cider and powdered sugar and drizzle on top of the baked scones. It makes a sweet glaze with fabulous apple flavor that compliments these fruit scones perfectly.  You could also add 1/2 a teaspoon of cinnamon to make a cinnamon glaze.
Replace half the apples with caramel bits for baking to make caramel apple cinnamon scones.
Make a maple glaze with maple syrup and powdered sugar.  It adds another wonderful fall flavor to the tops of the scones.
Replace half the chunks of apple with cinnamon chips to boost the cinnamon flavor in these tender apple cinnamon scones.
Printable Apple Scones Recipe:
Want a one page, printable version of this apple scone recipe?  Click on the image below to print the recipe or download the PDF to you device.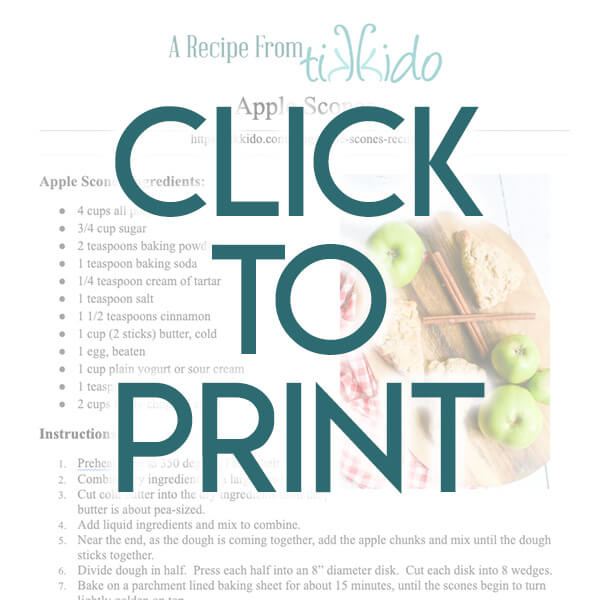 After School Snack Recipes from the Taste Creations Blog Hop: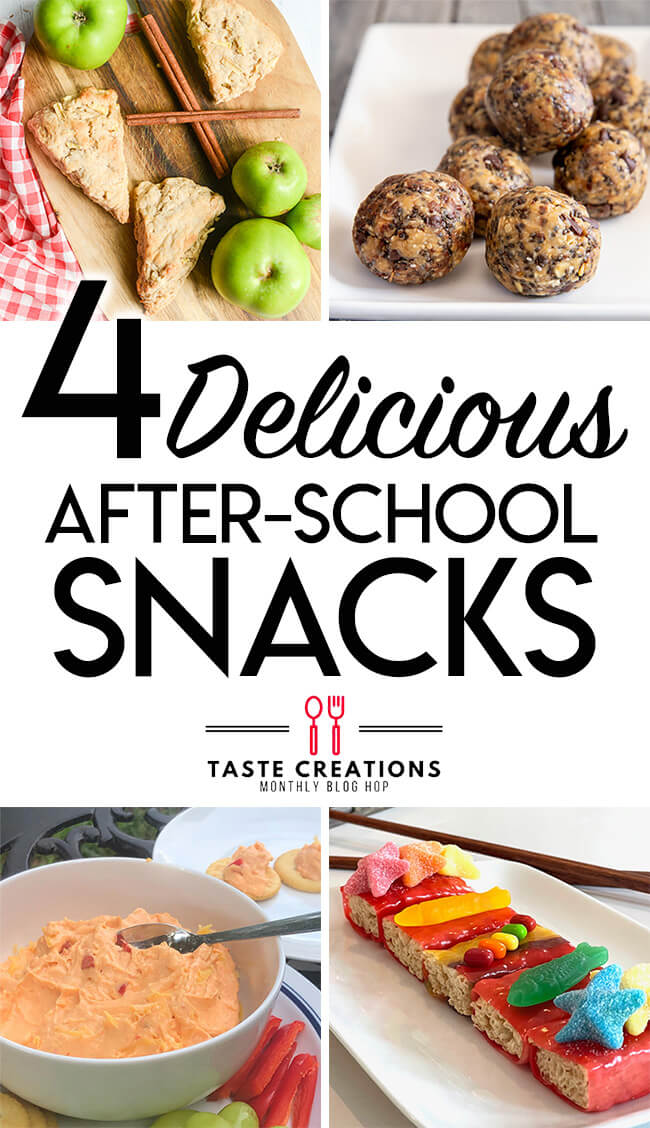 Be sure to check out the other fun, easy, delicious recipes for after school snacks from my blogger friends.
Mom Home Guide: Pimento Cheese Dip
Our Good Life: Quick and Easy Candy Sushi
Breads and Sweets: No Bake Energy Bites
Other Scone Recipes You Might Like: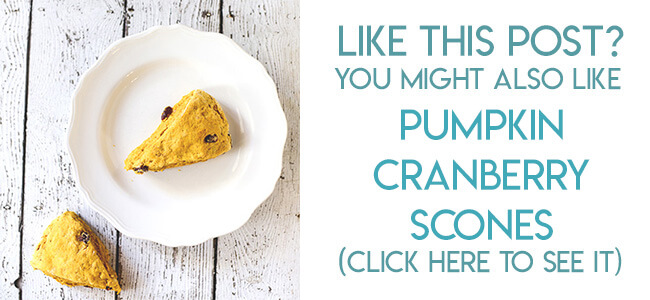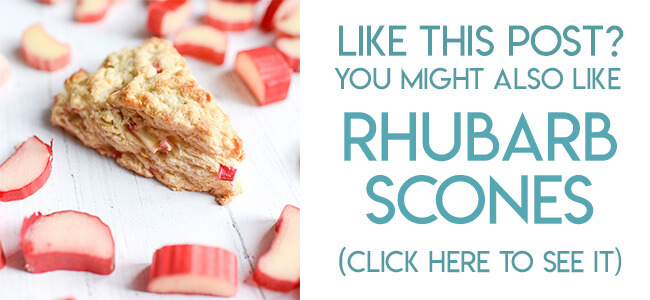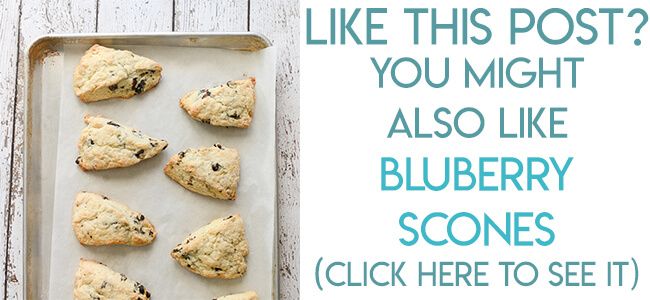 Other Apple Recipes You Might Like: