Printer-friendly version
A cupcake cake is a pull-apart cake made of individual cupcakes, decorated together to look like one large design.  Cupcake cakes are perfect for birthday parties and other events because they're so easy to serve.  No cutting of the cake necessary--just pull apart the cupcakes and serve!
You might have seen cupcake cakes at the grocery store, next to the birthday cakes and sheet cake.  But did you know you can make your own cupcake cakes using your favorite cake recipes?  I made this for a small friend turning nine, but this technique can be used to make other shapes (like letters), too.  It would be brilliant for bridal showers as a letter or monogram shape, for example.
Materials for Making a Cupcake Cake:
Large cake board
baked, cooled, undecorated cupcakes
lots of buttercream frosting (I used American Buttercream, because I wanted it to crust)
food coloring
disposable piping bags
various icing tips for making flowers and leaves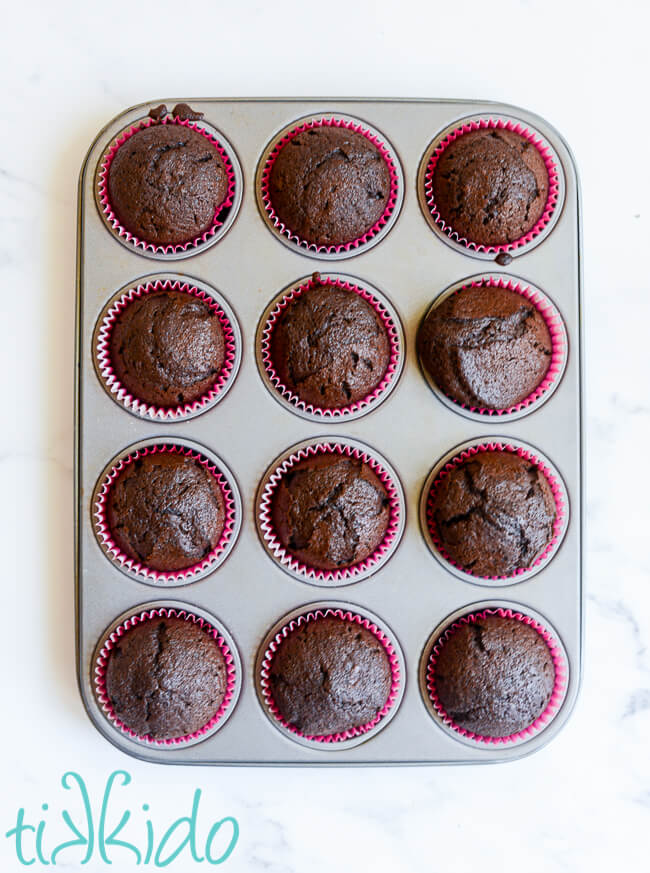 Line your cupcake pan with cupcake liners in a color that compliments your cake design, and bake your cupcakes.
I baked up a batch of chocolate cupcakes made with my favorite crazy cake recipe, but you could use any recipe or a boxed cake mix.   The best cupcakes to use are whatever cupcakes you happen to have or like making.
Let the cupcakes cool completely before doing any decorating.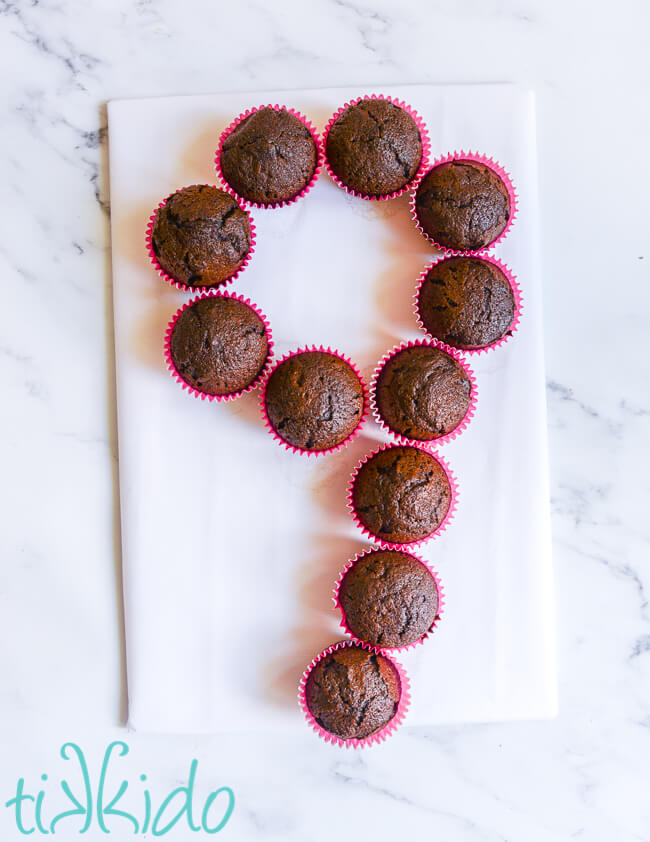 Arrange the room temperature cupcakes on a large cake board in whatever shape you're making.  The number of cupcakes you use just depends on how many people you want to serve, and how large you'd like the cake to be.   I made my own, inexpensive, custom-sized cake board by covering a piece of cardboard in freezer paper (dull side out).  Put a dab of frosting under the bottom of each cupcake to secure it in place.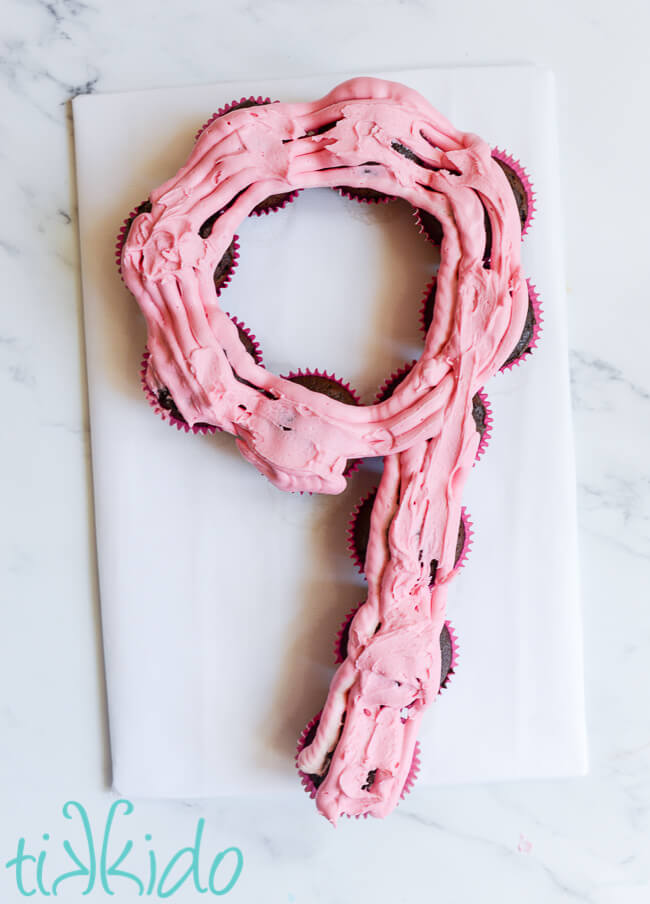 Fill a piping bag with icing (I used a pretty thick vanilla buttercream).  You could also use cream cheese frosting if you prefer that flavor.  I prefer to use American buttercream (cream cheese icing is included in that umbrella) because it crusts over, and helps give the cupcake cake a little extra stability.  Do not use betty crocker or any other commercial, canned frosting.  It is not thick enough to connect the cupcake shape or to make nice flowers.
I colored my icing pink, since my main colors were pink and purple for this birthday cake, but you could also use plain white frosting, since every bit of this first layer is going to get covered.  You don't need to worry about covering the top of each cupcake perfectly; this step is just to link the cupcakes together and create a base on which to stick the icing flowers.
Set the cake to the side to let the icing begin to crust, and make your buttercream flowers.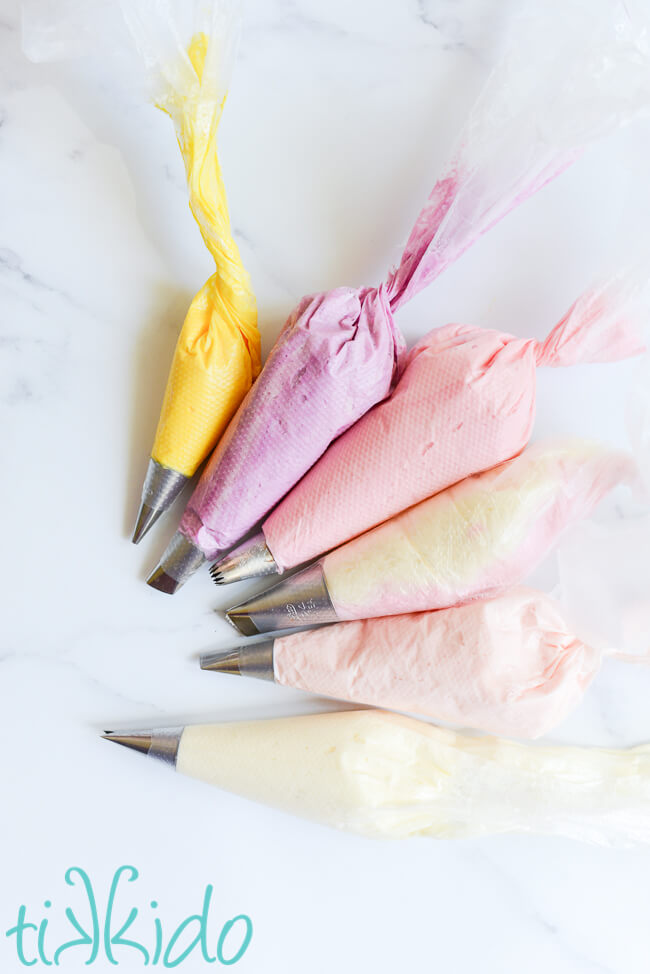 I made a second batch of American buttercream, and colored it in a range of pink and purple colors to make the icing flowers.  My flowers are very basic, and honestly, I'm not that good at them!  But when they're all clustered together, they look much better than the sum of their parts.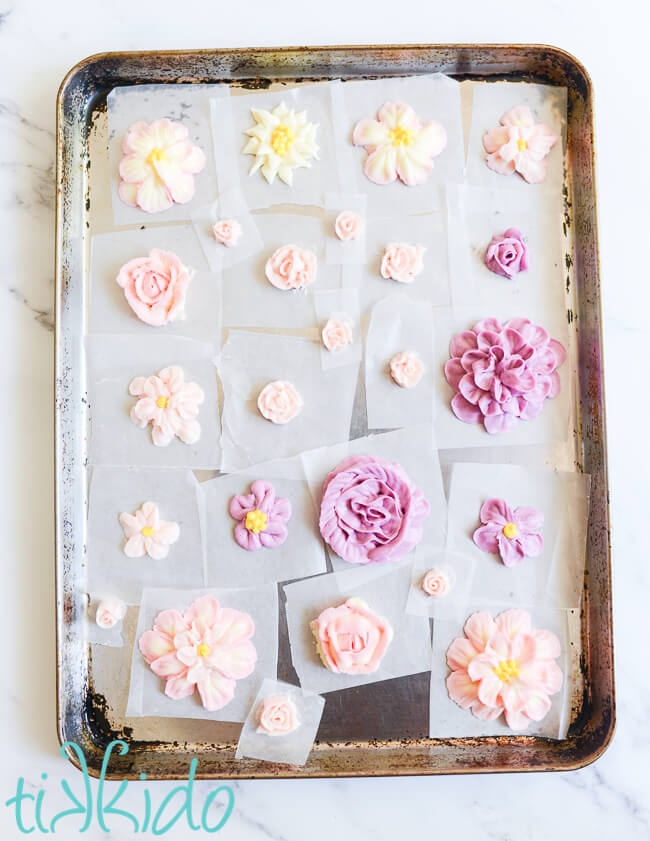 Put your frosting flowers in a single layer on a baking sheet, and put them in the freezer.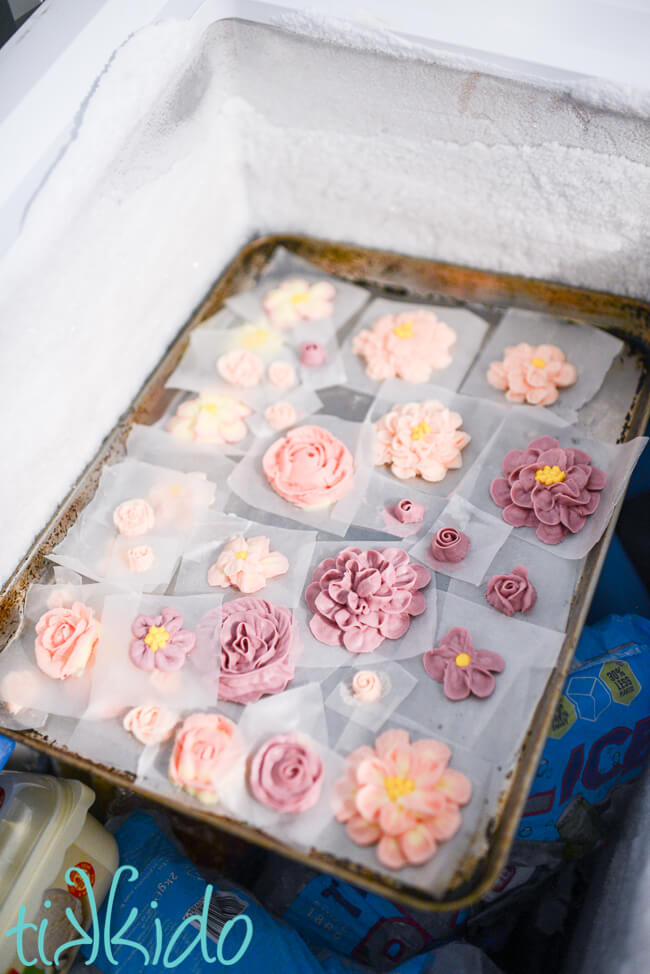 Let the flowers freeze well--let them freeze for at least an hour, but you could easily do this part one or more days before you need to decorate the cake.
When the flowers are frozen, you can peel them off the waxed paper, and place them on your cupcake cake, securing the flowers in place with a nice big dollop of fresh buttercream.  I like to place the large flowers first, then fillin the space with the smaller flowers.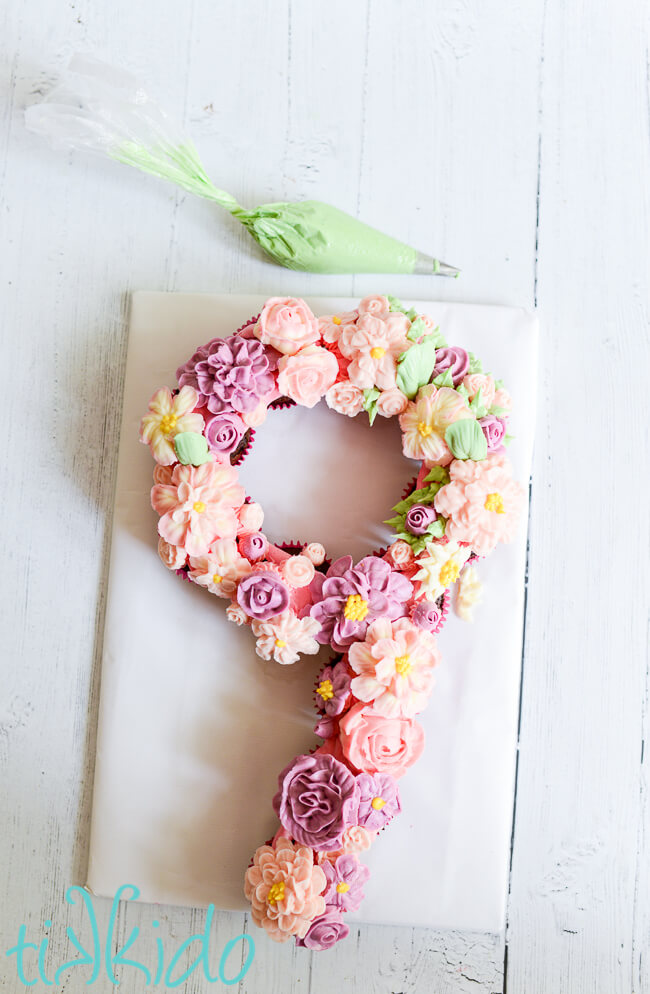 Once you've placed all of the flowers, fill in any empty space on the top of the cake with a leaf tip and some green frosting.
Two full batches of frosting cover this cake base!  But the tops of the cucpakes look glorious, don't they?  Totally worth the effort and icing.
Other Cupcake Cake Ideas
This technique and style of cupcake cake is great for many occasions, but there are other styles of cupcake cakes, too.  Check out these ideas:
Other Cupcake Tutorials You Might Like: