Printer-friendly version
Krumkake are must on our Christmas cookie trays.  This krumkake recipe make light, crispy, delicate, golden wafer cookies rolled into a traditional cone shape.  These Scandinavian cookies are traditionally flavored with cardamom and vanilla, but can be made in many different flavors if you want to experiment.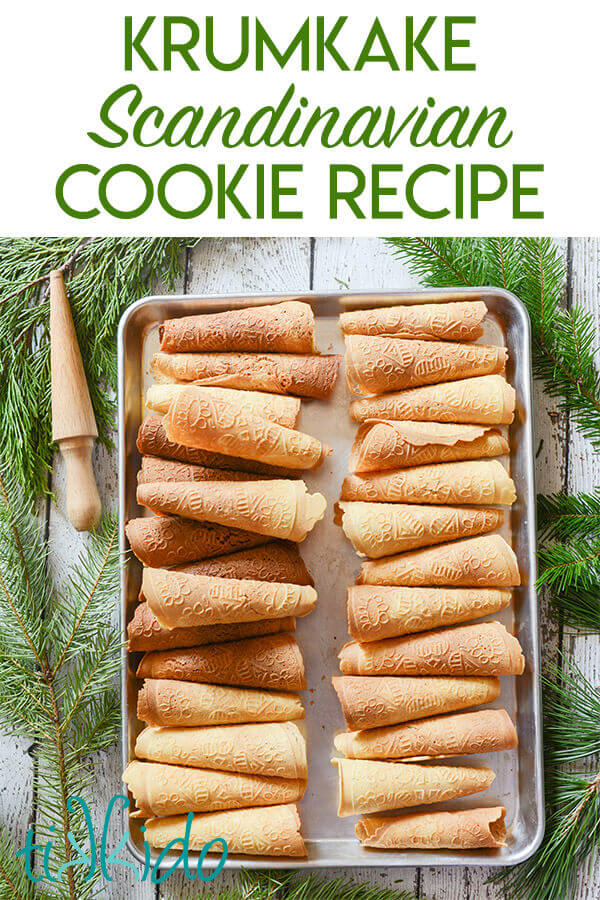 If you've ever had an Itallian pizzelle cookie, they're similar, but Krumkake are more delicate and light.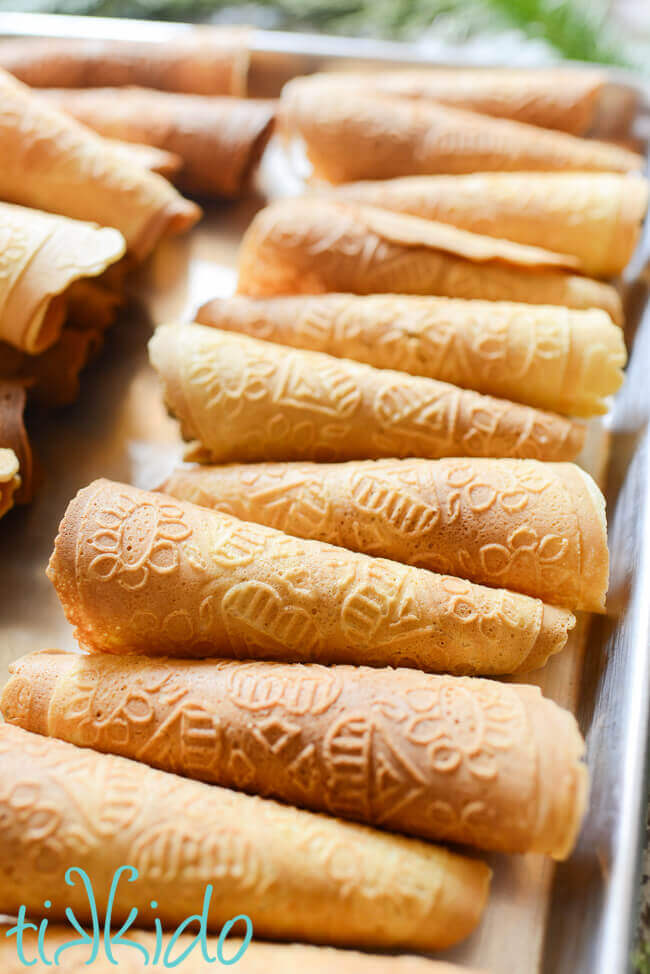 Can I Fill Krumkake?
Sure!  Why not!  I did it once, and some people certainly do fill krumkake with various fillings, but I love them just on their own.   Plus, you'll have to be careful about what you put inside and how quickly you can serve the cookies so they won't get soggy.  But it's certainly possible and has been done.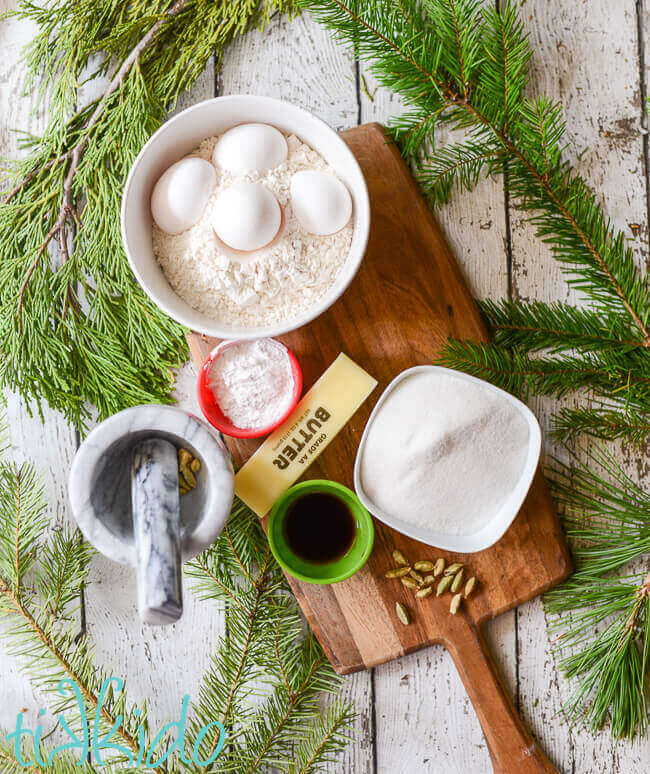 Krumkake Recipe:
4 eggs, beaten
1/2 cup of butter, melted
1 cup sugar
1/2 teaspoon vanilla
1/2 teaspoon ground cardamom
2 Tablespoons baking powder
1 1/2 cups flour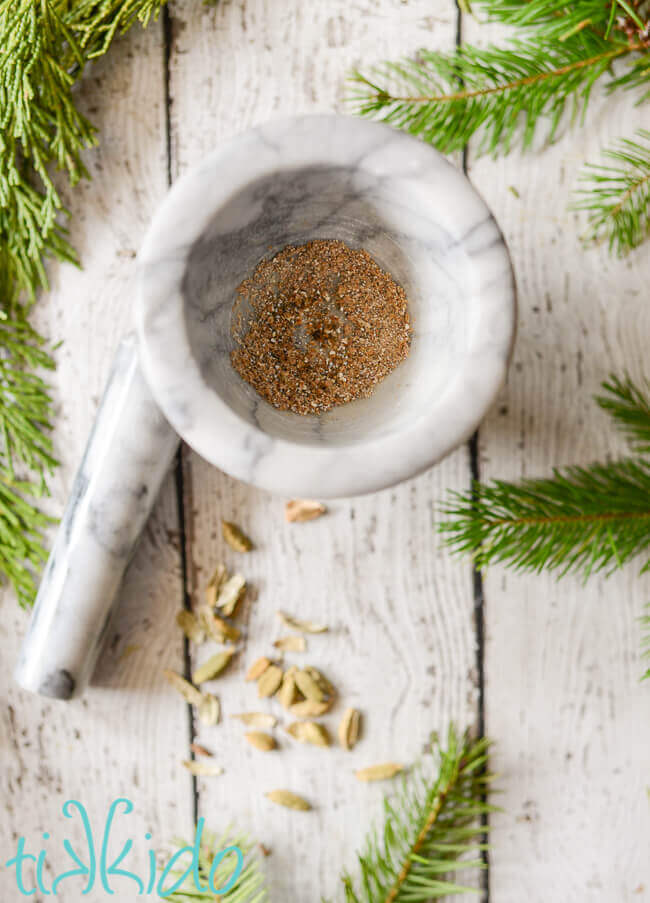 You don't have to grind your own cardamom from fresh, whole spices, but it does make a big difference in the flavor.  I don't bother to use whole spices very often, but I almost always do when I have a recipe that calls for cardamom.  I just use a mortar and pestle to grind my whole spices when I need them.
Should You Toast Cardamom Seeds?
For krumkake, no.  I tested the cardamom both toasted and untoasted, and the unanimous opinion was (surprisingly) that we preferred the untoasted and ground cardamom flavor and scent.  
Should You Remove the Outer Shell of Cardamom Seeds Before Grinding?
I say yes!  I did some research, and discovered that you don't actually have to remove the outer husk of the cardamom before grinding it.  But the flavor is (not surprisingly) much more intense and pure when I go to the bother of removing that outer shell and just grinding the tiny interior seeds.  I think the added flavor boost is worth the small bit of extra effort.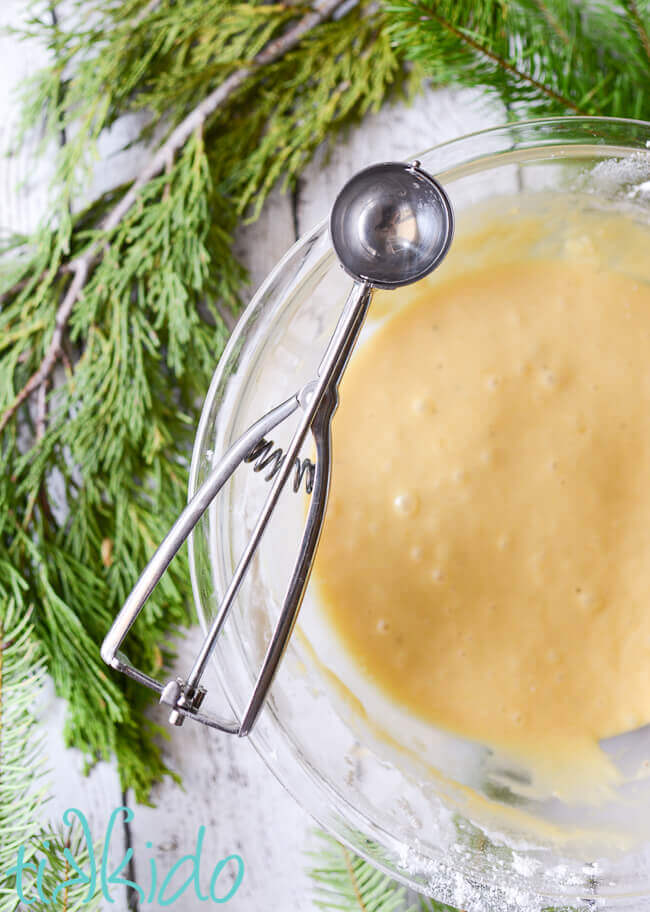 Combine the ingredients in a bowl and mix to combine.  No need for a mixer for this simple recipe.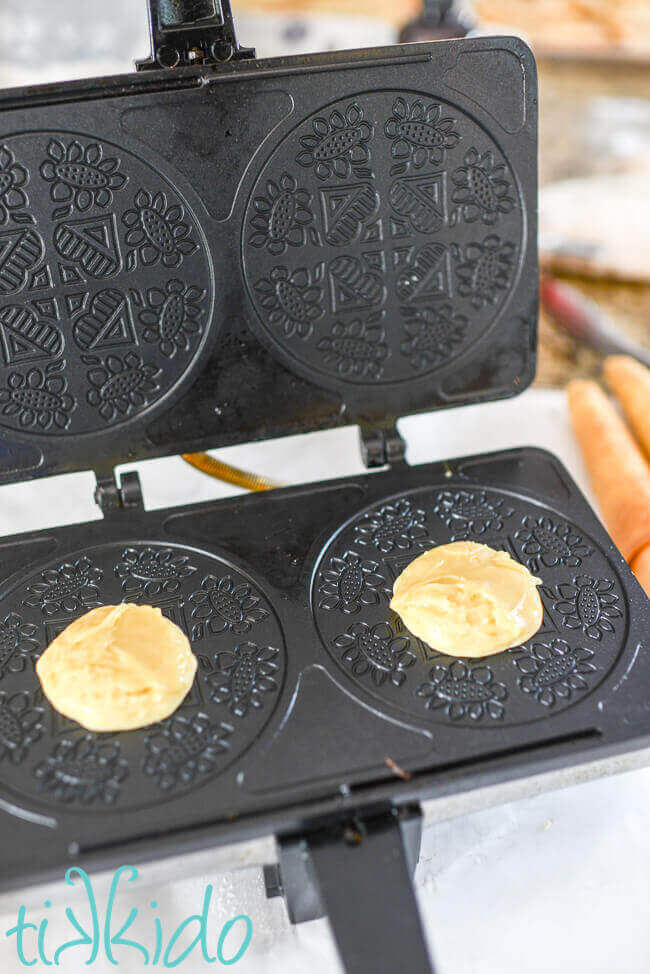 Scoop a small quantity of the krumkake batter on the krumkake iron.  
What Krumkake Iron is the Best?
I have a VillaWare Krumkake iron, but it looks like that brand isn't being made any more.  This brand looks absolutely identical, down to the pattern, but it doesn't get great reviews.  If it truly is the same as mine, I've been plenty happy with it.  
But this krumkake iron gets much better reviews on Amazon, and I think the fact that it only cooks one at a time is a plus.   I don't think making two at once is as handy as you might think.  The cookies cook in under a minute, and in order to take advantage of cooking two at once, you really need to buy an extra rolling cone.  You also need to work quickly, or the one left in the machine will burn.  But you can't take it out of the machine, or it will harden too much to roll around the cone before you can get to the second cookie.
The very best krumkake I've ever had were all made on an old-fashioned cast aluminum krumkake iron that sits on the stovetop.  While this device creates the most perfect and delicate krumkake, it only works well if you have a gas stove.  It makes horrible, burnt krumkake on an electric stove.  There is a lot to be said for the convenience of an electric krumkake iron.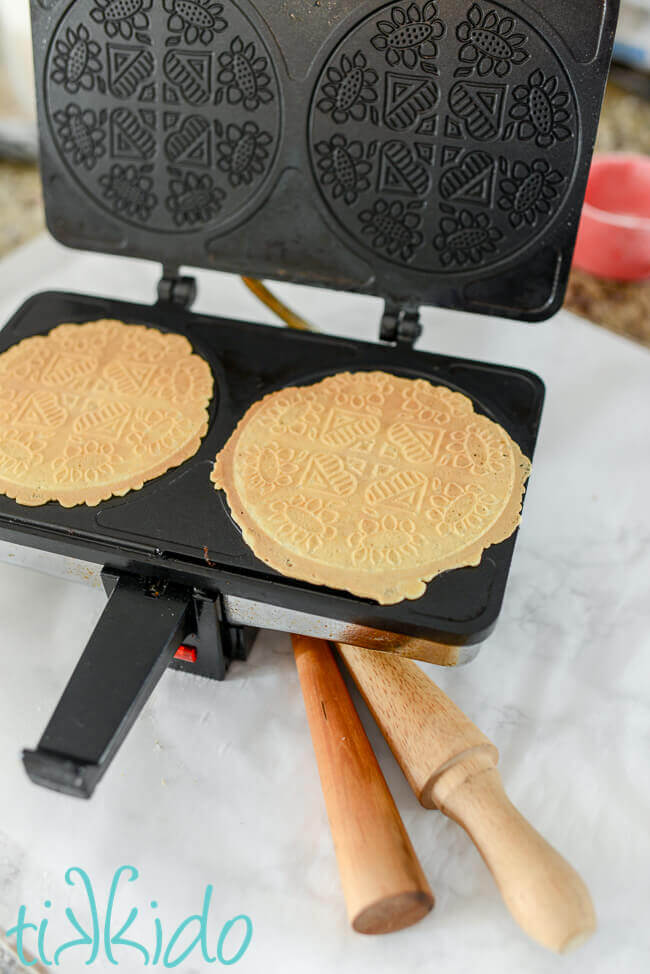 Cook the krumkake until a light golden brown color.  You'll know it's a good time to check the krumkake after about 30 seconds, and when the steam has stopped emerging from the sides of the iron.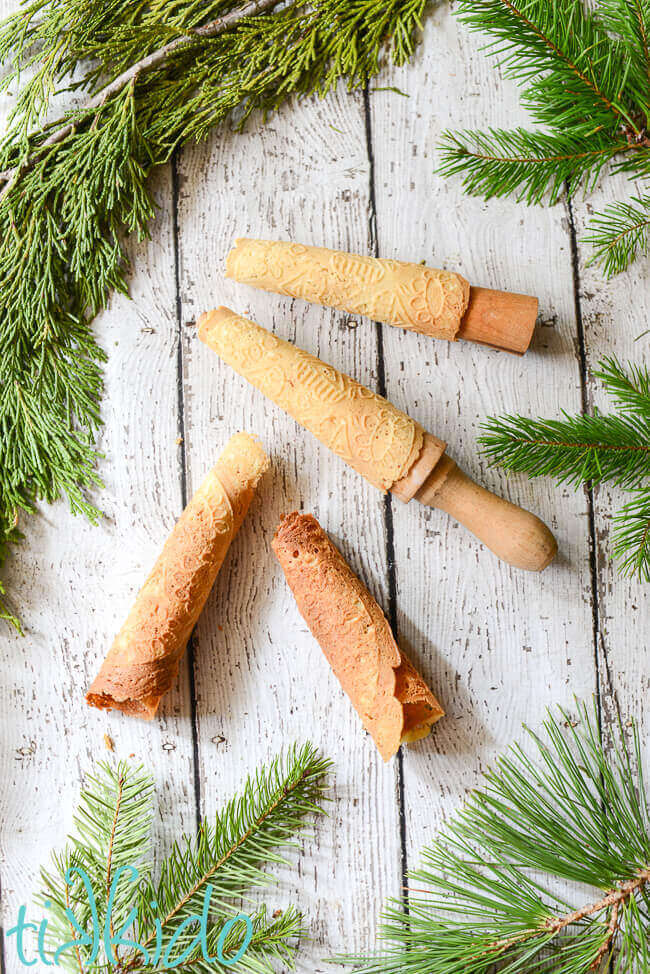 While still piping hot, roll the krumkake around the wooden shaping cone.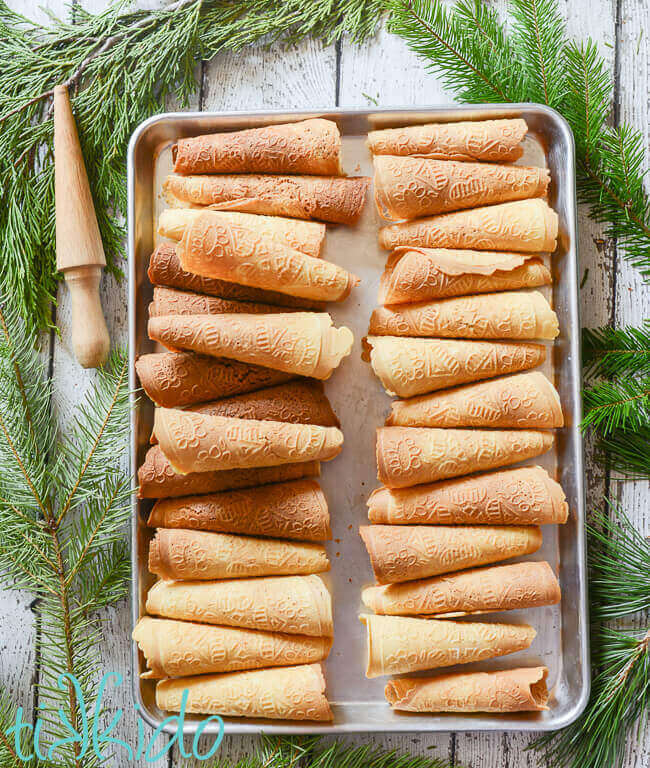 Let the cookie cool on the cone while you cook the next one.  
Printable, One Page Krumkake Recipe: