Printer-friendly version
The Ultimate Lemonade Stand needed some Ultimate Cupcakes, clearly, so I had fun experimenting with Katherine Sabbath inspired cupcake designs, complete with miniature marbleized and sprinkle-encrusted chocolate shards.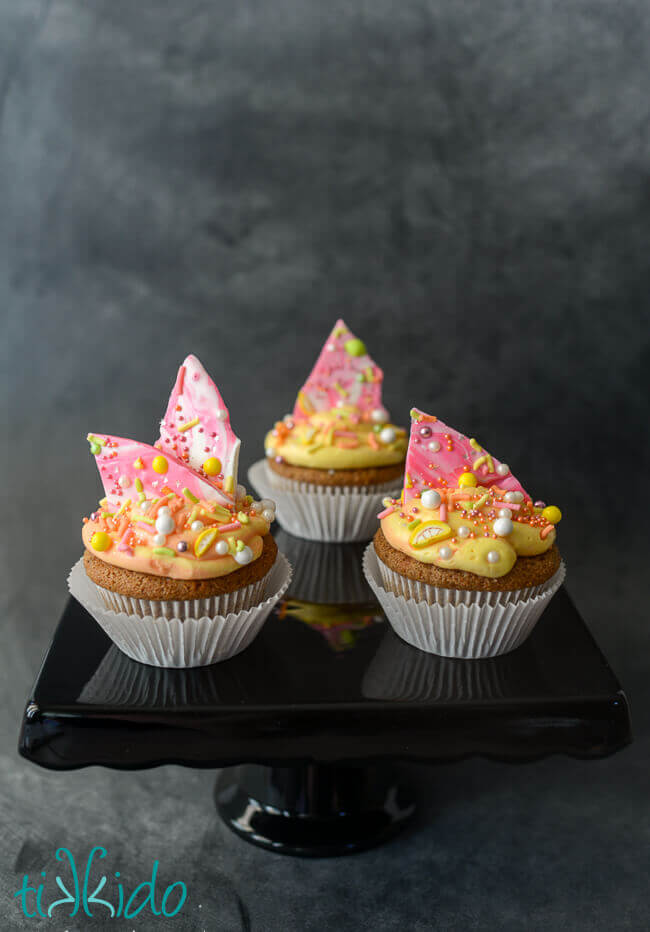 I tried two different techniques for making the chocolate shards, and I'll detail both of them in this post.  There were benefits and drawbacks to both, and I haven't decided which I like best.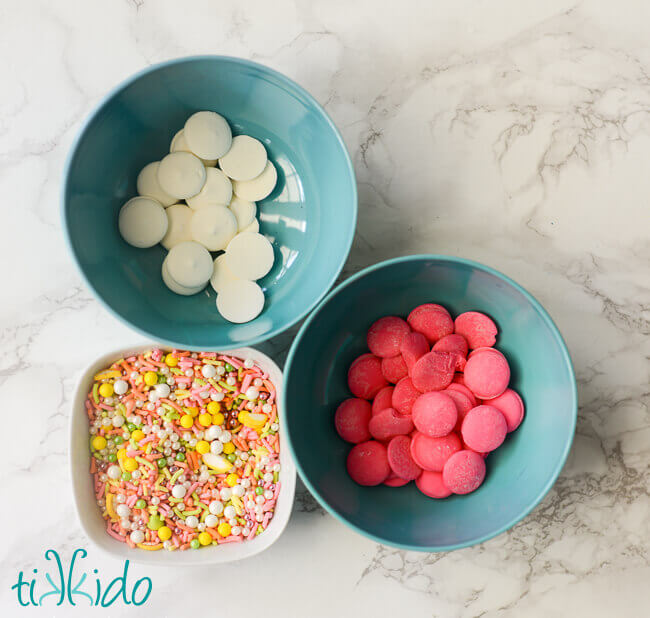 Ingredients for Making Marbleized Chocolate Cupcake Toppers:
Pretty simple, right?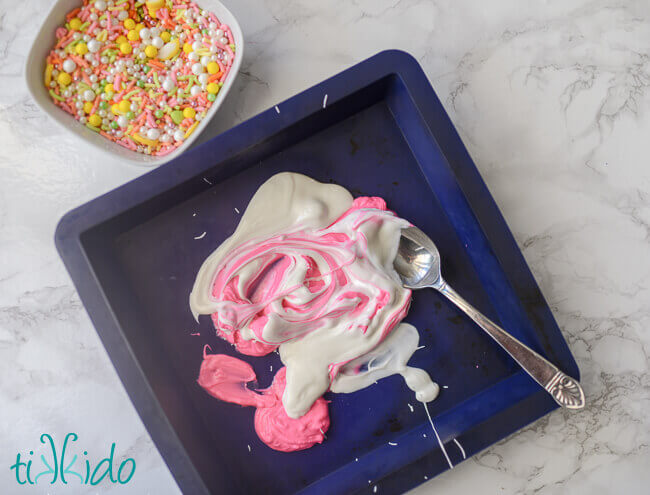 Melt the chocolate wafers in the microwave, and dollop the colors randomly in a pan.  I chose my silicone baking pan for this task, because it's SO easy to pop things (like chocolate bark) out of, and it's non-stick.  It's also brilliant for bar cookies and homemade caramels.
Start swirling the colors together--but don't over-mix, or you'll just end up with light pink!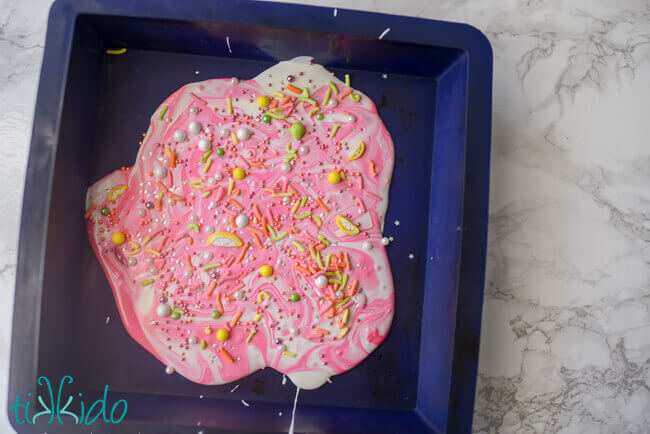 Tap the pan on the counter a few times to get the surface nice and smooth, and sprinkle liberally with your sprinkle mix.  Let the chocolate cool completely (I popped it in the fridge), and break the chocolate into irregular shards.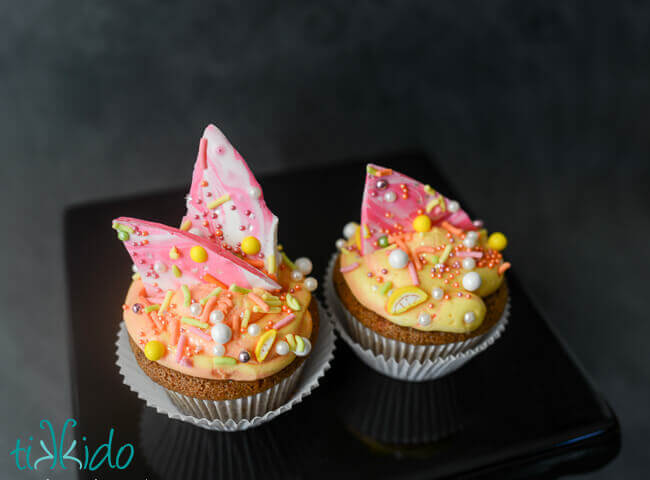 Then just stick the shards of chocolate in the buttercream icing on top of the cupcakes!  Easy peasy.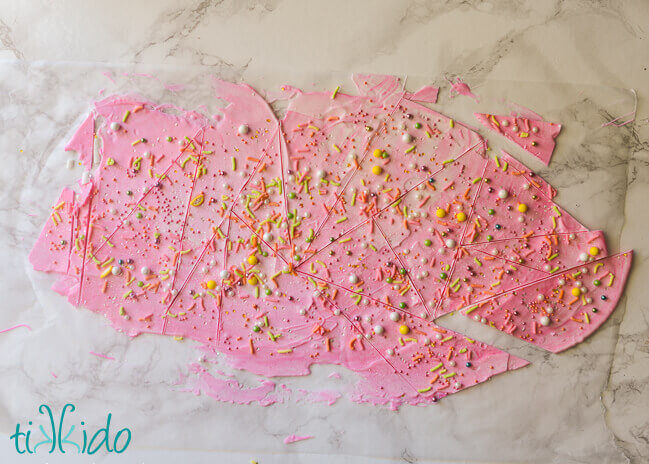 Instead of swirling with a spoon, I also tried spreading the chocolate with an offset spatula on waxed paper.  The effect was more homogenous, but still marbled, and pretty.  I sprinkled my sprinkle mix on the wet chocolate, and left it on the counter to cool.
After 20-30 minutes (I'm sure it depends on the temperature in your house), the chocolate was firmed up, but not completely solid yet.  I used a sharp knife to cut my chocolate into geometric shapes with distinct, sharp points.  I let the chocolate cool and harden completely before adding them to my cake.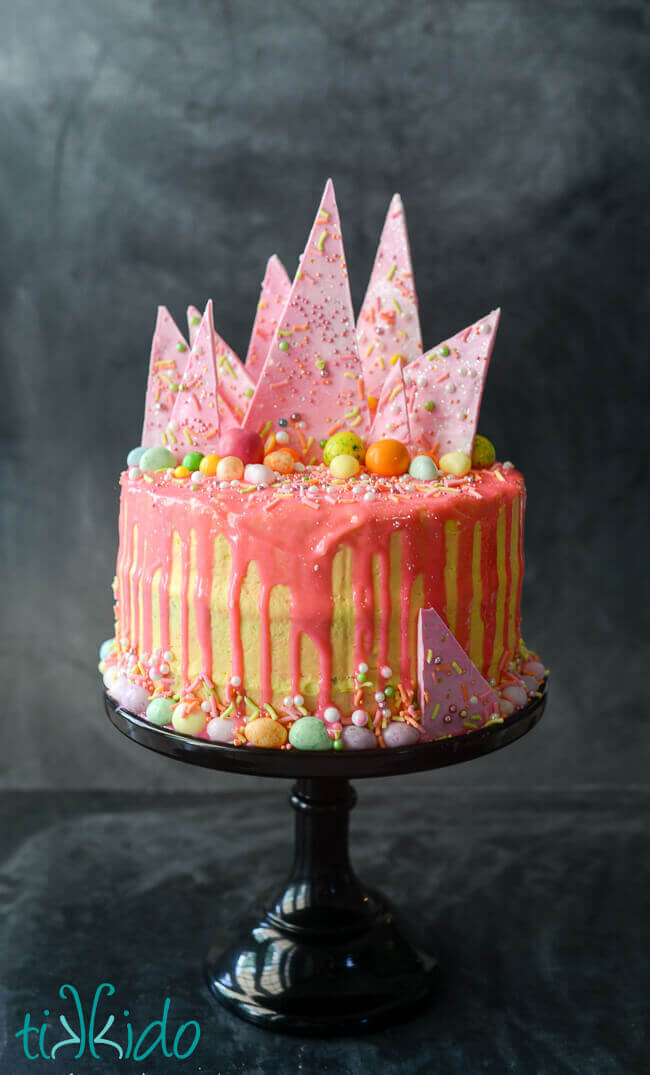 Here they are on the cake.  Pretty, but definitely more regular, less organic, than breaking the chocolate shards.  I also ended up liking the thickness of the broken shards (it was easy to spread the chocolate too thin accidently).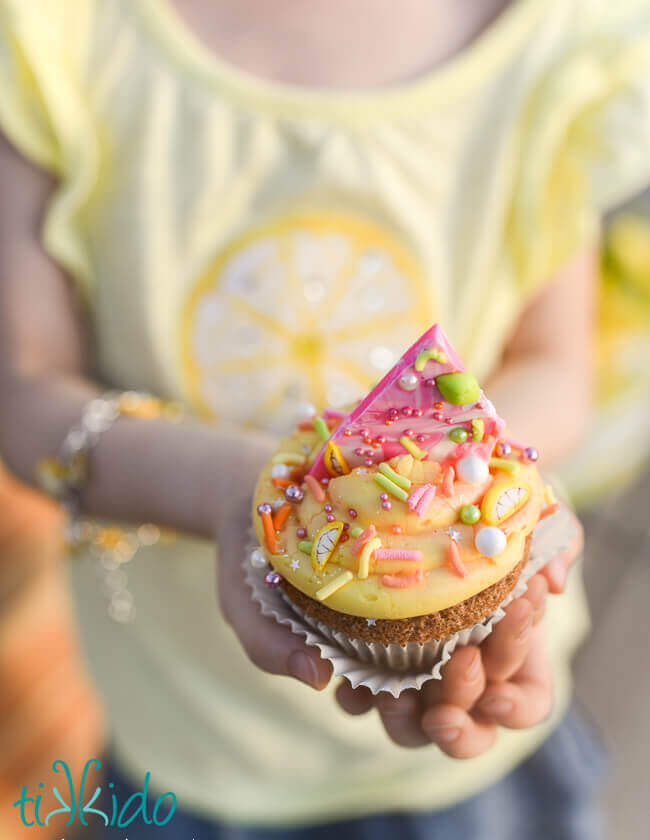 I liked both methods, truly.  I think the method I use will depend more on the look I want than anything else.