Printer-friendly version
Pink cupcakes are great for so many occasions--baby showers, bridal showers, birthday parties, Valentine's day, breast cancer awareness, and more.   This collection of pink cupcake recipes ranges from a pale blush pink to vibrant hot pink, and a range of delicious flavors.  If you're looking for a pink cupcake for your celebration, one of these delicious cupcake recipes will be sure to be perfect for you.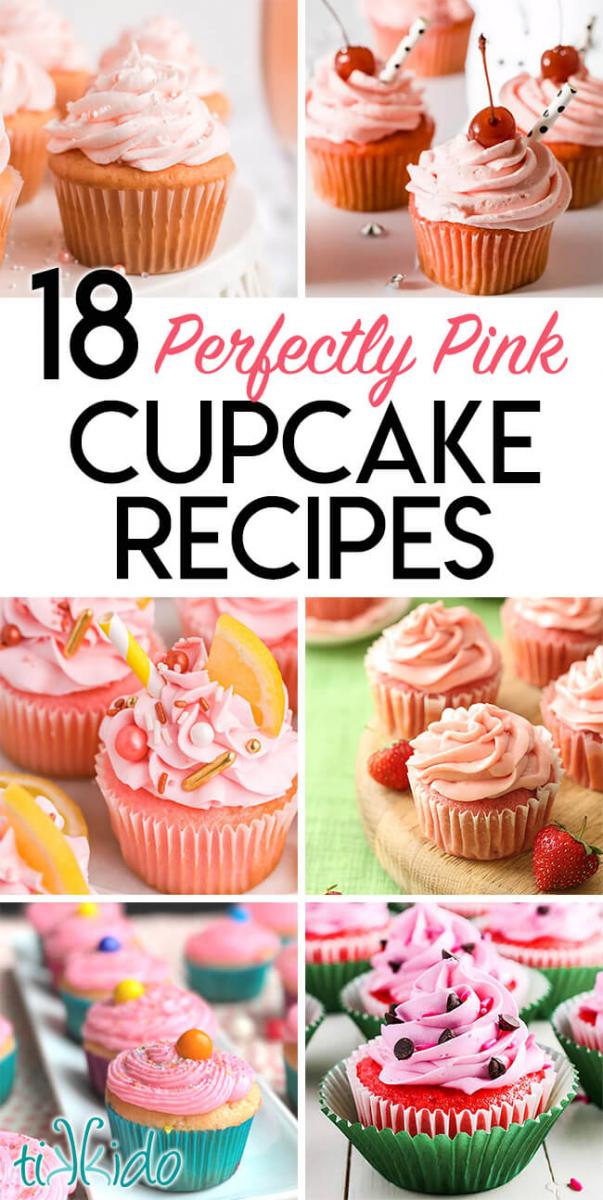 Pink Cupcake Recipes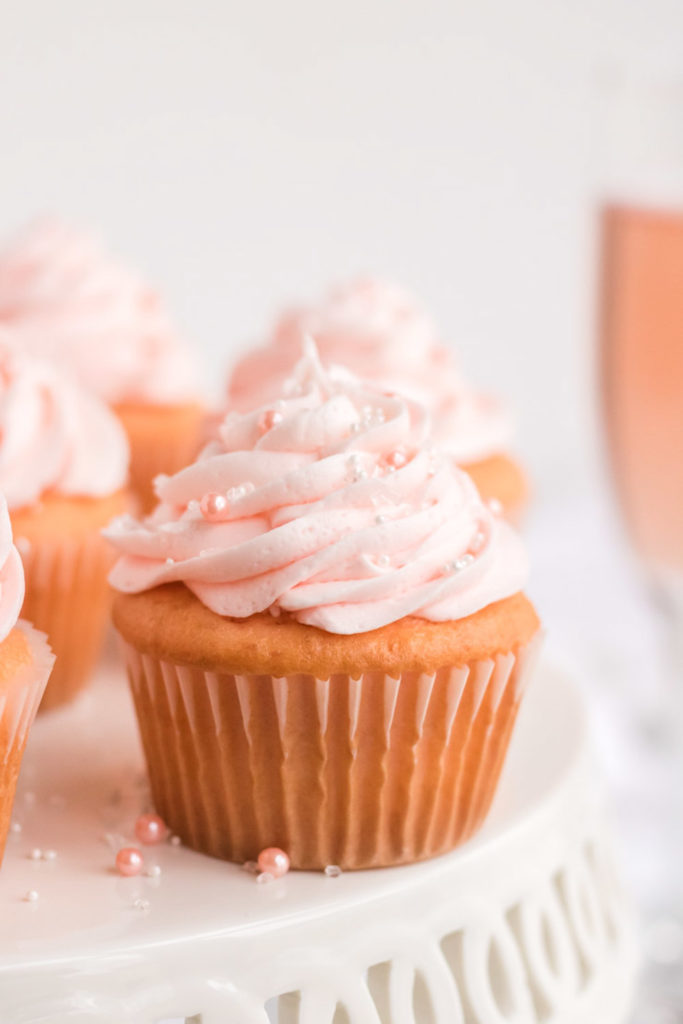 1. Pink Champagne Cupcakes
Pink champagne cake was invented in the mid-20th century, and has been an incredibly popular flavor--at least in the western US--since then.  Its delicate flavor and light pink color (and the festive associations with champagne!) have made it a favorite recipe for special occasions.  I love how these pink champagne cupcakes from Fresh Coast Eats feature that classic pink champagne color and flavor, and the mixed round sprinkles look like the bubbles in champagne.  What an easy, elegant way to decorate these cupcakes!  Real champagne flavor is featured in this from-scratch cupcake recipe because the instructions call for making a pink champagne reduction to concentrate the flavor and remove the actual alcohol.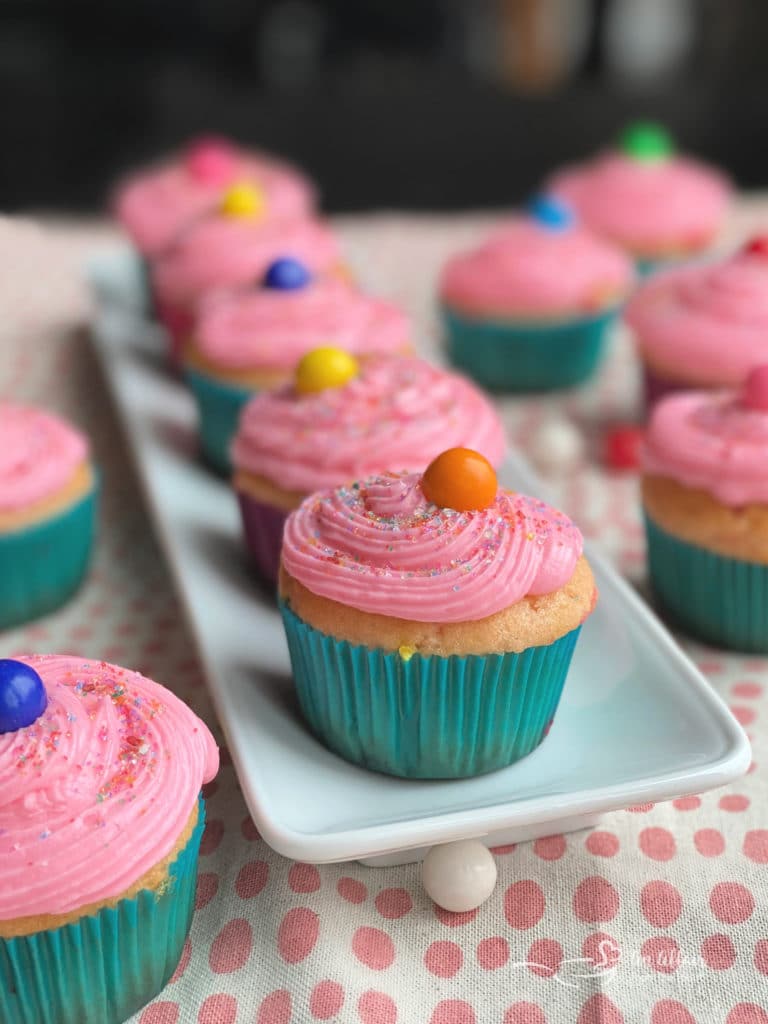 2. Bubblegum Cupcakes with Bubblegum Frosting
Bubblegum pink is such a classic color and flavor!  These pink cupcakes from An Affair from the Heart feature bubblegum cupcakes and bubblegum frosting--in that perfect shade of bubblegum pink, of course.  What fun, cool cupcakes to make for a kid's birthday party!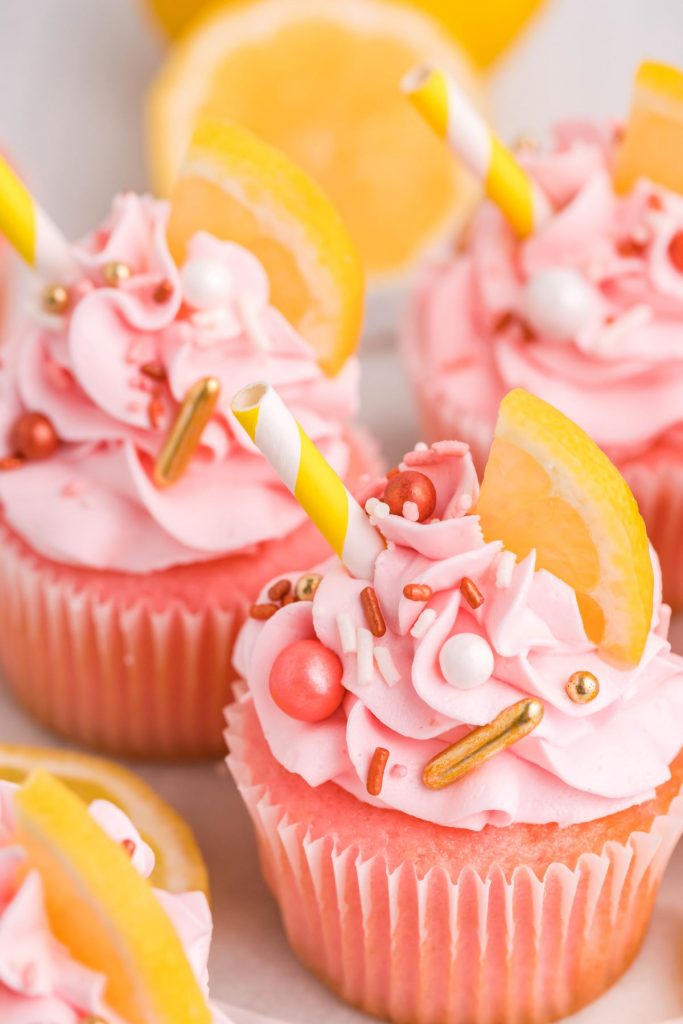 3. Pink Lemonade Cupcakes
Pink Lemonade cupcakes are so summery and fun!  I absolutely love how Baking up Memories decorated these pretty pink cupcakes with a slice of fresh lemon and a striped paper straw.  How perfect for this recipe!  Try substituting the heavy cream in the pink lemonade frosting recipe with pink lemonade concentrate to really punch up the pink lemonade flavor.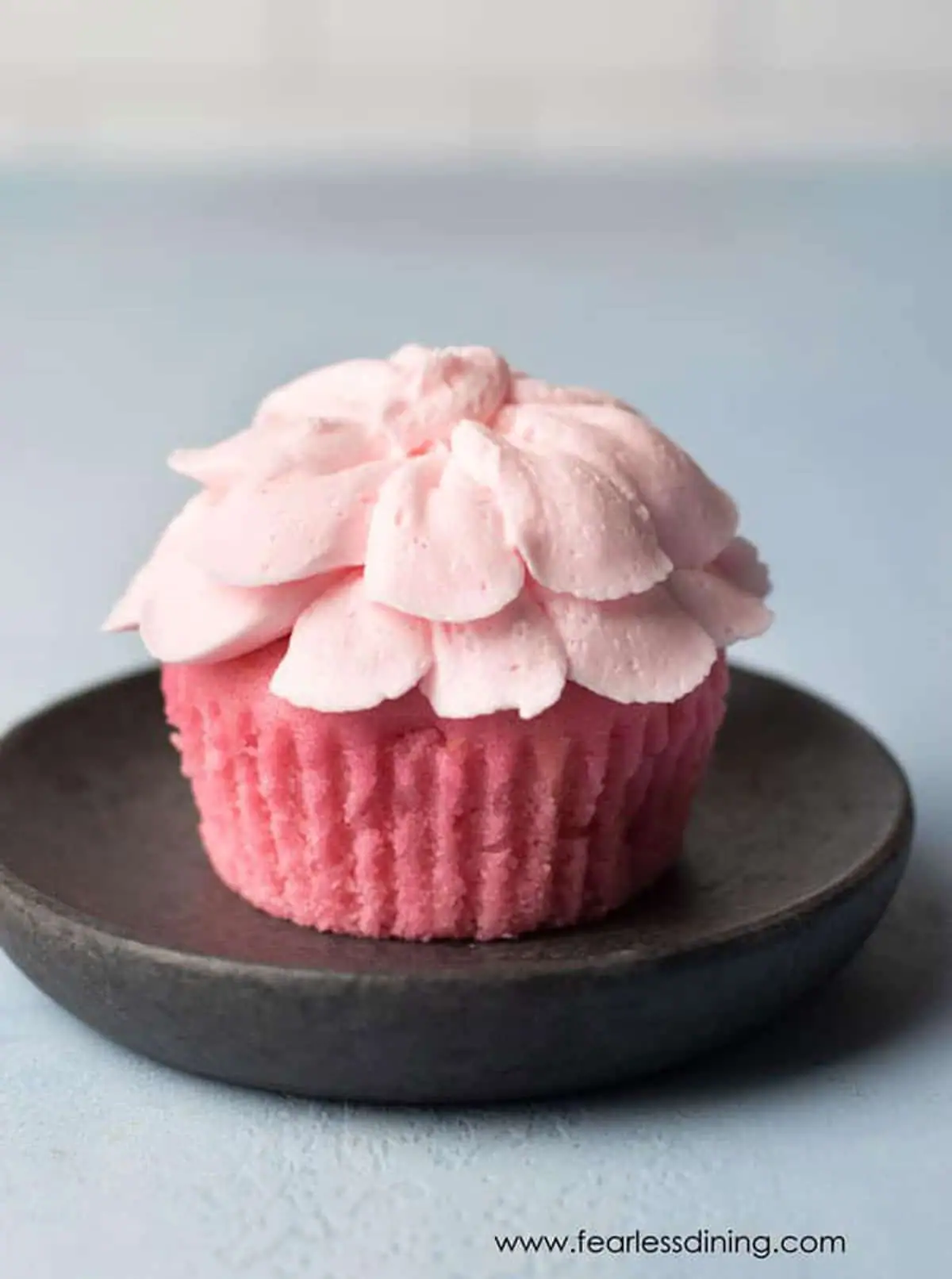 4. Gluten Free Pink Lemonade Cupcakes
If you need a gluten free pink cupcake recipe, check out these perfectly pink gluten free pink lemonade cupcakes from Fearless Dining.  This recipe uses a natural pink food coloring and even has a tutorial for how to make those pretty icing petals.
5. Small Batch Strawberry Cupcakes
If you only need a few pink cupcakes, this small batch of strawberry cupcakes with strawberry cream cheese frosting is absolutely perfect--it makes just six cupcakes!   And if you want to make a full batch of 24 strawberry cupcakes, my favorite strawberry cake recipe is perfect for the job.  It's my favorite pink cake recipe ever.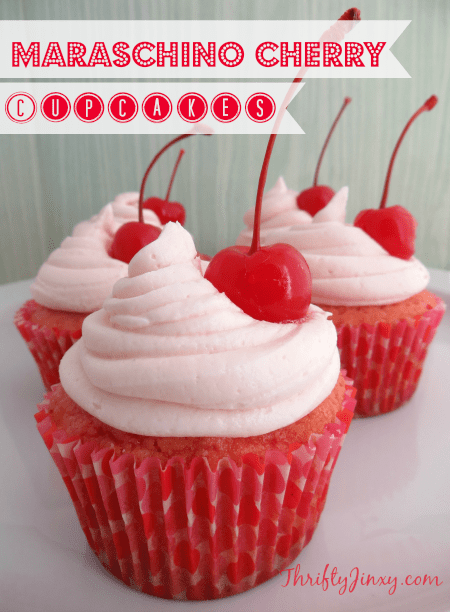 6. Maraschino Cherry Cupcakes
These bright pink maraschino cherry cupcakes from Thrifty Jinxy are full of flavor from maraschino cherry juice and chunks of the cherries, too.    These sweet cupcakes evoke all sorts of happy childhood memories for me.  They'd be perfect for a valentines day celebration!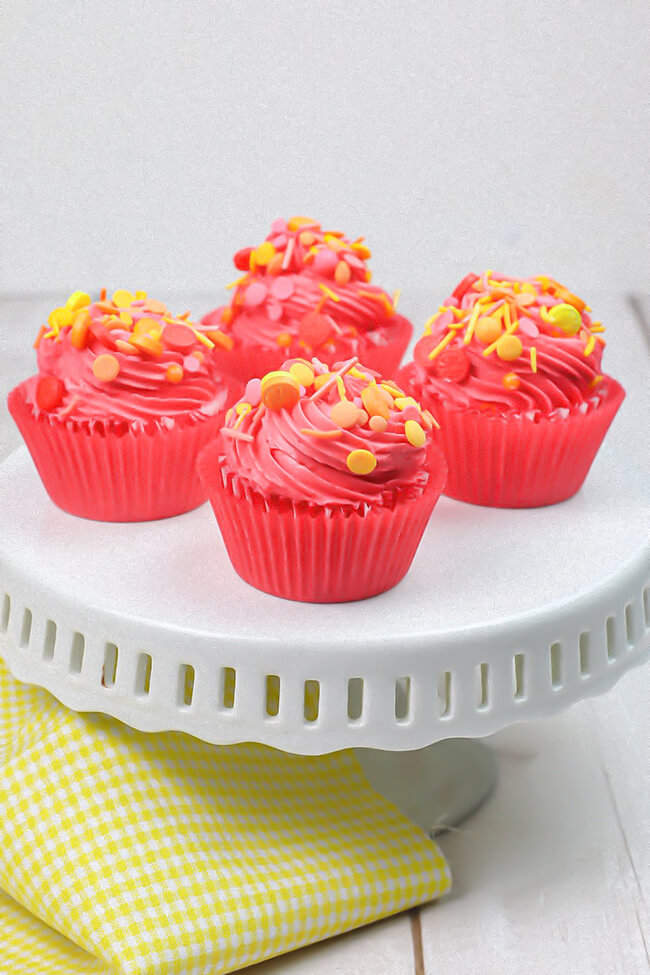 7. Fruit Punch Cupcakes with Fruit Punch Buttercream
Fruit punch was my favorite flavor of Kool-aid when I was a kid!  (I still enjoy a glass, on occasion, in fact.) So I absolutely love these hot pink cupcakes made with fruit punch soda and fruit punch drink mix!  What an easy way to make vibrant pink cupcakes with delicious fruity flavor.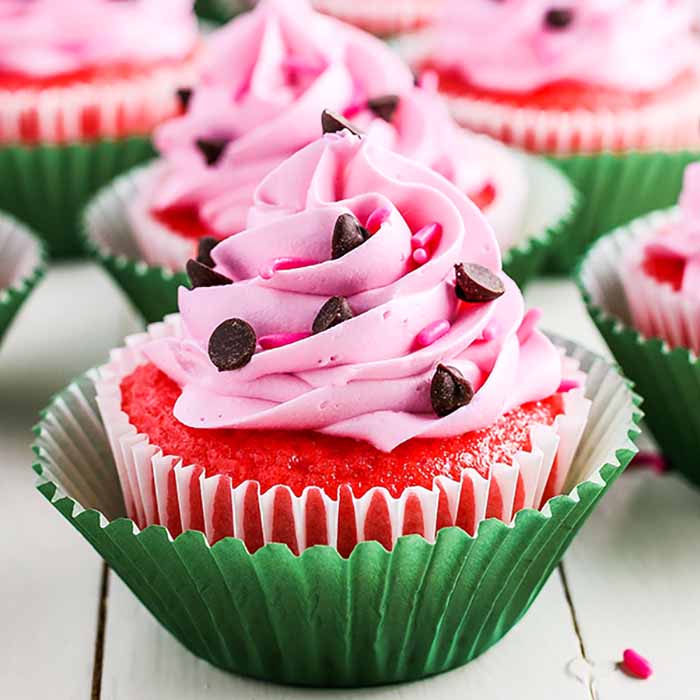 8. Watermelon Cupcakes
These watermelon cupcakes are easy to make by doctoring a vanilla cake mix with watermelon jello.  The Jello gives the cupcakes a vibrant pink color and watermelon flavor, and the chocolate chips on the buttercream frosting look like watermelon seeds.  What a charming, summery cupcake recipe!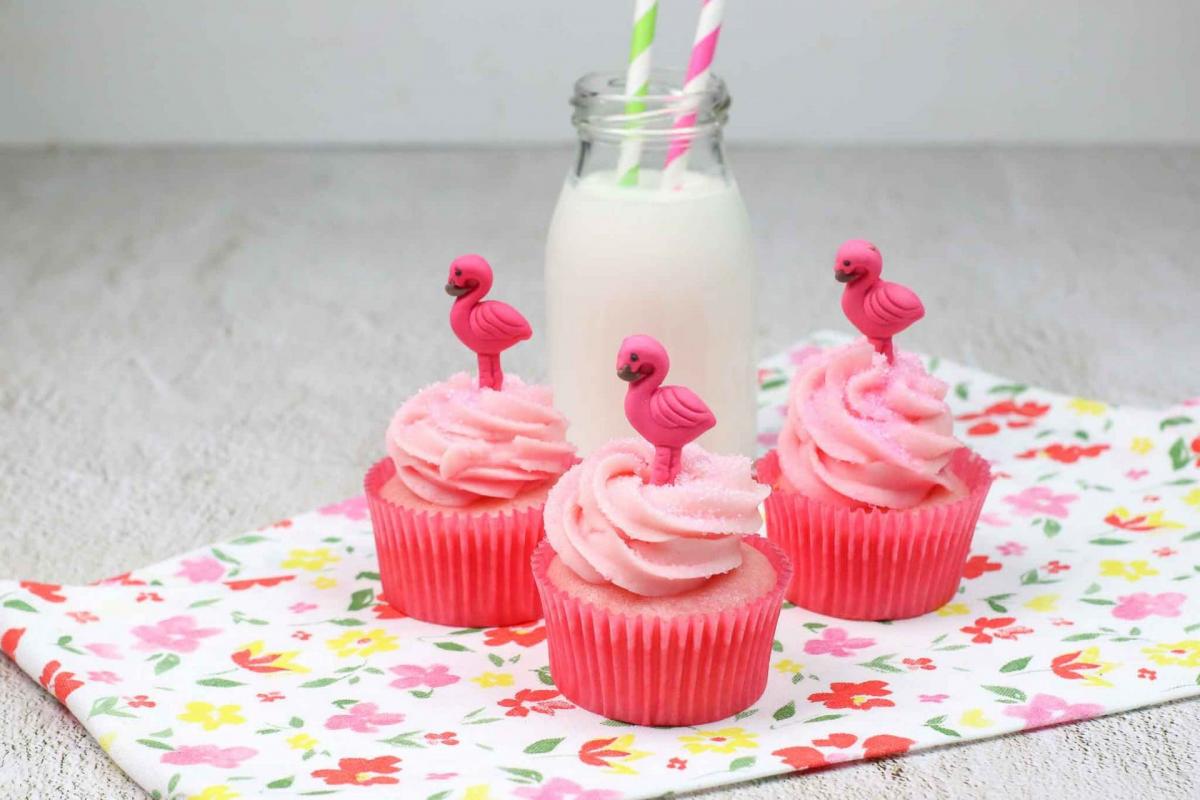 9. Strawberry Milk Cupcakes
Did you love strawberry milk when you were a kid?  Then you're going to love these Strawberry milk cupcakes!  They're made with Nestle Strawberry Milk powder, so you know the flavor is absolutely perfect.  Use greaseproof pink cupcake liners to complete the look.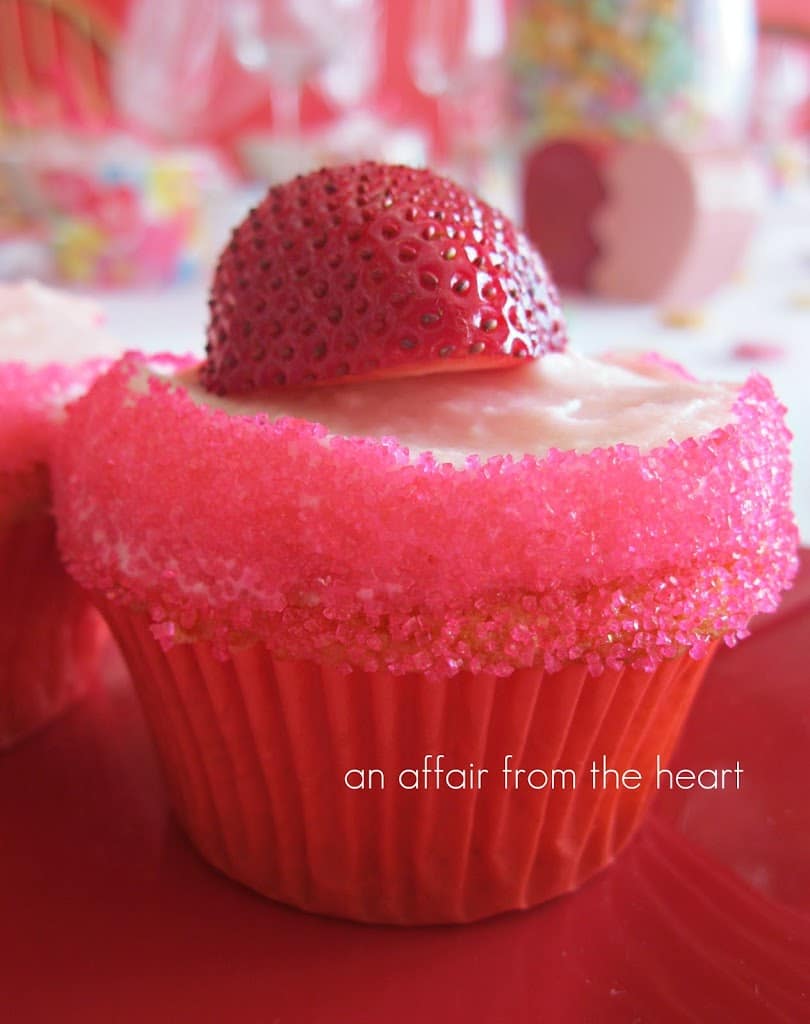 10. Strawberry Daiquiri Cupcakes
These strawberry daiquiri cupcakes are easily made by swapping frozen strawberry daiquiri mix for the water in a boxed strawberry cake mix.  The concentrated daiquiri mix really gives these cupcakes a fabulous punch of flavor and a lovely pink color.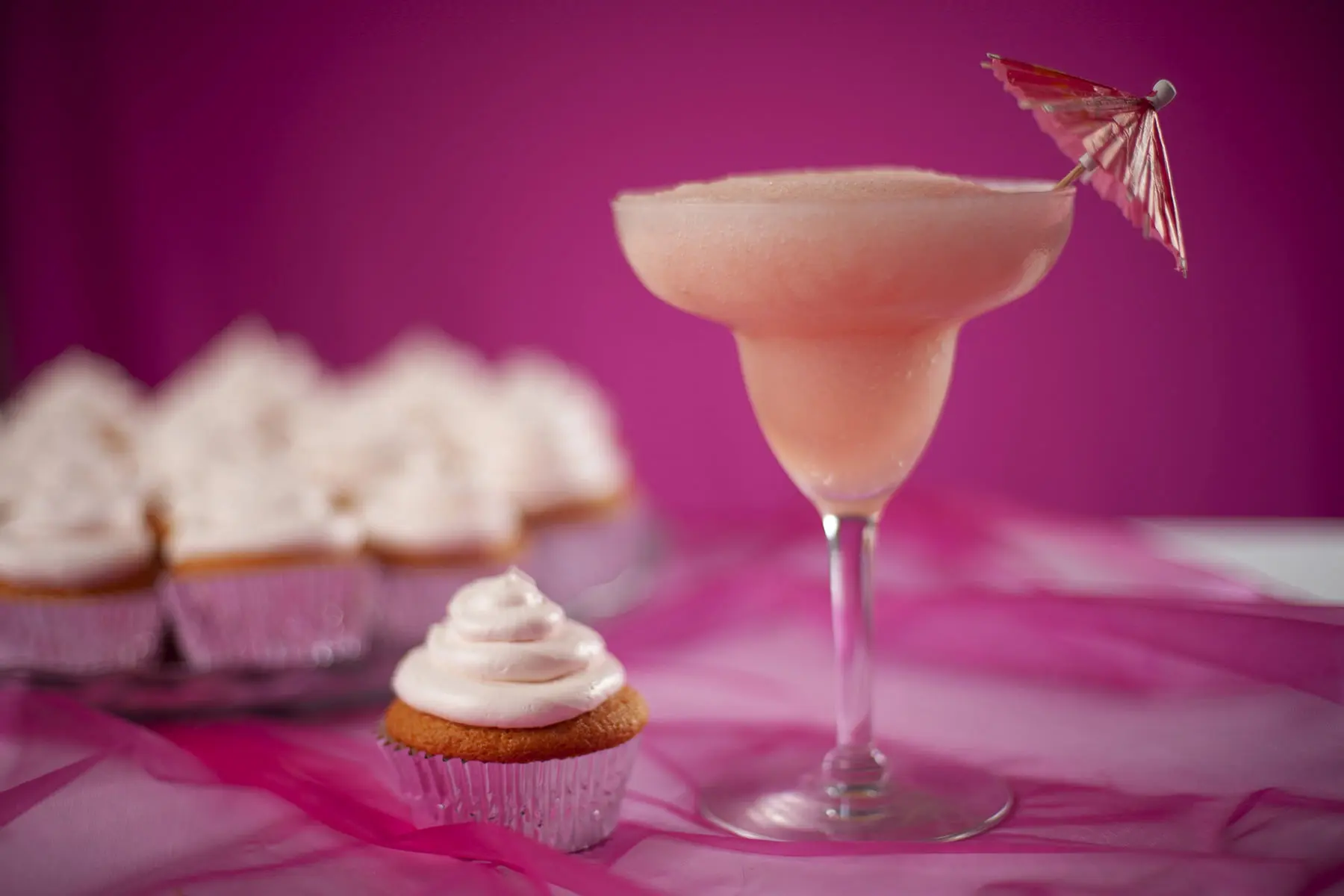 11. Pink Grapefruit Daiquiri Cupcakes
Continuing with the daiquiri theme, check out these Pink Grapefruit Daiquiri cupcakes from Celebration Generation!  They're made with freshly squeezed pink grapefruit juice and rum--the classic flavors in a real, from scratch pink grapefruit daiquiri.  You can boost the pink color with a little bit of food coloring, but it's delicious either way.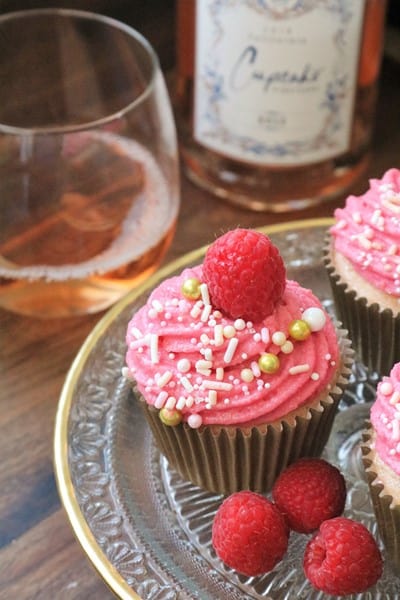 12.  Raspberry Rosé Cupcakes
Raspberry Rosé Cupcakes from The Spiffy Cookie bring an elegance and adult twist to the classic cupcake.  Fresh raspberries give the frosting a brilliant, natural pink color, and the flavor pairs beautifully with the cupcakes made with rosé wine.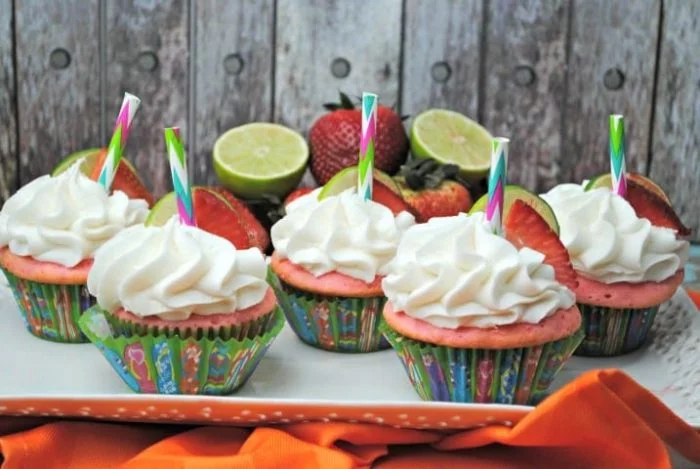 13.  Strawberry Margarita Cupcakes
These strawberry margarita cupcakes are made with an amazing, from-scratch cake recipe using fresh strawberries, lime juice, and tequila.  And the frosting has all those fabulous, fresh flavors, too!  These cupcakes really do taste like delicious strawberry margaritas.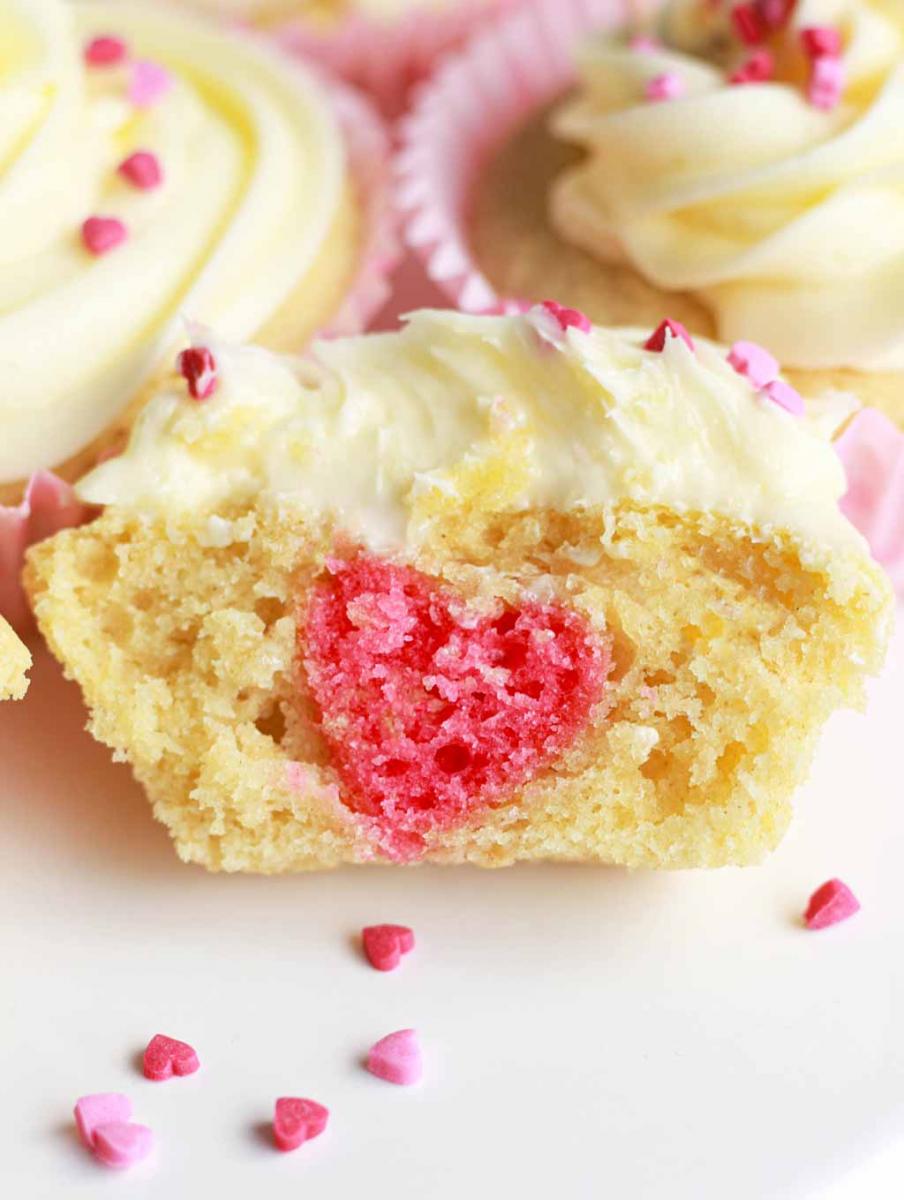 14. Surprise Inside Pink Heart Cupcakes
The pink in these cupcakes is a surprise: a pink heart baked right inside the center of the cupcake !  It's a surprisingly easy technique that's absolutely perfect for valentine's day.  Get the recipe and all the details from Baked by Clo.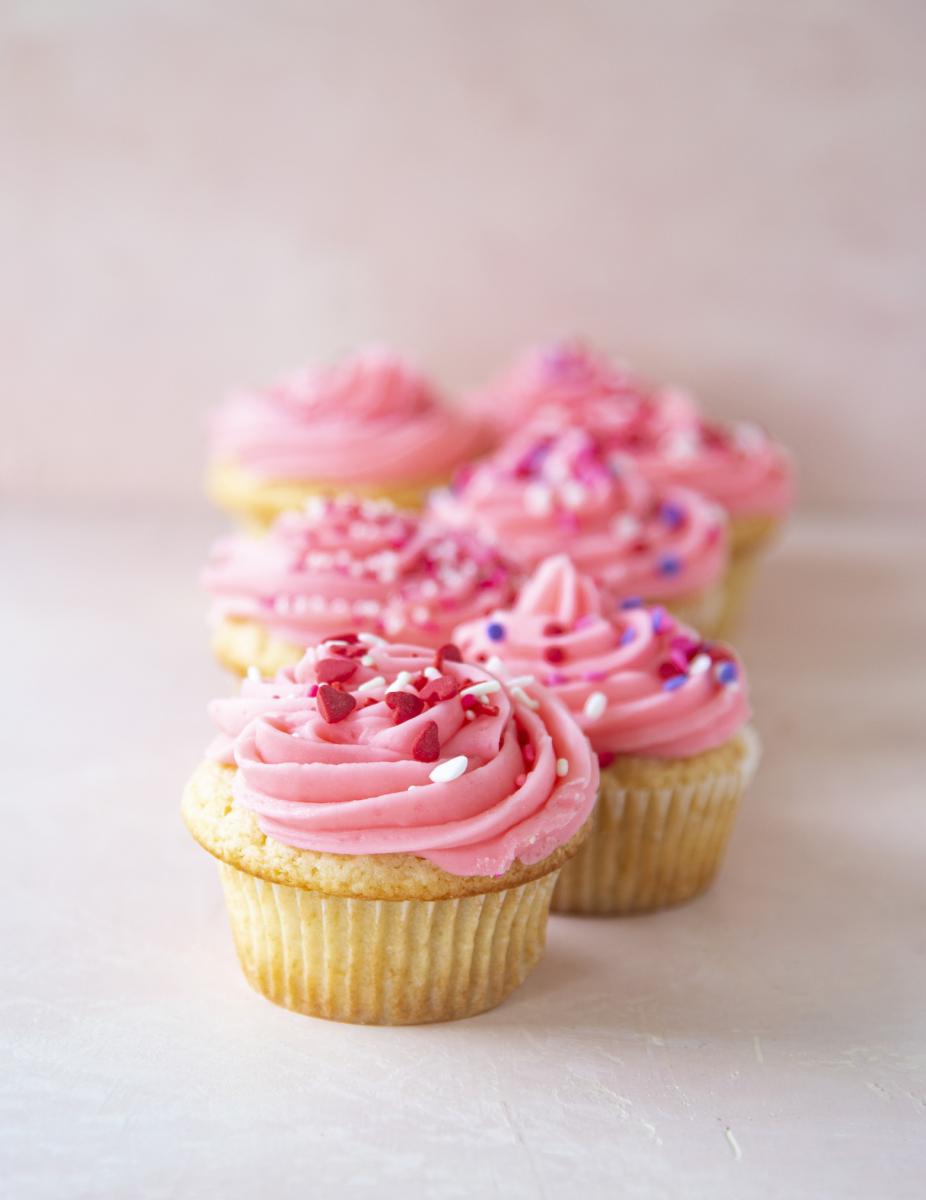 15.  Pink Vanilla Cupcakes
Not a fan of fruity flavored cupcakes?  A few drops of pink food coloring can make vanilla cupcakes fabulously pink, too!  These cupcakes, full of vanilla flavor and topped with pretty pink American buttercream and sprinkles are sure to be a huge hit at any Valentine's day celebration.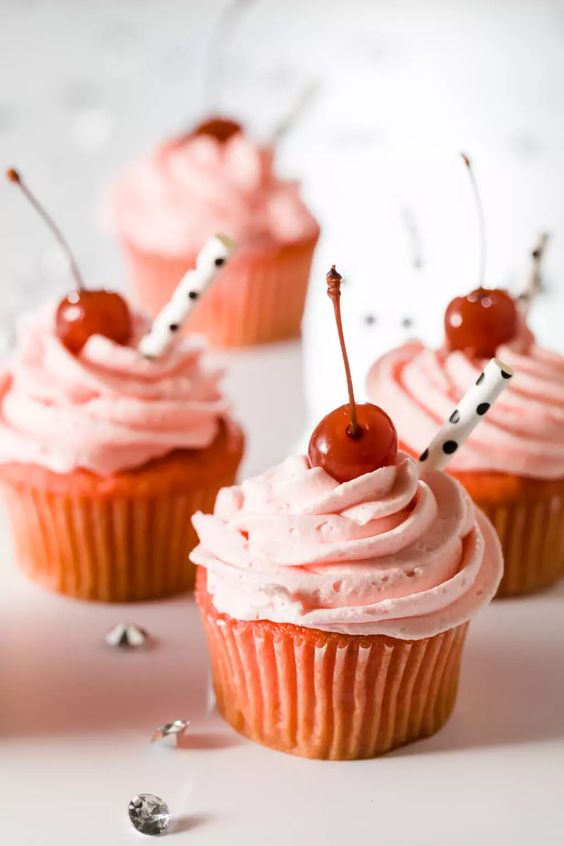 16. Shirley Temple Cupcakes
Remember Shirley Temples?  That gloriously pink mocktail?  I will never grow out of them!  Pull out the grenadine syrup and make an amazing cupcake version with this Shirley Temple Cupcake recipe from The Cupcake Project.
17. Strawberry Basil Cupcakes with Chocolate Balsamic Frosting
Now here's a grown up cupcake flavor combination from The Spiffy Cookie:  Strawberry basil cupcakes topped with chocolate balsamic buttercream icing.  Chocolate and strawberry are always a perfect combination, but adding the fresh herbs and balsamic vinegar really adds such incredible complexity and flavor to the classic flavor profile.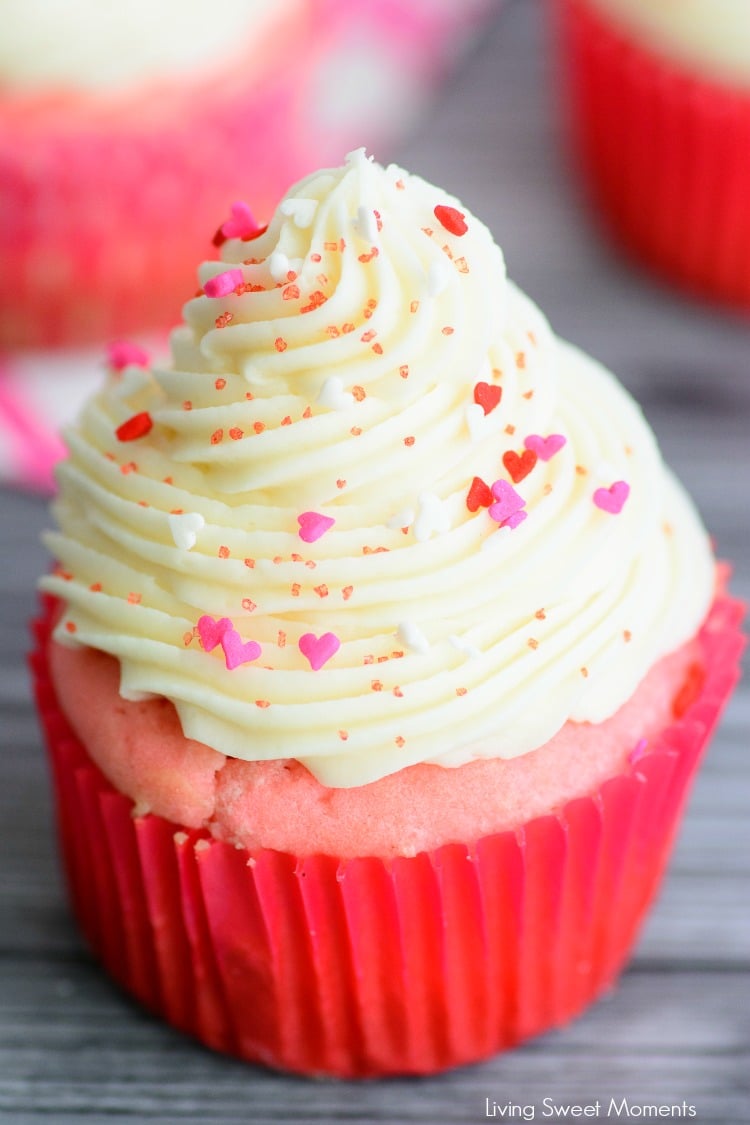 18. Pink Velvet Cupcake
I've neer been a fan of red velvet flavors (SO much food coloring!), but I can get behind these delicious pink velvet cupcakes!  My beef with red velvet cupcakes is that people think it's a flavor.  No, it's a buttermilk cake with not-enough cocoa powder to make it taste like chocolate, and an obscene amount of red food coloring.  If you like red velvet cake, the flavor you like is a classic buttermilk cake.  And maybe terrible, chemical red food coloring flavor (red always tastes the worst).  I have no problem with people liking red velvet cake!  I love rainbow cakes!  But I don't think that "rainbow" is a flavor.
Ok, now that I'm done with my red velvet rant, let me tell you why I love this pink velvet cupcake recipe.  Because it calls it what it is--an amazing buttermilk cake colored a delightful pink color.  Topped with cream cheese icing and some sprinkles, it's absolutely perfect.
Other Pink Desserts You Might Like: