Printer-friendly version
Have you ever wanted to know how to make all natural raspberry buttercream icing?  I'm talking raspberry frosting with tons of fresh fruit flavor, and no artificial colors or flavors.  The secret to this amazing raspberry frosting is freeze dried raspberries.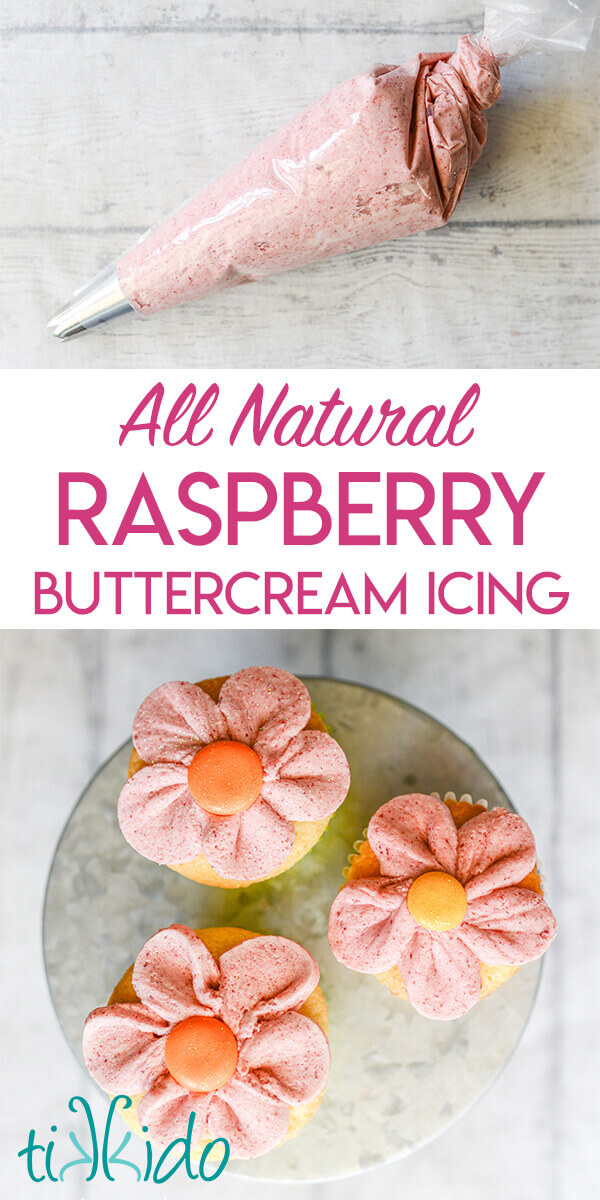 That pretty pink color is 100% natural, just from the powdered, freeze dried raspberries.  I absolutely love raspberries, but only the real thing--no artificial flavorings come close to the amazing flavor of the fresh fruits.  But working with fresh fruit in baking means you have to take the water content into account.  That's what makes baking with freeze dried fruit so fabulous and easy; you can pretty much add it to any recipe without tweaking the moisture content.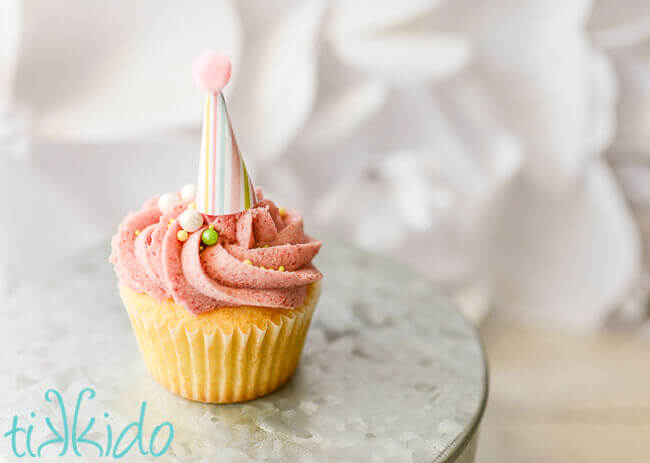 I used the raspberry buttercream to top vanilla cupcakes made with my favorite vanilla butter cake recipe.  What a perfect combination of flavors.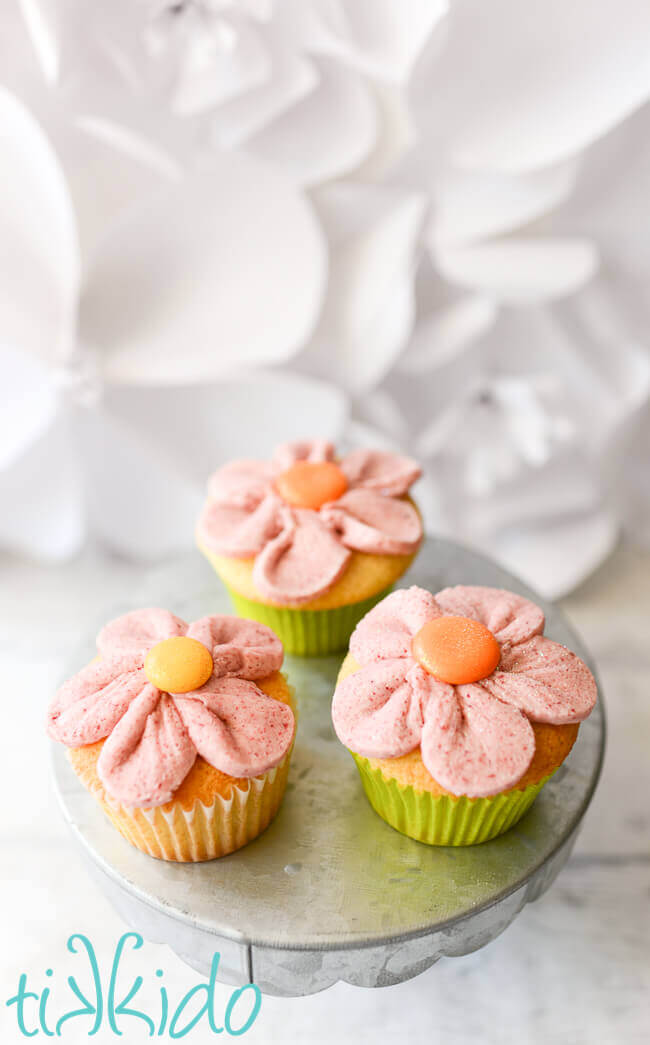 I made these cupcakes for my friend Kim's birthday.  I love getting to make cakes and cupcakes for my friends!  I don't sell my goodies, but I love being able to share my love of baking with friends and family.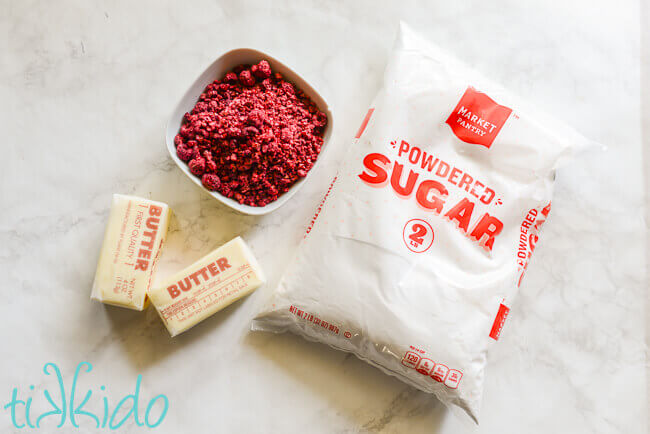 Real Raspberry Buttercream Icing Ingredients:
2 sticks (1 cup) butter, softened
2 pounds powdered sugar
pinch of salt
Freeze dried raspberry powder (instructions below, or you can purchase it here)
cream or milk to thin to the right texture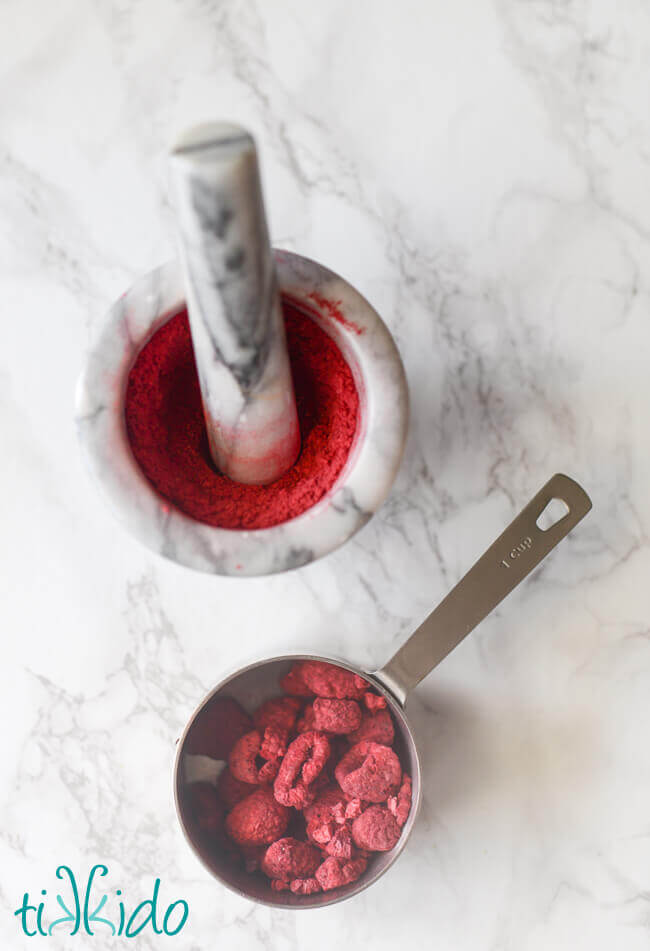 Tips for Making Freeze Dried Raspberry Powder:
Use a mortar and pestle to pulverize the freeze dried fruit into a powder.  You can use an electric coffee grinder as well, but buy a dedicated one if you do.  No matter how well you clean it, your fruit will always kind of taste like coffee.  I learned that the hard way making dehydrated cheese powder.  ;-)
You might think that pulverizing the raspberries is enough.  Nope.  You need to strain out those raspberry seeds by sifting the powder through a fine mesh strainer.
If you're making a bunch of this ahead of time, especially if you live in a humid area, put a dessicant packet in the container of freeze dried fruit powder to help control the humidity and prevent clumping.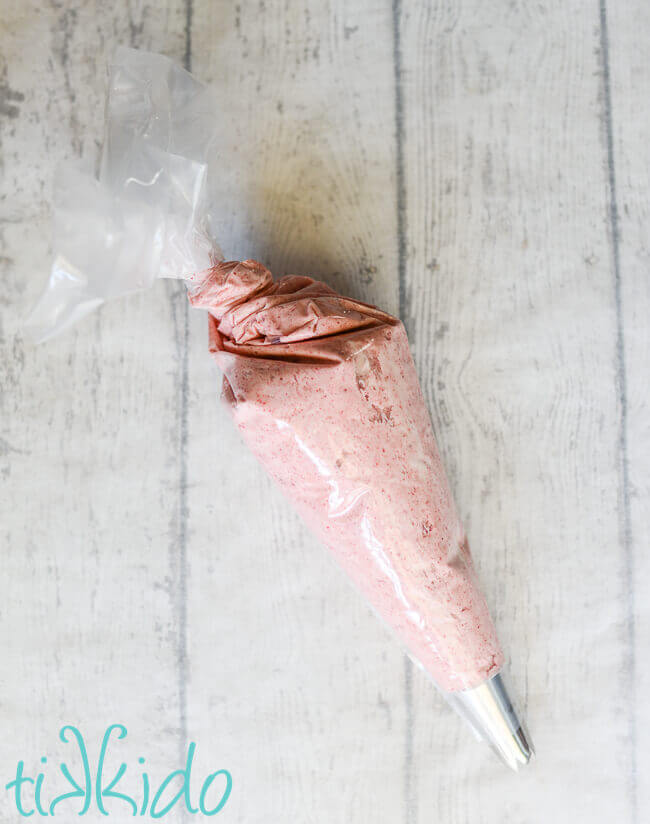 Use a mixer to beat together the butter, powdered sugar, and salt.  Use cream or milk to thin the icing until it is the consistency you need for your project.  Add the freeze dried fruit powder to taste.  I used about 3 Tablespoons of freeze dried raspberry powder in my icing.  I really like raspberries.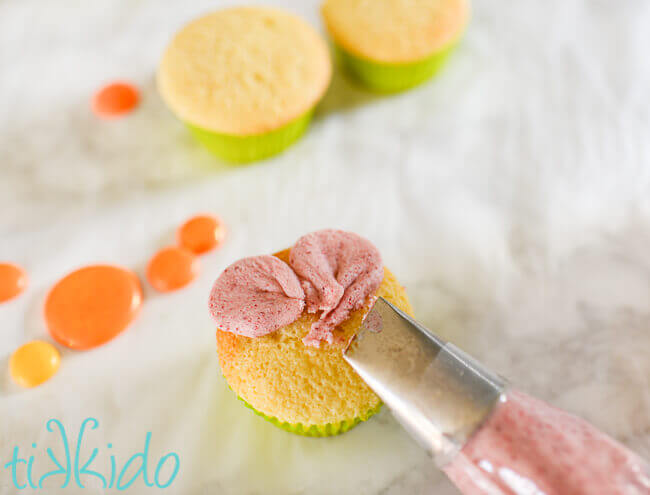 I used a large rose icing tip to shape the icing into petals to make these flower cupcakes.  The centers of the flowers were leftover royal icing flower centers I made some time ago.   Using leftover royal icing to make useful little decorations is  something I learned from my grandma.  You can see some of her actual royal icing decorations made decades ago in this post.  She never let any royal icing go to waste!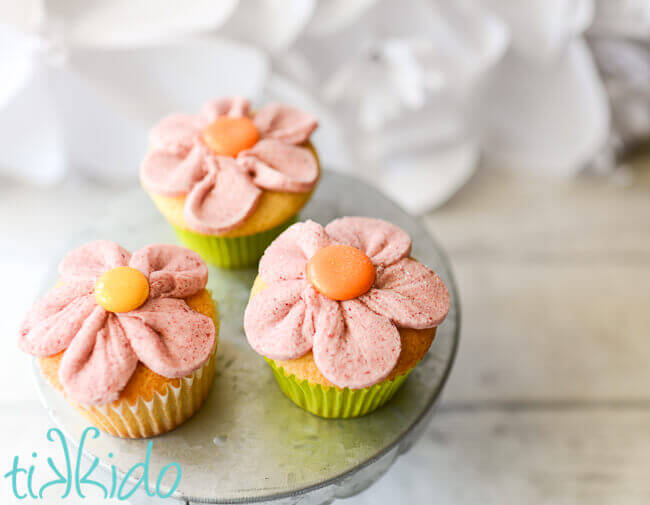 What fabulous fruit flavor would you add to your baked goods with freeze dried fruits?  I'm dreaming of some pina colada cotton candy, myself.  I'll be sure to let you know how that experiment goes soon!