Printer-friendly version
Prosciutto, Asparagus, and Mushroom pasta is quick, easy dinner to make that's perfect for using up bountiful summer produce.  This recipe for asparagus pasta is endlessly customizable, too, so it's perfect for taking advantage of in-season produce.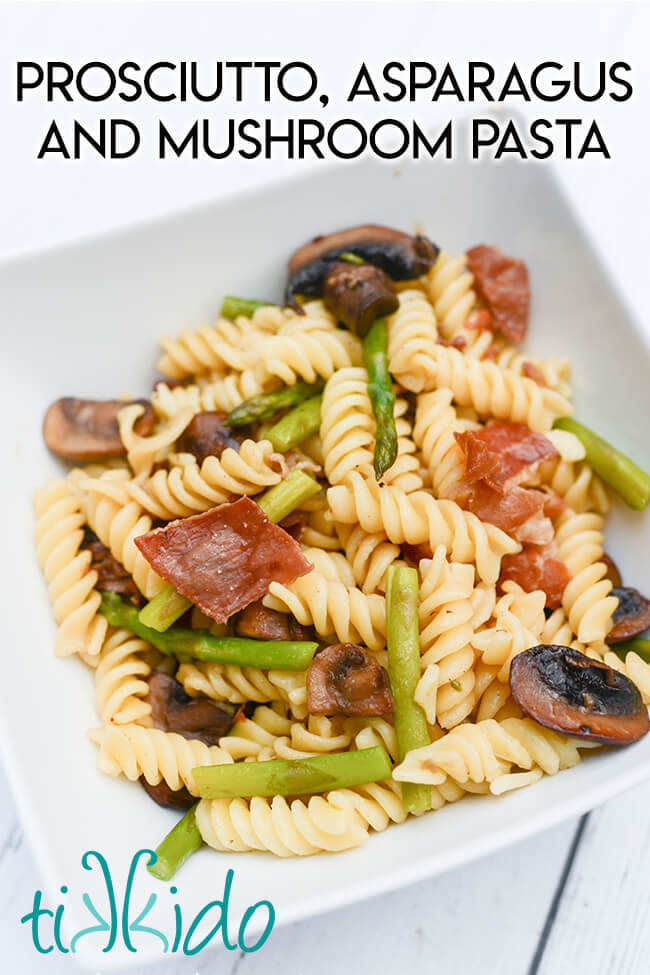 It's time once again for the Taste Creations Blog Hop, and this month, our theme is Farmer's Market.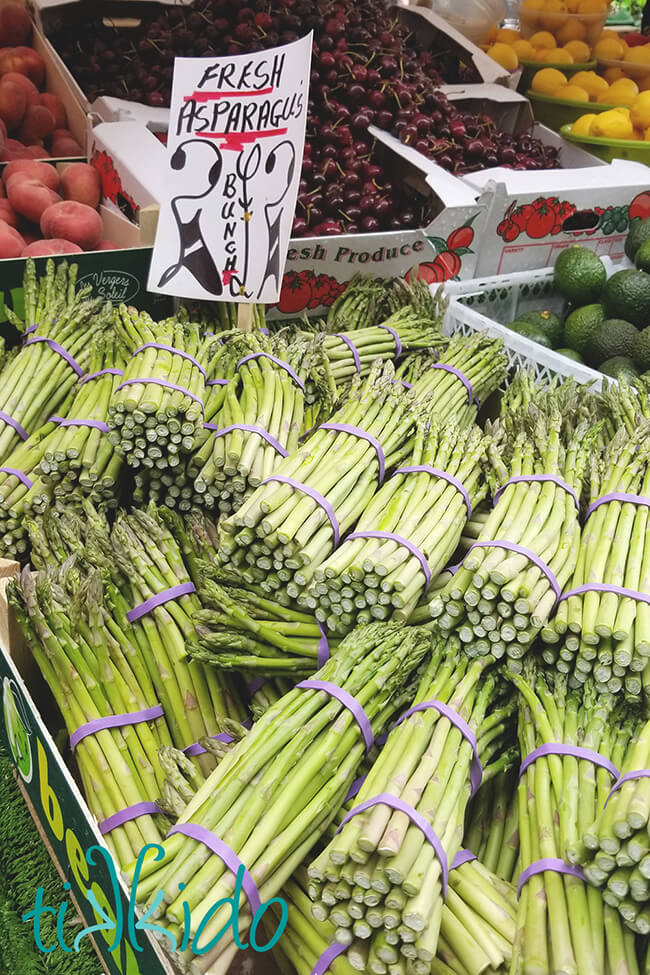 I now live in St. Albans, England, and we have an amazing, twice-weekly market in the center of town, which has been going on for over 900 years.  We're lucky to live very close to the market, and walk there to do our fruit and vegetable shopping every week.  This week, the gorgeous local asparagus caught my eye, and I decided to share a favorite recipe for prosciutto asparagus pasta, a dinner staple in our house for many years.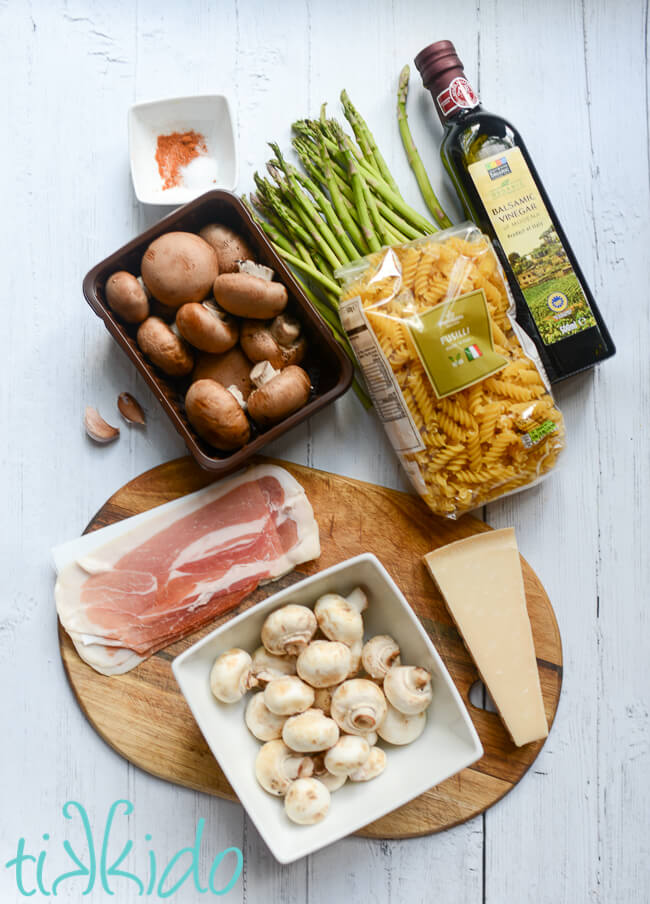 Prosciutto, Asparagus, and Mushroom Pasta Recipe
1 pound of pasta (I used Fusilli, but you can use whatever your favorite shape is)
one package prosciutto (80g, or 2.8oz)
two packages of mushrooms (I used a mix of chestnut and white button mushrooms)
two cloves garlic
olive oil (about 1 Tablespoon)
three cups asparagus
2 teaspoons balsamic vinegar 
1/2 teaspoon salt
1/8 teaspoon crushed red pepper
1/8 teaspoon black pepper
Parmesan cheese to taste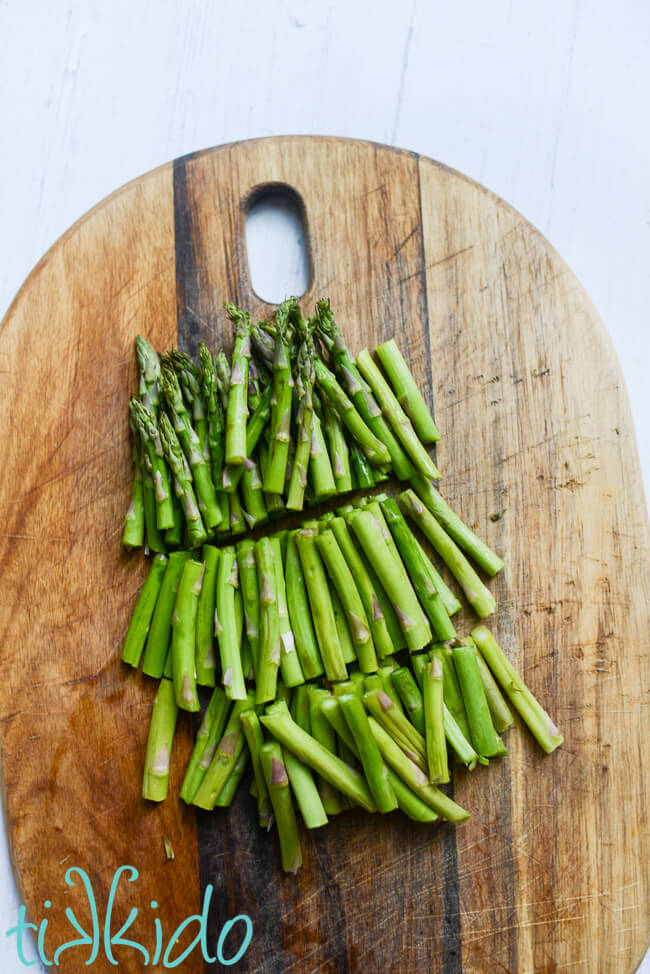 Trim off the tough bottom ends of the asparagus and discard.  Chop asparagus into bite sized pieces (about an inch or an inch and a half long).
Can I use Frozen Asparagus in this Recipe for Asparagus Pasta?
Absolutely!  I used one bunch of asparagus in my recipe, and I chopped and froze the other bunch to make this prosciutto asparagus pasta recipe again in a few weeks or months.  If you're using frozen asparagus, just add it to the boiling water one minute earlier than instructed below.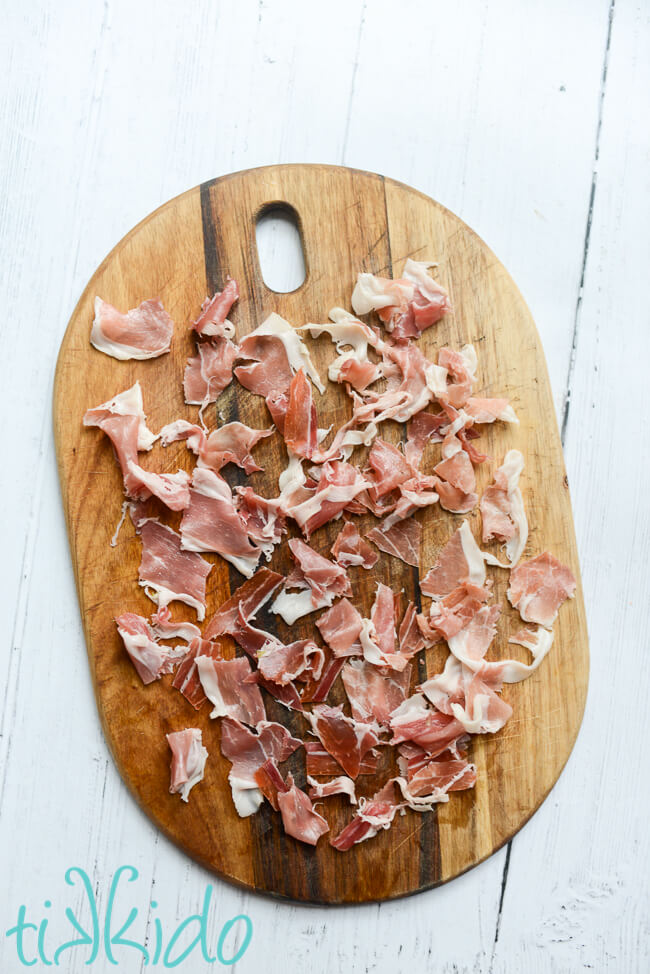 Cut prosciutto into small pieces.  It cooks much better if you take the time to pull all of the pieces apart.  They really like to stick together in chunks, and are easier to separate with your fingers before cooking rather than trying to tease them apart as you're cooking.
What can I use instead of Prosciutto in this Asparagus Pasta Recipe?
Bacon and pancetta are great substitutes for the prosciutto.  Add both to the pan at the same time as the mushrooms start cooking if using these substitutes.
Chicken breast, cut into thin strips, is also delicious in this recipe!  Add the chicken and mushrooms to the pan at the same time and cook together until nicely browned.
Vegan or vegetarian?  Add more vegetables!  Whatever you love and is in season!  I'm a big fan of eggplant in this dish (the rest of my family, sadly, disagrees).  I've added spinach and kale.  I've gone nuts with the mushrooms.  Have fun!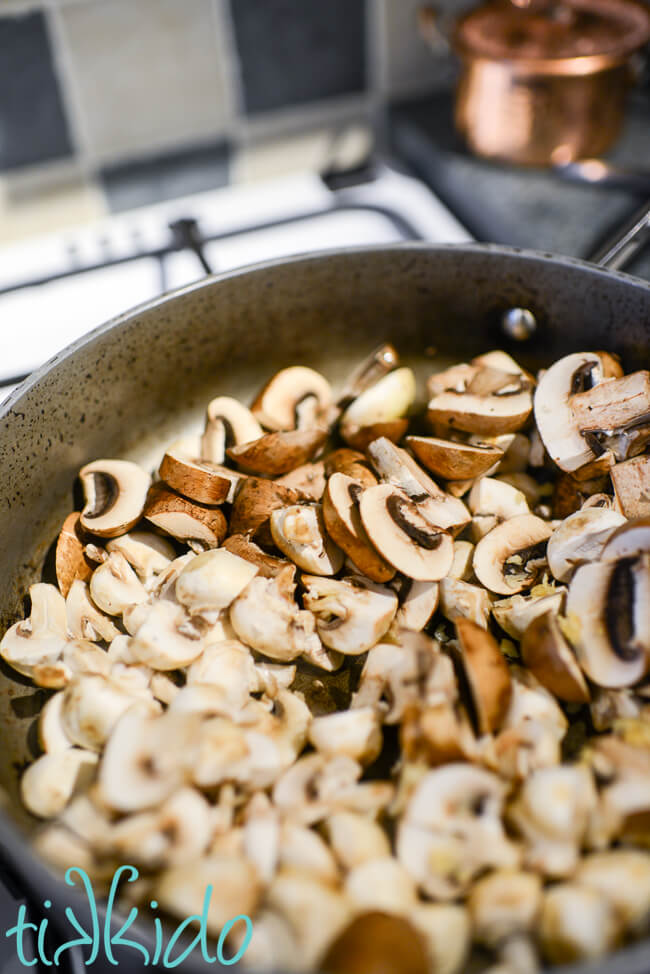 In a large sautee pan, cook the garlic and mushrooms with a bit of olive oil, until the mushrooms are soft (but while there's still some liquid, and before they start to brown).  At this point, add the prosciutto and continue to cook.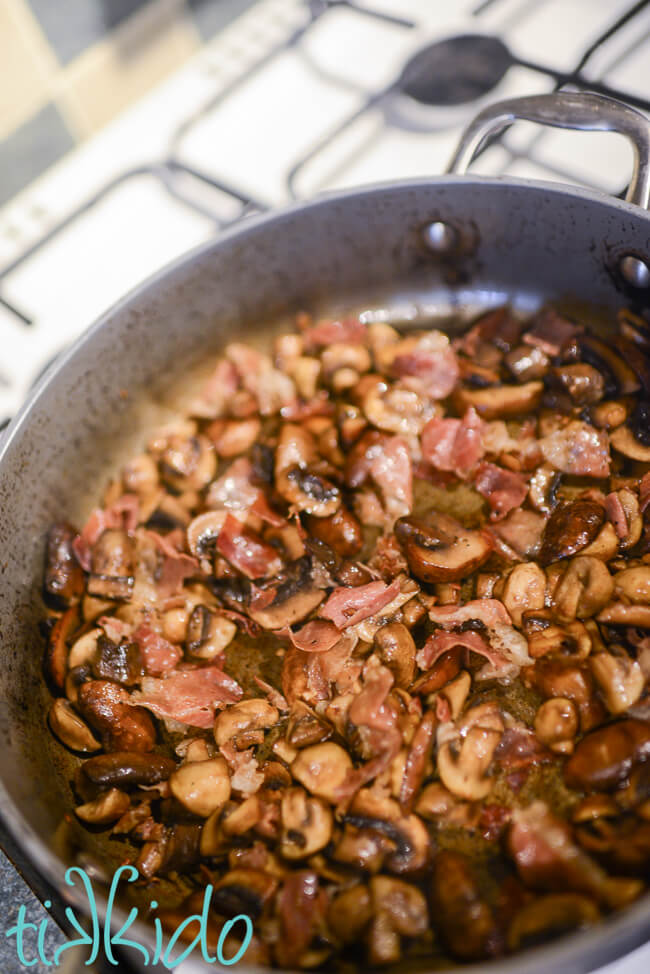 Continue cooking until the liquid from the mushrooms evaporates, the prosciutto crisps up, and the mushrooms brown on the edges.  Turn off the heat and set aside.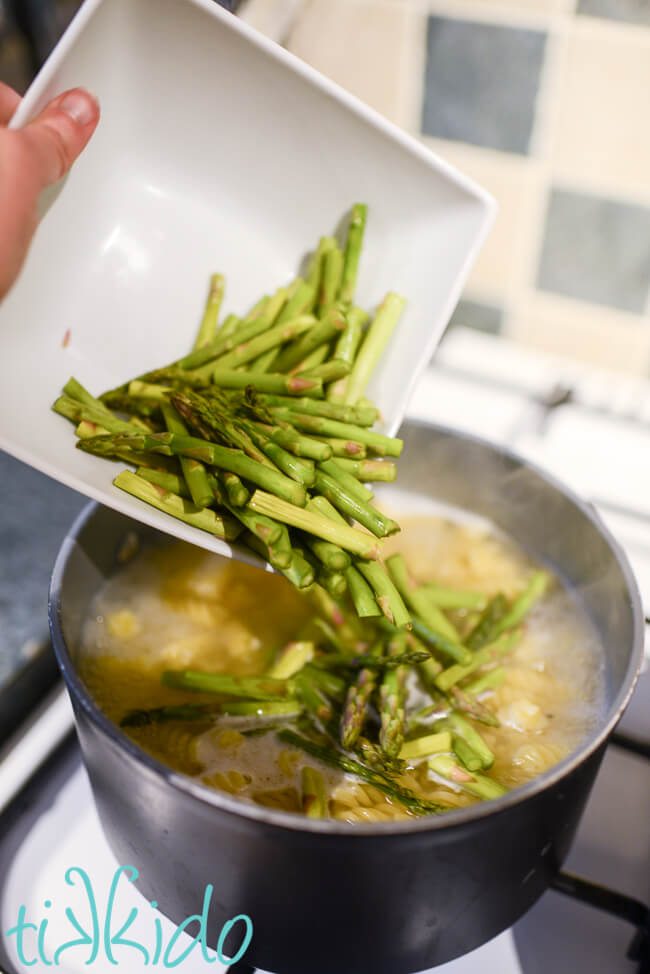 At the same time the mushrooms are cooking, boil water for pasta (remember to salt the pasta water), and start cooking the pasta.  Add the asparagus two minutes before the pasta is done.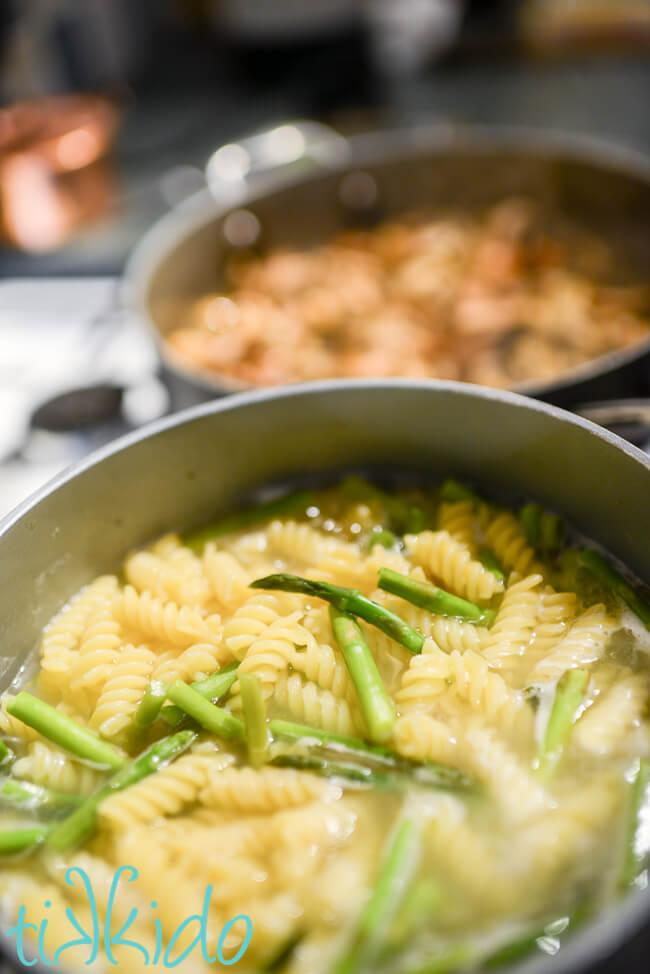 The asparagus will be perfectly cooked and tender in the same pot.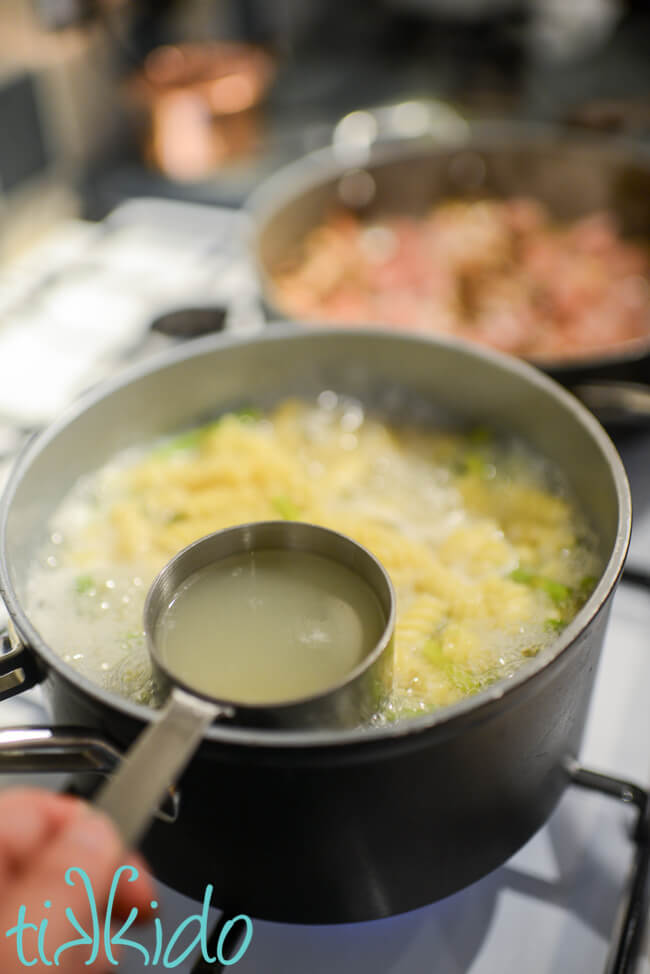 Reserve a half cup of the starchy pasta water before you drain the pasta and asparagus.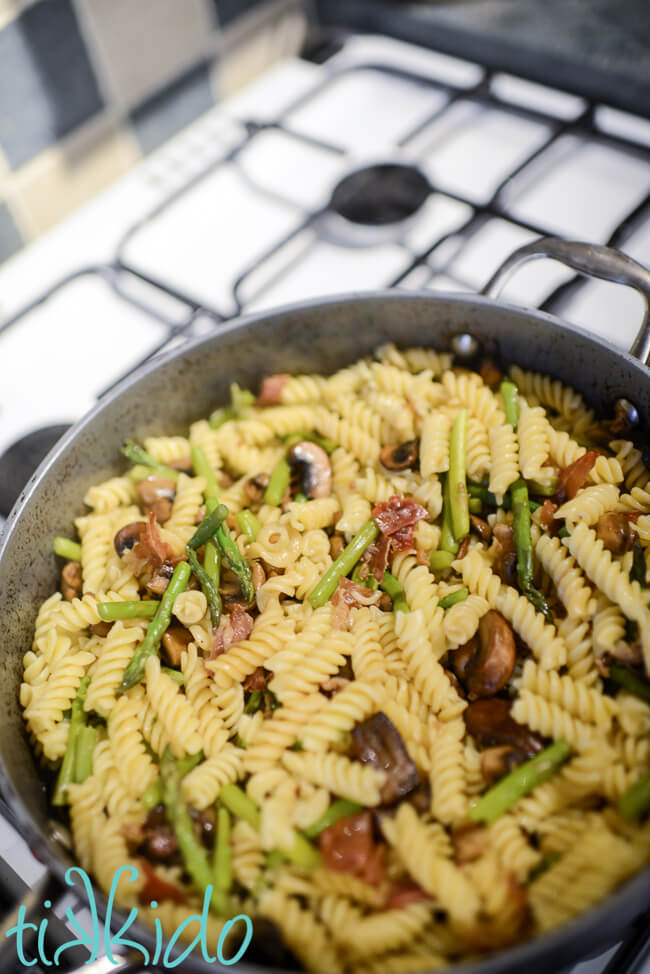 Add the pasta water, peppers, salt, and balsamic vinegar to the mushroom mixture and deglaze the pan, scraping up all those delicious browned bits on the bottom of the pan.  Add the drained pasta and asparagus, and stir to combine.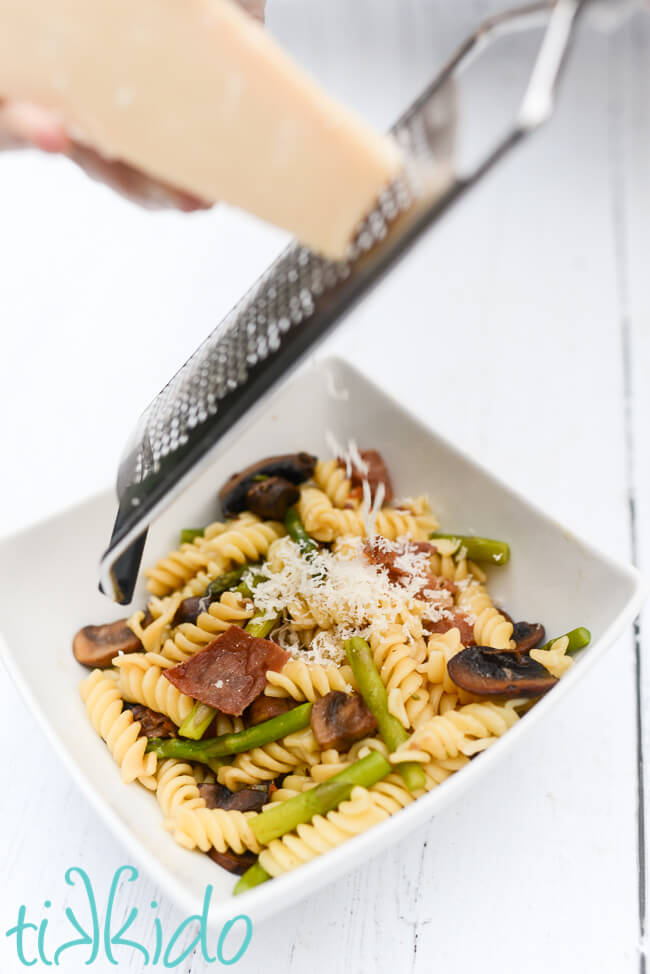 Top with parmesan cheese, and enjoy!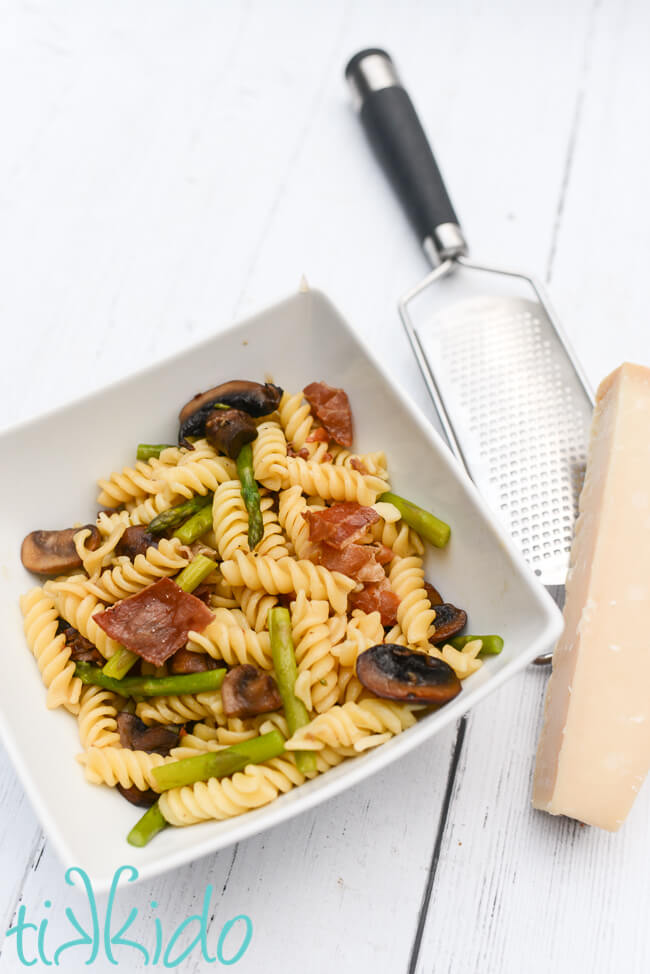 This pasta dish is endlessly adaptable, which makes it perfect for taking advantage of whatever is in season and amazing at your local farmer's market.   It's the perfect summer dinner.
Printable, One Page Prosciutto, Asparagus, and Mushroom Pasta Recipe
Want a one page, printable version of this recipe for asparagus pasta?  Click on the image below to print or download the PDF.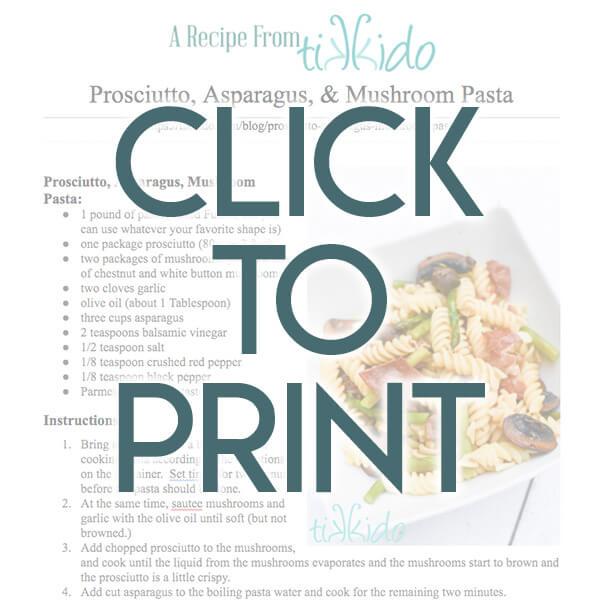 Other Amazing Farmer's Market Recipes: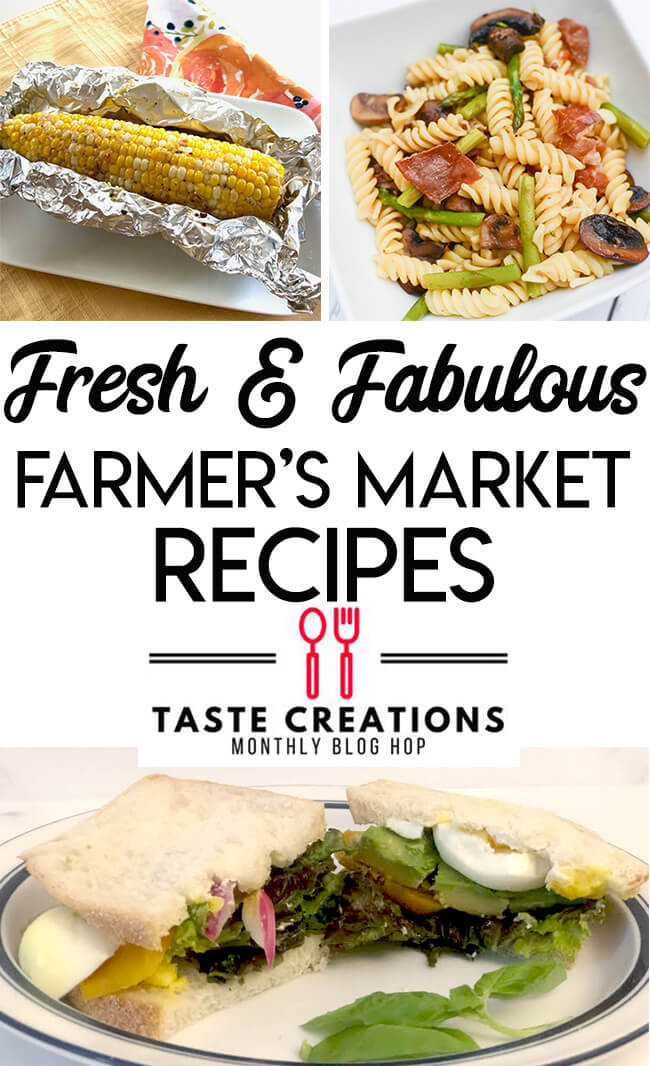 Be sure to check out the other amazing recipes inspired by the farmer's market from my blogger friends in the Taste Creations Blog Hop:
From Our Good Life: Oven Roasted Corn on the Cob
From Mom Home Guide:  Roasted Beet, Herbed Cheese & Avocado Sandwiches
Other Prosciutto and Asparagus Recipes You Might Like: