Printer-friendly version
My strawberry rosé sangria might just be the best rose sangria recipe around.  I don't know--I haven't tried them ALL--but I can assure you that this is really, really good!  Rosé sangria is a fabulous summer cocktail for any celebration: it's made by the pitcher, it's light and refreshing, it's full of fabulous summer fruit flavor, and it's gorgeous.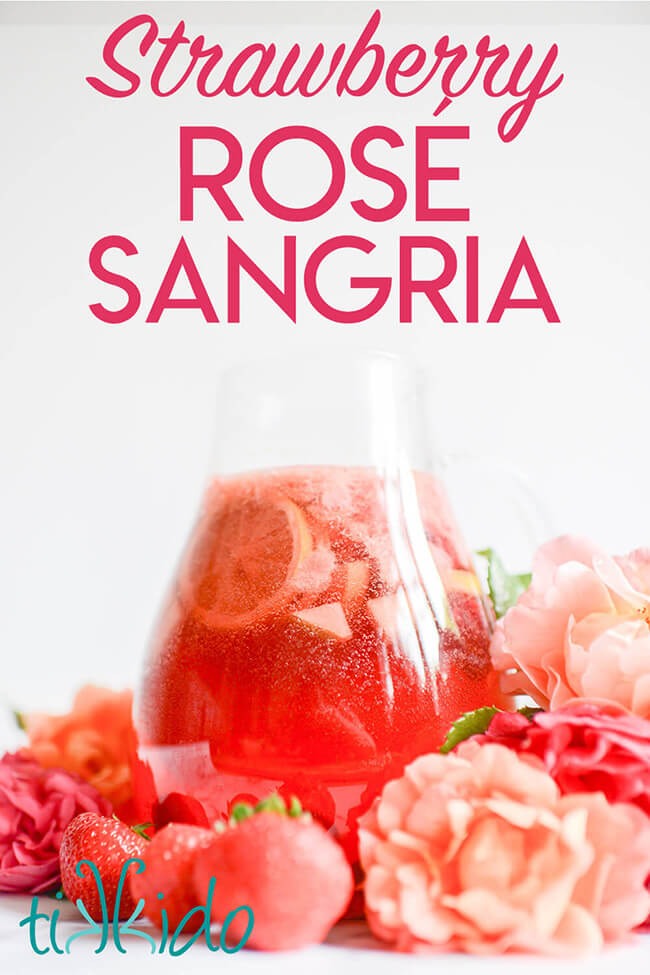 Right?  So pretty!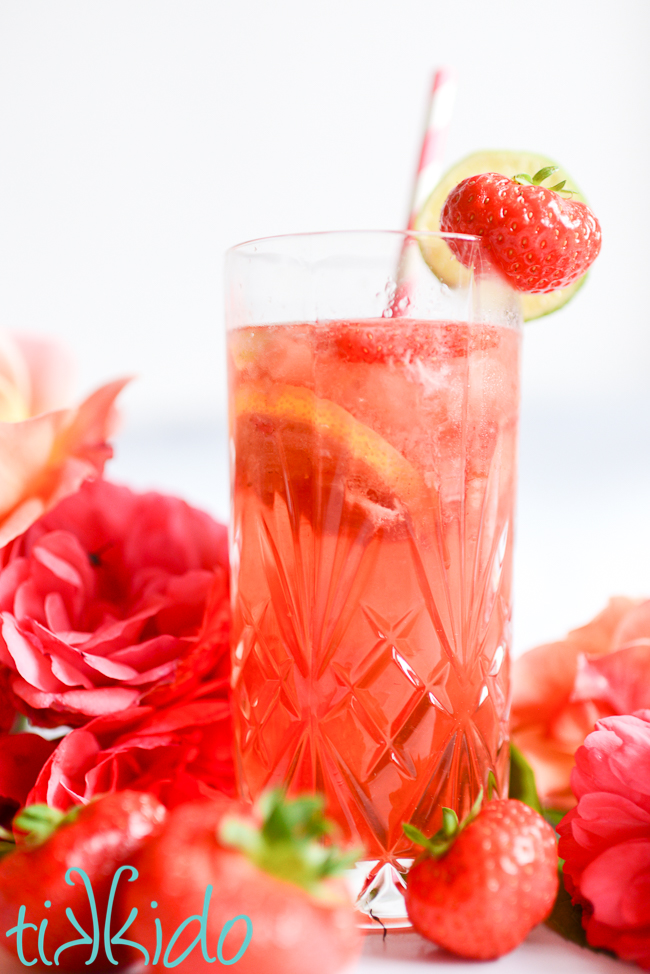 What is a Rosé Sangria?
Classic spanish sangria (the original) is an alcoholic punch made with red wine, seasonal fruits, sparkling water (or lemon-lime soda), brandy, and fruit liqueurs.  White sangria follows the same pattern, but with white wine and light fruits.  Rosé sangria also follows the classic pattern, and uses a rosé (blush pink) wine.  I like to use a pretty dry and crisp rosé for rosé sangria, because the drink gets plenty of sweetness from the fruit and strawberry syrup.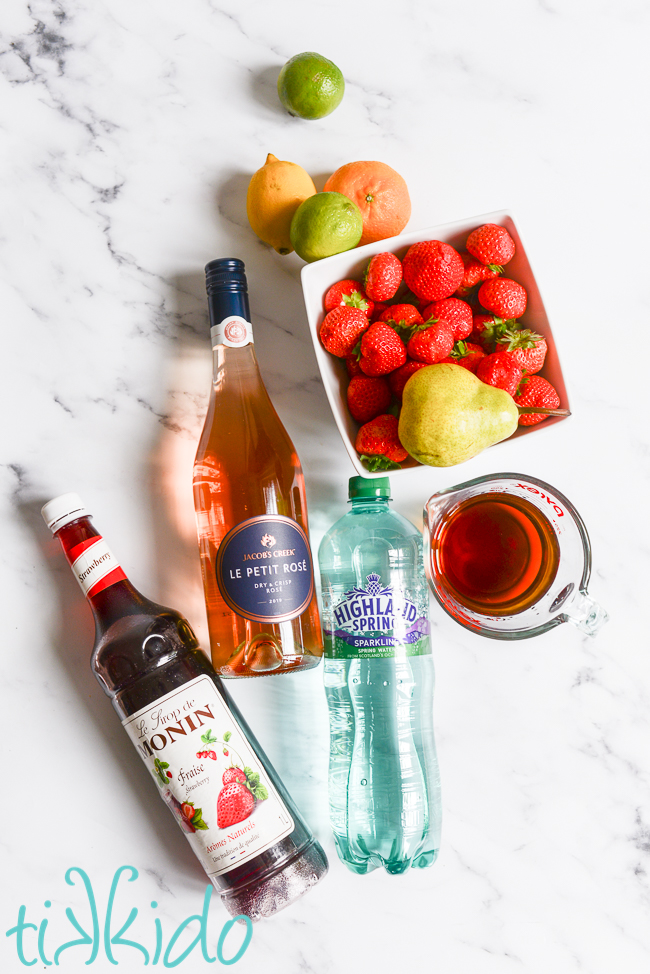 Strawberry Rosé Sangria Ingredients
1 bottle rosé wine
1 cup brandy
1/2 cup strawberry syrup
2 cups sparkling water
1 lemon, sliced
1 lime, sliced
1 orange, sliced
strawberries, hulled and sliced
1 pear, chopped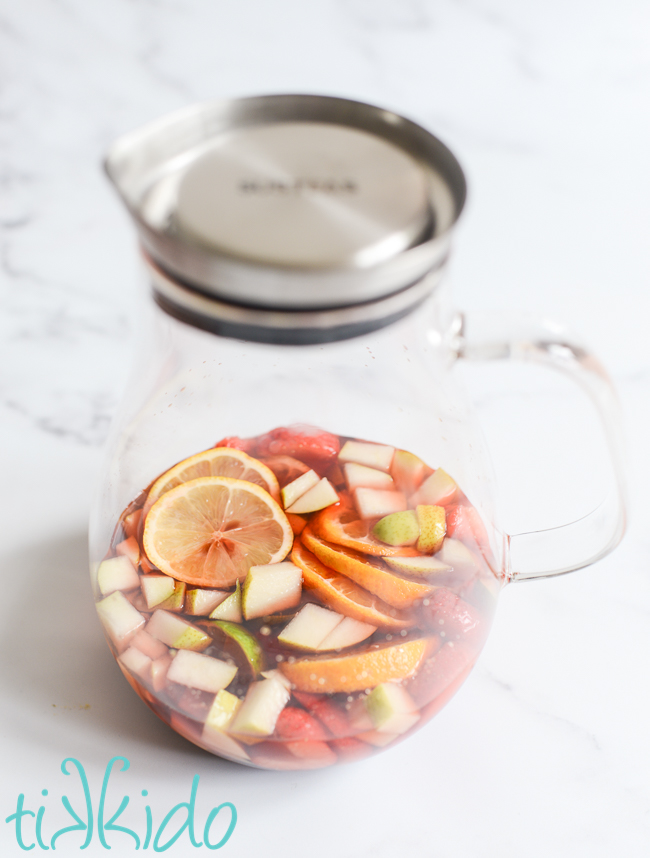 How to Make a Rosé Sangria
Strawberry Rosé Sangria is incredibly easy to make, but for the best flavor, you need to plan ahead a bit.  
The first step is to chop the fruit.  Then mix the fruit with the brandy and strawberry syrup.  (It's amazing to use a homemade strawberry syrup, but Monin brand syrups are excellent, and that's what I used here.) Then we put a lid on it and let it sit for at least several hours.  I like to prepare this part of the sangria the night before, and let it sit in the fridge overnight.  The flavors from the fruit with infuse the liquid, and the bites of fruit will absorb the brandy and strawberry flavors, too.
Just before serving, pour in a bottle of chilled rosé wine, and two cups of sparkling water.  Stir gently to combine.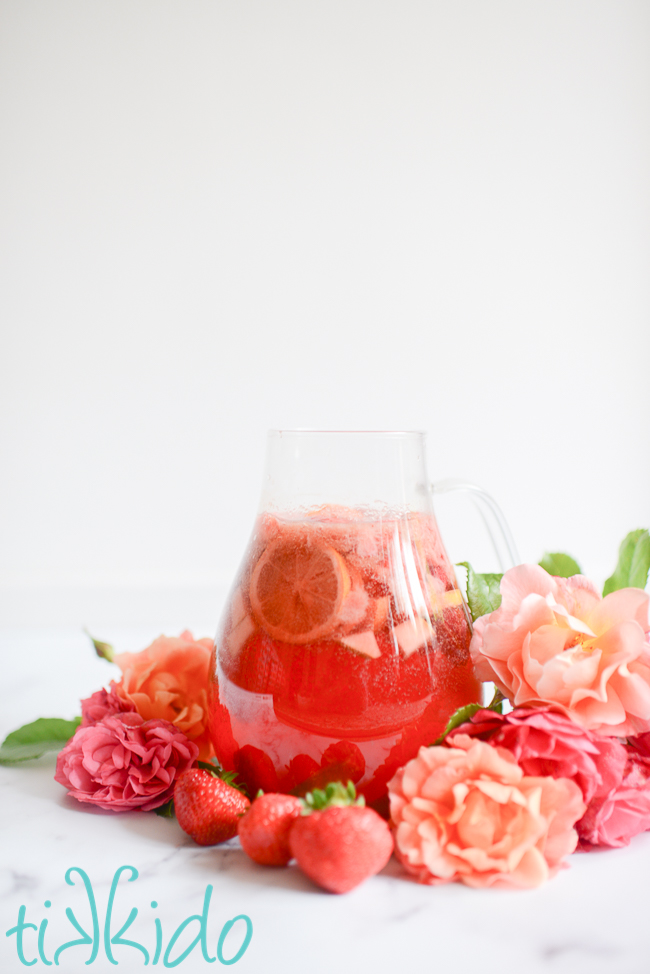 Rosé Sangria Variations
Rose sangria, like any sangria, is endlessly versatile and customizable.  Here are some suggestions to get you started:
If you don't like brandy, substitute vodka.
for a non-alcoholic version, use a non-alcoholic rose wine, don't use the brandy, and use lemon-lime soda instead of sparkling water.  Add an extra cup of the soda to replace the brandy. 
Switch up the fruit syrup--Monin makes a ton of delicious flavors.  (This isn't a sponsored post, I swear, I just really like their product!) I can't wait to try this recipe with passion fruit syrup.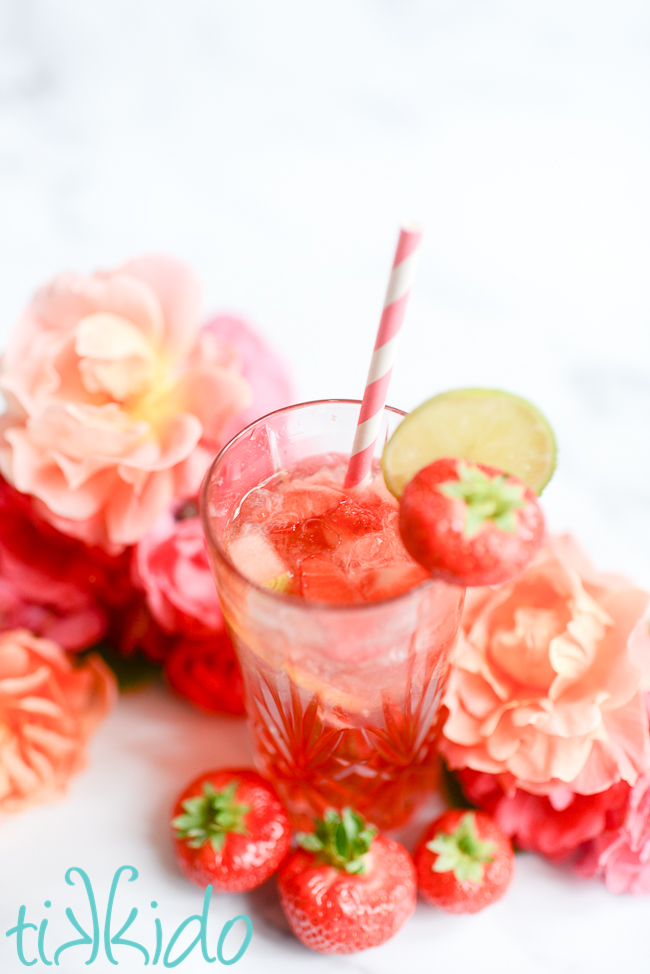 Now all I need is a sunny summer evening and some good friends in the garden!
Printable Rosé Sangria Recipe
Want a one page, printable version of the Strawberry Rosé Sangria recipe?  Click on the image below to get the PDF to download or print.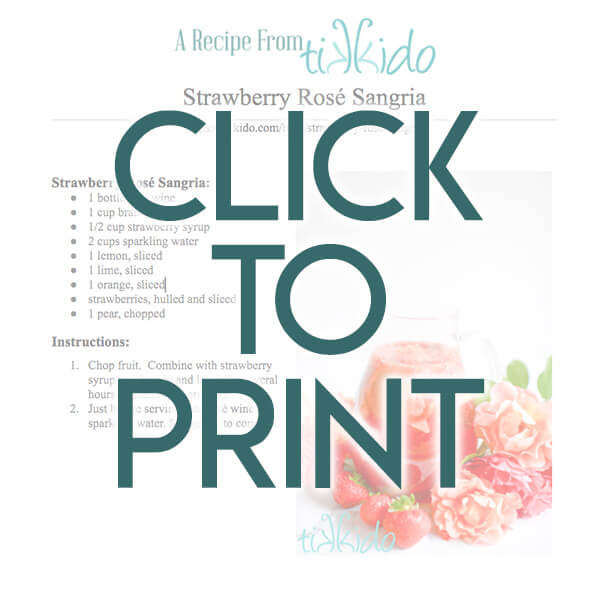 Other Sangria Recipes You Might Like: