Printer-friendly version
This rocky road cookie pizza recipe is a decadent, delicious, fun twist on chocolate chip cookies.  It's a giant chocolate chip cookie, topped with peanuts and marshmallows, baked in a pizza pan, and cut into slices to made an irresistable pizza cookie.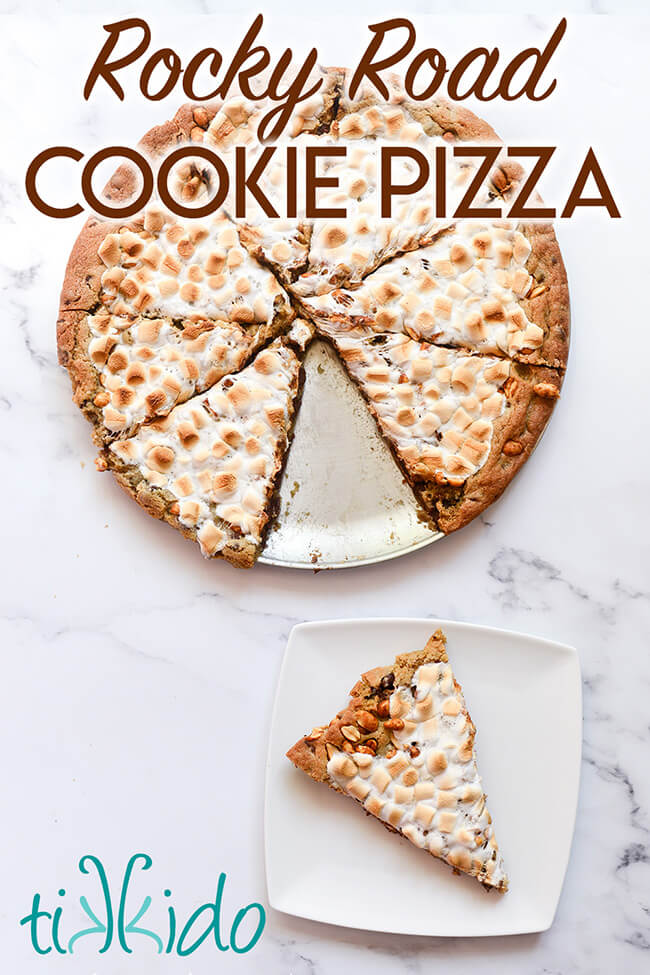 It's time once again for the Taste Creations Blog Hop, and our theme this month is Rocky Road!  I love that classic combination of chocolate, marshmallow, and peanuts.  As I was deciding what to make for this theme, I remembered a rocky road cookie pizza that my mom used to make when I was a kid.   I loved this pizza cookie so much, that I once burned my lip on the pan because I got too close in my enthusiasm to sniff the freshly baked dessert.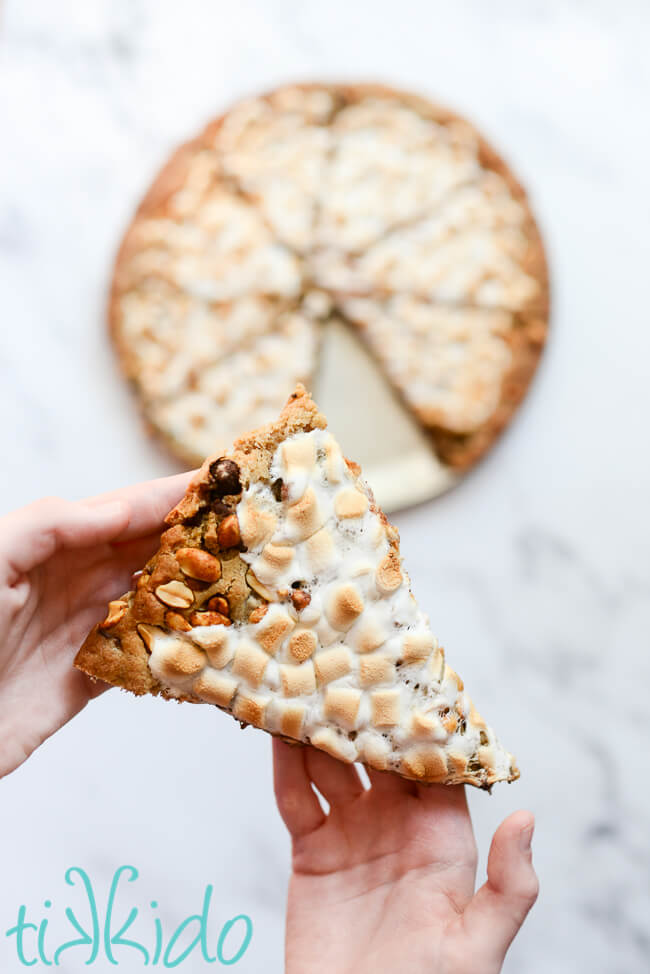 My mom made this several times for me to take to school for all of my classmates for a classroom party, and I was an absolute instant LEGEND in the elementary school.  Nobody can resist the delicious fun of a slice of cookie pizza!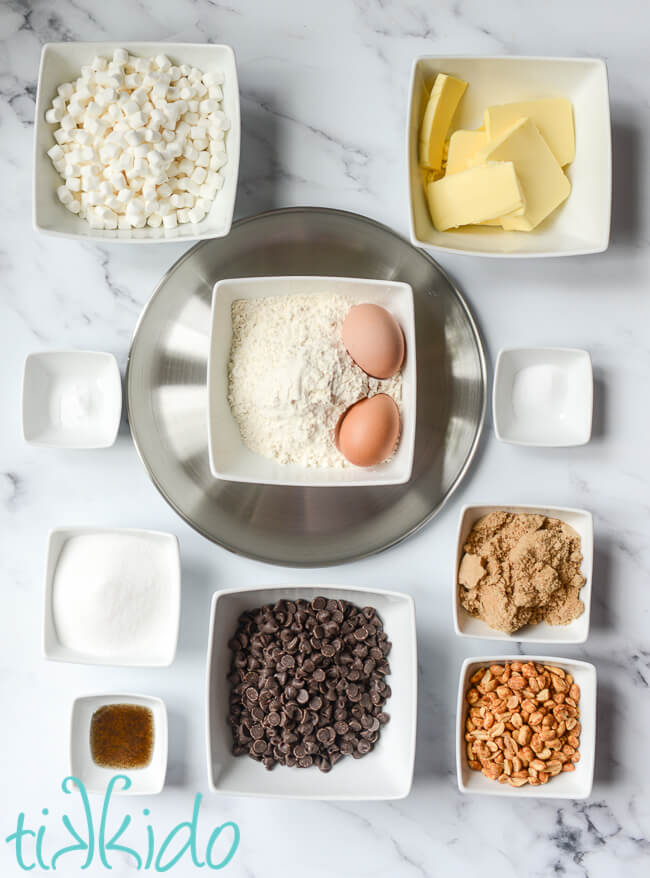 Rocky Road Pizza Cookie Recipe
2¼ cups flour
1 teaspoon baking soda
1 teaspoon salt
1 cup butter, softened
¾ cup  sugar
¾ cup brown sugar, packed
1 teaspoon vanilla
2 ea large eggs
12 oz (2 cups) semi-sweet chocolate chips
3/4 cup peanuts (approximate)
2 cups mini marshmallows (approximate)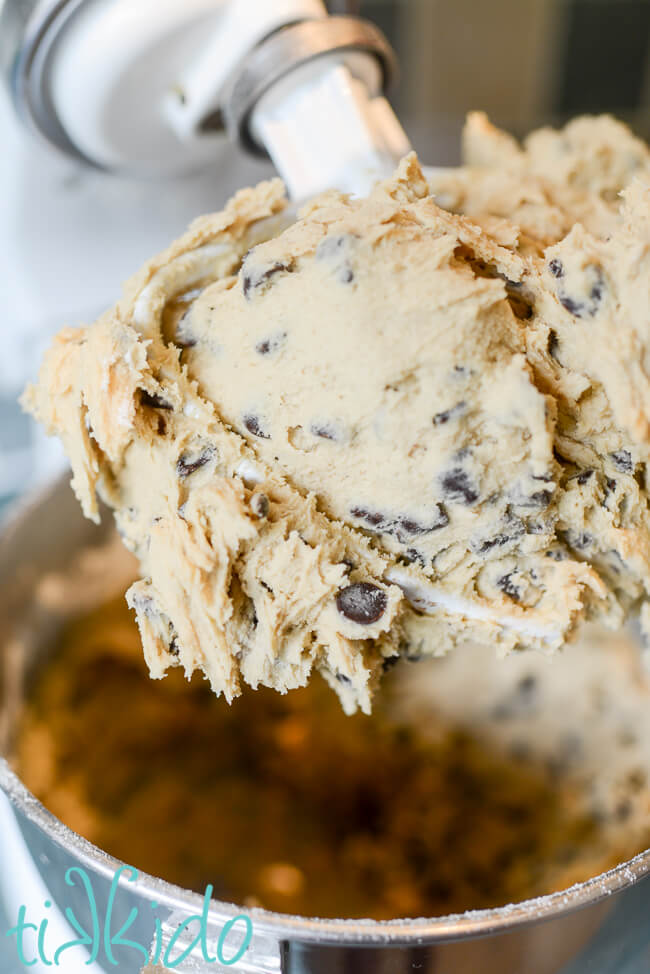 How to Make a Giant Cookie Pizza
The first step is to make a classic chocolate chip cookie dough.
Cream together the butter and sugar.  Add the eggs and beat well.  Add salt, vanilla, and baking soda, and beat.  And flour and mix until well combined.  Add chocolate chips and mix just until the chocolate chips are evenly encorporated in the cookie dough.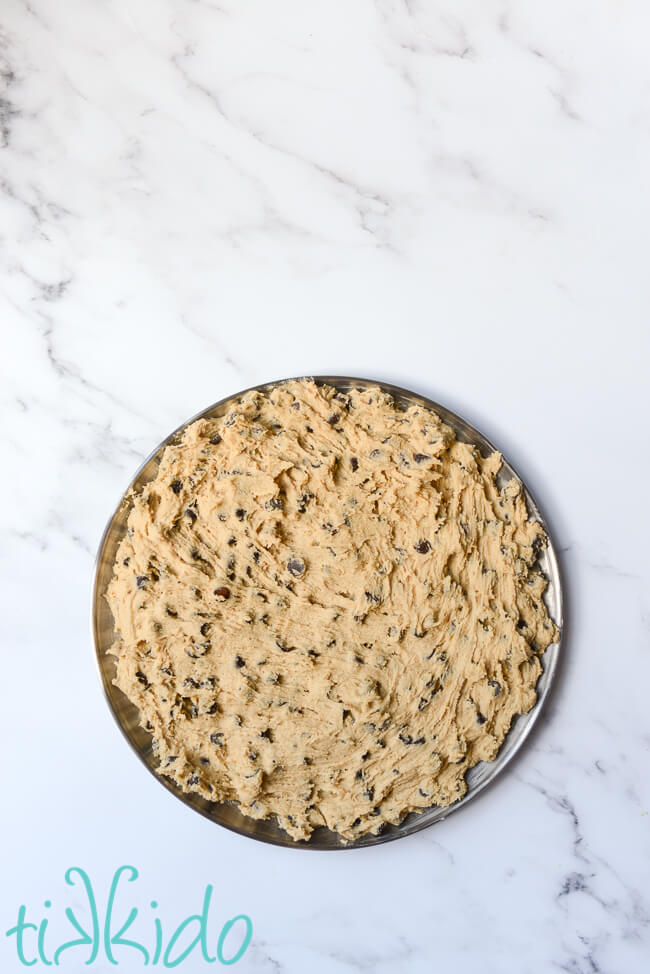 Spread (most of) the cookie dough in a greased 12" pizza pan.  In my particular cookie pan, the lip was low enough that I had a little spillover baking this the first time.  I found that it was better if I used a cookie scoop and scooped out 6 cookies worth of dough, and used the rest in my cookie pizza.  I just froze my unbaked, scooped cookies, and now I have a small batch of frozen chocolate chip cookies, ready to bake whenever I have a chocolate chip cookie emergency.  Those happen, you know.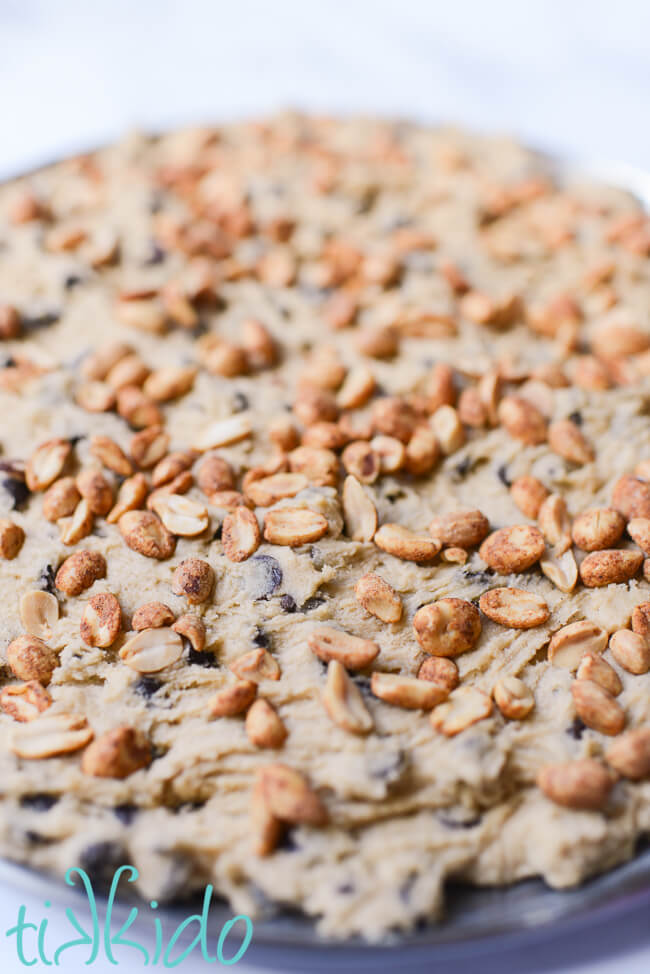 Sprinkle the peanuts on top of the unbaked cookie dough.  Press in slightly so they stick.  Do not put the marshmallows on yet!
Baking the Cookie Pizza
I have two sets of instructions for baking a pizza cookie like this, actually.  It depends on how you want to serve it.  One is gooey, soft, underbaked, and fabulous served hot with a scoop of ice cream on top.  One is a more classic, firm cookie, that you could package up for a favor (or classroom treat--probably minus the peanuts these days!), hold in your hand, and eat on the go.
Soft, Warm, Pizza Cookie (Pizookie) Baking Instructions
Preheat oven to 375 degrees Fahrenheit
Bake pizza cookie for 15 minutes
Remove from oven, sprinkle with marshmallows, and return to oven for a final 5 minutes of baking.
Serve warm (either fresh, or reheated in the microwave), and topped with ice cream.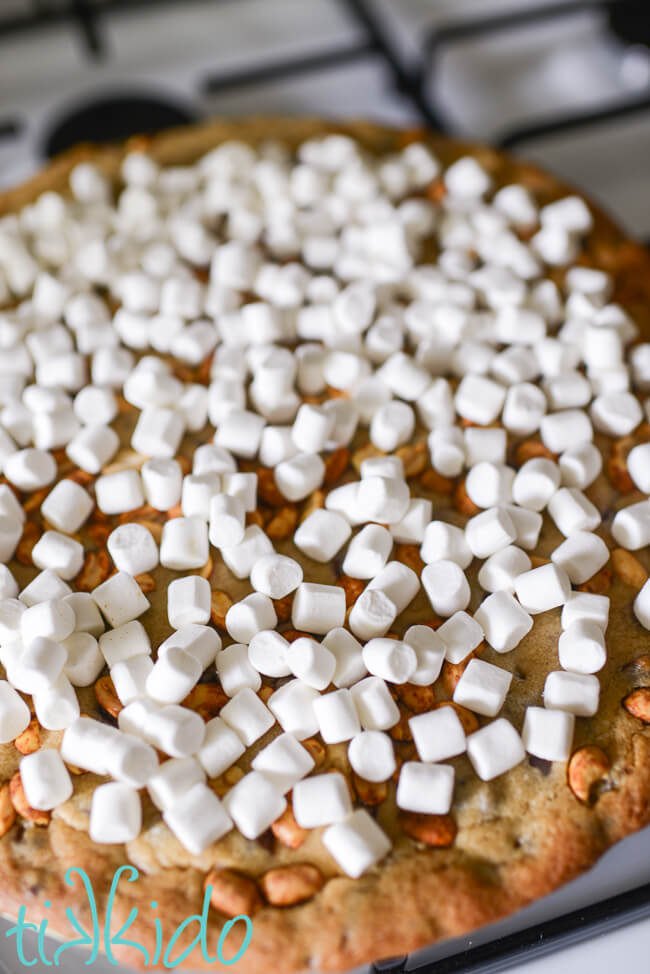 Firmer, Easy to Hold and Package Cookie Pizza Baking Instructions:
Preheat oven to 350 degrees Fahrenheit.
Bake the pizza cookie for 25 minutes.
Remove from oven, sprinkle with marshmallows, and return to oven to bake for five more minutes.
Let cool before serving.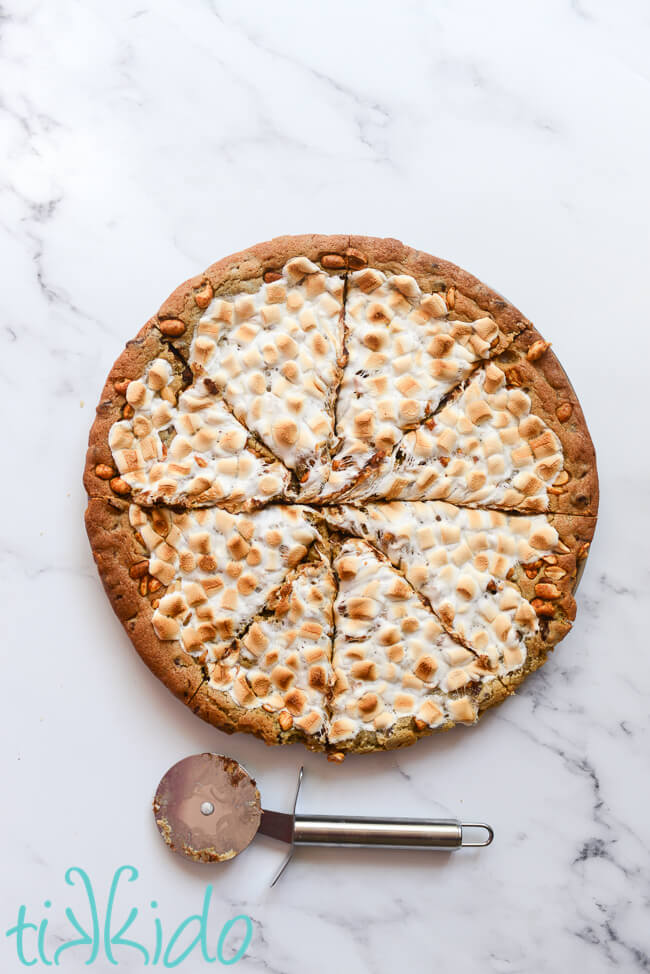 Whichever way you decide to bake this cookie pizza, it's absolutely delicious!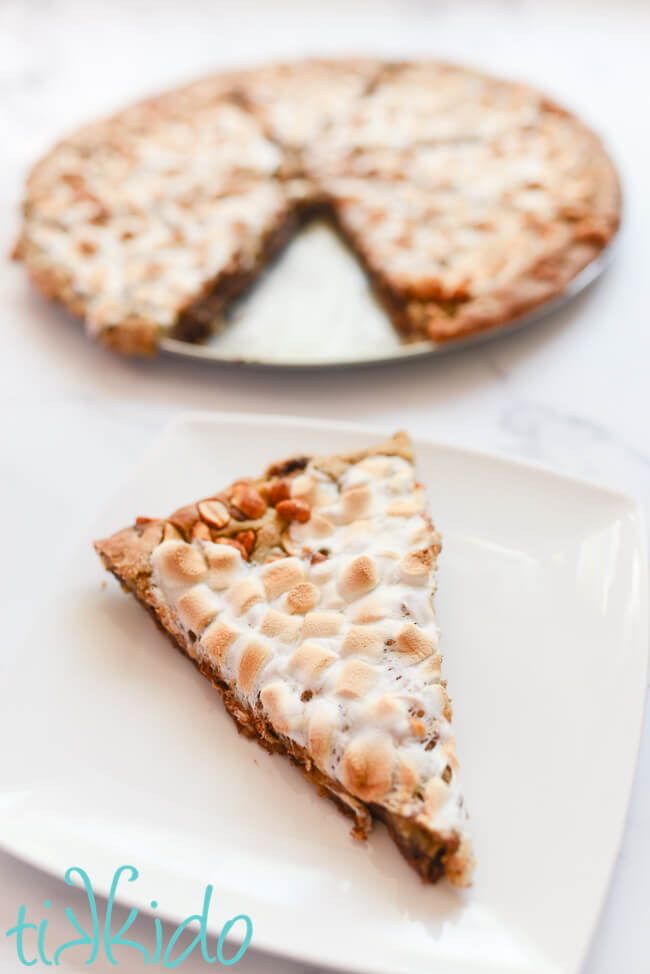 Other Rocky Road Recipes from the Taste Creations Blog Hop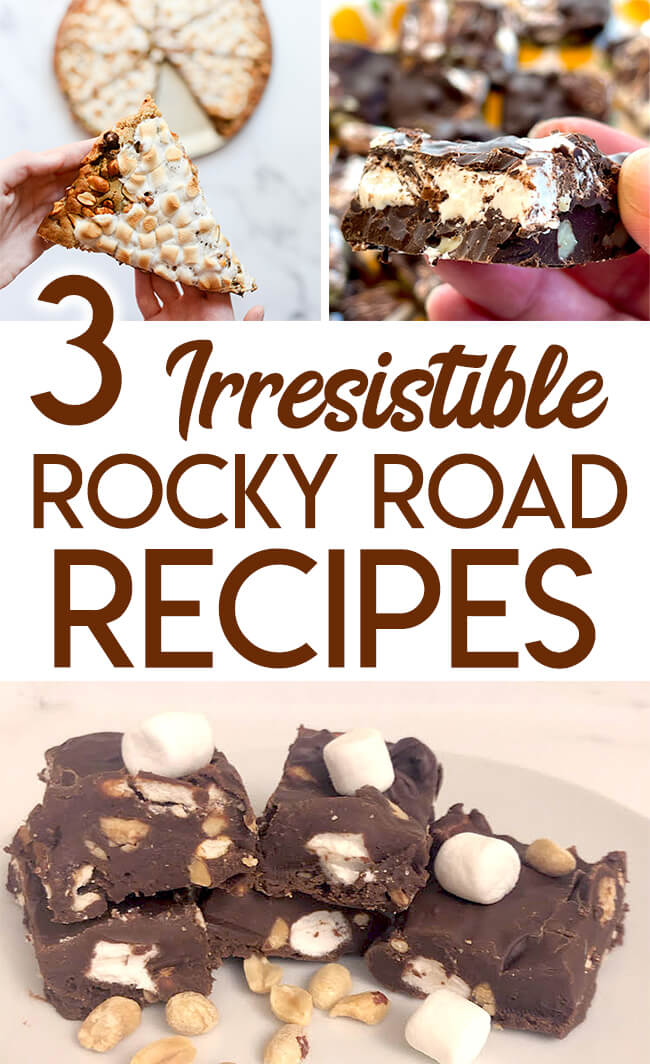 Want more amazing rocky road recipes?  Check out these delicious ideas from my fellow bloggers in the Taste Creations Blog Hop.
Our Good Life: Rocky Road No Bakes
Mom Home Guide: Rocky Road Fudge
Other Marshmallow Recipes You Might Like