Printer-friendly version
Learn how to decorate unicorn cake sugar cookies with this cookie decorating tutorial.  We've all seen those adorable unicorn cakes on Pinterest, but for my friend's unicorn themed baby shower, I wanted to play with that popular trend and make a sugar cookie version.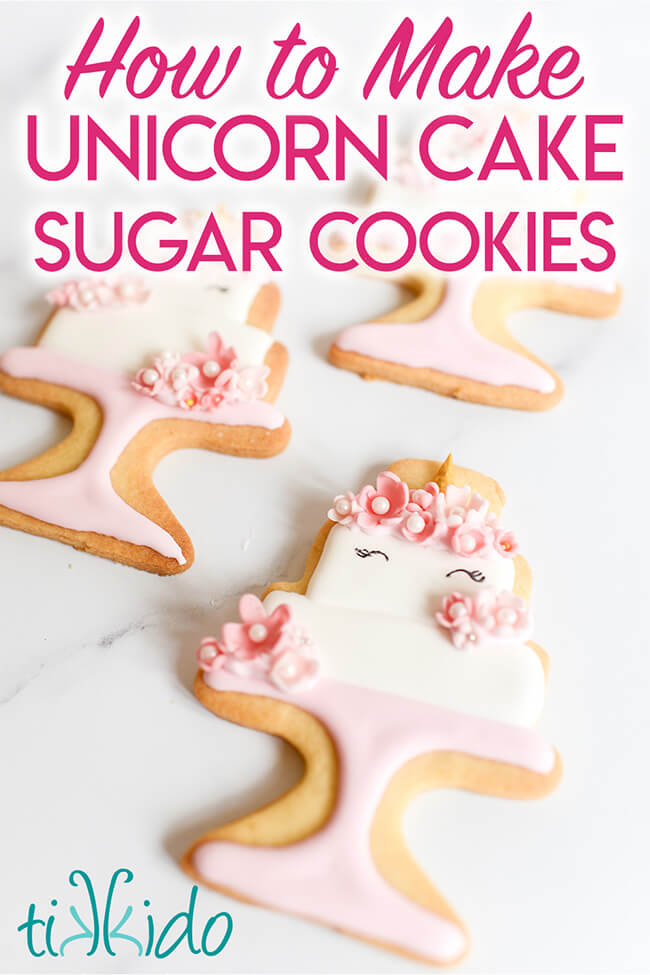 I love how they turned out!  I will never be too old for unicorns.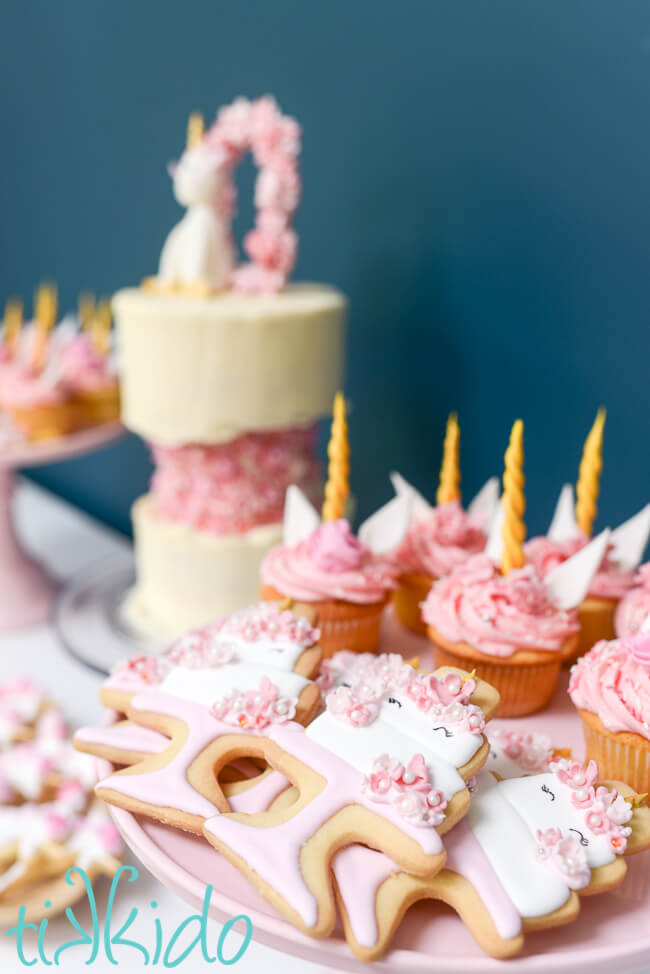 I also made unicorn cupcakes and attempted a fault line unicorn cake (mostly successful, but I still have a lot to learn about fault line cakes).  But I think the unicorn cake sugar cookies were my favorite thing to make.
Materials for Unicorn Cake Sugar Cookies: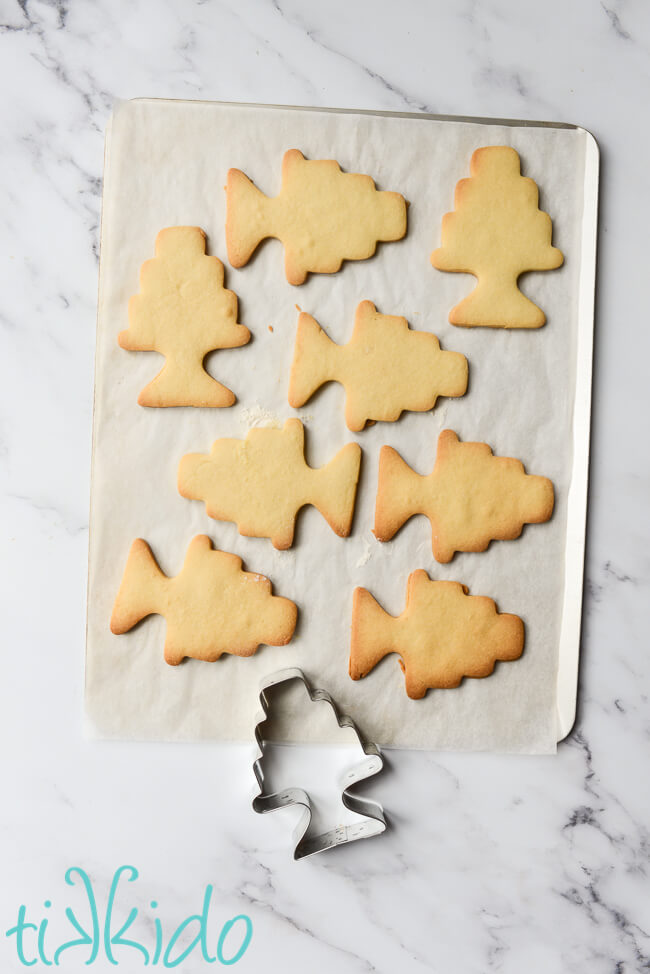 The first step--clearly--is to bake your cookies.  This is my favorite sugar cookie recipe.  It's absolutely delicious, is easy to roll out (with my tips and tricks), and holds its shape beautifully.
I decided to use this cookie cutter, shaped like a three-tier cake on a cake stand (because I already had it) and decorate the cookie a little creatively to turn it into a unicorn cake cookie.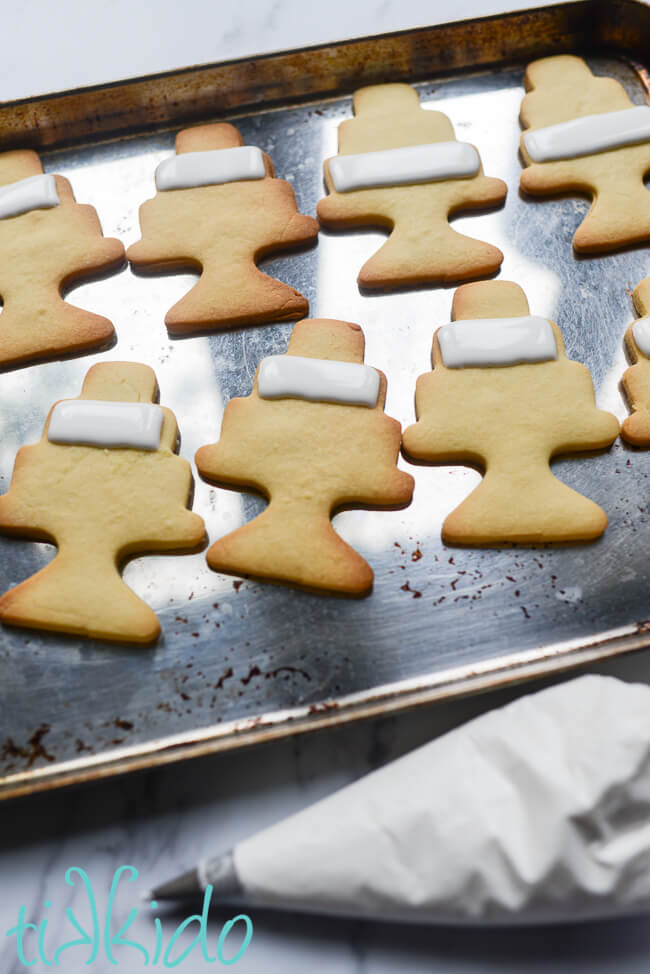 Make a batch of thick royal icing, then thin a portion of the icing to flooding consistency.  We'll be using some of the thicker icing later, so that's why I choose to make thick icing and thin what I need.
Fill either the bottom tier of the cake or the middle tier of the cake first (but leave the top tier blank).  Let it dry for about 10 minutes before adding the second tier of the cake, so the icing won't bleed together, and you'll see the two distinct tiers of cake in the cookie design.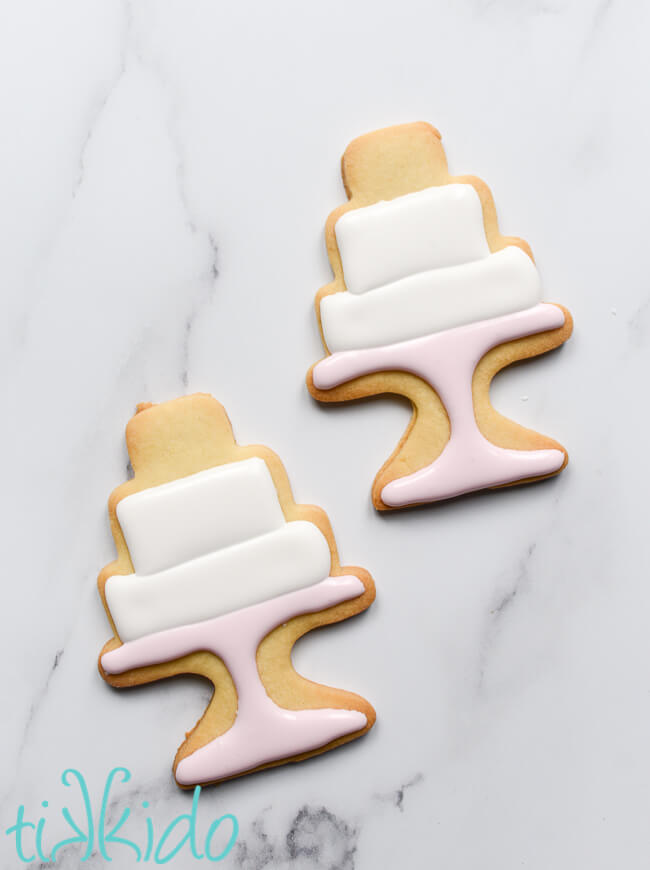 Color some of the flooding consistency icing a pale pink and draw on a cake stand.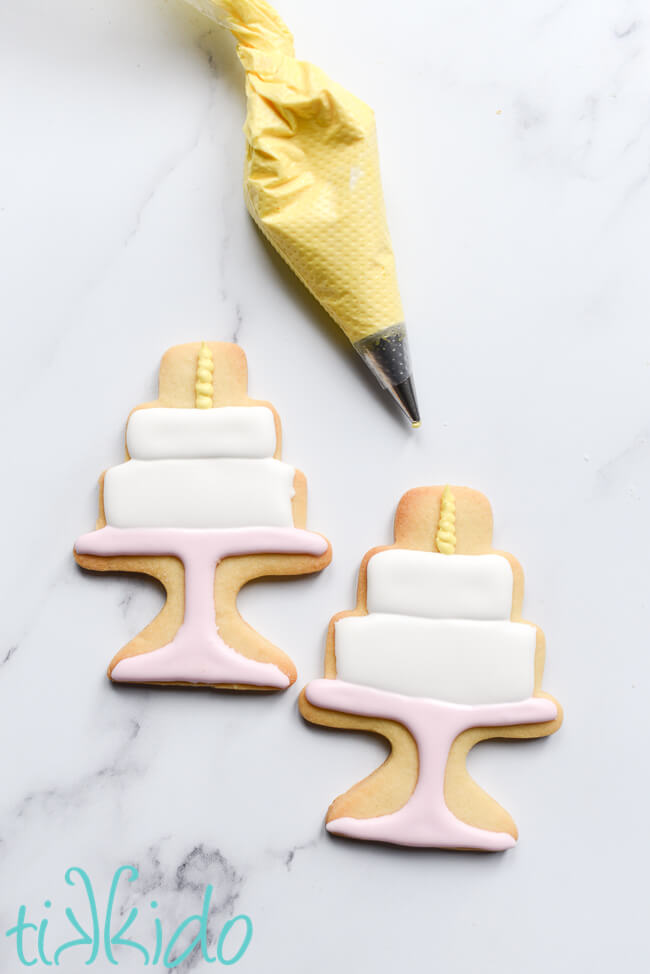 Use some of the thicker icing, colored a light yellow, to add a unicorn horn where the top tier of the cake would usually be in the cookie design.  Let dry completely.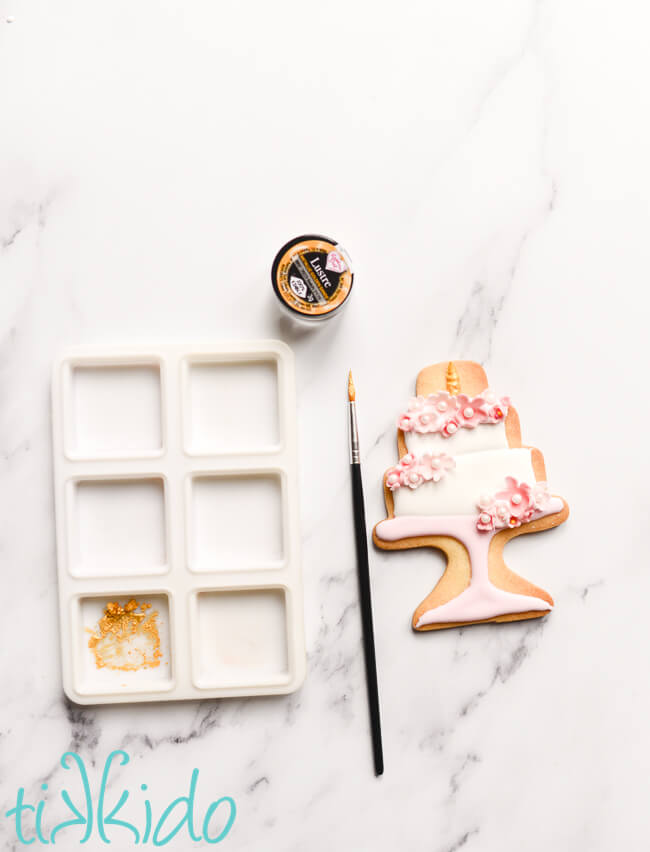 Use gold luster dust and a little bit of vodka to make a gold paint, and paint the unicorn horn gold.
Use thick, light pink royal icing to attach tiny gum paste flowers to the cake.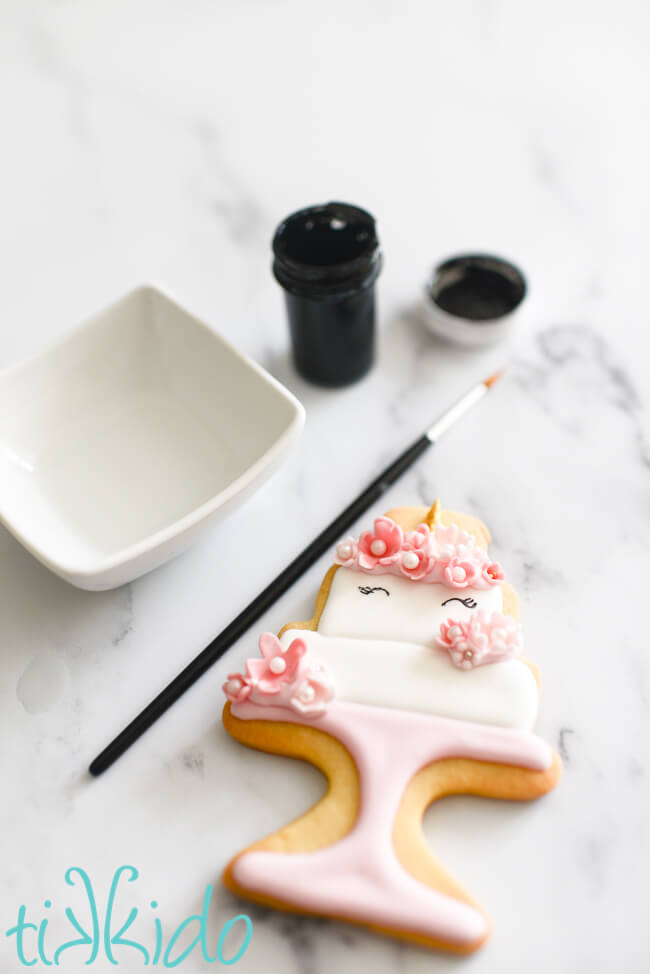 Paint simple eyes on the unicorn cake cookie using black food coloring thinned with a little bit of vodka.
Note: I use vodka or everclear for cake decorating because it's flavorless, and it dries more quickly than water (so doesn't risk damaging things made from sugar), and works with food coloring and luster dust brilliantly.  When it dries, absolutely no alcohol is left behind.  But if you can't use alcohol, it is possible to use water--it  just doesn't work quite as well.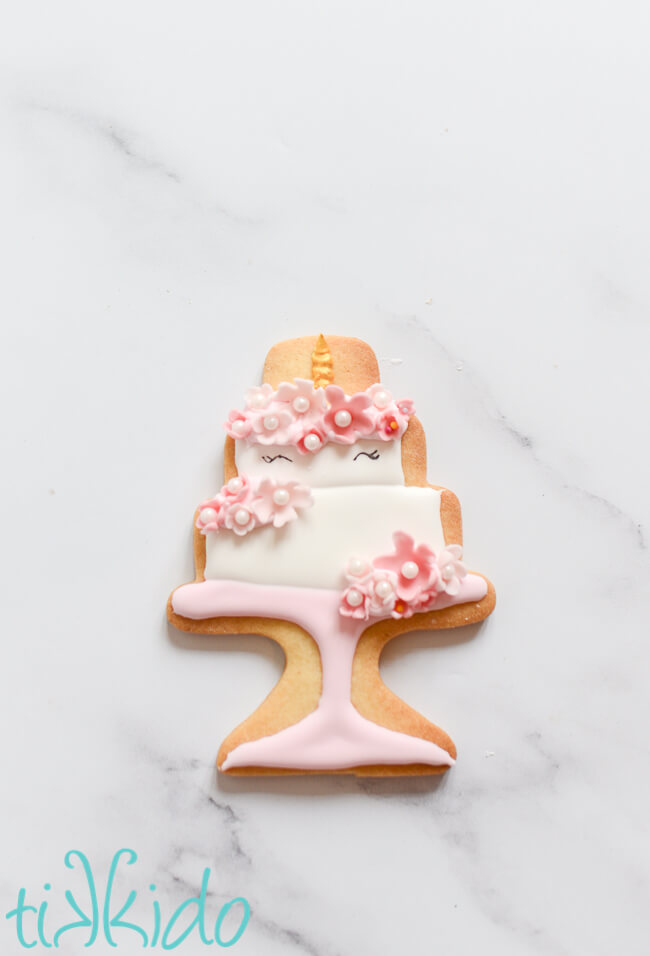 I love how these little guys turned out!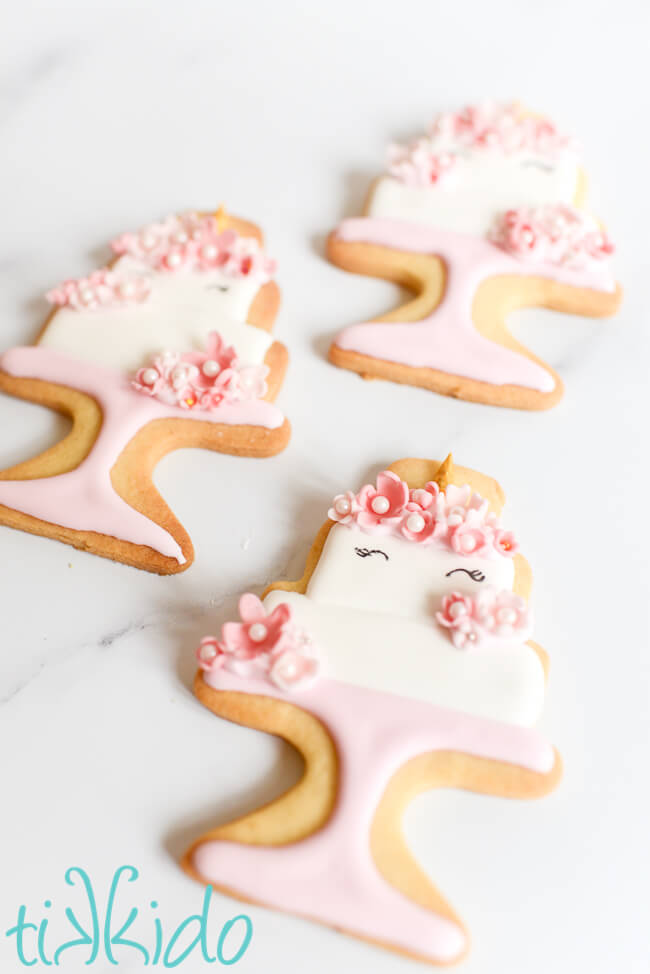 So sweet--in every sense of the word.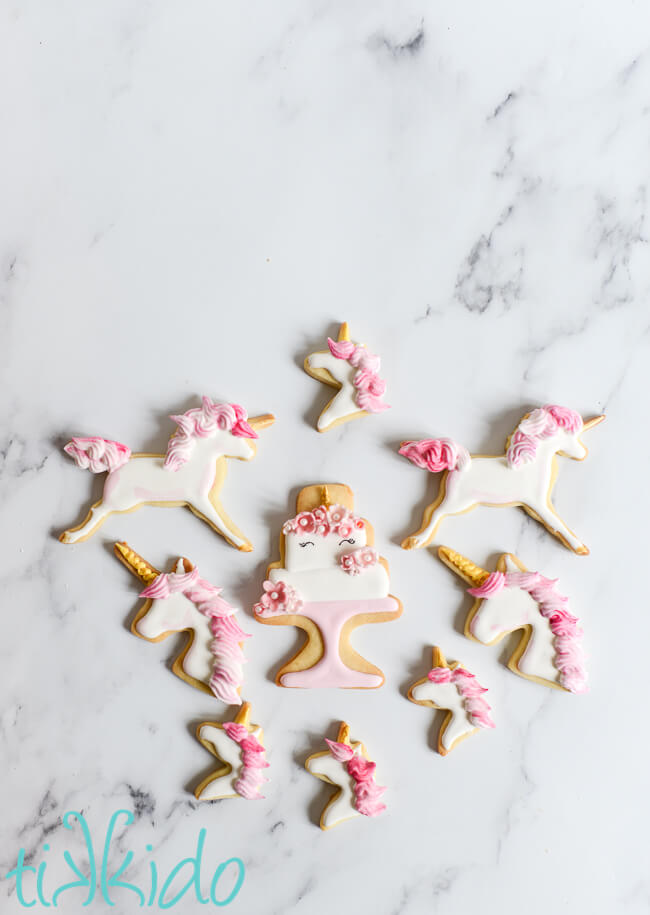 And here it is with the other style of watercolor painted unicorn cookies I made for the party.  Who is with me on the unicorn love?
Other Unicorn Foods You Might Like: