Printer-friendly version
S'Mores Toffee is a variation on saltine cracker toffee candy--but it uses graham crackers instead, and is topped with chocolate and delicious, freeze-dried mini marshmallows.  S'Mores toffee candy is a delicious, fun dessert to make for summer cookouts or a unique addition to Christmas cookie trays.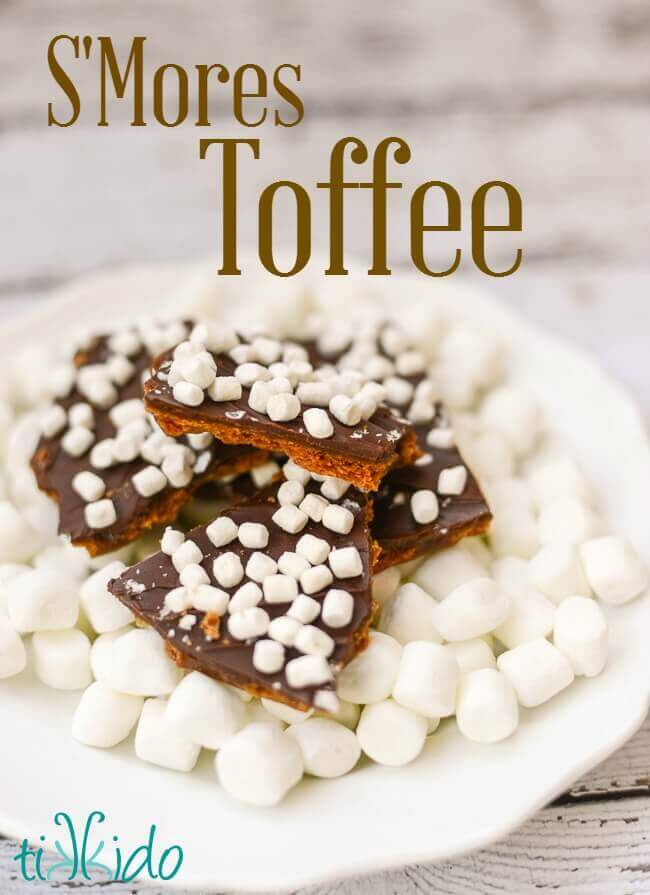 I've been attempting to create a S'Mores bar cookie recipe for a while now, so far without complete success.  My cookies were yummy, but not S'Mores-ish enough to share with you.  My experiments have meant that I have several kinds of marshmallows around the house, including freeze-dried mini marshmallows, and seeing those in the cupboard inspired me to create something entirely different, S'Mores Toffee Candy.
A couple years ago, a friend made me some Saltine Toffee at Christmastime, and it was undeniably delicious.  As I was brainstorming things to do with my leftover marshmallows, I remembered that toffee made with crackers, and inspiration hit:  S'Mores Toffee made with graham crackers and topped with those little nuggets of crunchy marshmallow deliciousness!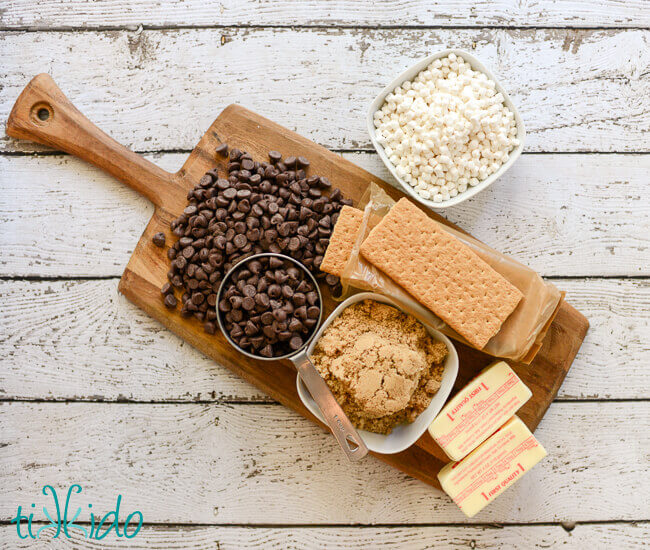 Saltene Toffee is basically just a riff on classic English Toffee, but the addition of the cracker adds great texture and structure to the treat, as well as another set of flavors.
Ingredients for S'Mores Toffee Candy:
2 sticks (one cup) butter (don't be fooled, those are the stubby, fat sticks of butter we get here in the west, but it is an entire cup of butter)
1 cup brown sugar
graham crackers
2 cups chocolate chips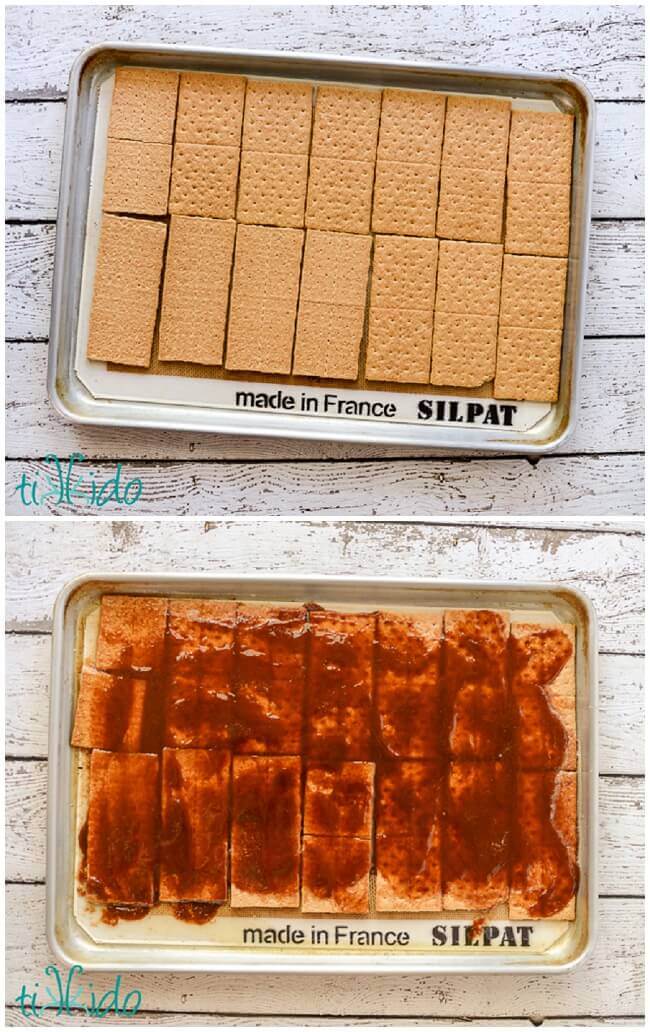 How to Make S'Mores Graham Cracker Toffee:
Line your baking sheet with a Silpat silicone baking mat, or butter it really well.  Really well.  Arrange graham crackers in the baking pan.
Heat the butter and brown sugar together in a saucepan.  Bring to a boil, and let it boil without stirring it for three minutes.
Pour the brown sugar and butter mixture over the graham crackers, then bake the entire thing for 5 minutes at 400 degrees Fahrenheit.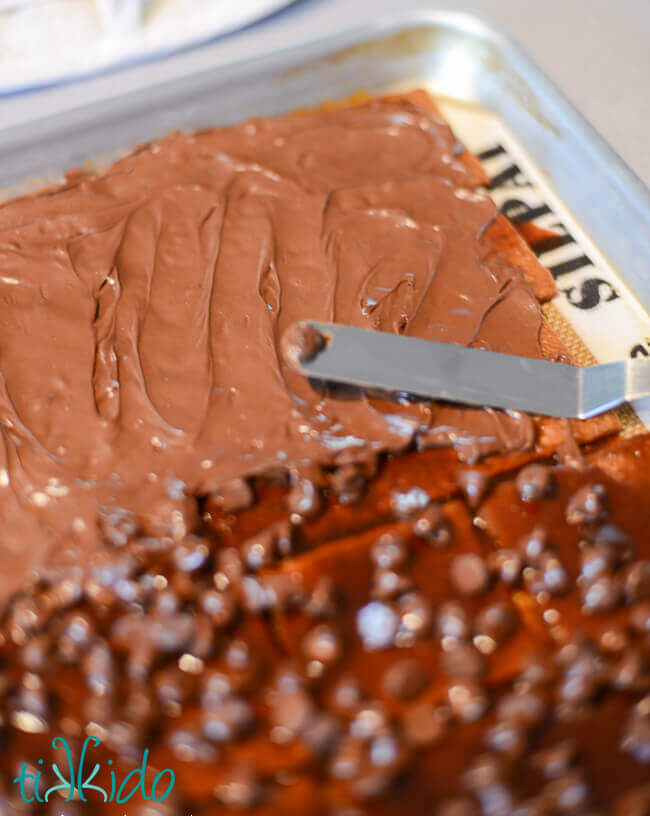 Remove from oven, and sprinkle with the chocolate chips.  When the chocolate chips look glossy, use a spatula to spread the chocolate evenly over the toffee-infused graham crackers.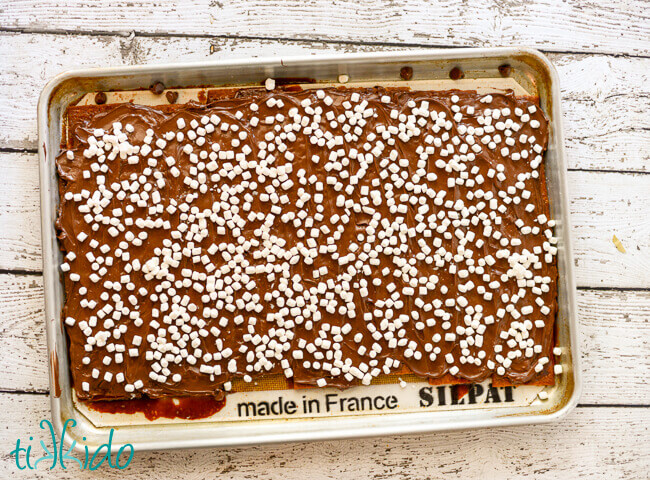 While the chocolate is still wet, sprinkle liberally with the freeze dried marshmallows.  Let cool in the refrigerator.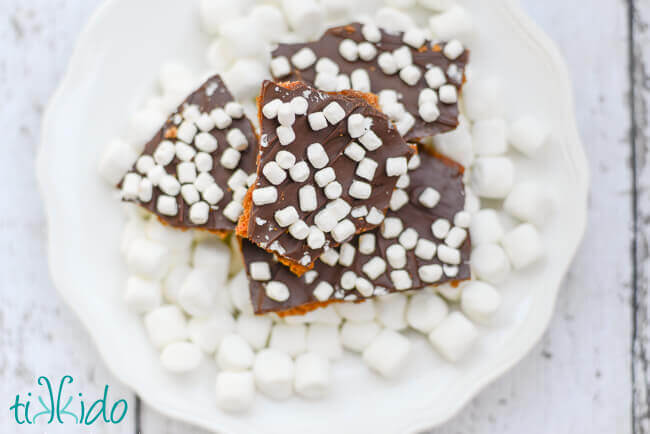 When cool, break the toffee into pieces and just try to keep yourself from eating far too many pieces.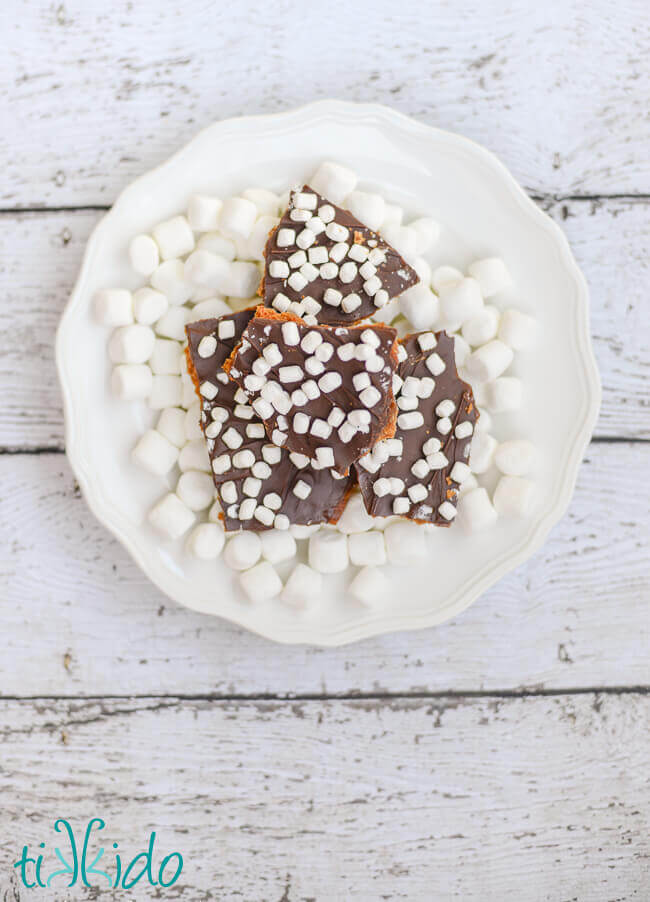 I may have failed in my S'Mores cookie experiments (so far), but something truly delicious came out of the efforts!
Printable Version of the S'Mores Cracker Toffee Recipe:
Click on the image below to find a free, one page, printable PDF version of this S'mores toffee recipe.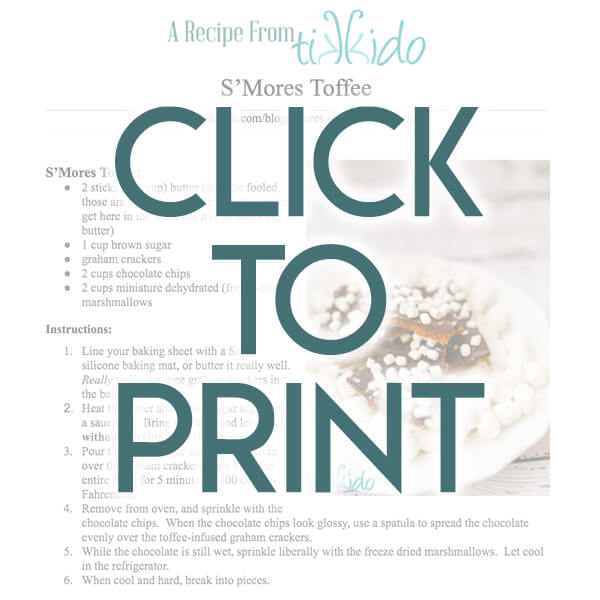 Other Marshmallow Recipes You Might Like: