Printer-friendly version
Learn how to decorate snowman sugar cookies with this tutorial.  I made some of my snowman cookies with sparkling sugar crystals, and some just with royal icing.  Both kinds of snowman sugar cookies are beautiful and pretty easy to make.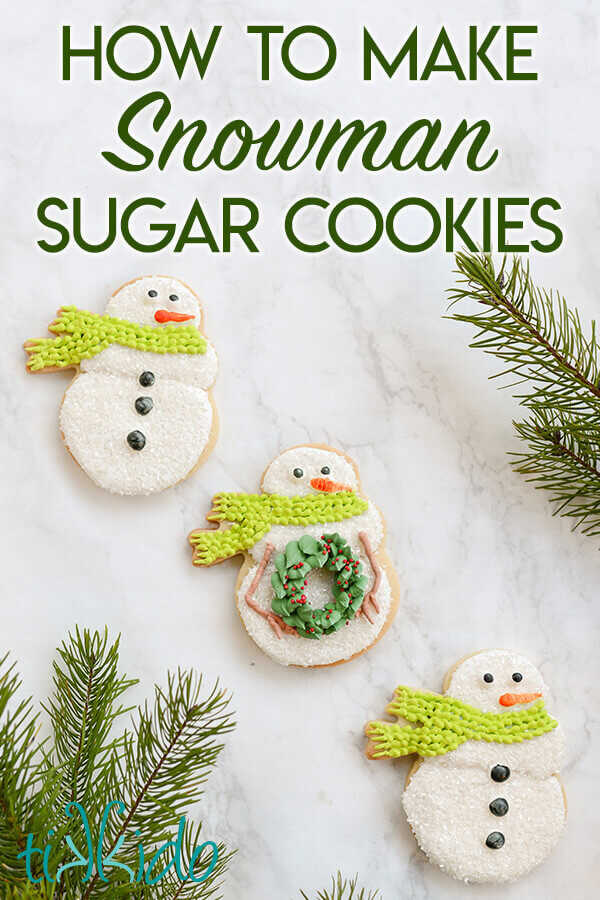 I used a cookie cutter of a snowman with a blowing scarf, but you could use a regular snowman cookie cutter and have the scarf hanging down rather than blowing in the wind.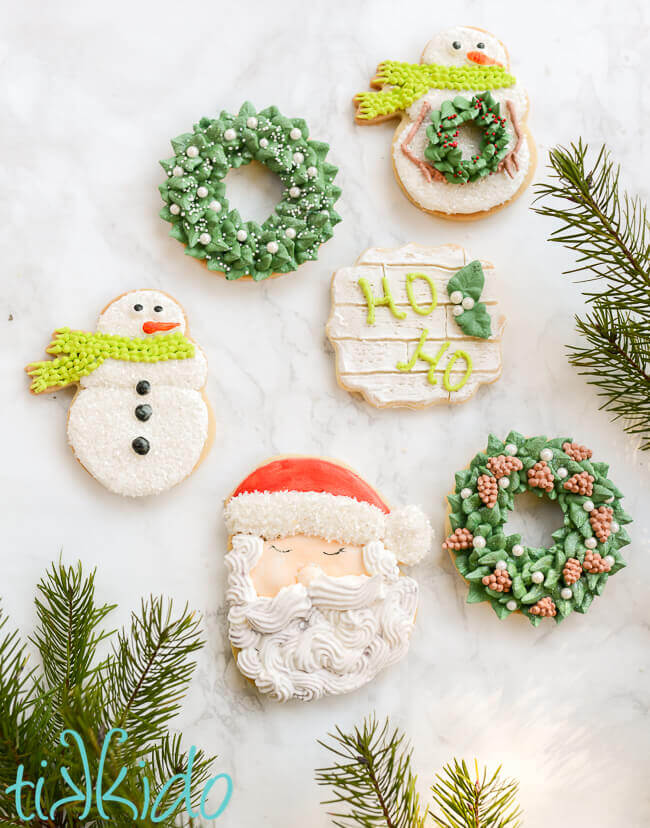 I made these snowman sugar cookies as part of this set of cookies I sent off to a friend.   I didn't take photos or video of any of the other cookies, I'm afraid, but I did manage to record the cute little snowmen with their scarves.
How to Decorate Snowman Sugar Cookies:
First, you'll need to bake your snowman sugar cookies (this is my favorite sugar cookie recipe).  And you'll need some royal icing.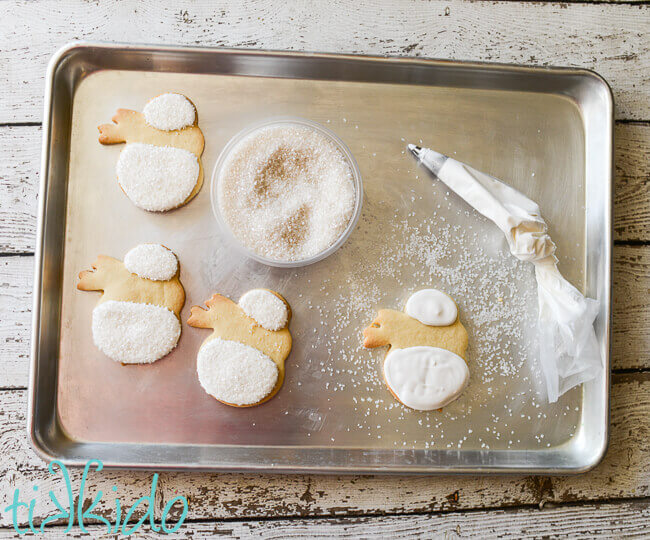 The video will take you step by step through the entire cookie decorating process, but I have a few process photos, too.  
Start by outlining and flooding the top and bottom snowball of the snowman with royal icing.  You can sprinkle with coarse sanding sugar if you want to, or you can just leave the royal icing as it is.  Let dry for a few minutes.
Once the cookie has been given just a few minutes to start drying and crusting over (even though it is still VERY soft, don't touch the icing!), you can fill in the middle snowball.  Waiting just those few minutes allows the icing to dry just enough so that the icing doesn't flow into each other, creating the separation of three snowballs in the snowman.
Give the icing at least 30 minutes to dry, and pipe on the eyes, carrot nose, and coal buttons.  I like to use plain white icing to pipe on these details, and then paint them with food coloring after they dry.  Mixing a lot of tiny batches of icing in different colors is kind of a pain, and makes a lot of dishes to wash.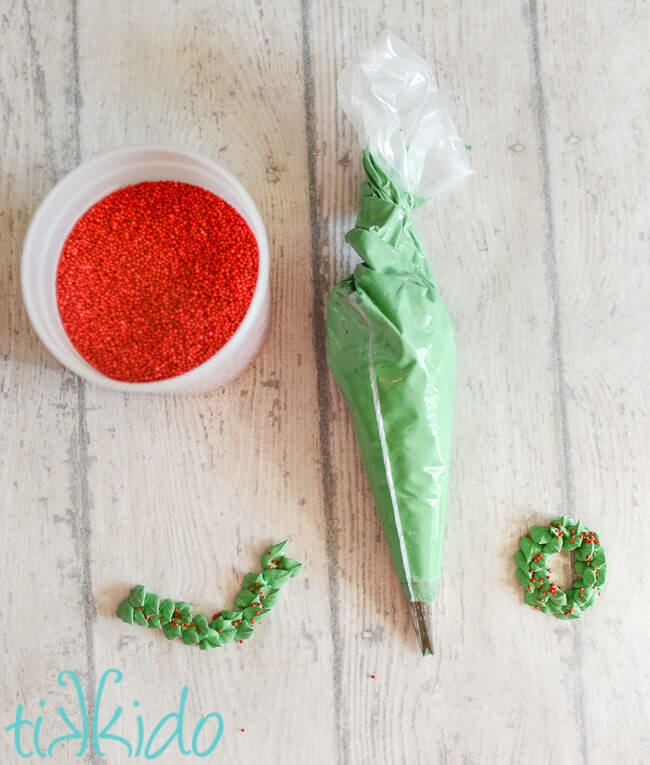 If you want to add a detail like the wreath one of my snowmen is holding, you can do that straight on the cookie, but I like to plan ahead and do my wreaths as an icing transfer.  All I mean by that is that at least a day ahead of time, I use royal icing to pipe icing wreaths on waxed paper.  I let it dry overnight, and then I can just peel off the entire wreath (or garland, or sprig of holly, or whatever) and pop it right down where I want it on the cookie.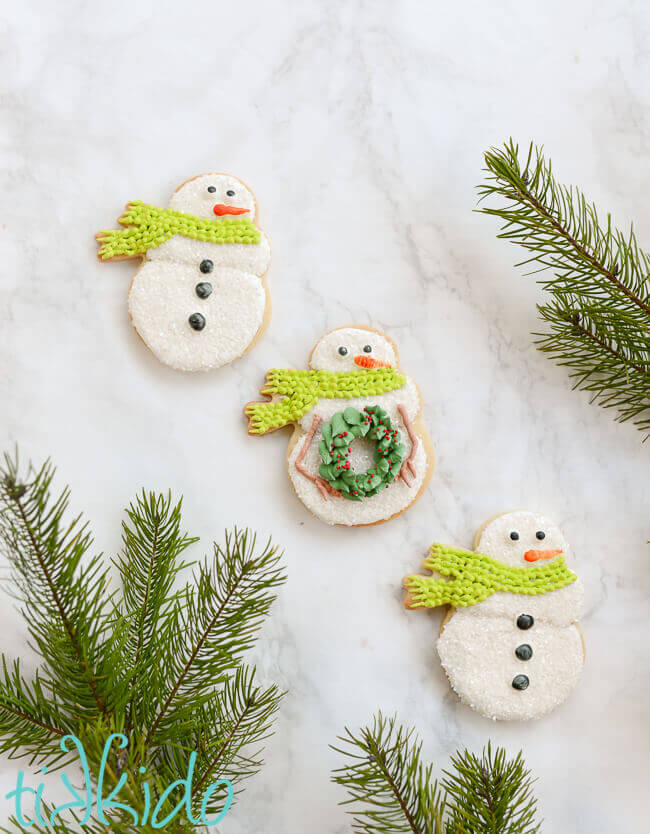 Cute, cozy little snowman cookies, aren't they?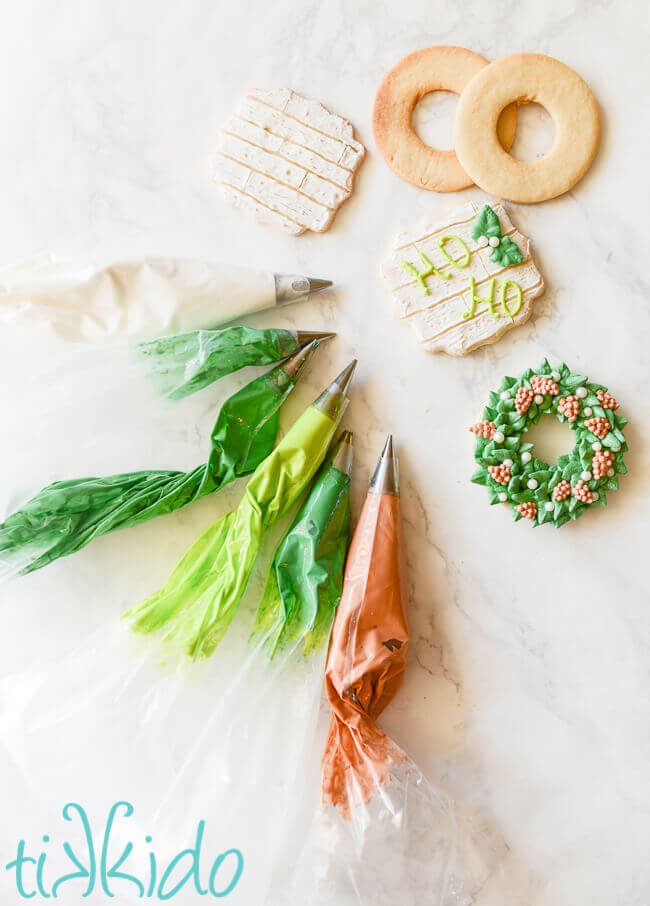 Do you decorate sugar cookies for Christmas?  My grandmother always did, and they were absolutely magical--my favorite of the many kinds of cookies she made each holiday season.  I think about her fondly every time I make sugar cookies, but especially around Christmastime.
Other Christmas Cookies You Might Like: