Printer-friendly version
I love making sugar cookies for my parties.  I've practiced enough that they usually come out looking pretty cute (though not as incredibly awesome as those made by cookie bloggers, but I'm totally ok with that).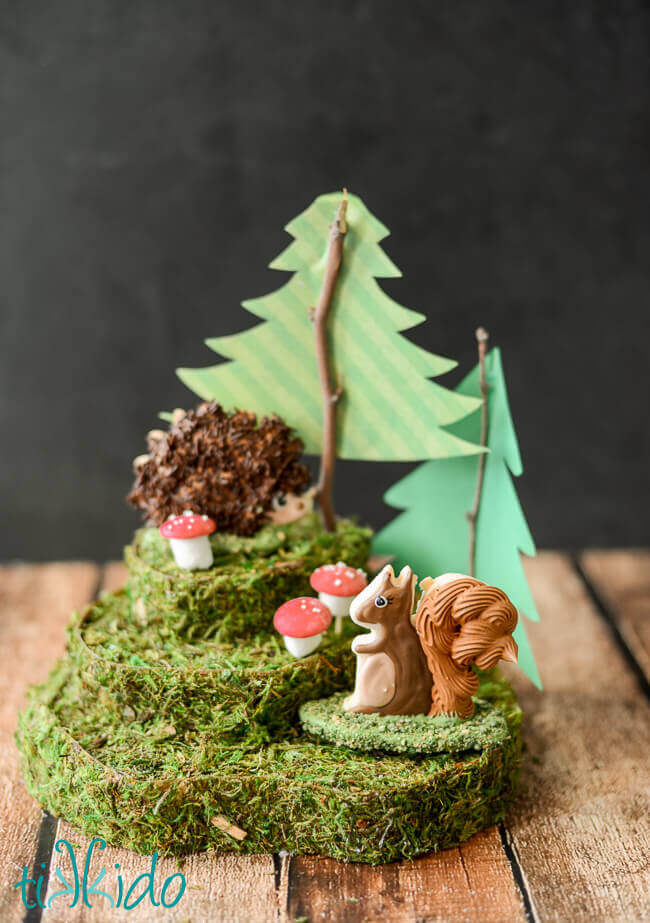 Sometimes they really don't turn out like the picture in my head.  There was a bear cookie cutter that came with this woodland set, but it turned more into a... mutant chupacabra horror cookie.  Nothing I did made it better (maybe if I add texture!  Maybe if I add an outline!  No, just NO).  But it did make an admirable test subject for figuring out how to make my sugar cookies stand up for my Little Red Riding Hood display.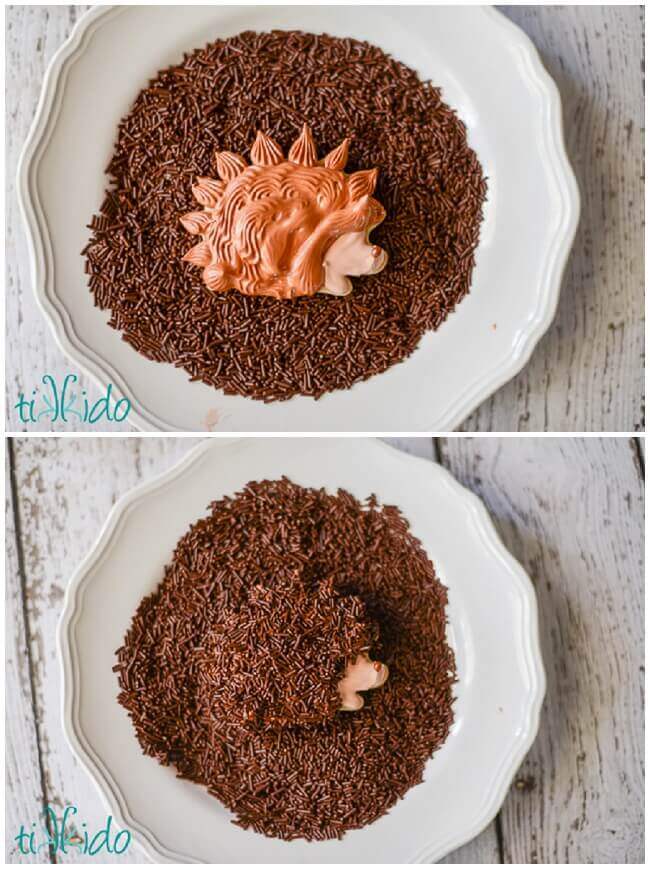 I started by decorating my sugar cookies.  The little hedgehogs were so cute, and so easy to make!  I flooded the face and legs, added a dot for a nose, and let dry for about an hour.  I then piped a whole bunch of icing over the body.  While it was still very fresh and wet, I sprinkled the icing liberally with chocolate sprinkles.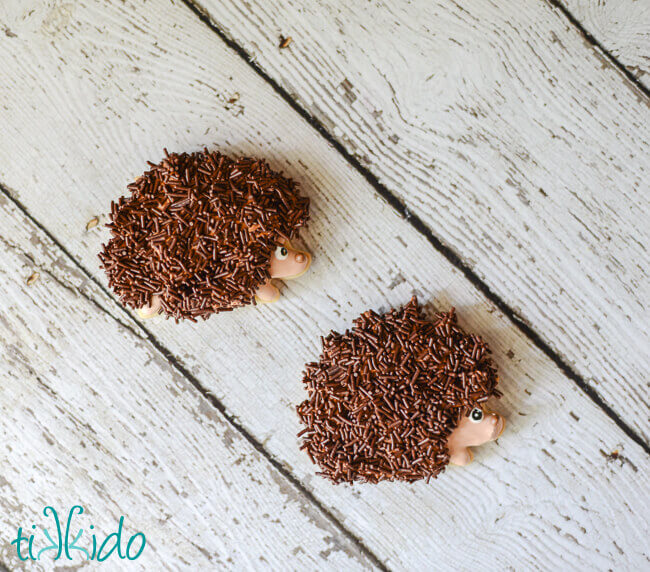 Add an eye, and that's one cute little hedgehog cookie!  The kids LOVED these.  The combination of sprinkles and icing was irresistable.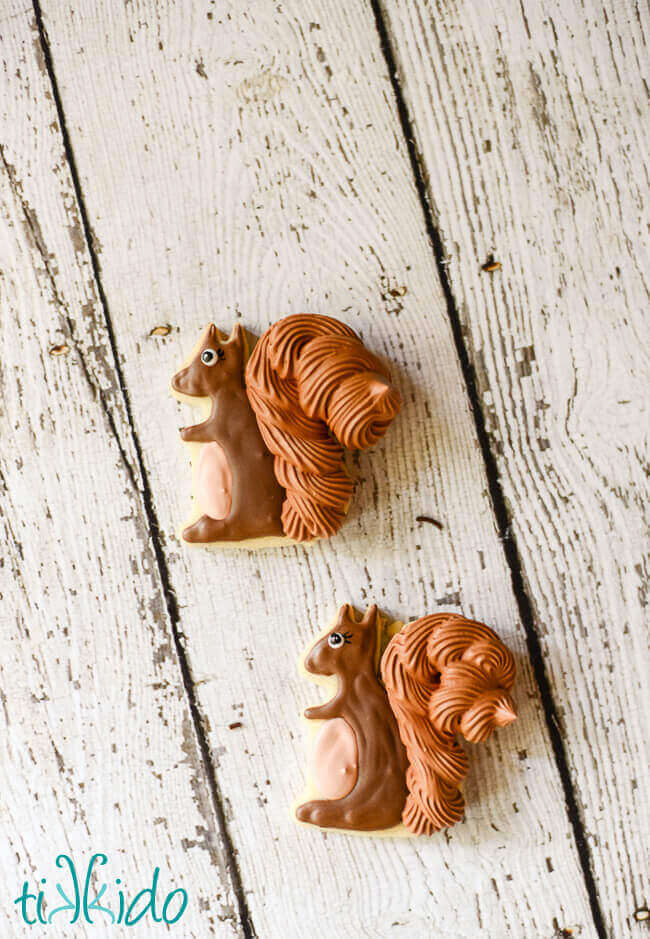 The bear cookies may have been a colossal failure, but I do love how my little squirrels turned out!  All bright-eyed and bushy-tailed.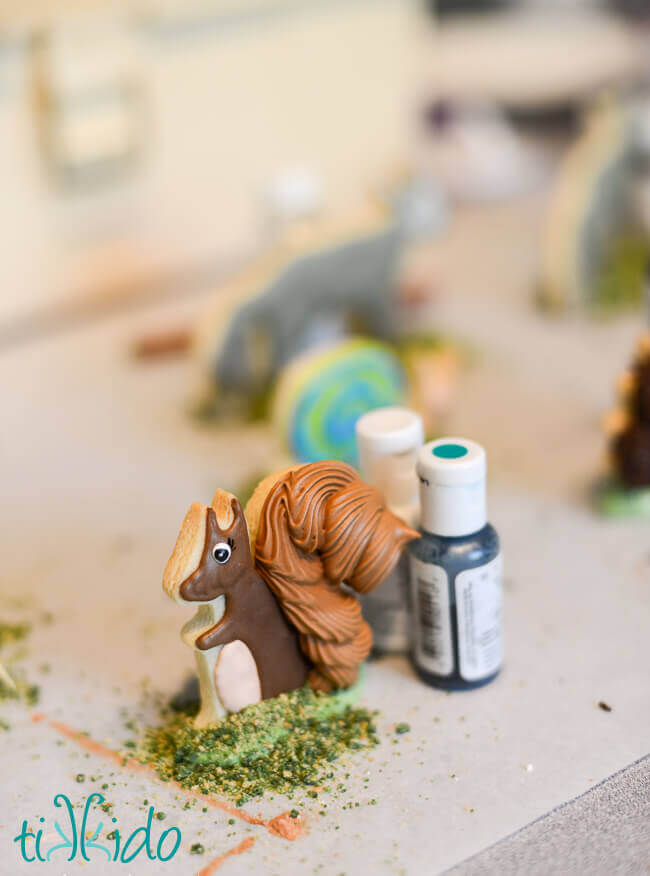 I let the cookies dry completely before attempting to stand them up.  That means overnight at least.
I colored some thick royal icing a green color, and piped a puddle on to my parchment paper, then set my sugar cookie upright in the middle of it.  If the icing had been a little stiffer, I probably wouldn't have needed any support, but I was using the same icing batch I'd used the previous day to decorate the cookies, and no matter how stiff the icing is the first day, it's always more relaxed by the second day.  My icing was still pretty thick, but not thick enough to hold the cookies vertical without support.  I just grabbed a few food coloring bottles from my cake decorating kit and used them to prop up the cookies until the royal icing had dried.
While the royal icing was still very fresh and wet, I sprinkled it with edible moss crumbs--the same technique I used for the easy FROZEN rock troll cookies.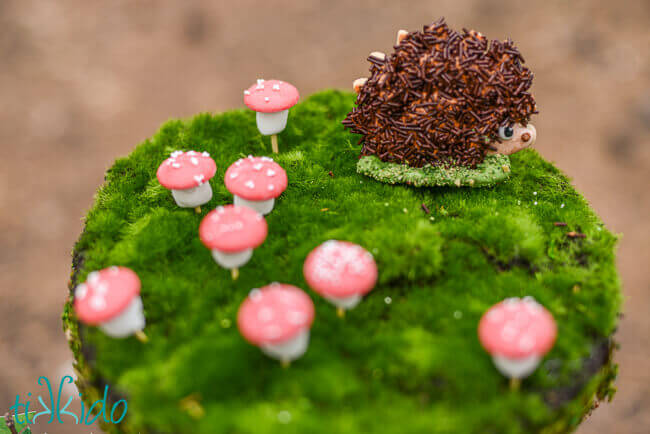 Once the green icing had dried, the cookies stood vertically on their own absolutely perfectly.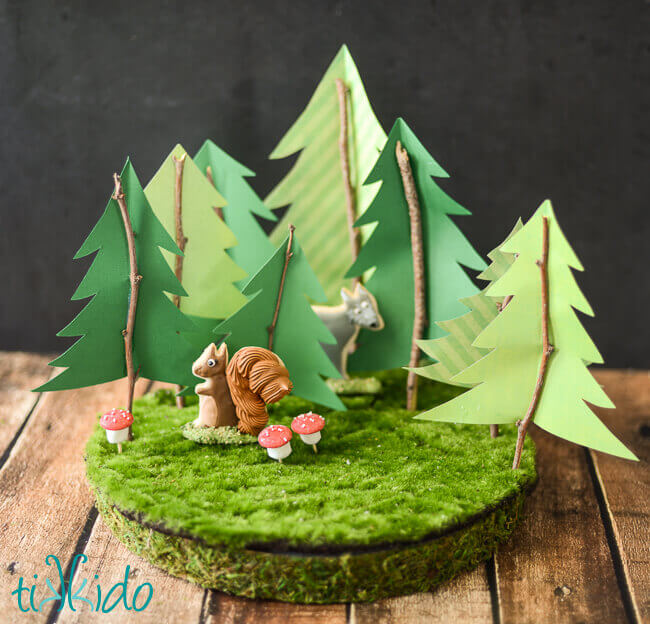 Cookies on a plate are cute, but I love coming up with original ways to display them on a dessert table!
Other Woodland Themed Recipes You Might Like: