Printer-friendly version
This spaetzle recipe will teach you how to make authentic German spaetzle noodles.  These homemade egg noodles or small dumplings are delicious, especially if you top them with cheese to make kaese spaetzle.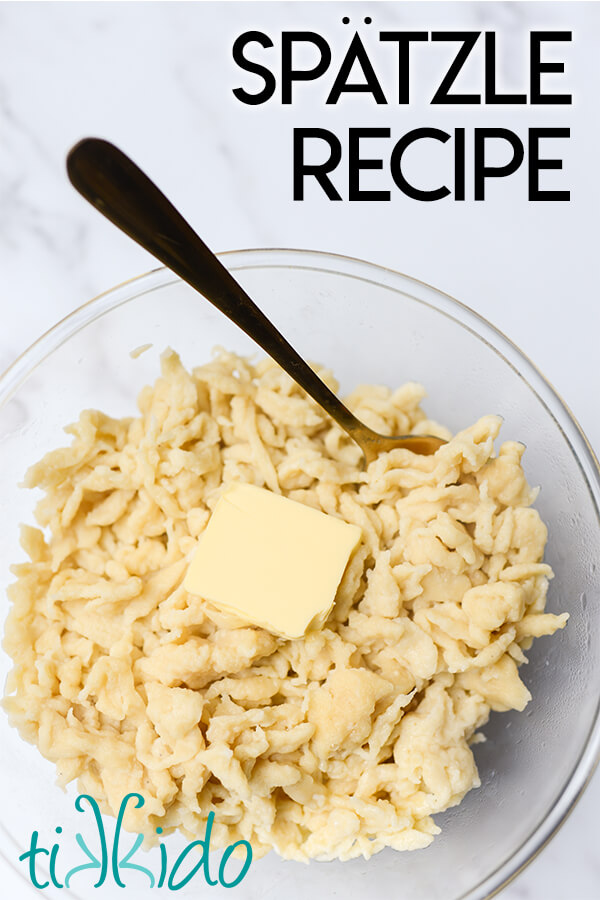 Spaetzle is one of my comfort foods, and comfort food is the theme of this month's Taste Creations Blog Hop!  We all ended up making cheesy, delicious comfort foods, and I want to eat them all!  You'll find all of the links to the other recipes in the blog hop at the bottom of the post.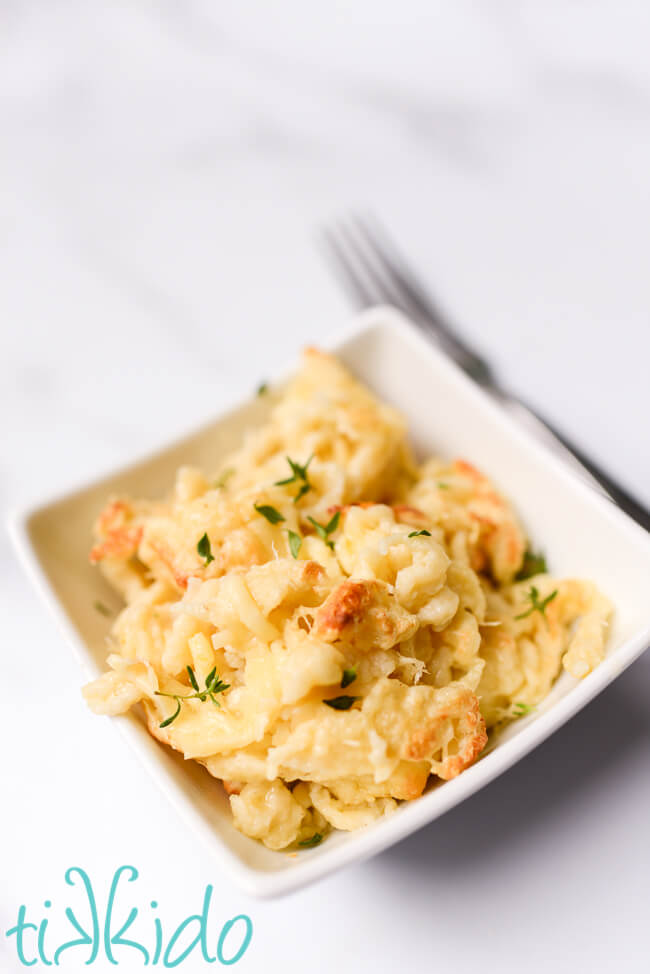 I'm going to give you my recipe for traditional spaetzle, and also show you how easy it is to turn it into kaese spaetzle (the German equavalent of macaroni and cheese).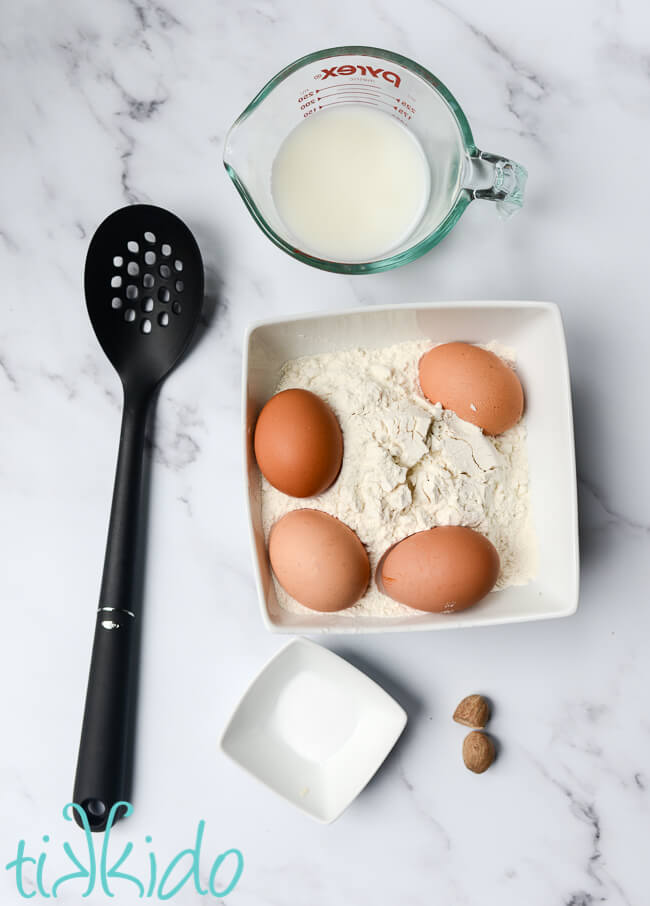 Spaetzle Recipe:
2 cups flour
4 eggs
1/2 teaspoon salt
1/2 cup milk
1/4 teaspoon freshly grated nutmeg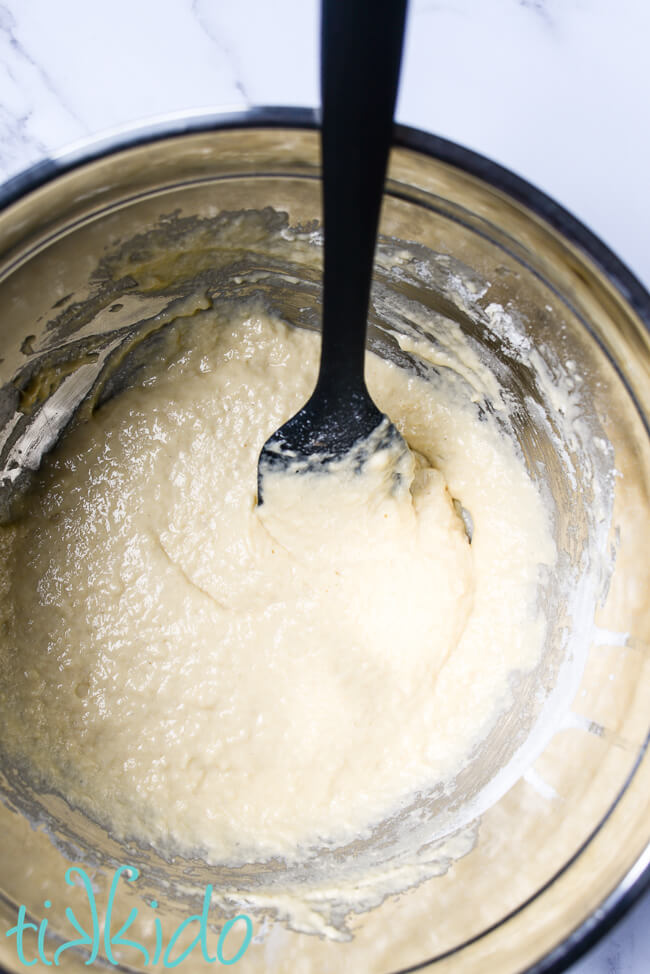 Beat the eggs.  Add the rest of the ingredients and mix until a batter is formed.  It's as simple as that--no special instructions at all, just dump and mix!
Bring a pot of salted water to a boil.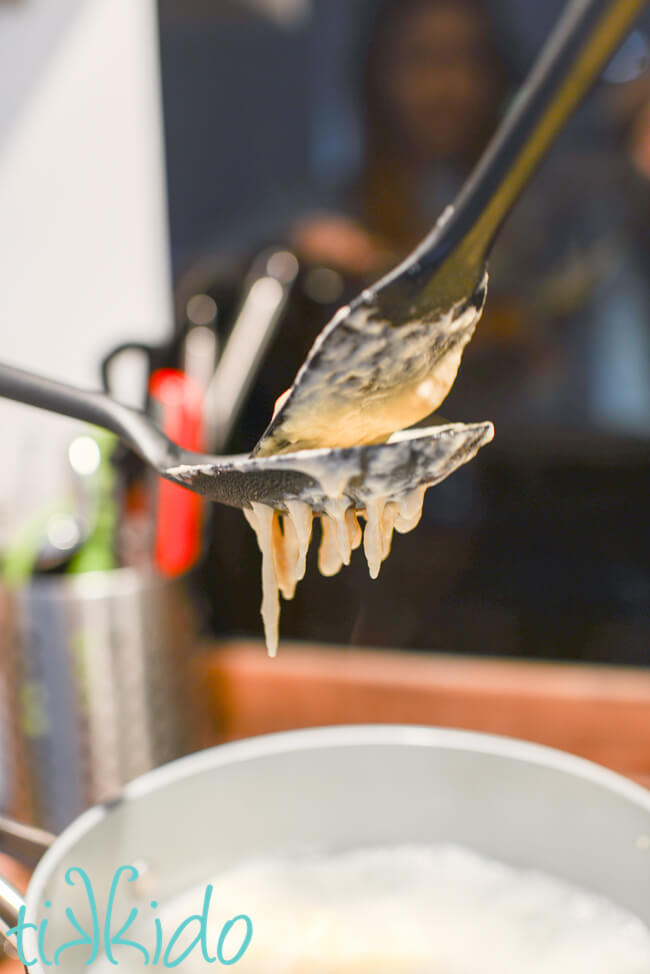 How to Cook Spaetzle:
You can buy special spaetzle maker tools, but I prefer not to buy single-use kitchen gadgets if I don't have to.  And you definitely don't have to buy anything special to make fabulous spaetzle.  I use a cooking spoon with holes and a spatula to make mine!  You could also use a collander with holes instead of buying a special tool.
Just use the spatula to push the batter through the holes of the spoon right into the boiling water.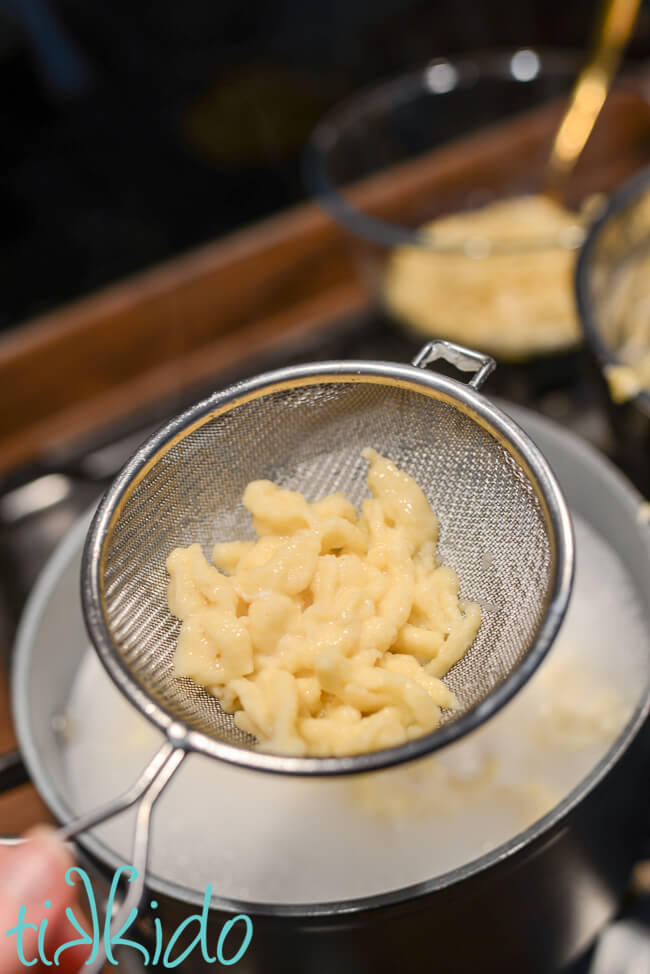 Let the noodles boil for about a minute, then remove the dumplings from the water and place in a bowl while you make more spaetzle. Toss the spaetzle with some melted butter to keep them from sticking together.
The spaetzle are delicious just as they are as a side dish, but if you want to turn this into a meal, try Käsespätzle (cheese spaetzle--the German equivalent of macaroni and cheese).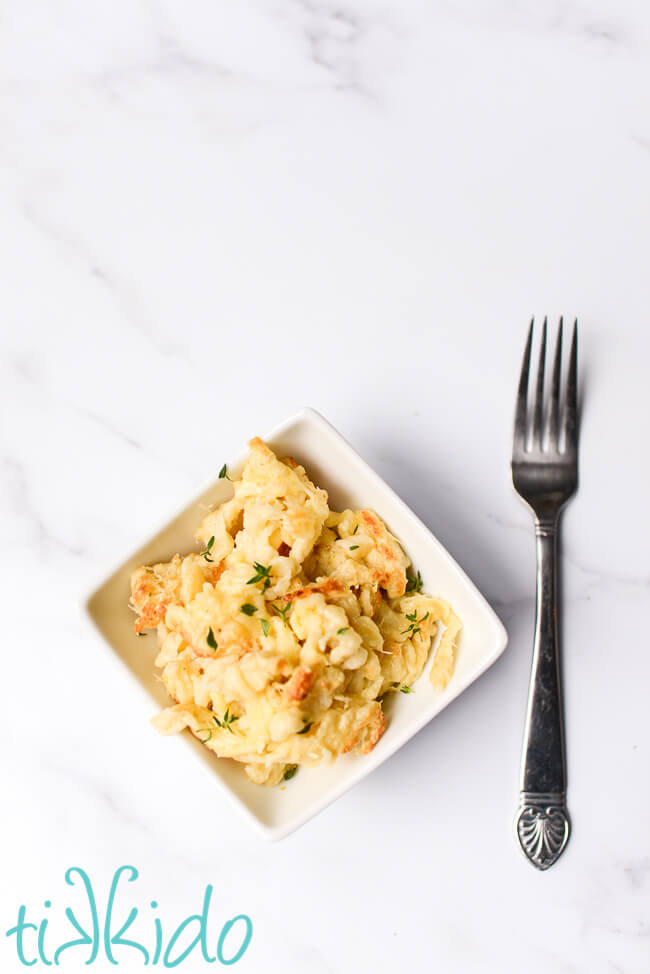 Käsespätzle (Kaese Spaetzle) Recipe
one batch (about 5 cups) of cooked spaetzle
2-3 cups shredded Swiss cheese (the good stuff, like Emmentaler or Gruyère)
fresh herbs to garnish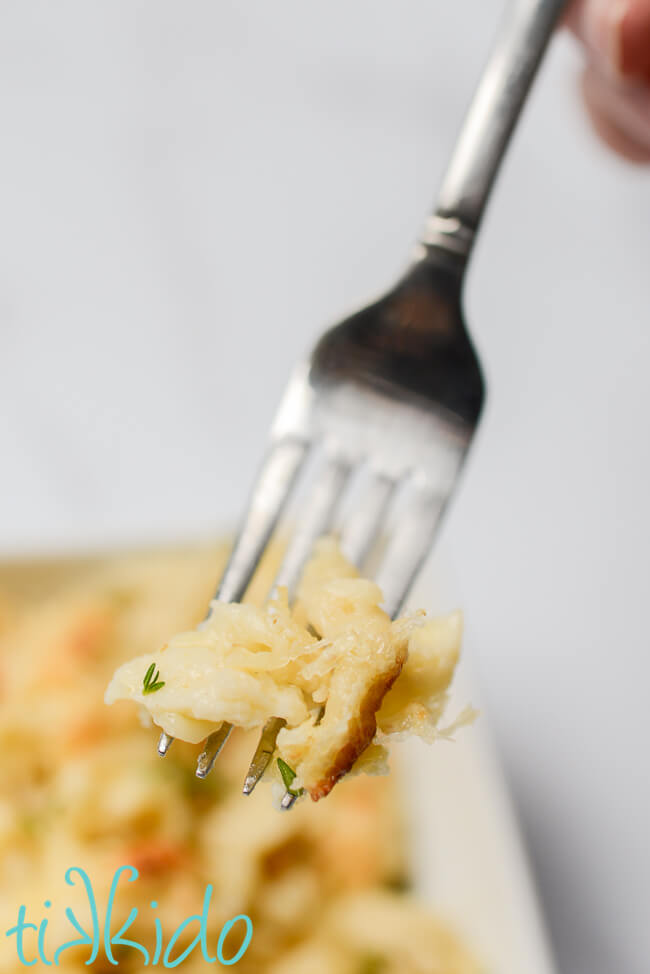 Toss together the cheese and spaetzle.  Heat in the oven at 400 degrees Fahrenheit until the cheese is melted, it is hot throughout, and the cheese begins to brown on the top of the dish.
Carmelized onions are often added to the mix, and are delicious.  I've had it served both with and without onions in different parts of Germany.  If you love onions, feel free to add them, but they're not necessary to make this dish absolutely delicious.
Garnish with fresh herbs if you'd like.  I like mine with some fresh thyme.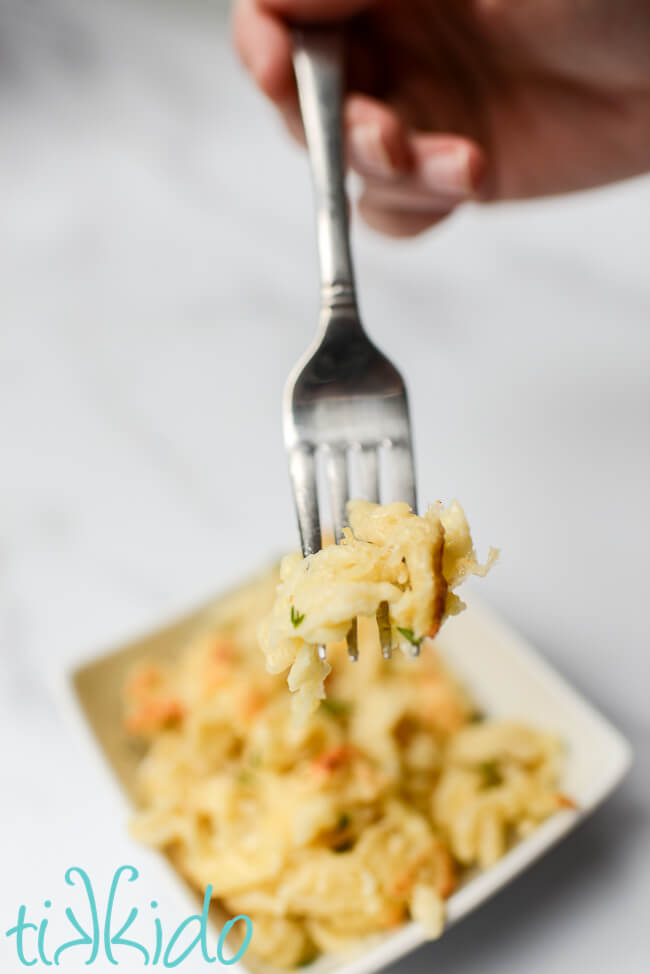 Mmmmm, true comfort food, perfect if you're looking for something new to try while we're in quarantine! 
And be sure to check out the rest of the amazing, cheesy, irresistible comfort food recipes from my fellow Taste Creations Blog Hop bloggers.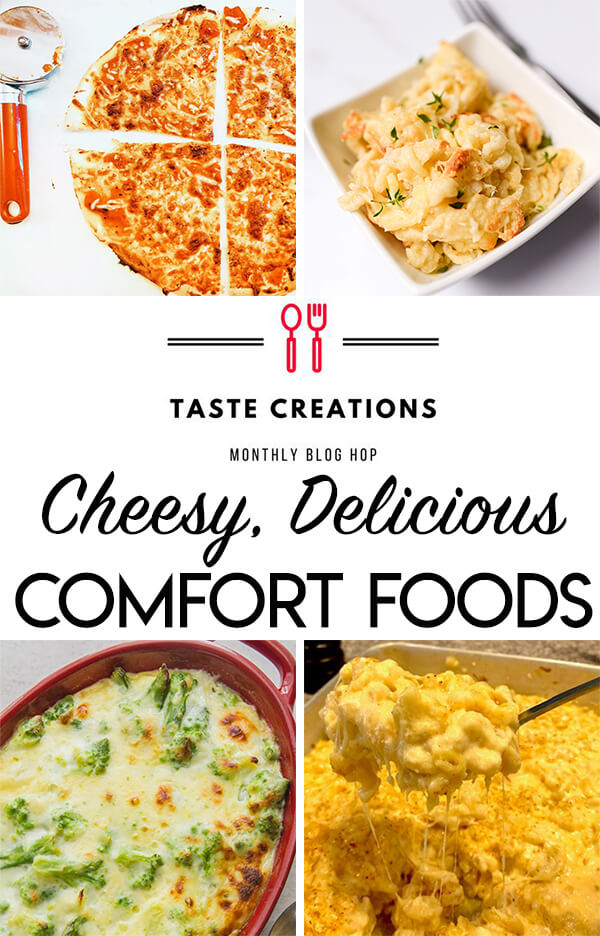 Cheesy Comfort Food Recipes:
Our Good Life:  Easy Macaroni and Cheese
Mom Home Guide:  Homemade Pizza
An Italian in my Kitchen:  Broccoli Cheese Bake
Other Pasta and Noodle Recipes You Might Like: