Printer-friendly version
Coffee popsicles are the perfect summertime treat for an afternoon pick-me-up.  Cold and refreshing, creamy and delicious, and with a kick of caffeine, this coffee popsicle recipe is sure to be a favorite on a hot summer day.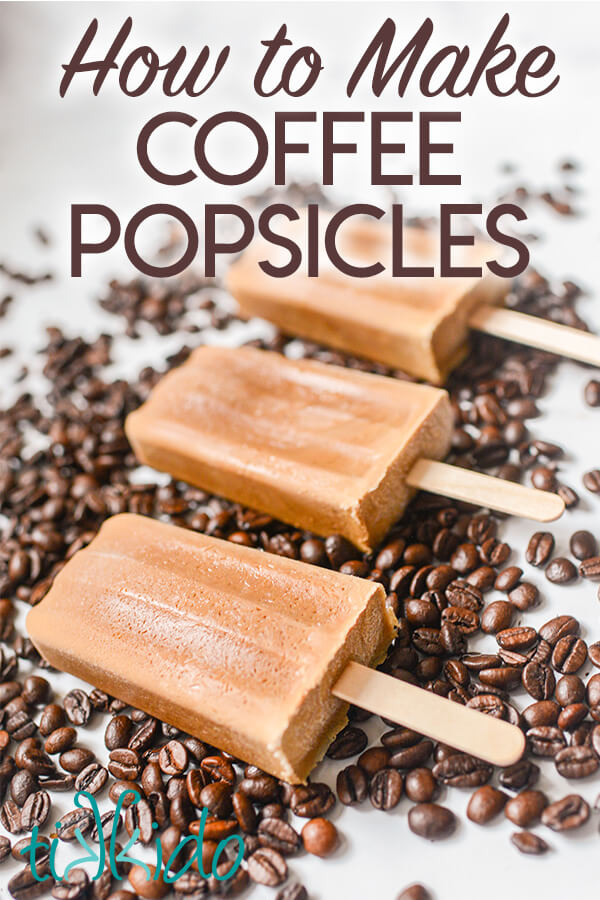 It's the first Monday of the month, and that means it's time for the Taste Creations Blog Hop.  Our theme this month is Frozen Treats!  I made these creamy coffee popsicles for my contribution to the blog hop.  If you love coffee ice cream or a good iced coffee on a warm summer day, you're going to love these homemade popsicles.  And be sure to check out the other easy, fabulous frozen treat recipes from my fellow bloggers at the end of the post!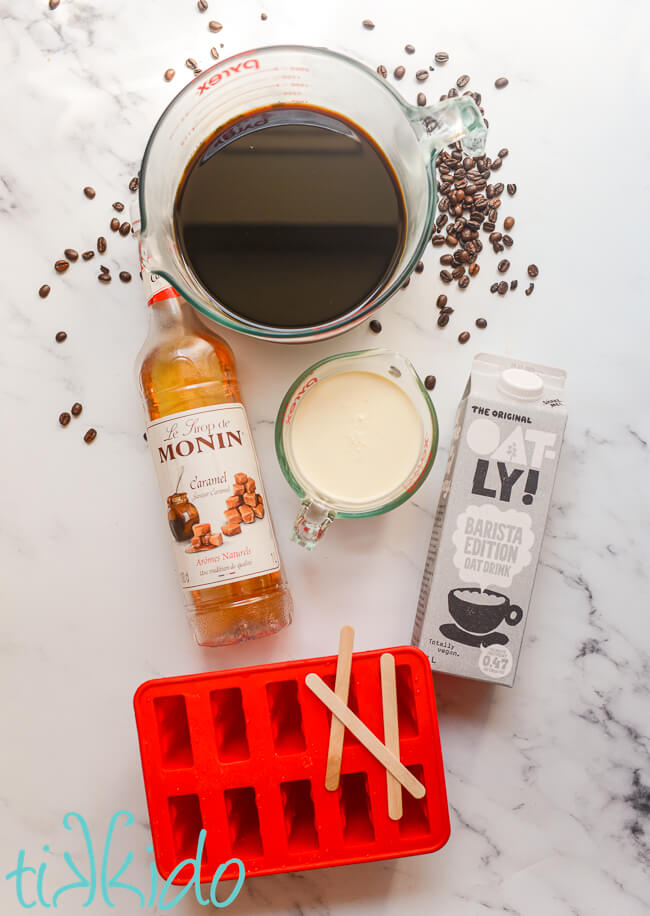 Ingredients for Creamy Iced Coffee Popsicles:
3 cups of strong coffee
1/2 cup heavy whipping cream
1/2  cup oat milk (you can use regular milk, too; i just like the creamy mouth-feel of oat milk)
Sweetener to taste (I used 1/4 cup of Monin brand Caramel Syrup)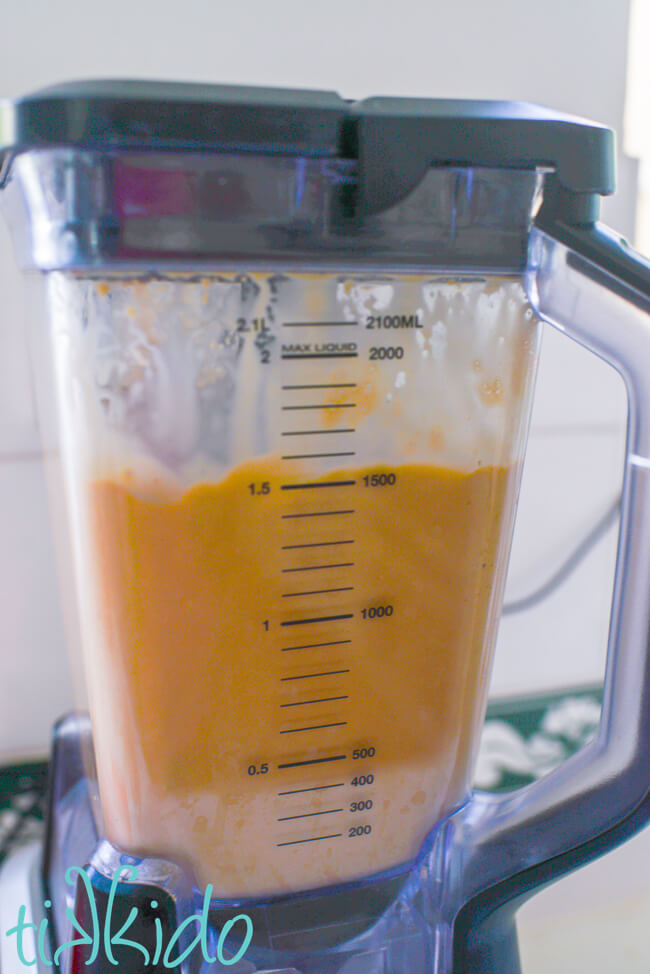 How to Make Coffee Popsicles
I'm sharing the recipe I used, but the best thing about this sweet treat is how versatile and easy it is.  I'll go through my basic process, and then talk about other easy ways to modify this recipe.
Start with Cold Coffee
I use a blender to make my coffee mixture, because I like coffee popsicles that are a bit more creamy, a little more like an ice cream bar, not just icy and hard.  But hot coffee + blender is a very bad idea.  Hot liquids can expand and create tremendous pressure, and explode out of your blender, making a huge mess.  (Yes, I learned that the hard way.) So I always start with cold coffee.
For me, that means using cold brew coffee, so I suppose that technically makes these cold brew coffee popsicles.  I made my own cold brew, so I had some in the fridge already.  If you don't have cold brew coffee, and don't want to mess with making it and waiting 24 hours, there are plenty of quick alternatives:
Use a French press or drip coffee maker and ground coffee to make black coffee, and place brewed coffee in the refrigerator until it is at least room temperature or cooler.
Use instant coffee.  This option is great because you can use a small bit of hot water to dissolve the granules, and then cold water to dilute the concentrate, making the cooling time much shorter than brewing coffee the standard way.
Espresso powder is also an easy way to get strong coffee flavor without having to use too much hot water.
You can also buy cold brew coffee at most grocery stores these days.
Basically, any good coffee will make a delicious coffee popsicle.  Just be sure it's cool before going on to make the popsicles.
Process for Making Coffee Popsicles
My popsicle mold holds about four cups of liquid and makes ten popsicles, so I based my recipe on those volumes, but feel free to scale the iced coffee popsicle recipe up or down to suit your needs.
Place cold coffee in the blender with a half cup of heavy cream (whipping cream) and a half cup of oat milk.  Blend the mixture until light and frothy.  Blending the heavy cream helps to give the cold brew popsicles a creamy texture and is the best way to make the popsicles a little less dense and icy. Add the sweetener of your choice to your taste and blend again briefly.  For me, that was about a quarter cup of caramel syrup to make a caramel latte popsicle.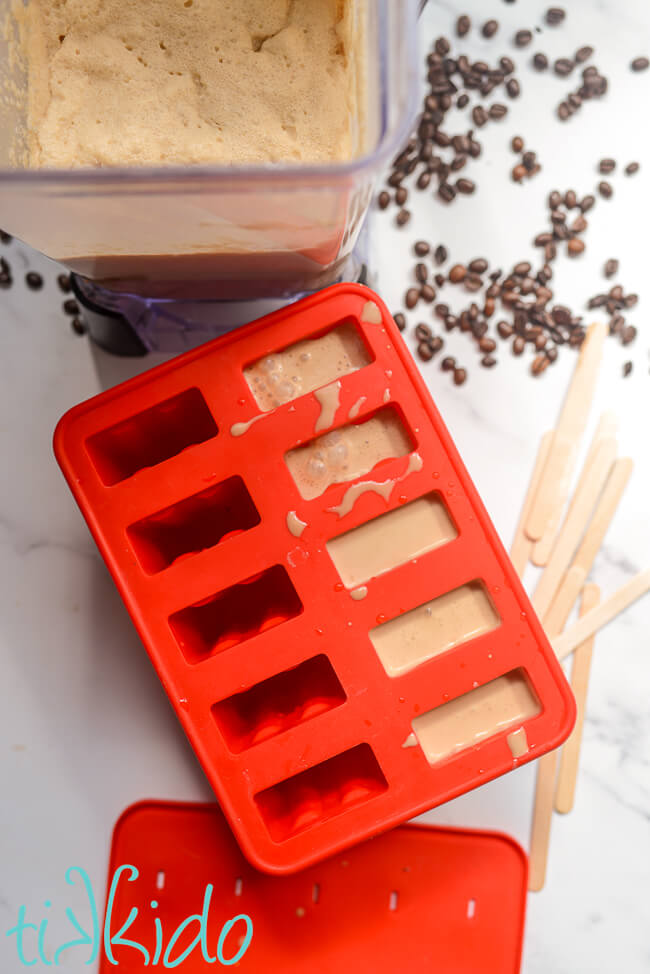 Fill your popsicle molds with the coffee mixture, but be sure not to fill the cavity all the way to the top.  Leave a bit of room for the liquid to expand as it freezes.
Place lid on the popsicle form and insert wooden popsicle sticks about halfway into the slots in the lid.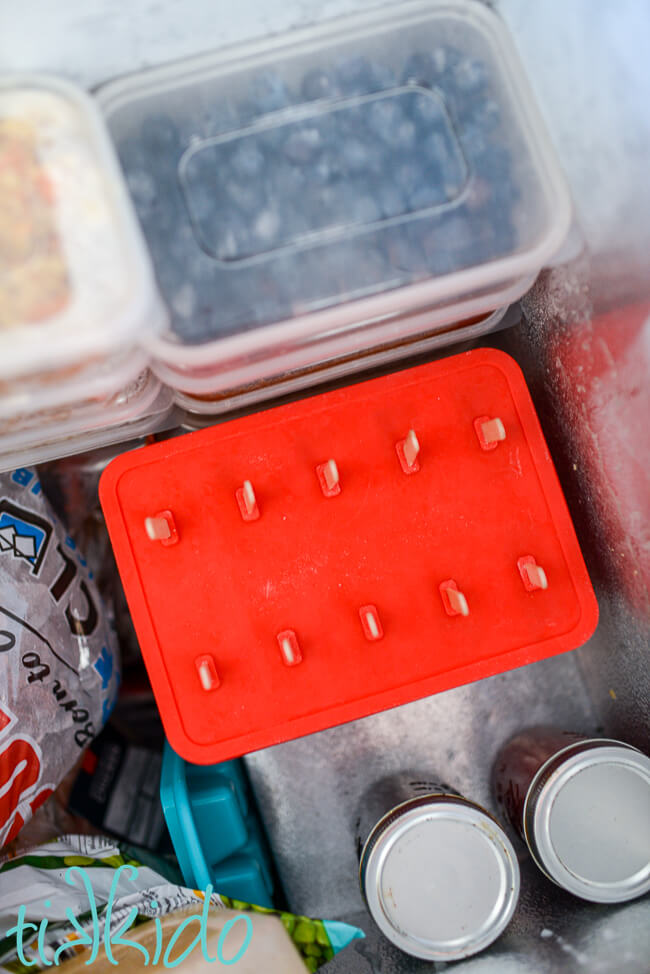 Place the filled popsicle mold in the freezer and let freeze for at least 4-6 hours--ideally overnight.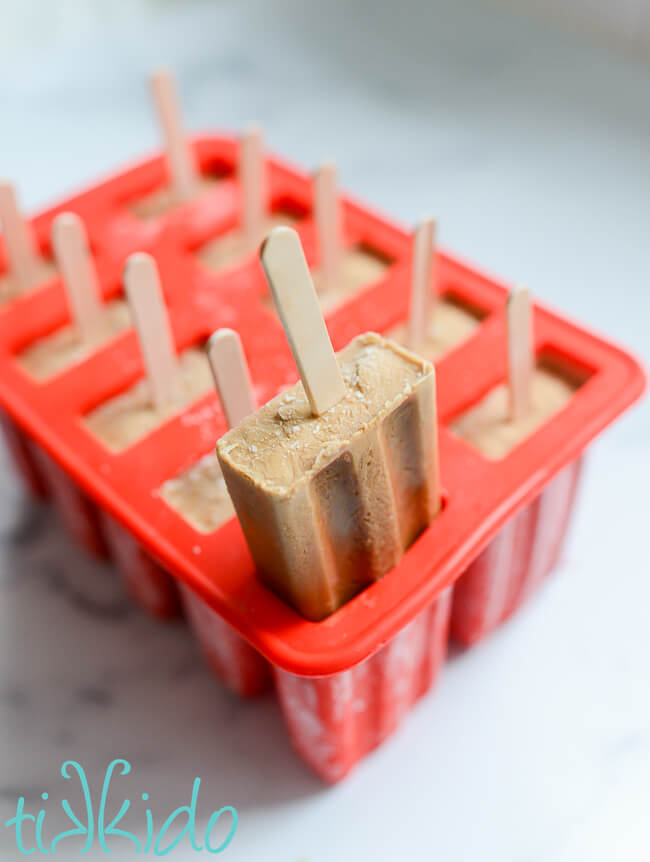 Once the popsicles have frozen solid, pop the flavorful treat out of the mold and enjoy!  I really like my silicone mold because it's a little bit flexible and non-stick, so it's easy to get the popsicles out of the form.  If you're using a classic rigid popsicle mold, whether made from metal or plastic, just run the bottom of the molds under warm water very briefly, and the popsicles should pull out easily.
Tip for Cold Coffee Lovers:
If you have any leftover coffee mixture, fill ice cubes trays and use the coffee ice cubes in your iced coffee drinks--no more diluted, watery iced coffee!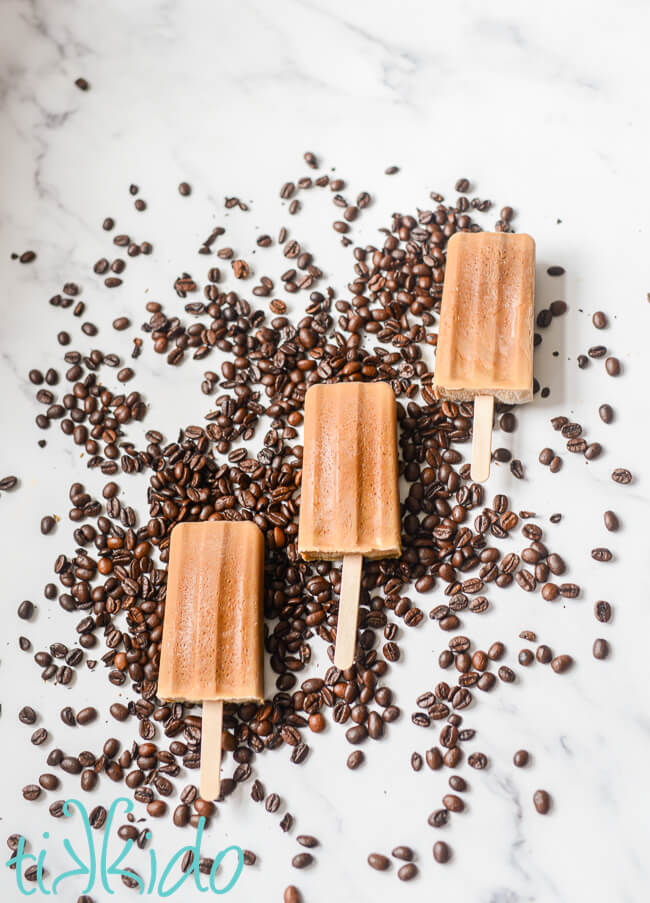 Iced Coffee Popsicle Ideas and Variations:
Make Vietnamese coffee popsicles by replacing the cream and oat milk with sweetened condensed milk
Use maple syrup or honey if you prefer all-natural sweeteners
Use decaf coffee if you want the fabulous flavor of this frozen treat, but don't want the caffeine boost
Use canned coconut milk, oat milk, soy milk, or almond milk to make a creamy popsicle that's non-dairy
Use your favorite flavored coffee creamer to make these popsicles in an amazing array of flavors.  Powdered creamer can just be be added to the existing recipe, or replace the cream and milk with liquid creamers.
How would you turn your favorite cup of coffee into the perfect summer treat on a hot day?
Printable Coffee Popsicle Recipe
Want a one page, printable, PDF version of this recipe?  Click on the image below to print directly or save the PDF to your device.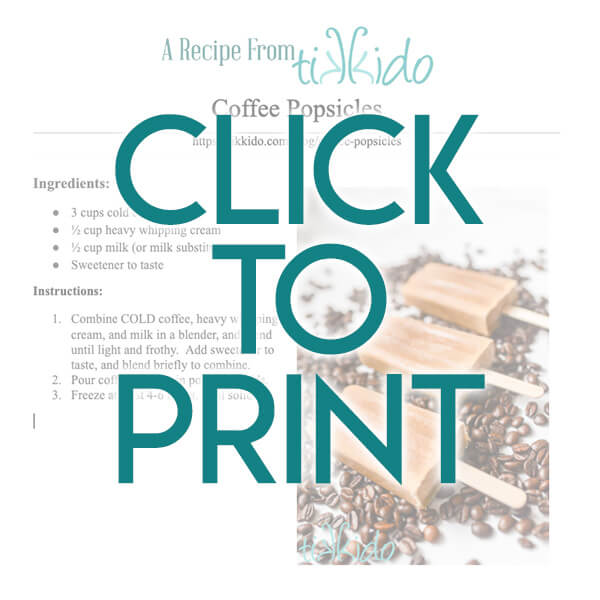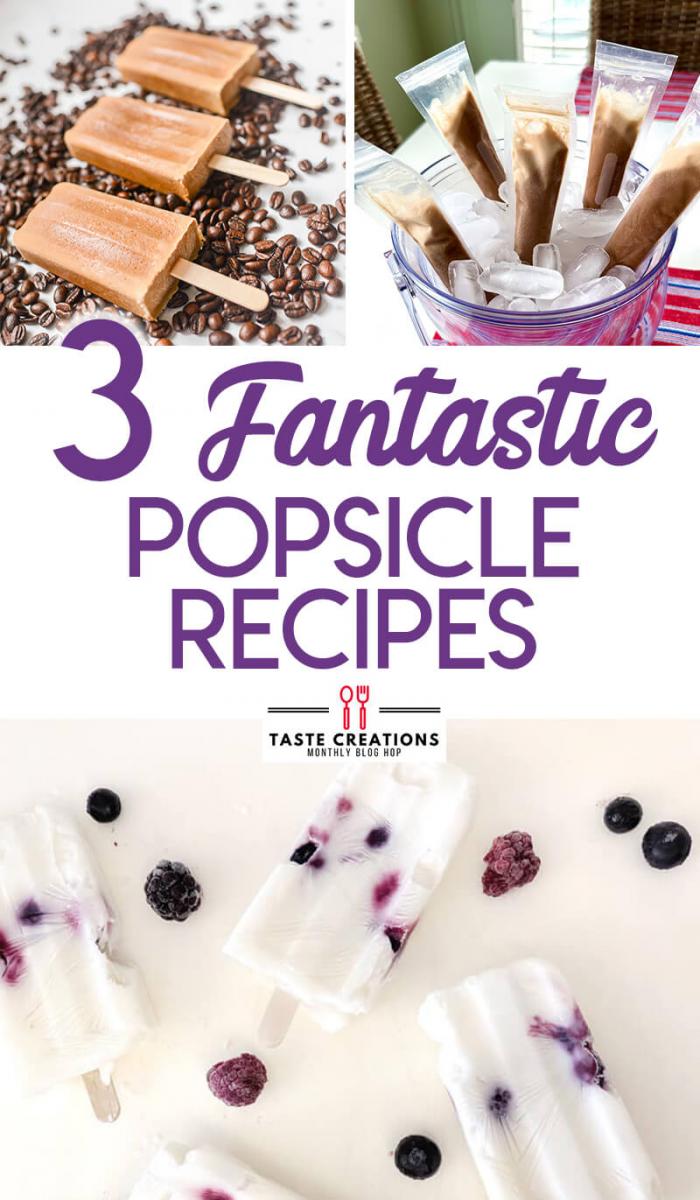 Other Popsicle Recipes from the Taste Creations Blog Hop:
Be sure to check out the other easy, fabulous frozen treat recipes from the Taste Creations Blog Hop this month!  They're creamy, cool, easy to make, and oh, so delicious.
Our Good Life: Easy Homemade Fudgesicles
Mom Home Guide: Easy Berry Yogurt Popsicles
Other Popsicle Recipes You Might Like: