Printer-friendly version
Lemon popsicles are the perfect treat on a hot summer day.  Homemade lemon popsicles are easy to make, and are a fun recipe to make with kids.    And nothing beats the perfect balance of sweet and tart flavors of homemade lemonade in refreshing homemade ice pops!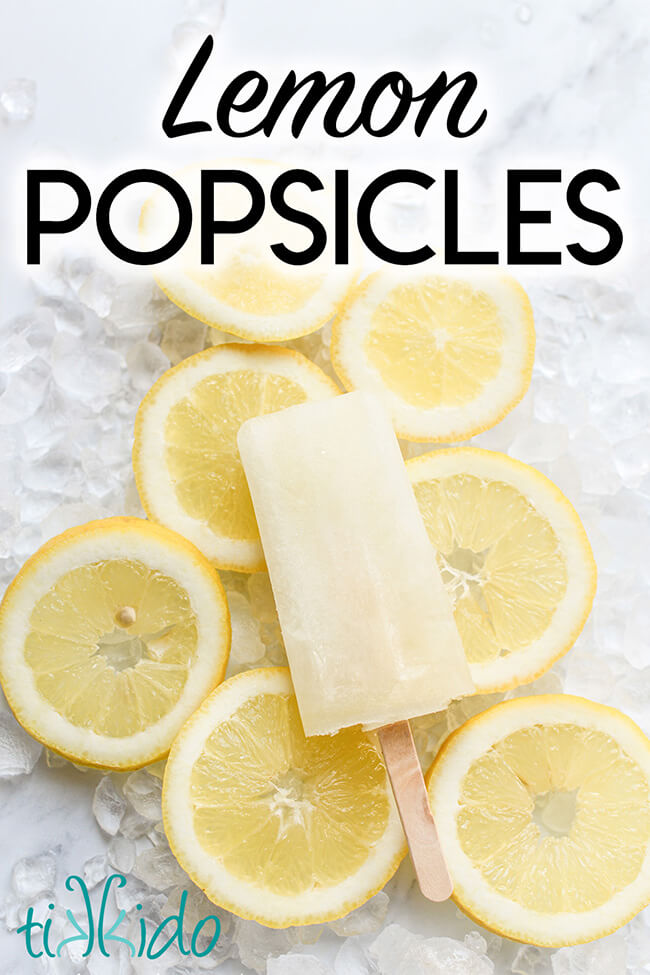 When we lived in Arizona, we had a lemon tree in our backyard that produced thousands of lemons each year.  We made a LOT of lemonade, and when the warm weather hit (which is pretty early in the year, in Phoenix), my daughters absolutely loved making lemon ice pops.  Lemons are in season starting in January, but we could stock up our freezer with these lemon popsicles for a refreshing summer treat in the hot weather.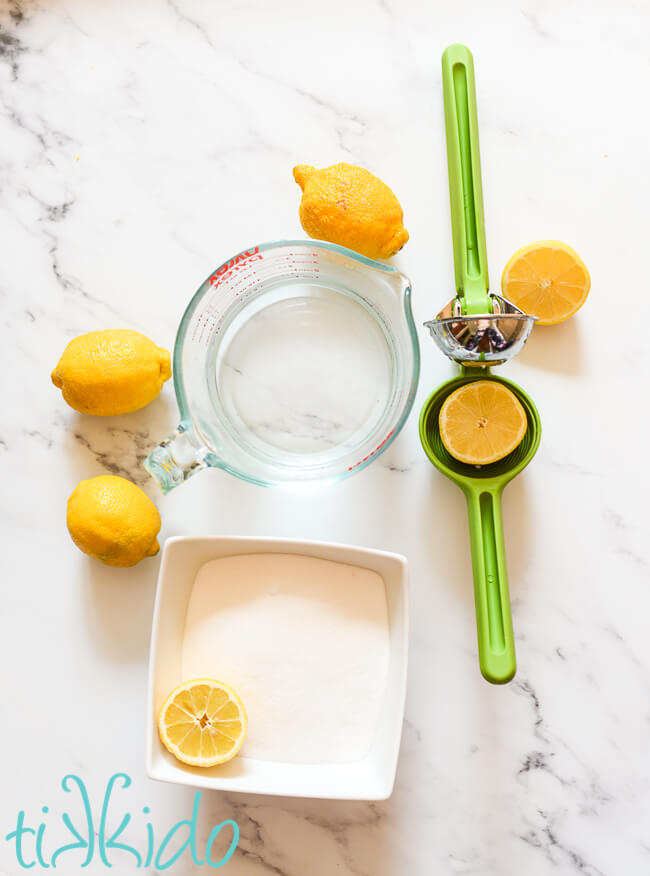 Lemon Popsicles Recipe
The best lemon popsicles are made with just a few simple ingredients: 
The key to an amazing lemonade popsicle recipe?  Starting with a truly great homemade lemonade.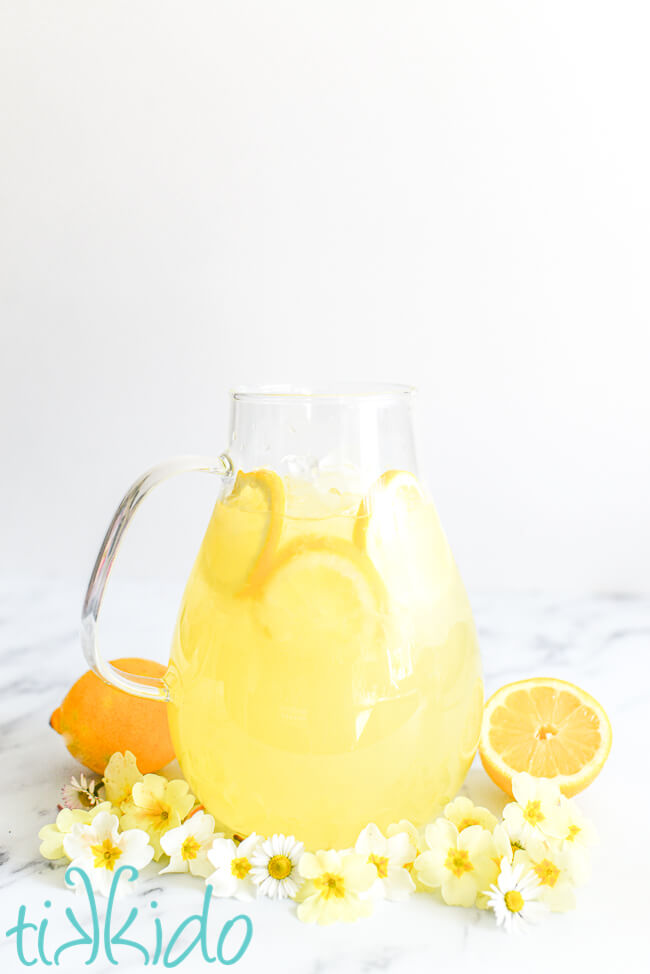 I have a blog post, including a video tutorial, teaching you all about making the perfect pitcher of freshly squeezed lemonade, but the abbreviated instructions are to combine one part lemon juice, one part simple syrup, and two parts water.  I'd strongly recommend using freshly squeezed lemon juice instead of bottled lemon juice--the lemon flavor from using fresh lemons just can't be beat.
Materials for Making Lemonade Popsicles
Popsicle Mold. You can make popsicles in any container that can hold liquid, but I do love using an absolutely classic ice pop mold.  They were traditionally made from metal, and I've used and loved those before, but my current mold is made from silicone.  It's surprisingly sturdy, so it was easy not to spill the liquid when placing the mold in the freezer, but the flexibility of the non-stick silicone made it easy to get the finished popsicles out of the mold.
Popsicle Sticks.You'll also need food grade popsicle sticks.   Some popsicle sticks are made and sold for crafts, and are not food-grade!  Be careful what you buy.
Plastic Popsicle Bags. These are handy for storing the popsicles for later and helping to prevent freezer burn.  You can often buy food grade popsicle bags and sticks bundled together.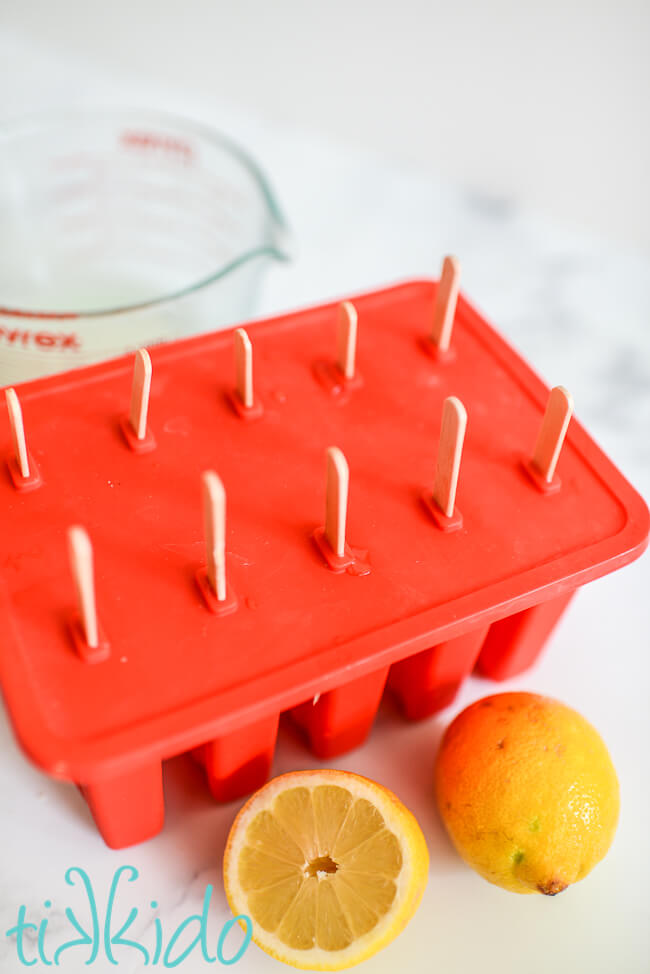 How to Make Lemonade Popsicles
Once you've mixed up your homemade lemonade, simply pour the liquid into the popsicle mold.  Don't fill the liquid all the way to the top of the mold, because liquid expands as it freezes.  Leave a little bit of room for that expansion in the freezer.
Put the lid on the popsicle mold, and insert the popsicle sticks through thesmall holes in the lid.  Those holes, especially on this silicone popsicle mold, hold the wooden stick perfectly in place while the liquid freezes.
Carefully place the popsicle mold in the freezer and let freeze for several hours (ideally overnight).
Once completely frozen, each popsicle can be removed from the mold and placed in a plastic bag.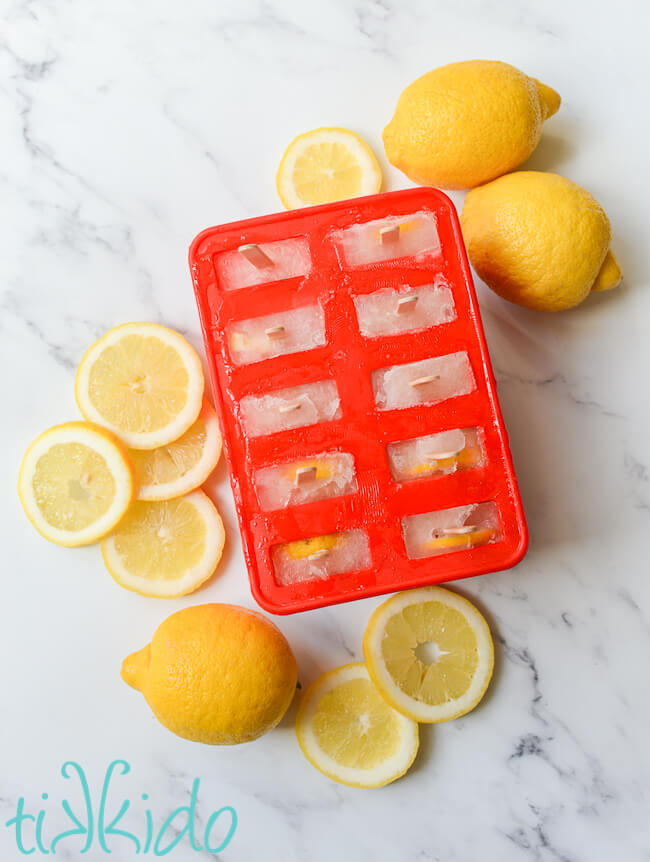 How Much Liquid do You Need Fill A Popsicle Tray for Homemade Popsicles?
My popsicle tray makes very classic popsicles and uses 4 cups of liquid to fill all of the cavities.  Following the ratio method of making homemade lemonade, mixing 1 cup lemon juice, 1 cup simple syrup, and 2 cups of water was perfect for making just enough lemonade to make these homemade lemonade popsicles.
Popsicle molds come in all sorts of shapes and sizes, of course, so you may need more or less liquid to fill yours.  To find out how much you will need, you can fill your popsicle mold with water, and pour that water into a measuring cup.  That will give you a good estimate of how much you will need.  You could freeze any extra lemonade in ice cube trays, small tupperware containers, or even dixie cups (and then use it to make frozen lemonade!).  Or just drink any extra--there's nothing better than a cold glass of lemonade.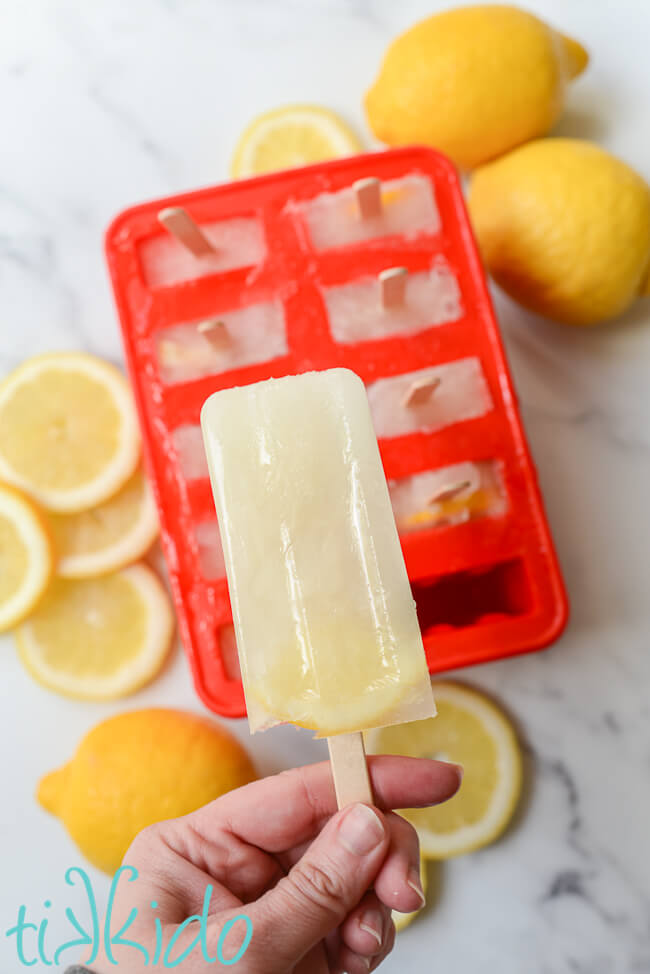 this lemonade popsicles recipe really is a delicious frozen treat!  The fresh ingredients make this an all time favorite on a hot day.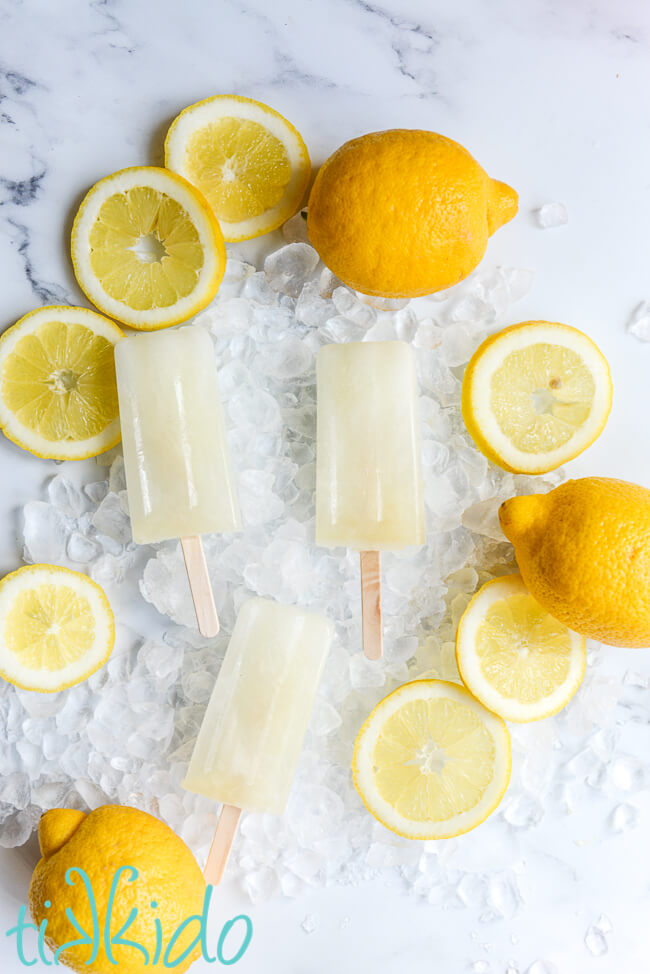 Lemon Popsicle Variations
I love classic lemonade popsicles, but there are lots of delicious variations you can try, too.  Try one of these delicious ideas.
Strawberry Lemonade Popsicles.  If it's strawberry season, definitely try making some of these!  You can use a blender to puree the strawberries and mix the fresh fruit into your lemonade.  If you don't like the texture of strawberry pulp, try replacing the simple syrup in your lemonade recipe with strawberry syrup (recipe here).
Creamy Lemon Popsicles.  Whisk a cup of plain Greek yogurt in your lemonade before freezing.  It makes the most luscious, creamy lemon popsicles!
Add Fresh Herbs. Lavender or fresh basil really elevate these popsicles and give them grown-up flair.  I like to infuse my simple syrup with the herbs, and add some fresh herbs to the popsicle as well.
Candy Lemon Popsicles.  Want a fun twist?  Add Gummy Bears and the kids will go NUTS.
Chunks of Fresh Fruit.  Add fresh fruit to your lemonade popsicle to add extra flavor and fun.  Lemon slices or fresh berries are a great option.  Lots of fruits do float, so if you want the fruit to be evenly distributed, you'll have to fill the entire cavity with fruit and fill in the gaps with the lemonade.
Boozy Lemonade Popsicles.  Having a summery, grown-up get together?  Add some vodka, schnapps, or limoncello to the lemonade mixture!  (Not too much, or it won't freeze, of course.)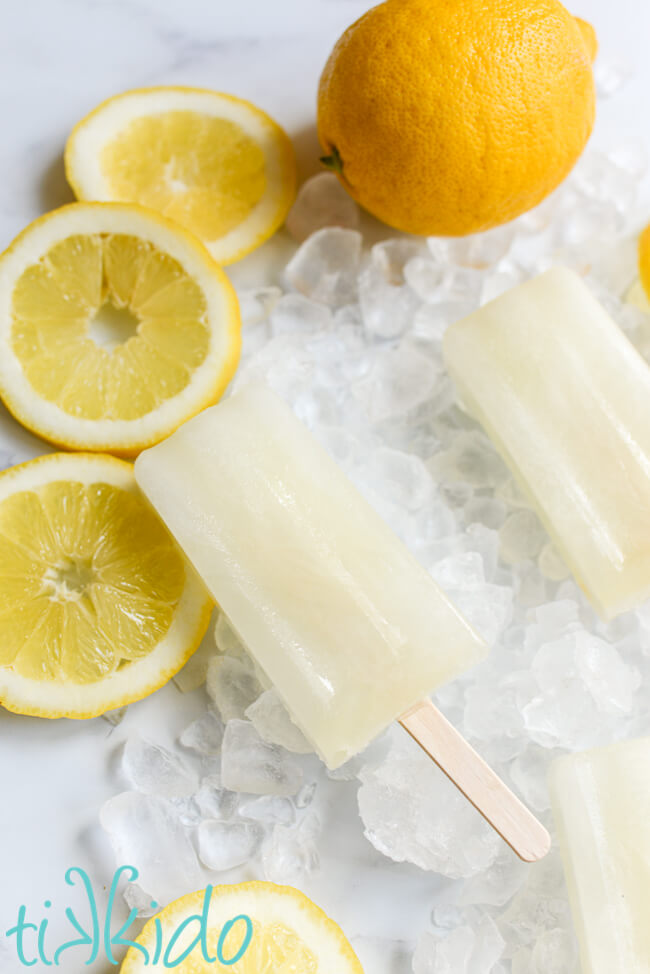 I need to head to the farmer's market while lemons are still in season so I can stock our freezer for summer!  What's your favorite way to use extra lemons?
Other Lemon Recipes You Might Like: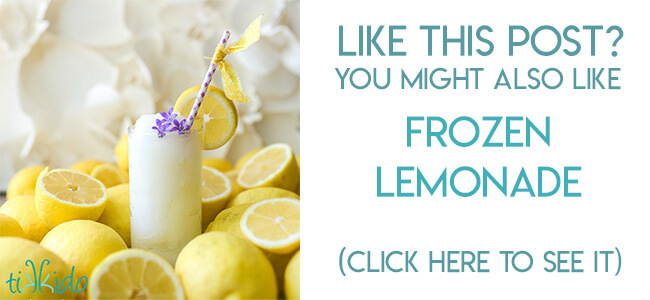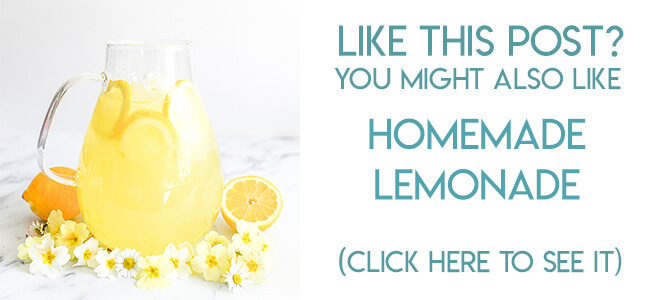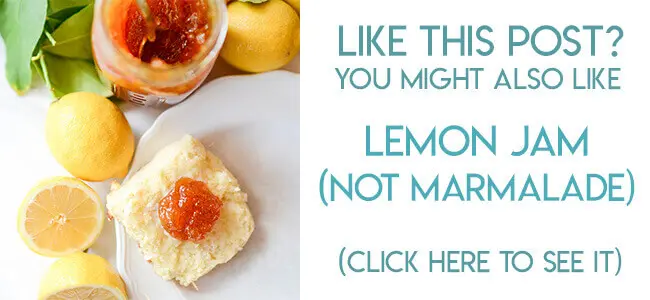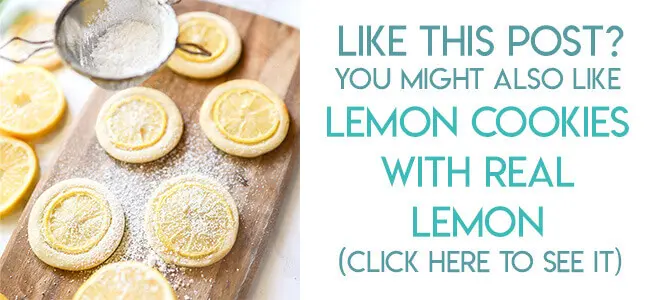 Other Popsicle Recipes You Might Like: