Printer-friendly version
This is the best rhubarb bread recipe I've ever tasted!  A moist rhubarb bread full of flavor from a rich blend of spices, caramel flavors from the brown sugar, and bright, punchy bites of tart rhubarb.  This quick bread recipe is easy to whip up and is the perfect way to use up bountiful produce during rhubarb season.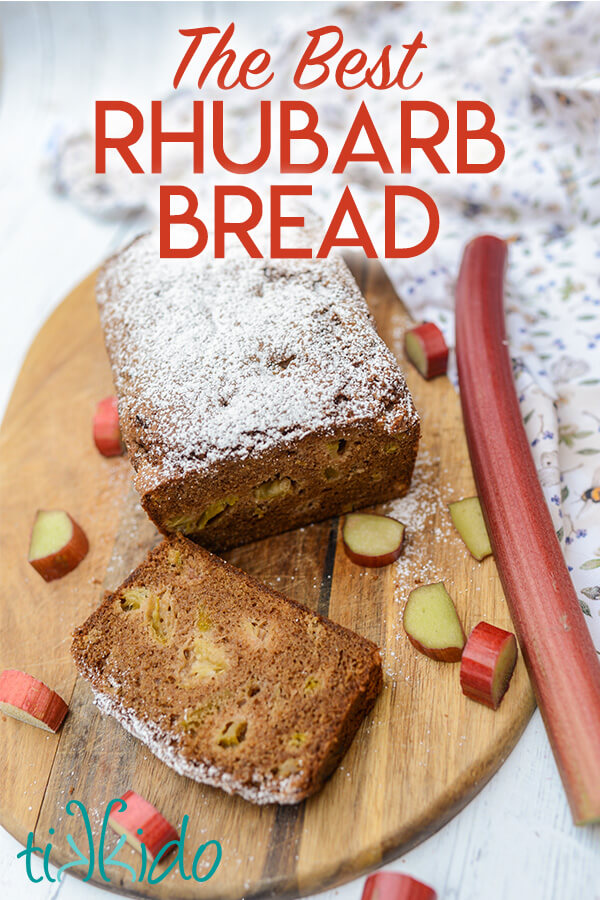 If you're lucky enough to have a rhubarb patch (or a local blogger friend with an allotment), this tasty quick bread is a great way to use some of that fresh rhubarb.   This particular recipe was a favorite of Anita Mae Miller Beckord, the mother of one of my mother's best friends in Iowa.  I don't know the specifics, but I imagine this recipe has been used, loved, and passed down for many generations. This rhubarb loaf cake will surely become a favorite in your family, too.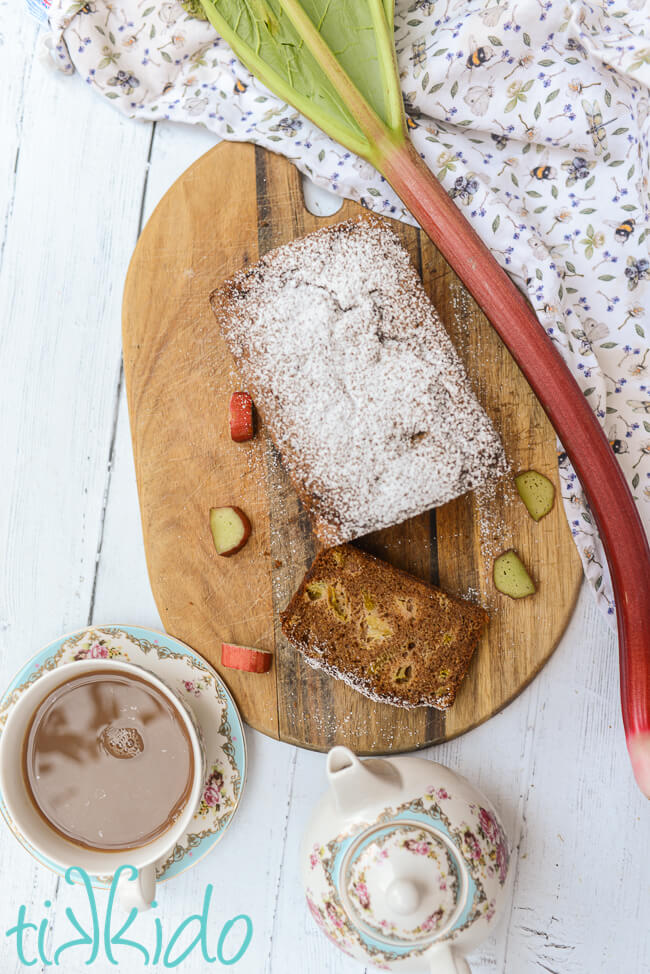 Homemade rhubarb bread makes a delicious breakfast, is fabulous as a snack with a cup of tea or coffee, or can be a delicious springtime dessert served with a scoop of ice cream.    It's a simple bread recipe, but an absolutely delicious treat.
With mother's day fast approaching, it's also a perfect seasonal treat to bake to celebrate those special moms in your life. Our theme for the Taste Creations Blog Hop this month is Mother's Day Treats, so be sure to see more delicious Mother's Day recipes from my fellow bloggers after the recipe.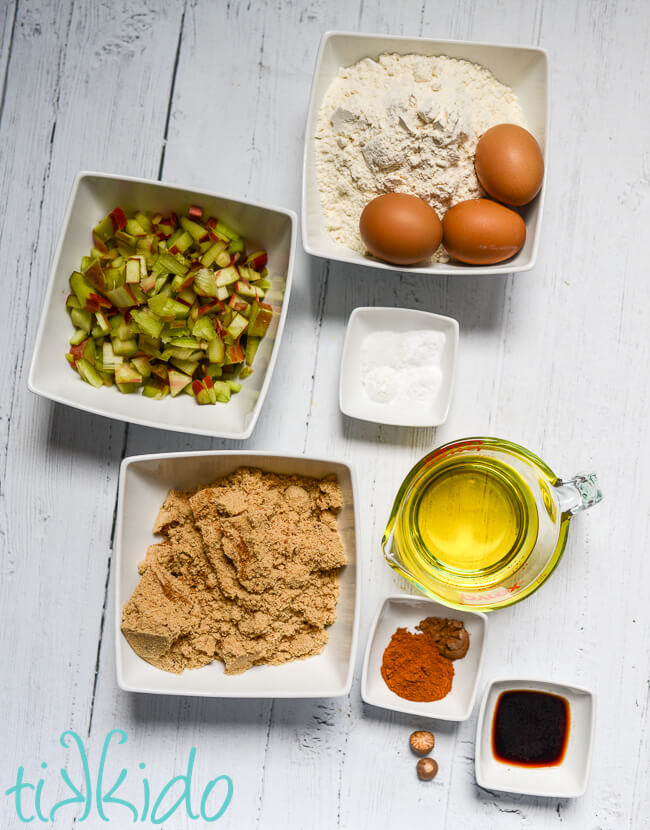 The Best Rhubarb Bread Recipe:
3 eggs
2 cups brown sugar
1 cup vegetable oil
2 teaspoons vanilla extract
2 1/2 cups rhubarb, diced
3 cups all purpose flour
1/2 teaspoon baking powder
2 teaspoons baking soda
1/2 teaspoon nutmeg
2 teaspoons cinnamon
1/2 teaspoon allspice
1 teaspoon salt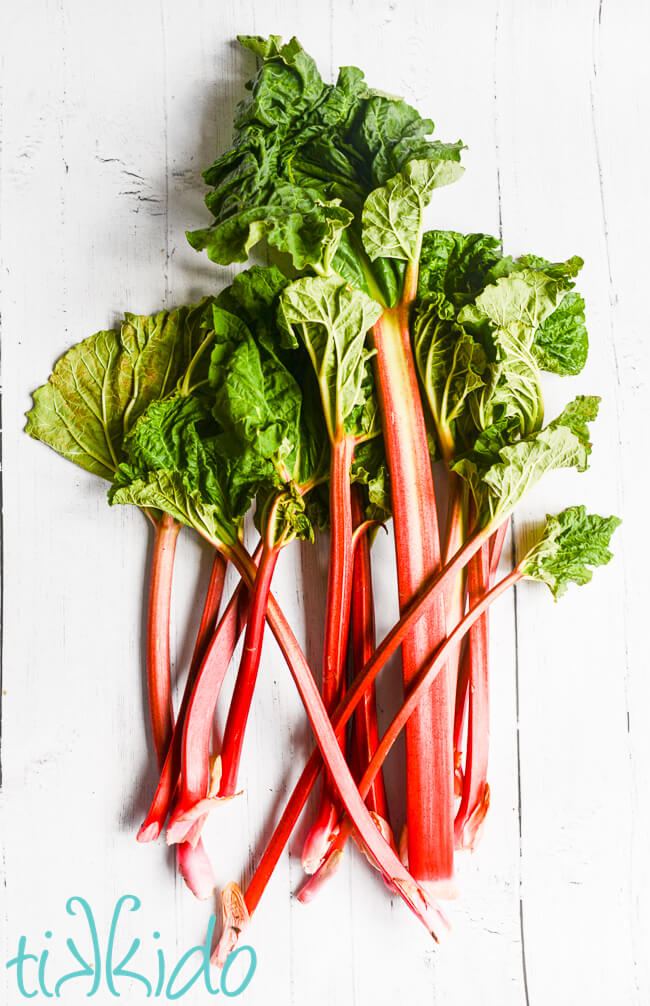 How to Make Rhubarb Quick Bread
If you buy your rhubarb from the grocery store, it will come without leaves.  If you grow your own rhubarb or are gifted some from a friend's garden, be sure to chop off and discard the leaves, which contain oxalic acid and will cause gastrointestinal problems.
Chop the rhubarb stalks into small pieces.  In this recipe, I prefer to have the tart rhubarb evenly distributed in smaller bites, so that the sour flavor balances well with the sweet quick bread, and you never get a bite of bread that's too acidic.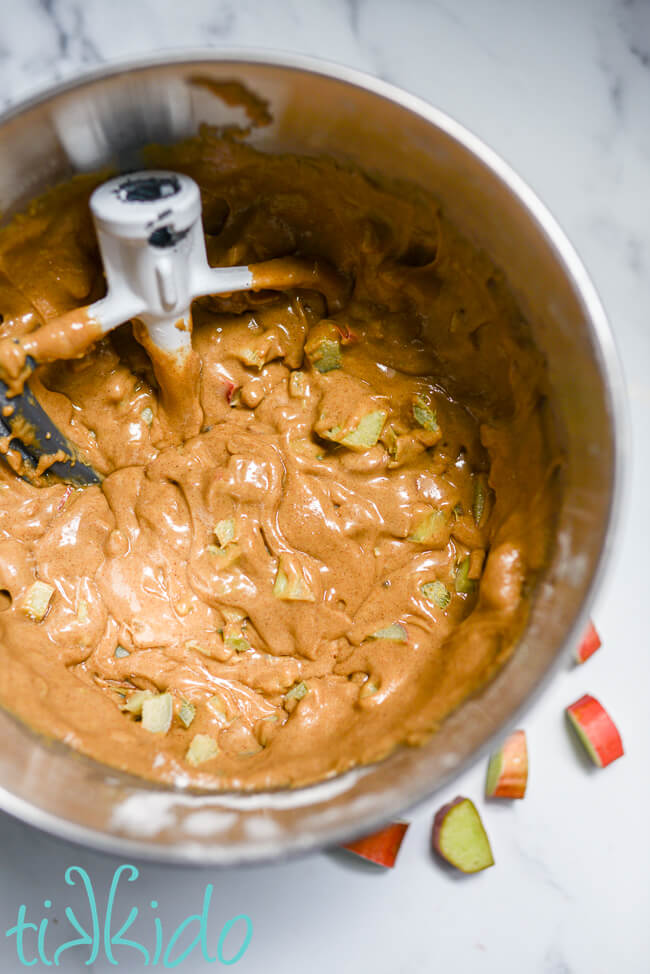 Beat the eggs, brown sugar, vegetable oil, and vanilla together until well mixed and frothy.  I used my Kitchenaid mixer for this recipe, but quick breads are easy to mix by hand in a large bowl.
Add the dry ingredients to the wet ingredients and mix to create a thick batter.   The original recipe calls for mixing all of the dry ingredients together in a large mixing bowl before combining with the brown sugar mixture, but when I'm using a Kitchenaid mixer, it mixes so well that I rarely bother with that extra step.
Add the diced rhubarb and mix to combine.  Note:  you can also add half a cup of chopped walnuts at this point if you want to make rhubarb nut bread.
Can you use Frozen Rhubarb in Rhubarb Bread?
Yes, absolutely!  Rhubarb freezes gorgeously, and you can easily use frozen rhubarb instead of fresh rhubarb in this recipe.  If you have leftover  rhubarb after making this bread, freeze the rest of the rhubarb so you can use it later in the year.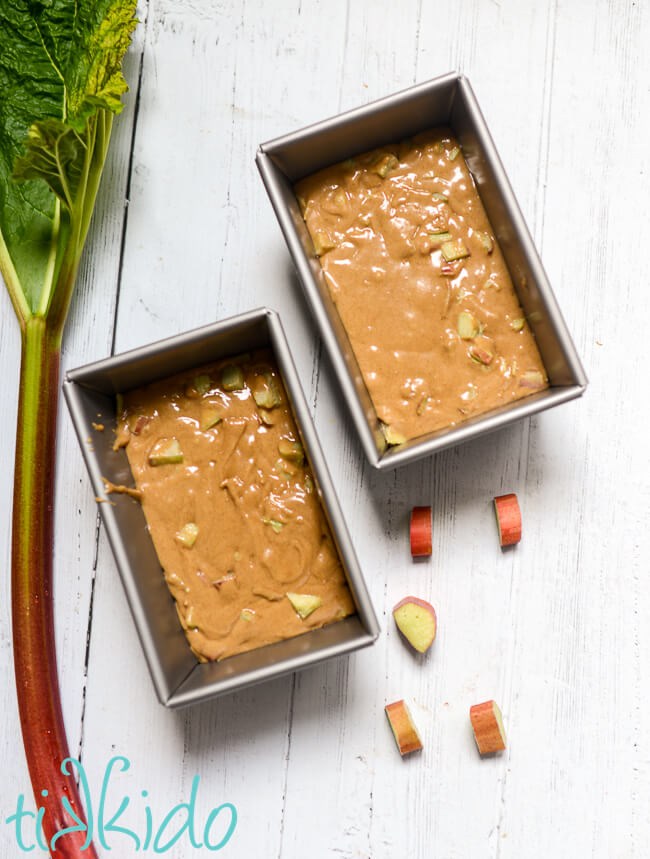 Divide the bread batter into two bread loaf pans.  My bread pans are nonstick and you don't need to do anything to prepare the pan, but I typically line the bottom of the pan with parchment paper just to make removal of the bread really easy after it has baked.  I used regular loaf pans, but you can use mini loaf pans if you prefer.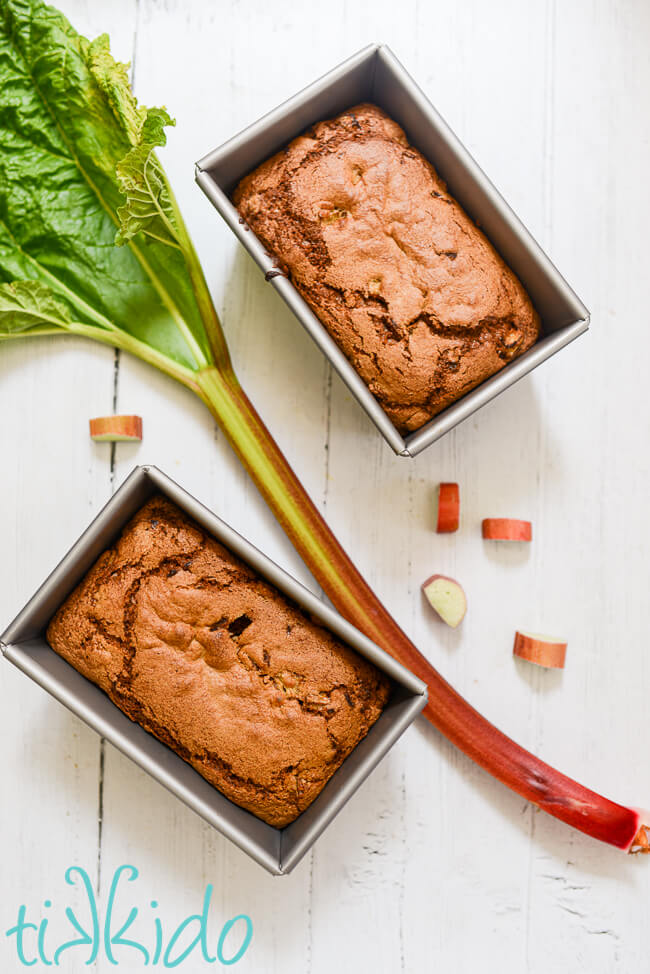 Bake at 350 degrees Fahrenheit for 60 minutes. Test the center of the bread with a cake tester or wooden skewer to be sure that the bread is completely baked.
  Let cool to room temperature on a wire rack before removing the tender quick bread from the pan and slicing.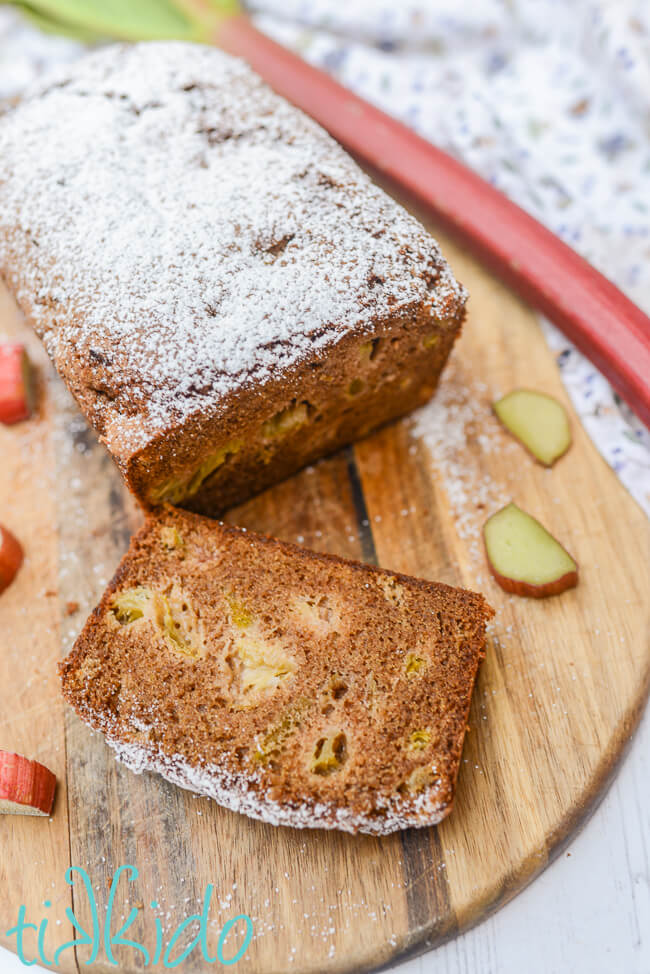 The texture of this bread is so perfectly soft and moist inside, but it also gets an almost crisp, cookie-like crust on the top of the bread that's absolutely irresistable.  
If you want to fancy it up a little bit, dust the bread with some powdered sugar.  But it's absolutely delicious without that extra step, too.  A delicious quick bread and a great recipe that comes together quickly--what could be better?
Printable Rhubarb Bread Recipe
Want a one page, printable, PDF version of this rhubarb quick bread recipe?  Click on the image below to print directly or to download the recipe to your device.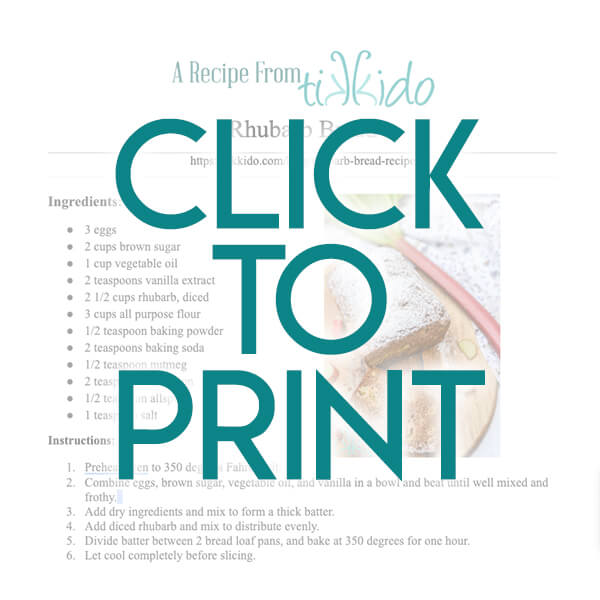 Other Mother's Day Recipes from the Taste Creations Blog Hop: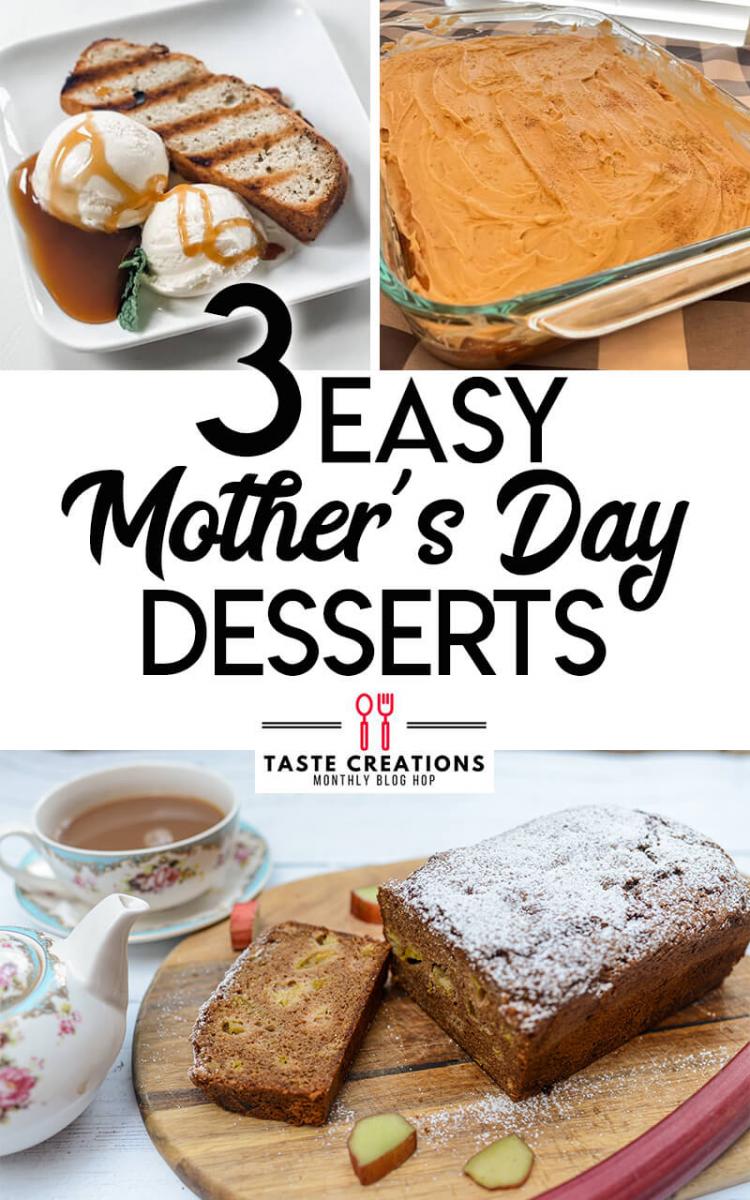 Be sure to check out the other delicious Mother's Day recipes from my fellow bloggers in the Taste Creations Blog Hop!
Our Good Life: Grilled Banana Bread with Ice Cream and Homemade Caramel Sauce
Mom Home Guide: Cake with Coffee Buttercream
Other Rhubarb Recipes You Might Like: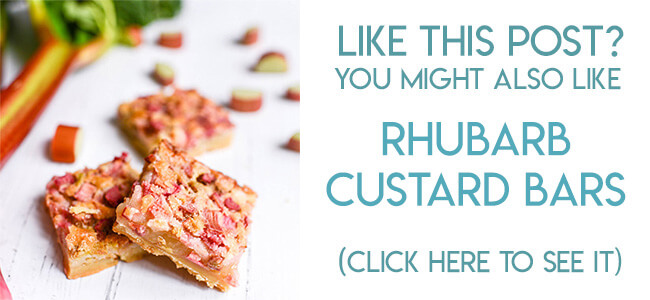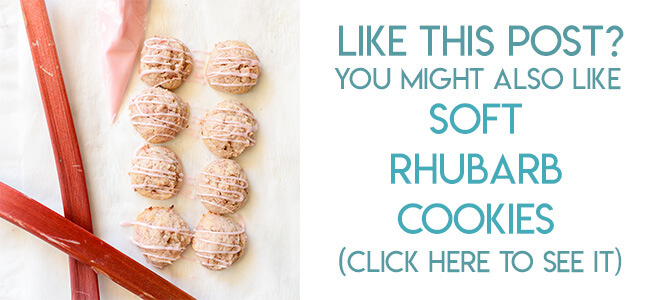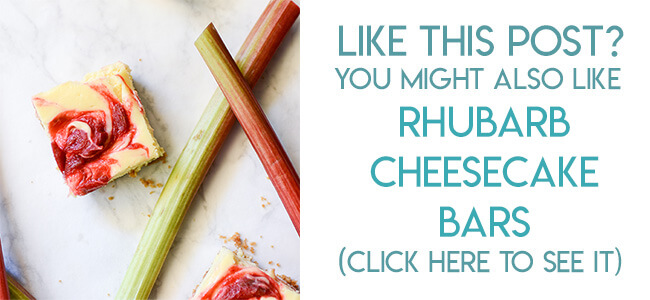 Other Quick Bread Recipes You Might Like: