Yes, you can make vegan royal icing!  Traditional royal icing is typically made with egg whites, but you can make an eggless royal icing by using aquafaba instead of egg whites.  Egg free royal icing is perfect for making gingerbread houses and decorating Christmas cookies.  This eggless, easy royal icing recipe works exactly like regular royal icing.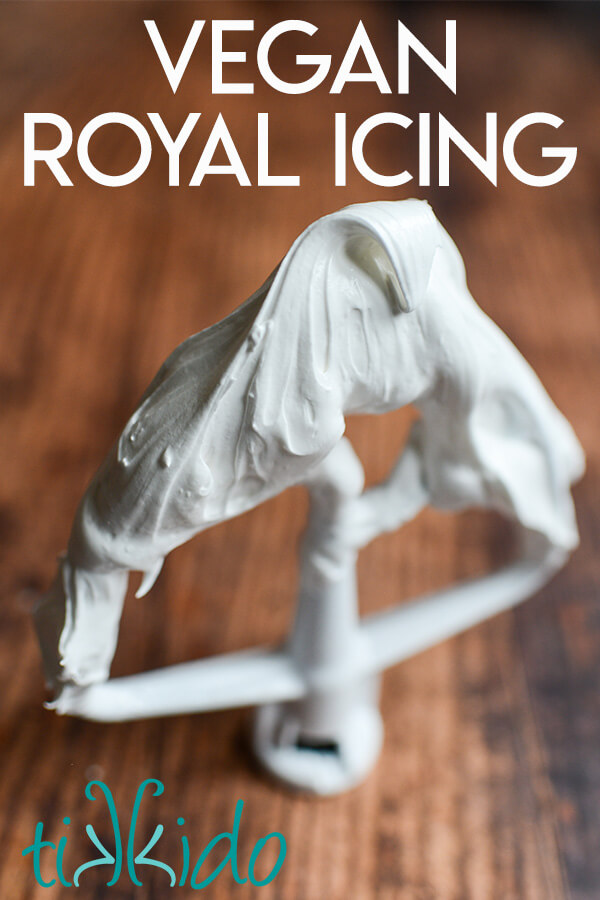 This simple vegan royal icing recipe is the perfect icing for making gingerbread cookies, gingerbread houses, or decorated sugar cookies this holiday season.  It tastes and dries just like classic royal icing, but using an egg white substitute makes this a vegan recipe.  (If you're looking for a vegan sugar cookies recipe [1], I like this one from It Doesn't Taste Like Chicken.)
Aquafaba in Vegan Royal Icing
What is aquafaba?  It's the liquid that comes in canned chickpeas (also known as garbanzo beans).  Aquafaba can be used to replace eggs in vegan baking; use 3 Tablespoons in place of each egg.  The same ratio works brilliantly for making eggless royal icing, which is typically made with raw egg whites or meringue powder.
I'm making gingerbread houses for my daughter's Woodcraft Folk scout group this week, and one of the scouts has an egg allergy.  I want every child to be as safe and involved as possible, so I decided to rework my gingerbread house recipe [2] and royal icing recipe [3] to make an eggless gingerbread house recipe and egg free royal icing recipe.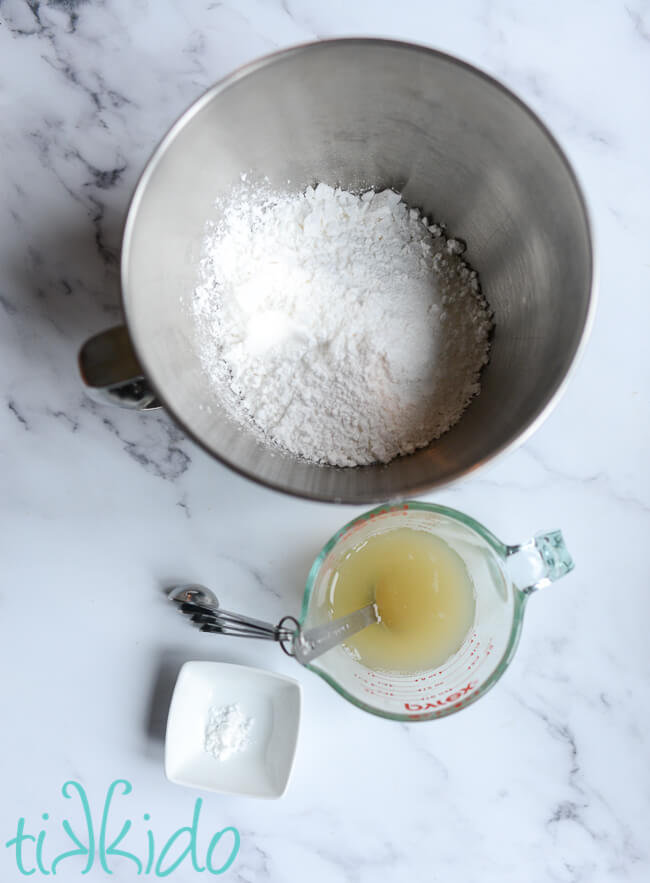 Egg Free Vegan Royal Icing Recipe
2 pounds powdered sugar (also called icing sugar)
18 Tablespoons aquafaba (canned chickpea liquid)
1 teaspoon vanilla extract (almond extract is another popular flavor, but vanilla is the most classic)
1/2 teaspoon cream of tartar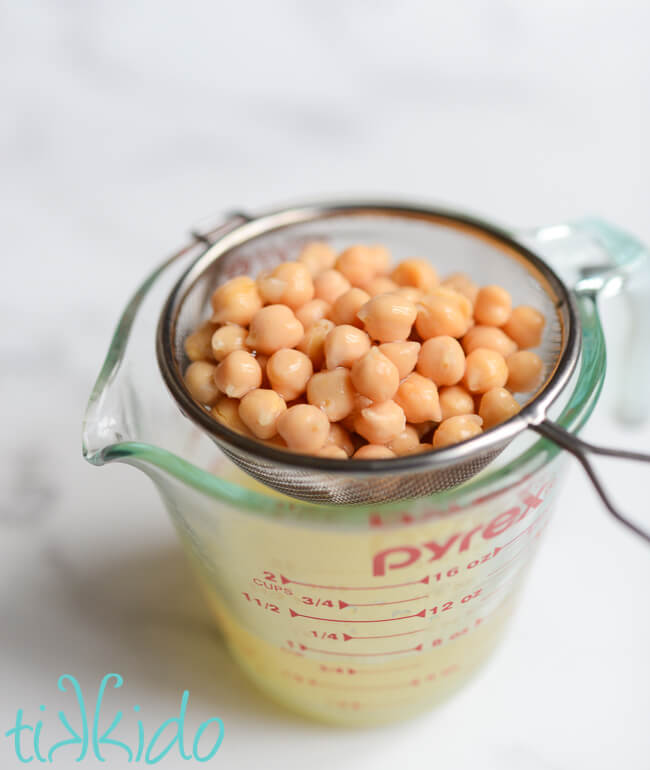 In this eggless royal icing recipe, egg whites are replaced with aquafaba, the liquid from a can of chickpeas.  The chickpea water actually looks a lot like egg whites--a similar consistency and color.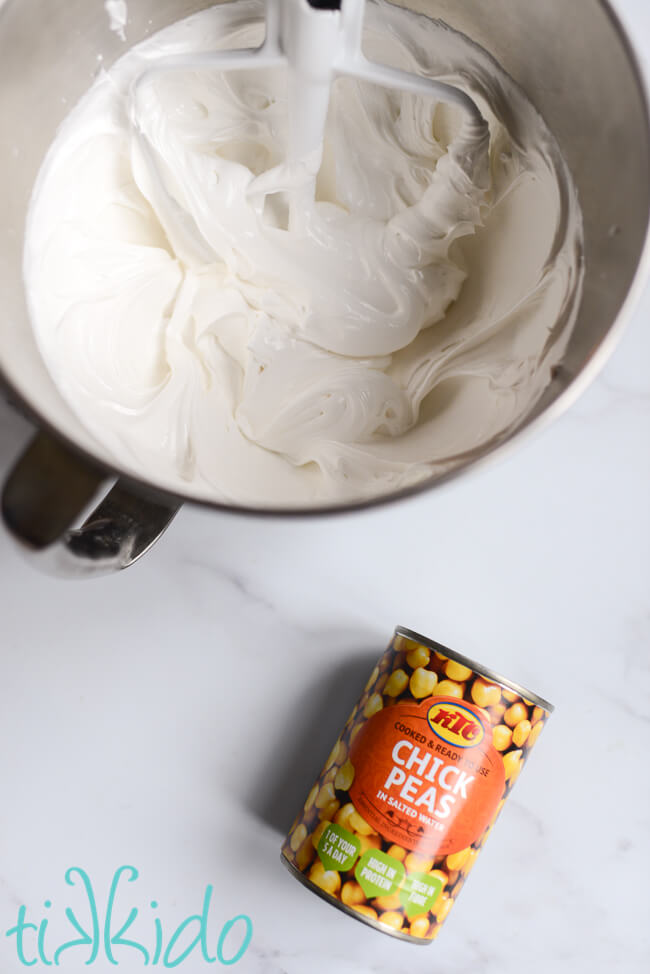 Combine all ingredients in a large bowl and beat on high speed with a mixer.  You can use a hand mixer, but I always use my Kitchenaid stand mixer [4].   It took over five minutes of beating at a high speed for this mixture to turn into a thick royal icing, making the consistency of the icing perfect for the vegan gingerbread houses [5] I was making.  It may take longer if you're using a hand mixer.
Substitutions for Cream of Tartar in Vegan Royal Icing
What if you don't have any cream of tartar?  There are some other options you can substitute.  The Cream of Tartar in the recipe provides acid (it's the powdered form of tartaric acid), which helps to stabilize and strengthen the air bubbles in the icing, making it thicker and more durable.  If you can't find cream of tartar, you can:
Use twice the amount of fresh lemon juice as cream of tartar in the recipe.  This will add a slight lemon flavor to your icing.
Use the same amount of white vinegar as cream of tartar in the recipe.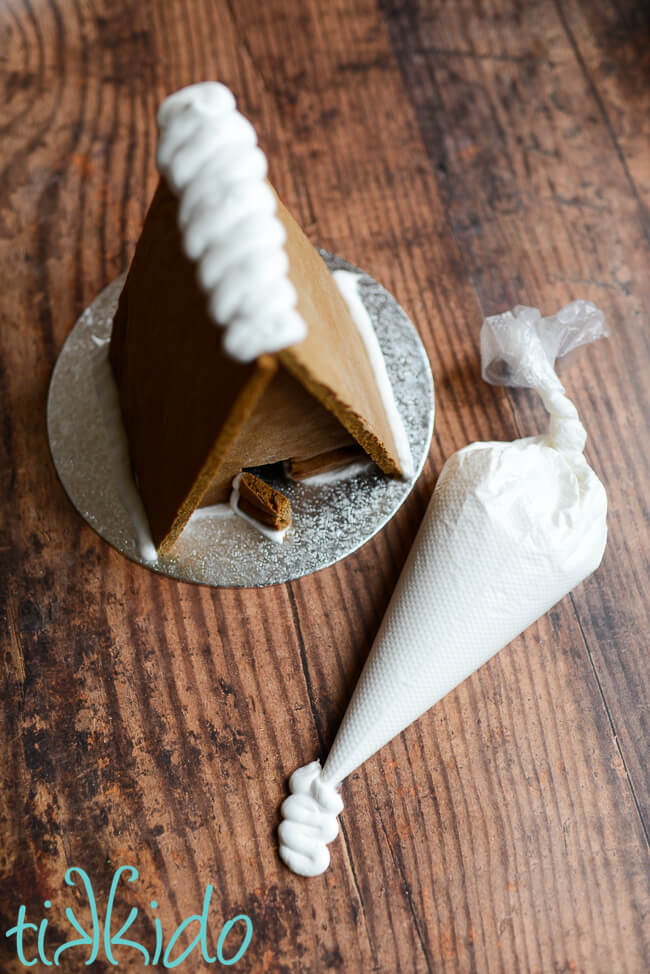 If you've been beating the icing for over five minutes and still want thicker icing, add more powdered sugar--about a half a cup at a time.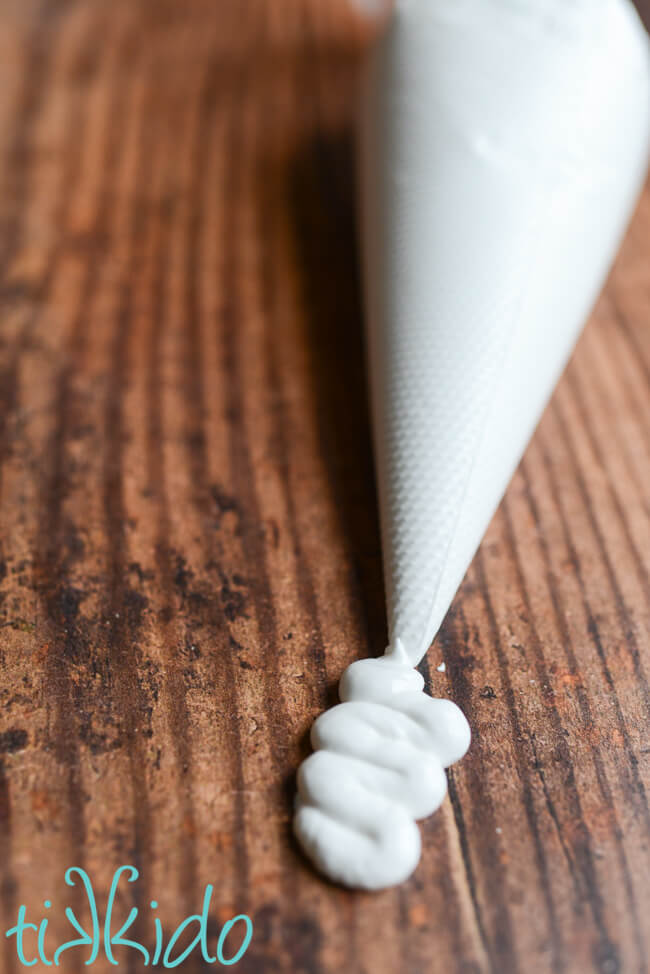 I like my royal icing for gingerbread houses to be VERY thick, so I added about a cup of powdered sugar to my vegan icing to get the perfect consistency.  If you want a thinner icing for making decorative details, you can always thin it with a little water until it's the right consistency.
If you want to add food coloring, add it to the icing after it's already made.  I like using Americolor gel food coloring [6] the best--great colors, you only need a little bit of the gel colours, and it's easy to dispense.  You can mix up many colors of icing in separate bowls, and put in a piping bag or icing bottles to make decorated cookies and intricate details.
How to Store Vegan Royal Icing
Just like regular royal icing, this starts to harden and dry very quickly when exposed to air!  Cover any bowl of icing with a clean, damp kitchen towel to prevent crusting.  Cover the tips of any piping bags you're using with a damp cloth, too, or the icing at the tip will dry and clog the pastry bag.
If you're not going to use the vegan royal icing immediately, it can be stored in an airtight container.  Keep the sealed container in the fridge, where it can be kept up to a week.  The frosting will lose some of its stiffness as it is stored; let come to room temperature and re-beat the icing with your electric mixture to bring it back to the texture you need.
Printable Vegan Royal Icing Recipe
Want a free, printable, one page version of this sweet vegan royal icing recipe?  Click on the image below to print directly or download the PDF to your device.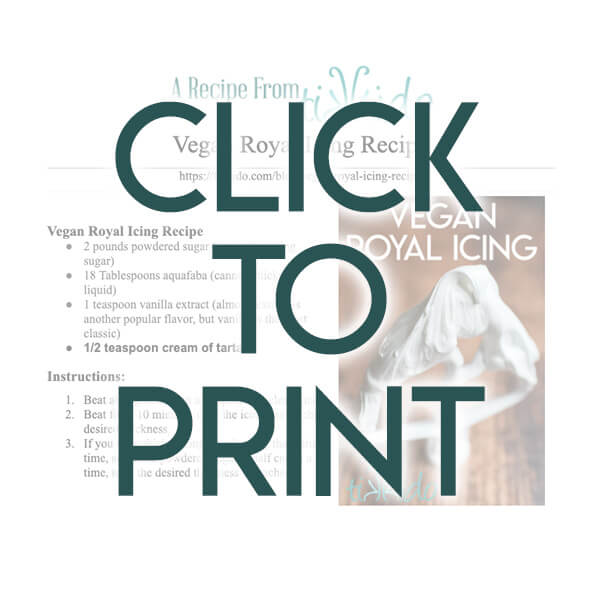 [7]
Other Vegan Recipes You Might Like: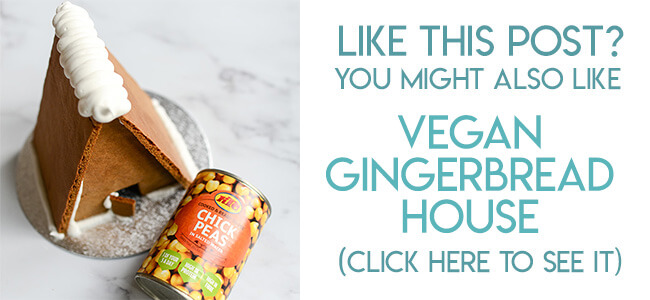 [5]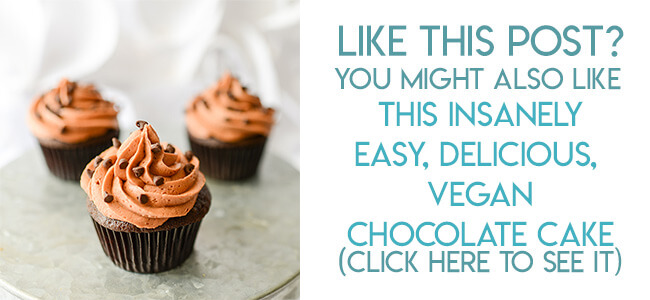 [8]
Other Icing Recipes You Might Like: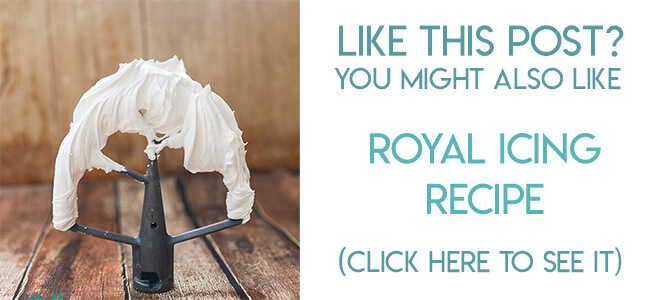 [3]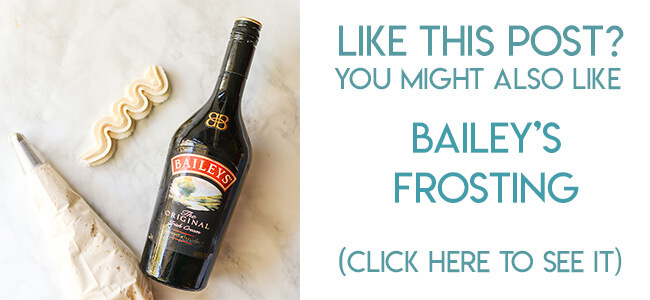 [9]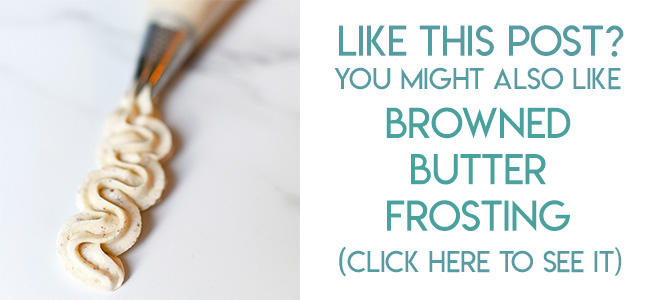 [10]