Printer-friendly version
I'm so excited to share my daughter's 8th birthday party with you today.  The theme was Princess Mononoke.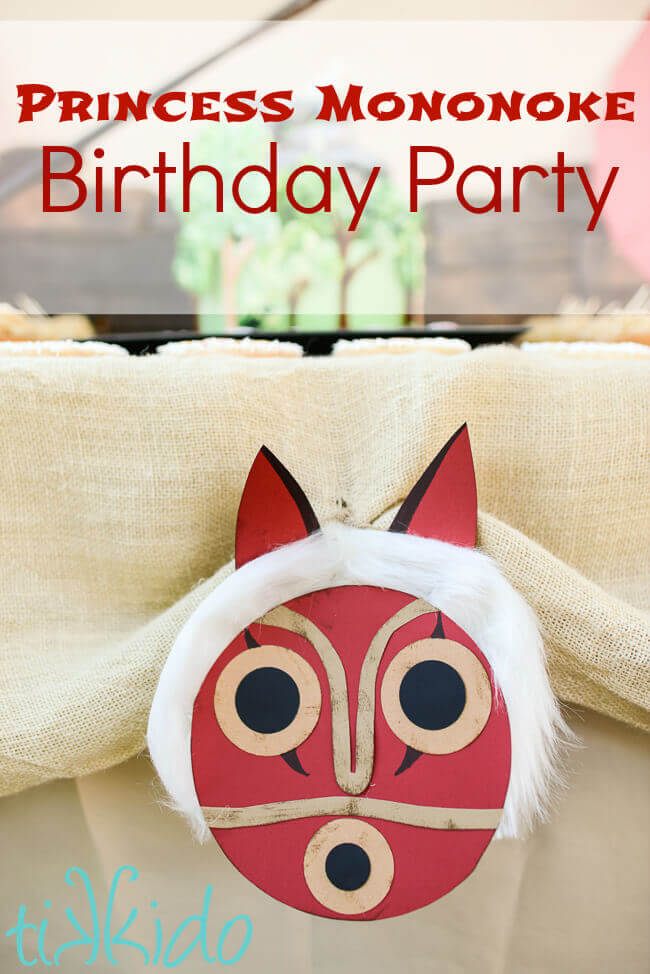 Princess Mononoke is an amazing animated movie by Hayao Miyazaki (the director and writer behind other amazingly creative and beautiful films like Spirited Away and My Neighbor Totoro).   Princess Mononoke is about the struggle between nature and industrialization, and has very sympathetic characters on all sides.  It also has a kick-ass princess who was raised by wolves, and that's the real reason Niamh loves the movie so much.  She LOVES books and films with strong, capable female leads.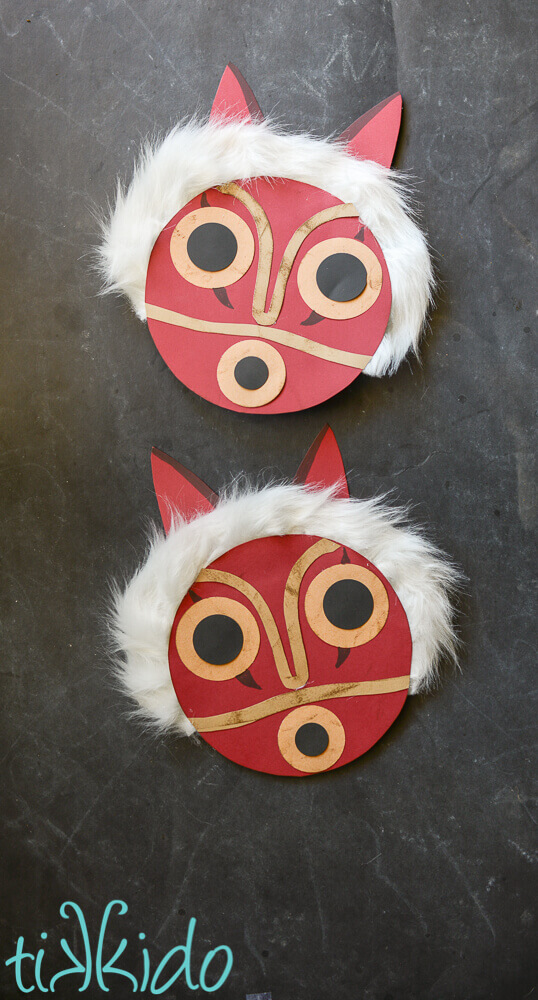 Every party starts with an invitation, right?  I love Evite for its convenience, and I often use it, but I am a sucker for a great invitation, too, so when I got the idea for these Mononoke mask invitations (tutorial, including a video, here), I knew I wanted to make the extra effort this year.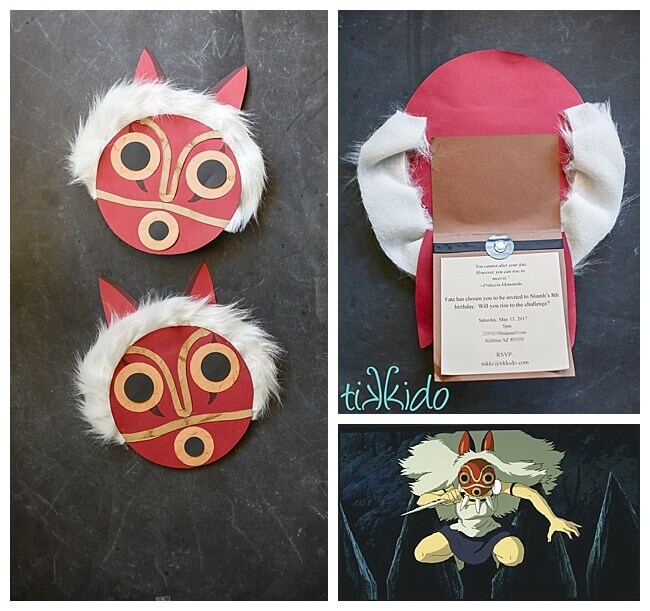 Not so pretty inside, but they looked pretty spectacular from the front!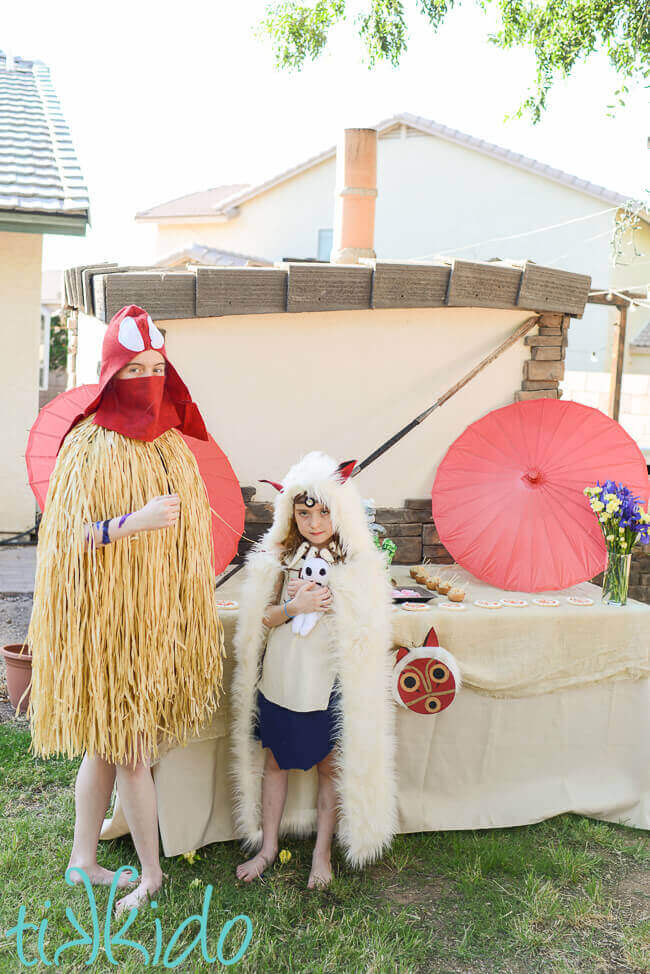 My youngest daughter, Niamh, is rather famous for her quirky birthday party theme requests.  Here are the ones she's asked for in the past:
Age 3: Sprinkles Birthday Party (She came up with that theme herself!)
Age 4:  Gollum birthday party (I convinced her to do Hobbits so as not to freak out her friends)
Age 5:  My Little Pony (OK, that one isn't all that strange, but it is within the geeky realm)
Age 6:  Weeping Angels birthday party (I only convinced her to do a more general Doctor Who party if I promised to make her a weeping angel costume for Halloween)
Age 7:  Stampy Longnose (Minecraft) birthday party
So Princess Mononoke fits in with Niamh's pattern of unique party themes.  It's a good thing I love a creative challenge!
Ready to see a TON of this year's birthday party pictures, including costumes, desserts, games, and more?  
Princess Mononoke Birthday Party Costumes
Of course Niamh wanted me to make her a Princess Mononoke costume for the party (and for Phoenix Comicon coming up next weekend!).  She asked me to make an Ashitaka costume for her big sister, but I honestly didn't think I was going to get around to that.  Until I saw the perfect product to help me make a quick and easy Ashitaka costume (more on that in the days to come!  I'll link it as soon as the tutorial is up).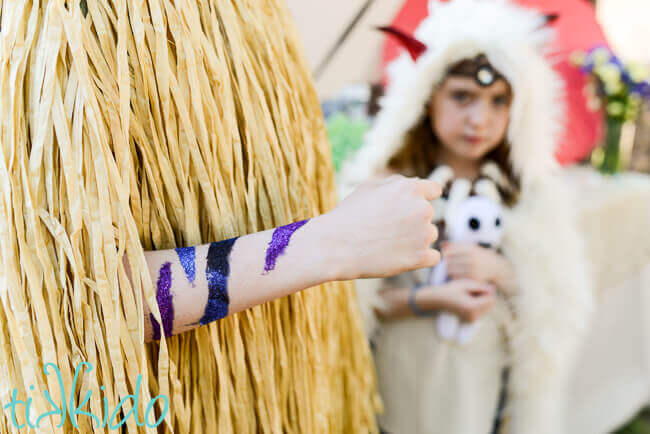 Ashitaka's infected arm looks even more mysterious when it's made with glitter tattoos! (You can see the products I love and the techniques I use in the glitter tattoo post. From my older daughter's 8th birthday! )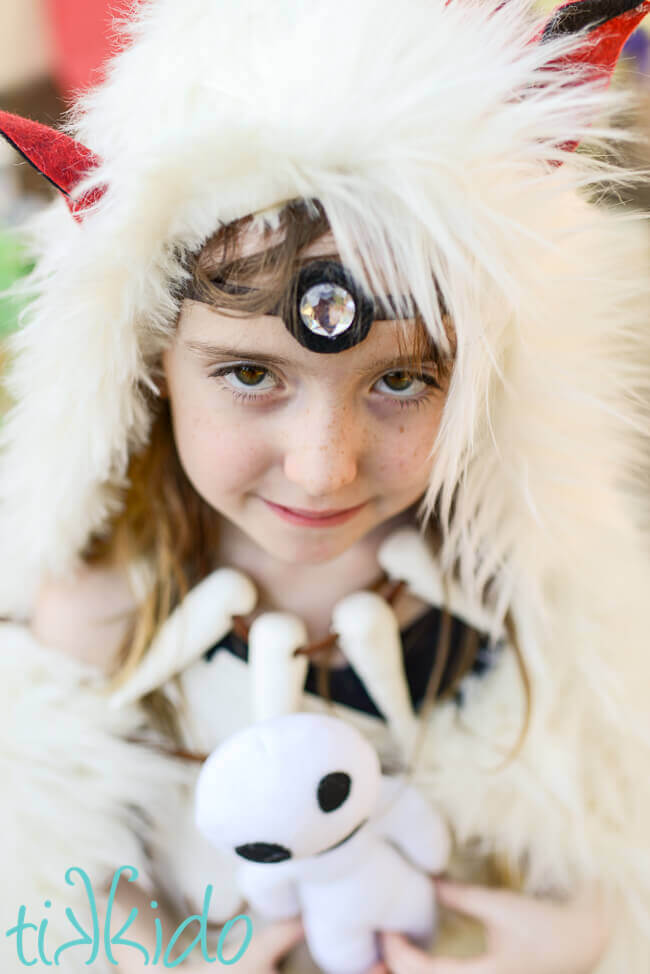 I love how my feisty little Mononoke looked in her costume!  She loved it so much, and (at least minus the cape and mask) it was comfortable for lots of play with her friends.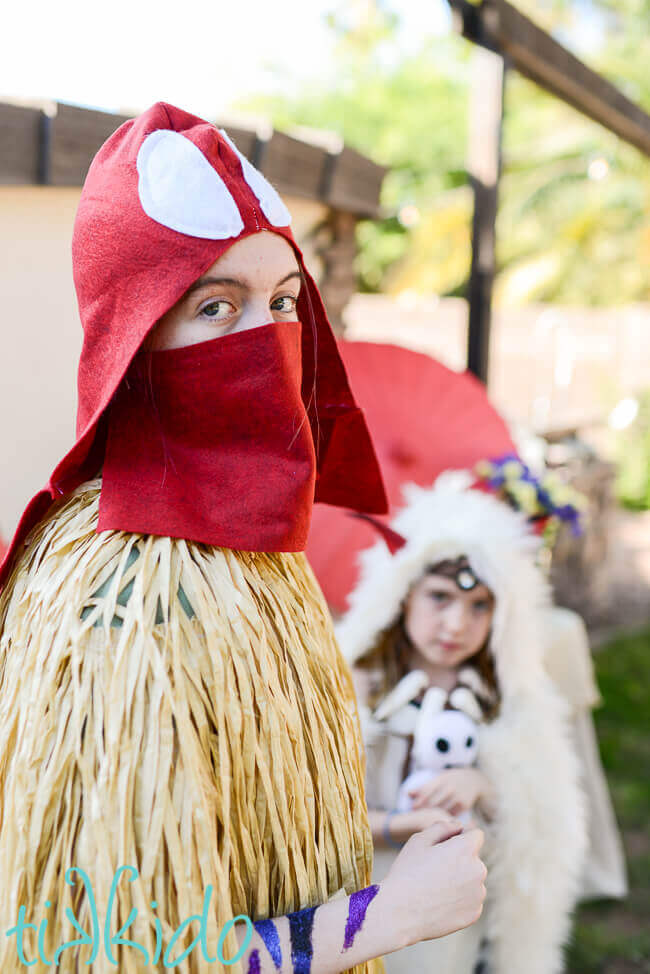 Ready for more?  The next page is all about the treats on the Princess Mononoke dessert table.  
Princess Mononoke Birthday Party Dessert Table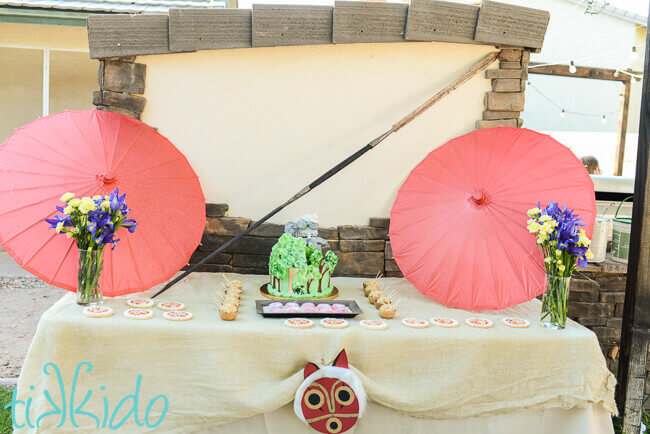 Some years I do a LOT for the dessert table.  This year, not so much.  But there were still plenty of sweets for all the kids and all the parents.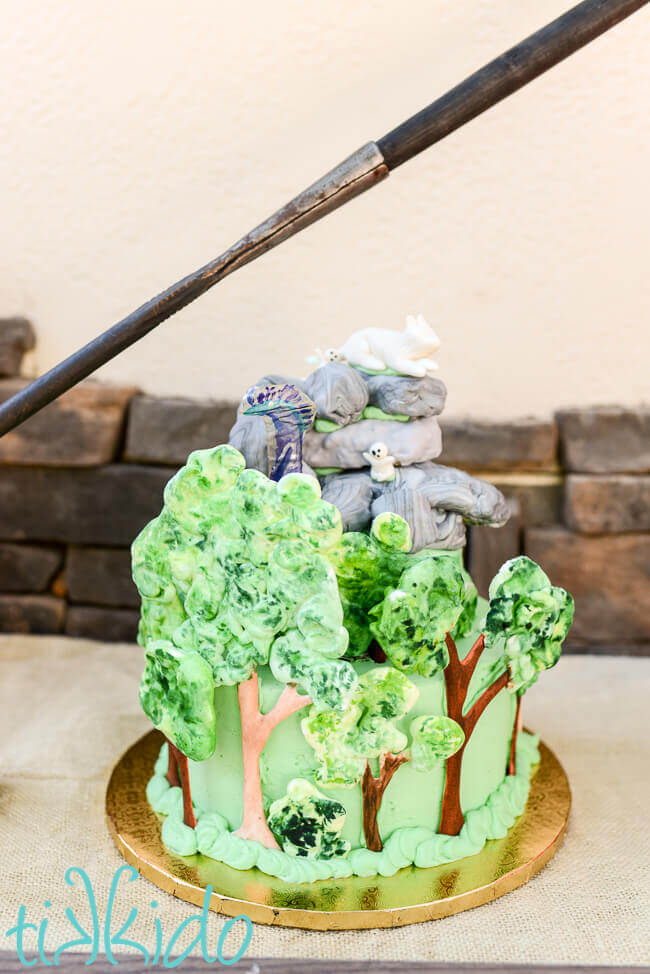 I wish I'd given myself more time to work on the cake.  It would have looked more like it looked in my mind.  My daughter was happy, and that's what really matters in the end!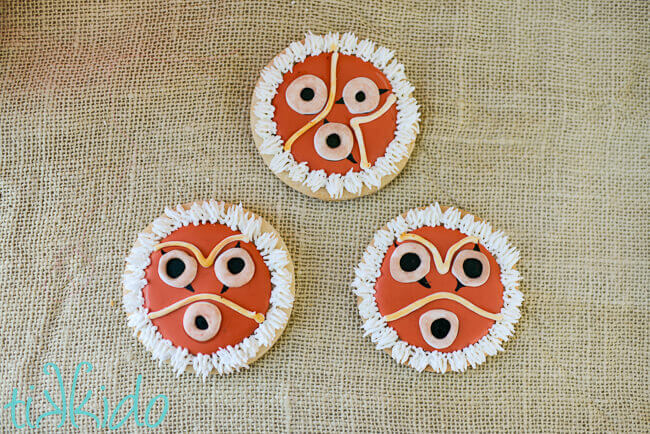 I did like how my Princess Mononoke Mask cookies turned out!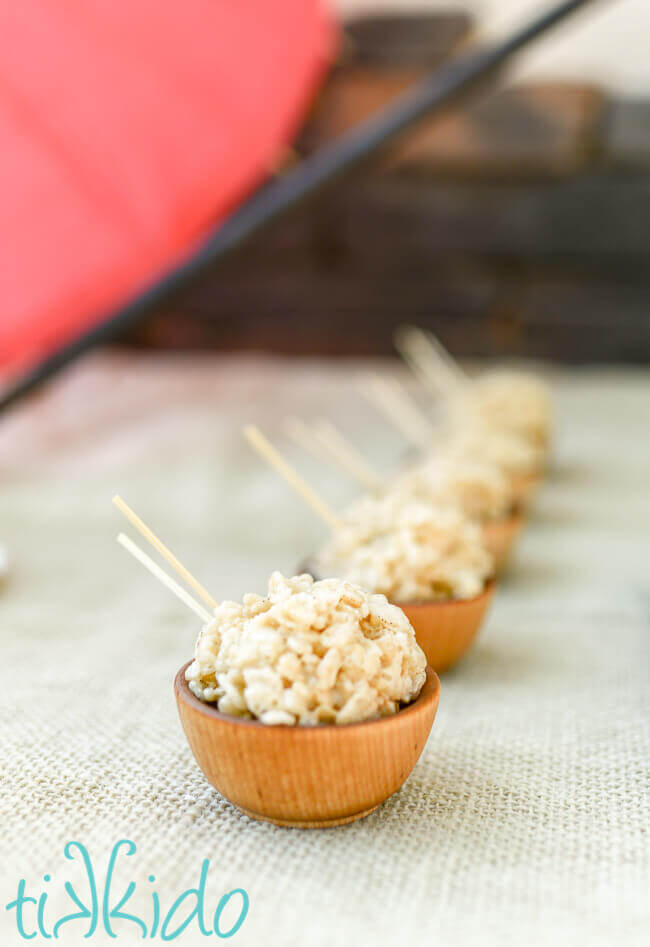 And I really tickled myself with this idea:  miniature bowls of rice (krispie treats).  I filled wooden condiment cups with rice krispie treats, and stuck in a couple toothpicks as miniature chopsticks.  SO darn cute, if I do say so myself.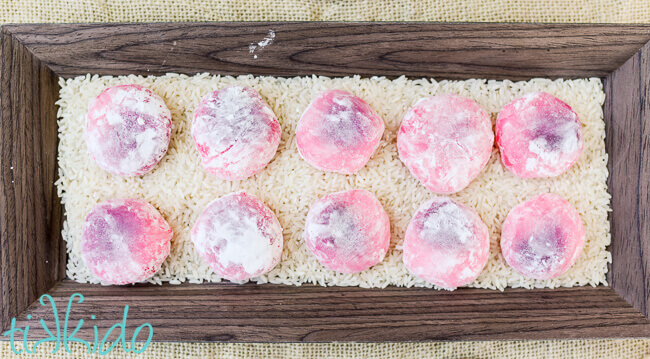 I also attempted making mochi for the first time!  It turned out really well, and I'll add the link as soon as I have the tutorial and video up in a few days.
Princess Mononoke Birthday Party Favors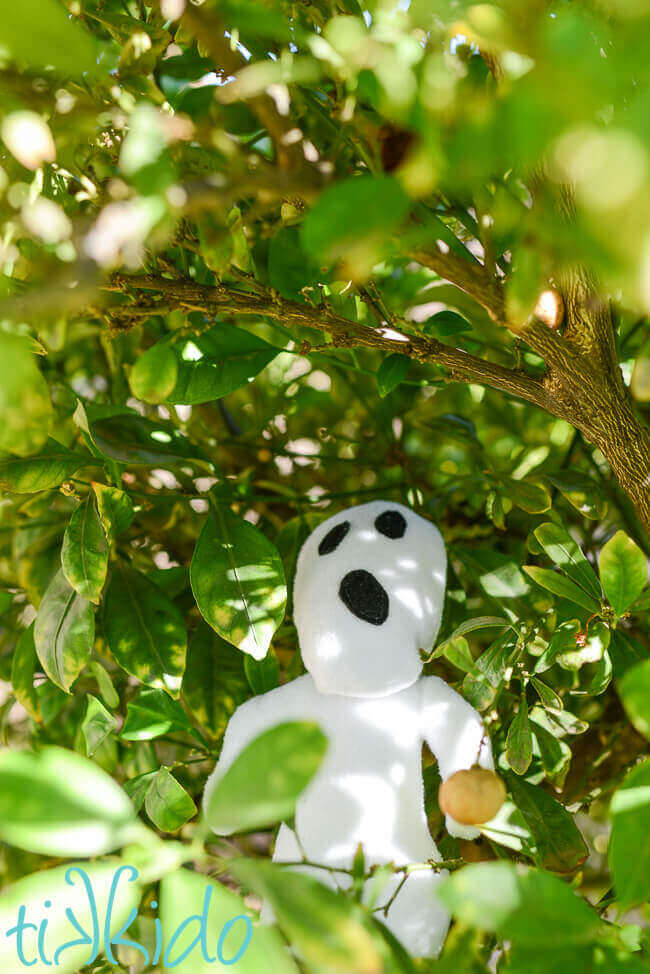 My daughter loves stuffed animals, and loves the little kodama (tree spirit) characters in Princess Mononoke.  I made a little tree spirit stuffy for each child, and hid them in the trees around our backyard.  At the end of the night, each kid got to go find and adopt his or her own tree spirit to take home.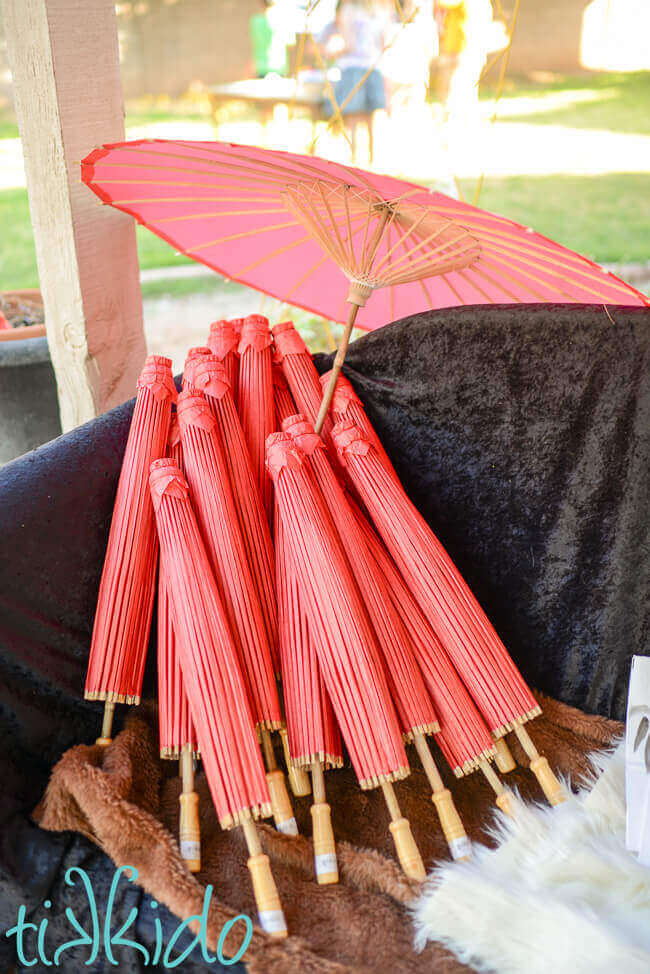 Each child also got one of Lady Eboshi's red paper parasols.  (Parasols are always a big hit with the kids!)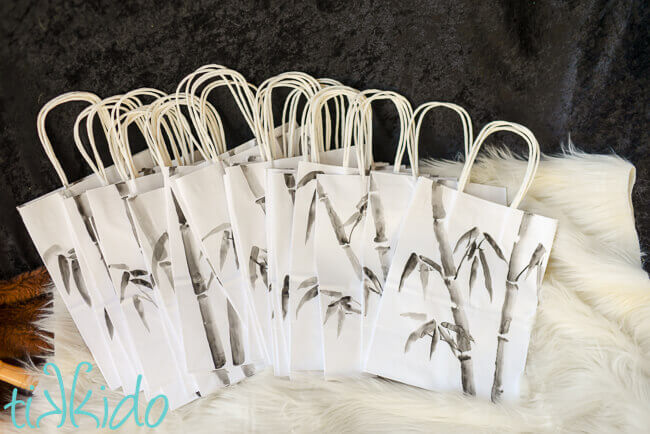 I hand-painted simple bamboo designs on plain white paper bags to hold all the guests' loot (including Japanese candies from the pinata).  I love decorating plain gift bags!  Tutorial coming soon.
Head to the next page to see the Princess Mononoke party activities.
Princess Mononoke Birthday Party Activities and Fun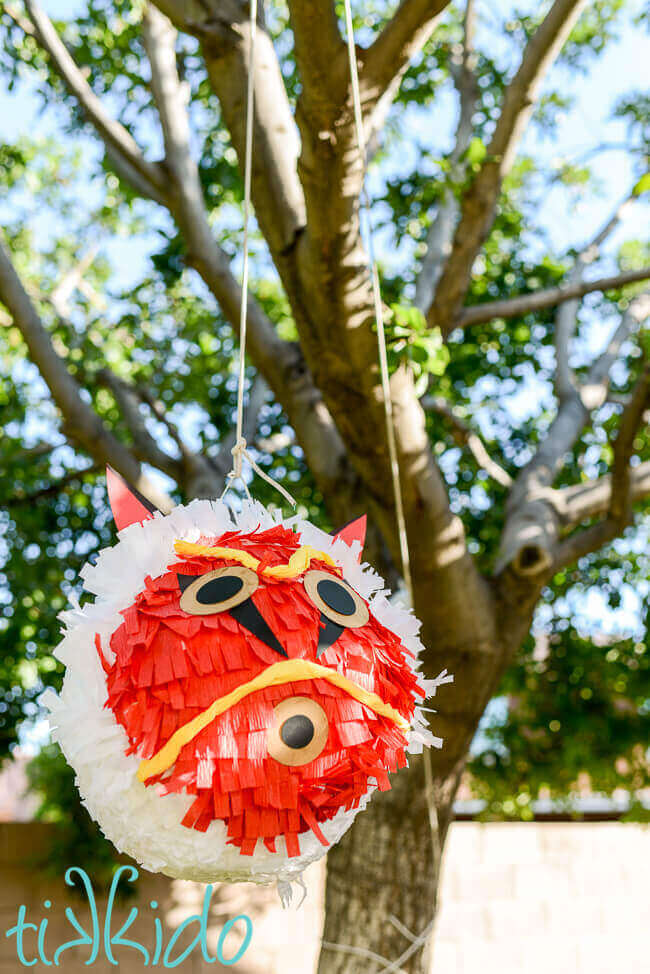 We always have a pinata at our birthday parties.  I bought a baseball pinata and some red and white crepe paper, and just adapted it for the Princess Mononoke theme.  Sometimes I make my pinatas from scratch, but sometimes it's just easier to buy a premade pinata from the party store and just re-decorate it instead of doing the papier-mâché, too.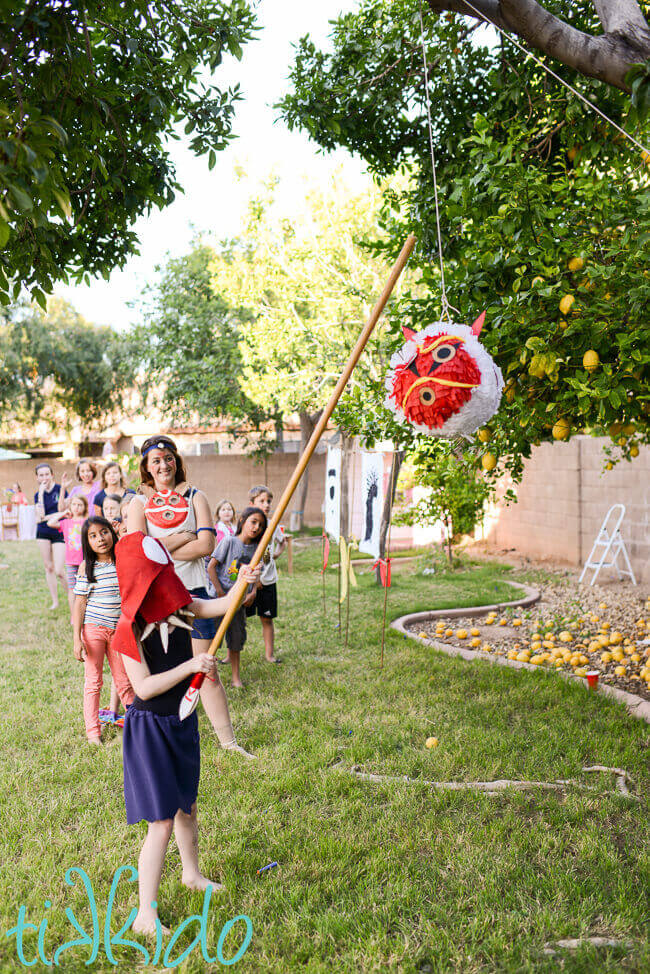 The Ashitaka hood and face mask made the perfect eye mask for our pinata activity!  Mononoke's spear made an awfully fine pinata stick, too.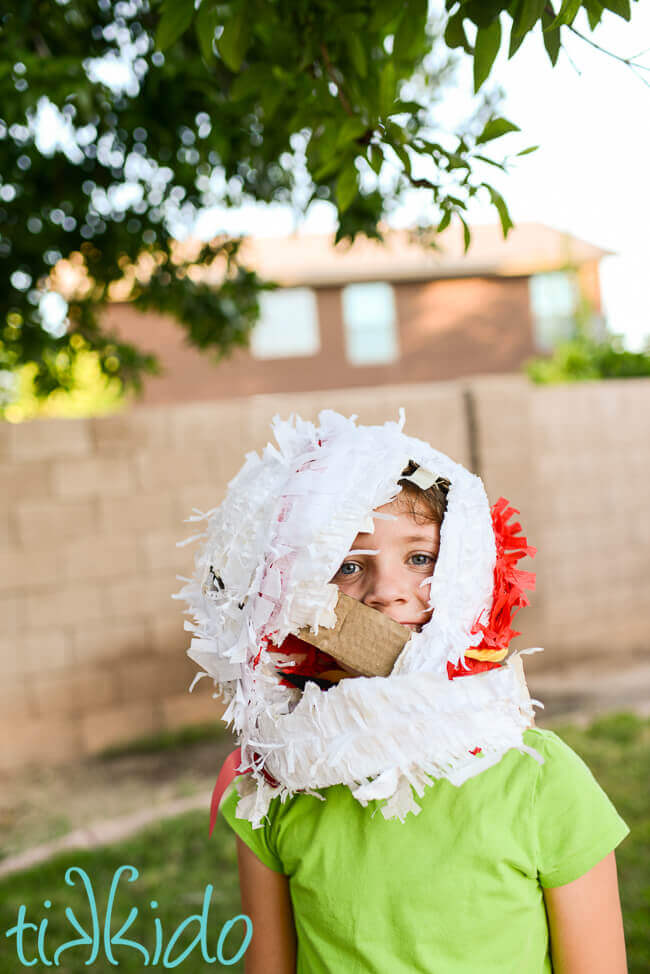 It wouldn't be a party without our little friend Sarah wearing the pinata at some point!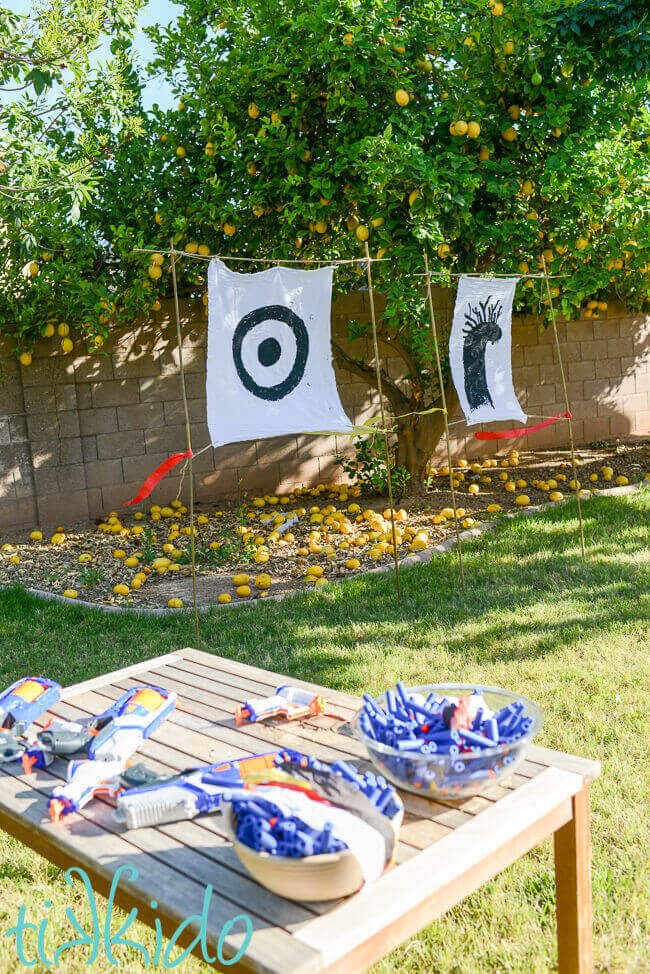 I made Lady Eboshi's Target Practice for one of the other main activities.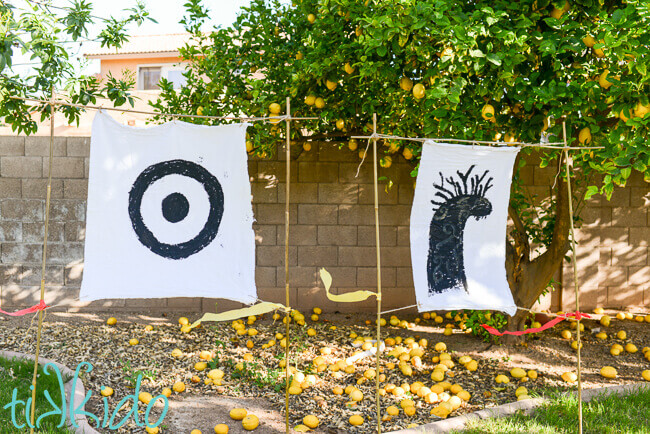 Of course it devolved pretty quickly into nerf gun battles all over the yard, but at least the targets made a nice decoration.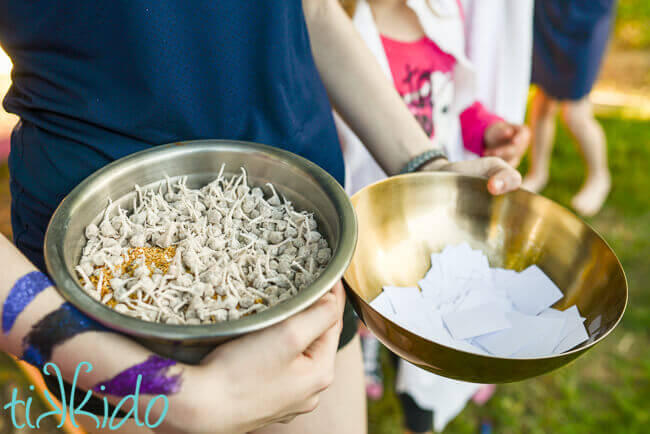 We also played a variation on the best relay race game ever (nobody is ever disappointed!), but using party snaps instead of candy this time.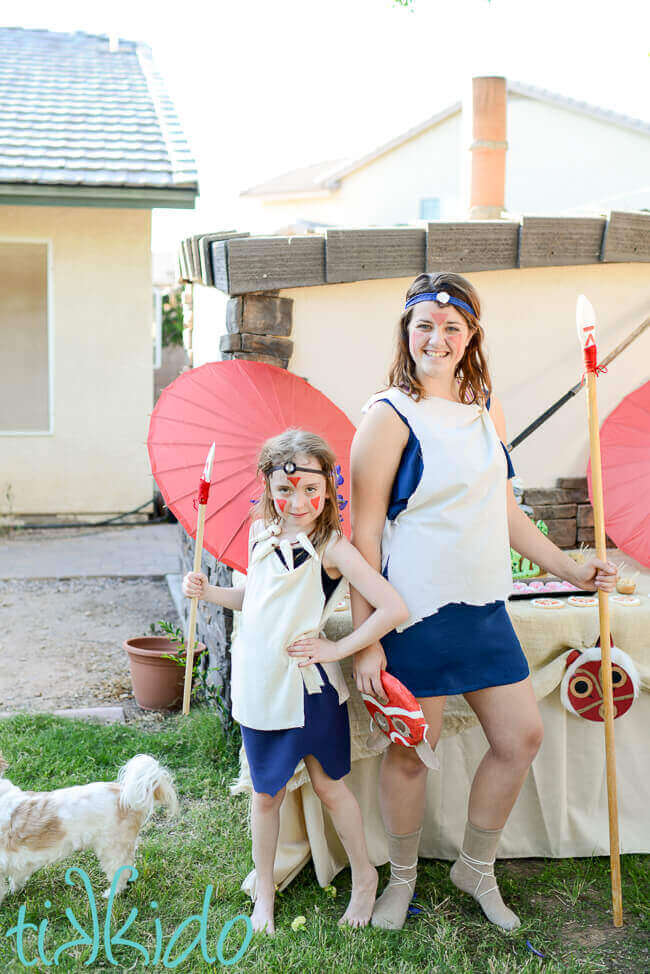 Niamh's friend Kaila surprised her by coming in costume, and made her a matching spear!  Now that's an amazing friend.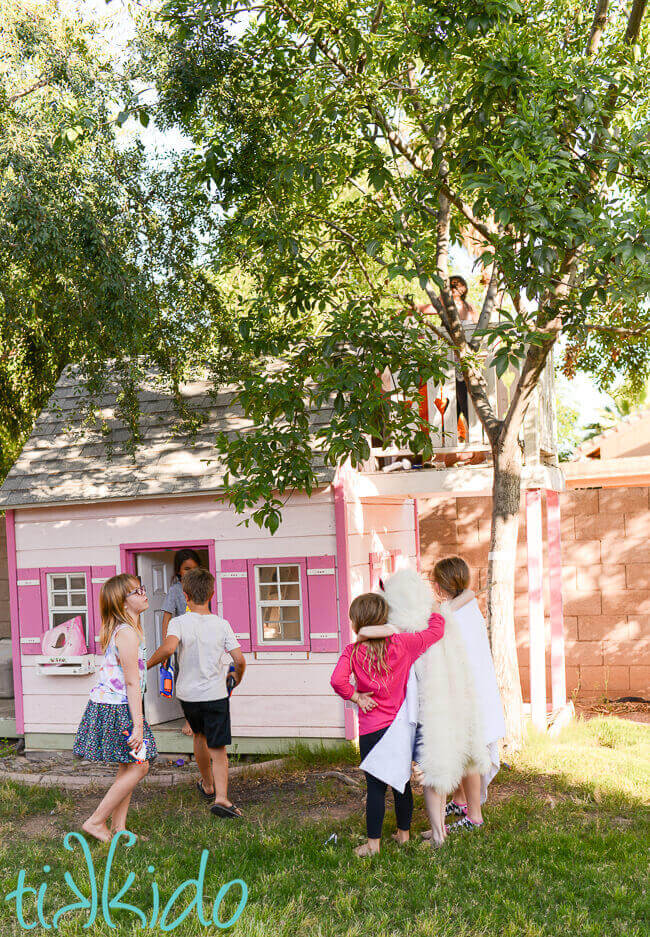 Ah, nothing like the sight of a wolf-princess hugging her friends to warm your heart.  Happy birthday, my love!