Printer-friendly version
These sweet spring cupcakes look like a garden ready to sprout, and they're incredibly easy to make using my vintage seed packet cupcake toppers. My free printables make these spring garden cupcakes look great, even if you have absolutely NO cake decorating experience.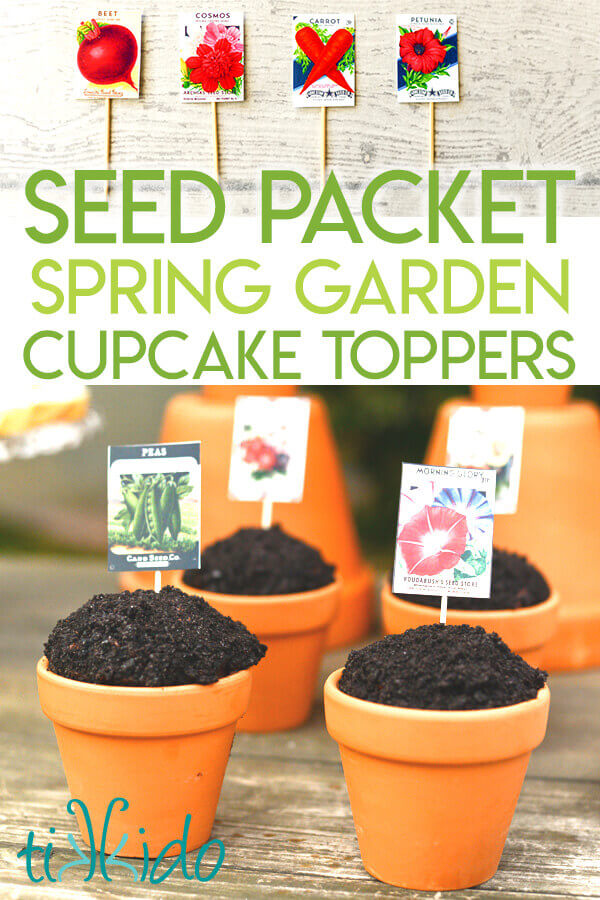 The appeal of cupcakes is clear:  a miniature cake, adorable and sweet, all to yourself.  It's no wonder they're a favorite with young and old alike.  When I was  developing the Mother's day spring garden party, I knew I wanted to use cupcakes as a dessert.  The goal of that party was to have everything so simple that the kids could be in charge and make everything themselves, and my girls love to make cupcakes.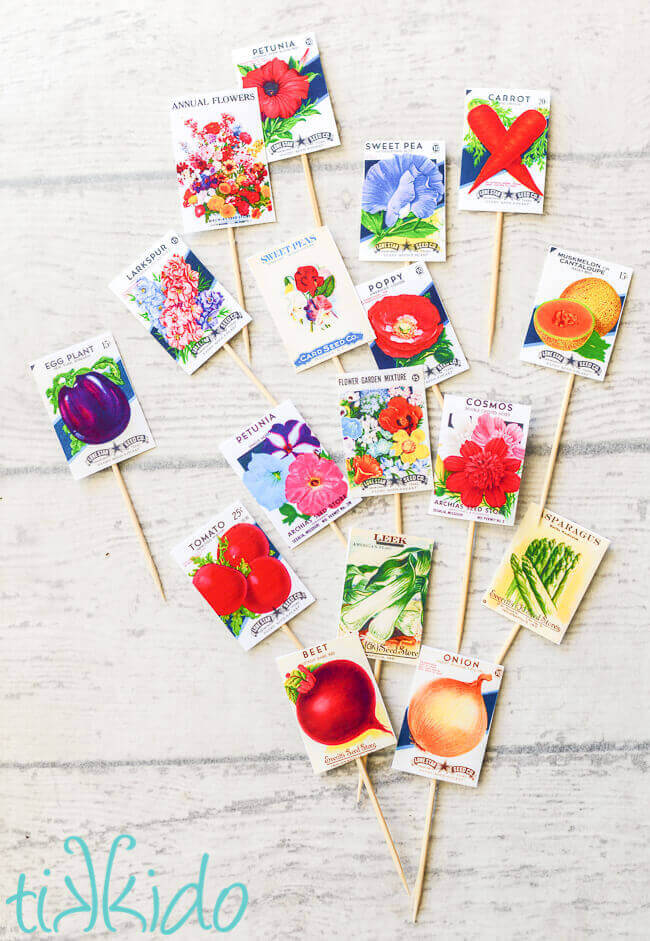 Super-simple garden cupcakes were the perfect solution.  No fancy cake decorating techniques, no special equipment necessary.  Just printable vintage seed packet images to use as cupcake toppers.
So easy, but an undeniably adorable result.
We baked chocolate cupcakes using our favorite recipe, but it would be just as easy to purchase plain cupcakes from the grocery store.  
To create the rich topsoil look for the top of the cupcakes, we used crushed Oreo cookies.  I'd never crushed Oreos before to make edible dirt, and I was concerned that I'd have to scrape out all of the icing, and it would be a big, fussy, annoying project.  But before I took that step, I decided to try crushing up a few of the entire cookies as a test.  It's a good thing I did, because I discovered that as you keep pounding and crushing the cookies, the icing just magically disappears, and you're left with dark black chocolate "soil."  I set my girls to work crushing the rest of the Oreos.
A little chocolate icing and a roll in the crushed Oreo cookies, and we had the perfect foundation for our little garden of cupcakes!
Printable Vintage Seed Packet Cupcake Toppers
Back when I originally made these seed packet cupcake toppers back in 2013, I found free small vintage seed packet printables on what is apparently a now-defunct website.  So since the original printables no longer exist, I made some for you!
Vintage Flower Seed Packet Printables:
Vintage Fruit and Vegetable Seed Packet Printables:
 I printed them on matte presentation paper, and the girls cut them out and used a low-temperature hot glue gun to glue toothpicks to the back of each miniature seed packet.   If your kids are too little to use a glue gun, a small piece of tape works just as well.
They're so fast, so easy, and so sweet when put in the simple garden cupcakes.
All the major craft stores (Joann Fabrics, Michaels, Hobby Lobby, etc.) carry lots of sizes of miniature terracotta planting pots.  The ones that are 3" diameter are absolutely perfect for these cupcakes.  Just plop the Oreo-encrusted cupcakes in the pot, stick in a seed packet, and voila, it's a new spring garden of delicious cupcakes, just waiting to sprout in the warming weather!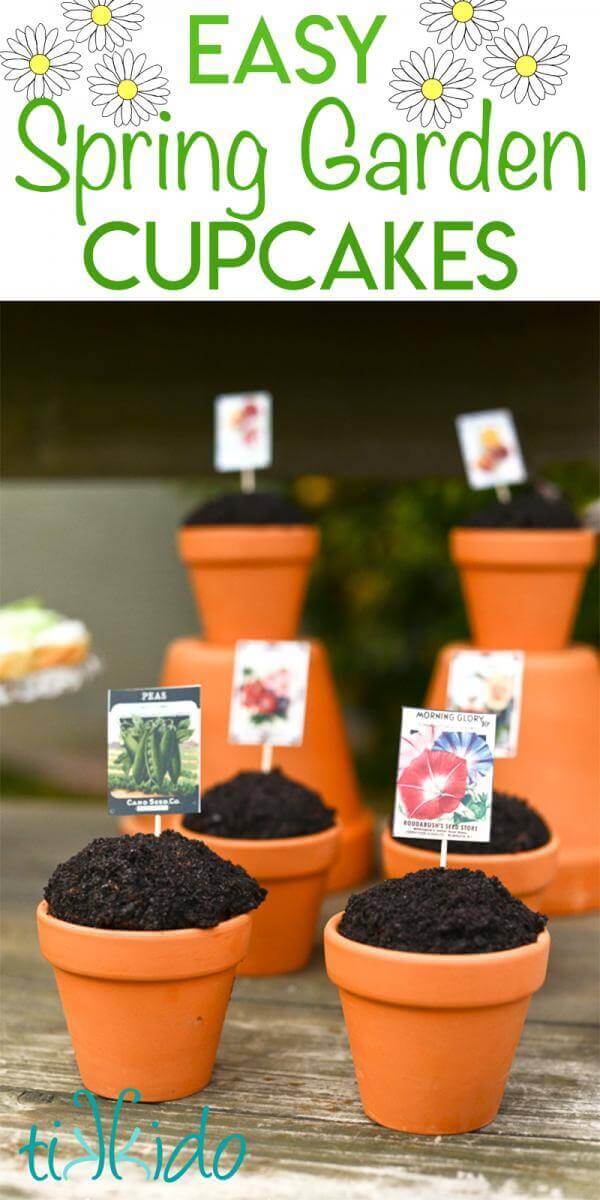 Other Cupcake Decorating Tutorials You Might Like: