Printer-friendly version
Any kind of ice cream sandwich is delicious, and homemade ice cream sandwiches are extra delicious, of course.  Add some red, white, and blue sprinkles and you'll have an amazing 4th of July dessert that's cool and easy to serve as you're watching the fireworks.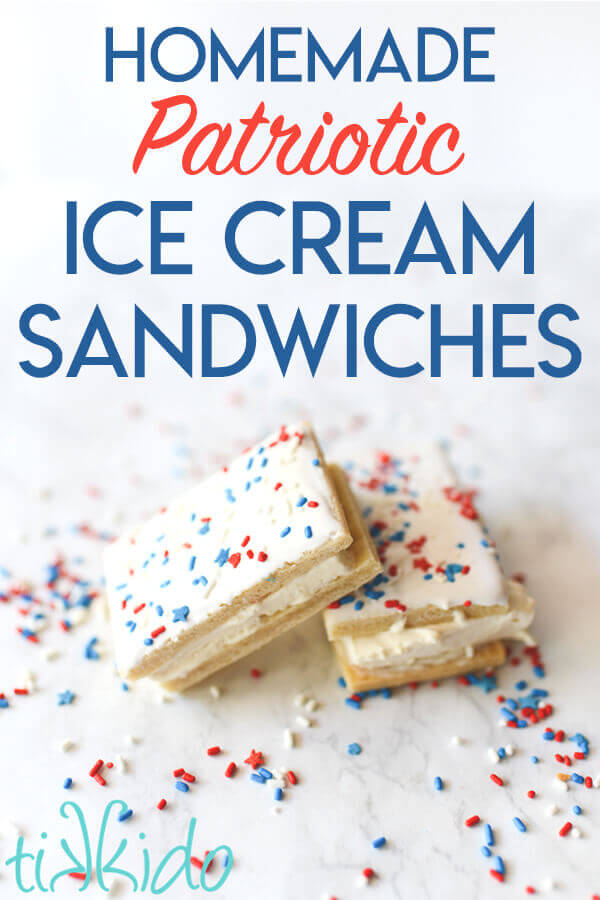 I made these and my daughter declared me "the heckin' best mom ever!!"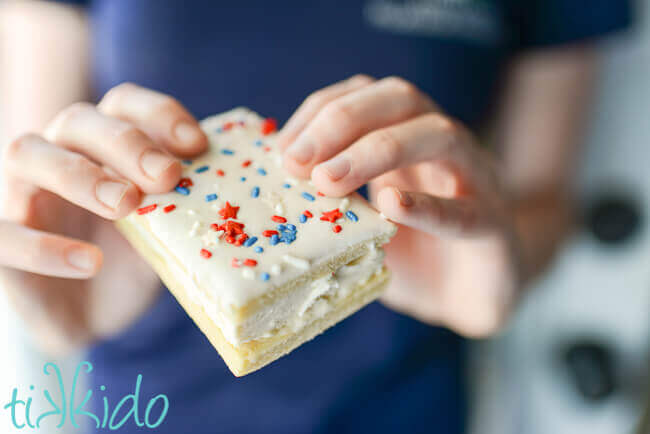 Homemade vanilla sugar cookie topped with royal icing and patriotic sprinkles give these ice cream sandwiches fun patriotic flair without requiring any cookie decorating skill.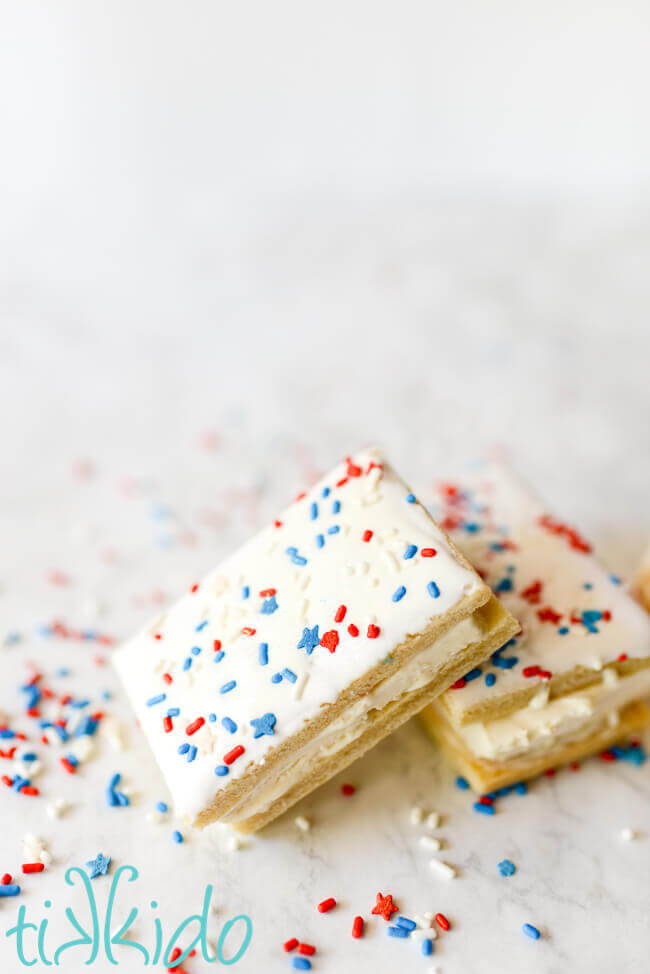 Plus, sprinkles make everything better, don't they?  Even as an adult!
Cookies for the Homemade Ice Cream Sandwiches: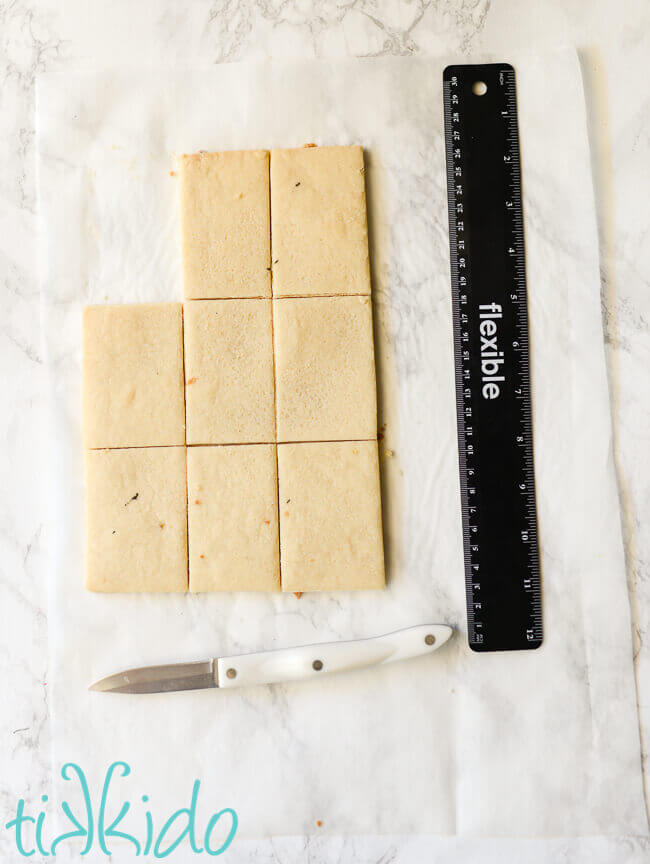 The cookies for the 4th of July ice cream sandwiches are my favorite sugar cookie recipe.  And I borrow this technique from making gingerbread houses to make a ton of cookies at once.  Roll out a bunch of dough, bake it all as one BIG cookie, and while it's fresh out of the oven and warm and soft, cut into 2x3" cookies.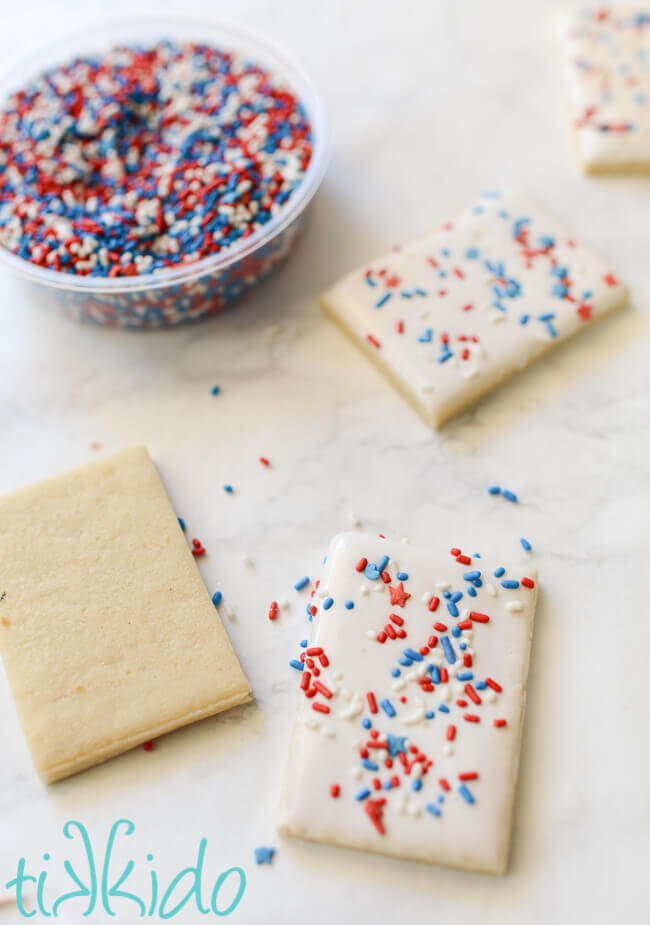 Ice with white royal icing, and add patriotic sprinkles.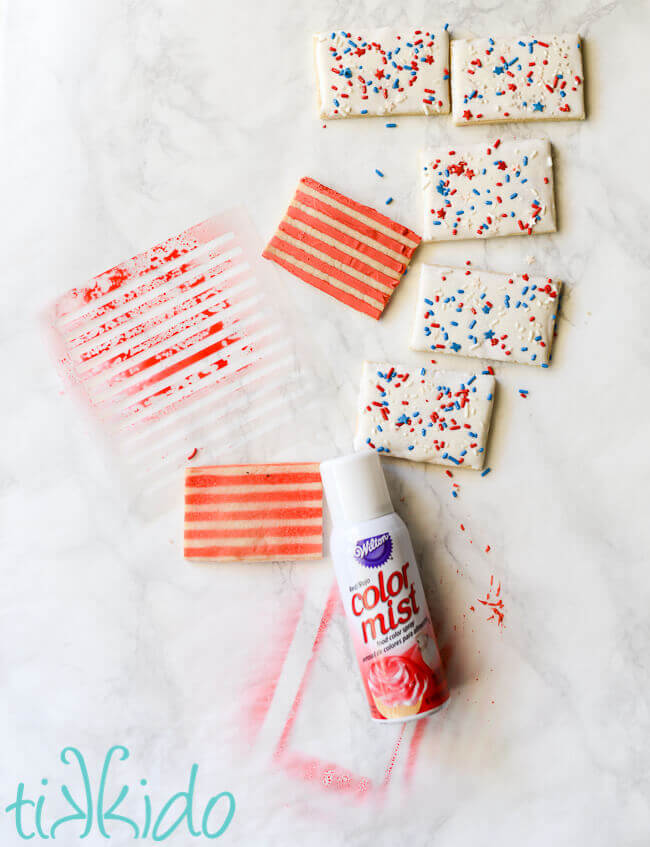 My original idea was to make stars and stripes flag ice cream sandwiches, but I wanted to show you that my first two ideas for decorating the cookies were unimpressive.  The spray food coloring on the un-iced cookies was meh, and the royal icing stripes using the cookie stencil weren't any better and were hard to make.  My first (or even my second, or third) idea for a craft or recipe often doesn't work out!  It's all about experimentation and flexibility until I find something that works.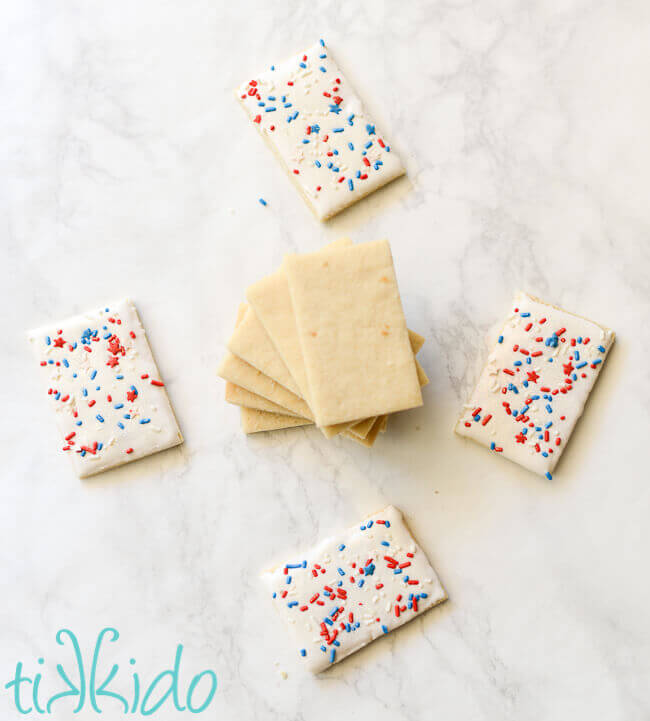 So I just went with the patriotic sprinkles and called it good.  Sometimes simpler is way better!  I didn't even decorate the cookies for the bottom of the ice cream sandwiches.
Ice Cream Filling for Homemade Ice Cream Sandwiches: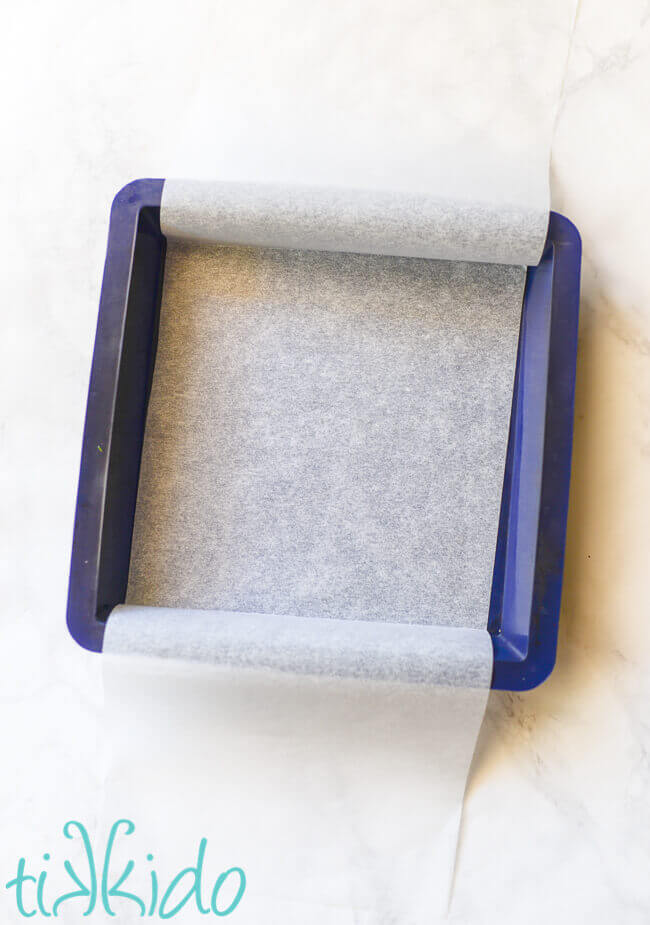 To shape the ice cream for the ice cream sandwiches, I lined a square silicone baking pan (because it's flexible) with parchment paper (to make the ice cream even easier to lift out).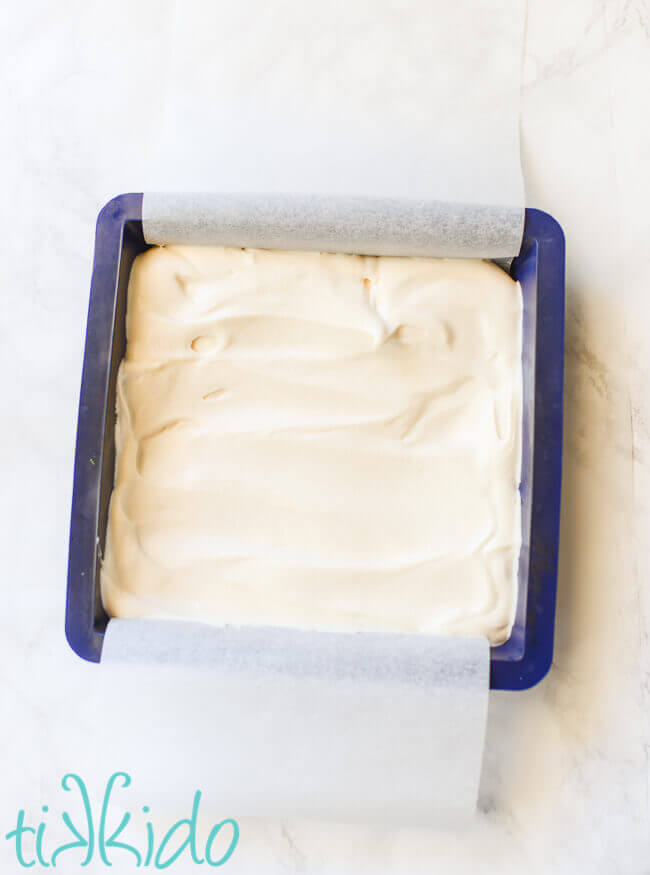 I actually made no-churn vanilla ice cream for this, but it was my first time making no-churn ice cream, and I didn't realize it would always be a little softer than store bought ice cream.  Combined with the sturdiness of the cookies, using no-churn ice cream made the sandwiches a little hard to eat.  It was a challenge my children eagerly embraced, but next time, I'd definitely use store-bought ice cream, softened and spread into the pan.  That's worked spectacularly for me before.
Put the pan of softened ice cream back in the freezer to harden completely again.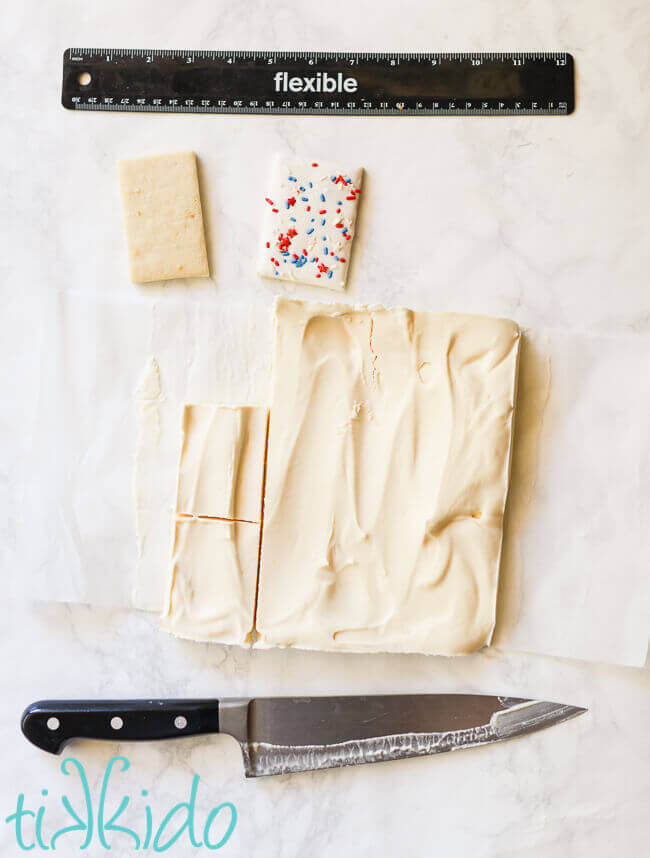 Remove the frozen square of ice cream from the pan, and cut into 2x3 inch rectangles to sandwich between two cookies.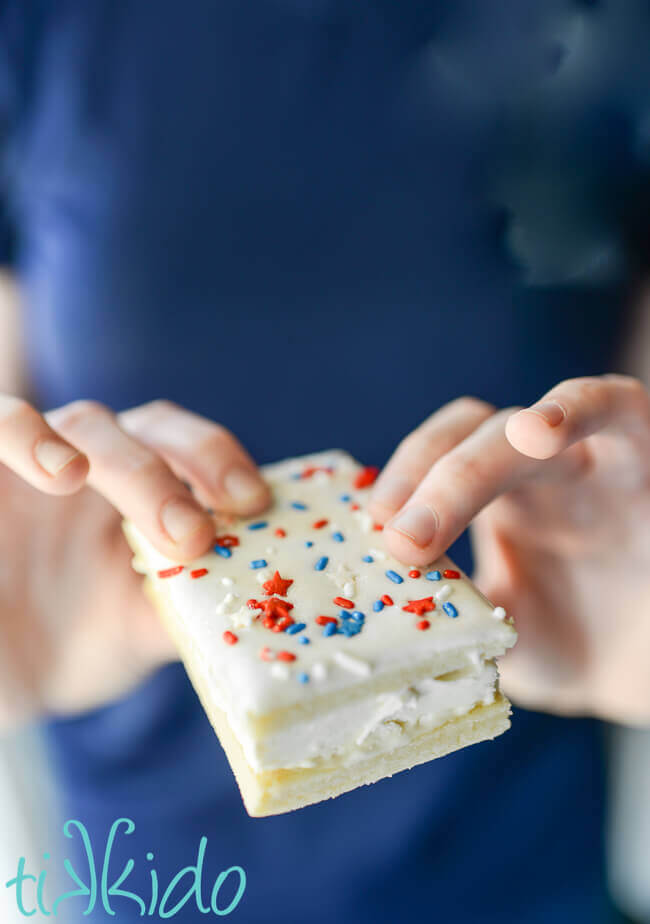 The perfect summer treat, right?  And I love not having to scoop ice cream for a line of people at a party, too.  Having these made ahead of time makes serving ice cream to a crowd an easy pleasure.
Other Ice Cream Recipes You Might Like: