Printer-friendly version
Googly eyes make everything better--especially when they're edible!  My candy corn cookies were fine with just the stripes of color, but the cuteness factor went up dramatically when I dropped on the googly eyes.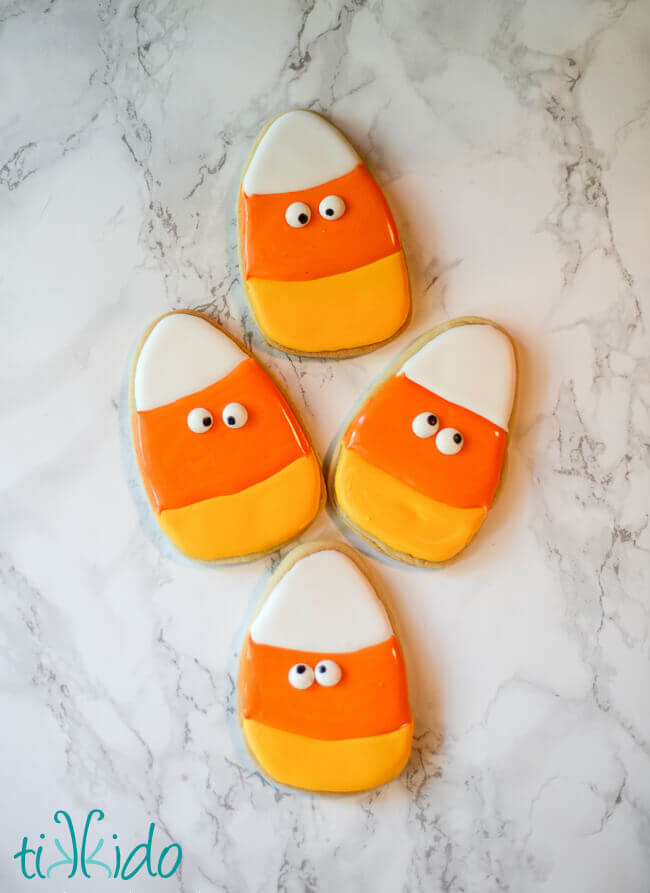 Plus, making a stash of edible royal icing googly eyes is a fabulous way to use up leftover icing.
Royal icing is a fabulous icing.  It can be made thick to hold a piped shape, or thinned down to flood cookies with a flat, even coat of icing.  It dries hard, but not so hard that you can't eat it.  It's the stuff I use to assemble and decorate gingerbread houses--delicious, edible glue.
Easy Royal Icing Recipe:
You're going to need a mixer--preferably a stand mixer--to make this icing, because it takes quite a few minutes of vigorous beating on high speed to whip up the icing to a nice, stiff texture.
Be sure that your mixer bowl, beaters, and any instruments you're going to use are completely clean.  Not a speck of grease on them. I'm so serious that I'm both bolding AND italicizing! If there is any grease that gets into the icing, the icing will not harden properly. (I should really ask my microbiologist/science teacher/pastry chef mother to explain that chemical reaction sometime, but for now, I just know that it MUST BE CLEAN.) I usually give my bowl and beater a nice, hot, soapy wash before I make royal icing, even though they're already clean.  Just in case.  It's a very sad thing when your royal icing fails to set up.
Mix together dry ingredients in the bowl.  Add the water and vanilla, and beat on high for several minutes, until the royal icing achieves the desired thickness.  I usually beat it until it's nice and stiff, because I can always thin down the icing with a bit of water to get it to flooding consistency for decorating cookies.  
The traditional method of making royal icing involves using egg whites.  I think the traditional version dries slightly stronger than the meringue powder version, but is much fussier to make (the tiniest bit of broken yolk wil ruin your batch).   I pretty much only make the meringue powder version these days.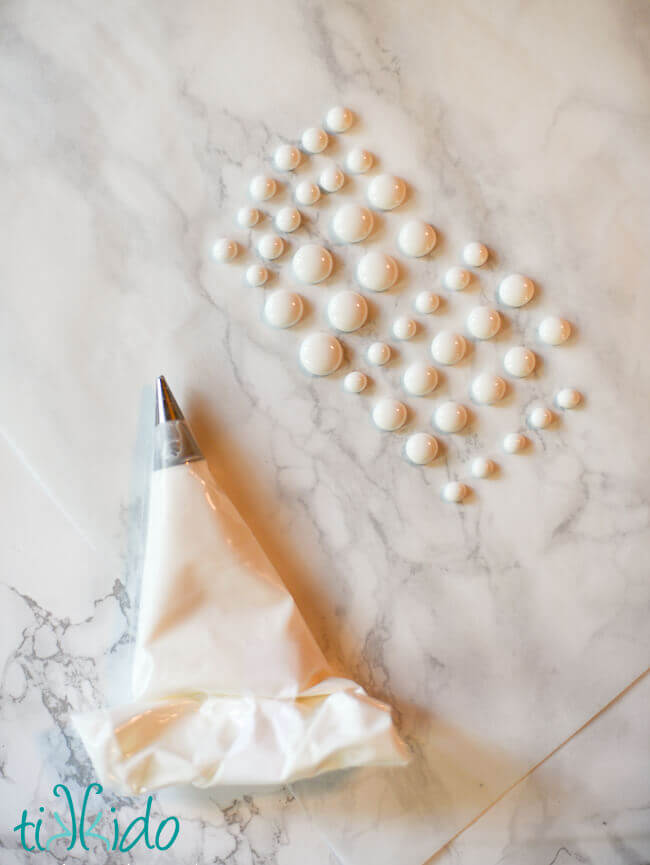 After I'm done making cookies, I often have some plain white royal icing left over.  My grandmother used to use up her leftover royal icing to make the most amazing stash of royal icing decorations, and while I'm not nearly so talented or prolific, I do take inspiration from her work.  Googly eyes are a great, versatile, and insanely easy way to use up some of that extra icing!
To make the edible googly eyes, just thin the icing to flooding consistency (basically, that means it's thin enough that it flattens out into a smooth surface, and doesn't hold a peak).  Pipe dots on parchment paper or waxed paper (this is how I made my homemade old fashioned Candy Buttons) and let dry.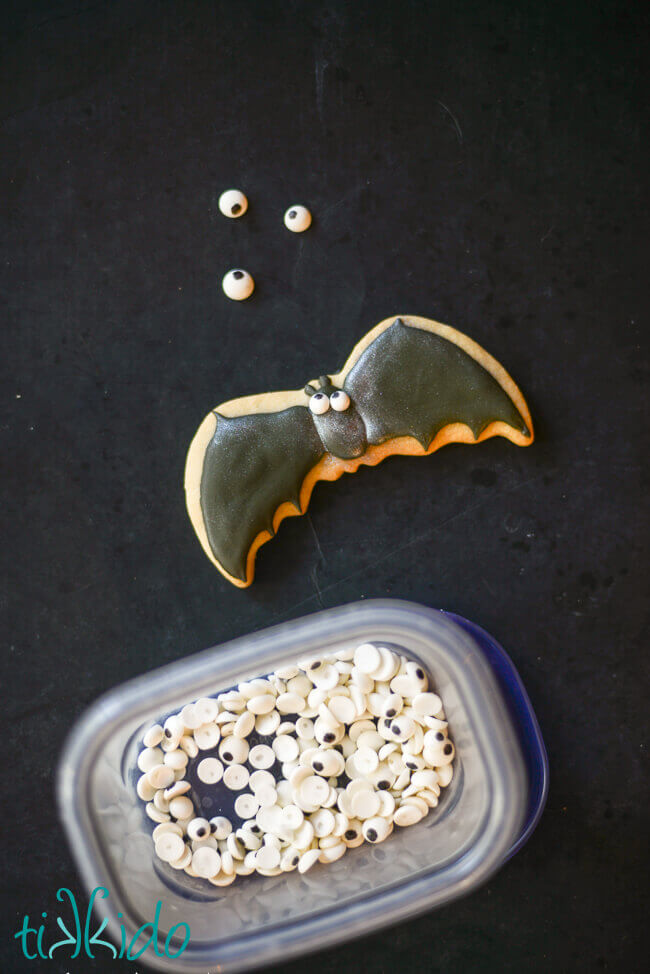 Once they're dry, use a black food coloring marker to draw on the pupils.  The icing eyes added the perfect touch to my bat cookies for the Bat Cavern Trunk or Treat.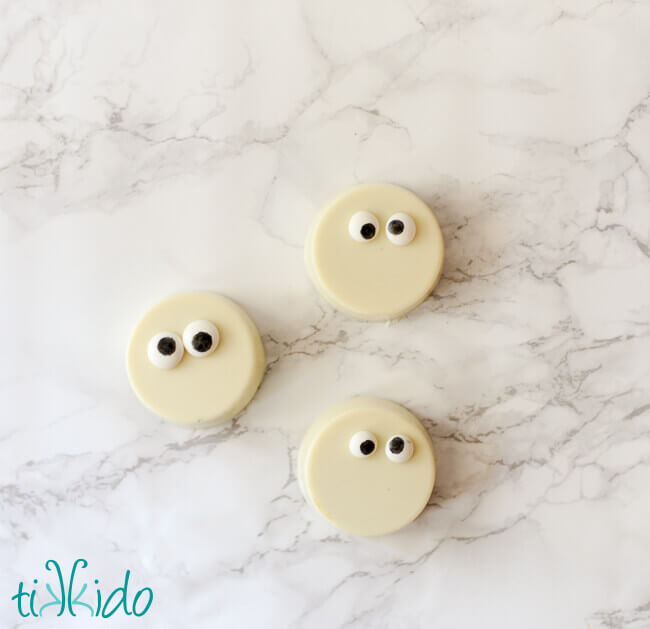 And to the easy chocolate covered OREOs for the Zombie Science party.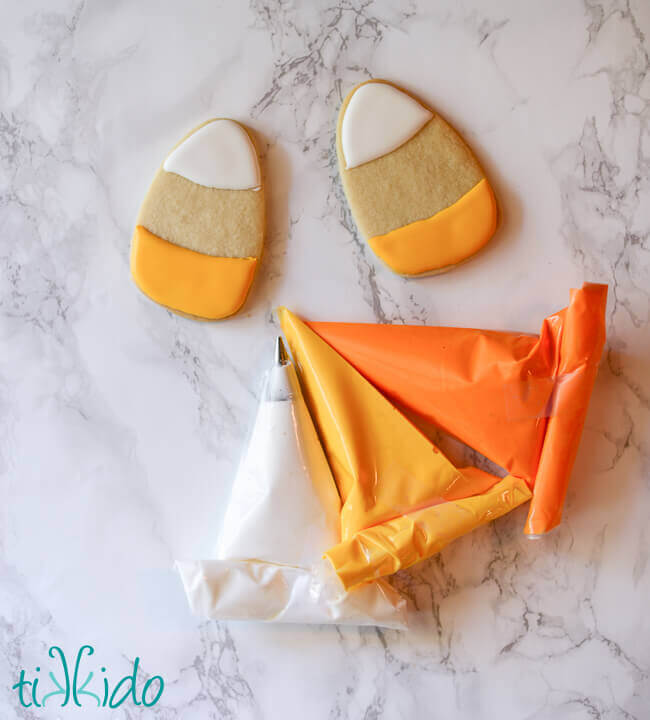 And of coursse, to the candy corn cookies.  See?  They would have been ok without the googly eyes...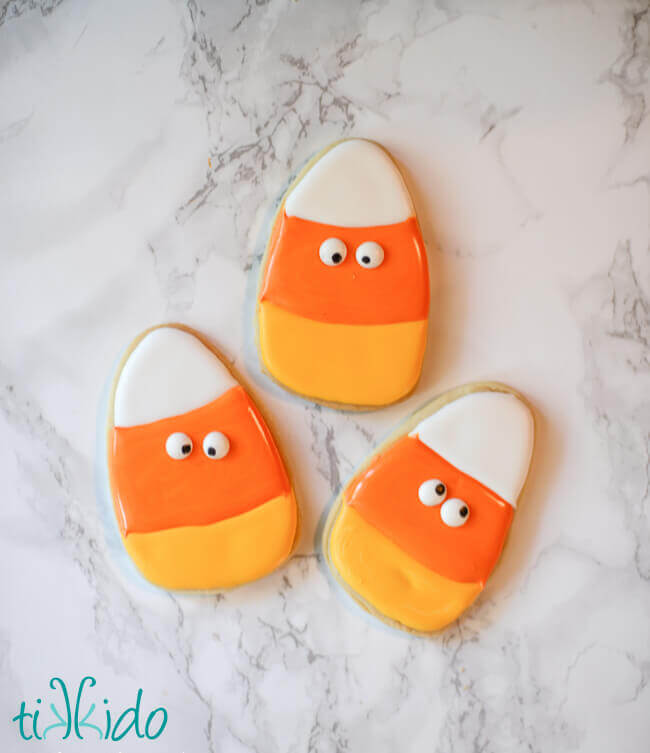 ...but with them?  BAM--adorable!
What would you put these eyes on?  I'm thinking breakfast oatmeal might be a lot more fun if it were looking back at me.