Printer-friendly version
Rhubarb scones are tender, flavorful, flecked with bursts of bright rhubarb flavor--and easy to make!  This rhubarb scone recipe can be made, start to finish, in about 30 minutes.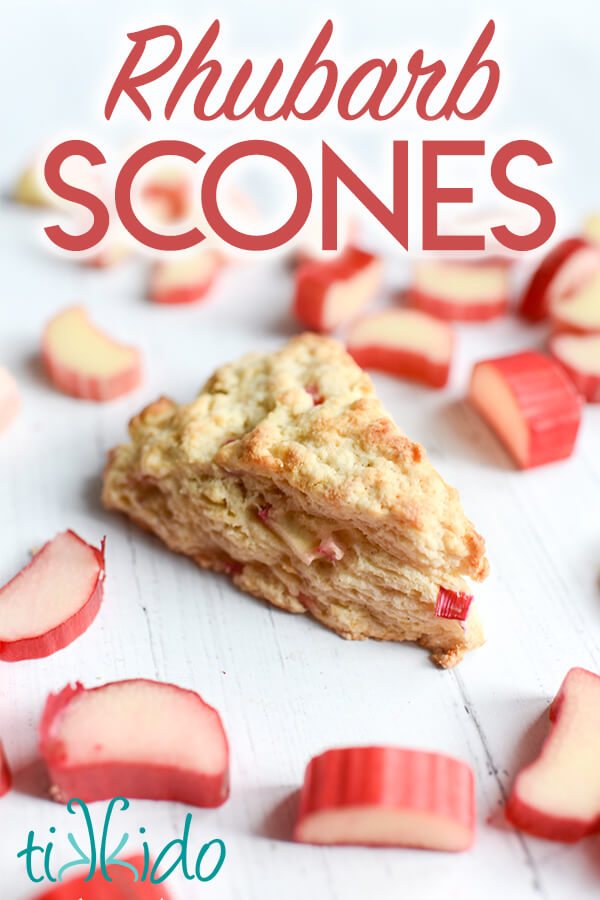 It's the first Monday of the month, time for the Taste Creations Blog Hop!  This month, my fellow blogger friends and I are creating an entire Mother's Day brunch, including appetizer, main dish, cocktail, and dessert (and these rhubarb scones, of course).  I absolutely love rhubarb, so I decided to work with my favorite scone recipe and develop a rhubarb scone recipe to add to my collection.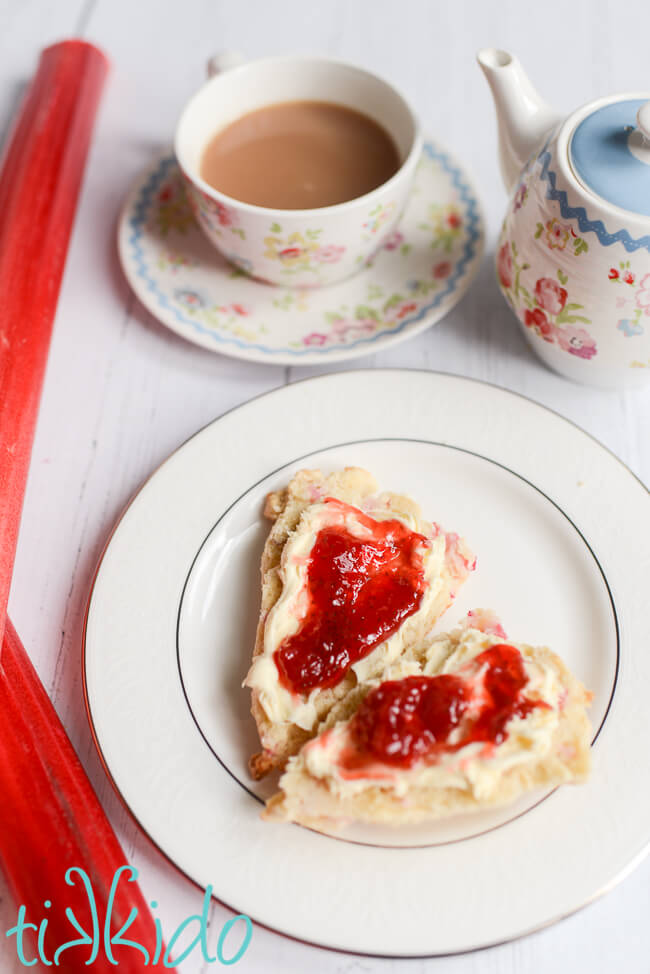 Rhubarb scones, topped with clotted cream and some strawberry jam?  Perfect for a spring brunch.  Or tea time.  Or breakfast.  Or a snack.  Or... heck, I don't need an excuse, just give me the scones!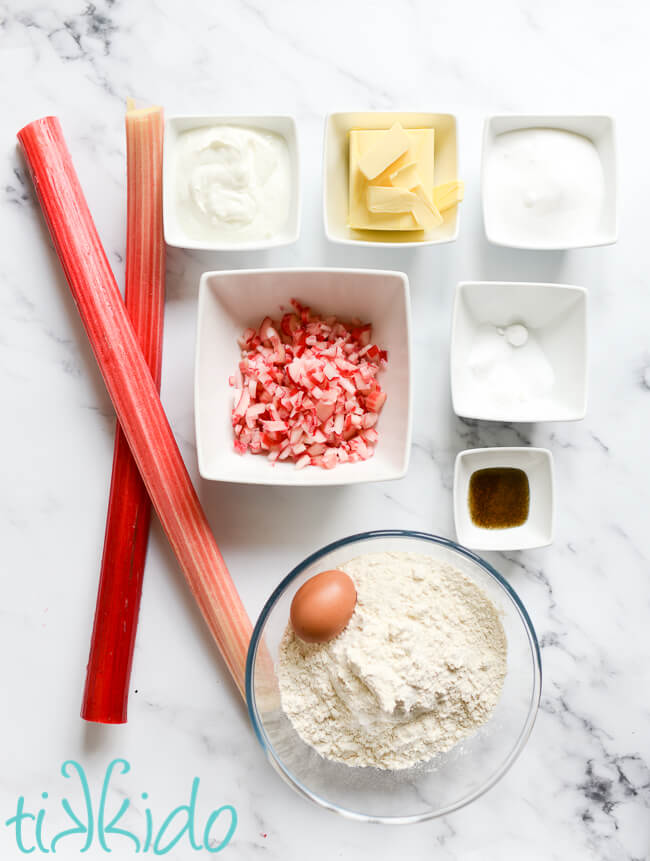 Rhubarb Scones Recipe:
4 cups flour
1 cup sugar
2 teaspoons baking powder
1 teaspoons baking soda
1/4 teaspoon cream of tartar
1 teaspoon salt
1 cup (2 sticks) butter, cold
1 teaspoon vanilla or vanilla bean paste
1 egg
1 cup plain yogurt or sour cream
1 1/2 cups finely chopped rhubarb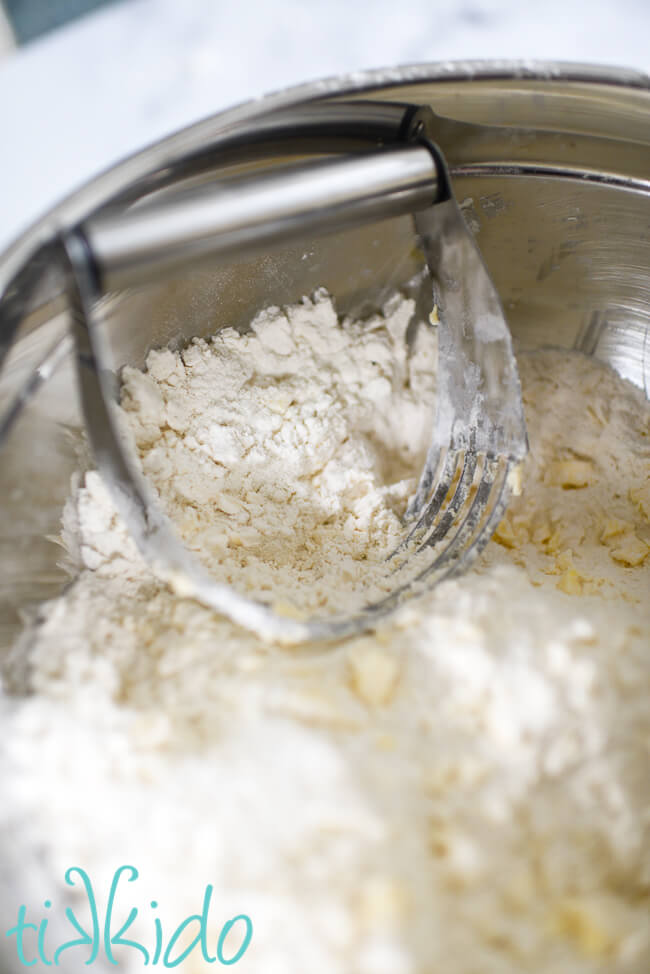 How to Make Rhubarb Scones:
Mix the dry ingredients together in a large bowl.  Use a pastry cutter (or just two knives) to cut the cold butter into the dry ingredients, working the mixture until the butter cut into pea-sized pieces.
Add the yogurt, beaten egg, vanilla, and rhubarb to the mixture, and mix until a stiff dough forms.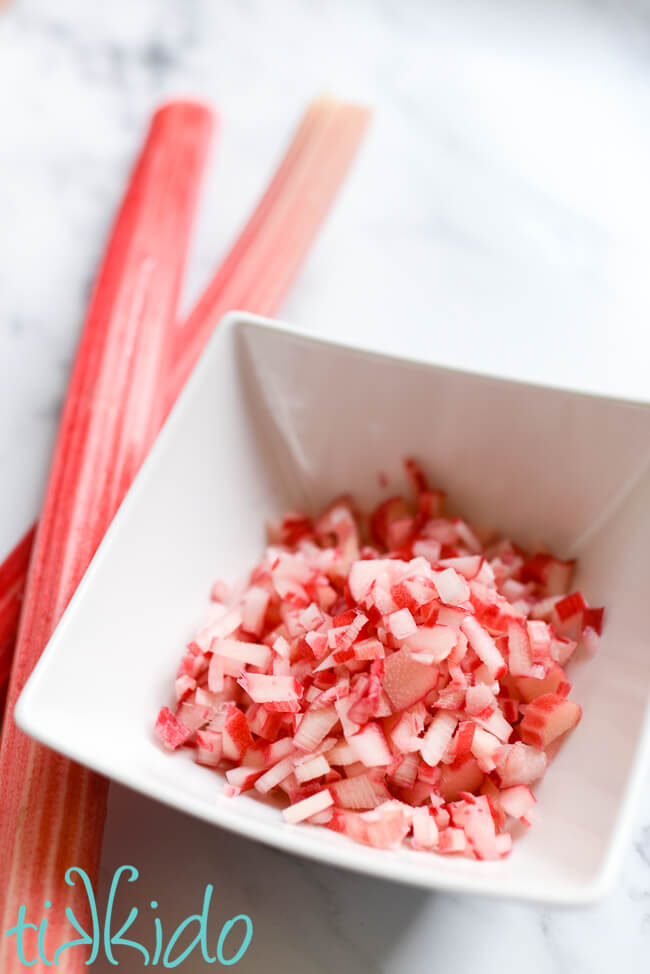 A Note on the rhubarb for this recipe: when cutting the rhubarb for rhubarb scones, dice into small pieces.  Rhubarb is tart and wonderful, but this is not an overly sweet scone recipe, so the pieces or rhubarb need to be tiny bursts of flavor to balance well.  Large pieces or rhubarb would be too sour and overwhelming for most people (even me, and I love all things sour and rhubarb in particupar).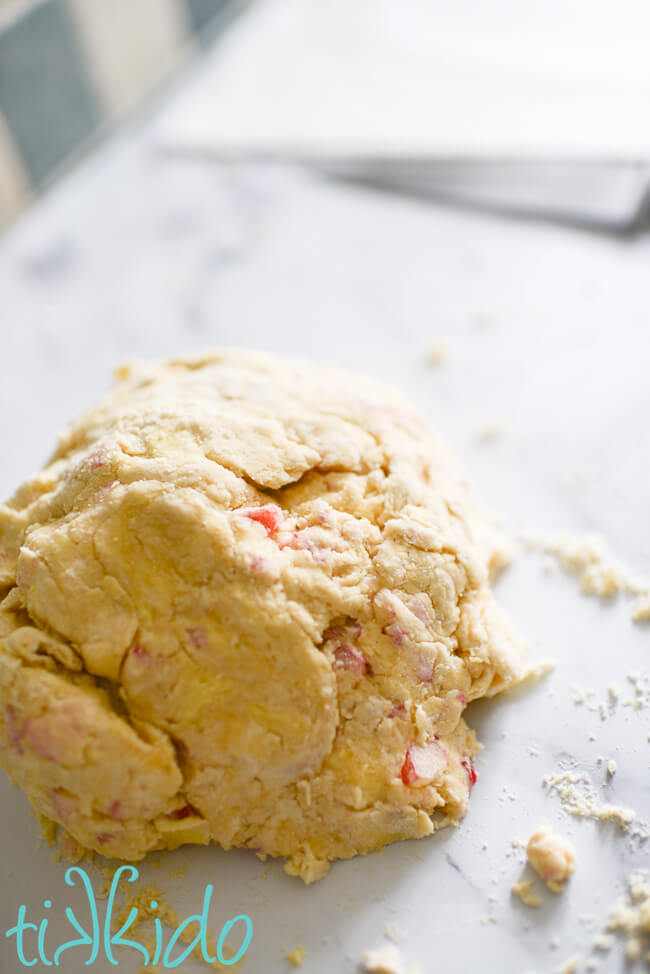 You might think that there's not enough moisture to bring it all together into a dough--and it seems like that for a while.  But resist the temptation to add extra liquid to get the dough to come together (it'll make the scones spread terribly when you bake them).  I typically start mixing with a spoon, but then use my hands to mix the dough and get it to combine well.  Work the dough just until it comes together, but no more than absolutely necessary.  Overworking the dough will make the scones tough.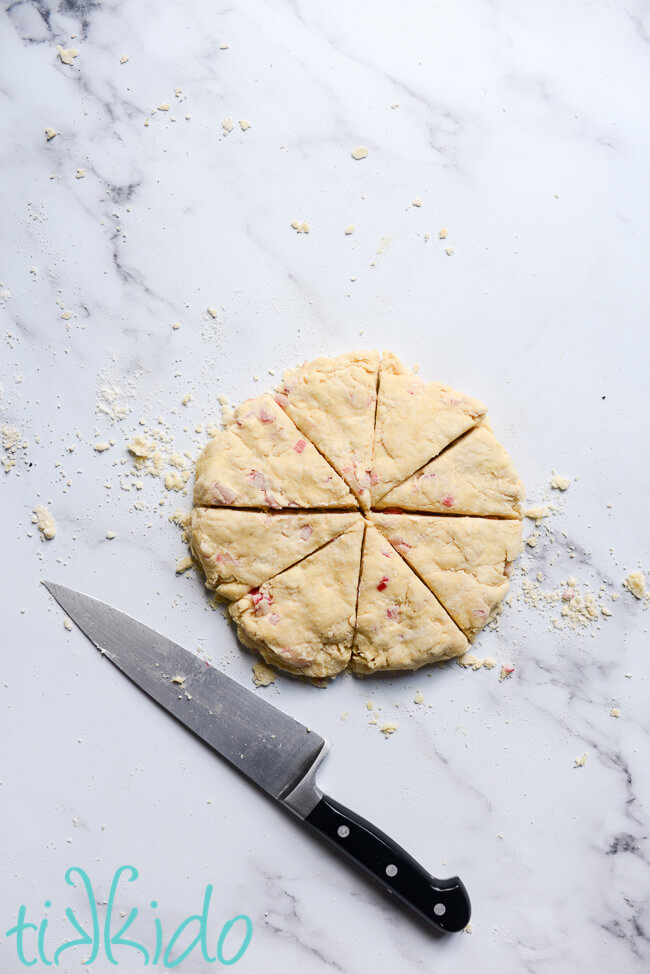 Divide the dough in half.  Pat each half of dough into a disk about 10 inches in diameter.  Cut into eight equal wedges.  The entire recipe makes 16 scones.  The picture above is of half the dough, cut into scone shapes.
If you prefer round scones, you can certainly pat out the dough and use a round biscuit cutter to cut them to shape.  I like making triangular scones, because there's no waste of dough, and I don't have to re-work any of the dough (which makes the scones tougher).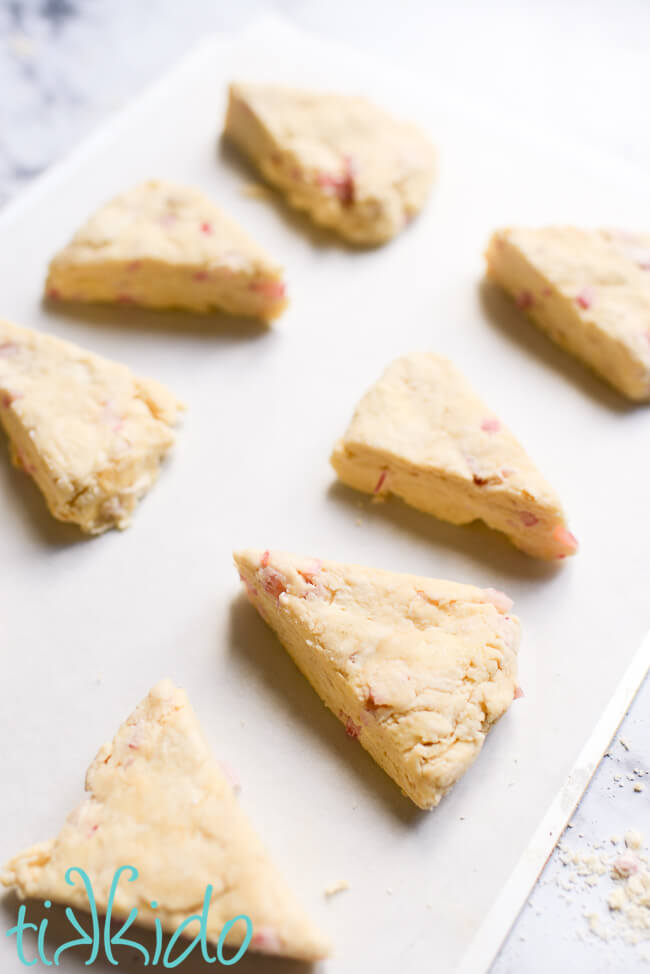 Place the unbaked rhubarb scones on a parchment-lined baking sheet.  Preheat oven to 350 degrees Fahrenheit.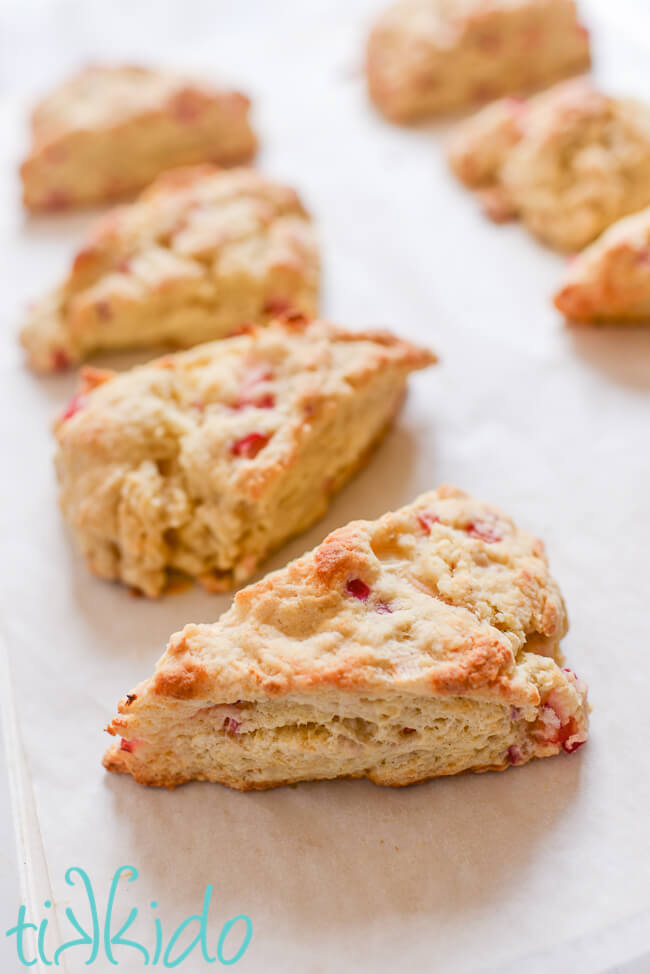 Bake for 15 minutes, until the scones have just started to turn golden brown.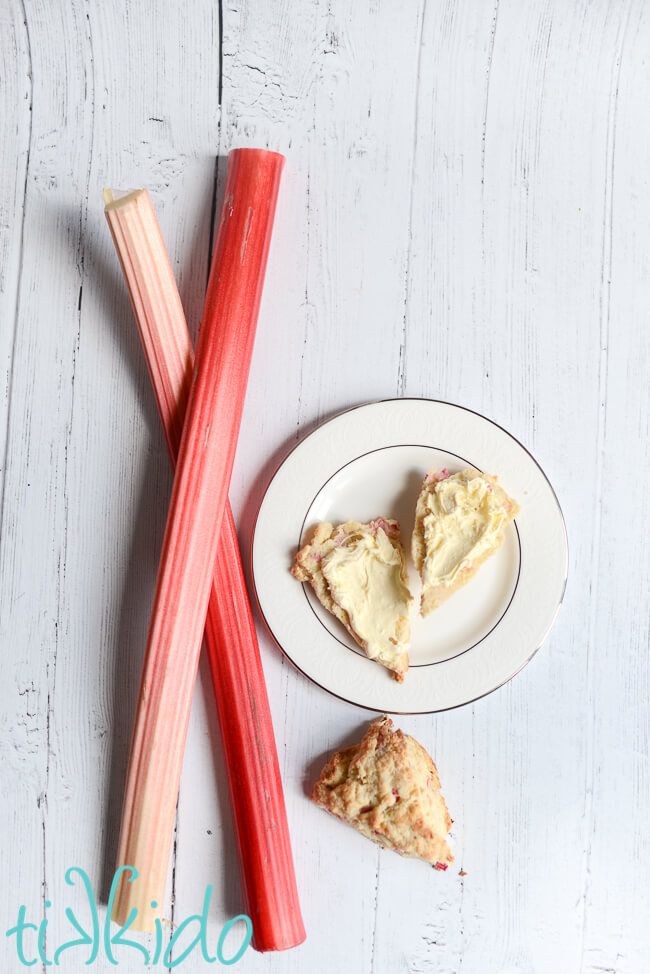 If you can find clotted cream, it's an absolutely amazing topping for fresh scones.  It's a thick spread made from cream--not sweet itself, but decadent and delicious.  One of the very best things about moving to England is the fact that I can get clotted cream at any local grocery store!  If you're not so lucky, here's a recipe I found that uses the classic method for making this delectable spread.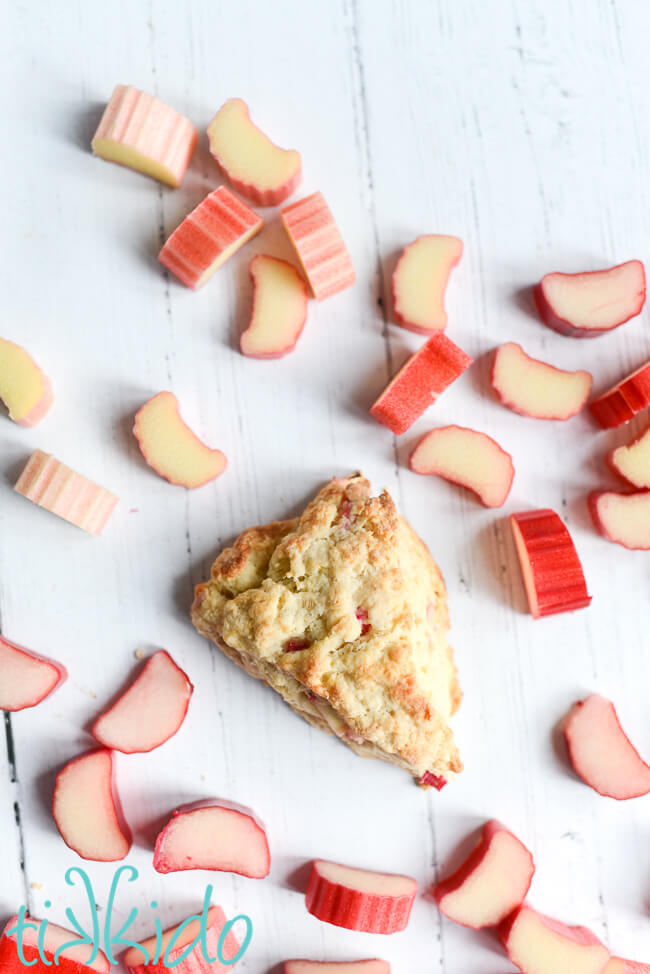 Want a free, printable, one page version of this recipe?  Just click on the image below to print or download the PDF version.
Free Printable Rhubarb Scone Recipe: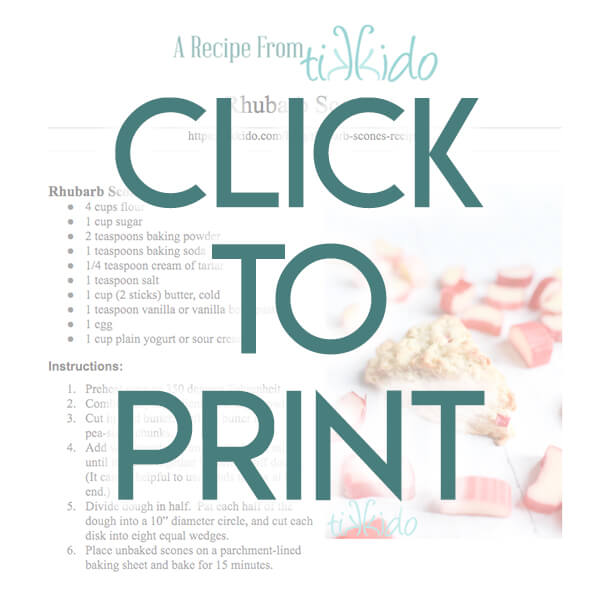 Other Mother's Day Brunch Recipes from the Taste Creations Blog Hop: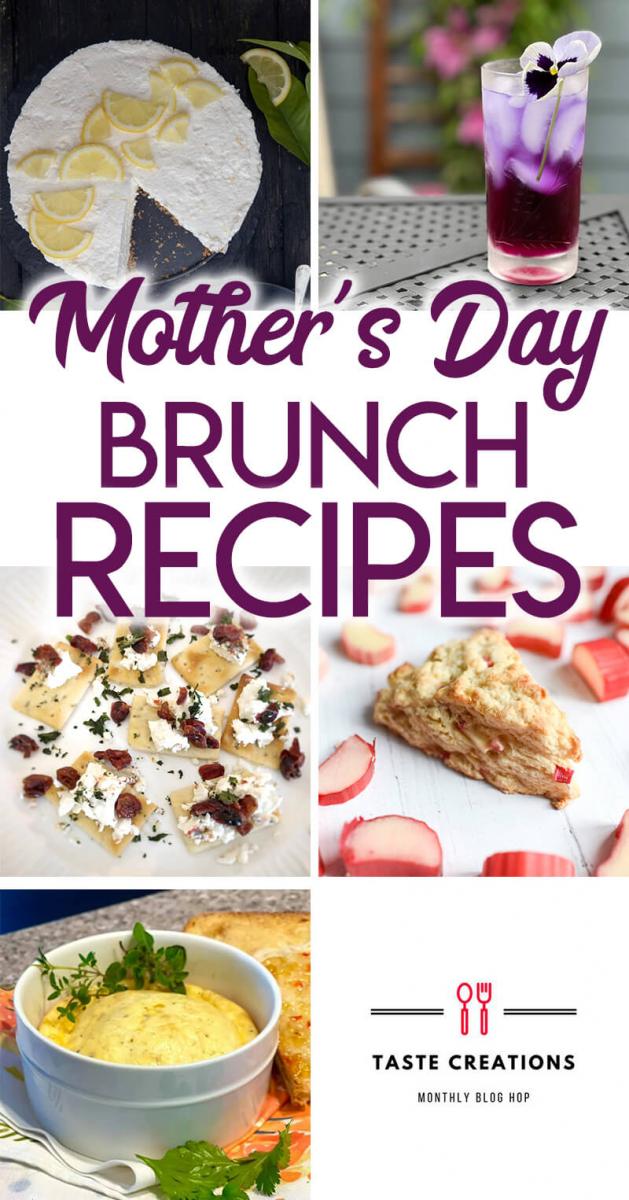 Be sure to check out all of the amazing recipes to make this entire Mother's day brunch from my fellow bloggers in the Taste Creations Blog Hop.  
Appetizer:  Cranberry basil goat cheese crackers, from Mom Home Guide 
Main Dish: Individual Egg Puffs, from Our Good Life
Side:  Rhubarb Scones (this post!), from me, Tikkido!
Cocktail: Hibiscus Gin Fizz Cocktail, from Our Good Life
Dessert: No-Bake Lemon Cheesecake, from And Italian in my Kitchen
Other Rhubarb Recipes You Might Like: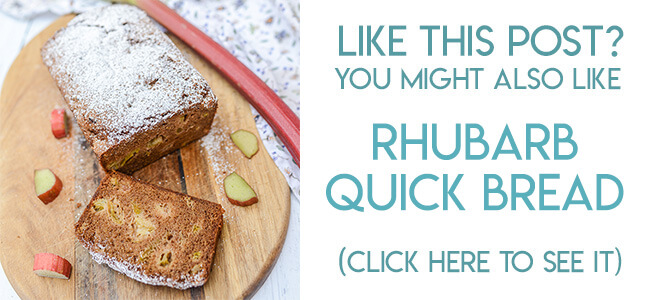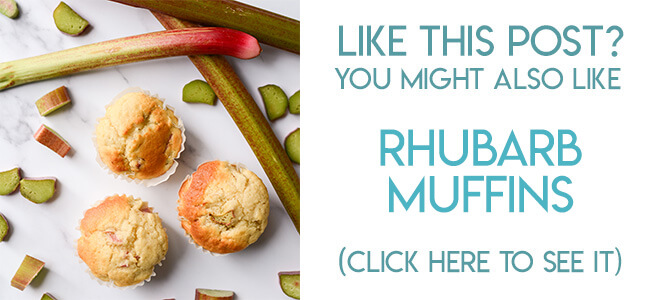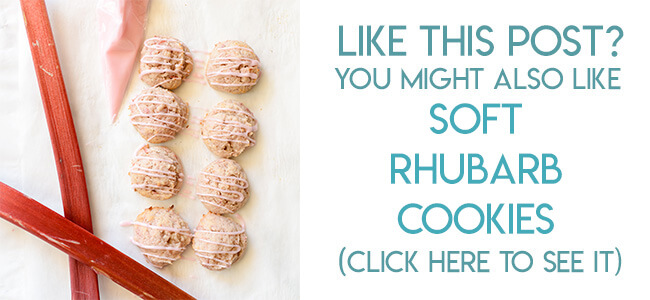 Other Scone Recipes You Might Like: