Printer-friendly version
If you want to know how to make blackberry jam, this is the perfect easy seedless blackberry jam recipe to use.   It only uses a few simple ingredients, and you don't even have to buy pectin!  This isn't exactly a no pectin blackberry jam recipe, but it uses the natural pectin in apple peels rather than a commercial product.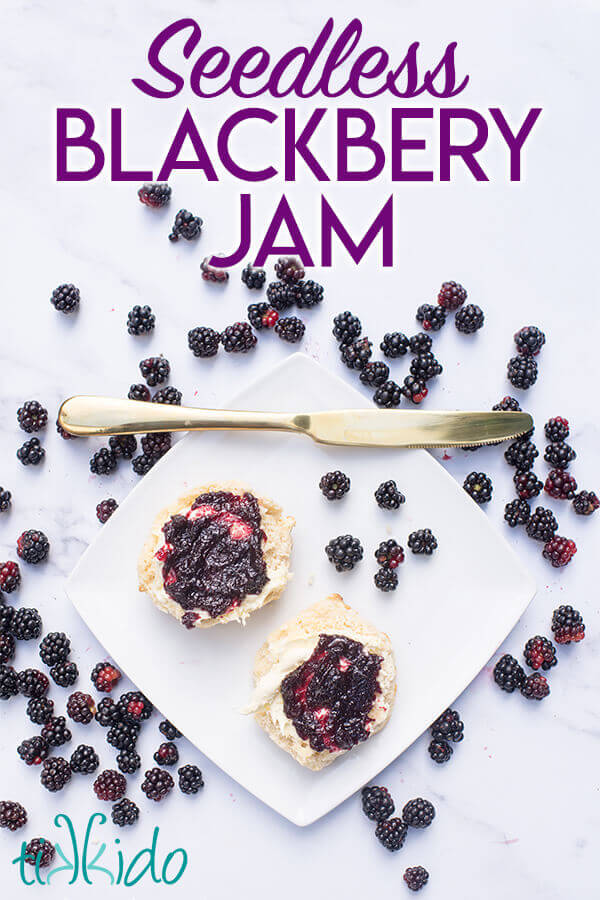 I make seedless blackberry jam because my daughters don't like seeds in the jam.  They love the flavor of blackberries, but not the texture.   You can certainly skip the step to remove the seeds if you love your jam more chunky.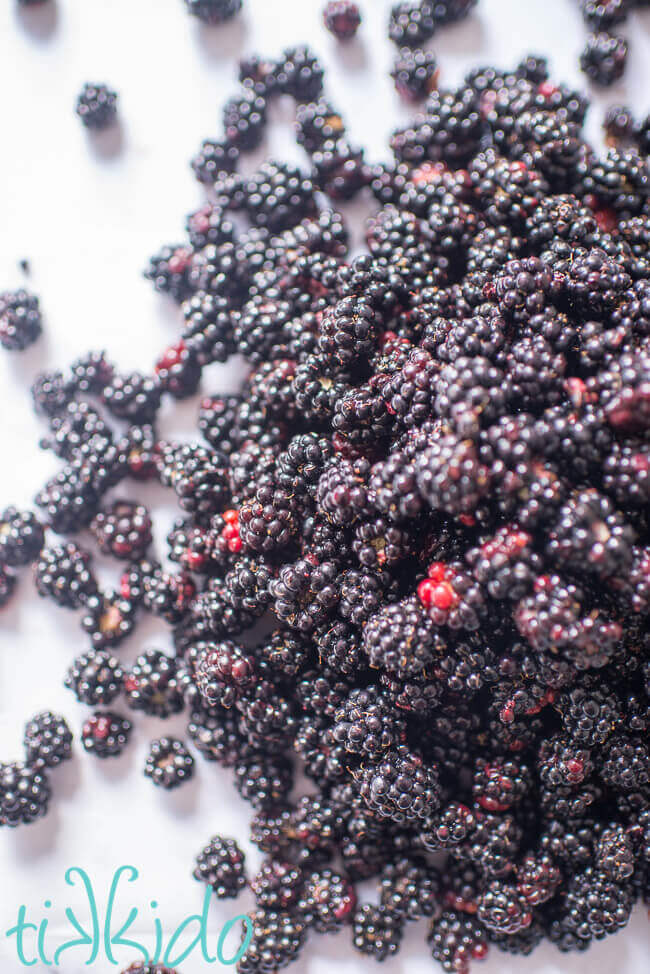 The blackberry bushes near me are groaning with the weight of these beautiful, ripe berries, and I can't resist goikng blackberry picking and getting a ton when they're in season.  The berries from grocery stores are delicious, but nothing beats free, foraged, wild blackberries!   One of my favorite things to make is seedless blackberry jam, so I can enjoy that fabulous late-summer blackberry flavor all year long.  This is a classic, homemade blackberry jam recipe, one that my family has been making for generations.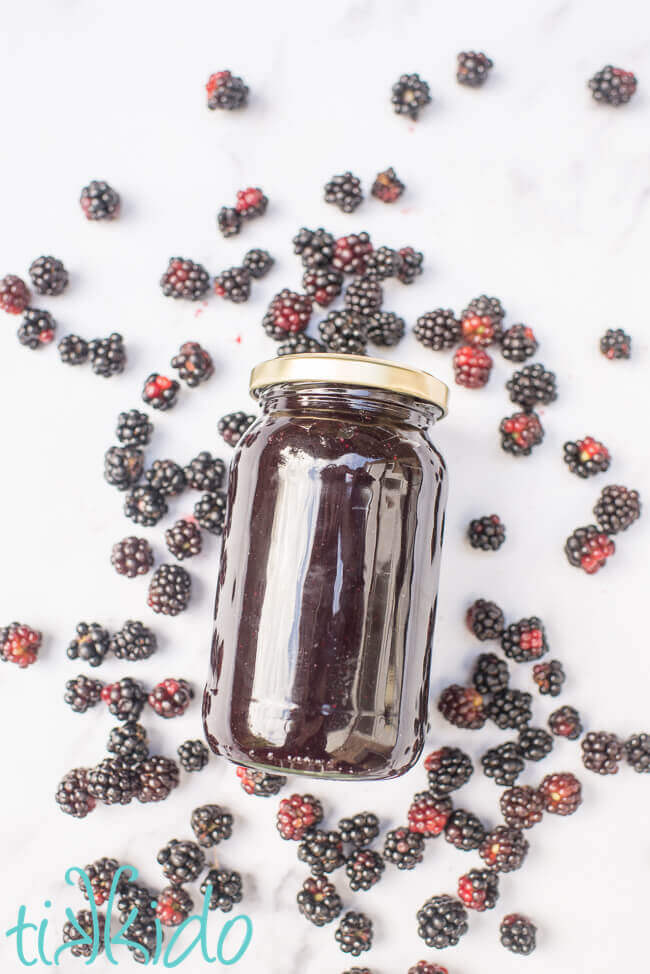 Seedless Blackberry Jam Recipe (AKA Seedless Bramble Jam)
Fresh blackberries
sugar (an equal amount by weight to the blackberries)
peels and cores of two apples (or commercial pectin)
Blackberries (especially wild blackberries like the ones I used) have enough natural acid that you don't need extra acid from lemon juice, but I've also tried this recipe with 2 Tablespoons of lemon juice, and it works and is delicious, too.  If you'd like to read more about pectin and acid and the science of jam making, this article from Fine Cooking is an excellent overview. 
How to Make Blackberry Jam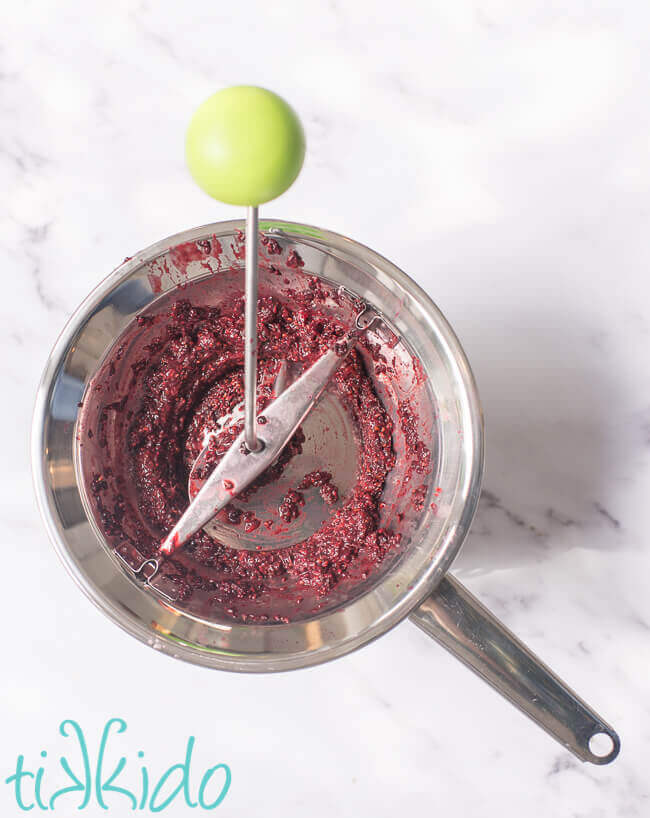 Since I was making seedless blackberry jam, my first step was to remove the seeds from the fresh berries.  My food mill is the best thing ever for removing blackberry seeds!  I would never attempt a seedless jam without owning a food mill.  I used the disk with the medium sized disk to puree the blackberries and remove most of the seeds before cooking the blackberry jam.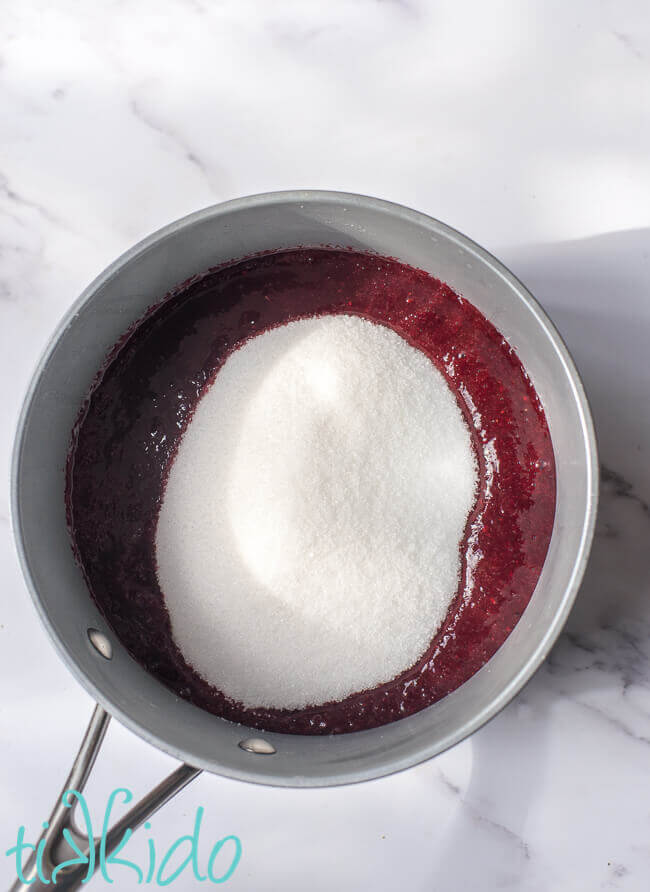 Weigh the blackberry puree (a food scale is a critical piece of equipment for making jams, and is a very useful item to have in any kitchen, especially if you like baking).  Add an equal amount of sugar by weight into a large saucepan with the berry mixture.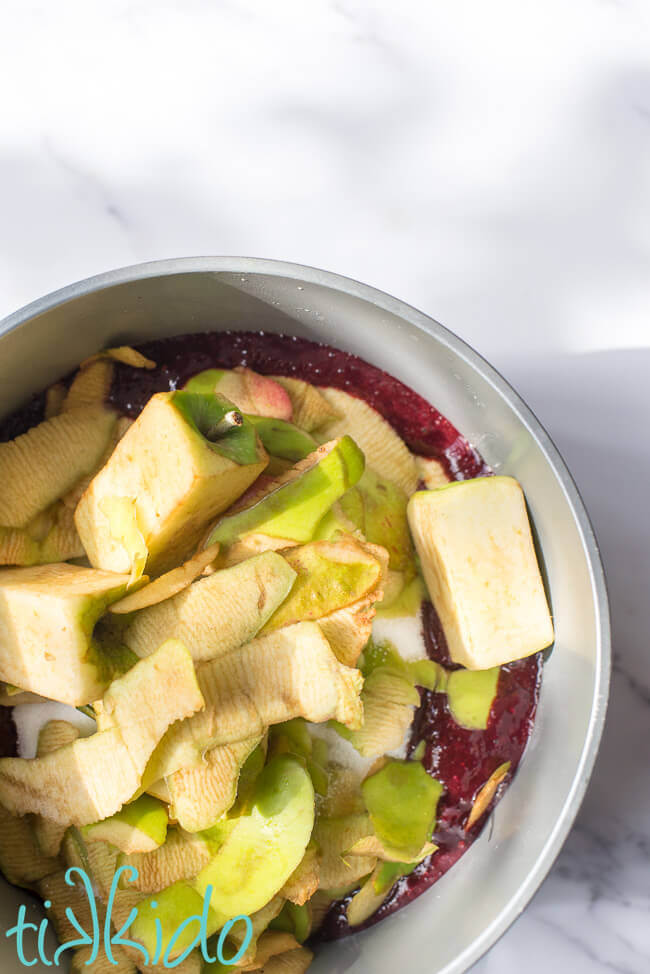 Add in apple peels and cores for natural pectin.  This was my first time using apple peels for pectin, and FYI, the waste of three apples (as pictured here) made my jam a little bit too thick.  Still delicious and usable, but for this batch (about 1.5 pounds of blackberry puree, and about the maximum a standard 4 quart saucepan can handle), the peels and cores of two apples ended up being perfect.  I loved using the apple scraps for pectin, though!  It was delicious, worked marvelously, and made this a very traditional, old-fashioned recipe.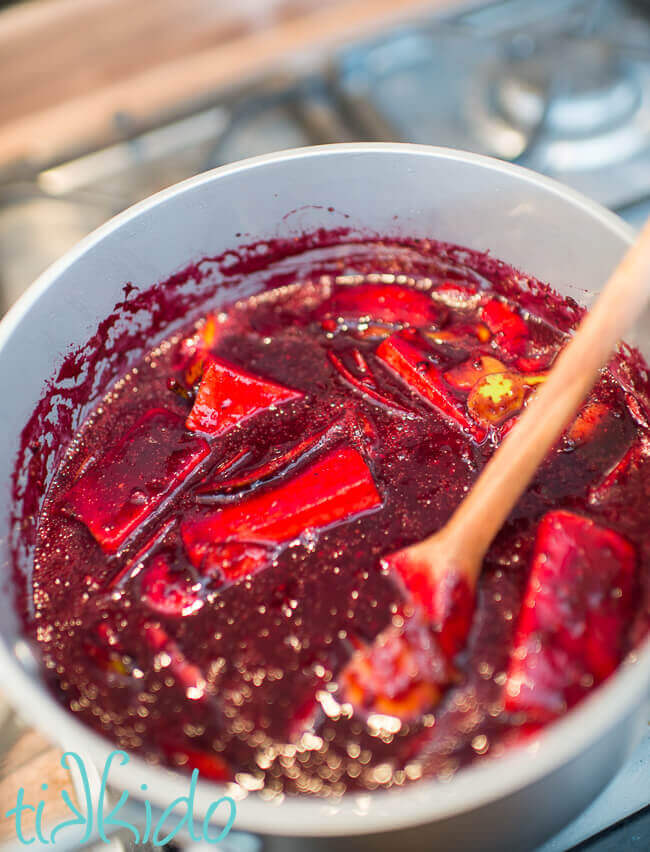 Mix together and bring to a boil over high heat, stirring constantly.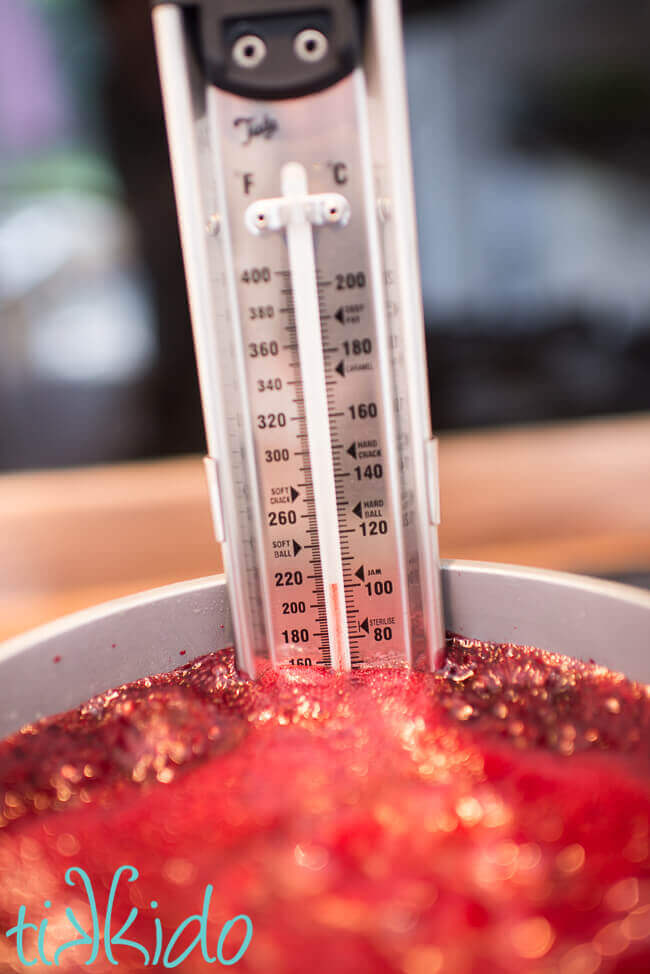 How to Tell when Blackberry Jam is Done
Cook the jam until it reaches 220 degrees Fahrenheit (105 Celsius), the setting point for jam.  A candy thermometer is incredibly helpful for making jam (or anything that requires cooking to a specific temperature, like candies).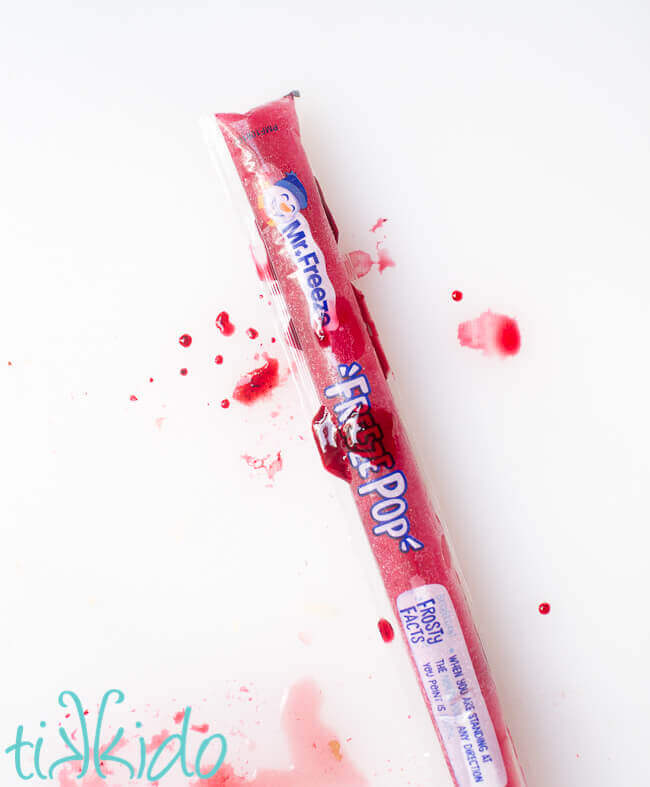 If you don't have a candy thermometer, you can do it the old-fashioned way.  Typically, you'd put a small dish in the freezer to chill it down, and put a small bit of the boiling jam mixture on the cold plate.  If it jells up and has the right texture when it's cool, you've cooked the jam long enough.
But I never felt like my plates got cold enough, even straight from the freezer, to feel like this was a reliable method.  And then, one time, when I was putting my jam-spattered plate back in the freezer to cool down again, I noticed the freezer pops I'd bought for my daughters.  Game changer!  Put a bit of the hot jam on a freezer pop, and it cools down for testing MUCH more quickly than a chilly saucer.  And since the popsicle is wrapped in plastic, I can wash it off and put the popsicle right back in the freezer when I'm done.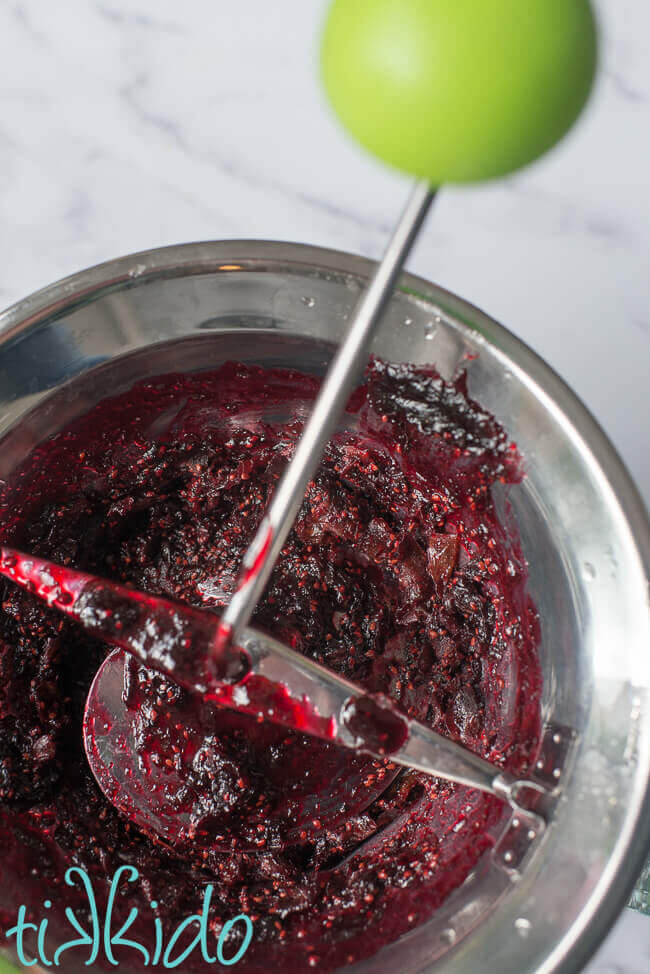 After I was done cooking, I used tongs to remove the apple cores and any really large chunks of peel from the mixture, but you don't have to be precise about it.  The food mill will take care of everything!
I ran the hot blackberry jam through the food mill again, this time using the finest setting.  It caught every last blackberry seed and apple peel.
You could also use a fine mesh strainer, but it's really SO much easier with a food mill.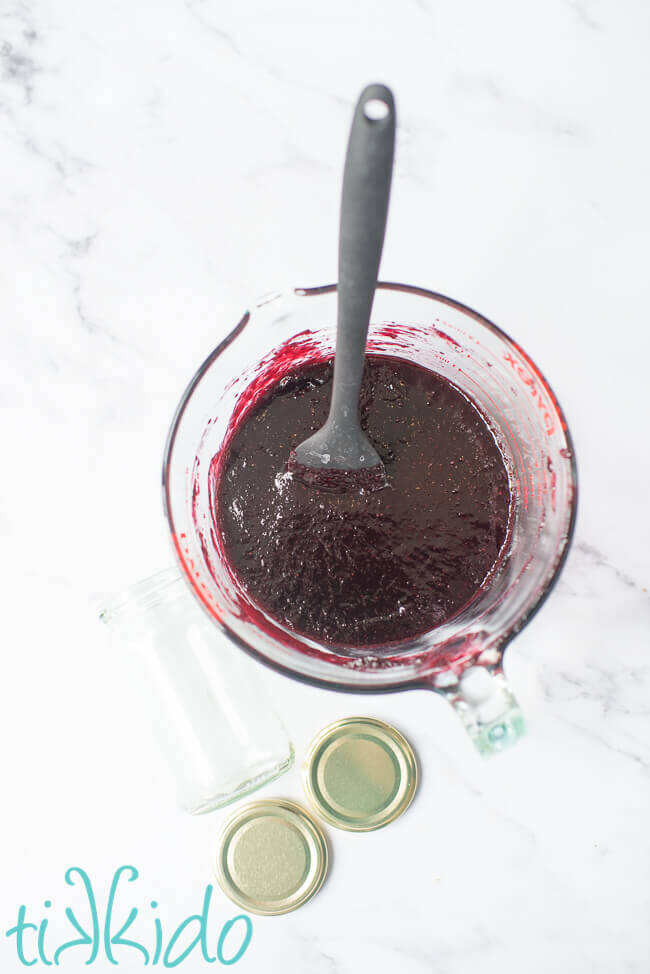 All I was left with was beautiful, smooth, seedless blackberry jam.  All that's left to do at this point is to jar it up!
For an excellent guide to canning, nothing beats the Ball Complete Book of Home Preserving.  It will teach you everything you need to know about proper canning techniques and safety.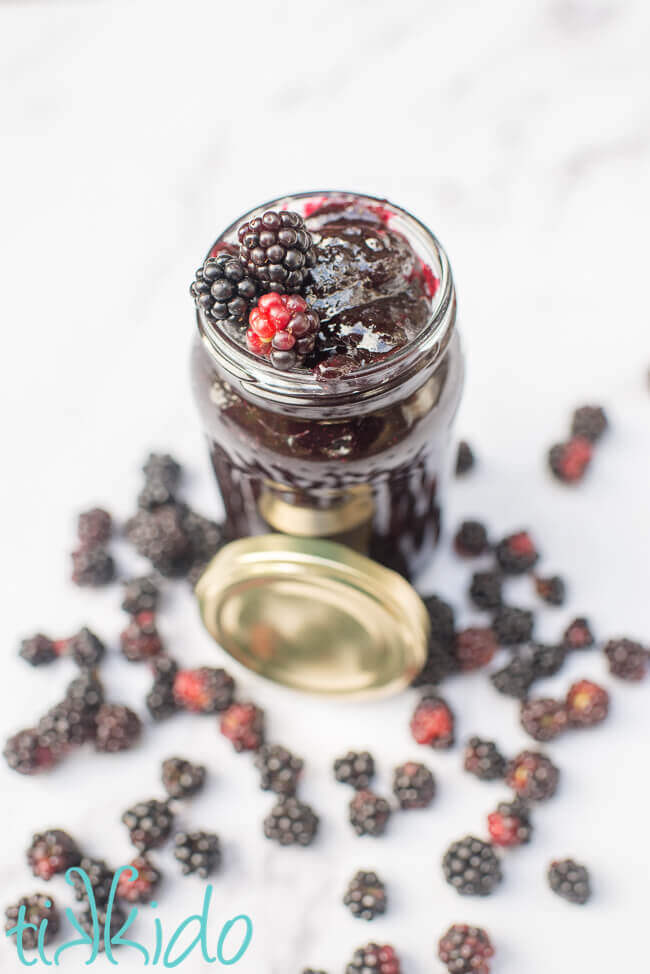 Tip for Extending the Shelf Life of Homemade Jams
My mother learned this tip when she was in pastry school, and it's remarkably effective.  When making your own homemade jams (or fruit sauces, or purée or coulis, etc.), add a spoon full of commercial jam to the mixture at the very end of cooking (while it's still hot).  Commercial jams have SO many preservatives that even one teaspoon of it in the entire batch will substantially extend the shelf life once the jam has been opened and refrigerated.  This is entirely optional, of course.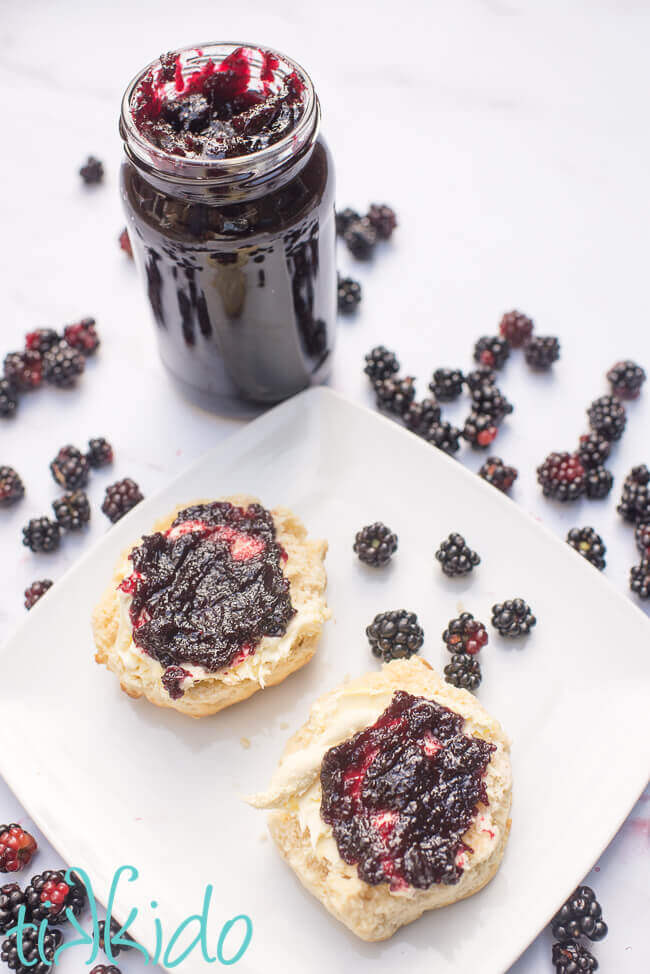 Blackberry jam is absolutely magical on scones (this is my favorite recipe), and with some decadent clotted cream.  What a fabulous way to get into home food preservation and preserve the fabulous flavor of ripe berries.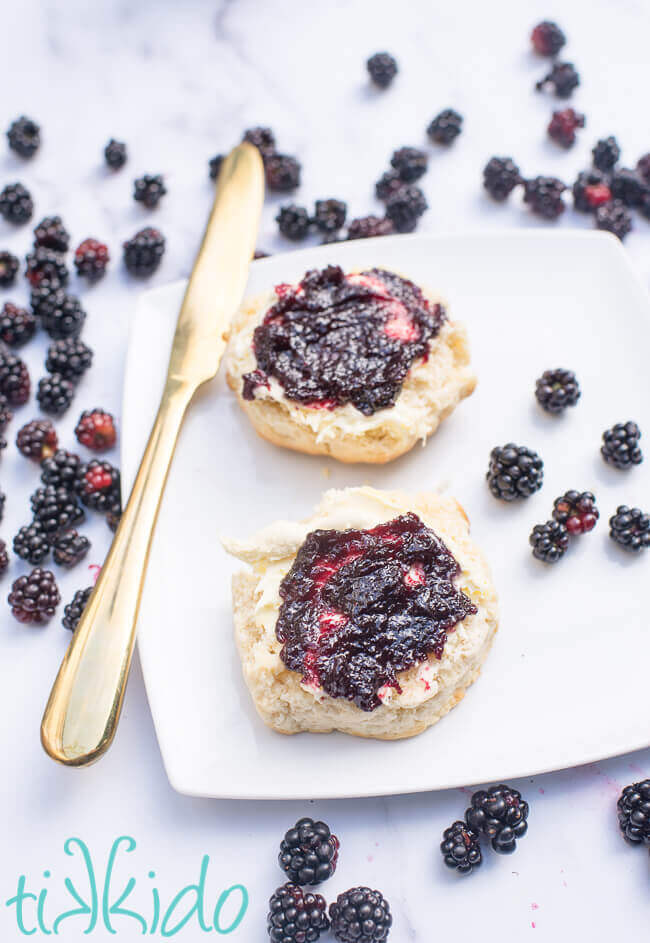 We also love it with baked Camembert cheese and some hearty bread for an easy, indulgent appetizer.  Or even just on a PBJ sandwich.  You really can't go wrong with this amazing homemade blackberry jam!
Low Sugar Blackberry Jam Recipe
Love the idea of homemade seedless blackberry jam, but don't want to use so many cups of sugar?  You'll need a different kind of pectin to get the recipe to gel properly.  Instead of using the natural pectin from apples, or classic commercial pectin, you'll need to purchase low sugar or no sugar pectin to get enough added pectin to get the homemade jam to set.  Follow the recipe on the package.  Because there's very little (or no) added sugar in this recipe, the amazing flavor of the blackberries really shines through.  It makes a delicious jam with less sugar, but still using the classic homemade jam technique.
Seedless Blackberry Freezer Jam
Similarly, if you don't want to cook, there's a brilliant product for making incredibly delicious, easy blackberry jam in less time:  Freezer Pectin.  Use the food mill to remove all of the seeds from your delicious berries, then follow the directions on the package to make blackberry freezer jam in under 30 minutes.  Not only is freezer jam an easy recipe, but it also has a brighter flavor than cooked jam recipes.  A lot of people prefer that!
Printable Blackberry Jam Recipe
Want a one page, printable, PDF version of this recipe?  Just click on the image below to print the PDF or download it to your device.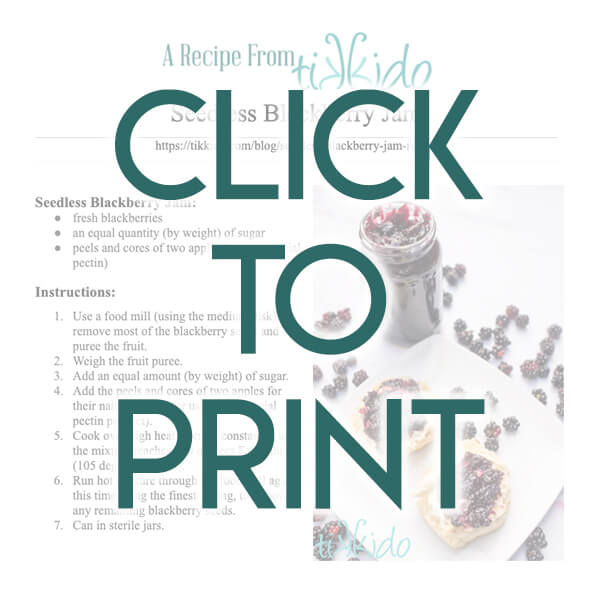 Other Jam Recipes You Might Like: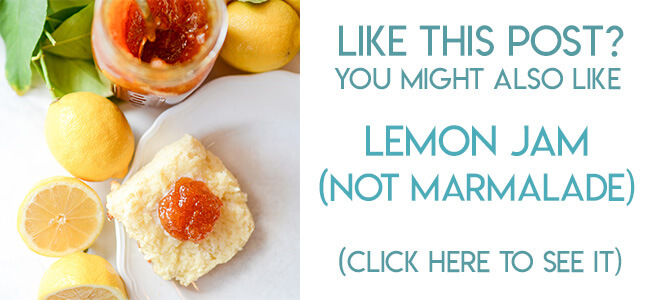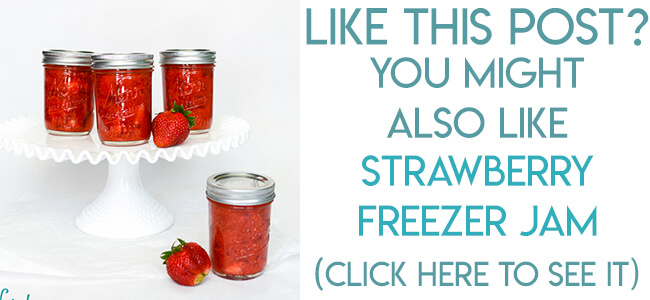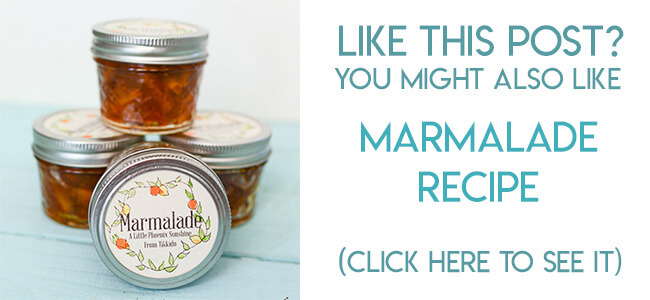 Other Blackberry Recipes You Might Like: